Introduction
In any difficult situation, proper sets of gear are what you require to help yourself out. Certainly, those who have sufficiently developed survival skills have better chances for survival. Vehicles, and survival vehicles, in particular, can significantly simplify the burden of survival. If you load them with all essentials like survival food and canned water, they will serve you well for a long time! In other words, not only do you have to be prepared for any challenge, but your means of transportation should match the requirements of the situation. Therefore, situational awareness is a must-have, as it will suffice all the items of your survival sack enormously. Be prepared smartly and read our article about one of the most outstanding survival vehicles.
To the point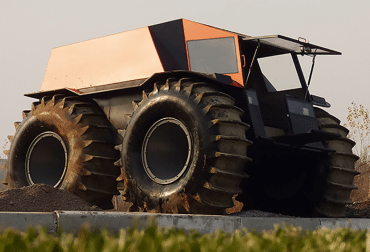 Being the world's largest country, it's no wonder that Russia creates some of the most astonishing examples of colossal off-roaders designed for the top performance in extreme conditions.
Sherp ATV (a new model in the production line of the Sherpa family) is one of those vehicles that will impress even the pickiest of fat truck guys around the world.
With its huge four wheels and adjustable tires, five-speed manual transmission, a 44-horsepower diesel engine, and a top speed of 25 miles per hour (which is about 40 km/h), the Sherp ATV terrain vehicle is perfect for coping with natural obstacles like steep mountains, swamps, power lines, or anything else you can think of. It's not afraid of ice or snow and rightfully takes its place among the world's best off-roaders like its closest relative, the Avtoros Shaman 8×8 Bug-Out Truck. Learn how to hotwire a car here.
Below, we will cover the following topics:
What does Sherp ATV offer?
What are the key design features of the Sherp ATV terrain vehicle?
What is Sherp ATV good for?
Sherp ATV: an Amphibious Off-Roader from Russia
What is a Sherp work vehicle, and what are its technical specs?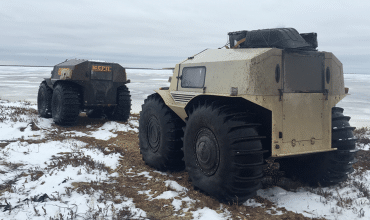 In a nutshell, Sherp ATV is a 4×4 amphibious off-roader. This means that you can use this truck to drive on land and across bodies of water, not too deep, though.
The maximum speed is only 25 miles per hour, which may seem extremely slow. However, when you're out on off-road terrain with steep mountains or swamps, you will hardly move any faster. After all, this might be dangerous.
Sherp ATV is capable of moving across pretty much all surface types, including snow, ice, sand, stones, and mud. Due to its built quality, self-protective characteristics, and carrying capabilities, Sherp ATV is one of the best choices in the class of the world's best-known off-roaders.
Technologically speaking. Sherpa offers:
A high-quality Japanese-built engine powered by diesel fuel;
A 14.8-gallon built-in fuel tank;
The ability to carry four more gas tanks inside the centers of the wheels – one tank for each wheel. Each tank will hold 15.3 of fuel;
Tight turning radius;
The option of changing the inflation of tires for different types of terrain;
The capability to carry cargo with a maximum weight of 2,200 pounds;
The cab air-conditioning;
Four sleeping spots for a driver and a crew;
The capability of staying fully functional, having lost one or even two wheels.
As far as prices go, one will need a minimum of $100,000. This is the basic Sherp 3 model cost that will lack some of the more advanced features like a heater.
Design features
The cab of Sherpa 3 accommodates a driver and a passenger. The vehicle will still carry four more passengers. However, there are Sherp trucks that can board up to 22 people.
The Sherp's length is 6.2 meters. Its width is 2.2 meters. The weight is 9.5 tons.
The Sherp's dashboard is fitted with several components such as an electronic display, an odometer, fuel level, air pressure, engine temperature, etc.
There is an option to get a Sherpa work vehicle with a roof specifically designed for the installation of a weapon station. A remotely controlled 7.62mm- or 12.7-mm machine gun will turn the off-road vehicle into a full-fledged self-defense machine tower.
But there's more!
Sherp trucks are armored. They are designed to be protected against a variety of threats. Those include mines, splinters, kinetic projectiles, and DIY explosives. As an add-on, a Sherp vehicle can be equipped with extra armor panels for more protection making the vehicle virtually impossible to access.
If any of the tires get damaged, the Sherp vehicles will let users block any individual tire that gets out of use.
Sherp is ready for action in any place on Earth!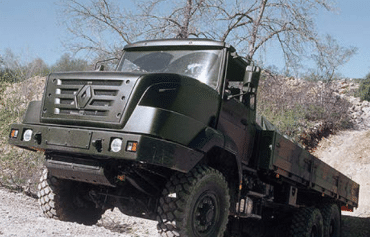 Sherp trucks are designed to operate in multiple conditions. As a result, there is virtually no place in the world that a Sherp vehicle could not conquer.
According to the manufacturer, Sherp vehicle is an off-roader that does not fear any kind of obstacle for one single reason:
Obstacles are the road for the Sherp!
Driving a Sherp, you can cross broad bodies of water, swamps, sands, ice, and snow. You can even climb a mountain as easy as if your car wears ice cleats. These are the trucks designed for any type of land surface.
What is a Sherp Vehicle Good For?
Sherp four-wheel off-roaders can be used for a variety of mission types.
For instance, you can Sherps to deliver cargo. Or you can use them to transport people across sandy, snowy or marshy areas. Such trucks are also extensively used for rescue or supply missions. Another example is maintenance operations. And, of course, the Sherp vehicle is good for military missions, too.
Conclusion
Earlier, many years ago, people needed different transports for different tasks. There was no way to cross sands or swamps, cross a shallow river or even climb a mountain using the same machine. But today, we have a wide variety of multi-task amphibious vehicles designed for all-terrain conditions. The Sherp is one of those top-class off-roaders.
Frequently Asked Questions (FAQ)
Where is the SHERP made?
Sherp is a Russian manufacturer of off-roaders. The Sherp headquarters are located in Kyiv (Ukraine) and Winnipeg (Canada). The Sherp's chief engineer is Alexei Garagashyan. He is the mastermind behind the world-known Sherp ATV, a series of all-terrain vehicles.
Is Sherp ATV road legal?
You cannot use Sherp ATV for street driving. This diesel-power, 4×4 vehicle is designed for off-road use. Its size does not make it possible to safely use in urban areas. When you need to transport your Sherp ATV between locations, you will need to use a trailer. However weird this may look, but that's the only option to get your Sherp off-roader from an urban area to off-city territory. But things seem a lot more logical when you think of your Sherp all-terrain vehicle as a specific transport not designed for urban roads. Like, say, a boat. You don't use a boat to drive about the city, do you?
Can you buy a SHERP in Canada?
Yes, it is possible to purchase a Sherp in Canada. Canada's official Sherp dealer is the Yeti Roughrider Rentals company. Today, the company offers a Sherp Pro – an amphibious off-roader with a 44-horse-power diesel engine, adjustable tires, and a load capacity of 1 ton. Extra equipment includes roof frames, a GPS device, stretchers, and more.