Survival skills and prepping hacks often come in handy when the situation requires quick decision-making and awareness of the situation.  Of course, the tools you possess will maximize your chances to survive in any, even the worst-case scenario. Food and water are of great importance for survival. But you will definitely need something to defend yourself and be able to arrange the environment of a survival shelter.
Bushcraft knives are straight blade knives with sharp points and can hold a good sharp but plain edge for long periods of time and under all kinds of weather and conditions. They are a must-have if you want your bushcraft gear list complete and ready for any emergency.
The term "bushcraft" was adopted in the Australian outback or the "bush," and that gives you a clue that these types of knives are best used in wilderness survival situations. It fits any place where you might use a blade for a series of different situations: cutting tree branches into usable items, clearing away vines and green bush, cutting rope, and a slew of other activities makes these knives a must-have in your gear bag. Bushcraft is also considered the best whittling knives, but I wanted to focus on their uses as survivor tools.
When choosing good bushcraft knives, think about all the things that you might personally use them for. For example, a bushcraft knife might be great at cutting wood, but if that is something you aren't going to have to do, there is no point in seeking one out with that quality.
Top Best Bushcraft Knives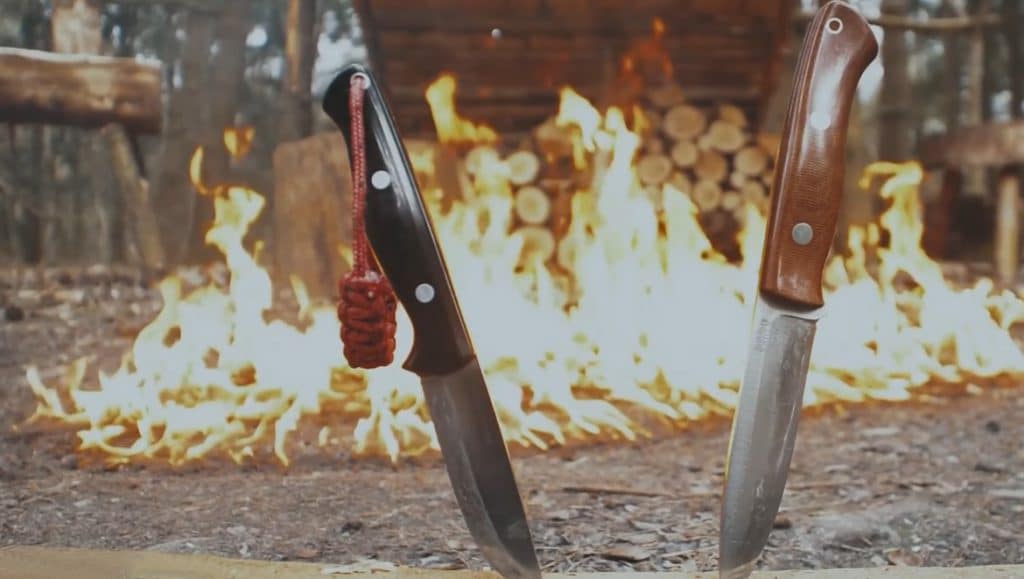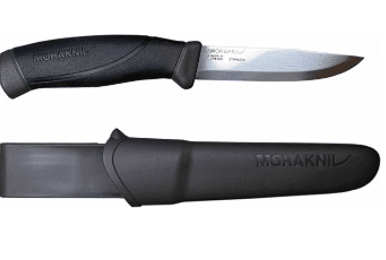 First, let's look at the Morakniv Companion Fixed Blade Knife, a carbon steel bushcraft knife. The Morakniv is an all-in-one outdoorsmen bushcraft knife with a comfortable grip that makes it easy to hold on to and easy to handle because it sits comfortably in hand.
The 1095 carbon steel blade has a hardness of HRC 58-60, which means it is incredibly durable and can be resharpened again and again with no real problems to speak of. It stands up well to high-impact usage such as woodcutting and can still come back and be used for less abrasive actions. As with all carbon steel blade knives, you will want to care for and keep maintenance up on this knife. If you get the knife wet, make sure to dry it before storing it again to keep rust at bay, especially in saltwater situations. If you use the legendary knife to cut and chop through acidic foods such as oranges or lemons, make sure to clean and oil the carbon steel blade afterward. Acids of any kind can be very harsh on a carbon steel blade.
Morakniv has been in business in Mora, Sweden, since 1891 and is a name that professionals and outdoors people alike have come to associate with the best bushcraft knives. They only use the highest quality steel, which gives their knives the kind of quality that can be trusted for years.
Blade Length:

4.1 inches

Blade Material:

1095 carbon steel

Handle Material:

Plastic

Weight:

3.9 ounces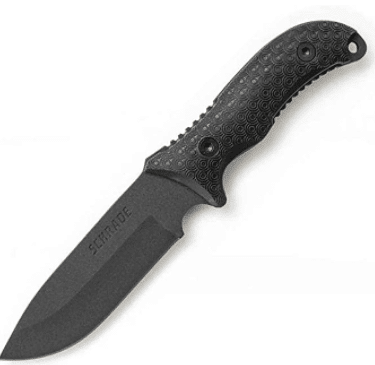 The Shrade SCHF36 Frontier Full Tang Drop Point Pocket Knife has a blade that is made of powder-coated 1095 carbon cold steel with an easy to hold TPE textured handle that also has a lanyard hole at the back end.
This Shrade is just waiting for its chance to take on the wild open country of any outdoor situation in which you would like to use it. This fine-edged knife will resist corrosion while the 90-degree angle of the spine can be struck against a Ferro rod and used as a fire starter.
A knife with an overall or total length like this is made to see you through any situation with ease and built to last a lifetime. Use it, resharpen it and then use it again; make sure you take care of it, keeping it dry, oiled, and sheathed when not in use and it will continue to serve you well.
Blade Length:

5.05 inches

Blade Material:

Powder coated 1095 carbon cold steel

Handle Material:

Textured black coating

Weight:

12.3 ounces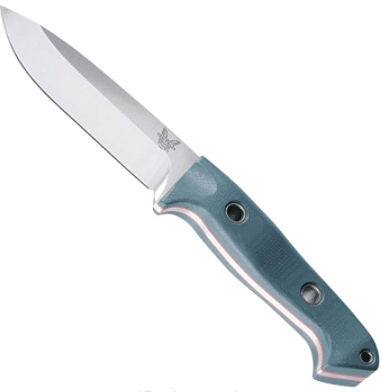 Coming in next is the Benchmade Bushcrafter Knife. Easily the most expensive knife on our list, the quality is well worth every penny if you have the money to spend on it. The Bushcrafter is the epitome of everything that an outdoor survival knife should be and can take on all comers, with plenty of gusto left over for even more work.
The blade is thick, heavy-duty, and easy to sharpen as often as you need to. The simple handle design is nothing short of genius in regards to handling, usage, and maneuverability.
Benchmade has a history of making quality products that are very simplistic in nature. They are a very trusted brand that is known for good quality work and excellent customer service and satisfaction.
This knife comes in a genuine buckskin leather sheath with a flint rod loop and retention strap and has a high ground drop point blade with a polished finish, and the stainless steel blade is HRC 58-60.
If you are looking for the best Benchmade knife for bushcrafting, this is your blade.
Blade Length:

4.43 inches

Blade Material:

Polished high ground drop point stainless steel

Handle Material:

Plastic

Weight:

7.72 ounces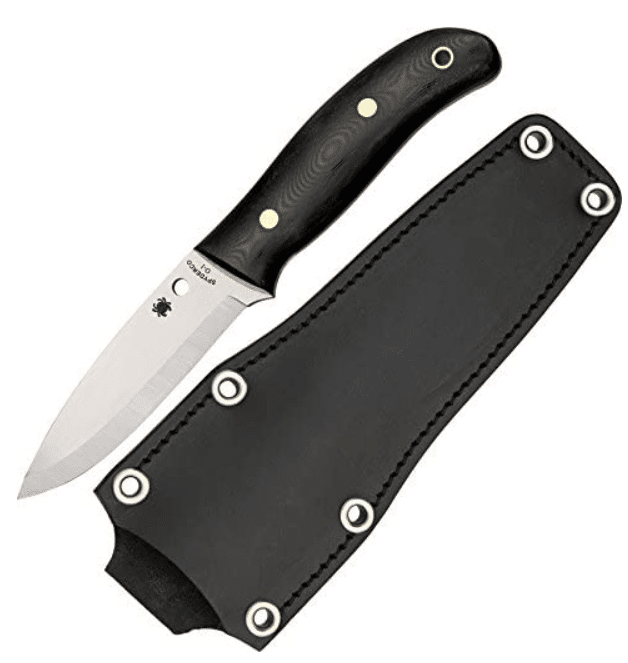 The Spyderco blade is another premium bushcraft knife that comes at a hefty price but is well worth the investment if you have the money to spend.
This knife was designed by a tactical bushcraft expert to be everything you needed in a bushcrafter, but it also has an exquisite look to it.
The full-tanged blade is an excellent overall blade, but it may not be the best if you have individual or specific needs. It is a perfect knife for overall use, but with a four-inch blade, it may not be the best for cutting a lot of wood.
Blade Length:

4 inches

Blade Material:

O-1 Steel

Handle Material:

G-10

Weight:

7.75 ounces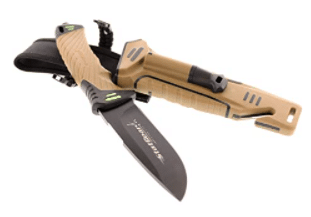 The Statgear Surviv Knife is a great combination of everything, and an outdoor knife should be. The blade is made of 440 stainless steel and is a full tang bushcraft knife with a drop point. It also has a steel pommel and a rubber handle, which makes for a very comfortable and ergonomic grip that allows freedom with movement. Its sheath has a built-in cord-cutter and fire starter, and there is even a sharpening stone in the rear of the sheath.
While there is a host of things to like about this knife, the one problem seems to be that there is no drainage hole in the leather sheath, which leads to a build-up of water in certain situations. If you should find yourself dealing with that, make sure to clean and dry your knife and let the sheath thoroughly dry out before using them together again.
Blade Length:

4 inches

Blade Material:

440 stainless steel

Handle Material:

Rubber

Weight:

15.02 ounces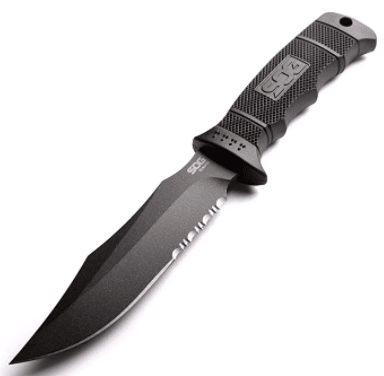 Finally, there is the SOG SEAL Pup Fixed Blade M37N-CP Knife. This durable all-purpose bushcraft knife is perfect for hiking, backpacking, biking, or any other outdoor activity in which you might come across the need for a good dependable knife.
The blade is powder-coated steel and partially serrated, and the nylon carry sheath has an accessory pouch built-in. This knife is corrosion-resistant, wear-resistant, tough, and tactical.
The nylon handle is well-balanced and comfortable to grip and featured a raised pattern that affords the bearer with increased drip even in inclement weather.
Blade Length:

4.75 inches

Blade Material:

Powder-coated AUS8 stainless steel

Handle Material:

Glass-reinforced nylon

Weight:

5.4 ounces
5 Reasons To Buy a Bushcraft Knife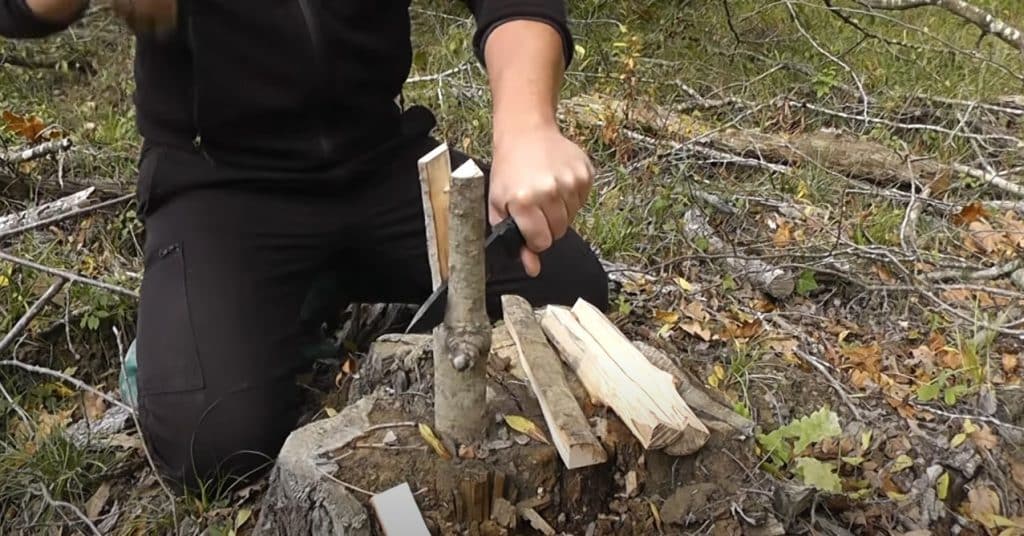 For those wondering why one would need a cold weapon in your bushcraft backpack, especially a bushcraft knife in 2021 when lightning rifles and Star Wars-like laser guns are almost here, below is our small intro.
To start with, such knives are proven to be good for:
use in combat;

chopping, shaping, stripping, and carving solid materials, such as wood;

procuring and preparing food;

as a weapon of self-defense in case of an assault or emergency;

as other multi-purpose help in the wilderness and survival cases (as a builder's tool, in fire making, and so on).
Once you're in the wilderness, never underrate the art of Bushcrafting in which owing a decent survival knife is a compelling part of your woodcraft survival plan. Appointing your weapon of choice should be done in advance and with the most detailed attention.  Since our oh-so developed hyper-tech world, as it turns out, is still not protected from primal disasters, the circumstances of "one against the wilderness" can get closer than it seems.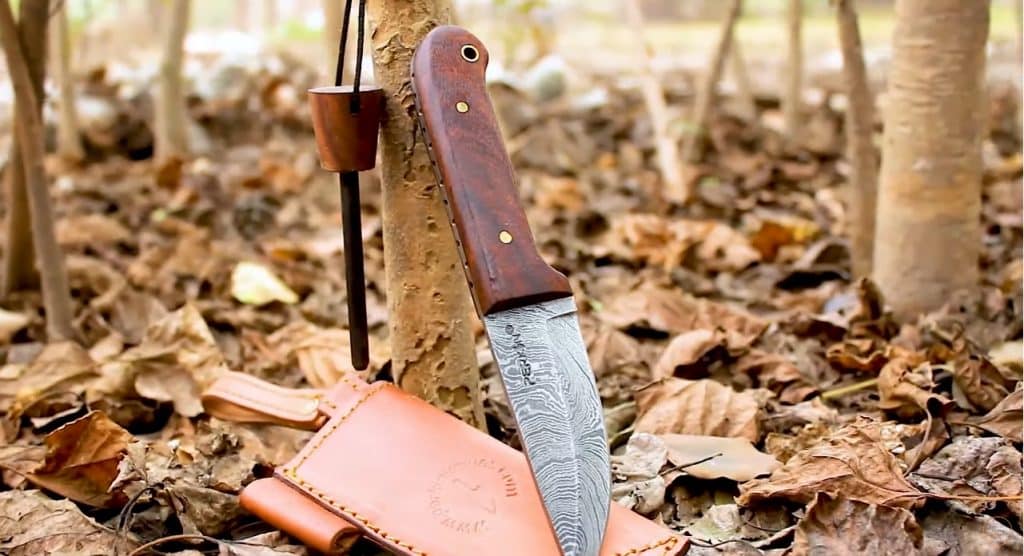 Bushcraft Knives, Their Purposes & Features
1. Bushcraft Knives As Survival Knives
Why my big-bladed casual knife doesn't suffice for the whole thing, you may ask. That being said, outdoor and survival knives were elaborated and designed specifically for rough use and, in most cases, promise greater performance when it comes to endurance in the badlands. So even though a bushcraft knife is not of utmost need when camping or trekking with the family, it will surely serve you better than homely pocket knives, pen knives, or even kitchen knives if unpredictable things happen.
When choosing from manifold cold weapon options on the shelf, the core features like overall length, weight, materials, price, and so on should be taken into account. Their quality can make your tool a true heavy-duty knife indispensable in the outdoors or make you go flop in the wild natural world. Let's now consider those several key options the true cutting-edge bushcraft knife models should have separately.
2. Bushcraft Knife's Blade Material
It is no secret that knives and especially their blades, have evolved over the centuries. The blade previously made of chipped stone is now mostly of sharpened steel, and the sort of work being done defines its shape. Resilient, sturdy, and ideally lightweight – these are the qualities a good blade should boast of to chop, sharpen, carve, and strip wood and other materials. Today, most bushcraft knives are made of carbon steel, and carbon steel bushcraft blades prevail in the survival market for a number of reasons.
3. Bushcraft Knives of Carbon Steel
Carbon steel is a specific sort of steel with a higher carbon concentration than other steel types.  Carbon steel's main component – iron, is similar to that of stainless steel. Yet the difference is that carbon steel bushcraft knives do not contain chromium and instead are comprised of carbon and iron. Carbon steel is generally considered stronger and more resilient than a stainless steel blade, although it is a bit less rust-resistant and thus can be more prone to corrosion. These facts should be kept in mind when selecting a particular model. Are you ready for the great outdoors? Let's now check the best steel-bladed companions possible. And remember: a good bushcraft knife is good, but if it's never enough for you, below we have selected only the most deserving models!
My Vote for Best Bushcraft Knife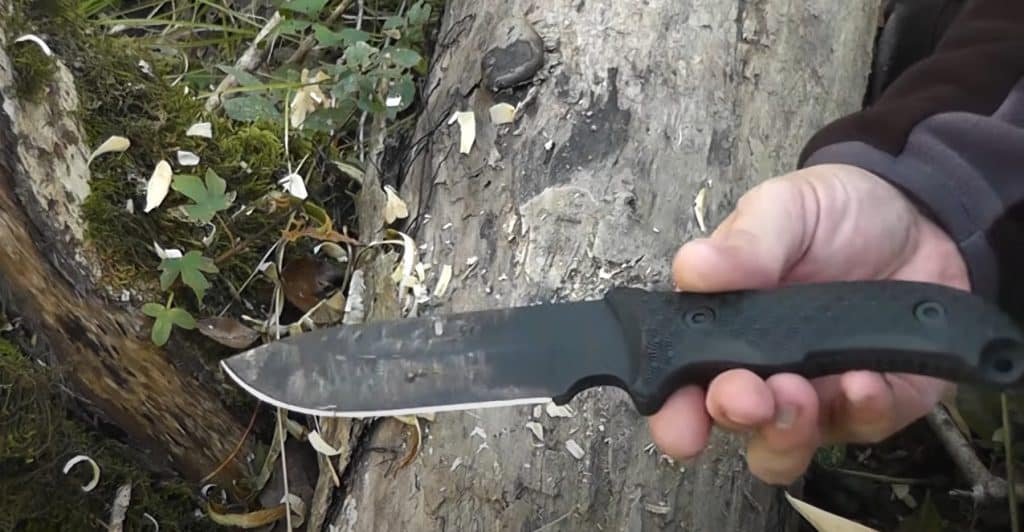 My favorite of these six would be the Shrade Full Tang Blade Drop Point Knife. The powder-coated blade is just the right length for nearly any job you can throw at it, the point is right on target every time, and the handle is so comfortable and easy to grip, it's hard to compare it to others. Then you have the added extra of being able to use the spine of the steel blade to strike against a Ferro rod which makes it even more valuable for its fire-starting capabilities.
This is definitely a must-have in the bug-out bag or any other bag that goes with you nearly everywhere as it serves so many purposes and can be used for so many different activities. The price, which is right in line with other bushcraft knives like it, is very reasonable as well, putting it within reach of just about everyone. It is one of the best cheap bushcraft knives but is still a quality steel blade.
Best Bushcraft Knives Summary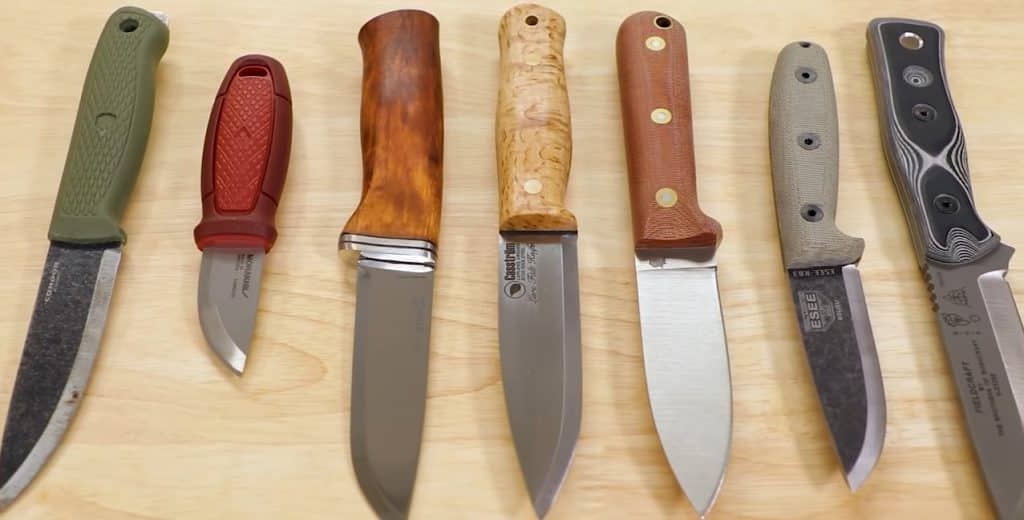 Those were the sturdiest and most resilient knives, according to the choice of our cozy bushcraft community. Those are different models well suited for various purposes and multiple outdoor tasks at once, from cutting wood and starting fires to chopping meat of freshly-hunted prey and other food prep, all great in severe weather and during the long periods in the great outdoors.
There are surely other knives deserving your attention that are not mentioned here, such as Scandi flat grind models, Weyland, or Condor knife. Still, our highly selective approach relates to the models that have proven their best within our personal outdoor experience. Feel free to propose your own weapon of choice in the comments section below!
Frequently Asked Questions – FAQ
What is the best bushcraft knife brand?
You may safely choose any of the above-mentioned models or select between the time-tested and highly recommended Schrade SCHF36, Condor Walnut Handle Bush Craft Knife, Buck Knives 0863BRS Selkirk, BPS Knives B1 with aaScandi flat grind, or KA-BAR knife with plain edge retention feature, and more. You may as well seek other deserving items using numerous helpful websites like Amazon.com or guides and articles on the Internet.
What is the difference between a bushcraft knife and a survival knife?
Although many manufacturers tend to design a model performing multiple tasks at once, the best bushcraft knives basically serve for more delicate chores – building traps, carving, skinning prey. Many of them are generally smaller in size (3-5 inches long), while survival knives are between 7-13 inches and apply to chopping, digging, batoning, and other rougher tasks.
How to choose the best bushcraft knife?
First, select size and other features according to your needs and outdoor conditions – for instance, full-tang construction steel blade knives are the strongest, while folder knives are more compact and best suitable for backpacks. Pay attention to the steel blade shape and material – carbon steels are preferable since they are easier to sharpen in the field than stainless steel ones. Choose sturdy ergonomic wood handles with a reliable grip, be it a wooden or synthetic one. If you find a model with both a good track record and a lifetime warranty, don't hesitate to buy it.
Are bushcraft knives legal in the USA?
The situation varies according to the type of knife, its blade length, the particular state, and other factors. Fixed blade OR locking blade knives of any length are considered legal, while switchblades, balisongs, and butterfly knives are not. A concealed and reasoned carry of a fixed blade knife is maybe legal – yet, in any case, we recommend getting acquainted with the related US laws before hauling around a cold weapon.