Among the must-have items in your bug-out backpack, one of the most important ones is a survival medical kit. Carefully chosen medical supplies and tools can significantly increase your chances of survival in the wilderness: you will have a bandage to attend to your wounds, stop bleeding or treat other possible trauma. To learn how to do it and what things to put in your first-aid kit, read this article.
You don't have to be an experienced survivalist to know you need to take the survival medical kit with you on every hike. In the moments of emergencies, the only thing that might help you is the survival first aid kit, which you either packed by yourself or bought on some emergency survival kit website.
No one (and even no medical worker) needs to explain to you the importance of the survival medical kit purchase, as you know it on your own, but we, as people, always doubt if things like that will ever become vital for us. As a rule, we doubt it until it's too late. We rarely think a simple ace bandage or an antibiotic ointment from the survival first aid kit can someday save our life. We rarely think we'll ever be in an emergency where all these survival things will do their part.
But, as it always happens, troubles happen when we expect them the least. Thus, it's better to be ready for them than meet them with bare hands.
Reading this article, you will know what medical supplies you need to put in your survival first aid kit and which are better to leave overboard. We recommend you not to skip paragraphs and especially the last part with FAQs. Skipping it will leave gaps in the sufficient information of a vital necessity of a first aid kit.
In case you want to be fully prepared for all emergencies that can happen to you, read this article carefully, make notes, make a first aid kit list, spend your money (if you need to), and remember: stay sensible and alert no matter what.
Survival First Aid Kit: Basics
When you start to form your survival medical kit, start with the basics as such habitual states as stomachache and diarrhea happen way more often than some atypical diseases.
Always pack extra medical emergency supplies when it comes to the basics of the survival medical kit, as they are the ones that you're going to need to restock the first.
OTC (Over-The-Counter) Medication
Here is the list of medications you don't need a doctor's prescription for so you can fearlessly add them to your survival first aid kit.
Click on links to find out more information on every medication from the list.
Prescribed Medication
Now, about the medication, you need to get the prescription. Meaning you have to spend time and see your doctor, which is not very convenient, but believe us: it worth it.
You need to imagine the worst survival scenario, visualize the worst survival situation you might ever find yourself in, and pack your medical first aid kit with all possible medical supplies, even if you need the prescription for them. Make sure you prepared yourself for emergencies, make sure your medical kit is full of all kinds of medical supplies, as prescribed ones and the ones released without a prescription.
So, here's the list of prescribed medical supplies that are a must-have for your survival medical kit.
Flagyl 500/400 mg: for curing all kinds of bacterial infections;
Ciprofloxacin 500mg: for curing severe infections, including anthrax;
Epinephrine 1 mg: for curing serious hypersensitivity reactions.
1 ml with the usage of the small syringe with needle
Professional Medical Supplies for Curing Traumas and Wounds
In situations of emergencies, when there is a lot of stress and not many resources (physical and emotional ones) when you got seriously injured or got a severe trauma, and when you have no one to help you and get your back, the only person who can help you is you.
Fortunately, some medical items might serve you well in emergencies like that, and most of them are professional medical supplies.
It takes a lot of effort and nerves of steel to help yourself in emergencies. You need to realize in emergencies that your life is only your responsibility. When your medical first aid kit is well organized, you have even advanced medical items in there, and you can be sure it might be a life-saving decision for you someday.
Wound Therapy
Blisters Therapy
We all have blisters sometimes, and you know how painful it is to have one. But can you imagine how helpful it might be to have blisters while hiking? It hurts so much you can't walk, but you have to. That's why it's essential to have something to heal your blisters as soon as you have them so you can continue hiking without wasting time searching for a doctor right in the middle of nowhere.
So, here's the list of several medical supplies to help you deal with blisters.
Essential Medical Supplies
Cotton Swabs
The more medical supplies for medical sanitation you get, the better for you. The more Antiseptic Cotton Swabs you buy online, the more discount you get. You can use cotton swabs to sanitize chest wounds or some other kind of injury.
Tactical Pincers
Never spare money on medical supplies from the medical first aid kit, especially when it comes to pincers.
Cheap pincers cause you more pain than relief as they won't likely save you from painful splinters or external substances in your body. Fortunately, some pincers are better than others (often they have a higher price), and tactical pincers from the website are such pincers.
Nail Clippers for Surgery
Sometimes such medical conditions as fungus, diabetes, or psora can ruin your journey and cause discomfort. In health emergencies like these, qualitative surgical nail clippers of high quality pare something you cannot deal with.
Why so? What are the pros of using this exact medical product?
they are made of stainless steel that will protect them from rust and/or erosion
they have an ergonomic design that makes it comfortable to use
they are abrupt
They are of such quality buying them, you will get a lifetime warranty, so by purchasing one pair of these medical needs, you're likely to use them for many years.
Stethoscope
The main difference between this medical product and similar medical products for physicians is its price. Innovative stethoscopes can cost a lot, so it might not be a good idea to purchase one when you don't need them for some professional purposes.
For personal use, the ordinary stethoscope is something that might serve you well when you're in an emergency.
Contactless Infrared Clinical Thermometer
You might wonder why you would need such a medical product as a contactless infrared thermometer when in an emergency.
We share your doubt, but there is the point of making one a part of your survival medical kits, and the pandemic is the reason why. When you go through the pandemic experience, you learn to do everything without contacting other people, their skin as well as their mucous membrane. You learn even to measure the temperature without contact, and the contactless infrared thermometer perfectly copes with this task.
This contactless thermometer is perfect even when there is no pandemic, but there are small children, and you have to measure their temperature while they don't want you to do it. With the use of a thermometer, you don't have to worry about things like that (and it's clear why).
Lancet
When you need some essential medical product for your medical kit, the standard lancet will be a better option for you. In case you need a more professional medical instrument of high quality, check out the sewing case.
Trauma Shears
In your medical first aid kit list, there must be a place for EMT trauma shears of high quality whose abrupt edges and crushed tines can cut through sturdy materials again and again. Make sure you have them in your trauma kit wherever you go.
Moisturizers & Ointments
Moisturizers and ointments from the list below are meant to cure your wounds, protect them from infections, reduce inflammation, prevent fungus growth, etc.
Miscellaneous Survival Medical Items
Puzzle game or children toy of a small size: keep something to distract your children's attention in moments when you need to concentrate on surviving or curing your wounds.
Nutrients: another must-have for your medical first aid kit with their small size and essential rescue ability. For saving space, put multivitamins in your bag and use them whenever you need them.
Hygiene products: don't forget to pack your bag with such hygiene items as a toothbrush, deodorizer, razor, and toothpaste. No need to be shy to take extra hygiene things with you as you never know how much time you will spend without them, and you never know how big the disaster of not having them under your hands would be.
Asthma inhalators: the only medical commodity you need when having asthma is an Albuterol as only it can help you in the emergency
Aquamira or some other tablets containing iodine (for cleaning the water)
Epinephrine: use this one for curing severe hypersensitivity. Due to its significant effect on individuals, make sure you can use one on them. When there is an emergency, you don't have time to check all facts, but it might be a good idea to think twice about the usage of this survival medication on your family when time is on your side.
Petroleum jelly: use it for smoothing dry skin. You can also use petroleum jelly as a firestarter.
Click Here To Get Your Free Survival Medical Checklist
Building Your First Aid Medical Kit From The Start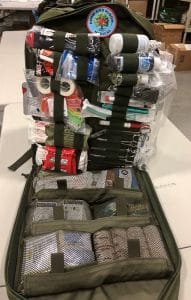 If you have an intention to build your medical first aid kit, read this part of the article with special attention.
In the information below, you will find recommendations on building your medical first aid kit. Even if you want to buy a completed first aid kit with all first aid supplies in it, knowing the way these first aid kits are packed can someday make a profit for you.
You need to find a bag with a place for medical supplies for all family members, for starters.
How To Choose The Best Survival Bag
It might sound like a challenge (and sometimes it is), but following our advice, you will eventually find the perfect bag that you're looking for.
No matter what kind of bag you want to find, no matter what size it would be, no matter what material it would be made. It doesn't matter what part of the USA your bag would be made in as there's one essential thing you need to remember — the order in which you put all these medical needs in your backpack of a duffel bag.
We know how troublesome it can be for individuals doing this for the first time, so that's why we made the list of requirements you need to follow while choosing the most comfortable and durable bag for all the medical things you might need during the emergency.
Tips on choosing the bag that suits your needs the most
Before thinking about purchasing a bag for medical kits, define what way, how, and why you're going to use it.
Do you need it to keep in the car? Or will you take it with you on a camping journey? What is the possible disaster you must face during your trip? What categories of medical things you want to carry in your bag?
Answer these questions before moving on to the other ones.
Determining the future emergency medical bag's functionality, you can have an idea of what color, size, design, shape, and weight your medical first aid kit bag has to be.
Select the water-resistant one if you know there are lakes as well as other water reservoirs are on your way. If you know your trip takes many days and some rough weather conditions, choose a lightweight bag of small size and pack it with essential medical supplies.
A small duffel bag or a complete survival medical bag with first aid supplies are the ones you need. Despite their small size, many medical provisions from your first aid kit list (such as sterile strips, safety pins, butterfly bandages, alcohol pads, eye pads, a blood pressure cuff, duct tape, a gauze, an emergency blanket, chest seals, or band-aids) can fit in there.
Don't get mistaken thinking the process of choosing the perfect medical water-resistant high-quality aid kit bag is something you can do in a second. Purchasing the poor-quality can turn out to be a disaster in a moment of a real emergency.
Don't try to discover America while searching for the perfect medical first aid kit bag. Use our recommendations on purchasing one, search for it using online and offline methods, and eventually get one in your hand.
22" Military Duffel Travel Bag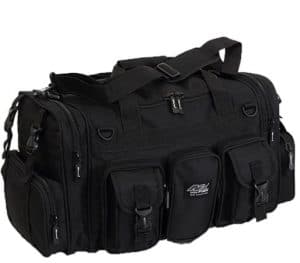 If you don't want to take with you an enormous survival handbag with first aid kits inside and you don't want to spend a fortune on it, think about purchasing the 22" Military Duffel Travel Bag.
A significant plus of this bag is its affordability. Meaning anyone interested in gaining surviving experience can obtain it without any problems.
You can choose any design of the handbag that you like but make sure it is tactical.
Compact Tactical MOLLE Rip-Away EMT Medical First Aid Pouch
The 1000D anti-abrasion polyester bag is perfect for those who like things being compact.
Being small doesn't stop it from being helpful during an emergency. All first survival aid kit supplies needed to pack the complete survival first aid kit can fit in this handbag that can be either an independent survival handbag with all possible survival first aid kit supplies or an addition to the bug out bag.
Having a wide handle, a rip away Velcro panel, a tri-fold design, and EMT shears of high quality make this handbag a perfect option for those survivalists who value great functionality in a small-sized bag.
Family Emergency Kit Storage Box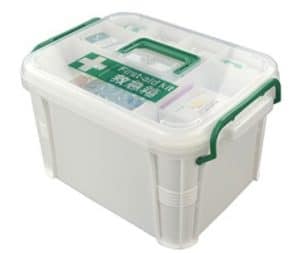 If you're searching for a survival handbag made of some durable material (for example, durable plastic), then use the Family Emergency Kit Storage Box.
There are several pros for choosing this first aid kit storage box. One of them is its design made out in the way individuals with family members could use this handbag altogether. Meaning survival first aid kits of every part of the family will fit in this water-resistant survival handbag.
Pack the handbag with first aid kits, put it in the wardrobe, use and enjoy its benefits whenever you go on a journey with your loved ones.
Unigear 600D Dry Bag Sack
Not every individual will stand camping in the jungles, let alone a survival handbag. When in a humid climate, survivalists need to use a survival handbag that keeps first aid kits in safety. The Unigear Dry Bag is made for this.
Being water-resistant, it is perfect for any situations involving water and humidity. Going boating or rafting, don't hesitate to put your survival supplies in this handbag as neither your emergency blanket (that preserves your body heat) nor band-aids, chest seals, or gauze (with its use, you can apply the pressure dressing) won't suffer from nasty weather conditions. And that's the waterproofness of this handbag that makes it possible.
In other words, if you feel that being in extreme conditions is something that sounds astonishing to you, then this survival handbag is the match.
TravTac Stage II Small Sling Bag
Do you have some severe journey plans? Thinking the survival transportable trauma kit won't be excessive? Are you getting ready for some possible future emergency? Then the TravTac Stage II Small Sling Bag is something you've been searching for.
Capacity, military design, and great functionality — that's what makes this handbag the only possible variant for those having an impressive list of survival first aid supplies needed.
It is of impressive capacity. That means all medical tools needed for severe operative measures like applying pressure dressing (with the use of gauze, band-aids, and butterfly bandages) or keeping the upper airway clear can fit in there.
Among other pros of choosing this survival, the handbag is its ability to have your back not only in a figurative way but also in a direct sense. Wear it any way you like: over the chest, over the back, or in your hands. Your first aid kit and supplies in it won't suffer from it.
With the TravTac Stage II and its ability to adapt to any of your needs, no emergency will be vital for you. Instead, your survival experience will be rich, breathtaking, and at the same time, risk-free.
MedPac 3800 Medical Bag
Perhaps, only the MedPac 3800 Medical Bag can be called a real survival first aid kit bag because its design is made to fit all survival first aid kit supplies. It has numerous pockets of all possible sizes and five flexible dividers that everything from first aid kits will fit there.
The MedPac 3800 is made for your comfort. Its fabricators worked out all details, added elements (such as flexible buckle-assembly) to remove the load from your back. The waterproof material of the handbag is a perfect match for high humidity and rainy days.
All this makes the high price of the MedPac 3800 reasonable as no other survival handbag for first aid kits has such great functionality, capacity, and no other survival backpack is that comfortable to carry.
Click Here To Get The Survival Medical Checklist For Free
Learning to Pack and Store Medical Aid Kits
Now, knowing how to choose medications and survival bags for first aid kits, it's time to learn how to pack and store ones. Some may call this the essential part of the whole process.
In moments of emergency, you won't have time to go through all the medical pieces of equipment in your first aid kit. You will have a few minutes to find that one medication. If you don't know where this medication is, you will waste time and lose precious minutes when you could assist yourself or your fellows.
That's why the most common recommendation for those packing first aid kits on their own is to divide all supplies into four categories:
Personal accessories
Prescribed medications
Trauma therapy
OTC medication
Pay special attention to trauma kits and things of your personal use in an emergency you will need the most. That's why make sure you provided quick access to them.
Some methods of dividing them and organizing them in your first aid kit:
Update Kits Regularly
Without this, all your efforts will be wasted. If you have a cool handbag and a cool container for medications without having these medications, then there's no point in the whole process.
Keeping aid kits updated require efforts, but so your pets and potted plants do. If you don't feed your pet every day or forget to water flowers, what would happen with them? You know what, right? So why would you expect nothing similar would happen to your medical kit when you forget to pack it with supplies?
The expiration date of medication tends to expire from time to time. Sometimes the problem is with containers and their preserving ability. Anything can happen, and it's normal as it happens all the time.
You, as the experienced survivalist, is responsible for keeping your first aid kit in decent condition. To make the process easier, try to make a list of all supplies needed in case of emergency. Make a copy of this list and keep it on your phone. Once in a month, check these lists with the supplies in your medical kit, and buy supplies needed to keep your first aid kit fully updated.
You can create another method of updating your first aid kit. It's limited to your fantasy.
If you feel you can't come up with anything, watch the DIY Tactical Medical Kit Video with numerous details given. We're sure it will help you to build your medical kit and keep this kit updated. While watching the video, don't feel like you're an unprofessional traveler who deserves only shame. No, consider this video as a practical guide for the creation of your perfect medical kit.
Click Here To Get Your Free Survival Medical Checklist
Split the Medical Kit's Compartments
If you're not that kind of person not looking for easy ways, if you want to make the process as easy and quick as possible, just split your medical kit's compartments and store supplies of different categories in there.
Pillboxes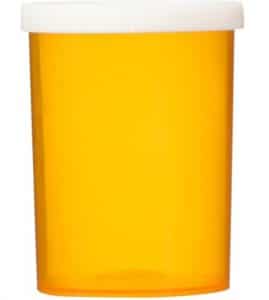 Perhaps, it's the most convenient method of storing your medications. Especially when you know the price for these pillboxes and the fact you can recycle them, that is important in the 21st century when we have plastic islands in the oceans.
You can also store band-aids and other small items in there.
Tupperware
If you don't care about how much space supplies of your first aid kit take, then using Tupperware might be the best option for you.
They are also cheap, and they also have various sizes, shapes, designs, and colors. Anyone can find the one that will meet his needs perfectly.
Bags for Personal Things
A few pros for choosing these bags: their price (that is extremely low), various sizes (you can select the one for your kit), numerous nice colors, their lightweight, and water-resistant material.
They are affordable for anyone interested, so if you're one of them, note that you can purchase them either online or in any offline sports shop.
Zip Locks
Anything from your first aid kit that can leak you can store in zip locks. That will save the rest of your first aid kit from being destroyed and your personal things from being thrown away.
As previous categories of medical kit's compartments, zip locks can be of various colors, sizes, forms, and their design can vary from item to item.
Put all leaky supplies from your first aid kit in zip locks, and don't worry that they will taint your other belongings and drugs.
Top Survival First Aid Kits on the Today Market

Not every traveler is ready to pack first aid kits on their own due to the lack of time or desire. That's okay as we are all different. We have different demands and expectations.
Some of them have the opportunity to purchase the first aid kit that is already packed by someone else. Each method has its pros and cons, but we're not here to judge.
We prepared the list of top first aid kits presented on the USA kit market for those who want to save their time and nerves.
Adventure Medical Kit's Trauma Pack With QuickcClot
Despite the smallness of this trauma pack, it has some impressive pluses, and the waterproof material this pack is made of is one of them. One more reason for purchasing this pack is its equipment that consists of gauze, triangle bandages, and a trauma pad.
This adventure kit is the emergency care for those suffering from bleeding. It's the first thing you must use before looking for more serious help, but even if you don't find any, supplies from this trauma pack will be enough to stop blood and sanitize your wound.
Tick Here To Review The Recent Price Of The Pack
SURVIVAL Work/Home First Aid Kit
For those experiencing difficulties with staying calm in an emergency, this survival kit is the life ring.
Every supply from the pack has its label that makes access to medications as easy as possible. Just open the pack, find the right name, and pick the supply under it.
The material of this first aid kit handbag is lightweight, water-resistant, durable, and glowing in the dark that allows you to find it in the darkness without any problems.
Tick Here To Review The Recent Price Of The Pack
MyMedic First Aid Kits
The MyMedic first aid kit is rightfully (in our humble opinion) considered as the best first aid kit among many others. And here's the reason why.
Brand MyMedic created first aid kits of various sizes, shapes, and functionality, and when we say about functionality, we mean it.
They turned ordinary medical kits into the perfect medical kits endowing them with supplies for all the possible world's problems. In the list of their medical kits are such kits as Range Medic Bags, Surf Medic, Boat Medic, and even a Pandemic Medic Kit, if you can imagine that! Living in the pandemic world and knowing about the existence of a first aid kit made for pandemics is such a relief! At least now we know where to search for help.
But there are two survival kits better than all mentioned kits taken together — the Recon Kit or the MyFAK Kit. The pros of these medical kits: their both lightweight and capacity, allowing you to pack all medications needed in most emergencies. No other first aid kit on the market can offer conditions like these for such a price.
It's astonishing how much attention pays the company while creating ALL the MyMedic Kits. You won't find any health supplies that you won't possibly need. You won't find any bad-quality medication or medication with the expired period because the company cares both about your health and their reputation.
Tick Here To Review The Recent Price Of The Pack
If you still have doubts about the quality of this company's products — watch this video of review on the MyMedic's (FAK) First Aid Pack and make sure yourself the purchasing of any of these survival bags is worth it.
Lightning X Extra Large Medic First Responder EMT Trauma Bag
Are you looking for a decent trauma kit handbag? You can stop searching for it and stop your choice on the First Responder Bag by Lightning.
It has everything you need and even more. All medications needed for trauma therapy are collected just in one survival handbag. What else do you need?
Tick Here To Review The Recent Price Of The Pack
MFASCO — First Aid Kit — Complete Emergency Response Trauma Bag
We doubt you will find the medical kit better for such natural disasters as hurricanes, tornados, or earthquakes. And it's not just big words to grab your attention.
Four pockets on this survival handbag are enough to fit all essential health supplies, including gauze pads, eye wash, stethoscope, burn gel, and multi-trauma blood stops dressing. With this medical kit, you can stop worrying about meeting with natural disasters as you will have the instrument for dealing with any of them.
Tick Here To Review The Recent Price Of The Pack
Small First Aid Kit for Hiking, Backpacking, Camping, Travel, Etc.
Despite the fact this survival handbag has "small" in its name, the material this small first aid kit made of (600D Polyester) makes is the strongest survival handbag for carrying a medical first aid kit.
This first aid kit's total weight is just 1 pound, but 100 essential survival items (including gauze and steri strips for keeping the upper airway clear) can fit in there. It also has scissors made of stainless steel with those you cut seatbelts and clothes. Keep it in your car's glove compartment to always have it under your hand whenever you need it.
It's important to add for those keen on traveling in the deepest Asia and Africa's corners that this exact survival kit's material is water-resistant. It means your belongings will not suffer under the tropical rain.
Tick Here To Review The Recent Price Of The Pack
Tick Here To Receive Your Loose Survival Medical Checklist
Upgrading Survival First Aid Kits Skills
As we have already mentioned in the article, all your intentions on using medicinal bags and getting ready for emergencies can crash into the inability of using ones.
You can have the latest versions of medicinal bags, you can buy any advanced medications and survival tools, but that won't change anything when you don't know how to utilize them. When you have gauze or gauze pads, and you don't understand how they work — the fact you have them becomes pointless. When you have high-quality medical equipment, and it comes to clearing the upper airway of the individual in want, and you can't do anything, your medical tools are worthless.
You can subscribe to special courses like EMT, or you can attend classes in your local community college to upgrade your knowledge of handling medical equipment and survival tools. You can also sign for webinars and training like Wilderness First Responder training. You can choose whatever you want if you have money and time.
If you're a bookworm and you prefer to get information from books, then "Basic First Aid" and "Medicine For The Outdoors" are the perfect option for you. Just ensure you read everything written here because it's essential for surviving in an emergency.
Finally, if you want to make the process of getting information on surviving and using survival tools and medications, then pay attention to Survival MD.
Survival MD Training Guide
If you're a layperson, like most of us, then this medical survival guide is for you (and for all your friends who are also laypeople). From this guide, you will learn not only basic emergency techniques, but you will also study how to do more complicated things, such as clearing the upper airway of people.
You will learn step-by-step, and the information will be written in simple language. You don't have to have any medical background to understand those instructions as they're written for usual people like you and me.
What's important, there's no waste of information in the guide, only facts and particular instructions. You open the guide, learn something new, close the survival guide. It's simple as can be, even little children will understand what's written here, and you're a bit older than a child, aren't you?
Another plus of this guide is the low price that makes it affordable for anyone interested in purchasing it. And knowing how to protect your loved ones in an emergency is priceless. You can purchase one more copy of the guide as a present for your friends or family members.
Summary
We now absolutely believe it's better to be ready for the future possible emergency than not be ready at all. We never know what is waiting for us in the future, as we never knew the pandemics could someday become our reality. But we have to be ready in case something like this happens and turns our lives upside down.
We might not want to waste money on survival medical tools, and we don't want to waste our time reading books or attending classes learning the behavior in an emergency. But we have to remember someday knowledge can save our life. Money means nothing when it comes to the health of your and your close ones. And the reality of our world proved that to us.
It's great if your medical kit is covered with dust and waits for you somewhere in the wardrobe. At least you have one. At least you know how to utilize one.
But what if you don't have it? What if an emergency and you have nothing under your hands to help yourself? What if you have nothing to help your children? What if someday you preferred to save your money thinking nothing severe can happen? What then? Would it worth it?
You can prepare yourself for something that will never happen, and you will know if something goes wrong, you're not helpless. Or you can live as if the world is a safe and nice place where unicorns live, and neither pandemics nor tornados happen. The choice is up to you. But remember your today's choices affect your future. Choose the best future for you. All is in your hands.
FAQs
What is the best survival first aid kit?
All of them can be useful depending on the situation you're in. Choose the one that suits your demands the most. Use weather conditions in your region as an orienteer.
What are the top 10 survival items?
It depends on the situation, but in our humble opinion, we choose these items as top ten survival items: alcohol pads, eye pads, gauze, duffel handbag, sterile strips of different sizes, emergency blankets, portable radio, portable rocket stove, waterproof socks, EMT shears.
What are the 10 essential survival kit items?
It depends on the situation, but in our humble opinion, the top ten survival items: chest seals, a blood pressure cuff, duct tape, chest seals, butterfly bandages, gauze pads, safety pins, antibiotic ointment, petroleum jelly, ace bandage.
What are the best things to have in a survival kit?
Note to have items with sterile effect for situations when you want to clean your wounds. Keep a trauma kit in your survival kit as traumas happen all the time. Also, keep something like emergency blankets to keep your body heat in an emergency.
Where can I buy a first aid kit?
The most popular and convenient method of purchasing one is numerous websites, and Amazon is just one of them. Also, you can buy a first aid kit in specific shops oriented to surviving. Google the shop like that nearest to you.
How much does a first aid kit cost?
It depends on what you're expecting from this kit. They come off various prices, capacity, and functionality, so anyone can choose the one that suits his demands the most. But usually, prices vary from 25$ to 300$.
Items that should be in a first aid kit
Ensure there are prescribed medications, OTC medications, trauma therapy, personal belongings (for hygiene purposes, for example) in your first aid kit.
How to organize first aid supplies?
The best method to organize survival tools and medications is to divide them into different sections and different survival medical handbag compartments.