Choose a pocket survival knife sharpener from our list to use in the wilderness or the kitchen. It is a great tool for sharpening a blade. We will explain how to choose the right angle, whether you need a diamond rod or a leather belt, and what sharpeners can work on serrated and straight-edged knives. You can use a ceramic sharpener, a whetstone, or a different option. Read our review to choose the right one.
A survival knife is an essential component of your gear. It will save you in many extreme situations related to hunting or fishing, making a shelter or bonfire, and of course, it will help you in self-defense.
To apply the pocket knife to its full potential, a survival knife should be sharp enough. A dull knife will limit the scope of its possible applications and can even damage you. Ancient people claimed that the sharp knife is less harmful than the dull one.
What threat can a blunt knife cause?
Firstly, you will need to spend more time and energy to manage the problem with a dull knife.
Secondly, if the knife is not sharp enough, it may let you down in the conditions when your life is on the verge of death.
Finally, the wound made by the blunt knife needs more time to be healed.
People have used pocket survival knives for decades, and the one rule all of them have followed is to keep the knife sharp.
As a survivalist, you may want all the gear you have in your bug out bag to work properly. That is why you need to purchase and regularly use a knife sharpener.
Survival knife sharpeners are available on the market in many designs and prices. You have no justification not to have it.
Our ancestors did not have such a diversity of knife sharpeners, but they care about the knife in another way. The one affordable alternative was a whetstone.
People made the whetstone of the Hornfels — fine-grained sort of the stones. It was the best material for the sharpening. However, time passed, and new technologies appeared in modern society. The sharpeners are produced for many purposes nowadays, and survival is not an exception.
There are plenty of manufacturers creating survival knife sharpeners. This article will introduce you to this industry, and you will learn information about the best representatives of sharpeners in the stores today.
We prepared the review of these topics in the report:
Essential Features of the High-Quality Knife Sharpener
Methods of Sharpening Survival Knives
Best Knife Sharpeners in the Stores
Knife Sharpening Without a Special Device
Do You Want to Become an Expert In Survival Gear? We Offer You a Manual on Survival Gear for Free. Snap Here To Get It.
Essential Features of the High-Quality Survival Knife Sharpener
You should pay attention to the three required traits of buying a pocket knife sharpener.
The weight of any gear is important in survival. The weight of the whetstones is what restricts their usage in survival. The lighter will be your bag for bugging-out, the longer distance you will be able to cross. For this reason, select only lightweight sharpeners.
Small size is also a quite valuable trait of sharpeners. Ensure there is a place for the chosen sharpener in your get home bag, bug out bag, or another survival backpack.
Compactness and lightness make the knife sharpener appropriate for survival.
To be a tool of high-quality, the knife sharpener should be durable. Look through reviews to be confident in the reliability of the selected knife sharpener. Your bag with all gear can be involved in a variety of extreme situations. You always should know that a sharpener is in its best condition. Also, do not forget about its performance — the sharpener should have the capability to make a sharp blade.
Additionally, survival tools differ from other devices by their multi-tasking. It is more convenient to have one instrument that can be applied for different goals. I do not mean that your sharpener should consist of a fire starter and a pocket radio, but one even tiny extra function will make it handier.
Do You Want to Become an Expert In Survival Gear? We Offer You a Guide on Survival Gear for Free. Snap Here To Get It.
Methods of Sharpening Knives
So, imagine you already have a pocket knife sharpener, but you do not know how it works. This question occurs in the mind of all preppers after the purchase of this instrument. It is not a complicated job. You just need to have practice in it to be confident in your abilities.
We prepared a step-by-step tutorial on knife sharpening with this special mechanism.
Treat the blade with the diamond-coated stem. Put the blade at a 20-degree angle to the rod and make a sharp swipe. Repeat it and make sure you are sharping the whole surface of the knife at the same angle.
Use the tungsten blades attached to the tool. Put the knife into a tungsten hole and rapidly pull it out. The tungsten blades will pinch your pocket knife and sharpen it after a few repetitions.
Reproduce the second step using the ceramic sharpener. Ceramic sides will make a job other sharpeners couldn't do. They will polish the knife and adjust an excellent edge.
The sharpening stone is also a useful tool available in stores nowadays. The procedure of sharpening a knife with the whetstone differs from the one presented above. Let's explore the way you can make a sharp edge with the help of this material.
Moisten a stone. Keep it in the water until it is dripping wet. Then you need to put it on the bamboo base or another non-slip surface.
Treat the blade with the rough-grained side. To make your knife razor-sharp, keep the constant incline at 15-20 degrees. Launch sharpening from the tiny end of the knife and slowly move it to the wide part. Conduct a light pressure on the blade but try not to overdo it. Two or three swipes will be enough if the surface of your knife is not completely blunt.
Repeat the same procedure with another side of the knife.
Turn the whetstone on the fine-grained side. Reproduce step 2 to polish the cutting edge of your knife.
Wach the whetstone from the sanding sludges.
Rinse the knife with warm water.
Do You Want to Become an Expert In Survival Gear? We Offer You a Guide on Survival Gear for Free. Snap Here To Get It.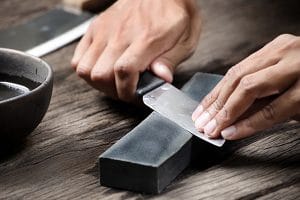 Best Survival Knife Sharpeners in the Stores
We collected information and reviews about the survival knife sharpeners available on the market today. Then we chose the best ones and are ready to show them to you. You will be able to compare them and select the most suitable for you after reading this part.
1 — Alpha Tek Tungsten Hunting Knife Sharpener
The Alpha Teck Sharpener is made in a simple design without additional multi-tools, but it makes this pocket knife sharpener even more practical.
Firstly, the sharpener's bright color allows you to easily find it in your survival bag or on the ground.
You can fix the knife on this sharpener with the rubber pads to facilitate the sharpening through the carbide blades.
It can also be attached to your backpack or pocket as this portable tool has a pocket clip.
The knife sharpening process is quick with this device — only 4 swipes will be enough to make your blade sharp again.
Learn the current price here.
2 — Gerber Bear Grylls Field Sharpener
You can fit the Gerber Field Sharpener in any bag and pocket and the sharpener's size is about 4.5 inches. Moreover, the solid plastic case will secure the tool from any breaks inside your bug out bag.
This device is equipped with two diamond rods, and it allows you to sharpen the knife and blade of any curvature.
Non-slip rubber handle protects you from unexpected injuries and provides a convenient approach to sharpening.
Check the price on the market here.
3 — Rada Cutlery Quick Edge Knife Sharpener
The corpus of this sharpener is resistant because of the premium nylon plastic and steel wheels in it. The Rada Cutlery Sharpener includes a plastic protective case to make its carriage even more comfortable.
Besides, this pocket knife sharpener is manufactured in the USA and has a lifespan guarantee. If it breaks during your usage, you can return it to the store and get a free new one.
Explore it in more detail and check the current price here.
4 — Sharpal 6 in 1 Sharpening Tool
The advantage of this sharpener is its multitasking.
To start with, it is a perfect sharpener for survival knives. There are tungsten carbide blades for edges sharpening and ceramic sides to make accurate honing. The diamond rod is also included in this sharpening instrument.
Moreover, you can apply it in fishing as there are fishhooks in it, in fire starting with the help of an incorporated fire striker, and in survival thanks to the survival whistle.
The price and detailed description are here.
5 — Ioffersuper 3 in 1 Diamond Portable Pocket Sharpening Pen
You can sharp knives with the two-sided diamond-covered rod set in this sharpening device. Safety can be provided by screwing the rod into the handle.
The small size and lightweight of this sharpener and the handle allows you to find a place for it in your survival bag or bug out bag.
Besides, you can transform the survival pen into a self-defense instrument for survival.
Tap here to know the sales price for this sharpener.
6 — Smith's Pocket Pal Multifunction Knife Tool
In my opinion, this mechanism is the best knife sharpener available today.
Smith company produced the sharpeners conforming to all norms of quality established in the US. Their activity was dedicated to stone processing several years ago, but then they changed their direction and began to manufacture knife sharpeners.
The design of this survival knife sharpener fully complies with the requirements of survivalists and campers.
Pocket Pal consists of an internal diamond rod that can be used in sharpening not only knives with a flat surface but also serrated survival knives.
The producers added the carbide blades to this knife sharpener for recovering the edges on broken or dull knives. The carbide blades provide precise polishing of any razor.
The Smith's Pocket Knife Sharpener can serve you for years because of the replaceable tungsten carbide and rod. That is why this sharpener is highly recommended to preppers.
Learn the current price for this Pocket Pal Sharpener here.
7 — Three-Way Cut Premium Knife Sharpening Stone
This product is not a simple sharpener but a sharpening stone. Sharpening stones are bad at portability, but their complete performance covers all the disadvantages.
The sides of this sharpening stone differ in their purpose. One of them is rough, which helps remove all the flaws and irregularities from the blade and create an accurate edge angle. Another one is fine-grained and can be applied for polishing and adjusting of the edge.
The item contains a bamboo basement. You can easily fix the whetstone at this base to avoid cuts when you sharpen a knife. The rubber layer and angle mount allow you to avert stone movements.
Additional tools are also incorporated into this good, but the most valuable one is the whetstone itself. The sharpening stone cannot become your pocket sharpener as it is heavy and bulky. However, you can always place it in your bag and get a weight gain. If you are ready for this challenge, sharpening stones are the best option for you.
The most suitable locations for this tool's storage are your survival car, survival gear, or bug out area. Leave it for sedentary survival.
Check the price here.
Do You Want to Become an Expert In Survival Gear? We Offer You a Guide on Survival Gear for Free. Snap Here To Get It.
Knife Sharpening Without a Special Device
There is an opportunity to save your survival knife without stones and pocket knife sharpeners. You just need to have creativity and patience.
River Stone
Firstly, your goal is to find a stone fitting your hand and having a flat area. The best variants of stones for sharpening and buffing are finely grained stones. Wet the stone before you start sharpening.
Put the stone and blade into different hands and move the knife back with a stable angle at 20 degrees.
You probably will spend much more time sharpening with river stone than with a survival knife sharpener. However, the stone will do its job.
The efficiency of the stone depends on the type of stone. Make several tries to find the most suitable whetstone for sharpening.
Sandpaper
Sandpaper is a material highly used in household work. You can buy it in any hardware store or find it in your toolbox.
The sharpening algorithm is the same — use the more rigid side to remove all roughnesses and treat the knife blade with a fine-grained surface to make a sharp edge.
Wrap the wooden brick into the sandpaper to make a "whetstone" from it. It is a more convenient way to sharpen your survival knife with sandpaper.
Ceramic Cup
A ceramic cup can replace a ceramic stone in this task. Turn over a mug and make sure there is a rough circle on its bottom. This coarse grit will play the role of sharpener for you.
Sharpen your blade, reproducing the same technique as with the ceramic stone. Do not forget to keep an angle at 15-20 degrees.
Of course, it is not a rational way to make the knife sharp, but it can be useful when you do not have special sharpening systems.
You can also apply a ceramic plate for this goal.
Steel Knife
You may be surprised, but another knife also can help you in sharpening. Steel can always be treated with steel. That is why you can avoid spoiling other things in your home.
Make sharp movements by the blunt knife on the surface of the supporting knife holding the constant angle.
Leather Strap
The leather belt will not allow you to make survival knives razor-sharp, but it will slightly rectify their edge.
Swipe the blade on the inside side of the strap and repeat it several times. Do not apply belts with seams because they will not be useable after sharpening.
Car Window
The upper side of the vehicle window can be implemented as the survival knife sharpener. Also, there are always plenty of cars near your location.
So, open the window halfway and run the blade through the border of the window.
This approach is almost as effective as sharpening with stone.
Summary
The importance of the sharp blade cannot be argued. A dull knife will not be helpful in a survival situation. As you may notice, a good knife is determined by its sharpness.
A blunt knife is not survival gear. It is a dangerous instrument. I can guess that your indifference to the bluntness of the blade shows your apathy to all survival gear.
Care about your blade with the survival knife sharpener. There are various models in every travel shop today. Do not spare the money on this extremely practical tool. Most of them match all the survival criteria as they are compact and light, durable, and long-lasting. Do not forget to put the survival knife sharpener packing a bug-out bag.
Prepare your survival knives in advance to be confident in your security in survival situations.
FAQ
Which is Better – Ceramic or Diamond?
Both of them have advantages and disadvantages. Ceramic stones are more valuable at the end of sharpening as they let you grind the blade. As regards diamond stones, their brought structure allows to remove even serious damages and set the sharp edge. Of course, you can achieve the best result only by using both of them.
Why is a Sharpening System Better?
Sharpening systems are electric mechanisms processing the blades. Compared to manual sharpeners described in this review, the knife sharpening system is better in polishing and treating the serrated knives. It reduces the energy you need to spend on the sharpening. So, the money you overpay for a sharpening system will save your time and save your strength.
What is the Best Survival Knife?
There are a lot of great survival knives on the market. Pay attention to the material they are made of and the country of production. The reliable knife should consist of carbon or stainless steel and have a convenient handle. Experienced survivalists prefer knives manufactured in the US, Japan, or Europe. These countries use modern technologies to produce, which makes the gear lighter, stronger, and more comfortable to use.
Where and How to Buy Ammunition?
You can buy ammo in gun stores or online shops. Check the restriction to purchase ammunition in your state on the governmental websites. Remember, you should be at least 18 years old to acquire ammo for rifles and 21 years old to buy equipment for pistols. Sometimes you will need to present the license even in online stores or at the delivery points.