All survivalists have survival kits, but they can be all different. What should a proper emergency kit have? Sould it necessarily be waterproof? How to put your first-aid kit, a compass, a survival bracelet, paracord projects, rope, fishing gear, a shovel, and more in the kit and where to get such a sizable one. All this and more, in our article.
A survival kit or survival pack is a set of the most important survival equipment and supplies folded into a convenient carrying case, i.e., a bag, backpack, container, or something like that.
This is a straightforward and necessary thing. But beware, not all survival kits are created equal.
Before buying, we advise you to compare different sets and read our article to navigate the variety of survival packs better.
Therefore, we will look at the most important components of an ideal survival kit.
Ultimate Survival Gear Checklist
The Ultimate Survival Kits Checklist
You may have already put your survival gear in your backpack or bought a ready-made bug out bag, but our checklist will still be useful to you. You can compare lists and add something missing to your set. But even if you have something that we did not mention in our list, this is rather a plus. You cannot overdo it in the matter of survival. Better to have more tools than to miss something in an emergency.
If you buy ready-made survival kits, our list will help you check if all the necessary items are present or worth adding something. In general, we recommend that you always add your own items because only you know your features, maybe you need additional medicines in the first aid kit, or you are a good fisherman and are sure that fishing tackle will help you feed in an emergency, or just put extra freeze-dried meals.
Create the complete bug out bag using our checklist and your preferences.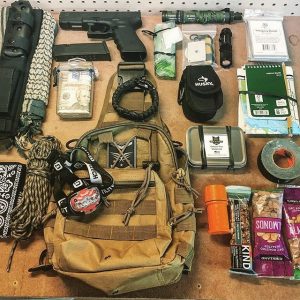 Emergency Gear And Tools
We have not arranged the list in any particular order of importance, but we have numbered it for your convenience.
1. Survival Flashlight & An Extra Battery
It is best not to stock up on a lot of survival equipment that requires batteries. But the super-bright flashlight is on the list of essential survival items.
Your best bet is to get your survival flashlight with standard batteries, for example, where only one AA battery is required. Remember to pack one or more spare batteries for your flashlight.
A flashlight can be useful to you both in total blackout and simply in situations with short period power outages.
2. Dust Masks
Breathing is the first basic human need, and in a survival situation, dust masks or respirators may be needed to satisfy this need.
Emergencies can easily include fire and smoke like a California forest fire. Then a dust mask will come in handy.
Or as in the coronavirus pandemic, when we are all used to having a supply of respirators at home to protect the respiratory organs.
The masks are lightweight and do not take up much space so that you can buy them for future use. Or you can think of a more serious remedy and buy a full-blown gas mask. As we said, you can not overdo it when it comes to survival.
3. Survival Knife
A survival knife is one of the indispensable tools for your survival kits. People have been using knives since time immemorial, both in emergencies and in everyday life. There are many situations in which the Survival Neck Knife comes in handy – from cutting packaging or food to picking locks.
Therefore, make sure to have a multi-purpose knife in your emergency kit. You can choose the ESEE knife, but it is rather bulky, so if you need to save space, you can also get a credit card knife. Make sure you have at least one in your kit.
4. Compact First Aid Kit
Unfortunately, the space in your survival pack is not unlimited, so you cannot put in an extensive first aid kit that includes all prescription medications or a large trauma kit.
If you take too many First Aid supplies, you will run out of space for other equally important survival supplies.
Therefore, we advise you to buy a small First Aid Pack or assemble the first aid kit yourself.
Just remember that the First Aid Kit must include a basic set of medical tools and medical supplies:
alcohol swabs or wipes
antibiotic ointment
plasters
clean gauze.
Put all your first aid supplies in one place (box or small medical bag).
5. Emergency Whistles
Survival whistle takes up very little space but can be useful in several emergencies. You can rely on your voice, but any voice will never be louder than the whistle. A survival whistle will help drive away a wild animal or let your family know where you are.
We invite you to pay attention to the whistle from Survival Frog. They usually have excellent deals for loud and light whistles. This inexpensive device can save your life or make it easier, so be sure to put one in your emergency kit.
6. Emergency Light Sticks
Emergency lightsticks provide emergency hands-free lighting and can help rescuers identify you. Emergency light sticks are inexpensive and easy to use and are a great tool to have in every preparedness kit.
7. Wilderness Survival Blanket
You should definitely have an item for an emergency shelter in your survival kit. This could be a sleeping bag, an emergency blanket, or something waterproof that keeps your body warm.
We recommend purchasing bivy sacks. They are using the mylar technology that is used at NASA. Mylar is a thin material that is excellent at keeping out heat and providing shelter in bad weather.
Tact Bivvy takes up less space than sleeping bags but may even surpass some of them in quality.
Check out the video below about the Tact Bivvy and make sure in our words.
8. Waterproof Lighter, Matches, and Striker
Fire is the means that has changed people's lives. You can use fire to keep warm, cook food, attract attention, or drive away wild animals. Therefore, critical need to have a supply of waterproof matches, a survival lighter, and a Ferro rod in the emergency kit.
There are ways to kindle a fire without special devices, but why to complicate an already difficult situation for yourself? Besides, you may not have time for this.
Be sure to put a set of matches in waterproof packaging and a fire starter.
A fire starter kit is an absolute must for any survivalist.
9. FishLine And Hooks
No matter how much food you store, there will never be enough food, so we recommend putting something in your survival kit that will help you feed yourself and your family. The simplest method is fishing. It is less difficult than hunting.
Put the fishing kit in your bag or backpack. It is not necessary to take fashionable spinning rods and fishing rods that will take all the place. It is enough to store a strong line, hooks, and maybe bait to catch fish.
10. Biohazard Gear Bags
No one knows what emergency will come, and it is best to prepare for as many options as possible. So grab some Biohazard Bags. These garbage bags will not take up much space, and it is better to have them than to experience difficulties from their absence.
11. Emergency Poncho
Another must-have in survival kits. An emergency poncho keeps you dry and protects you from wind and cold weather. Better to buy several emergency ponchos so that it will be enough for every of family members.
Emergency poncho will be an indispensable item if you stay outdoor without a roof over your head or if you need to get from one cover to another.
12. Compact Compass
We do not recommend relying too much on GPS equipment, anything can happen, and they can fail. Therefore, the less technology your emergency tools need, the better. This is why be sure to get the usual little compass for each of the emergency kits. Choose a simple, reliable compass that will point you in the right direction. There are times when people are very close to their destination, but they walk in circles because they cannot correctly orient themselves on the terrain, and if they had a compass, they would have coped and would have coped much faster.
You do not need an expensive fancy model, just a small compass that shows everything right.
13. Entertainment
Many people think that entertainment stuff will be superfluous and will only take place in the survival kit. But we will not agree.
Entertainment is something that will keep your mind healthy or distract you from the awful reality. Put a small card game, book, or magazine in your backpack (in a pinch, you can burn them). But we think that distraction is handy not to go crazy, so it is better to get a deck of playing cards.
14. T-REX Duct Tape
They say that with duct tape, you can fix anything. And this is partly true.
Duct tape made in the United States will allow you to fix or repair many things and will be indispensable in the event of a disaster.
T-Rex duct tape is one of those items that are difficult to replace with something, and the quality of the original item is much higher than analogs.
15. Nitrile Gloves
It may not occur to many people, but nitrile gloves must be on the emergency supplies list.
There are many situations in which they can be useful to you, for example:
Clean the toilet or something you do not want to touch;
Treat the wound;
Touch contaminated areas or toxic materials;
Touch something that gets you dirty.
Nitrile gloves will not weigh down your survival kit, but they can help in certain situations.
16. Personal Items
Everything we listed above is included in the emergency kits checklist for all people. Now you need to think about which items will be more difficult for your family to survive without.
If you have a car, we recommend putting spare car keys in the car survival kit.
If you have a small kid, then you definitely need to think about baby supplies.
Women will want to take the personal hygiene items or hygiene kit they need.
Perhaps you are taking any medications regularly, then be sure to put them in the first aid kit.
You need to think, without which items you cannot survive several days, and put it in your disaster kit.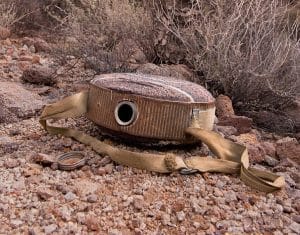 Emergency Water And Food
All of the survival gear listed above are aids in your survival path, but the first necessities of an emergency preparedness kit will be food and drinking water storage.
We will be guided by the Red Cross's advice on that matter. They advise having a minimum of:
Food — non-perishable foods (2-week supply for home, 3-day supply for evacuation);
Water — one gallon per person a day (2-week supply for the home kit, 3-day supply for evacuation kits).
Water
In addition to supplying emergency drinking water, you need to stock up on water purification tablets and water filters.
People need water daily for a million things, from drinking and preparing food to wash the house and clothes.
Be sure to take not only bottled water but also a means for water purification and filtration.
Put in your survival kits, water purification tablets, and a small water filter like the Sawyer Mini.
We invite you to watch a video review of the Sawyer Mini filter below.
Food
Choose foods that are high in calories and protein, but avoid chocolates and sweets as they will only give you a short-term boost due to their high sugar content.
Freeze-dried meals, packets of trail mix, or peanuts are good options for an emergency snack.
Another good option is to stock up on some pemmican for your survival disaster kit. Pemmican is a high protein meat bar with an extremely long shelf life that you can prepare yourself at home or buy. Their main advantages:
the ability to store without a refrigerator up to 50 years
ease of use
high calories and protein
a variety of options.
Do not neglect supplies of non-perishable food. This will give you the strength to overcome disasters.
Final Word
We have listed the essential items that should be found in every survival kit. If space and size allow you, we recommend that you also add a hand-crank radio, hand sanitizer, plastic sheeting, window breaker, sewing kit, or a few other small items to the list that can help you and your family in survival.
Yes, survival kits are similar in targets with bug out bags, but no one forbids you to have both. It is better when consumables are available in several copies. Do not worry if something is duplicated. This is not in vain, and the better you will be prepared for any disaster.
FAQ
What are the items in a survival kit?
The most important and useful survival supplies and tools are contained in the survival kits. First of all, always include water, devices for purification, non-perishable food, and first aid kits. Next, you should collect tools such as a knife, flashlight, matches and lighter, compass, duct tape, fish line and hooks, light sticks, whistle, dust masks. Do not forget the survival blankets, emergency waterproof poncho, nitrile gloves if the space of your kit permits, also take some entertainment stuff.
What are the top 10 survival items?
First of all, you need to think about the human basic needs and purchase items that satisfy them.
The list of absolutely undeniable supplies you will need in case of a disaster:
water and water filters/tablets
food
dust masks
survival blanket or sleeping bag
waterproof matches and lighter
first aid kit.
This is an absolute must-have. We would put the next 4 items in a disaster kit: a compass, survival knife, flashlight, and an emergency whistle.
What is the best survival kit?
The best survival kit necessarily includes all the tools and other survival stuff from our list. But even if you buy survival kits that have all of these items, be sure to add personal items, for example, some special family first aid kit constituents or contact lenses. The best survival kit is a customized kit that will help satisfy the basic needs and specific individuals ones, too.
What should be in a 72-hour emergency kit?
The basic three-day emergency kit packaging guidelines include basically everything we talk about in the article. Water (one gallon for one person, per day), food, hand-crank radio, solar cell phone charger, first aid kit, flashlight, duct tape, whistle, local map, trash bags and wet wipes, pliers, window breaker. This is the most basic shortlist of the essentials for your kit. If you want to be well-stocked, it needs to be expanded.