Choose a survival hammock tent with our help. It is a great solution – sleeping camping gear that feels like a bed! It will keep the rain and the mosquitos away (a mosquito net is the most important thing, isn't it?). You can adjust the suspension according to the weather. Choose good fabric – a nylon backpacking hammock would be very lightweight. You will need a tarp and a blanket to use with your waterproof sleeping bag – and you're all set for a cozy sleep.
All you may want after the busy day is to come back to your sleeping place and relax. This feeling gets even stronger after the survival day. Hicking, hunting, or other outdoor activities consumes a big amount of energy because of walking in the wild and a limited amount of supply.
I guess the most desirable thing after such a day will be a warm survival shelter. However, you will need to search for a suitable place for a tent or navigate to the nearest buildings. Do not forget that you will carry a heavy bag with all your gear.
As you may have noticed, manufacturers of travel tents make them lighter and more portable over time. There are several types of tents on the market today:
We have described their pros and cons in previous reports, but the one disadvantage for all of them is their design. All of them should be placed on the ground, and it means that you will need to find a flat surface and freeze from the cold of the ground. Imagine that the weather is rainy and the surface is wet. The common tent becomes irrelevant in these conditions.
There is a survival hammock tent for such situations.
A hammock tent is a mixture of the tent and hammock with the best features from both. Also, more and more minimalist campers choose hammock camping instead of the usual one every year.
Let's explore hammock design and the best hammock tents in more detail with this report's help.
We Offer You Special Checklist With All Information about Hiking Gear. Read It for Free to Improve Your Skills in Survival. Click Here.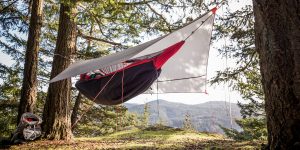 Characteristics of Hammock Tent
The bug out hammocks is available in a huge variety of models nowadays. You can purchase them either in special camping or home-wares stores.
The big supply means that you will be overwhelmed by the features they offer, and you will need a professional guide for hammocks selection.
We will describe every essential feature of the best hammock tents and will explain their importance in camping.
Hammock Durability
This point is significant in your life. You cannot be sure that it will serve you in any survival situation if it has poor seams and fasteners.
Pay attention to the fiber quality and connection between parts of the hammock tent to be confident in its reliability.
The advanced models with reinforced fasteners multiple seams will provide you a long-lasting survival shelter.
Light Weight
It is a crucial advantage of camping hammocks in comparison with other survival tents. You will need to carry it for kilometers in your backpack, so take care of your back and choose the light hammock tent.
Be prepared that the single hammock weight is about two pounds — do not buy heavier ones.
Protection
You should feel not only relaxed but secured. Experienced survivalists prefer to camp in multi-layer hammocks. There should be a bug net to protect your sleep from undesirable guests. Besides, a high-quality rainfly should be attached to the hammock tent for the poor weather conditions.
Compactness of Gear
The size of any element of gear is a critical moment for any survivalist. The backpack space is limited, but there are many things you need to keep in the bag. That is why camping hammocks have become so popular nowadays.
It will take no more place than a softball in your survival bag. If you add all equipment for the hammock tent fixing, it is smaller than a water bottle.
Comfort Camping
Nothing will be better after the adventure day than a comfortable place for a pleasant night's sleep.
Make sure the length of the hammock tent is two feet longer than your height. Also, conduct a pre-test with your sleeping bag and pillow.
If you are going to go for a winter hammock camping, select the tents with additional warm wrap. It will make your adventure more pleasant in extreme conditions.
Ease of Installation
There are plenty of types of camping hammocks different in their capacity and the way of setting.
The more people the hammock tent can accommodate, the more complicated and time-consuming it will be to fix it. For example, if you choose a multi-room one, you will need to attach it to three trees.
We recommend choosing the simplest versions of survival hammocks to facilitate the process of installation.
You will value this feature when you need to locate a sleeping place in a dark area with a proper headlamp.
Watch the video with a piece of advice on the camping hammock setup procedure to get the skills of a professional camper.
We Offer You Special Checklist With All Information about Hiking Gear. Read It for Free to Improve Your Skills in Survival. Click Here.
Details of the Camping Hammock: Filling and Mounting
Buying a survival hammock is the first step in preparation for survival. You need to test it in a calm environment to be ready to use it in survival situations.
Here are some tips on the little details you might not have thought of.
Rope for Personal Items
Once you settled in a hammock, you will not want to go outside to take small personal things from your bug out bag or search for them in the tent. That is why you need to keep an additional line and attach it ner your hammock. Make sure the rain fly protects it from the rainfall. You can attach a water bottle, lamp, or book and be confident that they will always be at hand.
Doormat
It is not easy to put on your shoes inside the hammock tent, and more complicated is to leave your boots on the ground and get into the hammock with clean feet.
We found a practical solution to this problem. Place the doormat under the hammock tent. Do not spend time and money on the perfect doormat. The small piece of tarpaulin will be suitable for this task.
Tension Force
The tension force of the hammock should be selected personally. For instance, I prefer the strong one because it reduces flexure in the center, and my back takes a comfortable position.
However, our preferences may differ. Please, take a time and check the most pleasant position for you in advance to avoid a painful sleep.
Rain Fly Slope
Pay attention to your fly's slope and try to change it to find the best solution for you.
In my opinion, the rain fly becomes more reliable during the rainfall when its sides are close to the hammock tent.
On the contrary, it makes more sense to stretch the rainfly to make it almost plain on a sunny day. The edges will protect you from the sun in a larger area in this state.
Installation Height
The installation distance from the surface also depends on the weather conditions.
It is safer to set up the hammock closer to the ground in windy weather to reduce the probability of failure.
On the other hand, it is better to fix the hammock higher during the clear day use to relish the light breeze.
Heat Preservation: perfect for sleeping
Lifting the hammock from the ground is not a solution to the problems of freezing. As your body will be upper, the wind will influence it more than on the ground. For this reason, you need to think about an extra sleeping bag in your tent.
For instance, you can wrap your sleeping bag into a mylar quilt to keep warmth inside.
Another option is to use the TACT Bivvy as a supplementary sleeping bag to generate warmth in the tent.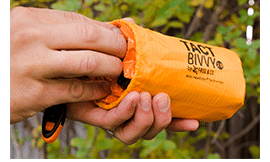 The TACT Bivvy is an essential element of survival gear that should be placed in you get home bag. It is a lightweight and portable emergency sack that will definitely save you from a cold environment. It would be best if you covered it around your sleeping bag, and this three-level hammock system will stop the heat evaporation even in the winter.
Moreover, producers of the hammocks offer "cocoons" that you can use to wrap your hammock and isolate the tent. This way of heat preservation maybe even more comfortable for you because this bag will not take up space inside your shelter.
There are more mistakes beginners make in hammock camping. Watch the video to prevent these faults.
Best Survival Hammock Options on the Market
We gave you all information for the successful choice of the hammock. Read this review on the five best models you can purchase.
1 — Crua Hybrid Camping Hammock Tent
The Crua Hammock Tent is a tent system consisting of four essential camping elements:
Sleeping Bag
Sleeping Pad
Tent Cover
Hammock
Manufacturers included two vents, a mosquito netting, a 5000 mm rainfly made of nylon, groundsheet, and aero-class aluminum pillars.
It means that the tent has a long working life and won't let you down in a survival situation.
The Crua Hybrid Tent will be an excellent camping hammock for your long outdoor trips.
Learn the price for this universal tool here.

2 — Tentsile Ultralight 3-Legged Hammock

This hammock model is not so easy to install, but it worth it. There are three "legs" to be fastened to the trees what makes the hammock more similar to the ordinary tents. You will have more area of flat surface inside, and it can be beneficial for some purposes.
Also, the Ultralight 3-Legged Hammock accommodates up to two people with different doors for each person.
Click here to know the current price for this unusual double hammock tent.
3 — Hennessy Expedition Hammock Tent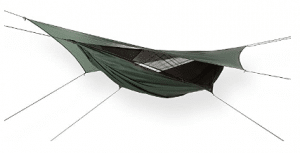 The Hennessy Expedition Tent is also a mixture of hammock and tent.
The door is located on the downside of the hammock. It allows you to avoid the passage of the insects inside the shelter when you enter the tent.
Moreover, the weight of this hammock tent is the lowest among the presented hammocks. However, it is a single hammock withstanding the weight of 250 lbs.
It is a great tent option for those who appreciate the lightness of their survival gear.
The sales price for the Hennessy Expedition Hammock Tent is here.
4 — ENO Jungle Nest Tent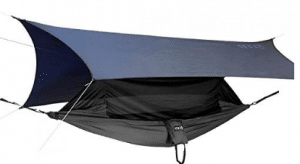 The ENO Jungle Nest combines the high-quality mosquito net, hammock, rigging, and rainfly. All these elements can be easily attached as they are made by one company.
Two people can live in this hammock because this tent's weight limit is equal to 400 lbs.
The bug net here is its main advantage. It does not lean against the tent. It surrounds the hammock.
We recommend the ENO Jungle Nest because it was tested in many camps and survive after years of usage.
Snap here to learn the price for this double hammock tent.
5 — Chill Gorilla Tarp Tent

Chill Gorilla Tarp Tent is an extension to your main hammock tent. This lightweight tarp tent will cover your hammock from rainfalls. It is durable nylon camping compatible with any model of the hammocks.
You can also use it as the main tent if you decide to set it on the ground.
The current price for this tent is here.
We Offer You Special Checklist With All Information about Hiking Gear. Read It for Free to Improve Your Skills in Survival. Click Here.
Summary
Of course, there are several differences between simple hammocks and survival hammocks. However, your survival process will be much easier with the hammock tent. There are so many advantages to this type of camping, which can significantly improve the quality of your sleep in any location.
Google for the "port-a-ledges." and just watch how survivalists use these tents. This is the case when the durability of hammock straps and their construction really matters!
FAQ
Hypothermia: What is it? How Do I Get It?
Hypothermia is a symptom when the bode temperature quickly becomes lower than 95 degrees F. It can be caused by overcooling through the wind, outside weather, or cold water. Some treatment procedures can increase your body temperature to normal in such a situation. Search for more information to be prepared for the first aid with a hypothermia indication.
What makes a great survival hammock?
There are several advantages of the survival hammock in comparison to a common tent. The main ones are lightness, durability, easiness of setup, portability, and security from insects and natural phenomena. Read this article to make sure you need to purchase a hammock tent for camping.
Can I make a hammock myself?
You will need to spend a lot of time and a huge amount of budget to create a hammock with your hands. After all, you can design your own sturdy and reliable shelter to survive in any condition. The main materials for it will be canvas, tree straps, carabiners, bug net, and other elements. Explore the prices for ready-made hammock tents and decide whether you want to produce them yourself.
Where do I buy the best hammock?
The hammocks are becoming so widespread today that you can buy them in any camping store or even in house-wares shops. You can also purchase hammocks through the links we gave you because we presented the best hammock tents on the market. Search for them on the Internet to get more data on their prices and features.
Can I use ordinary hammocks for survival?
Ordinary hammocks are not so isolated and comfortable to spend the night in them. Of course, you can take the sleeping bag, sleeping pad, and other protective gear to equip your shelter. However, people tend to buy a full hammock tent for survival because it is affordable and easy to set.