This is a s&w 637 airweight review. Having a reliable weapon, be it a gun, a hammer, a revolver, a pocket pistol, or anything else, can increase your chances of survival considerably. You also need to have a proper holster and ammunition, know how to pull the trigger at a high speed, and be able to pull it in time to survive. In this article, we will tell you about the S&W Airweigh, go deep in details, and recommend the best shops to buy one. Read on and be armed!
It is no secret that in many states, you have to obtain a permit to get a proper gun for daily carry, and more and more people turn their eyes to a pocket gun, a semi-automatic pistol, and especially all sorts of small revolvers, handy, compact in size, easy to conceal, and rather reliable.
Once you've got the permit and are on your way to looking for a new CCW weapon to carry, have a look at S&W 637 Airweight and sort all the pros and cons carefully. Supposedly, when choosing a handgun for hidden daily carry, your primary criteria would be the compact size, the lightweight, its resilience and stability, and sharpshooting capacity.
Among the most popular and widespread models of semi-auto CCW there are Ruger LCP, S&W M&P Shield, Glock 26, but the one we are presenting to you today is even smaller and more lightweight.
Have you heard that a revolver boasts on average longer durability and reliability than a semi-auto? Get to know more, and maybe after reading our S&W 637 Airweight review, you will probably reconsider your preferences. Probably you would add to your shopping cart a hidden carry gun that is at the same time reliable, easy to handle, stable, and does not look too frightening without overanalyzing. So, have a closer look – this model has all chances to become the perfect small carry gun for you.
S&W Airweight Review
Now we are going to present the Smith and Wesson Airweight in detail. We chose model 637 because it is the one our team owns. It is a solid SA / DA gun chambered for 38 Special and designed for Plus P bullets. The 642 models have their own peculiarities, though, which we will discuss a little later.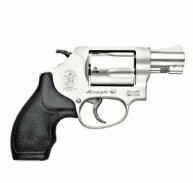 All S&W Airweight revolvers have a compact size with a length of only 6.31", a barrel length of 1.875", and are designed for five shots. The frame of the Airweight model is made of aluminum ligature, and at first glance, it may seem that it can simply glide away due to its ephemeral weight of only 15 oz empty mass. Calm down, it will not, as this revolver is a stable partner subject to gravity, too, and a perfect choice to carry in your survival pack, a family bug out bag in the wilderness, or simply for the reasons of self-defense. The aluminum alloy frame is an advantage – one among the many others of this small carry weapon.
A steel barrel liner is set in a cylinder made of stainless steel. The tiny S&W J-frame pistol is supplied with a synthetic black rubber grip with two color options suitable for ladies and gentlemen – black or pink.
Otherwise, one may choose a famous aftermarket Pachmayr grip to get the upgraded design.
Like almost every revolver, it provides no safety, but it is obvious: the one who does not intend to shoot does not pull the trigger.
The S&W Airweight's front sight is integral to the barrel; in plus, this model has a fixed rear sight. The sight radius usual for a small revolver like this has proved a surprising accuracy that amazed our team. Like most standard S&W revolvers, the Model 637's single-action trigger pull is easy with a strict break.
This is likely one of the most important factors of its high accuracy. Those skeptical about the carry guns' accuracy with a 1.875" short barrel will experience a massive surprise.
By the way, the term "hand ejector" was coined by Smith & Wesson to specify and distinguish this type of revolver from the others with an automatic design, where turning the cylinder up and away from the revolver's frame would eject the cartridge automatically. A hand ejector rod is a component of revolver design that is still applied to most double-action wheel guns. A hand ejector is characterized by a cylinder requiring a concentric rod pushing toward the cylinder to eject the cylinder's spent cases.
Checking The Airweight On The Shooting Range
Our team set a small experiment months ago: one of us shot the gun at a family's range using paper targets and fired from around 7 yards – guess what the result was? After our tiny Airweight Revolver joined the game, most of the hits were within 2" of the target – it indeed demonstrated a solid performance with the repeatable action.
After that, we proceeded to shoot steel. We were knocking down a row of six 8" diameter steel plates in turns and then resetting them. The tiny revolver has proved to shoot straight where I aimed. Hearing the sound of lead ringing on steel each time I shot was such a satisfaction! To check out its capacities at a distance, I decided to step away for fifty feet. Amazingly, I was able to hit five out of five steel plates at such distance after only a few minutes of practice. Could I expect this super-power from a tiny gun, as it seems? No.
The single-action shooting we applied is totally different from the double-action shooting when pulling the trigger takes more strength. I am not going to judge the accuracy of this type of operation. It is for personal reasons, as I am just not that good at double action.
We shot overall fifty rounds of 130 grain Federal and almost 40 Special copper jacketed bullets. We finished our field testing with fifty bullets of hand-loaded 125-grain copper-plated cartridges taken from our ammo stockpile.
In plus, the thing that amazed us again was this tiny revolver's gentle recoil. For instance, when shooting 158-grain rounds, one can really feel a harder recoil, the same thing with Plus P ammunition and p loads. To compare, the felt recoil of a .22 caliber Magnum was a bit less than the 130-grain round, and the trigger control matters much.
Just in case, p-rated ammunition (the so-called special p ammunition, usually designated as +P or +P+P+) is a little arms ammunition that was loaded to a higher internal pressure than is conventional for ammunition of its caliber though less than the pressures inducted by a proof bullet.
Though the felt recoil did not influence the accuracy on the testing day, our team concluded that shooting the Airweight was a joyful operation compared to many other models when at least one of us was content to get the shooting done and finally fire the last bullet.
A tip for ladies: the small J-frame of this Airweight model is so small that it easily fits in a purse or an IWB holster and has a curvy shape that is pleasant to hold. Add its extreme lightweight – and have no worries for your personal defense. This little revolver is an indispensable steel helper for those who prefer single-action to double-action shooting.
Nevertheless, we are not trying to convince you that it is a flawless, perfect firearm and the ultimate choice for everyone.
For example, if you put it in your front pocket, it will not go unnoticed for sure, as the J-frame and parameters are too big to be fully hidden. It falls behind the Kel-Tec .380 auto that is easier to conceal. However, apart from my Kel-Tec's size, the Smith pistol overtakes it in terms of reliability: it will not fail to pull or feed.
The author of this article usually takes Kel-Tec because it's easy and handy. If I desired a more powerful gun for daily carry, this tiny 38 Special with a snub nose resembling shape would generally fit, though more firepower leads to the need for a solid gun belt.
The S&W Airweight accompanied by five  Plus P defensive bullets of a stable quality is a decent compromising option between size, power, and price. The weapon I acquired retailed for $388 (find out the actual price for today).
The 38 Special is probably the last of the gentle recoil bullets for most revolvers in terms of recoil. You may choose the .357 or .44 Magnum as well – but those are just from another league of tough recoil bullets for self-confident ones. Still, we are not trying to persuade anyone that 158 grain 38 Special is not worth buying, especially if we mean the Plus P bullets that proved the accuracy in practice.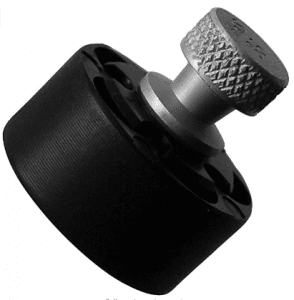 The five-bullet limit we already mentioned can be explained by the compact size of this self-defense weapon. But the small weight, the shape, the concealability of this revolver fully compensate for its restricted bullet capacity of five rounds only (as called capacity 5). To put it shorter, one could not take a small gun and fit in the sixth bullet without the significant decrease in its power – to the .22 LR. Personally, if I am doing target shooting and aiming at the bullseye, I'd rather have five 158 grain 38 Specials than eight .40 grain .22LRs, though that is my subjective choice.
We advise you to have a look at this video explaining in detail all characteristics of the Smith & Wesson Model 637 – and why it is called a "dandy revolver."
Shooting the Smith Wesson Revolver Performance – 637 & 642 38 Special Revolvers
If you have watched the video, it is now clear to you that a high-quality speed loader for this gun is worth buying, too.
When I was seeking information on speedloaders, I came across some guys who added thicker grips due to certain clearance problems with the speed loader. That is why we recommend applying quick strips.
S&W Airweight Model 637 vs. Model 642
We can not call the review full unless we make some comparisons – so today, we will describe the peculiarities of the S&W Airweight Revolver Model 642 as well. At first glance, most people see a similar firearm, with the same characteristics, assets, and disadvantages. However, there is a crucial difference between these two models – it is the exposed hammer the 637 model owns and the fully concealed hammer of the 642. Whether to choose a hidden hammer or an exposed one is no longer an unimportant matter. Besides, if we are talking of self-defense and its connection to hidden carry, one should take it seriously.
The point is that many firearms in this CCW category are Double Action Only (DAO) and do not have an exposed hammer as the 642. The DAO revolver is hammerless to prevent the hammer from accidentally clinging to a man's belt. Also, it is designed in a way that makes it easier for a lady to immediately pull it out of her purse, though the internal striker and double-action principle of a revolver (which means one still has to move the cylinder) take far more trigger effort than a revolver operating on a single-action principle. It means a revolver with the double principle and a heavier trigger pull may increase the chances of error in aiming and keeping the gun on target.
The author of this article always applies a hammer with at a minimum the first shot as a single action; while shooting at very short distances usually connected to some gunfight, the inaccuracy caused by DAO may not be that decisive.
Nevertheless, if you plan to acquire a revolver not strictly for self-defense, but more for leisure time and entertainment, for example, casual shooting at the family's range, you may easily practice shooting for accuracy, as the SA/DA revolver can provide this technical capacity.
We recommend you to watch the highly informative VIDEO with over 1,5 million views with a demonstration of possibly the most popular small .38 Special revolver, the Model 642 Airweight from Smith & Wesson. The presenter also compares it to the S&W Model 65 .357 Magnum. Still, note that professional shooters do all shooting tricks in the present videos for educating and entertainment only, highlighting personal safety and accountable gun proprietorship.
As for me, I own a DAO carry shotgun (the Kel-Tec items we already talked about), but it could never overtake my Smith and Wesson Revolver 15-3 in terms of accuracy of shooting.
On the other hand, even if SA provides a stronger accuracy, let's draw a situation when the exposed hammer accidentally gets hung up at the most important moment – then one will probably never have the chance to shoot off those self-defense bullets – all because of the fact he could not pull the gun out of his strap or out of the pocket in time.
I want to outline that choosing between two revolver models is a controversial and debatable subject throughout the Internet. My mission is only to provide the readers with some essential points and general arguments. Finally, if you try the S&W Airweight revolver in practice and find out it really suits you, the next step will be deciding on the most appropriate model personally and seeking further information on that.
Follow the link to watch another deserving video comparing in detail the differences between these wheel gun models – the Smith & Wesson 637 and 642 Review.
The shooters discuss the crucial differentiating points between the guns like DAO (642) and DA/SA (637) in various situations and the features of carrying any revolver in the SA mode.
The Airweight double-action revolver of model 642 may be a total upgrade if used with Crimson Trace laser grips (Crimson Trace is an American enterprise manufacturing different types of laser sight tools, mainly for guns but not only for them).
If you are stuck in choosing a carry gun, you may also try looking through any gun-related article or review by Paul Markel, a shotgun expert and a frequent guest on many national TV programs and talk shows.
As A Conclusion
It is clear that now the market offers a huge variety of daily carry gun options. And the ultimate factor should be the features and capabilities suitable, especially for you. Nevertheless, among this endless list of models, we still advise you to take a look at the S&W Airweight as at least:
1) again, it has a small weight;
2) is easy to handle and has a gentle recoil;
3) boasts a nice compact shape suitable for both men and women and is called "a tiny dandy" for its design;
4) is easy to fit in a big pocket or purse – hence, it can be easily taken with you and suitable for every accident defensive or survival scenario;
1) it offers solid protection similar to bigger and more expensive models at only 15 oz.
To sum it up, for its combination of size, weight, shape, design, reliability, and accuracy, this concealed carry weapon is a cool little partner in business and a reliable personal security agent.
Take a look at the above-mentioned revolvers and current offers and deals related to carrying guns at Amazon.com (all rights reserved) – it provides qualified customer service, so check it out and leave your email address for further details.
Whether it is a matter of your personal safety, a casual hobby, a shooting competition, a leisure time activity with your friends, small hunting, a home security issue, or you are just heading in a rough area to deal with some tough guys … ensure your safety and calm with a decent revolver, such as Smith & Wesson Airweight. A Captain Obvious tip for everyone: make sure you are acquainted with the current firearm laws and gun safety requirements before doing that.
Find A Smith & Wesson Dealer in a certified Performance Center. For more information, visit their official website.
And do not forget to follow us for further articles and reviews.
P.s. This may sound off-top, but it is essential for any survival: can you point on the map at the closest nuclear shelter from your domicile?
Click here to see the Closest Natural Nuclear Bunker to Your Home.
Topics and FAQS
How much is s w 637 Airweigh?
The price may vary from state to state, from season to season, but the author bought it retailed for only $388, that's quite a reasonable deal.
Is it legit to have one?
Again, depending on a particular state's regulations and the current circumstances – while all 50 states have come through the special law allowing qualified individuals to carry a hidden firearm in public, the 15 states accept conceal carry without a permit. Only Vermont does not issue special CCW permits. However, it is not that easy to get a permit in a particular state and situation.
How to obtain a license?
At least a person willing to get the permit must be 21 years old or more. In plus, meeting the special requirements (such as the proof of no involvement in any felonies, and so on) is a must. If you meet all the prerequisites, carefully check the weapon-related laws in your state, fill in the application, and proceed with further paperwork.
Are there any upgrades and gadgets?
You can upgrade your S&W Airweight with plus p rounds or accompany your 642 Airweight model with crimson trace laser grips units, and there are many more options. For the latest S&W carry gun upgrades, visit the official manufacturer's website and get acquainted with the latest models. Also, you can always find out more on Amazon.com or seek additional info on other gun-related sites.