Radiation Suit for Sale – Which Hazmat Suit is Best?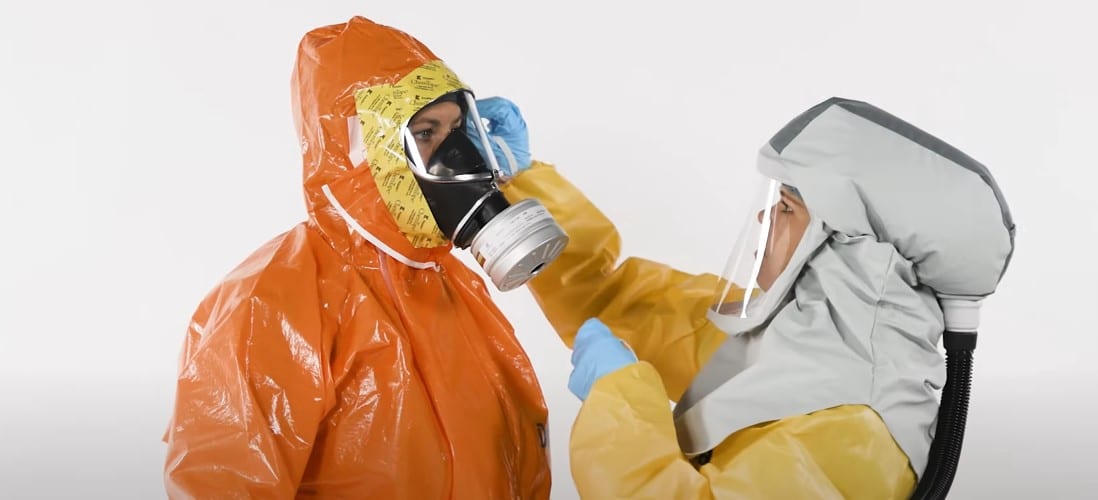 We have decided to spill the beans right away: to ensure that you and your family and your children are getting decent radiation protection and safety level, you should pick the   MIRA Safety Haz-Suit.
We have mentioned family for a reason: the MIRA Safety Haz-Suit size variety lets you buy this hazmat suit for all members, regardless of their age, height, and weight. It will have your back if you face chemical warfare agents (CWA), chemical, biological, radiological, radioactive dose, nuclear (CBRN) threats, and many other hazards and dangerous substances.
Produced in the United States, the MIRA Safety Haz-Suit can boast the highest quality and comes with elastic cuffs. The MIRA Safety Haz-Suit materials are the same as those you can see on rescue workers, firefighters, and even special forces dealing with chemicals and other hazardous materials. After plenty of training and tests, this radiation hazmat suit has proven its efficiency and durability.
Don't even try to compare it with useless one-time low-cost hazmat radiation suits. With such a hazmat suit, you can be sure of protection and safety risks for an endless period.
Why MIRA Safety Haz-Suits?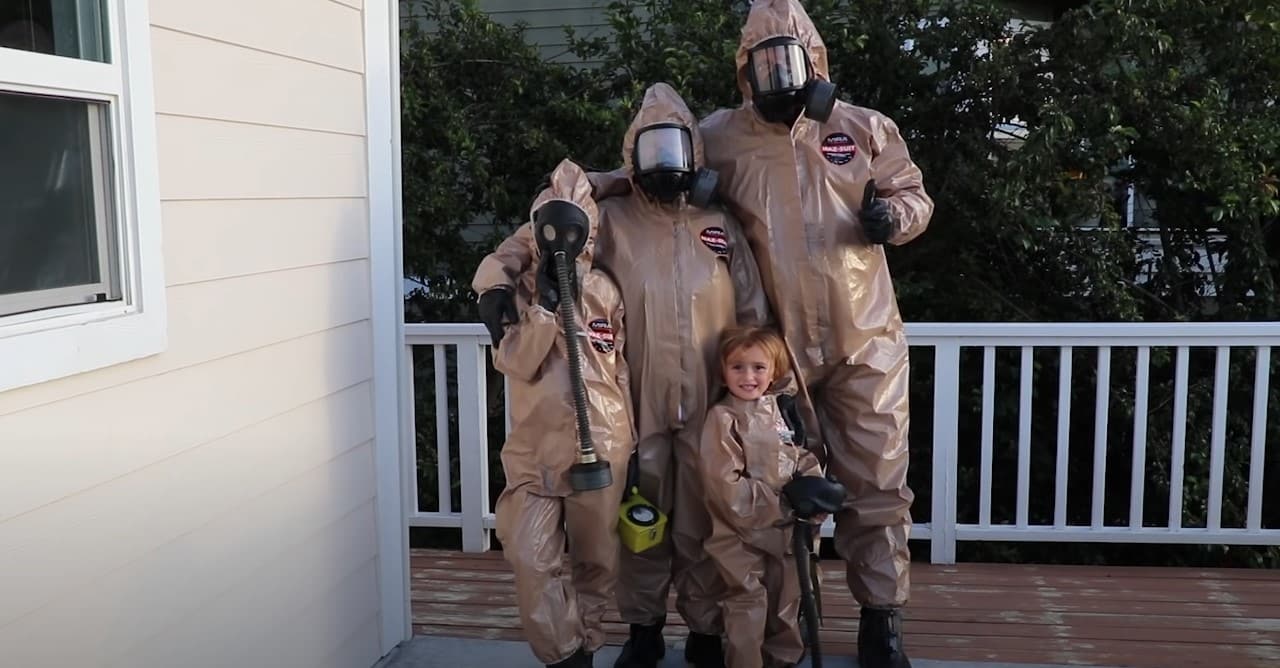 Real SHTF situations, such as military actions, wars, terrorist attacks, and all, simply require the usage of a well-probed Hazmat Suit. One from the Mira Safety enterprise is to be your best decision in such a case: it is most durable and safe, and it has a ton of outstanding features that every prepper, survivalist, or homestead enthusiast (who knows what may happen?) will surely appreciate.
Durable as this suit definitely is, it can also brag about its wear sustainability, which literally means it will serve you well long term. Mira Safety, s Haz-suit is among the top options of that sort on a survivalist market. Besides its good looks and durability, it can give you substantial defense against many CBRN agents out there, which is why it has become a top choice for many practically-aimed individuals.
MIRA and another company, Kappler — one of the leading companies developing and selling clothes for tactical and survival goals — developed this hazmat radiation suit, so that prepares of every caliber could fit in.
And precisely so: there exist many size options for people of all ages, weights, and bodily features. Even a four-year-old guy can fit in one of these haz-suits. I doubt you could find anything like that on the market.
How about the material?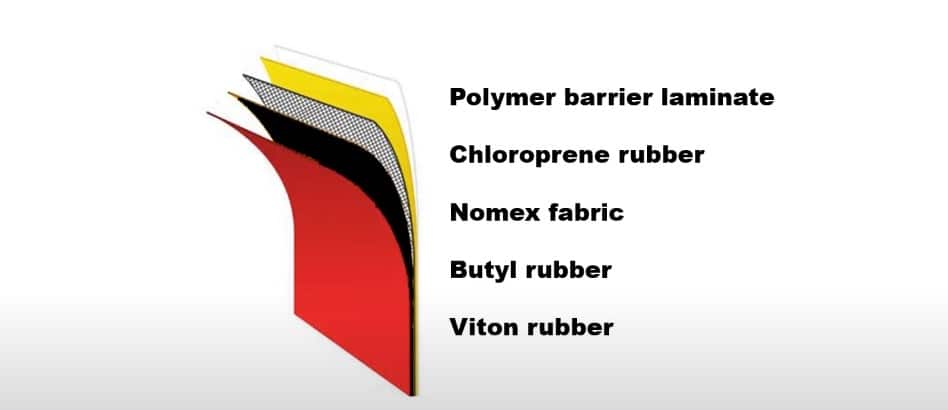 As to the suit's features that provide it with sustainability, the first one is the material. The fabric is the totally puncture-resistant film solution, and it therefore provides the owner with large amount of hazardous chemicals and toxins: to be precise, there are more than 125 CWAs and TICs that the suit keeps your organism safe from.
In tough hazmat situations, this material is irreplaceable: it is broadly applied in hospitals, by employees of chemistry-related companies, and military men and women, too, require having a durable and practical haz-suit, come what may.
The material has been probed and tested throughout: any kind of conditions seem to pose no threat to your body when you are wearing this hazmat radiation suit. Be it cold, heat, high, or nigh zero humidity situations, it can take you decades to wear this suit off, really, as tests reveal.
More perks for Hazmat-Suits Users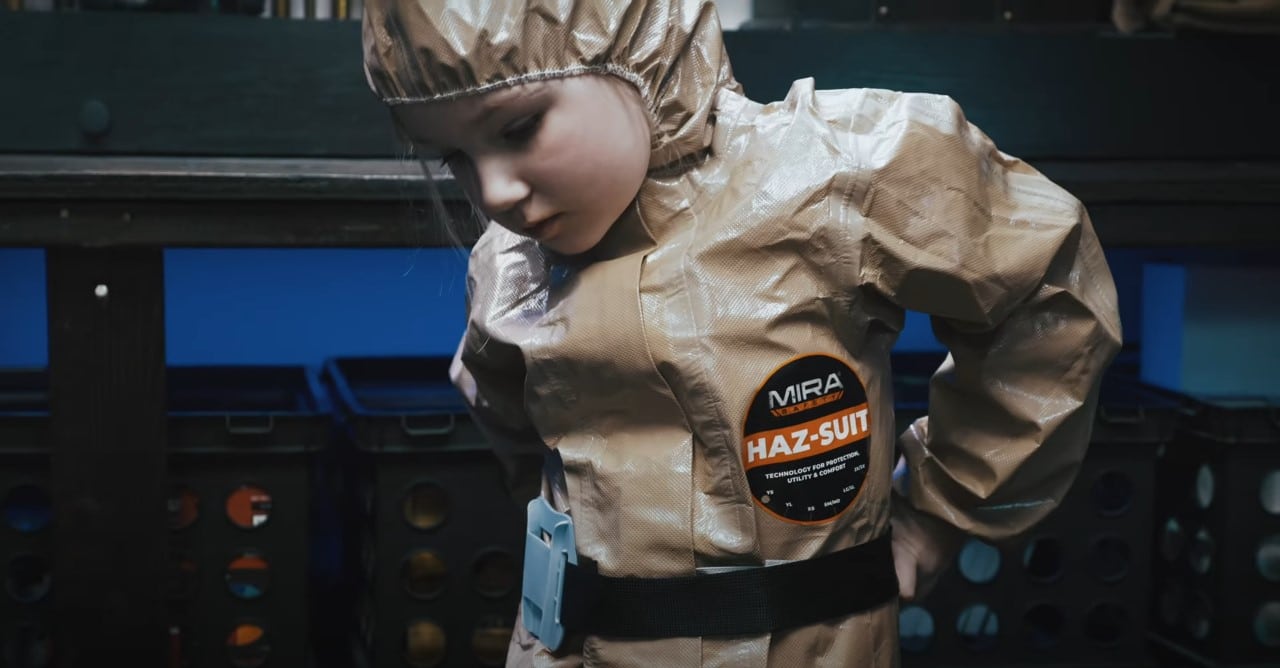 Let us enlist the most crucial properties of the Mira Safety Haz- Suit:
They DO have your size, be sure!
Any CBRN situation is nothing special for the Haz-Suit.
Approved by complete pros in areas of defense, military, and chemical attacks.
The material is impossible to wear, durable, and long-lasting.
Undergone NFPA certification.
The producer is your country's resident — made in the USA!
Passed all tests to protect you from literally any chemical threat.
Disasters are less complicated to sustain with this one.
Full gas mask compatibility with MIRA products.
Absolutely sealed to protect you from the slightest contamination.
Such gases as sarin or, say, VX will not kill you within eight hours if you are wearing this suit.
Multiple areas of use: civil situation, military action, lab work, work requiring such kind of chemical safety.
This Haz-suit is the one and only!
It is quite a pity that most survivalism enthusiasts usually underestimate the essence of having a reliable haz-suit.
Many think that gas masks of full-face respiration systems will provide sufficient protection. However, the truth is they cannot simply have your back in hard-case scenarios like wars or gas attacks. They can only give you protection from a very limited number of chemicals.
As a prepper, you probably know that ideally, you have to foresee many an aspect to be totally prepared, if that is actually possible.
Mira Safety and Keppler's specialists raked their brains to create the hazmat radiation protection that can suit everybody and be there for them in all difficult situations when chemical protection is vital.
The suit will help you out in SHTF situations without compromising any aspect of your health. But it will increase its effect if you add gloves, respiration system, boots, and other protective clothes.
Radiation Haz-Suit Shelf Life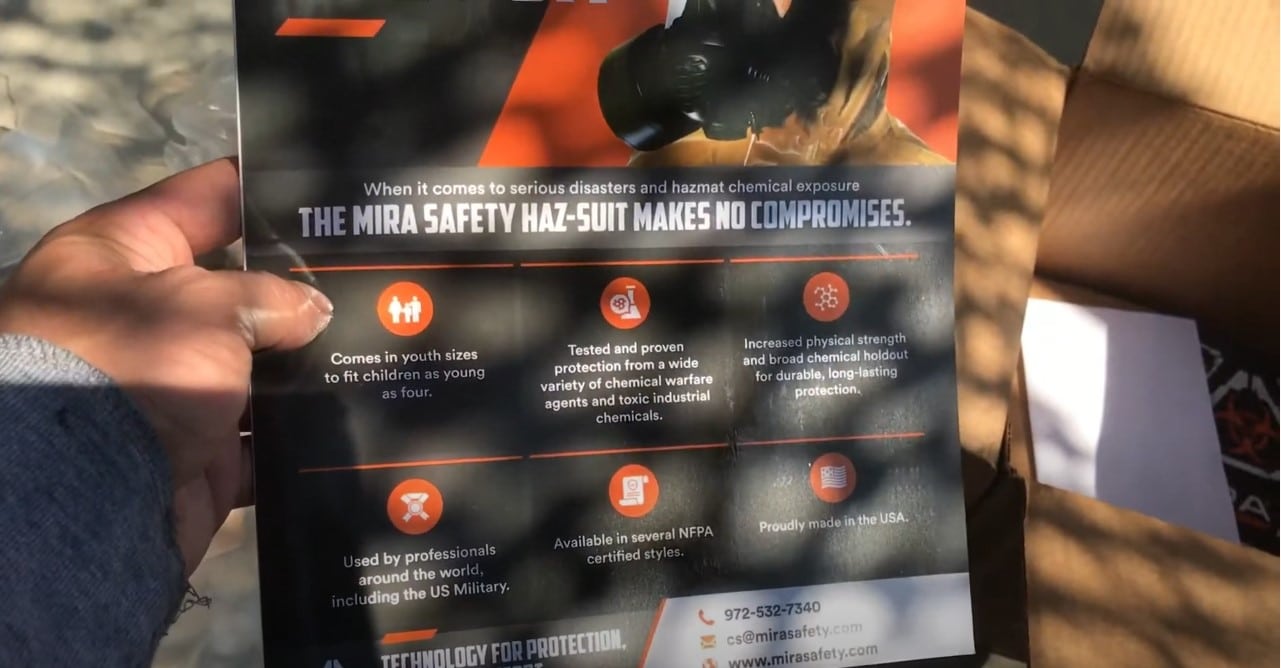 While there are no universally approved standards as to the shelf-life of such products, as the conditions can broadly vary, and so can the ways the suit acts in various cases. As to the shelf-life of MIRA Safety's HAZ-Suit, if you keep it away from cold, heat, direct sunlight, and moisture, it can last for decades without losing its original properties and safety features.
We did certain tests and subjected a twenty-year-old hazmat suit of our produce to serous chemical attacks, and the results were simply fantastic: no harmful contaminants got through its protective layers for more than 480 minutes running.
Rubbers and polymers going into the basis of the radiation suit are also durable and have undergone multiple pressure tests. Basically, if you see some damages on the suit, it suggests that the level of defense is much less than before. Therefore, before using one, have a careful look at it from all sides, check carefully, and it will increase you survival chances manifold!
Continue reading the article and learn more about total chemical protection!
Hazmat Suits Other Options for top Civilian Radiation Protection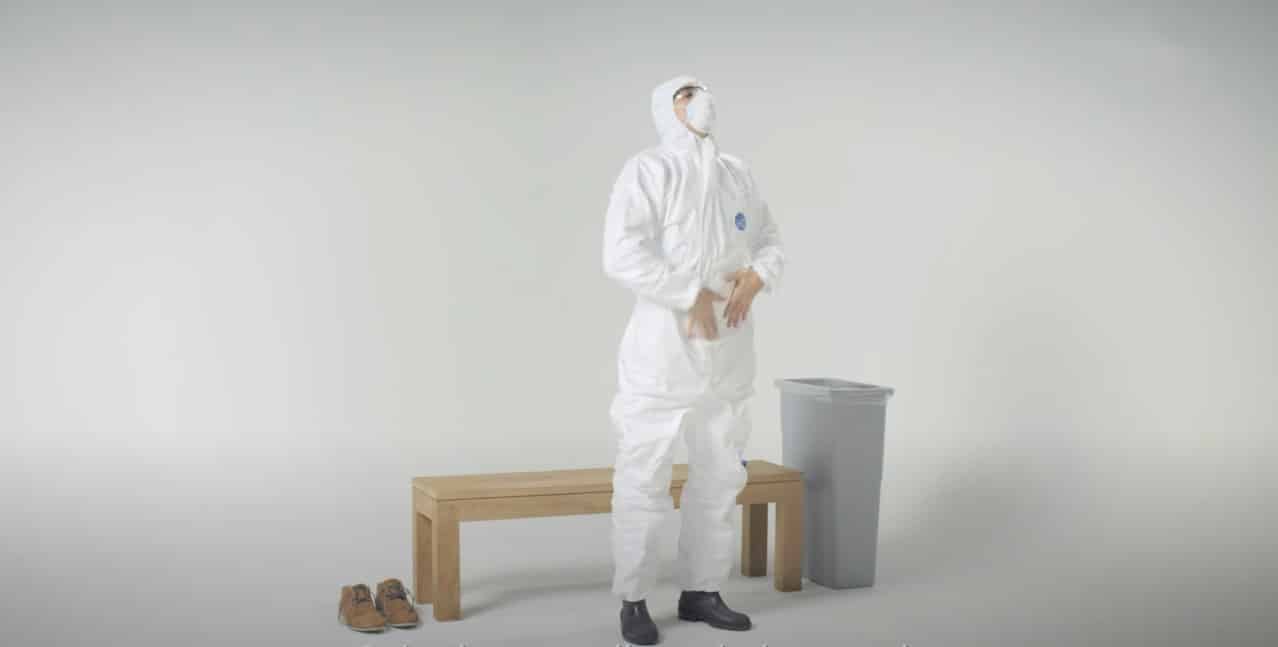 Here is the top-3 list of the best customers' hazmat suit choices:
Hazmat Coverall Suit TY122SVP. This one is among the most wanted hazmat suits out there. Wearing this suit will provide you with full-body protection against many hazardous substances.
Tyvek suit TY127S overall suit. This suit will make you secure from most hazardous particles, including lead and asbestos as small as 1 micron. It simplifies moving about wearing it by the great design solutions involved in the creation of this suit.
DuPont Tychem 9000 suit. Like enclosed in a capsule, the owner of this suit is fully protected from a wide list of chemicals that can harm you, as well as those in liquid form. Its pragmatic but bright design, elasticity, and comfort of the movement led to the suit fairly making up the top-3 consumers' choice list.
Hazmat Suits To Protect From Radiation — What to Add to Coveralls?

Okay, a hazmat radiation suit is a great purchase, but you won't get full radiation suit hazmat protection without some accessories. We have covered them, too, so you are fully informed about technology.
Hazmat Suit Gloves – Butyl Radiation Gloves for CBRN Protection
Gloves will ensure that non of the hazardous materials will sneak into your body with chemical-resistant elastic gloves for your hazmat suit. Most people have a habit of touching their faces unknowingly. With hazmat suit gloves with protection from chemical elements and a hazmat gas mask (which we will cover further), you are all set and protected.
For example, check these butyl gloves from MIRA Safety. This material will ensure the safety of your hands and avoid hazardous chemical materials.
Gas Mask as Addition to Your Radiation Suit Price
Well, you could have purchased a self-contained breathing apparatus (SCBA is a short version), but they are way too expensive. Instead, consider getting a good-quality gas mask with a respirator and filter alongside with radiation suit.
Without a gas mask and full-face protection, you won't be able to survive if nuclear disasters occur, and your hazmat suit won't make any sense. A lack of breathing, as all of us know, leads to death almost immediately.
Unsurprisingly, we recommend getting the gas mask from MIRA, too. If you want to see other options, read our extensive guide on the gas mask topic.
SCBAs for Radiation Gas Mask Respirator Systems
Largely, in the situation where the opportunity to filter certain chemical particles is absent, the Breathing Apparatus can be applied. Such a technique is widely used and really recommended in situations with oxygen levels as low as 19.5% or less.
Detect Radiation Levels Beforehand to Save your Health
This small tool can be crucial in terms of the prevention of hazardous chemical threats. It can catch and inform you of the symptoms of X- and G- radiation and their upgoing tendencies. While the device can be used in regular environments, it is an absolute necessity in terms of a survival situation when the radioactive danger has to be foreseen for the end protection of you and your dear ones.
Boots for your Radiation Hazmat Suit Coveralls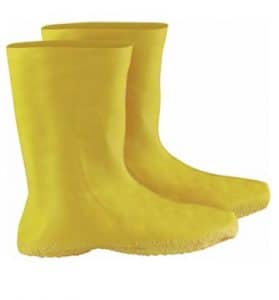 Here is another footwear add-on for your hazmat protection: boots. We suggest these hazmat suit boots from ONGUARD, another brand from the United States that offers high-quality products.
The key to choosing the right design model for any footwear is you feel comfy. So, trying any hazmat boots on in the shop sounds like a good plan.
Hazmat Suit kit for Civilian Health and Duties
As to the civilian suits they can use in emergencies, house maintenance, cleaning purposes, and hazardous chemicals removal, there are kits that cover most of the civilians' needs in terms of radiation protection.
Some items of the gear can withstand but temporary protection from a wide array of contaminating substances, some pretty awful, like Sarin or the notorious VX.
So what goes in the Hazmat civilian kit package?
Tyvek TY122S HazMat suit for full-body anti-radiation coverage

Cartridges

Quite long-lasting adapters
What is Radiation, and How Radiation & Hazmat Suit can Help?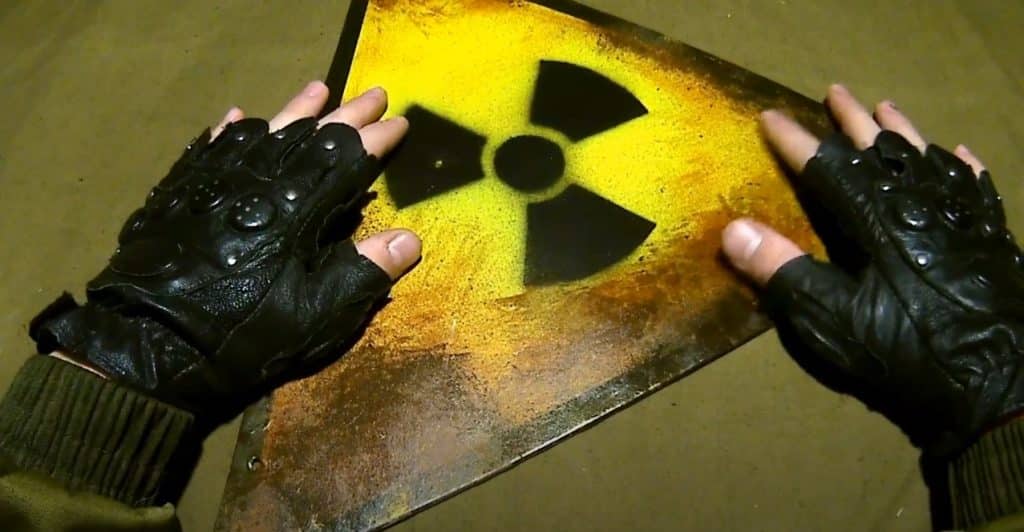 Generally, radioactive energy can move about in space in the form of beams or rays, as well as in waveform or in particles. In order to get secure from the threat of radioactive contamination, one should perform certain strict rules. Besides, the means of radiation protection can vary by type of radioactive substance, be it liquid, gas, or whatever. To maintain good health and be safe from chemical radioactive particles, one needs a suit that can withstand electrons, protons, and neutrons kinds of radiation. However, there are kinds of radiation no coveralls can save you from — the ionizing one, for example. Anyhow, some top hazmat and radiation suits are there for you to diminish the amount of the intake of ionizing radiation.
Where and how did a Hazmat Radiation Suit Originate?

The Hazmat contraction stands for Hazardous Materials, in case you didn't know. Actually, it represents a type of radioactive-protection garment set that is used to maintain health in radioactively dangerous situations. The story goes that such a suit had been first implemented back in 1910—1911, in the times of the plague of the pneumonic type that sprouted in Manchurian lands. Doctor Wu Lien-Teh was the locomotive for developing and distributing various kinds of hazardous contaminants protection back then and is known as a pioneer in hazmat suits design.
Radiation & Hazmat Suit Health Features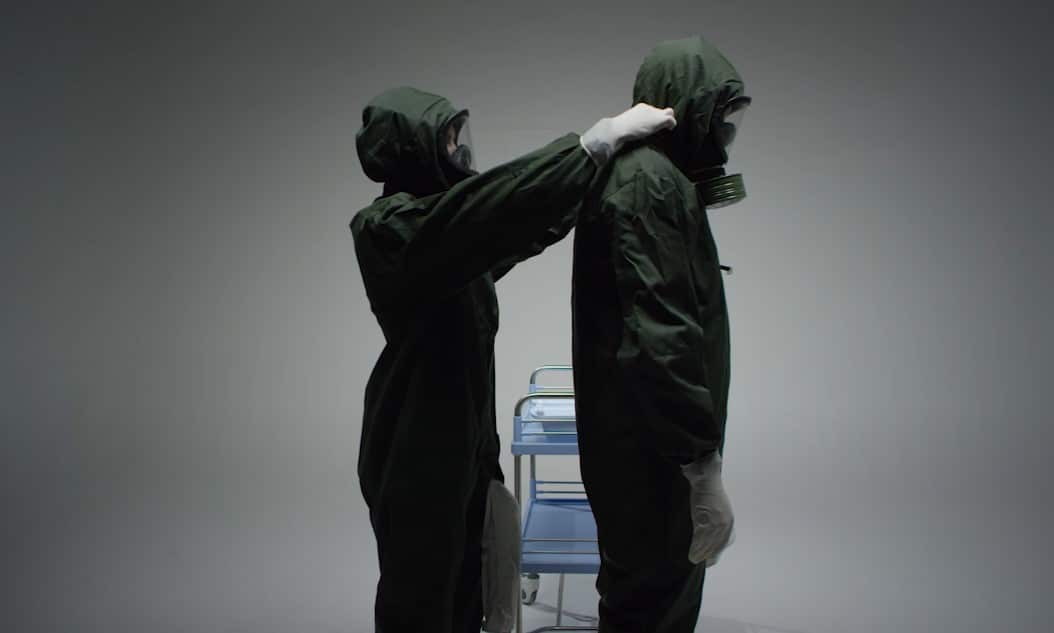 What makes the best radiation suit? It's radiation protection! In case of an emergency – chemical attack or the coronavirus pandemic, while contaminants, thermal radiation dose, or gamma radiation dose pose a threat to your safety, the best you can do concerning your healthcare is to wear a special suit with a self-contained breathing apparatus, a substantial fiberglass face mask, and more. Read our article about protective clothing hazmat suits for radiation protection to find out more description data and details of our research. If you have questions left – consider reviewing our FAQ below.
A hazmat radiation suit is not the first thing that comes to your mind when you think of environmental protection, survival situations, or biohazard. But obtaining one brings you to whole new safety properties and shielding radiation protection level from chemical or radioactive materials. If you ask – are there radiation proof suits? Of course, they are, many of them.
If you are an experienced survivalist or thoughts about ionizing radiation and radiation protection body coveralls and safety or any chemical-biological-radiological nuclear catastrophe or gas biohazard constantly boggle your mind, consider getting one, we cover whole topics:
Hazmat Suit

Radiation Suit

Radiation protection

Which one to pick: MiraSafety, Dupont, Tyvek, StemRad?

Does a hazmat suit protect from radiation?
We will help you to find the right protective clothing and to purchase the right radiation suit for decent protection; keep reading our review, created by experts who track all the new products related to the gas and radiation protection survival topic.
We will provide you with info about the best radiation suit any human can find on the market today (to protect your family and your children) and explain the basics and touch on everything you need to know about, such as hazmat suits and radiation protection suits bond. Because we have received lots of concerns from our readers, this review will reveal all the keys to success when choosing a suit for 100% hazmat radiation protection.
Hazmat Suit Health Effectiveness – Levels of Radiation Protection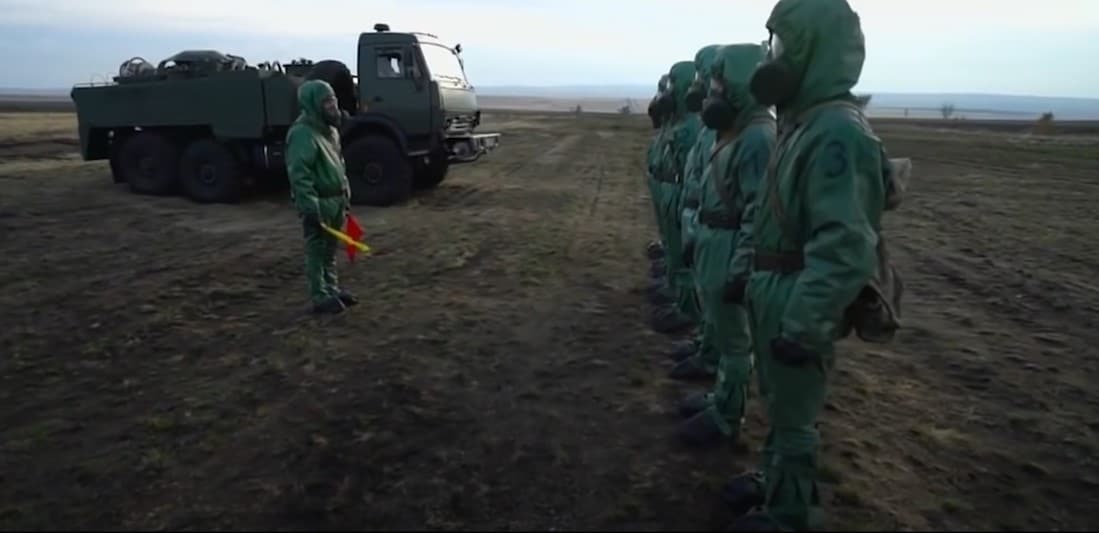 If you are still unsure what a hazmat suit can protect you from, let us make it clear. There is a level system that helps to define hazmat substances that each hazmat suit with its fabric can resist.
The Occupational Safety and Health Administration of the United States (or US OSHA) regulations have created and issued this system's description. There are three levels of radiation protection: Level A, Level B, and Level C.
When choosing a hazmat suit level, one must define the surroundings and possible use of their hazmat suit. If you purchase one randomly, you might face trouble like burning skin on fire (depends on the haz-suit fabric) or not getting enough protection (which may happen if you pick the wrong level) from hazards than may occur. Keep reading the scientific explanation and level definition for all wear if you don't want to make a mistake that can cost your life.
Level A Hazmat Suit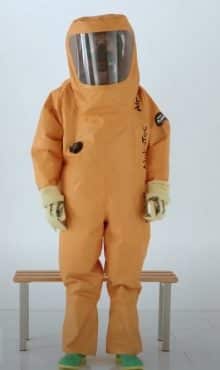 Each Level A hazmat suit gives you full coverage and protection. Wearing a Level A hazmat suit means you get a sealed, self-contained breathing apparatus, special footwear, and radiation protection gloves. Additionally, Level A hazmat suits presume a two-way radio communication system.
Because these hazmat radiation suits really give you an ultimate protection level, including breathing without problems, they are huge and extremely wide. You will probably look like a large bubble if you wear one. The reason for such a size is the breathing apparatus we have mentioned above. We have found a picture so you have an idea of how ridiculous it might look.
Anyway, it is a perfect option for those who meet substances that have uncertain provenance and are unfamiliar with modern science.
Level B Hazmat Suit
The only difference between Level B and A hazmat suits is the air supplies that let you breathe. In Level B suits, you shouldn't embed an SCBA into your hazmat suit. You may carry it externally.
Level B type of hazmat suits is still way too sophisticated for ordinary survival situations protection. You also should complete it with a two-way radio system and certain footwear and gloves. That's why the majority of survivalists prefer to pick the first option we have described.
Level C Hazmat Suit
We start with the radiation suits of the most commonly used and basic level: C. It is common for a reason: such hazmat suits are versatile and will defend you from the majority of dangerous biohazard substances, radioactive materials, and chemicals.
They let you save money buying a gas mask in addition to the radiation suits, not a self-contained breathing apparatus or other items that might be either more expensive or less protective. Consider getting these hazmat suits for yourself and your family members because Level A and Level B hazmat suits might be too much.
How Do Radiation and Hazmat Coveralls Protect Health?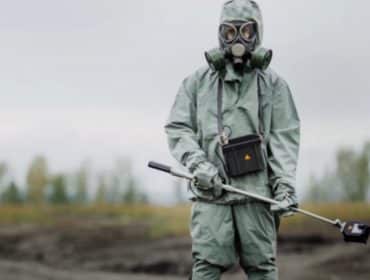 We have described the levels of hazmat suits and defined the best option you can get nowadays. But what exactly helps you get biohazard protection? Why do radiation suits work? How much radiation can a hazmat suit withstand? Let's see the main features of hazmat suits in detail and images.
To make it easier, you can compare a hazmat suit to a tall, thick wall that splits you and everything that happens outside. Or a chemical-resistant bubble that doesn't let anything precarious in.
How Much Radiation can a Hazmat Suit Withstand?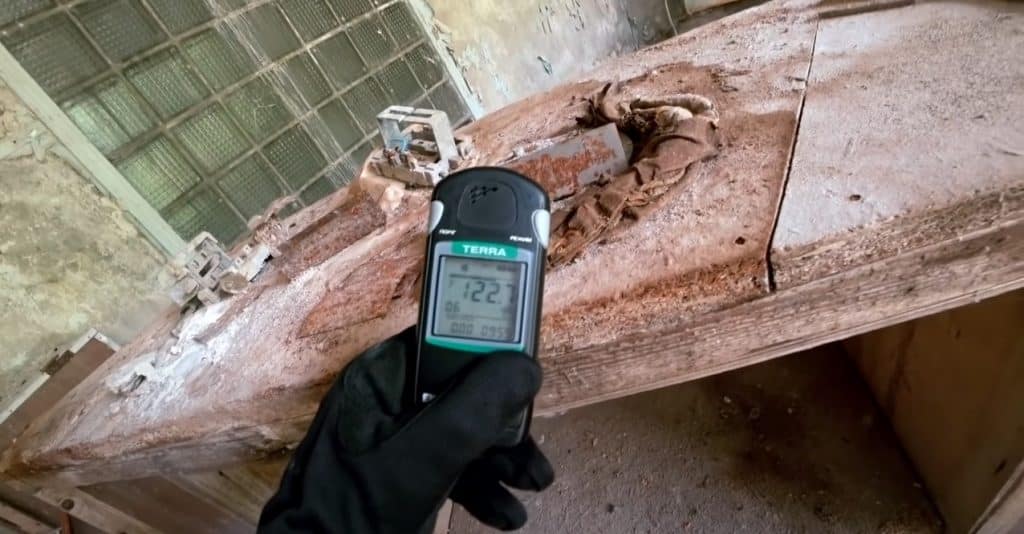 Let us talk now about the amounts of radiation the best hazmat suits can safe you from and what features go into the protective shield: 
Toxic industrial chemicals to other chemicals (biological, nuclear, and so on) are threats and hazards. Chemical warfare agents are usually included, too.
Finally, some radiation hazard hazmat suits may help you survive the highest temperatures: remember that firefighters use hazmat suits as well.
Your organs are as vital as your skin (which already gets protection from a hazmat suit). So, remember about the gas mask as a full face and radiation protection boots for your feet. You have to supplement a hazmat suit with gas masks and accessories to breathe properly and footwear to walk with comfort. We have described those suit elements above, too.
The fabric is what helps to make a hazmat suit radiation protective and ensures your safety. You won't exercise in an thermal radiation suit because the fabric won't let the whole body breathe while you wear a suit.
Normally, hazmat suits are made from polyvinyl chloride, rubber, Teflon, Tyvek, or similar material. The type of fabric you should choose depends on the training and tasks you have to undertake while wearing an haz-suit.
Can Hazmat and Radiation Suits Provide Gamma Radiation Safety?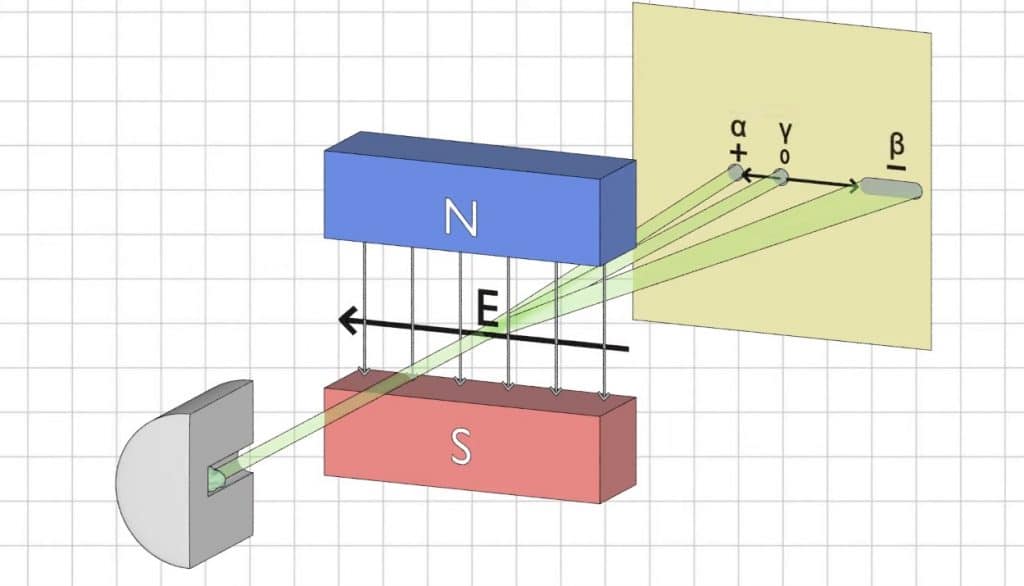 With the hazmat suit, you wear, ensure that you are protected from particle radiation. Follow information about protection from different radioactive particles. Unfortunately, you can't protect yourself from gamma radiation, x-rays, gamma rays, and other agents (which are scientifically united in a group of ionizing radiation).
Let's categorize particles in a scientific manner:
For alpha particles, you have to protect your skin. A radiation suit, gloves, mask, and steel-toe boots would be enough

.

Beta particles require another step: you have to take shelter in a solid building, and protective hazmat suits won't be enough

.

Finally, gamma particles can be neutralized only using certain metals (like lead, steel, or cast iron, for instance). So, a hazmat suit is not an option here too

.
Anti-Radiation Hazmat Suit – Do I Need To Buy One?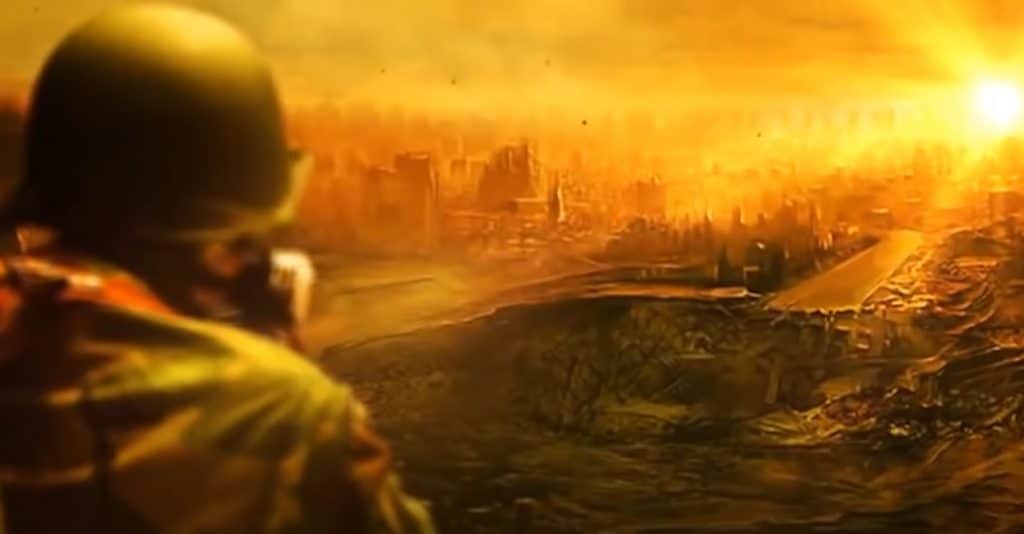 Well, if everything we have written above is not convincing enough for you, we will remind you about one simple phrase: forewarned is forearmed – get a hazmat radiation suit.
We never know which survival situations we might get into. Hazmat suits are used for a wide range of threats, including nuclear explosions so we would prefer getting a suit rather than leaving it behind.
To Sum Up Our Hazmat Radiation Coveralls Review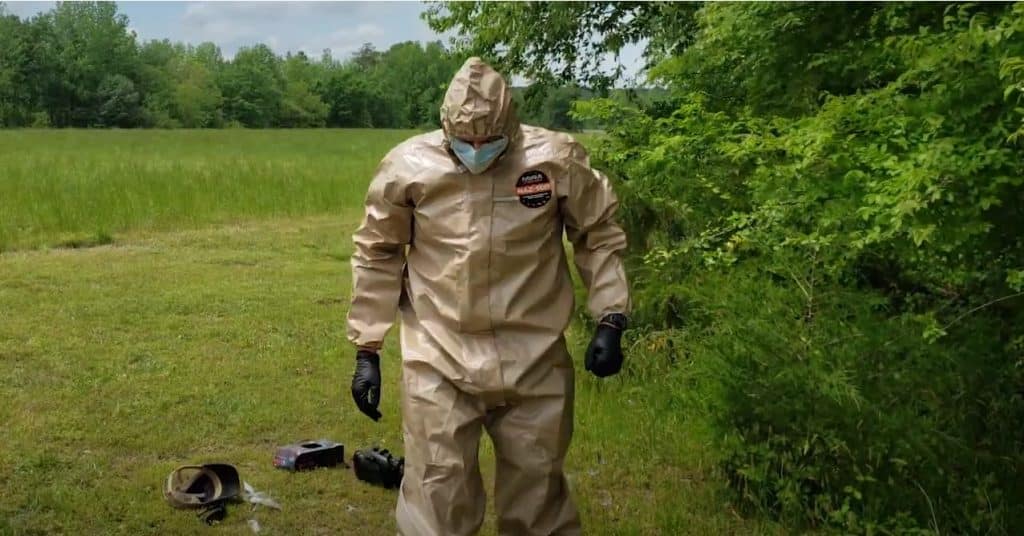 Of course, everyone should decide by themselves whether they need a hazmat suit or not. We suggest buying such a hazmat suit with radiation protection if you feel that the relevant threats might hit. It is the full nuclear survival kit we are talking about here. And a hazmat suit is a decent add-on to your ultimate set of personal radiation protection equipment.
Imagine a disaster tied to chemical warfare agents (CWA), other chemicals, biological agents, a pandemic, or a certain radiation type that occurs. With a protective radiation suit, you make sure to receive great self-defense and can move around in safety.
If you still have concerns about biohazard and health protection, proceed to the FAQ section, where we have added some more questions on hazmat suits from our readers that our professional responders have answered.
Frequently Asked Questions — FAQ
Which hazmat suit is the best?
We would opt for a hazmat suit from MIRA: we have already explained why we consider it best. However, each person has their own taste and opinion, so defining an ideal case is individual. Also, some options you can find on Dupont.
Again, the most important parameter to define the hazmat suit you need is the obstacles you plan to face, whether you are looking for protection and fighting fires, chemicals, radiation, or other threats – consider getting a gas mask as a headgear.
Can a hazmat radiation suit protect you from radioactive elements?
From some types of radiation, yes. A hazmat suit will protect you from several particles. However, gamma radiation, x-rays, and any other type of ionizing radiation are still dangerous for everyone, including people in suits.
Hazmat radiation suit – how effective is it?
As we have said before, there are three levels of protection that radiation suits provide. The effectiveness of each hazmat suit depends on its protection type. You should define possible threats and dangerous agents first. Then, relate them with the proper type of hazmat suits: this is the best way to get all the answers.
How much does a radiation hazmat suit cost?
It depends on the hazmat suit type that will become a part of your personal protective set. However, usually, you won't pay more than a hundred dollars for a hazmat radiation suit price in the United States.
Some add-ons (like an SCBA, gas mask, and items for full-face protection wear) will increase the price. Remember that you also have to take care of your family members and purchase hazmat suits to ensure protection and safety.
Hazmat suit vs. radiation suit: what should I wear?
Basically, these hazmat radiation suits available on the market today are the same. Both suit types make you a protected bubble that won't destroy or suffer after facing certain radiation types, chemicals, or other precarious agents. These hazmat suits make sure that you will have protection and will be able to get out of any survival challenges at ease.
Don't forget about the existing radiation protection types and protection capabilities we have defined above. But unfortunately, some biohazard threats are unbearable. Remember Chernobyl catastrophe with atomic energy that almost caused a nuclear explosion a few decades ago. We hope you will never face such situations (involving gamma rays, hazardous particles, or other dangerous materials and chemicals).
MIRA Safety HAZ-SUIT Protective CBRN HAZMAT Suit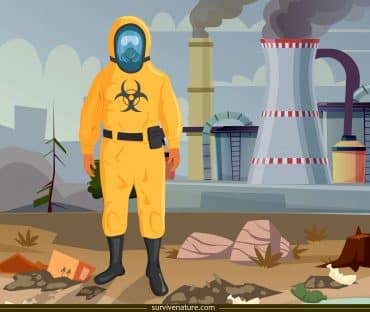 Mira Safety hazmat radiation suit for radiation protection.
Product SKU: HAZSUIT2X3X
Product Brand: MiraSafety
Product Currency: USD
Product Price: 139.95
Product In-Stock: InStock