A survival shovel is a basic but extremely powerful tool: it can come in handy while you are hiking, camping, or hunting. It definitely should find its place in any survivor's survival kit. Read our article about the use of a survival shovel, the materials it comes in, learn the difference between high-carbon and stainless steel spade, and embrace the ergonomic designs of the best models available.
A shovel is one of the best hand tools that make our lives easier. People use different kinds of shovels for a variety of purposes, from gardening too – why not? – survival. That's right, a shovel is also one of the most basic survival tools, as well. Imagine yourself stranded amidst post-disaster devastation. We bet that a shovel would become your main go-to tool to get you through the hardships of everyday survival. So getting a high-quality camping shovel is something every prepper must do before things go down.
This article will learn what a survival shovel is good for and the best survival shovels on the market.
TOP Best Multi-Tool Shovels and Kits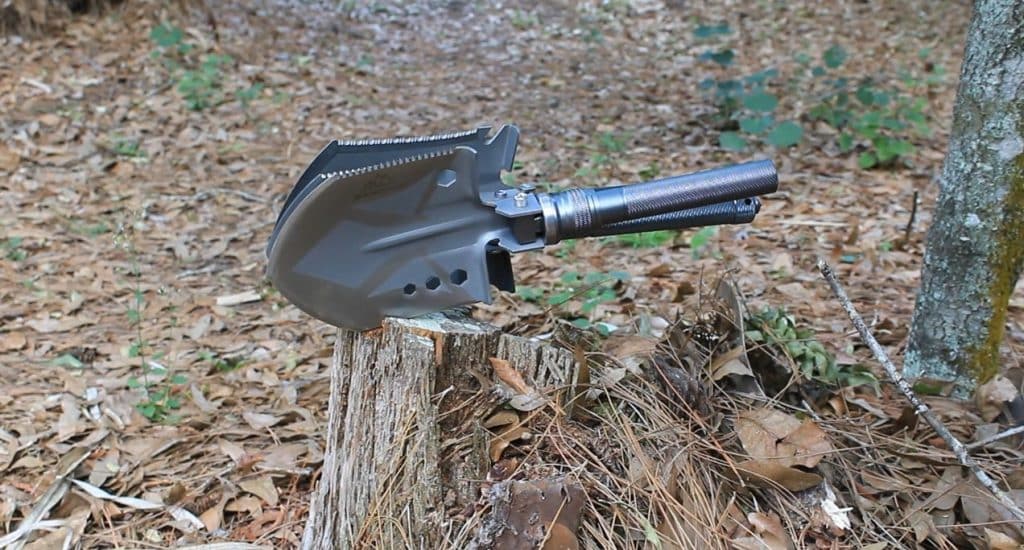 A folding survival shovel is a tool that you can carry with you at all times or have in your end-of-days emergency bag. There are a few simple tips on what to look for in a first-class survival shovel. Here they are:
Make sure it is made from high-quality materials and is wear-proof. Because that's what a good shovel must be like: heavy-duty and hard to destroy;
Is it light in weight and easy to carry?
Is it compact and foldable so you can put it in your backpack?
A shovel head must be made from high carbon steel or stainless steel;
A shovel must have a sturdy and light aluminum handle. A handle is usually hollow on the inside and can capacitate additional tools like fire starters, knives, screwdrivers, tactische zaklampen, enz.
However, you should not forget that a high-quality multi-purpose emergency shovel is a multi-task tool itself that is designed for a vast amount of usage. First of all, it digs. But you can also use it as a pick (a shovel may have a pickaxe built-in) or a overlevingsbijl. Remember that almost every multi-task shovel has a sharpened edge allowing you to cut and chop.
Another thing to note is that survival is not only about digging a fire pit or making a wilderness shelter. You may also find survival shovels extremely useful in terms of self-defense since, due to their construction features, they make for a good homemade weapon.
However, choosing a multi-task shovel is not easy, even if you know all the tips. There are different brands offering hundreds of models. Form factors and toolsets also differ.
In our top 11 list of the best survival shovel kits, we decided to sort products according to their main design features, such as:
Simple short-grip options;
Models with extendable handles;
Ultimate multi-task kits.
Models with Short Handles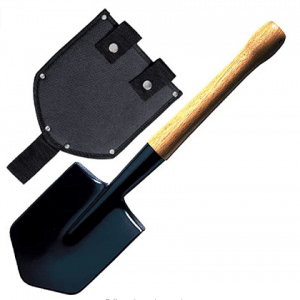 Met een Special Forces shovel, you get a compact and heavy-duty solution. This product will suit those searching for a straightforward survival shovel. This is not a folding shovel, so there no joints, which can wear off and break after long duty. The handle is made of wood and has no inside capacities for storing extra survival tools like a bottle opener, an emergency whistle, or a fire starter. A shovel head is made of carbon steel and is pretty durable.
As you can see, this is an option closest to regular spades. But thanks to a shorter handle and light overall weight, this is a perfect shovel for camping. We think that it is not a bad choice for survival purposes if you are looking for a traditional digging solution.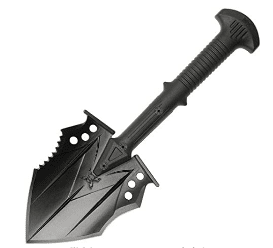 A Kommando spade by United Cutlery is another one-part survival shovel. This built-to-last survival shovel is a continuation of a regular wooden-grip shovel and the closest alternative to Cold Steel. But United Cutley's shovel looks modern and has some more features to offer. Like a heavy-duty handle made of fortified nylon, for starters. The shovel head is made of stainless steel and is sharp at the cutting edge. Its blade features a built-in hatchet and a serrated edge. This tool is an excellent camping shovel and one of the best options for those searching for a simple non-folding portable shovel.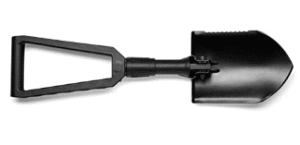 This folding survival shovel by Gerber Gear is one of the simpler survival shovels with no extra features. While this tactical spade may not have a bunch of extra tools, it is lightweight and compact, so you can fold it and put it into your backpack. Its stainless steel blade has a serrated zaag edge. A short and convenient open handle makes this spade a perfect entrenching tool. It will work fine if you need to dig a fire pit for a campfire or build yourself an outdoor shelter.
Again, this shovel is not a multi-tool camping kit. But it does feature a built-in pick. If simplicity and lifelong durability are what you expect from a tool, give this one a try.
8 – Chafon Compact Survival Shovel Kit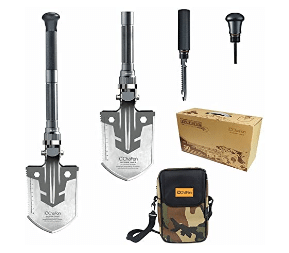 A multi-tool shovel kit by Chafon is an excellent camping option. This detachable shovel will easily fit in a storage bag or a camping backpack, thanks to its size and weight. The tools featured in this survival shovel kit include a knife, a fire starter, a compass & a carrying bag.
The shovel's blade is made from carbon steel. It has a sharp cutting front edge and comes with a built-in hatchet and a serrated edge. This high-quality detachable folding shovel is built to last and will become a valuable purchase for any camping enthusiast.
Survival Shovels with Extendable Handle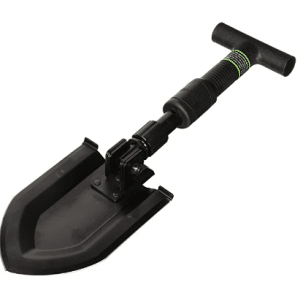 Schrade's' folding shovel with a T-shaped handle makes for a perfect entrenching tool and is an amazing piece of survival gear. The shovelhead is made of high carbon steel, and its blade is sharpened at the edges. The shovel is extremely light and easy to use and carry. Thanks to its telescopic construction, the handle can extend up to nineteen inches in length.
Schrade's SCHSH1 portable folding shovel is a heavy-duty piece of outdoor equipment that we recommend doing more research on.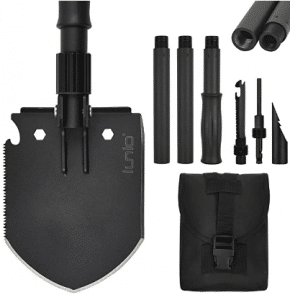 Deze Iunio's emergency shovel is a military-grade portable folding shovel with a built-in pickaxe. And the first thing to notice about it is that its handle is a lot longer than those tools we've mentioned earlier.
This military folding shovel comes with extending bars you can use to make a handle longer. When you have the handle fully assembled, it will reach thirty-five inches in length. So if there is a need, you can dig while standing on your feet.
This shovel's construction and weight make the tool perfect for camping and survival. You can easily pack this tool in your outdoor backpack or have it included in your bug-out-bag. Plus, it has many extra survival tools, including a fire starter, a bottle opener, a saw, and an emergency whistle.
With the high carbon steel blade and handle, this military folding shovel is highly durable and will serve you for years to come.
5 – Military Folding Shovel by Fierre Shann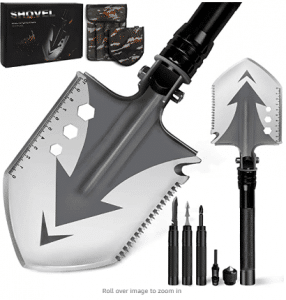 Another military-grade survival tool is a folding shovel by Fierre Shann. This multi-tool folding survival shovel looks just amazing and has a ton of extra equipment.
First of all, it has four extension bars that will allow the grip to reach the length of thirty-nine inches. Its stainless steel blade has a built-in hexagon wrench, a bottle opener, and a hacksaw. Other tools featured in this folding survival shovel are a fire started, a hunting knife with a serrated edge, a combo-screwdriver, a harpoon, and an emergency whistle.
By far, this is one of the best survival shovels we have seen. But it is not only a survival tool. This shovel can also be used as a self-defense and hunting weapon. So it definitely deserves checking out.
4 – Military Portable Shovel by Rose Kuli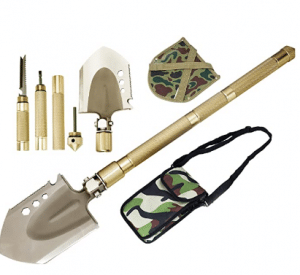 If you're into the concept of multi-part handle shovels, a portable multi-tool survival shovel by Rose Kuli will get you interested.
It's the nearest rival to the shovel by Fierre Shann we've mentioned above. This shovel's handle boasts a length of thirty-seven inches and has a set of extra tools to go with it. The tools include a whistle, a flint, a hammer, a serrated-edge knife, a bottle opener, a fire starter, a carrying bag.
The shovel has an aluminum alloy handle and a carbon steel blade. This convenient and durable multi-tool kit rightfully deserved its place among the best survival shovels in the market.
Ultimate Multi-Tool Solutions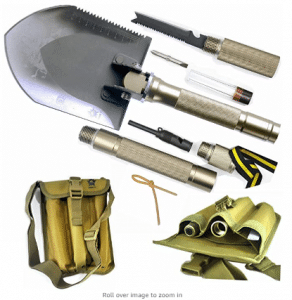 This amazing fifteen-piece kit may well be the best survival shovel you will ever need! The shovel is foldable and has an extendable handle that makes it twenty-five inches long.
This multi-tool folding shovel has everything one can need when out camping or struggling to survive. The tools include (but are not limited to):
An ax and hoe;
A screwdriver;
A magnesium fire starter;
A knife and a wire cutter;
A whistle and even a tourniquet.
The carbon steel blade has a sharpened cutting edge and a serrated edge. The blade is detachable, and you can carry it in a bag that is also featured in the kit.
2 – Tactical Multi-Tool by EVATAC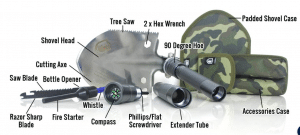 At number two comes a military-grade multi-tool survival shovel by Evatac that transforms into a hoe, a hatchet, or a tree saw in no time. Its weight and construction fit any emergency bag, so there will be absolutely no problem packing it. As an extra feature, this kit packs a carrying case.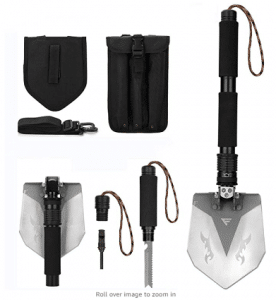 It was tough to choose between these two survival shovels: a multi-task kit by Evatac or this one by FiveJoy. But as we compared the two options, we decided that FiveJoy's product is the perfect choice for any survivalist as the best survival shovel.
You can dig, cut, chop, pick, and use it for self-defense with this spade. With extra tools like a serrated saw edge, a fire starter, and a hammer, it is just perfect for making the best of a survival situation. Made from aerospace-grade aluminum and carbon steel. It is a lifelong high-quality tool and a must-have for any survivalist.
What Do You Need a Shovel For?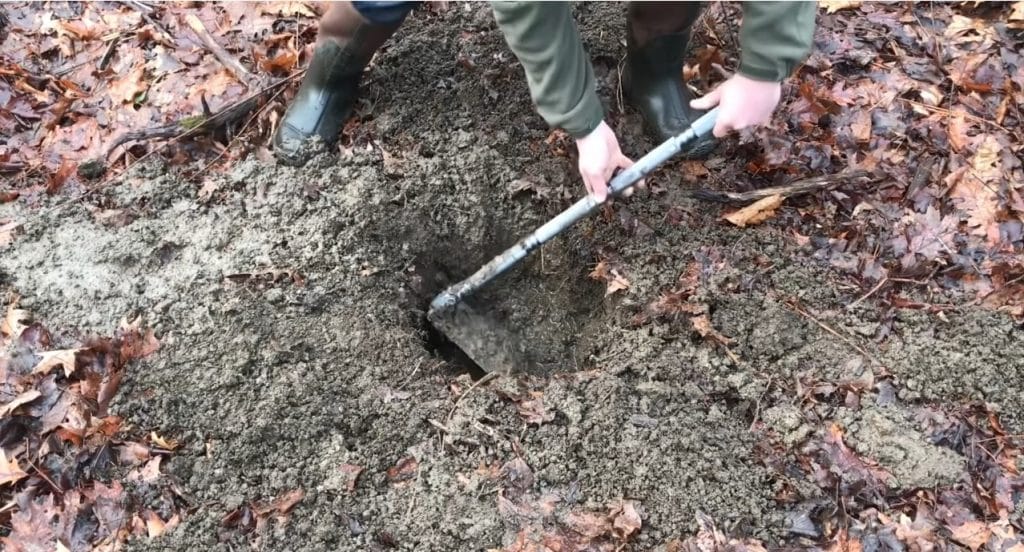 A shovel is not only used for plain digging. In reality, there are different uses for this tool. For instance:
A shovel is a perfect piece of camping equipment;
You can use it in mining and construction;
You will also need a shovel to work in your garden and to shape landscapes;
These tools are often used during emergencies and rescue operations;
And finally, you will see a shovel among military gear.
Of course, those are all different shovel types. But by now, you should have gotten the idea that a shovel comes in handy not only when you need to dig a hole in the ground. As basic and simple in their original construction as they get, modern-day shovels feature various design solutions and purposes.
Originally, a shovel is just a sturdy piece of steel (not necessarily, though) shaped in a particular way and attached to a handle. People have known and made use of such construction for centuries. And, of course, it has been evolving.
There are traditional gardening shovels. There are snowplows, and there are rescue shovels to get people from under avalanches. Firefighters use shovels, too. In the military, a shovel is used as an entrenching tool for digging trenches and foxholes. Shovels are also used in demolitions. Every camping enthusiast has a camping shovel packed in a backpack. One of the latest incarnations of a shovel is a tactical shovel. Such a shovel is designed to be a survival shovel and is a very popular instrument among survivalists and preppers wereldwijd.
So, as you see, today you can find a shovel for almost any kind of job imaginable. And while having a shovel is, by all means, better than having no shovel at all when you need one, not any shovel is good as a piece of survival gear.
Regular shovels are too long and bulky and not too easy to carry. While you may pack such a shovel in your car, you will most likely see that it takes up too much space. Besides, a regular shovel is only good for digging, and that is pretty much it. But if you are looking for a perfect survival tool, then you are up for a heavy-duty tactical shovel. It could be a multi-tool shovel with a bottle opener, a fire starter, a wire cutter, or even an emergency whistle. Or it could be a portable folding shovel that can not only fit your regular storage bag but be packed in your bug-out-bag as well. The choice is yours and, as you will see below, is almost limitless.
But the bottom line is if you are up for a camping trip or preparing for survival, you will definitely need to get yourself a high-quality survival shovel. Check out our guide on the eleven best survival shovels on the market.
Best Survival Shovel Summary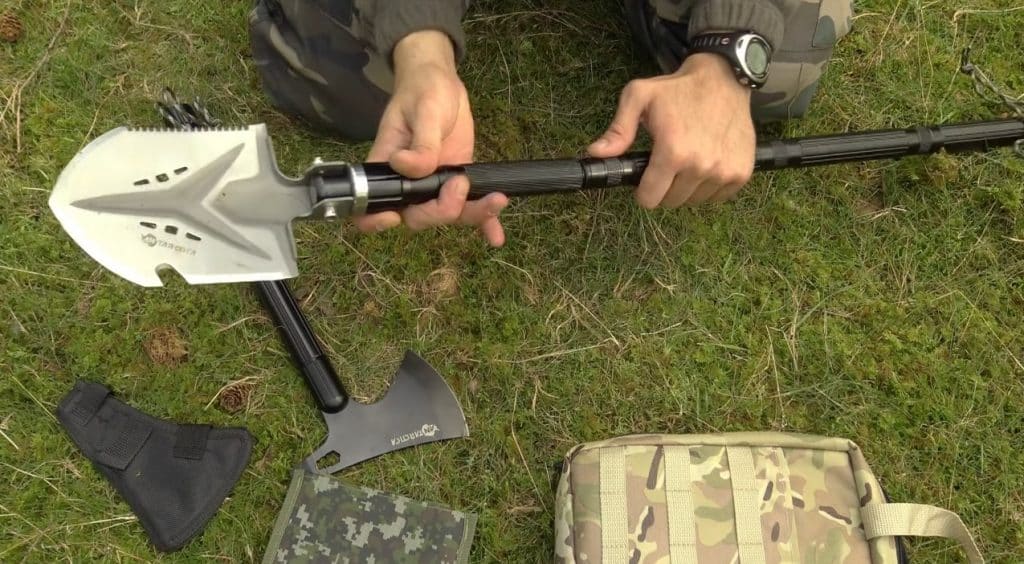 Being one of humankind's oldest tools, shovels have been helping people throughout history. They helped us build, and they helped us survive. That's one it is impossible to imagine today's world without shovels.
As one of the latest incarnations of this tool, a folding survival shovel that is light in weight and compact in size is something any prepper or a camping lover should have. Such shovels are perfect for digging, picking, cutting, and sawing. After all, it is pretty hard doing all those jobs with your bare hands. Besides, if you get your hands injured, you will most likely get an infection through your wound. Nothing can replace a shovel. That is why our recommendation is to get one.
Vaak gestelde vragen - FAQ
What is the Best Survival Shovel?
Two of the best survival shovel options are FiveJoy's Compact Military Shovel and Evatac's Ultra-Compact Multi-Tool Kit. FiveJoy's shovel is made of aerospace-grade aluminum and high-carbon steel. It's light in weight, compact and durable. Evatac's shovel is another multi-purpose tool for camping and surviving with a stainless steel blade, folding and extendable handle, and a set of additional tools.
Other popular folding shovels include Bang Ti, Gerber E-Tool, Fierre Shann, and Zune Lotoo.
What is a Tactical Shovel?
A tactical shovel is also called a survival shovel. This is the type of shovel people use for camping, hiking, and emergencies. Such tools have built-in features like saws and hatchets. Their handles usually serve as storage locations for extra tools like firestarters, compasses, knives other emergency gear. Tactical or survival shovels are light in weight and foldable, so they are easy to pack and carry.
What is a Military Shovel Called?
A military-grade shovel is professionally called an entrenching shovel because it is used for digging trenches and foxholes. A blade of such a shovel can be set into a 90 degrees position to make entrenching easier and faster. A traditional entrenching shovel will have a short handle and be light in weight.
What is the Ultimate Survival Tool?
Survival or tactical shovels are often called the ultimate tools for surviving. That is because such shovels are designed for various jobs, from digging to cutting and from sawing to picking. Thanks to sets of different extra tools that often go with them, tactical shovels are excellent multi-purpose tools for survival.