Introduction
More and more people across the US are preparing for emergencies, and there are a plethora of reasons to do so. Floods, hurricanes, tornados, earthquakes. Some people are even still preparing for nuclear war and constant power outages! If you also decided to enhance your emergency preparedness, you need to have some crucial things such as a basement, water filtration system, air conditioning, electricity generator, and from all the gear, the most important is obviously food. 
And when it comes to food preparation for an emergency becomes a bit more difficult because you can't just buy some usual food at the nearest Walmart and put it in your basement. You have to choose food which can be stored for a long period of time, can be easily prepared and do not take a lot of space to store. And to find and buy such food can be a daunting task. But thankfully, mountain house food is here to help. Besides having substantial survival skills and top survival gear, food is of paramount importance.
A few words about Mountain House Company
Mountain House survival food has been a go-to brand for over fifty years among campers, backpackers, and survival experts who know quality when they see it–and more importantly when they taste it.
Originally making freeze-dried meals for US Special Forces, Mountain House food buckets are well known for their reliability and delicious flavor, which can be hard to find in these types of emergency meals. This particular brand has been chosen time and again as the best all-around survival food that money can buy, no matter the situation. When failure is not an option, Mountain House is chosen.
Mountain house produces 5 stars top-quality long-lasting freeze-dried foods and car camping food, which can be stored for a long time and is perfect for emergencies and outdoor recreation such as camping or alpinism. Survival food produced by Mountain House is very delicious and convenient and can be your escape key in any emergency. Mountain house produces freeze-dried food packages of various tastes so anyone can find something appealing, so let's explore some of these packages.
What are Mountain House products?
General Features
The Mountain House Just In Case Classic Bucket features a total of 12 meals, enough to feed one person for three and a half days.
1. The meals included in this bucket are:
2 beef stroganoff

2 chicken teriyaki

2 noodles and chicken

2 lasagna with meat sauce

2 beef stew

2 granola with milk and blueberries.
Mountain House buckets are stackable and portable, and all the pouches inside feature a 30-year Taste Guarantee. If this quality is ever found to be lacking at any point within those years, Mountain House emergency food will replace the product at no cost to you with the same product or a reasonable equivalent.
2. Simplicity of cooking
These pouch meals are straightforward to prepare. You simply add hot water, and in less than ten minutes, your meal is ready to eat. The best part is that there are no pots or pans needed, so no messy clean-up afterward. You can prepare and eat from the same package and simply throw it away. Each pouch contains 1-3 servings and has a 4 out of 5-star rating for durability.
These emergency food buckets include a total of 12 meals, in pouches, at 1-3 servings per pouch.

Pouches have a 12+ Year Taste Guarantee with free replacement

Just-Add-Water feature allows you to eat in ten minutes or less; no pots or pans are needed.

Great product durability and storage features.
Where to find Mountain House Foods?
So, when you finally decided that Mountain House product options would be a darn good investment in your survival, you will have to find a place where you can buy them. And this is not a hard task. First of all, you can go to the Mountain House website and order kits there. The site has a very user-friendly design, a screen-reader, and it is straightforward to shop there.
What is very convenient is the fact that the website allows you to buy not only the whole buckets or kits it also allows you to buy each meal separately so you can customize your survival menu. If you wish, you can buy all the entrees or any hot meal or order 10 freeze-dried spaghetti with meat sauce.  
Moreover, on the website, you can order Mountain House kits with free shipment even for your very first purchase ever, plus no fees!
Also, the site has a very convenient section for buyers where you can contact customer service or write a review for any product. And by the way, the site supports any type of alternative payment method.
Except for the official website, you can find Mountain House freeze-dried food in numerous local shops across the US and Canada.   
Our top picks
1. Mountain House Classic bucket assortment
This is probably the best Mountain House product with an average rating of 5 stars! The Mountain House classic bucket is easy to store, and it can be on a shelf for 30 years, which makes it great for emergencies or camping. It contains zero artificial colors and flavors. And includes:
3 gluten-free beef stews, made of natural beef carrots and potatoes

2 gluten-free chicken fried rice, tasteful chicken, long rice, scrambled eggs, pepper, and mushrooms.

2 granola with blueberries and milk  

2 classic spaghetti with meat sauce

3 beef stroganoff with noodles made of savory beef
Extra features
Moreover, Mountain House's classic assortment bucket has not only a great variety of yummy taste freeze-dried food with bland and mealy flavors which was made without unnecessary chemicals it delivers up to 6 thousand calories which can be crucial for survival in an extreme situation or for well-being during family camping. Which effectively makes Mountain House classic bucket a must-have on your shelf.

Furthermore, the Mountain House classic bucket assortment has a preparation time of only nine minutes and requires solely 18 cups of water to be ready. So you can eat just a few minutes after you decided to do so. Also, the Mountain House classic bucket is very suitable for transportation because it weighs only 5.7 lbs.

Also last but not least, the classic assortment bucket contains so much food and calories so that you can use it not only for survival but also for successful bulk up in the gym. 
2. Mountain house emergency 4 day supply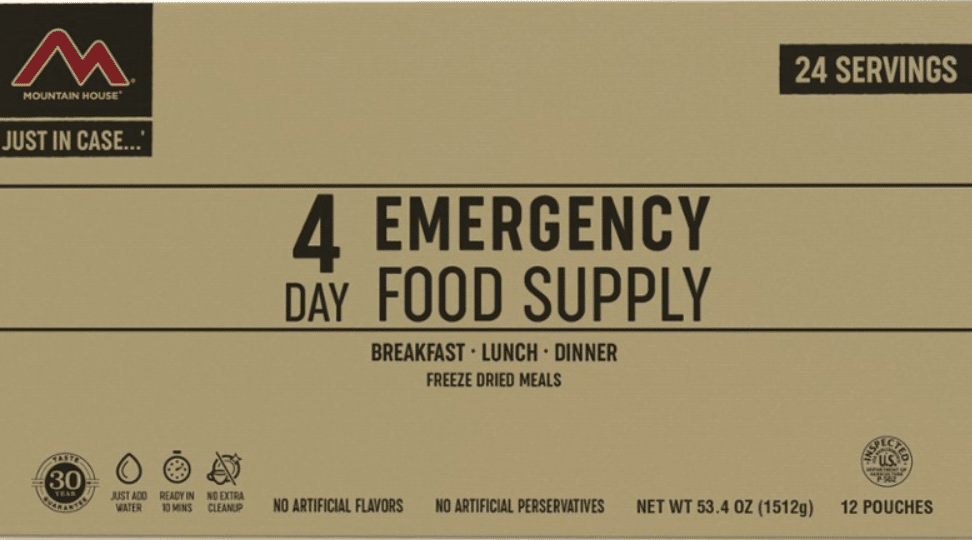 If Mountain House classic assortment bucket seems to be too bulky for you. There are plenty of other packages from Mountain House. And one of them is the Mountain House emergency 4 day supply kit. Unlike the classic assortment bucket, 4 day supply contains 12 packages divided into 3 groups as breakfast, lunch, and dinner, which bring more diversity of freeze-dried food to the table and helps to organize your ratio properly.
The breakfast package includes 2 granola with blueberries and milk plus 2 gravy and biscuits. Dinner and lunch packages include 2 chicken fried rice, 2 Mexican style rice with chicken, 2 macaroni with cheese, and 2 chicken and dumplings.
Preparing this supply is also quite an easy task, just add hot water and wait for 10 minutes. The shelf life of this product is the same as the shelf life of a classic assortment bucket which is 30 years. 
3. Mountain House weekender adventure kit
This kit is for the people who still want top-quality freeze-dry food but just for the weekend with the family in nature, not for the ultimate survival. This product is comparable to both the Mountain House classic assortment bucket a 4 day supply kit and obviously has the same Mountain House quality. The average rating value of the product is also almost 5 stars.
Mountain House weekender adventure kit includes 1 granola with blueberries and milk, 1 breakfast skillet. 2 chicken and rice, and 2 beef stroganoff with meat sauce and noodles. As usual, all meals are produced without artificial flavors.  
From the point of shelf life and convenience, this kit is just as good as the previous two. It also has 30 years shelf life from the manufacture date, which assures that money is spent right and you can go for an adventure at any suitable time. 
Shortfalls: Mountain House Survival Food
As to the average rating value, the most common critique of the Mountain House Buckets is that the food is okay but not great. Given that this kind of emergency bucket is supposed to be used in cases of—you guessed it—emergencies, I never saw this to be much of a problem.
But, it is something worth pointing out. The food is good, but many people searching for a more gourmet option might not be pleased. In such a case, you might want to try Wise's gourmet options.
Don't get me wrong, the Mountain House product isn't some MRE or emergency food ration, but if you are looking for true gourmet emergency food, you might not only rate these at say—3 out of 5 stars.
Think of Mountain House as a solid in-between brand between bland MREs and extremely expensive gourmet food buckets. They are still a great choice, but it's all in what you want.
Recommendation: Mountain House Dried Food
Overall, this seems to be a product that is worth the money spent. The durability, storage options, shelf life, and ease of preparation are definite scores for good.
The Taste Guarantee states that if this food is not as good as it should be, that it will be replaced with the same or an equivalent product, which means there's really nothing to lose.
While some may not like the taste, they may only be comparing it to the "good" food that we all get because we're not in actual emergency situations. Drastic times will certainly make some foods taste much better, and when it comes down to the real nitty-gritty, it's not really that bad.
If you are looking for quality emergency food at an affordable price, you can't beat Mountain House's emergency meals.
Frequently asked questions (FAQ)
How much water does a typical Mountain House meal require?
The process of making Mountain House meals requires adding water. There are certain facts that should be considered. First, any meal from the Mountain House requires about 18 cups of hot water.  And secondly, the hotter is the water, the less of it you have to pour into the meal to prepare it.
Is there a vegetarian version of this product?
In our article, we did not represent any vegetarian options, but on the website of mountain house, you can find a lot of them for the same price and with the topmost quality. Opt for those with the greatest average customer ratings. 
What's the shelf life of this product?
The question of shelflife is crucial in terms of survival. No one would want to have digestion issues while already facing the dangers of a survival situation. as to the lifespan, it is beyond all expectations. Any Mountain House meal product, including classic bucket, has 30 years shelf life.