Introduction
Ever considered what can save you in a survival situation? How can one survive the worst-case scenarios? First things first: worthy gear is the way to go. But will it be useful without considerable survival skills? All the weapons in the world will not save you if you cannot shoot. And your survival shelter will not save you unless it is properly chosen and set up. Dig my point? Sometimes, the very basic camping tricks can maximize your chances. The same goes for the survival backpack: it can be crammed with quality gear but it is you who should be able to utilize it.
To the point
If you are reading this article, you are most likely into the shooting topic. That is why you probably know how important it is to find proper equipment, especially if you are into long-range shooting. Those who practice this type of activity understand that to be successful in it, you have to: firstly, get high-quality equipment because lower-quality options will destroy the entire process, and, secondly, you have to spend some time honing your skill. but the second point cannot be achieved without the first one — it is obvious.
This means that a proper mil-dot scope can solve a couple of your problems. Target shooting requires some persistence, and if you feel like you are ready for it, give it a try.
The scope you are going to choose has to meet certain criteria, and the main one of them is: to fit your exact rifle. To choose one and not to be disappointed about it, you have to think of the following: what kind of light transmission are you interested in? Do you want it to be a first focal plane scope or a second focal plane one? Are you planning to get the highest magnification possible? Which features should become your priority?
In this article, we will take a closer look at various mil-dot scope options and figure out which best mil-dot scopes the modern market recommends.
What Is a Mil-Dot Scope?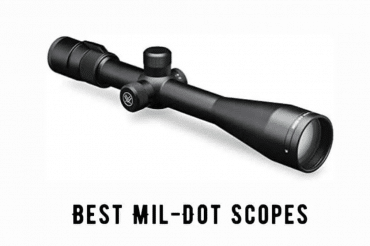 You can choose different words to describe what exactly an ordinary mil-dot scope represents. In its nature, a usual mil-dot scope reticle is an optical device for a rifle equipped with a milliradian dot reticle — in other words, there are literally special dots on the axes, 4 dots on each side of each axis.
One mil of an angle is about 3.6 inches long and is close to 100 yards. It represents an aiming point for windage and holdover and helps to make corrections for bullet drop. These dots are of 0.25 mil diameter, and their organization serves for better orientation of the shooter.
The dots help you judge the distance, without them your chances to reach to target will fall drastically. The reason is that you have to be able to estimate range and the windage: wind drifts tend to change the flow of a bullet and without these dots adjusting for it would have been a "mission impossible".
A few words on magnification
To get clear images, users add magnification. This feature of a mil-dot scope helps to see the target better and to increase the hit chance. Some devices come with a fixed magnification option, and for them, you do not have to adjust it before the shot.
If you are looking for something that will help you make even more precise shots, pay attention to the half-mil-dot scopes. The extra markings on the reticle help shooters to "navigate" even better. The idea is not really different here: one mil of such a reticle also equals something about 100 yards, but the amount of markings differs a little.
Of course, there are other additional features to consider before getting your own mil-dot scope reticle, such as parallax adjustment, light transmission, or elevation adjustments, for instance.
Let us now briefly consider the potential characteristics you might pay attention to before going to the shop.
What To Look For In a Mil-Dot Reticle Scope?
If you have never had a chance to deal with the mil-dot scopes variants, most likely you will be lost among the variety of those. You are looking for a tool, useful for bullet drop compensation, range estimation, and not only. The best mil-dot scope is supposed to serve you for as long as it is necessary, which means that it has to be designed using the highest quality materials.
No matter what kind of weather conditions you face, a reliable mil-dot reticle scope will not let you down. When you have to practice your activity in foggy conditions, your rifle scope must help you navigate.
The best scope is adjustable scope. Some features of it, such as magnification, should be possible to change for better shooting results at a known distance.
One of the most important features to discuss is illumination. An illuminated reticle is a true helper on the hunt. It does not really matter what time of the day it is: sometimes you cannot achieve your goal without proper illumination of your mil-dot reticle.
Years ago, users tried to avoid illuminated devices, because each such reticle was much more expensive and much heavier, and it did not seem to be justified to buy a mil-dot reticle with illumination. However, times change and so do the opinions about illumination.
Now, it is an integral part of a successful hunt. Besides, it is completely legal to use illumination on the territory of the United States.
What To Pay Attention to in a Mil-Dot Reticle?
Choosing a proper mil-dot reticle might be a complicated process that takes more time than you might have expected. It totally depends on the rifle of yours, and why you found yourself needing this device. Is it a hunt? Is it a competition? Do not forget to consider these points.
Also, you should not forget that mil-dot scopes might be really different in their prices. Some are more expensive, some are cheaper, for some of the mil-dot models the price is justified, for some — it is not. Think about your personal needs and how a mil-dot reticle can satisfy them. For instance, if you aren't looking for the highest magnification possible, you may consider lower-priced models.
Choosing Proper Magnification
Like always, this is individual. First off, consider whether you intend to do short-distance shooting or long distances are more preferable. If you like target shooting at short distances up to 100 yards, you would probably like to opt for up to four times magnification. Most shooters that go hunting would choose a five-ten times magnification depending on the type of landscape. A closed landscape, such as a forest or a mountain range, requires less magnification than an open landscape (e.g. a desert).
Do not forget that even if you obtain powerful magnification, it still does not really mean anything. What you really need is the skill and ability to use magnification correctly. Otherwise, the target will not be as clear as expected.
Best Rifle Scopes
As it is immensely important to consider what particular weapon you own. Depending on that, you will be able to understand what mil-dot scope model you are in need of. You will find a list of affordable mil-dot rifle scopes here down below.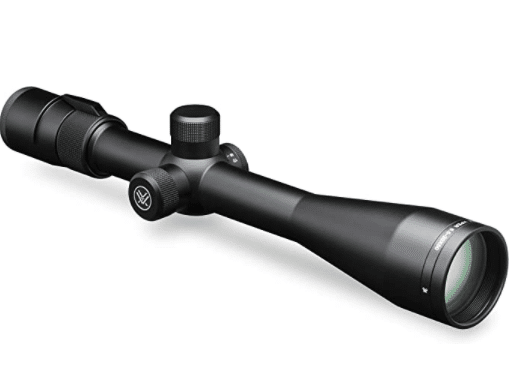 Not many mil-dot scopes are designed as classy as this one. This mid-range scope has a high-quality mil-dot reticle and outstanding quality control. The manufacturer affirms that this mil-dot scope will last, as it's really tough. And if it doesn't, you can count on the guaranteed lifetime warranty. The only downside that might seem questionable is its weight — the scope is a little heavy for an offer that is non-illuminated.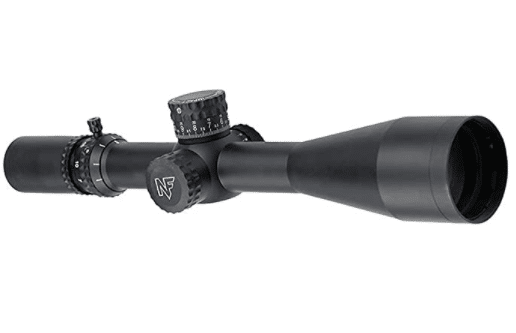 This is definitely one of the best mil-dot scopes. Nightforce ATACR 7-35×56 F1 is a long-range scope perfect for competitions. It is commonly known that precision is the key to success if it comes to competing at shooting. This mil-dot scope will live up to your expectations to win — even military men use the model for long-distance shooting.
The glass of this riflescope is immaculately clear and the fit and finish are amazing. The only thing that may seem unappealing is its price — but this product is definitely worth it, so don't miss an opportunity to know more about it here.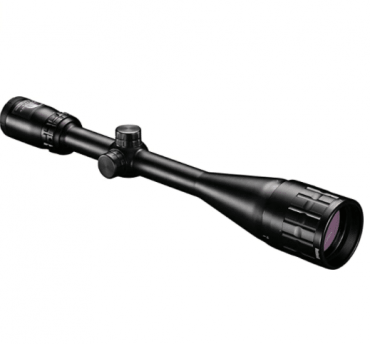 Bushnell has a lot to offer — the company's history began more than 50 years ago and various excellent riflescopes, binoculars, and other professional optical products have been introduced since then. Illuminated scopes are on the list as well.
Surprisingly enough, reticle illumination hasn't been popular among shooters until recently. This is because the first illuminated scopes were quirky and not as reliable as the standard models. However, the time has passed and the models of today are perfect for those who prefer hunting at dusk and dawn.
This particular Bushnell scope is quick to adjust and easy to zero. Matching the illumination technology with the first focal plane reticle gives you shooting magic. There are no-tool turrets, rugged durability, and a glass of very good quality. A disadvantage: an illuminated mil-dot scope is significantly heavier than a regular one.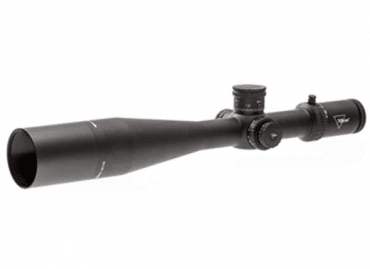 Been dreaming of a really long-range shooting? This mil-dot scope will bring this fantasy to reality. Its 56mm objective lens helps get a target that is beyond the standard 1,000-yard mark.
Besides, this riflescope has an illuminated reticle and offers a superior sight picture. However, illumination implies Trijicon is pretty heavy.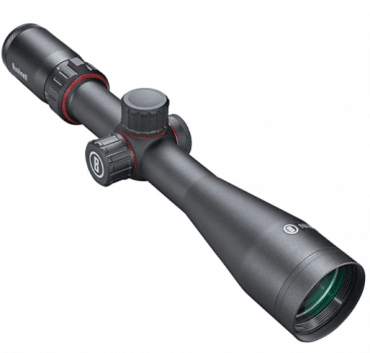 This product is designed as a superb hunting scope. The characteristics of it might not meet your expectations after looking into what a competitive scope can give but don't judge too fast. In fact, the scope for hunting should differ. For instance, it needs to have capped turrets instead of manipulative ones — this will work in real-life hunting situations.
Bushnell Nitro is a wonderful scope for its price, as this model features a fast-focus eyepiece, multi-coated lenses, and the Bushnell lifetime warranty. It also offers one of the highest magnification ranges on the market. The 3.7 inches of eye relief for protection from heavy recoil and an up to 37 feet field of view make Bushnell Nitro an option for many hunters to consider (though any long-range shooter won't be left disappointed).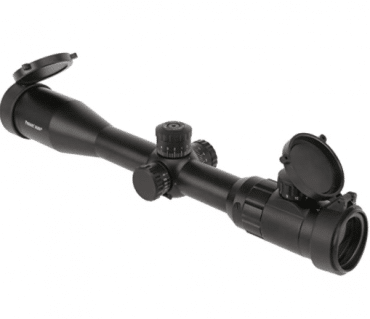 You normally associate mil-dot scopes with high prices. This Primary Arms model serves as proof that you can choose a really good riflescope and not spend a fortune on it.
Among the advantageous characteristics of this model are:
Second focal plane design;
Illuminated reticle;
Easy adjustment;
12 brightness settings;
3.5 inches eye relief.
This Primary Arms scope is definitely one of the best low-price options for beginner shooters on the market today — you'll get excellent performance either at a competition or in the field. This will serve for taking long-range shots perfectly well. It also should be mentioned that Primary Arms offer outstanding customer service for those who need to get consulted.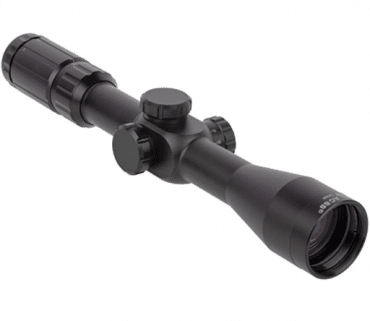 Continuing with the line of low-price mil-dot scopes, let us consider another model by Primary Arms. This is a Primary Arms SLx 4-14×44 FFP-MD scope. By choosing this device, you will not only save money and avoid unnecessary spendings but will also obtain a high-quality mil-dot scope.
This is an FFP (which stands for the First Focal Plane) scope. The scopes of this model come with a "universal" power range: 4-14, which makes this scope option one of the best available and budget-friendly models for those users who like experiments.
This scope is created in China but it does not make it unworthy of your attention. Besides, there is another reason why not to worry about the quality of the scope: it has an "eternal" warranty — this is what Primary Arms suggests to all its followers.
For better or for worse, this mil-dot scope can be applied to the bolt-action rifle. Some might consider this point to be a debatable issue since it is expected to serve for the AR platform, however, it does not eliminate the fact that the scope is durable and reliable.
However, there is one characteristic of the scopes of this model, specifically "disliked" by the users — its weight. The approximate weight of this mil-dot scope is 24 ounces, which is slightly more than a usual scope has.
Remember that you will have to make an effort to hold the whole construction with such a scope.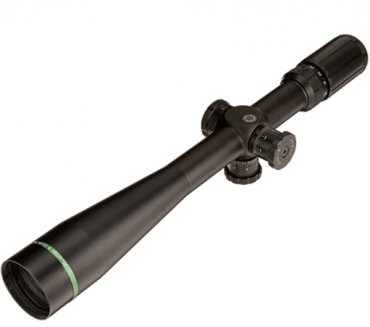 Mueller is another relatively inexpensive model for long-range shooting. It's a second focal plane mil-dot scope with a powerful magnification range and a side focus that goes down to 10 yards. It might not have a premium glass, though the quality is pretty good for an under-$300 rifle scope, which is good news. The downside is this scope's length — a 19 inches tube won't fit those shooters who necessitate a compact model.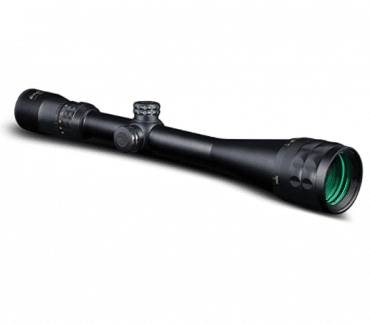 KonusPro is a low-priced mil-dot scope with an adjustable objective that holds zero. The manufacturer provides a very good warranty offer, though there is no side focus, and the optical quality leaves a lot to be desired. Still, keep in mind that this model costs less than $150.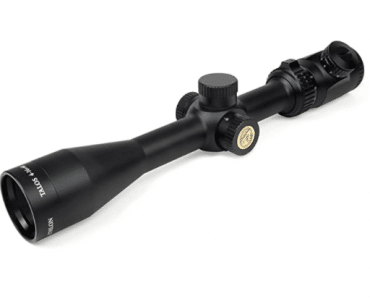 This is another second focal plane option for those who can't afford a costly rifle scope and one of the best mil-dot reticles for a low price. It offers a mid-power magnification range and a medium-standard optical quality (still better than most other similar-priced scopes, though). What you also should take into consideration is that Athlon Talos is a little heavier than you might expect from a 1-inch tube and the eye relief range is 3.8 at its maximum.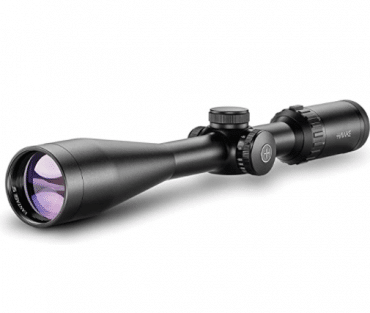 Hawke is a UK-based brand, which means it's not broadly represented throughout the world but has a good reputation in Europe. This particular mil-dot scope is a wonderful option for you if you don't wish to spend a fortune on shooting equipment. In comparison with the other similar-priced mil-dot scopes, this one offers a pretty great optical solution and, what is ultimately important, a lifetime warranty. This mil-dot reticle rifle scope's construction is designed to serve you for decades.
Need to notice: this model is not a regular but a so-called half mil-dot reticle rifle scope. It's already been mentioned that a half mil-dot reticle differs from the ordinary scopes in terms of precision. The spaces between dots here have additional marks that are meant to help you estimate the range better.
You should probably give such an alternative a try in case you are ready for a new shooting experience.  Otherwise, stick to another typical mil-dot model or try Night Vision this time.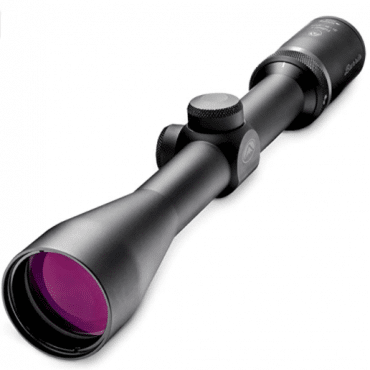 This product is another decent option among the budget-friendly scopes. This scope model is an unusual one since though it functions like an ordinary mil-dot scope, it has a slightly different construction. But, it does not reduce its usability or functionality anyhow.
Chances are that you will be surprised by the quality manufacturers tried to provide users with while designing and creating this device. Its optical quality deserves special mentioning. One more specifically nice feature of the scope is its lightness: its weight is smaller than the weight of a usual scope, equal to less than 20 ounces.
Considering the fact that this model belongs to a range of "cheaper ones", those "below 250 dollars", it is characterized by a great magnification.
However, there are a couple of unpleasant moments that deserve your attention as well since we want to be honest with you. You have to realize that though this is a budget-friendly device with relatively great and "looked for" features, it also has a couple of drawbacks.
More to consider
First of all, it does not have a side focus, which is something some shooters specifically look for. Users complain that if manufacturers decided to add it, it would be one of the greatest scopes in the world. But, unfortunately, it is still not present.
The second point concerns the warranty and the "adjacent issues". We had an unpleasant experience of dealing with the warranty when we faced troubles with the scope. It took the company more time to react to our request than we expected. In general, communication did not lead to anything — we were not satisfied with it. Maybe, it is a rare case for the company, maybe it is not. So, stay cautious.
A Piece of Advice
Now, when you are acquainted with the best mil-dots available on the market, you are more prepared for visiting the shop or ordering online. The truth is that when choosing a mil-dot scope for your needs, it is just fine to slightly "hold over" the purchase. We recommend spending some time on, first of all, realizing what features you would like to meet in your scope, and, second of all, compare several scope options — now you know that there is a range of those.
Consider light transmission, the magnification of the scope, its power range, and construction — hardly do you want your scope to be easily damaged. The more characteristics you manage to consider, the higher are your chances to obtain a high-quality device that will be able to satisfy your specific needs.
The Final Word
It does not really matter if you prefer hunting or plinking — each shooting experience requires high-quality equipment. If you are planning to shoot on significant and noticeable distances, you will definitely need a reliable and durable mil-dot scope.
Some of the scope options cost too much for a person who is just a newcomer in the field. That is why beginners prefer to start with cheap and affordable scope versions. This is a smart approach because the market is full of budget-friendly devices.
However, if you feel like you have already spent a lot of time dealing with your scope, and you have managed to notice some specific disadvantages of the model that you have been using, this means that you are ready for something more. The more specific featured of the device you will be interested in, the easier it will be for you to make a choice. all you have to do is simply compare available options.
Sharing our experiences, we can state that you can create a table with characteristics you want to meet in your device and then, for each characteristic, try to find the best model. Some models will be met more frequently in this table — pay more attention to them.
Frequently Asked Questions (FAQ)
What is Important in a Mil-Dot Scope?
There are numerous mil dots on the market and each shooter has to decide which characteristics to prioritize. A good mil-dot reticle has a fog-proof and shockproof construction, which means it is almost impossible to break or damage. You probably wish to seek a bullet-drop compensating reticle, too. If you intend to get the highest magnification possible, don't hurry with it — sometimes the images might become unclear and blurry. Good eye relief is also essential — it serves as protection from heavy recoil. All the additional features, such as light transmission or flip-up scope caps, are good but not really important if the basic ones don't satisfy you and your shooting needs.
What Is a Mil-Dot Reticle Scope?
The mil part, opposing to what a lot of people think, doesn't stand for military but is a shortened form of milliradian. One mil of an angle is approximately 3.6 inches long. Mil dots are there for shooters for better range estimation and wind drift compensation. They are also used to hold over for bullet drop if the ballistics are known. A rifle scope, depending on a particular model, will be useful for both those who are interested in long-range shooting and those who need a rifle for short-range shots.
What Is a Half Mil-Dot Scope?
There is a hint provided in the name. A standard mil-dot reticle is great for range estimation but a half mil-dot one is even better — there are additional hash marks in the primary dots. These marks can help to determine the size of objects at known distances, hold over aiming points better, are used for varying wind speeds, and are very important for long ranges. No surprise, many shooters prefer to choose this option when it comes to purchasing a mil-dot reticle scope.
How to Zero Mil-Dot Scopes?
Zeroing a scope is aligning the impact point with the aiming point. To do so, you have to install the scope first, then mount it on the rifle, and position the eyepiece correctly. After that, level your cross-hair and tighten the base well. Then, try to make a couple of shots to examine whether they are straight or not and make adjustments. Don't forget to set zero from different distances so that it is as correct as possible.
What Is the Benefit of Illuminated Mil-Dot Scopes?
The best mil-dot scopes of the past were all non-illuminated — shooters didn't believe that a heavy illuminated option can serve any good. However, modern illuminated mil-dot reticle models seem much more appealing. Having purchased such a model, you'll be able to see the reticle in all conditions, which is immensely important for hunting.