Introduction
If you have an idea to build a small house in your home area then the log cabin is the perfect option for you! This kind of the wooden construction can really attach some cosy, charming and even romantic moments to your home space. Instead of choosing a modernized ADU made of fabricated materials, building a log cabin by your own hands can be a great decision!
For over thousands of years humans have been constructing the log cabins for a living, but nowadays there are variety of options of how you can use it. For instance a log home can be a perfect place for your guests, that came to visit you for couple of days or you can place your working space there.
In this article we will tell you how to build a log cabin and the main secrets of its construction, all the important details, pitfalls and nuances. You will see, that the process is not so complicated as it seems for the first time, the most important is only to to be attentive to instruction.
So if you are thinking about building your own log cabin this review will help you to get acquainted with the main points of log cabin building such as:
Design and planning of size
Main tools you will need
Proper choice of the wood
Felling the trees
Constructing the deck area and preparing the space
Log cabin construction process
Further you will know about each step in details!
Design and the size planning
First of all if you made a decision to build a log cabin home, you need to create the plan and design layout of your future log home. You can refer to pictures of already existing log cabin ideas, that will help you to understand which style seems more attractive to you. It is not a problem if you have no own design ideas, there are many talented designers that have a great knowledge in this area, so you can seek for their help.
We won't be wrong if we call planning the most serious step of the construction process. Quality and proper planning will give you a chance to become an owner of comfortable and durable log home. So make sure that the plan corresponds to your wishes!
Also don't forget that there is a difference between the plan scale and the real building size. So in order to better understand the scale of your future construction we recommend you to correlate it with the size of rooms in your home. First of all, think properly about the floor plan of your future log cabin and the location of the windows and doors holes.
In addition to design layout and size planning it is also important to think about the costs and financial expences before you start the log homes construction process.
Main tools you will need
There is a big variety of tools you can use to construct your own small cabin. Everything depends on the location of your future log cabin and the way you construct it.
If you are a lover of classics and you want to construct your log home in a traditional way without using any power tools, then you need to be prepared for a really hard work. From the other side this way of using only hand tools will give you an exciting (and maybe even romantic!) feeling. Anyways, do not forget to prepare the first aid kit in case of any insurance and other unpleasant stuff!
Despite the controversial attractiveness of traditional construction, still it is much faster and easier to construct the log cabin by using power tools. It will be a big luck, if you have the power access nearby to your log home construction. In other cases you might need a generator. Please, don't forget to include the generator costs in your budget if you use it!
If you have never had such an experience of log homes construction you might have some questions about which tools is it better to use. We can not deny, that the choice of the instruments is really important and it influences on the quality and safety of your work. That is why so many newcomers are seeking to find some tips.
Claw Hammer (link)There are different types of hammer shafts, but we would highly recommend you to get the steel one instead of wooden one, since it is weaker. Due to our great experience we must admit that it is better to purchase a more quality and expensive tool ones, instead of getting a Chineasean copy that will break soon.We would recommend you to get a Stanley hammer. This tool can perfectly deal with any hard work, that is why it is extremely popular among many masters!
Stihl Chainsaw (link)One of the main benefits of stihl is its strength. This tool will definitely provide you with a long service, so you won't regret about this decision! If you have never used a stihl chainsaw you can ask the workers for a help or try to find some tutorials in You Tube!
Another great tool you can need during your simple log cabin construction is the drill! Due to its greate accumulator and many other nice functions hundreds of customers make their decision towards this Bosch-36618-02 model.
Also we really recommend you to buy some special gloves. During the construction process, you might use some smudge substances (such as mortar mix for example), so wear the gloves to protect your hands.
Proper choice of the wood
We won't be wrong if we say that the proper woods choice is really important (especially if you are concerned to create a stable construction!), so we recommend you to think more about this topic.
Many cabin owners decide which type of wood to use from the standpoint of ecology. If you made a decision towards some softwood types like pine or spruce, they will grow up again much faster in comparison with oak or ceder for example. The most unpleasant moment is that the softwood types are more likely to be suffered by insects. Unfortunately this problem also relies to some hardwood types like oak. Its sapwood can be cruelly destroyed by insects, that is why it is better to use the hearwood as the main material.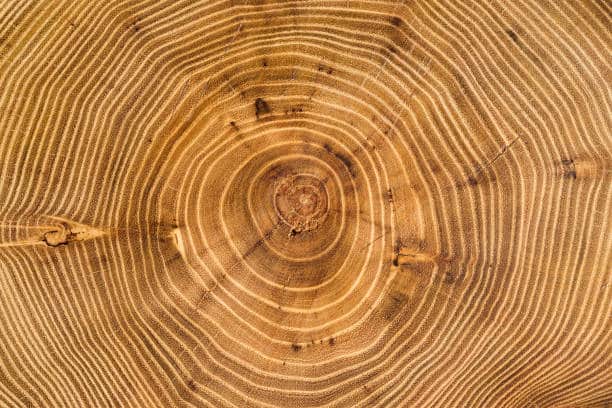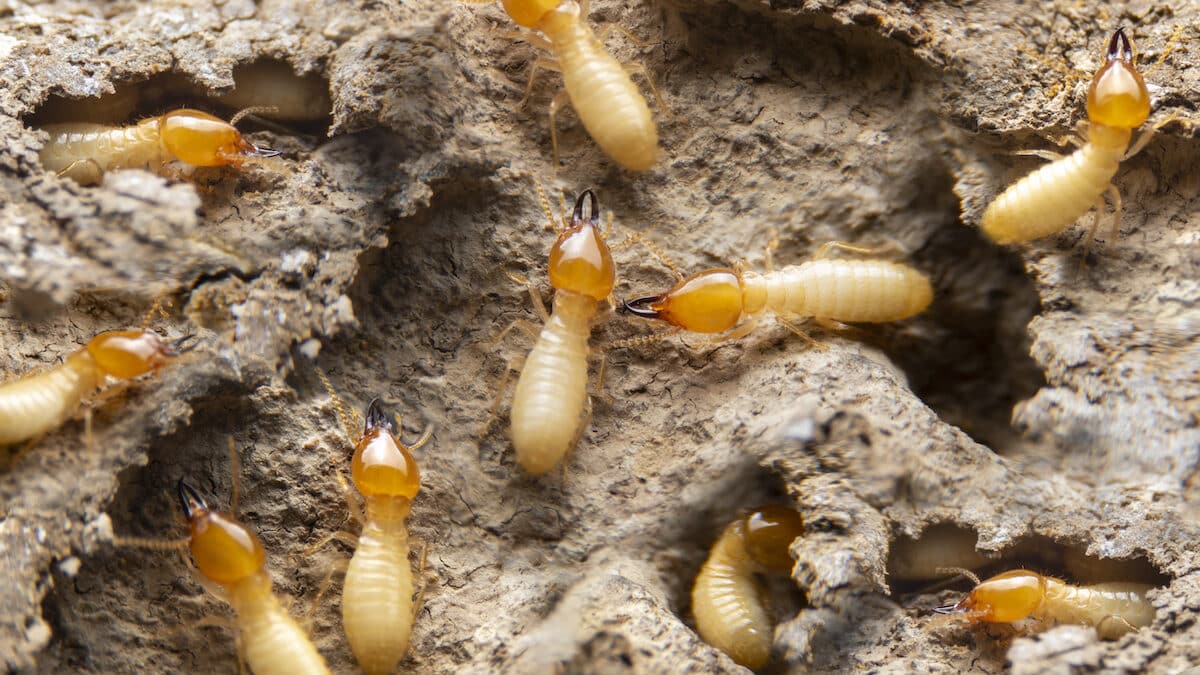 Falling the trees
After you decide which kind of woods you want to use for your future log home construction, you can think about the logs preparation.
If you have never had an experience of falling the trees, then we really recommend you to find some tutorials in internet or maybe connect a construction crew to get some useful tips. Anyways, falling the trees for the log cabin is a serious process that has to be provided in the total safety. Since there are some cases of unpleasant accidents, we ask you to be careful and get acquainted with safety regulations first of all!
To fell the trees you can use a saw or an axe. Further in the video you can find out how to fell the trees with an axe:
Are you planning to fell the trees that locate in your home territory? In this situation, you should really take care of the ecology and replant them! We can not deny the huge impact of trees on our life, they provide us with oxygen, that is why it is so important to replant them, this way we think about future generations.
You might think in which season of the year is it better to fell the trees. By the opinion of many log cabin specialists, it is better to fall the trees in a cold-weather (at the end of autumn or in early winter). In this period of the year, the ground is dry, so you will have no chance to get in sleet.
The drying of your own logs is another important step you need to think about. The quality of your future construction directly depends on the quality of logs, so make sure they are well dried and have no serious damage.
Be prepared, that the process of drying will take some longer time (usually the whole winter). To promote logs with air, place them in the right order, this will lead to an evenly drying. Also, don't forget to get rid of the bark! The bark is a lovely place of many insects, so it is important to protect the logs from any pests. Taking off the bark can be also a good decision to prevent any fire risks.
Constructing the deck area and preparing the space
Before you begin to build your small cabin from logs you should proper think about its location. If you want to place your future log cabin on a territory of your own home, then calculate the square footage between two objects correctly. The preparation of the ground level is no less important log cabin step as the choice of the materials.
To prepare the space first of all you need to find a smooth ground and clear it (with a special machine or by hand depending on a size of your future log home). Make sure, that the ground has no liquid structure, otherwise that can cause a subsidence.
After you fond out the right space and checked the ground structure, you have to dig down the ground and place there the piers.
There are many log home owners that admit the importance of the deck area near the log cabin. This kind of wooden construction has a wide range of benefits. For instance, you can spend there some nice summer evenings sitting in the company of good friends! If you live in an area with pretty cold winters, we highly recommend you to organize some kind of a roofing above your deck area.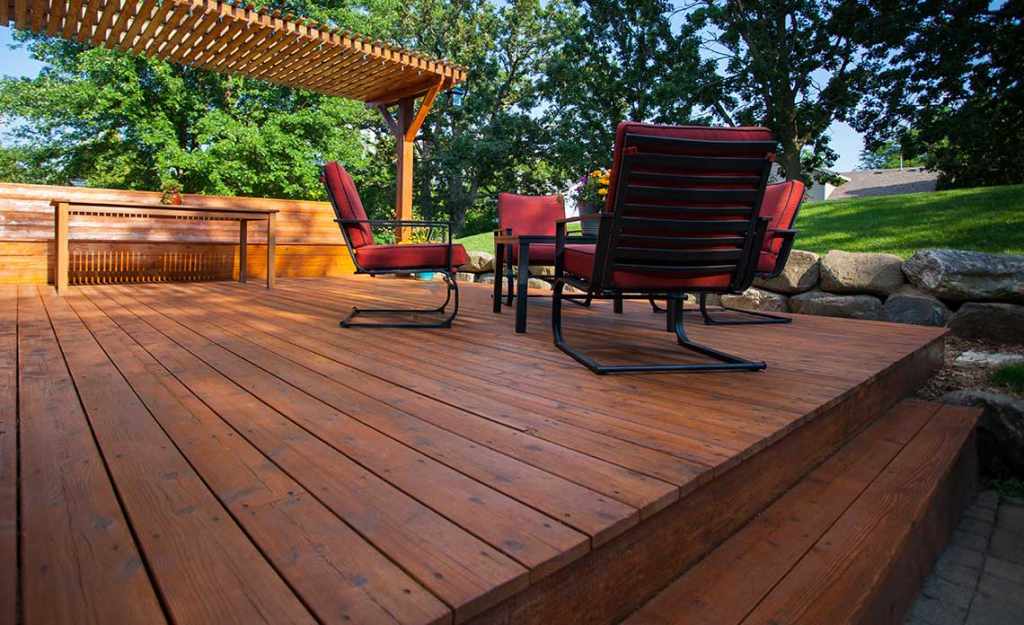 In our " how to build a log cabin" tutorial we told you some secrets about planning the space, drying the logs and proper choosing the tools and materials. Further we are going to tell you more about log home construction techniques, its details and nuances.
Log cabin construction process
Building a log cabin on your own is a perfect decision if you want to save money. There is no necessity to take out a new mortgage, you can do the whole process by your own hands! Constructing a log small cabin together with your family will also give you some mutual memories and amazing emotions!
If you are still doubting we recommend you to check out this motivation video of woman that built a log home by hands!
Of course, instead of felling the logs on your own you can order the prepared ones. This way is much faster, that is why so many people prefer to do that (but still there are some individuals that want to enjoy the whole process).
If you decided to order already prepared logs, then you have to understand its exact amount. In this article you can find out more information of how to calculate the right number of logs! In order to correctly calculate the size of logs you also need to know the proper scale of door and window openings.
Many newcomers are worried about the basement construction. So if you are thinking about constructing a basement for your log home, we highly recommend you to get acquainted with this article, where you can find a clear and a proper explanation of this process. This way you will find out how to place the logs in order to be sure in a durability of a construction.
Chinking
If you pay attention on how the logs are placed you will find some free space between them. In order to feel the empty space we recommend you to use a special chinking material that will prevent a construction from cold and any damages. The traditional chinking materials are hemp fiber and sphagnum, nowadays there are many other alternatives like synthetic material or special chinking mortar which is more expensive but much better by use!
Roofing
It is up to you to decide what kind of roofing is it better to have in your log home. Many log homes owners prefer to choose a traditional roofing from ceder or white oak. But as another option you can choose some metal shits from aluminium- this variant is more expensive but really reliable though.
When we plan the roofing, we might also think how it will seem in the interior. If you made a decision to construct a pitched roof (or thatched roof) then you can leave the logs exposed or set a special plywood there.
Roofing is a really important construction phase, so if we want to live in a convenient and safer space, we really need to plan this part in all details!
We won't be mistaken if we say that the waterproof of construction also depends on a roofing quality. Since the reiny water can be really useful for your gardening purposes we recommend you to set the special guttering. And remember, the amount of tanks directly depends on the scale of your roof.
Use of pallets
In our time of consumerism, it is especially important to expend the materials correctly. That is why if you have some extra useless stuff like pallets you can use it again in your log homes construction. Using the pallets is especially convenient for thermal insulation purposes. The wooden pallets can perfectly pass for a door, sill logs, window frames or floor joists construction. Below you can see one interesting example of such reuse!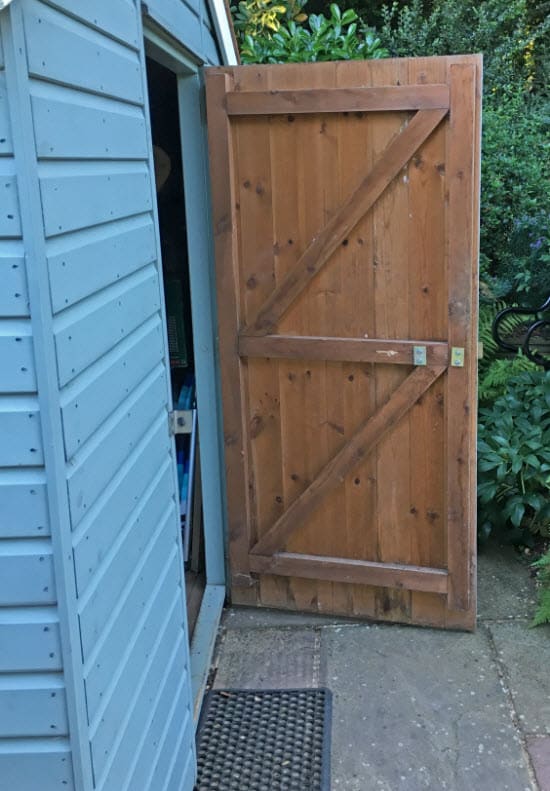 The door from pallet wood material.
Plumbing system
Plumbing system is also another important thing you need to take in account. You are able decide on your own wherever you want to put the bathroom indoor or outside. Each variant hast its own proses and conses. From the one side, the indoor bathroom can cause some dampness. But from the otherside, going outside to reach the bathroom can be unpleasant in cold winter times.
Insects protection
When we are talking about the log homes then insects protection is what we really need to care about. There is wide range of methods of how to "scare away" the insects. For instance you can use a mixture from linseed oil and turpentine. If you want to get more information about the wood treatment you can read this article.
If you are focused on a quality construction you also need to consider the influence of each chemicals on a wooden structure.
Fire prevention
At the finishing touches, you also have to think about fire prevention. The work with a wooden materials must be provided by a total secure and attentiveness. To prevent any nasty situations you need to know the main fire rules! We really recommend you to install some stone facades that will protect you and your family from any fire danger. It is also better to place the log home away from the forest area!
You may also think wherever in is possible to place the wood stove inside your log cabin. Actually, that is possible, but make sure you will construct it correctly.
If you are interested to build a chimney, this article will tell you more about that!
Conclusion
We hope this tutorial was really useful for you and someday you decide to build your own log cabin! If it is your first construction experience, don't be upset about some mistakes at the beginning, with time you will better understand how everything works!
Frequently asked questions- FAQ
Is it cheaper to buy or build a log cabin?
Of course, it is cheaper to build a log cabin on your own. Moreover, you won't have any necessity to take a mortgage. Everything you need is your patience and attentiveness to instruction. In your log cabin construction you can also use some materials for the second time (the wooden pallets sill logs can seem pretty interesting in the log cabin interior though!). Yes, maybe the way of constructing a log cabin by your own can be pretty long and exhausting but still you will get a total enjoyment from building a home with your own hands! If you want to spare some time you can order the logs instead of felling the trees on your own.
How to make a log cabin door?
There are many interesting ways of how to make a log cabin door. Instead of spending money on some expensive materials you can find some other affordable and ecological ways. For example, the useless wooden pallets can perfectly pass to this idea.
What are the necessary tools?
Everething depends on the way you construct your log cabin. You are able to use not only hand tools but also power ones (that make the process much faster and convenient). In a list of necessary tools there are only hummer, the drill and the chainsaw. Earlier we also gave you some recommendations about which models of tools it is better to use.
Which wood is better to use?
The wood choice is also really important! You can make your decision towards some softwood or hardwood types. Many people decide to build their log homes from softwood materials because of the ecology point (the softwood trees grow up much faster in comparison with hardwood trees).
How many logs will I need to build a log cabin?
Everything depends on a size of your future log cabin. Before you begin the construction process you really need to calculate the proper amount of wood you will need for your future log cabin. If you don't know how to do that on your own you can ask a specialist for a help or you read some more articles connected to this topic.
How long does it take to build a log cabin?
Actually the process is quite long and you need to be ready for that. Everything depends on your skill and experience. If you have already built this kind of construction then it will be much faster and easier for you to do it this time.
Why to build a log cabin?
There are many reasons why so many people decide to build their own log homes. If you already have a main house then a log cabin can be a perfect sleeping space for your gests.
Believe us spending time in a log cabin (which is constructed by your own hands!) will give you unbelievable emotions and memories!
How many trees does it take to build a log cabin?
Everything depends on the size of your future construction. Wherever you want to make the log walls or the wooden main floor in your cabin, it is really important to properly calculate the amount of the whole logs you might need for your log cabin.
Are there any heating options in log cabin home?
Yes, there are many heating options, so it won't be cold even at the coldest time of the year. The most important is to follow safety precautions and building codes.
Is it possible to construct a log cabin on your own?
In our review, we told you how to build a log cabin on your own. In the comments section, you can find some real stories from people, where they share their experiences and give some useful tips. The log cabin construction is not so complicated if you are attentive and follow good instructions.