What makes the best radiation suit? In case of a chemical attack or the coronavirus pandemic, while contaminants, termal radiation or gamma radiation pose a threat over your safety, the best you can do concerning your healthcare is to wear a special suit with a self-contained breathing apparatus, a substantial fiberglass face mask, and more. Read our article to find out more details.
A radiation suit is not the first thing that comes to your mind when you think of survival situations. But obtaining one brings you to a whole new protection level.
If you are an experienced survivalist or thoughts about radiation or any chemical-biological-radiological catastrophe constantly boggle your mind, consider getting one. And to purchase the right suit, keep reading our review, created by experts who track all the new products related to the survival topic.
We will provide you with info about the best suit you can find on the market today and explain the basics and touch on everything you need to know about such suits. Because we have received lots of concerns from our readers, this review will reveal all the keys to success when choosing a suit for 100% radiation protection.
So, Which Hazmat Suit Should I Choose?
We have decided to spill the beans right away: to ensure that you and your family members are getting a decent protection and safety level, you should pick the MIRA Safety Haz-Suit.
We have mentioned family for a reason: the MIRA Safety Haz-Suit size variety lets you buy this hazmat suit for all members, regardless of their age, height, and weight. It will have your back if you face chemical warfare agents (CWA), chemical, biological, radiological, nuclear (CBRN) threats, and many other dangerous substances.
Produced in the United States, the MIRA Safety Haz-Suit can boast the highest quality. The MIRA Safety Haz-Suit materials are the same as those you can see on rescue workers, firefighters, and even special forces dealing with chemicals and other hazardous materials. After plenty of tests, this hazmat suit has proven its efficiency and durability.
Don't even try to compare it with useless one-time low-cost hazmat suits. With such a hazmat suit, you can be sure of protection for an endless period.
What to Add to Hazmat?
Okay, a hazmat suit is a great purchase, but you won't get full hazmat protection without some accessories. We have covered them, too, so you are fully informed.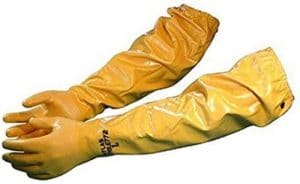 You will ensure that non of the hazardous materials will sneak into your body with chemical resistant gloves. Most people have a habit of touching their faces unknowingly. With hazmat gloves and a hazmat gas mask (which we will cover further), you are all set and protected.
For example, check these nitrile gloves from Atlas. This material will ensure the safety of your hands and avoiding hazardous materials.
Good-Quality Gas Mask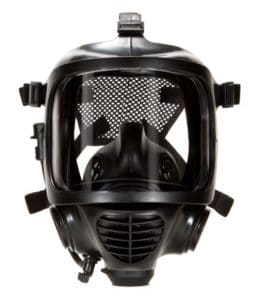 Well, you could have purchased a self-contained breathing apparatus (SCBA is a short version), but they are way too expensive. Instead, consider getting a good-quality gas mask.
Without a gas mask and full-face protection, you won't be able to survive if nuclear disasters occur, and your hazmat suit won't make any sense. A lack of breathing, as all of us know, leads to death almost immediately. Unsurprisingly, we recommend getting the mask from MIRA, too. If you want to see other options, read our extensive guide on the gas mask topic.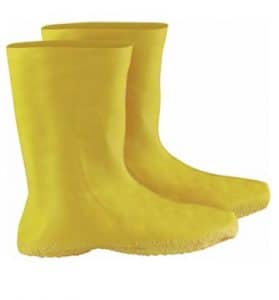 Here is another add-on for your hazmat protection: boots. We suggest these hazmat boots from ONGUARD, another brand from the United States that offers high-quality products.
The key to choose the right model of any footwear is you feeling comfy. So, trying any hazmat boots on in the shop sounds like a good plan.
Hazmat Protection Levels

If you are still unsure what a hazmat suit can protect you from, let us make it clear. There is a level system that helps to define hazmat substances that each hazmat suit can resist.
The Occupational Safety and Health Administration of the United States (or OSHA) has created and issued this system's description. There are three levels: Level A, Level B, and Level C.
When choosing a suit level, one must define the surroundings and possible use of their hazmat suit. If you purchase one randomly, you might face trouble like burning on fire (depends on the haz-suit fabric) or not getting enough protection (which may happen if you pick the wrong level). Keep reading if you don't want to make a mistake that can cost your life.
Level C
We start with the suits of the most commonly used and basic level: C. It is common for a reason: such hazmat suits are versatile and will defend you from the majority of dangerous substances, radioactive materials, and chemicals.
They let you save money buying a gas mask, not a self-contained breathing apparatus or other items that might be either more expensive or less protective. Consider getting these hazmat suits for yourself and your family members because Level A and Level B hazmat suits might be too much.
Level A and Level B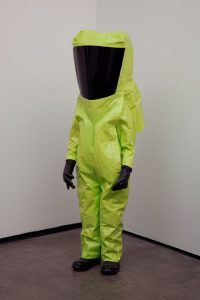 Each Level A suit gives you full coverage and protection. Wearing a Level A hazmat suit means you get a sealed, self-contained breathing apparatus, special footwear, and gloves. Additionally, Level A hazmat suits presume a two-way radio communication system.
Because these hazmat suits really give you an ultimate protection level, including breathing without problems, they are huge and extremely wide. You will probably look like a large bubble if you wear one. The reason for such a size is the breathing apparatus we have mentioned above. We have found a picture so you have an idea of how ridiculous it might look.
Anyway, it is a perfect option for those who meet substances that have uncertain provenance and unfamiliar to modern science.
The only difference between Level B and A hazmat suits is the air supplies that let you breathe. In Level B suits, you shouldn't embed an SCBA into your hazmat suit. You may carry it externally.
Level B type of hazmat suits is still way too sophisticated for ordinary survival situations. You also should complete it with a two-way radio system and certain footwear. That's why the majority of survivalists prefer to pick the first option we have described.
What Helps Getting Enough Protection in a Hazmat Suit?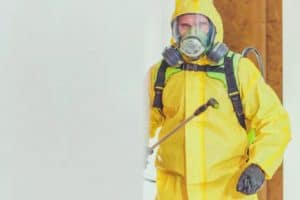 We have described the levels of hazmat suits and defined the best option you can get nowadays. But what exactly helps you getting protection? Why do hazmat suits work? Let's see the main features of hazmat suits in detail.
To make it easier, you can compare a hazmat suit to a tall, thick wall that splits you and everything that happens outside. Or a chemical resistant bubble that doesn't let anything precarious in. Form toxic industrial chemicals to another chemical (biological, nuclear, and so on) threats. Chemical warfare agents are usually included, too. Finally, some hazmat suits may help you survive the highest temperatures: remember that firefighters use hazmat suits as well.
Your organs are as vital as your skin (which already gets protection from a hazmat suit). So, remember about full face and foot protection. You have to supplement a hazmat suit with accessories to breathe properly and walk with comfort. We have described those above, too.
The fabric is what helps to make a hazmat suit protective and ensures your safety. You won't exercise in an haz-suit because the fabric won't let the whole body breathe while you wear a suit.
Normally, hazmat suits are made from polyvinyl chloride, rubber, Teflon, Tyvek, or similar material. The type of fabric you should choose depends on the tasks you have to undertake while wearing an haz-suit.
What about Radiation Safety?
With an haz-suit, you make sure that you are protected from particle radiation. Unfortunately, you can't protect yourself from gamma radiation, x-rays, gamma rays, and other agents (which are scientifically united in a group of ionizing radiation).
Let's categorize particles as scientists do. For alpha particles, you have to protect your skin. A suit, gloves, mask, and steel-toe boots would be enough. Beta particles require another step: you have to take shelter in a solid building, and protective suits won't be enough. Finally, gamma particles can be neutralized only using certain metals (like lead, steel, or cast iron, for instance). So, a suit is not an option here, too.
But Still, Do I Have To Buy One?
Well, if everything we have written above is not convincing enough for you, we will remind you about one simple phrase: forewarned is forearmed.
We never know which survival situations we might get into. Hazmat suits are used for a wide range of threats, so we would prefer getting a suit rather than leaving it behind.
To Sum Up
Of course, everyone should decide by themselves whether they need a hazmat suit or not. We suggest buying such a suit if you feel that the relevant threats might hit. It is the full survival kit we are talking about here. And a hazmat suit is a decent add-on to your ultimate set of personal protective equipment.
Imagine a disaster tied to chemical warfare agents (CWA), other chemicals, biological agents, a pandemic, or a certain radiation type that occurs. With a protective suit, you make sure to receive great self-defense and can move around in safety.
If you still have concerns, proceed to the FAQ section, where we have added some more questions on hazmat suits from our readers that our professional responders have answered.
FAQs
Which hazmat suit is the best?
We would opt for a hazmat suit from MIRA: we have already explained why we consider it best. However, each person has their own taste and opinion, so defining an ideal suit is individual.
Again, the most important parameter to define the hazmat suit you need is the obstacles you plan to face, whether you are fighting with fires, chemicals, radiation, or other threats.
Can a hazmat suit protect you from radiation?
From some types of radiation, yes. An haz-suit will protect from several particles. However, gamma radiation, x-rays, and any other type of ionizing radiation are still dangerous for everyone, including people in suits.
How effective is a hazmat suit?
As we have said before, there are three levels of protection that suits provide. The effectiveness of each hazmat suit depends on its type. You should define possible threats and dangerous agents first. Then, relate them with the proper type of suits: this is the best way to get all the answers.
How much does a hazmat suit cost?
It depends on the hazmat suit type that will become a part of your personal protective set. However, usually, you won't pay more than a hundred dollars for a hazmat suit in the United States. As OCHA prescribes, the full protective equipment cost, including an haz-suit, is 61,5 US dollars.
Some add-ons (like an SCBA and items for full-face protection) will increase the price. Remember that you also have to take care of your family members and purchase hazmat suits to ensure safety.
Hazmat suit vs. radiation suit: what should I wear?
Basically, these suits are the same. Both suits types make you a protected bubble that won't destroy or suffer after facing certain radiation types, chemicals, or other precarious agents. These suits make sure that you will get out of any survival challenges at ease.
Don't forget about the existing radiation types we have defined above. Unfortunately, some threats are unbearable. We hope you will never face such situations (involving gamma rays, hazardous particles, or other dangerous materials and chemicals).