Why do I need to learn about the hardtack recipe? In a survival situation, you should never underestimate the importance of food. And there is a nutritious one, consisting of familiar ingredients and suitable to nearly any taste. It has a great shelf life and can have a distinct flavor, depending on who is cooking. To find out the recipe of hardtack, read along.
The inch-thick hardtack, made of flour, water, and salt is a long-term storage bread product that will help you survive. It is cheaper than a cracker, more nutritious than a cracker, and it is simple to cook.
If you are puzzled about what to cook to survive in conditions of extreme danger, you are in the right place. Or you know about hardtack and are looking for the perfect hardtack recipe in various survival conditions? Read on, you'll find all you need!
Besides, for all those who want to maximize their, chances of survival whatever disaster occurs, the full survival cooking kit is also available on our site.
Hardtack History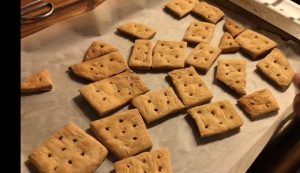 The first-in-history discoverers of survival food were sailors, who, from their experience of the Golden Age of Sailing, realized that an urgent need had arisen for a new invention. So, when sailors traveled only with wind forces' help since steamships and motor ships had not yet been invented, sailors would spend several years on the open sea without landing on the precious shore. Even taking into account that at that time, the expanses of water were already studied and mapped, it took months to cross the sea, and sometimes the ship's crew returned to their harbor after several years of landless floating.
Therefore, an important part of planning such a long trip was the organization of the team's provisions for the long term. The voyage could drag on indefinitely for many reasons, and the ship could not see the land for many months. The search began for a recipe for cooking such a product that did not spoil and could maintain the state of the ship's crew. Do not forget that cooling rack and canned survival food had not yet been invented at that time.
In this regard, the most common food on the ship during long voyages was simple dry bread, which was so hard that it could be stored for a long term without any tricks with long-term storage devices. They called it hardtack. This inch-thick hardtack biscuit for survival food was made from the three simplest ingredients found almost everywhere: flour, water, and salt.
As we know both from history and current life experience, hardtack dry bread for survival is a super meal that can withstand any storage conditions and is easy to transport, as well as an excellent item of your food storage for a very long time. A cheap product that provided nutrients and was well stored even on a ship was the main way to feed sailors. It contained useful salt and was a must on the menu. The British Royal Navy arranged for each sailor 1 pound of hardtack and one gallon of beer for one day, which sounds really nice on their part.
Sea Bread
The hardtack quickly became popular over a wide area and had various names. It has been called sea biscuit, survival bread, ship biscuits, or sea bread. To provide ships with such unpretentious goods, whole hardtack production facilities were organized in the ports. Nowadays, its composition sounds too simple for making cookies, which is undoubtedly a plus since sailors in their time did not like it too much. On the ship, the ship squad called it dog biscuits or sheets of iron, but so that the ship's cook would not hear.
Variety of Eatable Hardtack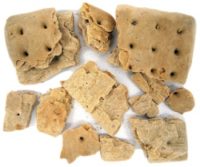 The original hardtack was very solid and hard at the bite. There were also reasons for this. Due to its simple composition, after baking, the water and salt evaporate, and after that, the pieces can be stored nigh forever. The moisture is absorbed and cannot spoil the food. All of the points for preparing and storing the biscuit using without using modern desiccants relieve it of any moisture, which makes it unusually hard in its raw state. To eat it, sailors invented several ways to soak hard bread, such as:
soaked it in beer
drowned in coffee
crushed the cookies into crumbs and added them to the soup, making the soup thick and the crumbs soft. As a result, the dish turned out to be richer.
Fried in a large amount of oil, thereby increasing its calorie content, resembled a pancake.
Please, welcome to know more about non-perishable food.
The Modern Recipes
All of these methods have proven to be very unusual and highly effective in gaining calories. Nowadays, the make hardtack with coffee is still popular. Still, some sweet jam or peanut butter and cheese are also added to survival bread, thus increasing the calorie content of the dish, which is very important in survival.
Thanks to its very light composition, nothing will stop you from making a survival biscuit sponge cake at home. Many of the hardtack recipes shared by interested people have additional ingredients. Of course, these ingredients make the biscuits richer and tastier, but at the same time, the shelf life of the make hardtack is reduced.
You can find a huge variety of homemade survival hardtack recipes online, but be careful, they are more aimed at the taste of the edges of the cookie, and its middle must bend quick consumption, rather than long-term storage in real conditions of survival.
The most common additional components that people like to add to the original hardtack recipe are honey, sugar, butter, milk, and eggs. Due to this composition, cookies require a refrigerator for long-term storage, and even if stored in the right conditions, the cookies will quickly become unusable.
When you are making preparations in case of an emergency, and your goal is to store the product for a long time, we strongly recommend that you abandon the additional ingredients in the cookies for survival and limit yourself to three main components.
Thanks to its simplicity, the original hardtack recipe is still the most practical and cheapest option and readily available. Due to the combination of the benefits of this hardtack recipe, the hardtack biscuits have become one of the favorite foods for settlers and survivors.
Best Hardtack Recipe
Baking the hardtack biscuits won't take you long prep time, so you only need to free up the morning. And then you will become the proud owner of a large supply of crusty cabin bread that you can store for years in case of an emergency.
Choose the Flour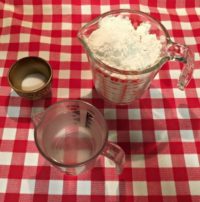 You can optimize even the simplest list of ingredients to suit your tastes and preferences without compromising the originality of the composition of hardtack biscuits and their storage properties. Of course, we are talking about flour. Flour is more conducive to the taste of future survival cookies, and you can choose any of them for cooking. Whether it's rye flour, whole wheat flour, or sorghum flour, it goes well with a hardtack recipe. Based on your needs, such as allergies to a certain type of flour or gluten, you can choose the flour that's right for you.
First, collect the ingredients for the hardtack recipe you need:
2,5 cups flour, then by eye
Water – 1 glass
Salt – 1 teaspoon
Next, prepare the dishes:
• Mixing bowl
• Rolling pin or something similar to it
• Oven
All you need is flour, salt, water, and anything else you want to add. Besides, salt is essential for survival, but you should consume it in moderation because your water supplies could be scarce. Put a substantial amount of all you might need on your preppers list.
Follow the Steps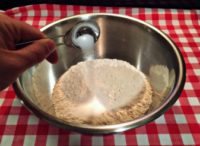 You can watch a video detailing the stages of making survival bread. If you prefer to read, then keep following our article:
First, you need to mix the flour and sea salt in the large bowl you prepared earlier.
Lifehack: before kneading the dough, it is better to take off all hand jewelry, bracelets, or rings. The survival cookie dough can be very sticky and get very dirty on your hands and stick to decorations. Then it is tough to wash them, so the best way out is to remove them first.
After you have thoroughly mixed the dry ingredients, add water gradually. To do this, you can use your hands or special mixing paddles. The dough will be uneven at first and will stick to your hands.
The main thing is not to stop at this and continue to knead the dough until the mixture becomes homogeneous. If the dough does not become pliable for a long time and remains on your hands, then you should add a little flour.
After the dough has hardened and ceases to be sticky, the kneading is complete. The next stage begins— rolling the dough.
Prepare the Dough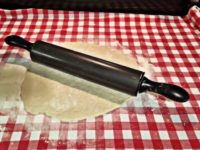 To roll the dough, you need a floured surface. Then, take the rolling pin. In case there is no special plunger, it can be replaced with a smooth wine bottle or sturdy glass. As a last resort, the duff can be rolled out by hand. Use a rolling pin to roll the dough until it is 0.25 to 0.5 inches thick. For your convenience, it is better to roll the dough not in a circle but a square.
Suppose this is your first time rolling out the dough in this way, aware of the thick cut. You can use the help of pencils— put pencils next to the dough and press on the rolling pin until it hits the pencils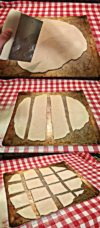 After a piece of dough of the correct shape and thickness is ready, it's time to cut the dough into future cookie squares. To do this, first, place the dough on a cookie sheet and cut it into small squares with a knife. Usually, they are guided by the size of squares like Graham crackers or regular salt crackers. Crackers of this size are believed to be easy to store and have been recognized as an example of the original make hardtack.
However, if you are cooking for yourself, it is best to focus on your preferences. For example, consider the size of the squares of the hardtack and the size of the mug in which you plan to dip the cookies. It is best that the pieces can fit in the mug and soften to be ready to eat.
Allow the Poke Holes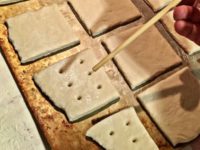 When the first batch of hardtack is cut into pieces on a cookie sheet, the next thing is holes in the dough. This ensures that the survival bread is baked evenly, and the holes also release excess moisture from the dough, which is one of our goals for baking the right survival bread. According to the rules, the cookie's edges and its middle must be baked the same and not raised. Besides, the holes help break down hard pieces of the hardtack in the future so that it is easier to soak it before use.
Baking to Make Hardtack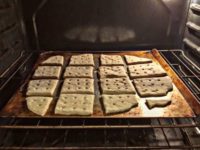 The next step is to bake bread. Preheat the oven to 375 degrees and bake the dough in it for 25-35 minutes. Watch for when it starts to bake on the surface. Focus on the color of the dough; it should be lightly golden but not brown. It is better to follow the process carefully, as the flour can burn easily.
After the cookies are golden brown, you can remove the cookie sheet from the oven and place it in a cool place to allow the hardtack to cool completely. It is best to leave the bread to cool completely before wrapping it in a bag for future storage. Thus, no moisture will remain in the hardtack, and it will definitely be able to be stored for many years. If you do not dry it after baking, residual water may remain in the package, and you will end up with spoiled cookies in an emergency. If you live in a dry region of the country, you can leave the hardtack to dry for a few days.
Food Storage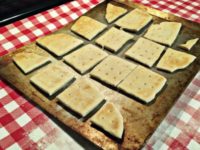 When stored properly, Survival cookies with salt and black pepper can withstand several months or even years of storage before being consumed for the first time. However, storage conditions cannot always be observed, or it requires a lot of work and attention. To make your life easier and give your hardtack the right storage conditions, you can use vacuum bags and dryers. You will keep the cookies dry using vacuum sealers, mylar bags, and the metal cans where the cookie pieces are stacked will protect the product from rodents.
We advise you not to pack the cookies in large packages. It is better to break the whole amount down into smaller items so that if you are about to unpack one of them, you have time to eat them before they go off in imperfect storage conditions. And the rest of the packages must be securely packed if you aren't going to eat all at once.
Below, there is a great video where you can watch how easy it is to prepare a hardtack at home using simple products like salt, black pepper, flour, and water.
As you can see, making cookies for survival does not require exceptional culinary skills. It is simple enough, and it can also be done in a fun way. Invite your family to the process of making survival cookies for a fun adventure. As a result, you will have only fond memories of the time spent with your family and the feeling that now you are provided with solid bread for survival, the nutritional value of which can feed your family in any case.
For being ready in an emergency, check out our survivalist cooking guide for all your family!
Meat Version of the Hardtack
Even if we consider that the hardtack recipe is a very nutritious option for maintaining life, some of its trace elements for the body will not be enough. You need proteins to support your muscles and bones. A famous source of protein is meat. We will tell you about the Pemmican meal— a meat version of a hardtack recipe, which is also worth learning how to cook in a survival environment.

The main problem of protein is its storage. In its usual form, protein cannot be stored without refrigeration. The Pemmican recipe does an excellent job with this, which is why you should know about its existence and learn how to cook and store it. In general, pemmican is a drink made of protein and alcohol. And it can be stored for very long years without refrigeration. Now, we will not describe in detail all the intricacies of creating a pemmican since there is a separate article on how to properly prepare pemmican.
In case you want to learn how pemmican is made quickly, we recommend watching the video here.
Pemmican is one of a company of superfoods that help you get through difficult situations and survive and is also a great addition to the hardtack.
ANZAC recipe
As a nice bonus to our article, we attach a bread recipe for another survival cookie with a long shelf life. Hardtack is certainly good; its ability to nourish the body cannot but rejoice. However, we could not leave you without dessert.
Anzac biscuits were invented during the Second World War by the families of the Army Corps from Australia and New Zealand.
At the time, many men were at war as soldiers, thousands of kilometers from home, and long flight hours. But the soldiers' families wanted to send their sons and husbands something tasty, to support them with homemade food. But in the conditions of difficult transportation from the southern islands of the Pacific Ocean to the South of Europe where we're a lot of soldiers, the invention of a long-lasting and at the same time tasty product – Anzac biscuit – began.
Since that time, this biscuit has become a part of Italy, and Australia's food and national product, where this product has taken root very much, and its recipe is approved by the government as a product for survival, and its recipe is respected.
Unlike hardtack, Anzac has a short shelf life due to its ingredients like salt and flour. However, no one will ever refuse such a cookie in his reserves in case of survival because it contains butter and sugar, and it brings more pleasure to use. This allows it to be among the food for survival without having a very long shelf life.
Anzac Biscuits Recipe
Prepare some simple ingredients:
1 cup coconut flakes
1 cup oatmeal
1 cup of sugar
3 4 cup flour
1 teaspoon baking soda in 2 tablespoons of boiling water
1 tablespoon corn syrup
2 tablespoons of butter
sea salt
Cooking Method
First, you must melt the butter.
Mix the soda and corn syrup dissolved in water
Pour the mixture into the melted butter.
Combine dry ingredients.
Then pour the mixed liquid ingredients into dry ingredients.
Mix everything well into a pliable dough.
Roll small balls from the dough. Preheat oven to 300 degrees and place hardtack there and bake for 20 minutes until golden brown.
Voila!
Outcome
Food is essential, and knowing how to cook it can save lives. Now, you are fully theoretically equipped to prepare yourself an excellent, and most importantly, a nutritious item on your food storage checklist. This is a type of survival foods that will help you in any survival conditions. Along with the knowledge of Pemmican and Anzac Biscuit recipes and a supply of rice, you have an excellent supply of food for survival. As a result, you do not have to worry about the number of calories you will need to survive in a long period of time, and for which you will not ruin your budget. Check out our total preppers list to be aware of everything that can save your life in a survival situation.
FAQ
What is hardtack made of?
The original hardtack is prepared from three components – water, flour, and salt. In modern realities, recipes began to add other components to hard bread, such as butter or sugar.
How long will hardtack last?
Hardtack dry crackers prepared according to the original recipes and following the water instructions for moisture preparation and controlling the correct storage conditions can be stored for many years and ready to eat even after decades.
What does hardtack taste like?
Original dry bread has little taste. Rather, the flavor of survival crackers is added by the methods by which they can be eaten.
How to eat hardtack?
When the cracker for survival was first invented, it was eaten, soaked in coffee or beer, and also crumbled into soup in the form of croutons. They eat this cracker with a variety of sauces with them, from sweet jams to salty cheese sauces.