Introduction
Your survival skills and proper situational awareness will save you in an emergency, even in the worst-case scenario. Also, your well-packed backpack can significantly improve your chances of survival. Therefore, you should always pick the best tools of the proper survival gear to be able to survive any danger. When choosing any devices, people prefer to buy high-quality and durable equipment on the market today. So, the crank generators, which play a significant role in converting human energy into electricity, are great tools for everyone.
To the point
Many people believe that the hand crank generator is an excellent and reasonable investment for convenience and unforeseen circumstances. If you look for such a hand-crank device, you have come to the right place! Such a handy device will allow you to generate electricity under any circumstances, even in the event of a power outage. Therefore, if you want to survive, there must be a handheld generator among all your devices. Undoubtedly, this power source will not replace a solar generator or a generator for camping, but it will always be necessary.
This article contains comprehensive information about portable electronics, hand-crank generators, and other devices designed for emergencies and survival. First, you will learn why people should have such portable devices. Secondly, you will find out the difference between a hand-cranked generator and a pedal generator. It is needless to say that all professional homesteaders, survivalists, and preppers should take care of having that knowledge. Get an extension cord in order to recharge your hand-crank generator.
Finally, you will get acquainted with the list of the best hand crank generators to choose the highest quality in the store.
Using the hand-cranked generator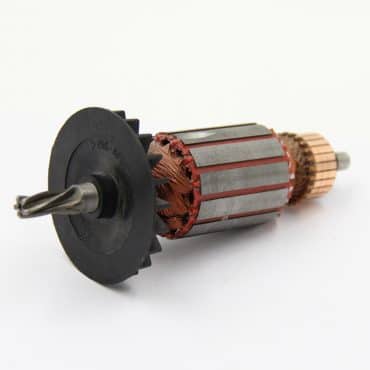 There are several reasons why you should have at least one hand crank generator. Here are some of them:
Lack of electricity
Low phone battery
Generating electrical power
Emergencies
For charging small electronics and small gadgets
Solar flares and earthquakes
Today, almost everywhere in the city (cafes, restaurants, airports, train stations), there are places where you may recharge mobile phones and small electronics. We do not feel the need to buy additional batteries. However, for instance, in the forest, hand-crank generators are a valuable thing. Unfortunately, you will not find an outlet or a place where you may generate power during a hike.
In this case, you may only rely on a portable device such as a hand-cranking generator. For instance, during a hike, you may charge the battery of other devices several times. In unforeseen circumstances, left without electricity, you can also use the hand generator so as not to be left without communication at all.
Reasons to care
Hurricanes, heavy rains, and storms, as well as floods and earthquakes, occur annually. Such circumstances suggest that a person should always be on the alert and have with him the means of necessities, including a handheld generator or hand-crank charger. By the way, recently, public utilities have been turning off electricity for preventive purposes. Forest fires, solar flares are also dangerous situations during which you should be in touch.
For these reasons, you should know what to do and how to survive without electricity. One of the great ways to generate electricity and recharge mobile phones and other small devices is the hand crank generator or pedal crank generator. The stores offer a wide range of different devices, both pocket and permanent tools.
Now let's figure out how such hand-crank generators work and what features they have.
Features and working mechanism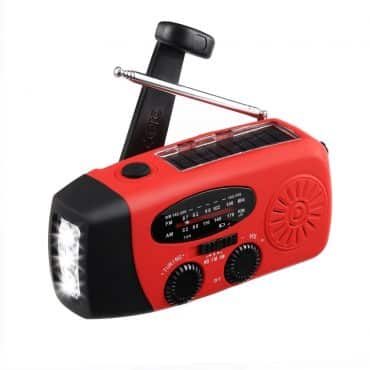 No one says that the mechanism of hand-crank generators is simple. For many people, generators are difficult to understand, but it does not mean that you will not understand them. As a rule, the elements inside such a system work automatically.
1) Generator operation
On the market, you may find multiple devices working as follows:
Rotation of a wire coil inside a fixed magnet system
Interaction of a magnetic field with a spiral wire
The movement of electrons inside the wire
Indeed, the electric generator has the same design as the electric motor. Remember the physics lessons at school, where you had to create such hand-crank generators yourself. In general, you can turn a generator into an electric motor, and vice versa. To do this, you need to remember how to connect them to produce electrical energy. Then, with the help of a power generator, you connect them to mechanical energy, and you get a constant, continuous rated current.
Hydroelectric power plants, and plants running on coal, oil, and gas, operate on the same principle. In such cases, employees of such enterprises use the flow of air, water, or heat to rotate the steam turbine and drive the rotor.
As for the power generation itself, the crank generator lever and the pedal allow you to rotate the rotor manually. When you start cranking these gears, you will generate more energy (max power). Some generators have an additional flywheel, which helps you to get enough energy without cranking.
2) Main features of the hand-crank generator
As already noted, you may use the hand crank generator for any needs: charging cell phones and batteries, rechargeable lights, and all your devices. Since such devices have a wide range of use, manufacturers seek to make them more durable and high-quality. As a result, such crank generators have many features and advanced features, depending on your needs.
If you want to choose the best crank generator on the market, you need to know its technical characteristics.
1) Output power (or output voltage)
Regarding the output power: the unit of measurement of the power of any generator is watts. So, before you turn on the devices, make a list. After, choose the most powerful generator that will provide the highest power consumption.
2) Weight and size
As for the weight of hand-crank generators, it is better to use a lightweight device. Despite its expensive cost, such a generator will last you longer. Also, consider such indicators as structural strength, the size of the battery, and system elements. If the weight of such a device is heavy, it will not be convenient for you to use it and carry it in your pocket. Therefore, in any case, choose a portable generator with a powerful battery.
The weight is also related to the size of the hand-crank generator. Usually, manufacturers produce many different models in a wide size range. If you want a portable device, choose a small crank generator. This device will allow you to charge cell phones and rechargeable lights via a mini USB plug. Large generators are effective for charging large devices.
3) Power of battery packs
To make the pedal generator or hand-crank one work more powerfully, manufacturers create an internal battery pack. This hand-crank charger allows you to save energy and use it if necessary via a USB plug. Moreover, in a power outage, you may rely on the battery power and charge your devices (phone, led flashlight, or laptop) without problems. If your device has a small internal battery, buy a more powerful generator.
4) Warranty period
The warranty period is a significant indicator when choosing a generator in the shop. Such equipment often breaks down, and people have to hand the device back to the service center for verification. Unfortunately, if your device does not have a long-term warranty, you will not be able to return it to the store and get a new one (or refund the money). Thus, if you see an affiliate disclaimer in the product description, do not buy the device.
5) Quality of the product
The same applies to the material from which the hand-crank generator is made to generate power. If it is a low-quality product made of fragile material, it is better not to buy it. Otherwise, you risk purchasing a generator that will not last you for a long time and whose batteries will not produce the necessary power.
These are the indicators of the best hand-crank generators that you need to consider when buying. Here are some more additional characteristics for review:
The battery of solar panel generator or hand-crank one
Emergency power
Pocket socket
Alligator clips
Reliability of the rotor drive and increased torque
When you have read the technical characteristics of the generators, let's look at the top 5 best hand-crank generators!
The best hand-crank generators
Here is a list of the most popular devices for generating energy. Using generators, you may charge not only your phone but also other devices outside the house. When cranking the generator, the connected devices will start charging. In order not to lose the choice, check out the best hand-crank generators.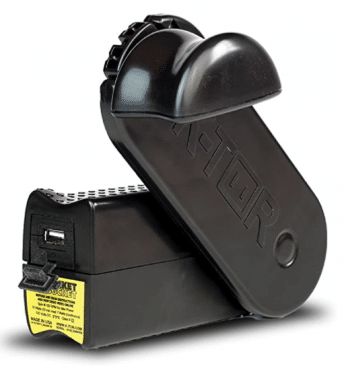 The list of the best devices opens the K-TOR hand-crank generator with emergency power. The operation of the K-TOR device takes place by charging via a USB plug of 1 Amp (a unit of current measurement). However, the K-TOR device does not have an internal battery, and that's why you need to purchase an additional power bank. K-TOR has a lightweight, durable case and a universal USB pocket socket.
Check out the price of the K-TOR device here.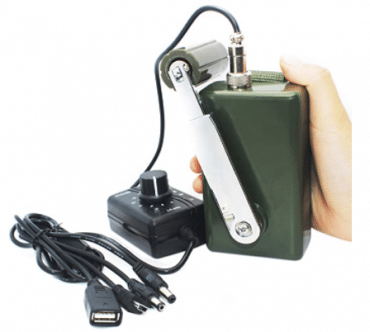 An excellent option for recharging various devices is the model of the HUBAN High Power generator. This device works quickly and efficiently, without any problems. You may use it at any time by cranking it to generate energy. If you attach the generator to a small tree, you will avoid muscle fatigue. In addition, this option allows you to alternate levers.
As for the power unit, this model has a power of 30 watts. However, due to inconsistencies in the rotation speed of the crankshaft, this generator is not suitable for charging the phone. In addition, the generator does not have an internal battery. The price is about $ 140, which is the average on the market.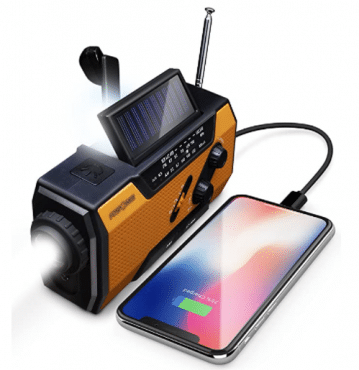 A popular and multifunctional device is the FosPower generator model. You may rely on this device in emergencies when you need to charge your equipment urgently and quickly. These generators perform many emergency tasks and have AAA battery chargers. The device also has solar and hand-crank options. There are also additional accessories:
A three-band radio
LED Flashlight
Reading lamp
It is a perfect variant at an affordable price for charging both your phone and other small tools.
In addition to manual generators, there are also pedal models. Such models are more functional and small in size. So, the K-TOR Power Box 50 generator is a simple portable device, which does not ca
use any problems when scrolling.
This generator has a standard pocket socket of 12 watts, and the output power is higher than 50 watts. The disadvantage of this device is its high price (about $ 400). Nevertheless, it is a significant indicator that people consider when buying a product. Unfortunately, many people do not purchase such a model because of the high price.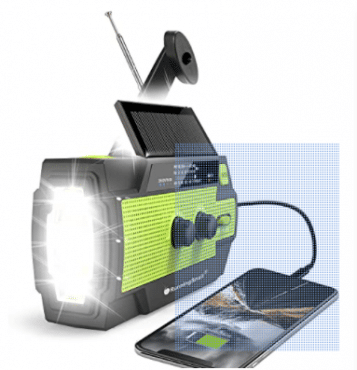 Another powerful and multifunctional model is the RunningSnail Emergency generator. This model has a built-in set of emergency, weather functions, and a radio station. Thanks to the powerful AAA battery chargers, you may charge your phone, laptop and even use the generator as a flashlight.
Moreover, this model is equipped with a removable aluminum alloy battery 18650, which provides fast charging and convenient use of this generator in other equipment. However, the solar panel of such equipment charges slowly. As for the price, it is acceptable.
Main features:
Generator net weight: 395 Grams
Radio Bands Supported: 7-Band
Output Power: 1 Watt
These are the top 5 best generators that can be purchased at any store or ordered online. They will allow you to recharge phones, household appliances in the absence of electricity. When buying such generators, consider their technical characteristics, as well as the warranty period.
You may also create such generators yourself by reading the instructions below.
Instructions for creating a generator
People use generators for different purposes. Some even buy bicycle generators, while others make them themselves.
To understand how to create such equipment yourself, watch the video instructions at the link. This video contains the following information:
Construction of a bicycle stand
Setting up the charge controller
Maintaining the performance of batteries
In general, after reading the material, you will understand bicycle generators and their functions.
Final Thoughts
To sum up, the hand-crank generator is an excellent tool for generating electrical energy both in normal conditions and in survival. You never expect at what point the electricity will turn off or unforeseen situations will occur. Therefore, to always stay connected and survive in the forest, a generator is what you need!
As it turned out, today, there is a wide range of manual crank tools and generators with a pedal drive. They have different designs, technical properties, and purposes. When choosing such generators, consider everything from the manufacturer to customer reviews. You may choose either the Power Box 50 or HPG-75 and even a bicycle generator. It all depends on your preferences!
Frequently Asked Questions (FAQ)
How much power does a hand-crank device produce?
As a rule, most generators produce power up to 30 watts. This power is enough to charge equipment (mobile phones, radios, computers). If you need more power, choose a tool with a powerful battery in the store.
Do hand-crank generators have energy?
Yes, such equipment has energy, as well as special batteries. Thanks to this tool, you will recharge not only small tools but also to survive in emergencies.
How to make a hand-crank generator?
Firstly, buy the necessary materials and tools. Next, using wooden boards and video instructions, make rectangles. Drill holes where necessary and assemble the structure. You will also have to assemble and screw in the shafts and attach the motors. Finally, provide the equipment with wiring by soldering the wires.