What distinguishes casual flashlights from a free tactical flashlight? Tactical gear is waterproof, rechargeable via USB, lightweight, possesses a powerful beam, prolonged battery life, and a strobe mode. What else should you know? Preppers, follow the article to learn extra survival tips!
Have you worked on building your own survival pack yet? If you have (or are planning to), we bet that there is one thing that is surely on your survival gear checklist. And the thing is a tactical flashlight. It's not that it's THE MOST important thing ever when it comes to building a survival tool pack – although it's quite hard to survive in pitch black – a high-quality tactical LED torch is something that a prepper must have just next to another survival items like a tactical knife, a tactical watch, a mylar blanket, a lighter (or a firestarter), and a heavy-duty backpack to keep all that tactical stuff in.
And while you can hardly do without all of the above, a tactical flashlight is your number one friend when you need a strong beam of light. You just have to click one tiny button, and here it is – darkness is gone, and life is getting better.
It does not take an ultimate survival skills genius to understand how dangerous darkness is. If you're stranded in an emergency, and you can't see because it's dark, the chances are you're getting it anyway. Even if you have the whole set of survival items to help you survive, how will you use all those tools in pitch black?
So that makes survival lights extremely crucial. Because it is that matter, light is life.
There are almost countless options of tactical torches to choose from. And while it may seem great for a moment, pretty soon, you'll get to the point that you're stuck and confused. Because there IS the thing called "too much choice." Sometimes it leads to analysis paralysis – the state where you just can't choose because there are so many options.
Good thing you're reading this article. Below, you will learn all you need about survival flashlights to get you through the painstaking agony of choice. Read the whole post to learn:
What you should consider when choosing a quality tactical flashlight;
About the three main categories of tactical flashlights;
About the top ten tactical lights in 2021.
But before we start, take time to follow the link and bookmark the article about 78 survival items you will need to build ultimate end-of-days storage.
What to Look For in a Tactical Flashlight?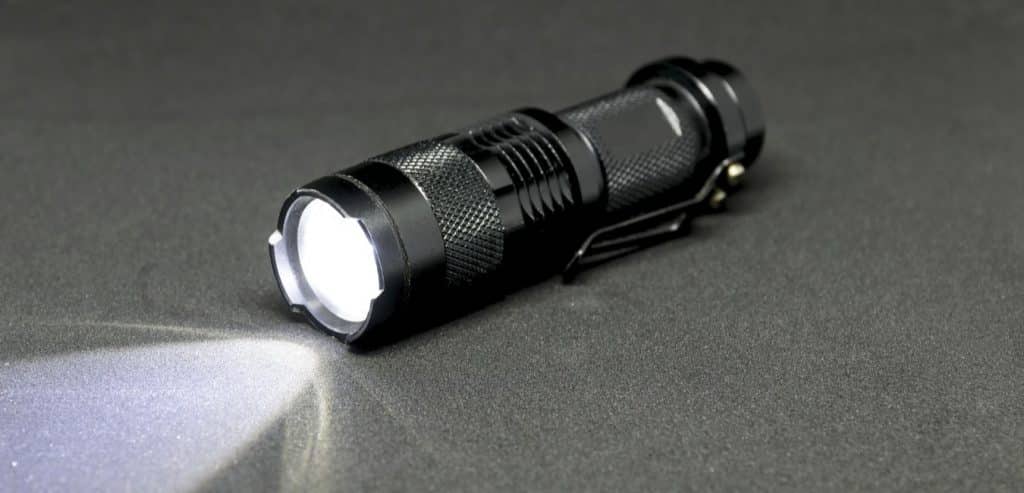 How do you choose the best tactical flashlight? The approach here is basically just the same as choosing any other product – you will have to get an idea of what you want your purchase to be like, what features it must have, and then proceed with looking for said features.
But not all features are, however, the same. There are must-have or key features and just some nice ones. So when you choose a tactical flashlight, it is best to know the key features of tactical flashlights.
This section will learn about what you should look for in a tactical LED flashlight to be satisfied with the purchase.
Flashlights Illumination Intensity
The illumination intensity is what you can simply put just as how much light a flashlight will produce. The amount of light that illumination devices produce is measured in lumens. But how do you know how many lumens you need, or, in other words, how strong does your torch has to be?
The answer will depend on how you're planning to use the tactical flashlight.
For instance, you may need a flashlight just like a regular illuminating device to occasionally check on what's under your car's hood or underneath your car seats. For that type of purpose, a flashlight with some hundred lumens will do.
But if you want a hell of a flashlight to illuminate the entire highway you're lost on, or shine all across the valley or a forest, then you will have to go for something scalding. What you're looking for is a flashlight with a light output of thousands of lumens.
For the record, the world's brightest flashlight boasts a light strength of 100,000 lumens. Do you think you might want to get one?
Light Mode Battery Options
Let's stick to light features a bit longer. A flashlight may have more than one light mode. At the very minimum, a tactical flashlight can operate in high and low output modes. But there's more. There are flashlights with a strobe mode and SOS light mode, for instance. There are also models with different LED bulb color options. Although, the latter is not much of a must-have feature.
Torch Power Source
The way you power up your flashlight is crucial. Mostly (and mainly), a tactical flashlight will operate using an AA battery. Some lights use AAA batteries. It is very convenient to have removable batteries. In this case, you can just switch an AA battery that has died with the new one. You can also use a rechargeable AA battery for your flashlight.
There are also flashlights with built-in rechargeable batteries. Some of them are recharged via USB input or solar power. For that type of flashlights, you might want to get a portable charger to go with it.
But if you as for our opinion, we will say that your best bet is you get a flashlight with the replaceable AAA/AA battery power option. Just have a fresh AA battery pack with you at all times so you will always be able to keep your flashlight ready for action.
Tactical Flashlight Quality
Since you're choosing a TACTICAL flashlight, an item you will most likely use under harsh conditions, you will have to pay close attention to how a flashlight is built. What you need is a heavy-duty tactical flashlight that would not fall apart right in your hands.
But let's take it gradually. You will want to be sure that a flashlight is sturdy enough to survive a fall. Let's say you accidentally drop it from your house's second-story balcony. Or you may accidentally step on it in your garage. A high-quality flashlight will stay intact.
The next level of sturdiness is using a flashlight as, well, not a flashlight per se. Some tactical torches manufacturers tend to build them so solid that you can use them as a close combat weapon.
Not to mention that a tactical flashlight can blind your opponent. You can bash it against an attacker's head. Remember, it's survival we're talking about. And survival may get nasty at times. Who knows what kind of emergency you may find yourself in.
So the bottom line is to go for a solidly built flashlight. For instance, check out aircraft-grade aluminum models. They are lightweight but extremely durable. By the way, aircraft-grade aluminum is used pretty often in survival gear manufacturing. Meaning you just can't go wrong with something built out of first-class aircraft-grade aluminum.
Beam Switch Type
Not every customer would pay attention to the type of switch on a tactical flashlight, although this feature is something that can make a difference.
For instance, if you use a twisting switch flashlight, you may find it difficult to turn it on/off with just one hand or with your hands wet or cold.
Push-buttons are fine, and they last long. But this type of switch lacks the ability of additional control modes.
And finally, modern-day digital soft-touch switches – as convenient and versatile as they get – will take some training to use them.
Waterproof Options
Our belief is that waterproof is always good. You should always go with a waterproof option for anything you're buying survival-wise, especially if it's something electric. You see, electrics don't get along with moisture too well. So if you happen to get into a heavy rain or accidentally drop your torch into a puddle, you will want to be sure that it will still function.
So, as we already said, waterproof is good. All experienced customers know that. So do you.
Affordable Price
Affordable price is what everyone decides for themselves, and it all depends on how much money you're ready to spend. But most customers tend not to spend too much, which is reasonable. So the price is what you will definitely consider when choosing a tactical flashlight. As you may have guessed, tactical flashlight prices differ greatly. There are costly full-featured models, and there are EDC tactical torches that will not break the bank.
In the final section of this article, we will get you through the ten best options representing different price points. In our offer-to-offer list, you will be able to compare different torches and decide whether it is worth paying too much to get a high-quality tactical flashlight.
But as a piece of advice, we will tell you that you may get a FREE tactical flashlight.
Our recommendation is to follow survival gear websites and check them out for free tactical flashlight giveaways. A free tactical flashlight may go as a sign-up gift, a special offer, or an extra feature for a purchase. Just remember that a free tactical flashlight does not mean free shipping and handling. To have your free tactical flashlight, you will still have to pay fees for shipping and handling services.
Thinking about building your own survival shelter? Learn about 78 items you will need to stay alive after the world is gone! For more details on the Ultimate Survivalist Checklist, follow the link!
The Three Categories of the Tactical Flashlight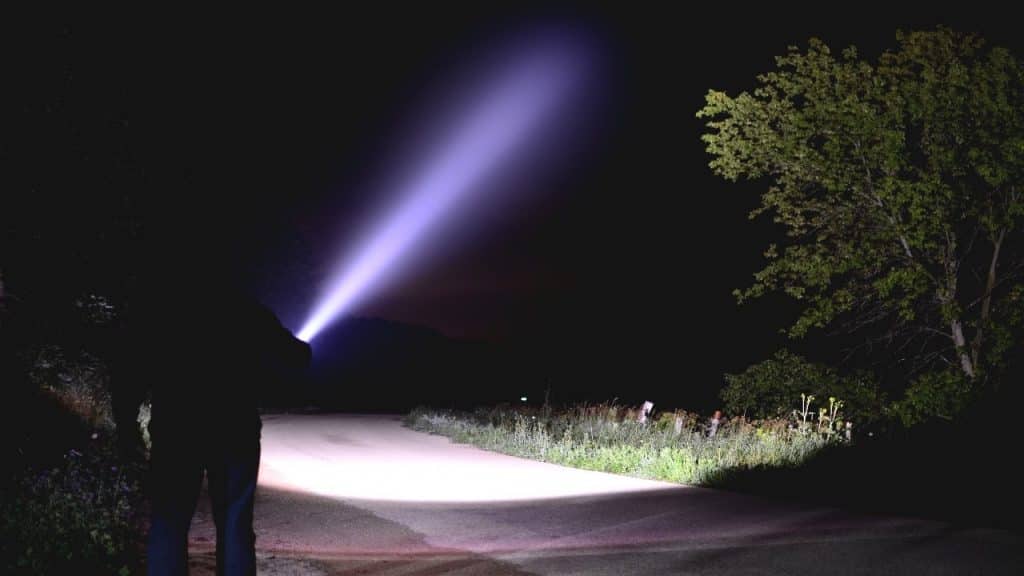 Well, now, basically, tactical torches divide into three categories:
There are massive tactical flashlight models;
There are small-sized models;
And finally, there are tiny tactical torches.
In this section, we will give more details on each category.
Massive Tactical Torch
We'll begin with the most notable large models. The ones you just can't go wrong with when it comes to durability, illumination quality, and battery capacity.
Preppers, hikers, fishers, etc., all choose this type of torches because they know – size matters. Due to their size, larger flashlight models include bigger batteries, and that makes for longer operation. When using such a flashlight, you won't have to worry that a battery will die when you least expect it.
Plus, bigger torches boast a stronger and more accurate beam. Such a flashlight will shoot a bright and long beam of light thanks to better quality optics, will not disperse, and stay perfectly focused.
Another common feature for large tactical torches is a variety of operational modes, which will also come in handy in a bunch of emergency situations. And when it comes to such situations, nothing beats a high-quality massive tactical flashlight. The one that will produce a strong beam of light seen from a great distance. Rescue teams, firefighters and such, all utilize such torches as you can see in documentaries, TV shows, and motion pictures.
With all that being said, a large tactical flashlight is a great purchase if you're deeply concerned with emergency preparedness. And while such massive devices may not suit everyday needs, they are surely something you should have in your worst-case emergency pack for the safety of your facility and friends.
And as far as everyday tasks go, maybe, you might also want to get one of the smaller-sized EDC flashlight models. More details on them below.
EDC Tactical Flashlight
What EDC stands for is "everyday carry." This means that this type of tactical torches is best for simpler everyday tasks. They are lightweight, more compact, and easy to carry. In fact, smaller size is their main feature.
You can carry such a flashlight in a pocket or have it attached to any other piece of the garment using a special holder.
Although these torches have a smaller battery capacity and often won't have extra light modes, they still are able to produce bright lights. They can make for a basic self-defense weapon you can use to temporarily blind and confuse an attacker. Also, this type of LED torch will let you:
Signal for help;
Illuminate a path during hiking in twilight or at night;
Investigate the dark backyard;
Or simply look around a darkened room, a garage, or a car.
As a matter of fact, considering their size and a wide variety of usage situations, we think that everyone these days should have an EDC flashlight lying in a bag or kept in a pocket. Just in case. As we already said, these torches are compact and lightweight.
But if you want to go even further looking for the most compact of tactical torches, check out the category below.
Tiny Tactical Flashlight
These are the miniature, "microscopic" models that will not produce a lot of light but can still prove useful in everyday life. Or may even make the difference in an emergency situation, especially if such a flashlight is the only way to illuminate surroundings.
We'll put it this way, while such micro torches don't break world records on battery capacity or lumen quantity, having a couple of these in your emergency backpack is always a good idea. They are extremely light and tiny, so you won't even notice they are there until you really need them. Another tip is to add a tiny tactical flashlight to your keychain.
Before we get to the top ten tactical lights, make sure to follow the link and bookmark our ultimate guide on the Survival Items Checklist to read it right after you've done with this article.
The Best Tactical Flashlight Options in 2021
Below, you will learn about the ten best tactical flashlight models to choose from in 2021. For your convenience, we have divided our list in accordance with the three categories above. Plus, each offer comes with the pros and cons section, and some of them also have a video review.
CHECK THIS OUT!
If you want to know how to get a free tactical flashlight (shipping and handling services are not free-of-charge), read this list closely. Among the top ten offers is the flashlight that can become yours for free! Don't miss your chance to get a free tactical flashlight!
Or you may also want to get a HyBeam Tactical Flashlight with a free-of-cost "Ultimate Survival Skills" handbook. More details below!
Large Tactical Flashlight
As we said earlier – size matters. And large tactical flashlights are what you're after if you need an ultimate illumination device for hiking, fishing, hunting, survival, etc.
1 – Super Power LED Flashlight by Best sun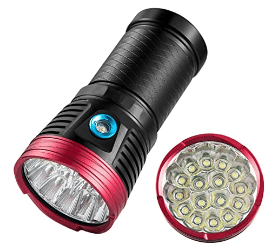 Our first offer is Bestsun's tactical flashlight that comes in a black-and-crimson color design and boasts fifteen hundred (!) lumens which means this flashlight gives a lot of light.
This superpower tactical flashlight utilizes sixteen LED bulbs to produce an insanely bright beam of light. Although there is a downside to it – the flashlight will not allow the user to adjust the beam's focus. Therefore, the range of the light beam is subject to speculation.
You must also know about this offer because it is a relatively lower-cost tactical flashlight, which means that it can hardly pass as a #1 tactical flashlight for your hiking pack. We would recommend considering it a backup option rather than a high-quality go-to choice.
Pros: it is extremely bright; it features standard-size replaceable batteries; made of wearproof aircraft-grade aluminum, water-resistant.
Cons: not a heavy-duty model.
2 – TK75 by Fenix Tactical Flashlight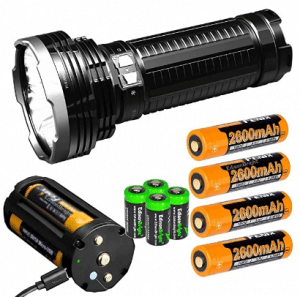 This tactical flashlight from Fenix is among the best models that the market has to offer. This 5,100-lumen flashlight shoots the light beam at the length of almost three thousand feet and makes for a great tactical flashlight that many hikers and preppers have already made their all-time favorite.
This model utilizes a replaceable AA battery with the USB-recharging cartridge and is reported to have a really long operation life.
But this heavy-duty and high-quality flashlight will cost you some cash. In fact, this is the most expensive item on our top-ten list.
Pros: the flashlight has a built-in USB-recharging battery cartridge; the weight is surprisingly small.
Cons: the price.
For more information, check out the review below:
3 – H1 by Wissblue Flashlights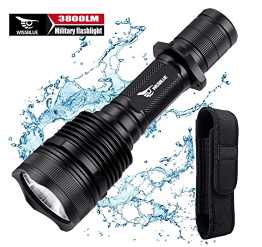 H1 tactical flashlight by Wissblue is a heavy-duty, powerful flashlight with an illumination strength of 3,800 lumens. It is made of aircraft-grade aluminum and comes with a carrying case. The flashlight has four light modes and utilizes replaceable batteries – It works with an AA battery but can also use a C-type battery. The light beam range teachers the length of twelve hundred feet.
Pros: the flashlight can be attached to a firearm; it is water-resistant; it's made of aircraft-grade aluminum; the package includes a carrying case.
Cons: the model design is not too ergonomic – it is a bit too heavy.
4 – 88060 Pro Tac HL 4 Torch by Streamlight

This flashlight is the less powerful of the large tactical torches category, but that does not mean that it's worse.
Pro Tac HL4 by Streamlight has a beam range of 1,000 feet with a light output of twenty-two hundred lumens which is not insane but is more than enough for a high-quality flashlight.
Among its strong features is versatility – the flashlight utilizes lithium-ion rechargeables and can operate using replaceable batteries.
Pros: wear-resistant polymer body; waterproof; has a lifetime warranty; works with replaceable batteries.
Cons: can't be recharged via USB.
For more information on the Pro Tac HL4 tactical flashlight, watch the video review below:
EDC Tactical Flashlight
Read this part of our top-ten guide closely so you won't miss the opportunity to get a free tactical flashlight from one of the brands mentioned below!
5 -X300 by SureFire Torch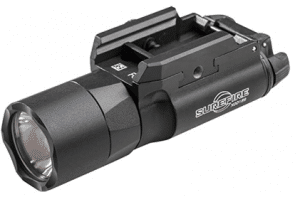 The first offer from the EDC lights category is the current tactical flashlight by SureFire. And when we say "actual," we mean that this flashlight is indeed what is called tactical. Originally, you see that tactical flashlights are not just heavy-duty aluminum body torches you use for hiking or camping. Such lights are called tactical because they are used in a bond with firearms. And smaller-size EDC lights are just the best format for this purpose.
Coming back to our number five position, SureFire X300 is a lightweight and compact tactical flashlight made of aircraft-grade aluminum that you can attach to your firearm for accurate shooting in the dark. It comes in a stylish black color outfit and will suit many types of firearms.
This model's cost is above average EDC torch prices, so keep that in mind if you already want this piece of high-quality tactical gear.
Apart from that, SureFire X300 is just perfect in almost every way:
It's lightweight;
It's sturdy (made of heavy-duty aircraft-grade aluminum);
It has a very bright LED bulb.
And it seems that the only downside to this flashlight is its high price.
Check out the review below to see this torch in action:
6 – FX-PD35TAC by Fenix Flashlights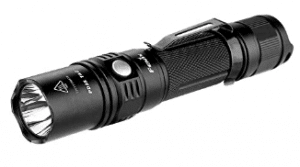 The FX-PD35TAC by Fenix is a heavy-duty, high-quality torch with an illumination strength of 1,000 lumens. The material is aircraft-grade aluminum which makes this piece of gear almost undestroyable. Its LED bulb shoots the beam at the length of six hundred feet, which is fairly fine for such a small LED torch.
The FX-PD35TC operates using both rechargeable batteries or lithium disposable ones. Another nice feature of this model is a metal clip that will allow you to mount it to a backpack, a pocket, or any other piece of garment.
Pros: made of high-quality aircraft-grade aluminum; has a bright LED bulb; has alternative battery options (rechargeable & replaceable), has six light modes.
Cons: not quite budget-friendly.
Want to know more about the model? Watch the review below:
7 – P12 by Nitecore Gear

Nitecore's P12 is a 1,200-lumen strong torch of only twelve inches long. The brand itself has gained a solid reputation over the years and is regarded as trustworthy by customers. So it is no surprise that P12 is very popular among hikers, preppers, hunters, etc.
P12 Flashlight produces the eight hundred-foot beam while fitting perfectly in the palm of your hand. The P12 flashlight comes with a plastic holder and a pocket clip. The flashlight is made of aluminum and is quite waterproof, as any quality tactical flashlight should be.
Pros: The package includes extra items; the flashlight has a powerful LED bulb.
Cons: does not recharge via USB.
Check out the video review below to know more about this device:
8 – Tactical Flashligh by

This tactical flashlight rightfully deserves its place among the best-LED torches that the market has to offer. FireHawk's flashlight is a heavy-duty, compact, versatile, and budget-friendly device.
First off, it sits perfectly in the palm of your hand and takes next to no space in your pocket or your backpack. The device operates using an AA battery. And while it is not the most powerful of EDC lights, FireHawk's torch is definitely the best balance between the price and the quality.
Pros: extremely compact and easy-to-carry; made of aircraft-grade aluminum; easy-to-use; comes at an affordable cost.
Cons: won't charge via USB.
Want to know more details about the flashlight? Watch the video review below:
By the way, you have a chance to get this torch for free!
Follow the link and get a free tactical flashlight from FireHawk! Enter your name and your email, and the free tactical flashlight is yours! The only time you will have to pay is for shipping and handling services.
Don't miss your chance to get a good-quality free tactical flashlight today!
Tiny LED Tactical Flashlights
9 – Progear Keychain Flashlight by Pelican

This tiny torch is only sixteen lumens strong but will make for a useful add-on to your keychain and will come in handy should you need a bit of lighting on a parking lot, in a dark hall, or in a nighttime alley.
Pros: extremely compact and water-resistant.
Cons: only 16 lumens strong (too weak).
To get more information on this tactical flashlight, watch the customer review below:
10 – Ti3 EDC Light by ThruNite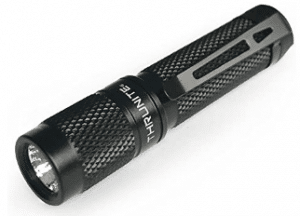 This model barely passed as a "micro torch" since it's almost as big as just a regular EDC torch from the previous category.
The Ti3 EDC Light is 120 lumens strong and has a pocket/hat clip. So you can not only carry it on your clothes, but you can use it as a headlamp. It is also ergonomic enough for a single-hand control.
Pros: quite bright for such a small device; has a holding clip; easy-to-use.
Cons: may not fit every keyring.
Learn more about the Ti3 EDC flashlight in the review video below:
We could not help but mention an extra couple of popular tactical flashlights out there. But since there was no more room left in a top TEN list, we decided to extend it a little bit by adding an honorable mentions section.
73200 Keymate by Streamlight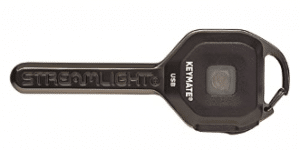 This model is something inquisitive – a key-shaped LED tactical flashlight with a USB input for recharging. Should we say anything else here? Streamlight's Keymate is a nice and tiny LED torch with a few extra light modes that will work great for close lighting tasks. You can recharge it via USB and have it with you at all times – and that's pros. As far as cons go, the holding clip is not too reliable, so there is a chance you might lose it.
Hybeam Tactical Flashlight (+ a free-of-cost "Ultimate Survival Skills" handbook to go with it)
A military-style Hybeam Tactical Flashlight is a trendy budget-friendly model. Customers choose it whenever they don't want to break the bank and get guaranteed quality at the same time.
Hybeam Tactical Flashlight is a black color 300 lumens strong tactical flashlight made of high-quality aircraft-grade aluminum, which means it's insanely lightweight and almost indestructible. Hybeam Tactical Flashlight is also waterproof.
Hybeam Tactical Flashlight comes with a set of accessories such as a car charger, a home charger, and a hard carrying case. But there's more. This tactical flashlight is also available with a free "Ultimate Survival Skills" ebook by Joe Marshall. Browse for that special offer on the web, and you will get a quality tactical flashlight torch with a free-of-charge "Ultimate Survival Skills" book to go with it.
To learn more about Hybeam Tactical Flashlight and product offers, visit https://www.hybeamflashlight.com. There you can even take advantage of the special offer and get a Hybeam Tactical Flashlight for free!
To get a free tactical flashlight from www.hybeamflashlight.com, you will only have to enter your shipping info to calculate postal services' cost.
IMPORTANT
When accepting a free tactical flashlight offer, remember that shipping and handling services are not included, and you will have to pay for them.
Conclusion
We'll say that there is no way you can overrate an LED tactical flashlight to wrap the topic up. Our recommendation is to buy a few of these (from each category) and have them in your emergency bag, get home bag, bug out backpack, your medical supplies kit, and your everyday carry bag.
When it comes down to portable illumination devices, the bottom line is there is no such thing as too much equipment.
FAQs
Things to Consider When Buying a Hiking Flashlight
Quality hiking LED tactical flashlight must:
Be made of heavy-duty material such as aircraft-grade aluminum;
Have several light modes (LED bulb color variations, optional, strobe mode);
Have a holding clip and/or carrying case;
Be waterproof;
Have a high amount of lumens (from 1,000);
Have alternative battery options.
How Many Lumens Do I Need?
The number of lumens makes for better illumination. So if you want a strong LED torch, you should go for a greater number of lumens, starting with 1,000. And remember, the smaller a torch, the weaker its LED bulb is. For instance, torches from the "micro" category usually have up to 100 lumens only. At the same time, bigger LED torches provide illumination of 1,000 and more lumens strong.
What is a Faraday Flashlight?
A Faraday flashlight is what alternatively called a shake flashlight. That is due to the manner in which such a device operates. Faraday lights operate in accordance with the law of induction originally discovered by Michael Faraday, hence the name of a flashlight. That means that such a torch is powered by shaking. A user only has to give a flashlight some shaking in their hand that will generate electrical power.
Best Underwater Flashlights
Underwater torches are the category of tactical torches specifically designed for scuba-diving. Among the best models of that category are:
Tovatec UV LED Diving Torch (as the most budget-friendly option);
Orcatorch D550 (as the best mid-range offer);
Tovatec Fusion 3600 (as the best choice for a high cost);
Orcatorch D630 (as the best option for canister diving).