Ever heard about a ferro rod? Ferrocerium? Well, you should have if you want to be a real prepper and be able to survive in any weather conditions. Besides paracord, a knife, and other gear, your survival gear should also contain a ferro rod. And it is made of Ferrocerium. It is an ultimate fire starter, and it sparks in absolutely any conditions. Read the article to find out all about it.
The question of fire and warmth extraction has been one of the most crucial issues for survivalists for decades. Ancient people only dreamed of the fire starter as their nomadic lifestyle required fire extraction to maintain the temperature in huts, let alone their cooking needs. It was not only a challenge. It was the meaning of the survival process.
Ancient survivalists always kept smoldering embers during their traveling because it was much easier to reheat prepared embers than start a fire from scratch. Also, they needed to know that they could start a fire in a new place they would stay and did not need to search for dry fuel or appropriate stones.
Having a device creating a spark makes life easier for survivalists nowadays. Firesteels allow spending much less time to create sparks than it could be made by stones or wood sticks. A Ferro rod is a compact tool generating a spark, so you will always find a place for it in your backpack.
Ferro rod would be an innovation for ancestors who could significantly change their lives. It matches the criteria of limited space for gear in a bag, it can be launched even if it is damp, and it is so powerful that it can melt items. Ancient people would believe it is a magic tool, and maybe they could even kill for having it in their collection of gear.
Possible fire starters:
A Ferro rod or firesteel is suitable for any environmental condition. It can kindle wet wood as if it is sodden by oil.
You will get answers to the most important questions after reading of our report. Be ready to go deeper into the details of the survival process.
We Offer You Special Checklist With All Information about Survival Gear. Read It for Free to Improve Your Skills in Survival. Click Here.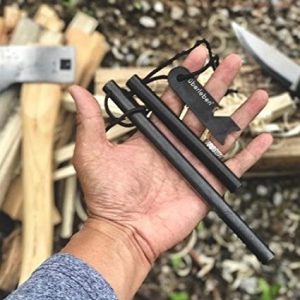 Description of Ferro Rods
Let's discuss the basic characteristics of a Ferro rod, its components, and a brief history of its creation.
To begin with, the Ferro rod and, in another way, the ferrocerium rod is a special tool created for one main purpose – starting a fire. Also, people use it for melting as it can provide sparks burn out at 5500 degrees F. It is possible because of the items inside the Ferro rod and its durable fire steel corpus.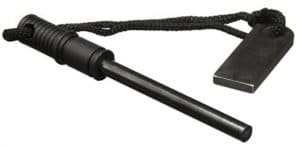 Ferrocerium is the main element of a Ferro rod, a chemical metal that can spark to flame from natural rock. The benefit of ferrocerium in comparison to flint is that it can produce fire without steel. Strike it with all dense substances — stone, knife, or glass — to form hot sparks.
This tool was invented by Carl Auer, a german scientist, in 1903, and it has become one of the most popular and convenient types of gear for survivalists around the world.
There are three components in the content of the ferrocerium rod:
A Striker
A Ferro Rod
A Small Strand to Connect Them
Ferro rods were frequently used during the wars and survival trips because of their special capacity to produce hot sparks. You can not compare Ferro rods with other survival multi-tools used in the survival process to be used for limited purposes. However, it is inimitable in its main goal – urging fire.
We Offer You Special Checklist With All Information about Survival Gear. Read It for Free to Improve Your Skills in Survival. Click Here.
Transform a Rod to a Multi-Tool
If you are interested in multi-tool, you might need to create it with your own hands! Such a rod can include other devices you need during your survival. For instance, you may add a measuring tape a small compass to your rod. There are plenty of variations of additional tools for Ferro rod:
Fishing Supplies
Package with Cotton Tinder
Flashlight or Signal Mirrors
Small Folding Knife
You can make a personalized Ferro rod that will match all criteria you have about survival gear.
You will need to get ferrocerium rods (such as HOODDEAL Ferro Rod packs) and then make a convenient rod handle.
After this, you will need to twist the paracord and link the rod with the striker. You can also add any small equipment you want to it. The more small items you append to it, the higher will be the probability of your survival. Pack it into your survival bag, and be confident that you can ignite a fire near your camp.
Do you have friends addicted to survival activities? A custom Ferro rod can be an excellent gift for everyone who can get into a bad scenario. You will give your friend more than the love – you will save the life of your lovely person.
Collection of the Best Ferro Rods
It is really time-consuming to choose the best survival gear nowadays because of various goods in the United States market. Ferrocerium rods are not an exclusion.
You need to look through the hundreds of Ferro rods to find the most suitable for you. We think this section will help you save your time because we made a collection of good-quality firesteels affordable for you. If you read our tips carefully, you will not need to search for the best tool in a bunch of lousy goods.
1 – Bushcraft Fire Steel with Wood Handle
This Ferro rod can surprise you by the number of strikes it can perform. Thanks to a resistant Ferro rod and wood handle, it can generate 12,000-20,000 strikes. It means that the probability of your life being saved becomes 1 2 x higher than it would be with another Ferro rod.
Besides, you will get an integrated measuring tape and universal opener in addition to the Ferro rod.
Find out the price for this bushcraft fire steel: click here.
2 – Bayite Survival Ferrocerium Flint Fire Starter
What makes the Bayite Ferro rod really valuable is its build-in paracord. Specifically, 9 ft cordage connects the Ferro rod and striker. So, it can be used for several tasks during survival.
Despite its ordinary appearance, it was evaluated as one of the most durable Ferro rods in the market nowadays.
Your survival kit will become more practical with this Ferro rod as it is suitable for many situations you can meet during the survival trip.
Do you want to find out the price of this Ferro rod? Click here
3 – Schrade SCHFS1 4in Ferro Rod
This Ferro rod has no additional functions. It consists of a Ferro rod linked to a striker by the black strap, and this simplicity makes it easier to use. We recommend it as it matches survival gear's criteria – it is compact and essential in survival.
Schrade is made of high-quality stuff and is produced in suitable weight (1.1 ounces) and size (4 inches long) for survival bags.
Find out the price for this Ferro rod: click here.
4 – Swiss Safe 5-in-1 Fire Starter Survival Pack
This product is not only one Ferro rod. It is a package that includes two multi-tasking Ferro rods!
Despite its main function – fire starting, these packs are useful for orientation in the areas as it consists of a compass and a whistle.
If you are not satisfied with the Fire Starter Pack quality, you may return it to the store and get a full refund for your purchase!
Do you want to find out the price of this Ferro rod? Click here
5 – Holtzman's Ferro Rod with Wood Handle
This Ferro rod is different from all others in its comfortable design. The wood handle with notches for fingers will not cause muscle spasm in your hand as many other Ferro rods do. Probably you tried to use a Ferro rod with a small handle and felt that it is painful to operating with it. You will not face such problems with this one.
Furthermore, it is constructed to produce more than 12 000 strikes.
It is a great opportunity to have such a tool in your survival kit.
Find out the price for this Ferro rod with handle: click here.
6 – Light My Fire Swedish FireSteel with Emergency Whistle
Light my fire Ferro rod is made of high-quality plastic and can serve you for a long time. Also, the Swedish firesteel has an integrated whistle so that you will attract attention in emergencies.
It is a kind of multi-tool but not only a spark generator. Light My Fire is a Swedish firesteel that can produce up to 12,000 fires and be useful in crises to call help.
Do you want to find out the price of this Ferro rod? Click here
7 – HOODDEAL 10PCS Pure Magnesium Ferrocerium Fire Starter
There is a problem of deterioration of any equipment used in survival. The same may happen to your rod. Buying Magnesium Ferrocerium Fire Starter, you will not need to spend money on the new fire starter again but only buy a changeable rod setup for your tool.
You can make a beneficial investment into your survival by the purchase of these rods. Pack them into your kit to be confident that you can ignite a fire in apocalypses.
Find out the price for Ferro pods: click here.
We Offer You Special Checklist With All Information about Survival Gear. Read It for Free to Improve Your Skills in Survival. Click Here.
Advantages of the Ferro Rods
There are several reasons for the purchase of fire steel. Let's explore them, and you will get more information for making the best decision about a Ferro rod.
Compact and Lightweight
Ferro rods can become an irreplaceable content of your survival bag. It has a suitable size for all kits you may need to take with you for successful survival. A fire starter is smaller than a standard zipper so that you can add a rod to your keychain. Ensure you hold the Ferro rod in your backpack to be confident that you can produce a fire in any location you will stay.
Ferro rod will perfectly fit any your survival bag:
tackle box
glove box and others.
High Temperature of Flame
This type of firesteels creates the sparks of high temperatures because of Ferro rods inside it. As we already said, it can generate burning at approximately 5000 degrees F.
This characteristic provides the capacity to melt and burn everything you want. The durable corpus will serve you for a long time because it is made of fire steel. It works in any natural state, so the fire starting process is possible to pour rain with this unique tool.
Convenience of Usage
It is clear intuitively how to use a Ferro rod. It is so simple in design that everyone could provide fire-starting or melt something without prior knowledge about it.
It is the essential equipment when you need to light up the tinder pile in dark places.
It is an alternative to commonly used gas stoves and lighters nowadays to get a spark outside the house.
Additional Ways to Use It
There is no situation you will not need to use a Ferro rod. It is more than a fire starter – it is also useful for signaling in emergencies.
Ferro rods create powerful and hot sparks that can be seen far away from your location as a firecracker. So, it is the attraction of attention when you are lost, and someone is looking for you.
Ferro rods are not only the fire starters. The more information you know about its implementation, the more probably you will survive in extreme events.
We Offer You Special Checklist With All Information about Survival Gear. Read It for Free to Improve Your Skills in Survival. Click Here.
Proper Way to Use Ferro Rod
Firesteel will help you generate hot sparks, but, firstly, make sure you know how to design a tinder properly. You need to collect dry materials, such as bark, cotton, or grass, to produce a long-running bonfire.
Locate the tinder in such a way that there will be access to oxygen everywhere, especially under it. Oxygen will facilitate sparks in making a fire.
When you are confident that you situate the tinder correctly, take the ferrocerium rod into one hand and strike into another one. Locate the Ferro rod near to tinder pile and tilt the striker by 45 degrees to a pile. Make a sharp push by striker through the rod to get hot sparks from the metal items' friction.
Direct spark exactly to a tinder pile to increase the temperature inside it. The more sparks will fall into the tinder pile, the faster you will light a fire. But be cautious. You need to stop generating sparks when a fume appears.
Continue to blow into the tinder but do not overexpose this as you can put out the fire by the strong air currents.
When there is a stable flame, you will need to add larger logs to have a large fire for a long time.
Watch the video to learn how experienced survivalists ignite a fire using a Ferro rod.
We Offer You Special Checklist With All Information about Survival Gear. Read It for Free to Improve Your Skills in Survival. Click Here.
Conclusion
Ancient people could not think that metal is practical in fire-starting. Ferro rods are the most useful items for them as it is so easy and practical in use.
Fire is one of the sources of heat and ways of cooking – it is an essential component of every survival.
Ferrocerium rod is a vital gear in the bug-out backpack of every survivalist. It is affordable, compact, powerful, and multitasking – it will definitely save your life in emergencies.
Ferro rods endure more than 10 000 strikes, which gives you a guarantee to make a fire in every location you stay in. No matter it is heavy rain or clear sky – it will burn the tinder in any weather.
It really boosts the probability of your survival. You need to buy or make it, and you will feel all power of this "magic" tool.
FAQ
How long will a Ferro rod last?
Most Ferro rods have a working period measured in the number of strikes. Some of them can produce sparks for more than 12 000 strikes. Other ones are less than this number. In this report, we provided information on the best sellers in the survival industry. You can explore their features and choose the one that will last for 20 000 strikes.
Are Ferro rods waterproof?
Today you can find plenty of Ferro rods on the market. Ferro rods are so popular nowadays in the United States and worldwide as Ferro rods are waterproof. This unique characteristic makes them irreplaceable for survival and travel bags.
What is a Ferrel Rod?
Ferrel rods are universal fire starters. They are applied to create sparks of high temperature in any situation and allow you to make a fire effortlessly. It is the best option for survival kits because of its size and weight. This report can introduce you to the details about ferrocerium rod, its characteristics, best options on the market. Please read it carefully to learn why you need to make a purchase and pack it into your survival bag.
What is the best Ferro rod?
You can have a look at our collection of high-quality and affordable Ferro rods in this article. However, the best Ferro rod for you would be the one you made by yourself because you can adapt its size, handle design, and add other tools focusing on your needs.