Intro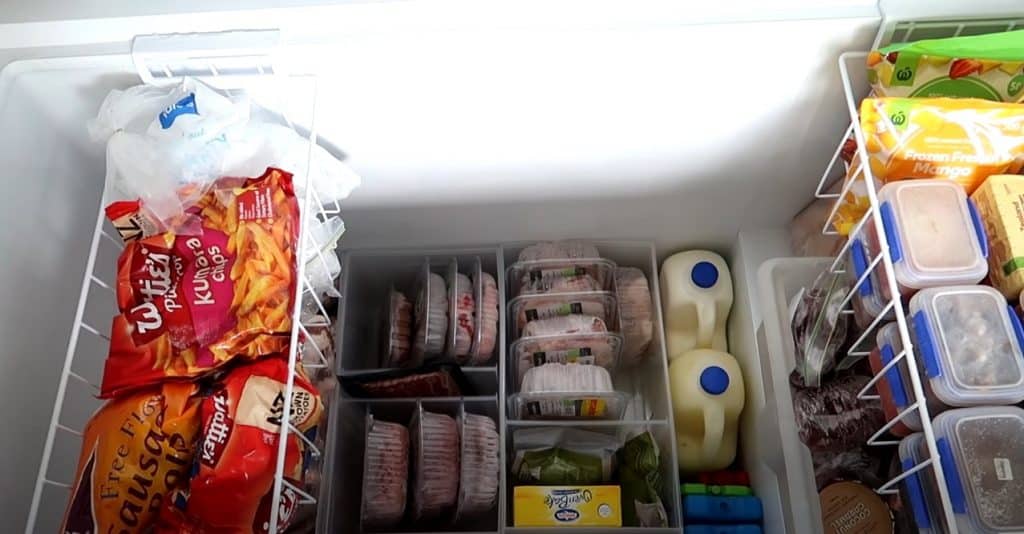 It is difficult to overestimate the importance and functionality of a general chest freezer in the kitchen. Chest freezers are ingenious solutions for bigger families. However, they also serve perfectly for those who live alone as well.
Remember when you go to the grocery store, buy everything "in reserve," and then have no idea where to put the products? We believe this is a common problem for many Americans. All you have is the freezer space of your fridge, but can you really put that much in it? Hardly can you do so: if you are lucky, you will manage to put all meat products in it, but what about frozen vegetables, for example? You cannot cook them all at the moment — it will simply get rotten in a couple of days.
And it turns out that the entire freezer is crammed to the eyeballs, and you spend hours thinking about how to solve this problem.
After creating some "sort of" organization system, you understand that not all food is easily accessible. Some of the things occupy the top layer, and some are at the very bottom — putting things this way definitely costs you time and nerves.
Then you realize that you wanted chicken for dinner, but chicken pieces are somewhere deep inside, and the entire freezer reminds you of a total black hole where you cannot easily find anything you want.
For sure, the freezer is a nice solution for long-term storage, but to store things in it becomes difficult when you buy a lot: it is rather small.
Meet Chest Freezer!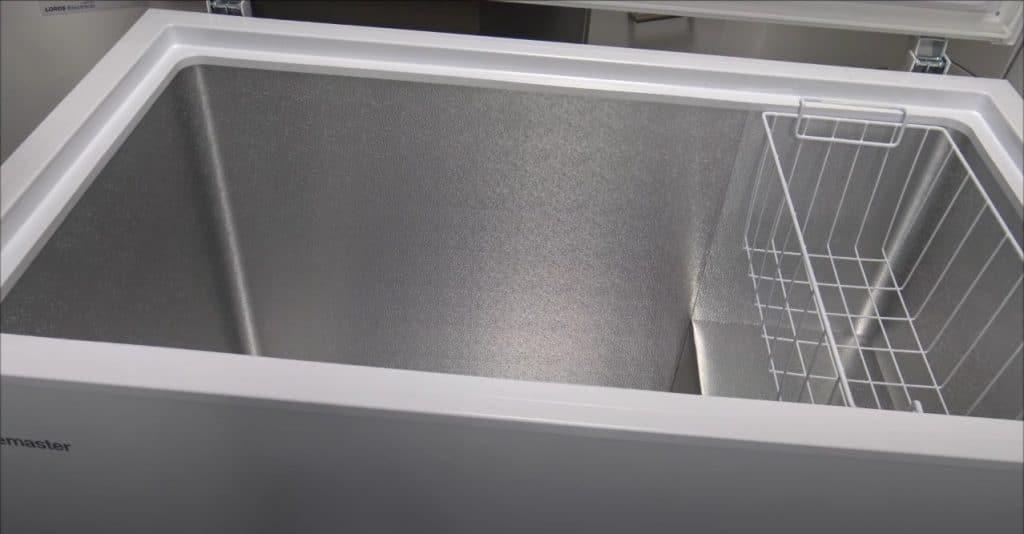 In general, a chest freezer, also referred to as "deep freezer," means "chest type freezer" — it is a bigger freezer with its lid usually opening upwards and the food stored inside. The main body of a general chest freezer is called a cabinet.
The tricky thing about chest freezers is that the air inside does not change significantly (it is expected that the temperature inside will start rising. However, it does not). This is because warm air is less heavy than cold, and all cold stays inside such a chest freezer because of its construction.
A great thing about such a deep freezer is that it might come with special wire baskets, which, in a sense, become the basis for the chest freezer organization. They create an organization system for your food and serve to save space inside the freezer. But what if these baskets do not solve all problems..?
What is the Problem with Chest Freezers?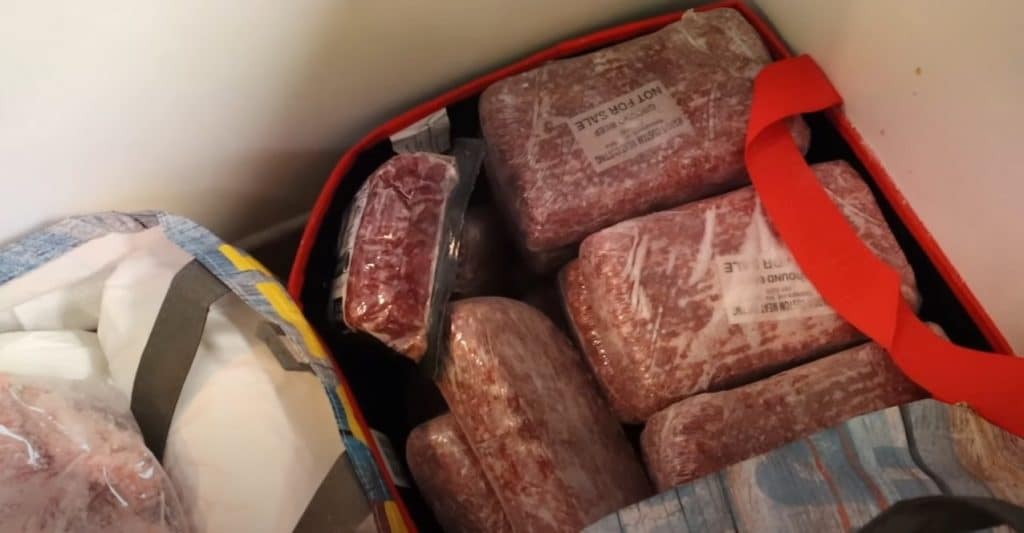 Unfortunately, baskets do not always solve problems concerning food organization. The thing is that they are usually rather deep, and all are of the same size, so storing certain products is simply inconvenient. Also, it might turn out that some older stuff gets on the bottom layer, and you forget of it, and it lies in the chest freezer for longer than you might want.
But, luckily for us, ordinary people, humanity came up with a solution. More to say, there are several rather smart solutions for the organization of a chest freezer. We are ready to share a couple of good ideas with you — let us get acquainted with them.
Step 1: Get Bins and Boxes
Bins and boxes are really helpful in the chest freezer organization. Acting like storage containers, such bins and cardboard boxes maximize space and add some structure. Usually, you do not require large quantities of those to organize a chest freezer. But, for sure, it depends on the size of your deep freezer and its capabilities.
Such dollar store bins are easy to find and cheap, but they can do a lot to create a proper chest freezer system. These bins are not always of the same size (however of the same shape), and you can you one bin type for one kind of product, like frozen fruits, for instance, then take the next bin, a different one, and put something else, like frozen veggies, for example.
Another great initiative will be to obtain a couple of milk crates. One of the best things about them is that you can easily take them and lift them from the freezer thanks to their construction with holes between the rods.
All in all, one bin, one box, and a couple of canvas bags (canvas bags are flexible containers created from environmentally friendly materials) can solve many problems concerning the storage of frozen foods.
Step 1.1: Avoid Plastic
We understand that flexible plastic dollar store bins seem to be a perfect solution for the chest freezer organization. However, it is not completely so. The main reason for not using such plastic bins is that they usually cannot withstand low temperatures (usual for the freezers) for too long. Eventually, they get frozen, crack and split into smaller parts, and you cannot continue storing foods in them. An ordinary bag, especially a canvas bag, will serve longer and act as a safer container.
Secondly, plastic is simply bad for nature. The cloth bags that we discussed before will not get frozen, and they do not harm the environment.
Thirdly, plastic bins are known for absorbing the smell of the products people keep in them. Thus, if you stack things with odors in them, they will start exuding this smell and "infect" other products with it over time. This is definitely something you want to avoid when organizing a chest freezer.
Step 2: Label Frozen Food
Labeling foods significantly simplifies chest freezer organization. This is a time- and energy-efficient approach since you do not have to spend minutes looking for a specific product. In addition, to "meet" the food you were aiming at, you do not have to look inside the bins and bags of a deep freezer. One slight glance is now enough.
There are different ways to label frozen food in the chest freezer. The simplest one is to use a so-called "color code." This means that each "type" of food lies in a bin or a bag of a specific color, looking at which you can identify what food lies inside. So, for example, a red bag might contain ground beef (or any ground meat you prefer), yellow bins or bags might keep frozen pizza (like cheese, you know), and green ones might be responsible for fruits and vegetables.
We consider this kind of labeling to be the most natural and intuitive one. However, tastes differ. If you feel like it does not fit you, you can change it to the one that will work better. But, not to be confused, if you think that you might forget some of the labels, you can use the freezer inventory printable or any other inventory option.
For example, you can try a freezer inventory magnetic list. Write down everything you think is important concerning chest freezer organization. Or, you can choose an inventory sheet and magazine holders instead — you can find them in any dollar store.
Finally, you can use a whiteboard to memorize how you group things and organize your chest freezer inventory.
Step 3: Track products
This is an indeed helpful practice that guarantees you will never accidentally run out of something. With a precise list of what you have, you are always aware of the condition of your chest freezer.
How does it help freezer organization? — you might be wondering. The answer is simple: in a well-organized freezer, there is always space for everything you need. But keeping in mind what exactly you need, especially if you have to feed the entire family, is quite difficult.
Besides, if it turns out that some product is expired, it should not be kept in the chest freezer any longer — it just occupies space of something "fresh." Less space for old inedible products — more space for newly-bought frozen food.
Additional Pro Tip: Remember of the Rotation
When you come to the shop, you might notice that fresher products are hidden somewhere in the deep of a shelf, whereas those less fresh are just in front of your eyes. This is a prevalent practice for meat and other products that "live" for a month or so (if not frozen, of course).
This is used to make sure customers buy all products, and nothing remains unbought because it got rotten. And this is a tricky but smart approach.
Organizing a chest freezer, try to do the same thing: put older products closer to the lid and fresher ones — deeper inside. If you have an upright freezer, the rule remains the same: the oldest products have to be eaten first! This primarily concerns meat — fruits and vegetables are less "prone to decay."
Step 4: Stacking & Packing
This is probably the most obvious point you have to keep in mind when organizing a chest freezer. With all these bins and bags, try not to leave much free space, especially if your chest freezer is stuffed to eyeballs.
If you manage to organize a chest freezer properly, you will be able to lift most of the products easily. Try to freeze food in a way so that heavy units were "in-depth" and lighter units — "on the surface." Bins with heavy frozen meat, for instance, can be placed on the bottom, and bags with vegetables — at the top.
Also, try to make things flat: bags will help you with this strategy. You can freeze meat, vegetables, fruits, everything in a "flat" way to stand them up like a bookshelf. The best bag options for this purpose are FoodSaver bags and Ziploc bags. Transparent bags will help you navigate among foods easier, or you can stick to the multi-colorful approach, which we discussed above.
With "flat" bags, you can organize your chest freezer in a much more efficient and smart way.
Step 5: Control the Space Above
Talking about organizing a chest freezer, you should always remember what is above it. We mean, literally, what lies on the lid. Try not to keep too many things on your chest freezer — it really makes it difficult to use the device.
If you have a lot of things on the top, you cannot easily access foods inside. To organize a chest freezer also means to make foods easily reachable, but with stuff on the lid, it is impossible. Unless you have an upright freezer — users of the upright freezers usually do not face such a problem.
If you cannot relocate your belongings from the chest freezer lid, at least put them on the tray. Then, when you have to get something from the freezer quickly, you can take the tray away, take the products out, close the freezer, and put the tray back quickly. In a sense, this is a solution that you have to keep in mind when organizing a chest freezer.
Other resources with great tips
If you are really into this topic, you might want to read more about freezers and approaches to organizing a chest freezer.
1. Real Mom Nutrition
Real Mom Nutrition is a helpful service that covers numerous topics concerning family nutrition. It is beneficial for the person responsible for foods in the family. Organizing a chest freezer, you can learn more about the shelf lives of many products here — from frozen meat of any type to frozen pizza — the site contains all necessary information.
2. Stuff Parents Need
Stuff Parents Need is a platform where you can find answers to the questions concerning troubles that you might meet when organizing a chest freezer. For example, if your freezer comes with dividers, and you are limited in ways to organize products with bins and bags inside.
3. QueenBee Coupons
If you are looking for original ideas about meals from the frozen products, QueenBee Coupons is a great place to find them. Moreover, this platform will honestly share the personal experience of its owner in organizing freezers' structure.
4. A Thousand Words
Here you can find even more ideas on how to organize a chest freezer.
Best Chest Freezers Available On The Market Today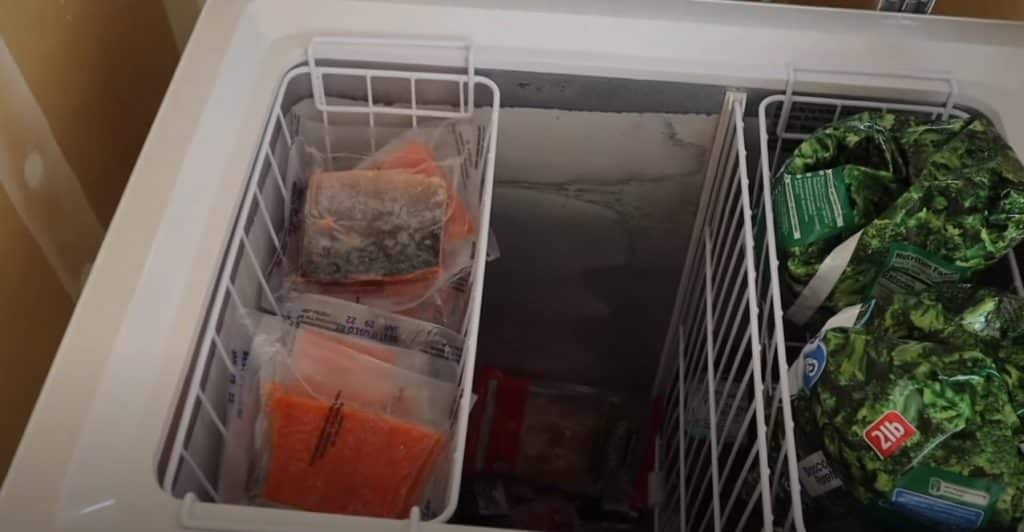 If for some reason, you do not have a chest freezer at the moment, but after reading the article you got interested in all these bins and bags used for the spatial organization for products storage, we prepared for you a list of the best chest freezers available on the market today. All these devices will freeze your foods, and you do not even have to be afraid of the so-called "freezer burn" since these machines are of high quality.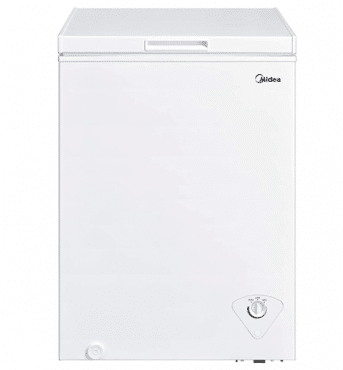 Look at this Midea Chest Freezer. This is a high-quality freezer machine with a single-door lid. Created of stainless steel and iron, this device will serve you well for years without covering with rust. The poll results (with approximately 4000 participants) demonstrate that it is a reliable product (the freezer was evaluated, in general, on 4.6 out of 5 stars).
This freezer already comes with a wire basket, but you can easily put any bag or bin inside if you want. The original color is white, which is quite a traditional choice for such kinds of devices. By choosing this freezer, you also receive a 1-year warranty from the manufacturer. This sample is definitely worth your attention!
2. Danby Chest Freezer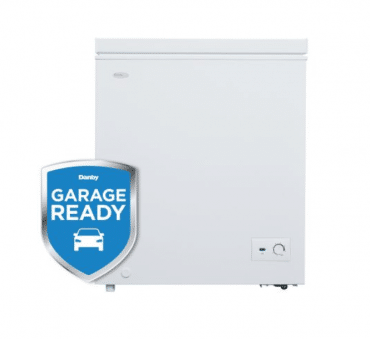 Danby manufacturers are famous for their reliable machines to freeze and store products (and not only). Let us take a closer look at the Danby Diplomat 5.0 cu. ft. Chest Freezer model.
This freezer has 142 liters capacity and, with the correct spatial organization, all these "liters" will serve you well. You can freeze any products here; the machine has a mechanical thermostat option.
Besides, the freezer is rather unpretentious. You can keep it in the kitchen or even in the garage, as it can withstand temperatures from 0F to 110F. Just like the previous option, this freezer comes with a wire basket, but you can dilute it with a couple of bins.
This is a pretty light freezer option (with a weight of 67.46lb), and the manufacturer provides a 1-year warranty on the device — do not exclude this guy from the list of your potential purchases!
3. Frigidaire Chest Freezer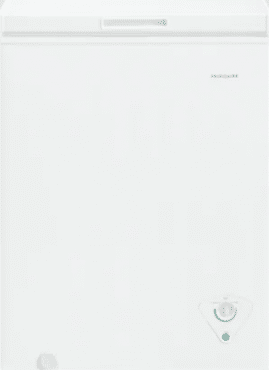 Frigidaire manufacturer is famous for its wide range of products of any capacity. On the page with chest freezer options, you can see a variety of devices from 5 Cu. Ft. to 24.8 Cu. Ft. Let us briefly review the smallest version with the capability of 5 Cu. Ft., as this is probably the best compact version for your kitchen storage.
This is a spacious freezer with a manual defrost option. A convenient thing about this device is that you can easily understand whether the freezer is working just by looking at the light indicator on it. This feature definitely saves one's nerves; we state it for sure.
Also, a Frigidaire 5 Cu. Ft. Chest Freezer comes with a removable basket that can be replaced with any other convenient storage element. If you decide to unfreeze the freezer (which is recommended to be done regularly), this device has a draining option to drain water and not let it stay inside of the machine.
Users rate this freezer option 4.8 out of 5. They state that the freezer is quiet, does not disturb anyone in the house while working, that it is cheaper than many other options, and that it is rather spacious. It deserves to give it a try, does not it?
The Final Word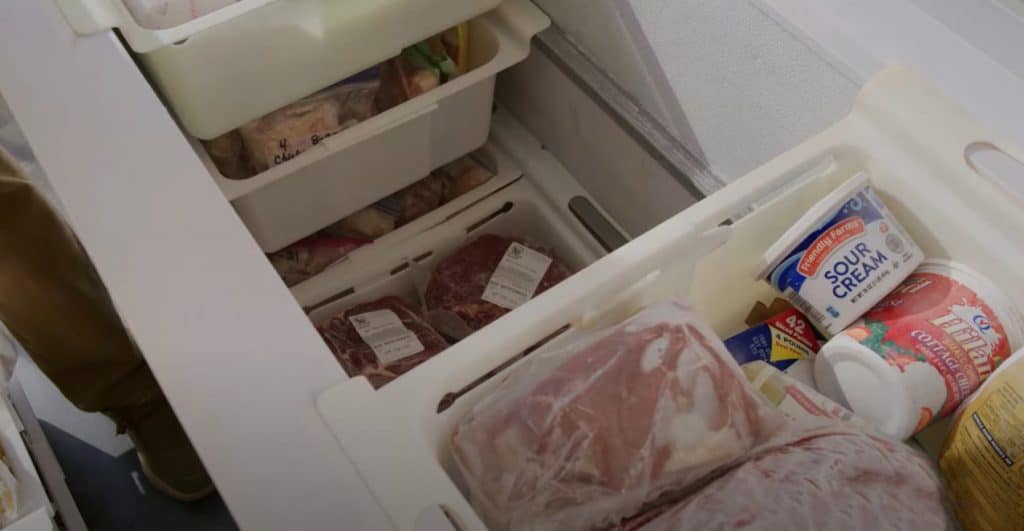 Now you are much more prepared for getting your own chest freezer for your family needs or your personal desires. We delved into the peculiarities of the spatial organization of a freezer, got you acquainted with some helpful resources, and, finally, gave you some pieces of advice concerning the best freezer options available on the market nowadays. Useful adventure, was not it?
Of course, practice and experience in organizing a chest freezer are the most important components of a successful structure of the frozen foods. The more different products you buy — the more ideas you come up with while using your chest freezer. Try different combinations of storage units to find out which fits your device best.
Let us briefly summarize what we managed to learn today. When you get prepared for organizing a chest freezer, you might need the following things:
A bag
A box
A bin
A crate
An inventory in any form
A tray (just in case)
And some free time!
Besides, organizing products might be rather calming. Some people use it as a relaxation practice on a par with cleaning the house. If you are one of them, organizing your chest freezer will not only save spaces and products for you but will also give you peace!
Frequently Asked Questions (FAQ)
How do you make a chest freezer divider?
Chest freezer dividers are facilities thanks to which you can organize products inside of the machine and create some "food structure." If you feel like your frozen foods require "permutation," you can use some "at-hand" options to reorganize things. For example, you can you bags, cardboard boxes, or various bins to maximize available spaces.
Can you put plastic baskets in the freezer?
Of course, you can put plastic baskets in the freezer. However, it is not recommended. Plastic baskets cannot serve long in low-temperature conditions. They crack and get broken, destroying the entire product structure that you created. Besides, plastic is bad for the environment! Try other environmentally friendly options, like canvas bags, for instance.
How to organize a small freezer?
Even if you do not have much room inside of your freezer, it does not mean that it is not spacious. All you have to do is create a proper structure. Think of which products should be stored together or close to each other, and keep it in mind. Also, try to use the skills which you apply while playing TETRIS. Do not forget about storage facilities, like bags or boxes, to keep products organized. All these little things will allow you to create a nice food system, and the majority of products will be easily available!