Camping meals are what you should take care about when you are in the stage of preparing for the trip. Consider what you want for breakfast, lunch , and dinner; familiarize yourself with a few recipes; stock tons of chicken, potatoes, chocolate, bacon, pasta, sausage, and eggs to feel safe in the wilderness. Read the article to learn which pan is the best for cooking and be ready for a feast at your campfire.
We betcha that when it comes to camping, there are two types of people:
the first has a total "hassle-free-zero-ballast" attitude saying something like this:
"Well, I'm fine being resourceful, so taking the minimum is the best we can do, plus we can always procure something on our way!"
The second type, in turn, is surely planning to organize a Michelin-leveled camping cook-house, and nothing less:
"We will stuff the cooler up to the edges! It's gonna be the best takeaway restaurant-like experience in our lives!"
Neither of those attitudes is perfect as the best one lies in between, and the real freedom you have when camping or trekking is all about moving light and speedy and still having some nice food choices.
Car camping, however, lets you widen your food preferences and expand the menu consistently. This can be achieved by taking griddles, portable stoves, Dutch ovens, and more, plus adding a variety of gourmet ingredients to your trunk.
A small straightaway tip is always to prepare a camping recipe list before you set off, regardless of how long is your planned trip. This is exactly what we're going to share with you — 32 selected easy camping meal recipes — from a modest on-the-go lunch to a hearty campfire dinner, all accompanied by cooking hints and clues.
*Note: we're going to discuss many things, so feel free to skip over to any section by simply scrolling down the page, adapting the screen reader, and navigating through the affiliate links.
**Note: we advise you to bookmark this article for future reference and use it as your meal plan for a future outdoor experience.
7 Tasty And Proven In-Camp Breakfast Recipes
Waking up to birds chirping is always fine, but moving on for the greater outdoor experience would be hard without a nutritious and tasty breakfast and a hot drink. Below are several worthy recipes for any wilderness case  — from easy afternoon forest rambling to exhausting yet exciting miles-long trekking day.
1 — Camping Breakfast Sandwich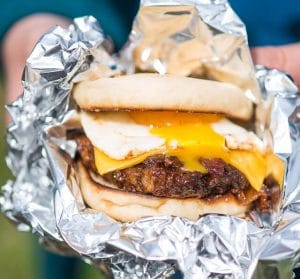 Sandwiches have surely been our favorites thanks to their taste, compactness, and simplicity. A muffin, an egg, a slice of cheese, a loaf of meat, and a vegetable almost equals a hearty breakfast.
This is as simple that it goes without saying: sandwiches always boast a great variety and provide a great space for creativity  — you can always use some ingredients left from the night before, or combine your sandwich with a BBQ pork and celebrate the morning! Here's how to start.
2 — Campfire French Toast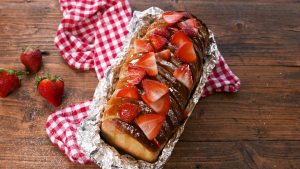 This toast can be as big as to satisfy the whole company of hungry campers or a big family, so making a single piece on the griddle is not really efficient. To make such a French toast for a big starving company, be sure to have a whole bread and follow the instructions. This freshly fried toast will nourish them all!
3 — Bacon and Cheese Pull-Aparts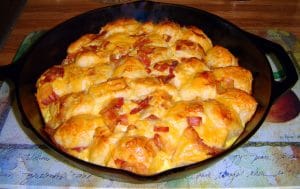 This already sounds tasty, doesn't it? Here's how to make it. Mind that to cook it, and you will firstly need to set a fire in the morning and, secondly, to bring a compact Dutch oven with you. But this extra effort will be rewarded by the genuine taste of this pull-apart! They'll saturate and warm every camper, making the day start right.
4  — Farmers Scramble Breakfast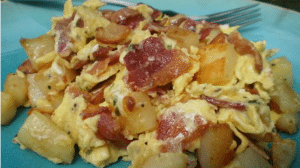 Here's another nice all-family breakfast option making you savoring the camping way of life (especially if a skillet with crispy potatoes has always sounded like the tastiest meal for you). Its three main ingredients are potatoes, onions, and scrambled eggs, summing the dish up to a healthy and really hearty plate rich in carbs, proteins, and fat. Additionally, save it for the future, as it's also good as both a side dish and a main course for two or more people. It definitely deserves trying.
5 — Crispy Campfire Bacon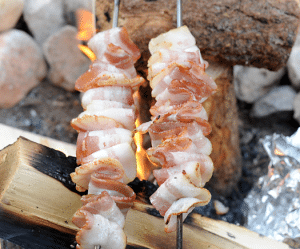 Yes, here we go again with the meat breakfast topic. Crispy Campfire Bacon is not solely a dish but also a camping technique useful and helpful regardless of the course or time of day. Basically, each camper should know how to cook meat (or bacon) over an open fire. Warning: cooking this camping essential requires some practicing ahead of time as there are quite a lot of stories about the not-so-skilled travelers who burnt the deck down in the grease drips and fire. We would advise you never to leave it unattended, use stainless steel skewers, and string the bacon with some space between the folds for better and more thorough cooking (and your additional safety). Besides, the slow cooking process over low heat allows you to minimize such flare-ups, so consider this option for a relaxing "no-fuss" styled morning in the camping when you do have time for slow cooking.
6 — Eggs and Sausage Breakfast Taquitos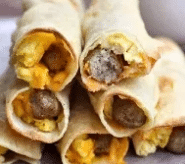 Many of us have heard about taquitos or have them in the frozen foods aisle, but trying this recipe on a camping trip would upgrade your cooking skills to a new level.
They're quick to prepare with sausage links and a pile of scrambled eggs. Plus, you can customize them with whatever extra ingredients you may have on hand.
I like to add a little hash brown to mine, and cheese works too. You'll want to make a double batch, though, because they're sure to go fast! Plus, they are quickly made just from sausages and scrambled eggs or other additional ingredients such as crispy brown potatoes or cheese slices. They may be so tasty that you'll likely have to prepare a double batch. Here are the basic cooking guidelines.
7 – Dutch Oven Biscuits And Gravy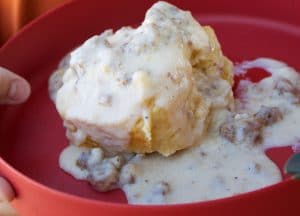 Some fluffy cookies served with gravy are a classic breakfast or lunch menu, but they can also be adapted as a camping breakfast option. One thing you'll need to cook them right when camping is a Dutch oven. Just add some warm, rich sausage gravy for a rich, delicious, and nutritious breakfast. The recipe is actually easier than you may think. Try cooking it now.
5 Simple Go-To Cooking Options For Outdoor Adventures
What comes to your mind first when thinking of a camp lunch? A quick bite before you go or a hearty full dish satiating your hunger hours ahead? Actually, it can be anything as there are so many lunch choices when it comes to camping. The keyword here is flexibility so that you can always choose either a small portion for yourself or a set of snacks for a bigger company.
However, we think that for the idea of camping lunch, the easier the recipe and the setup are, the better your lunch is: you save time both for afternoon adventures and for bigger dinner meals.
8 – Hot Ham and Swiss Croissants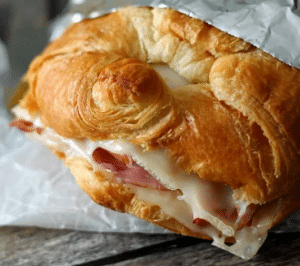 This recipe may combine the options both a meat-eater and a sweet tooth would like as instead of meat, and you could always stuff the croissant with chocolate or berries. Pack them separately and take them wherever you go — we bet that the slightly melted butter sandwich with ham tastes great after a long day of hiking.
It is fairly good whether served hot, heated over the fire or grill, or offered cold, and here's how to cook it right.
9 – Salad Options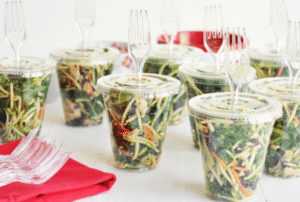 Although salads are probably not the main thing on your hiking menu, they're surely the healthiest ones. We all need to have a break from the heavy camping dishes and refresh ourselves with some vitamins and minerals. Kale, broccoli slaw, and some nice dressings and favorite toppings would make a healthy company to a pile of camping sandwiches.
Some sorts of leafy greens (such as kale) last longer in a cooler if compared to iceberg or spring greenery mixes, so keep this in mind when cooking your salads in advance. Here's a recipe that suggests individual salads' preparation in disposable containers (like plastic tumblers) always ready-to-eat.
10 – Trailside Hummus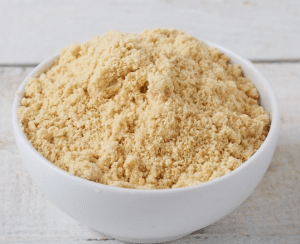 Among the easy no-cook meals for hikers and campers, hummus has deservedly gained an important place. And you would be mistaken thinking that hummus is unlikely a portable and lightweight item for your backpack.
Firstly, using a home food dehydrator will help you deal with — with this compact gadget, you can pre-dry homemade hummus with any taste and flavor. You don't have to add beforehand the olive oil as the dehydrating will not work in that case. Combine your hummus with buttery crackers, garlic pretzels, or tortillas, and you've got a consistent lunch perfect for on-the-go scenarios! And follow the link to learn the trailside instant hummus recipe.
11 – Sweet And Spicy Cashew Chicken Salad Wraps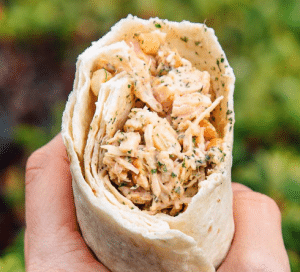 Multiple sorts of wraps are a trendy meal option suitable for almost any case, including the outdoors. Use the pre-cooked chicken or tuna as the basic ingredient and vary the recipe as much as you want by adding extra flavors. The spicy and sweet cashew dish is a great version worth trying among various camping meals in the wilderness, too.
Set up a portable stove or make a fire and toast the tortilla. Then proceed to cook the meal creatively, varying the spices and dressings (by the way, the open fire adds extra taste to your tortilla). Or simply follow this great cashew salad wraps recipe.
12 – Salami, Cheese, Or Crackers
We left it at the end of our list. Still, We included this evident option since, again, it allows your culinary fantasy to experiment with these basic components inventing more camping lunch versions. It surely requires no recipe — the simplest yet rich in calories way would be combining salty crackers with some sausages and cheddar cheese, a sauce you like — from maple syrup to tomato sauce and stay charged and fulfilled for the next several hours in the outdoors.
5 Worthy And Easy Camping Dinner Options
In-camp dinner is undoubtedly the core meal taken in the middle of an active day, so it should meet the range of campers' demands such as:
be rich in calories and energy
nutritious and hearty
healthy and well-balanced
relatively easy to cook
not too time-consuming
Otherwise, the nighttime hunger may force you to crawl out of the sleeping bag to grab a quick bite at 4 am. Here are some proven easy camping recipes responsible for your well-being and sense of satiety until the very morning.
13 – Campfire Stew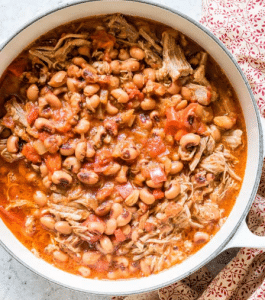 This one is far from a universal camping option but is a deserving end-of-day camping food if you are spending the whole day at the campsite and will not leave the fire unattended.
The slow cooking strategy is surely not the best when camping, but we included it for the case you are in no hurry and have to care for the whole family or a big group of campers. Besides, slow simmering over a campfire turns even the cheapest loaf of meat into a tender gourmet piece with a smoky scent. The recipe we refer to itself implies several versions, though, and could be cooked using an instant pot, campfire, or the basic oven. Adapting this recipe to the vegetables and meats you have on hand, you may create your own versions or just follow the ready cooking instructions.
14 – One-Pot Beef Stroganoff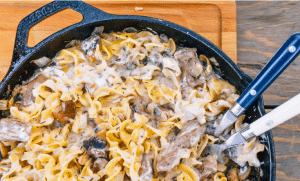 This camp cooking option is only slightly different from delicious beefsteaks served at posh restaurants and is for that second type of gourmet campers we mentioned at the beginning. The flavors of steak, mushroom, onion, egg noodles, and garlic melt together nicely, creating a stuffed dish that is a must-try at least once to broaden your camping culinary experience. Combine this one-pot beef stroganoff recipe with some seasoning and creamy dressing and become the Top Camping Chief. Here's the recipe itself.
15 – Cast-Iron Skillet Pizza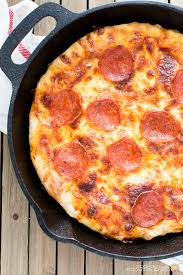 Pizza is not only a thing a company orders when having fun or feeling lazy to cook — surprisingly or not, there are some easy camping cast-iron skillet pizza options, too!
This camping food piece surely requires some precooking: you cook the dough yourself ahead of time or buy a convenient pre-made shell and procure additional ingredients, toppings, and flavors before you head out to your trip. Anyway, cooking in a cast-iron skillet will give you a better, thicker, chewier pizza crust. Here are the detailed steps to follow to get the best cast-iron camping pizza in only 20 minutes.
16 – Dutch Oven Stuffed Sausage and Potato Boats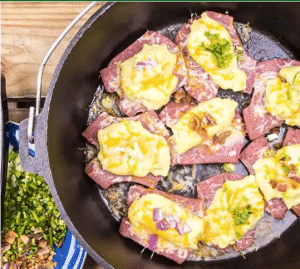 This is another versatile camping meal recipe that's easy to adapt and vary. Use the sliced sausage as the basis for potato boats and combine them with any fillings you like. A Dutch oven is recommended to use in this recipe since it always provides a fine taste and helps prevent "drying out" and "double potato" texture and taste. If sandwiches and hot dogs sound boring to you, it is all the more necessary to master cooking this dish — here is a detailed recipe, simple yet delicious.
17 – Dutch Oven Pork Chops Plus Potato Casserole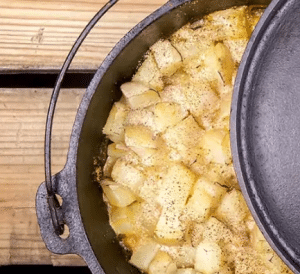 Here we go again with the Dutch oven idea, and the reason is that it actually helps cook a great range of dishes suitable both for camping and home family dinner smoothly and easily.
There are quite a lot of similar recipes meant for camping, but the most delicious pork chops and yummy potatoes with a creamy mushroom sauce and crispy crumbs are guaranteed by a Dutch camping oven. Although it is a truly delicious and easy-to-make camping lunch, you will need to pay attention to cooking it right so as not to burn the casserole bottom by focusing most of the heat on the top of the oven. A step-by-step guide on how to cook it is here.
How About The Foil-Packet Campfire Dinners?
7 Best Meals
Taking a time-tested camping tradition of wrapping the freshly-cooked dishes in aluminum foil for better preservation and a taste that lasts longer deserves a separate category in our article.
The individual foil packs provide a simpler meal arrangement and customization and are often called "comfort food." Being solidly and tightly wrapped, they do require less space and taste better in the long-run.
18 — Shrimp Scampi Foil Packs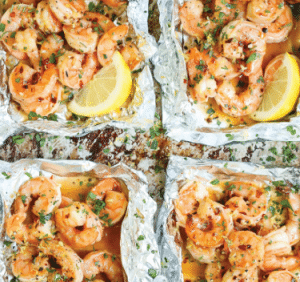 It is not a pretentious luxury thing to take shrimps on a camping trip, as it may seem at first. Take the example of many fishers whose daily ration consists of crabs, shrimps, and fishes caught by hand during the short work breaks at sea. Crayfish and crabs are fine options if you are heading somewhere close to the seaside. Freshly caught shellfish served with the sauce you like cooked in a sealed packet is not only a gourmet dish but also a super-healthy backup in the middle of a long day. The cooking process is easy as pie. Here it is.
19 — Foil Packs Of French Dip Sandwiches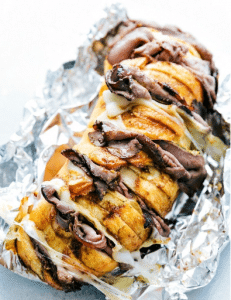 French Dips more than just original sandwiches made of the soft roast beef with Swiss cheese and creamy sauce, all placed on the loaf of crispy bread – they are the real, nutritious boosters and capable of satiating a full hungry campers squad! And the recipe is close at hand and easy to cook.
20 — Foil-Wrapped Baked Sweet Potatoes and Chili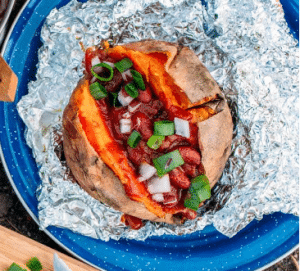 When you are yearning for something spicy and flavored during the camping days, get yourself the soft freshly-baked potatoes with chili – and just chill out as they go so fine together and will nourish you several hours ahead.
Thanks to the spices and seasoning, they can warm you on a freezing camping night, especially if just taken out of a campfire. Though the following recipe requires sweet potatoes and veggie chili, you may always replace it with regular potatoes and any preferable chili type.
21 — Bacon Ranch Grilled Potatoes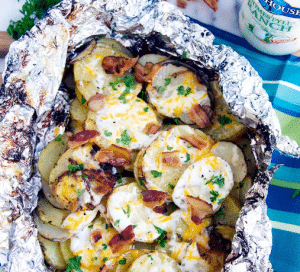 Potatoes baked in foil are a classic option for picnics all over the world and a basic component of a perfect camping meal formula. One can choose a clean blend of baked chicken legs and the preferred combination of cheeses. Otherwise, diversify it with bacon, sour cream, seasonings, and herbs, and get an upgraded and new flavor that will charge you for the rest of the day. Bacon Ranch Potato Packets allow for culinary experiments — simply slice potatoes and place the various additions and toppings next to them on a table in a buffet-style so that everyone can combine the ingredients in their own particular way. The cooking instructions are explained in detail here.
22 — Southwestern Chicken Packets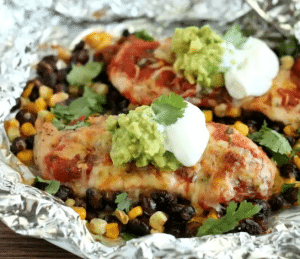 A blend of chicken, beans, and pepper cheese is a hearty dish filling everyone up at the end of an active camping day. You can even customize the spice level for each member of your family, which is an asset when traveling with small kids. Cook this tin-foil dinner recipe over an open fire, grill, or in any conventional oven. Here's how to do it right.
23 — Grilled Caramelized Onions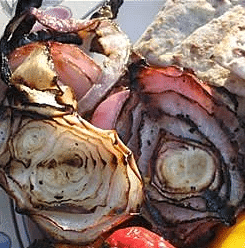 Such an easy-to-make recipe requires only direct heat and sweet white onions though it allows creating a great garnish to meaty campfire meals or a variation of other camping food recipes. If you get the onions tender and caramelized, make a mash from them and spread it on crusty toasted chunks of garlic bread. Get the best-tasting caramelized onions by following this recipe.
24 — Grilled Pineapple Chicken Foil Packets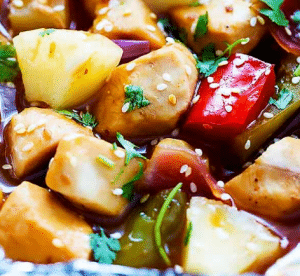 This recipe is another easy-to-make option on our campsite menu. The main thing you'll need is the teriyaki chicken, but it's recommended to chop all the ingredients ahead of time and pre-mix the seasonings and sauce. So, when you're finally out in the wilderness, you'll only have to foil packets and cook them for around 15-20 minutes until the chicken is ready.
Find out how to cook it right here.
5 Delicious Campfire Dessert Options
25 — Grilled Campfire Banana Boats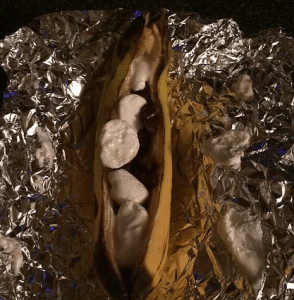 This dessert has a name as exciting as its taste. Many of us remember this well-known dessert since childhood, having tried it in camp or at home. The amount of required food components is not big, and the whole cooking process is clear. Another reason we've included it on our rating is that it can be kept at room temperature, not only in a cooler (which is a big plus for campsite time). Besides, if you serve them with hot chocolate, you'll simply not be able to resist. This is how they are cooked.
26 — Chocolate Orange Cakes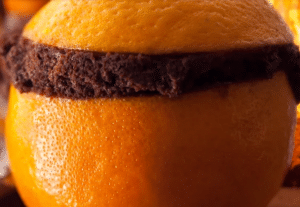 Orange cakes are another time-tested standby popular in boy scout camps, and they never fail to satisfy all the sweet tooth kids and adults. Basically, these are one-serving cakes baked in a hollowed-out orange zest wrapped in foil! They can also fit those on a diet if they reduce or omit the sugar and sauce. Find out the recipe now.
27 — Blackberry Dutch Oven Cobbler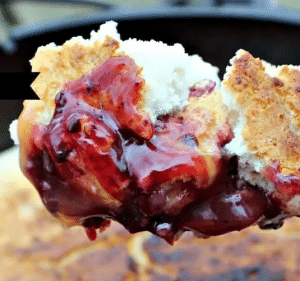 Among the very many camping recipes a Dutch oven is capable of, there is this nice little dessert. This cobbler is a delicious piece that is absolutely simple to cook and enough to satiate a small company. Add a bit of carbonated soda, and get the additional rise and fluffy shape topped by a crispy crust. Learn other tips by reading the recipe.
28 — Cherry Hand Pies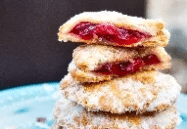 Hand pies are not always an option by definition as they require some handwork in advance, but their taste makes up for it all. The basic recipe offers two options: either buying a ready-made set of pie crusts or cook the homemade ones. Always pay attention to arranging hot oil and cast iron skillet, especially if cooking with kids. Follow the link to find out the classic recipe.
29 – Pineapple Upside Down Pound Cake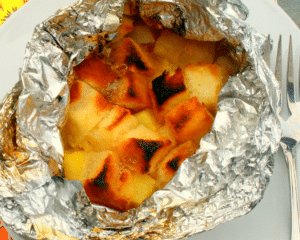 Yes, foil packet food has extended its cooking limits to desserts, and here is another great one. First, procure yourself a tin can of pineapples. Fresh or canned pineapple chunks acquire a rich and mellow taste which comes together well with a buttery pound cake (which, in turn, can always be replaced by the usual donuts if you have not got one).
Greet yourself and your family with this dessert by learning the recipe.
5 Camping Meals Suitable For Kids
Anyone who has spent at least a day with little children knows that mealtime can be a struggle. There are always the pickiest kinds of kids who refuse to eat most of the ordinary camping meals. Therefore, your wise adult strategy should be scheduling several time-tested options and favorites. Besides, involving your kids in the cooking process distracts them from their moods and whims at least for a while and at the same time partially unloads you from the manifold camping chores.
30 — Homemade Mac'n'Cheese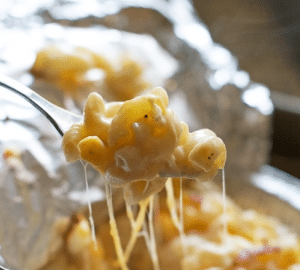 Mac'n'Cheese is a magnet dish when it comes to kids' choice of camping meals. Being simple to make and delicious at the same time, it is a must-try in your "cooking for kids" camping strategy: simply wrap several portions of homemade mac and cheese into separate foils and heat them over the campfire. After it's fully cooked, just let it simmer a bit longer soo as to get the crispy cheese texture on the top and bottom side of the dish. Kids (and adults, too) will most likely enjoy such a crispy hot dish. The cooking instructions can be found here.
31— Campfire Cinnamon Rolls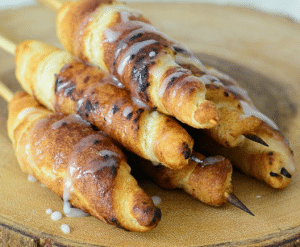 This is an absolute breakfast, lunch, and dessert hit. And when camping, teaching the kids how to whip up a cinnamon roll on a stick is both useful and exciting.
Using packaged crescent roll dough eases the cooking process much and, besides, allows you to vary the cinnamon and sugar amount to meet your liking.
Follow the cooking guidelines here.
32 — Hawaiian BBQ Pork Walking Taco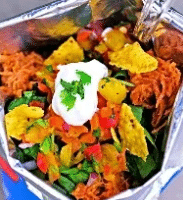 Often called "a Midwest staple," this camp-friendly walking taco is a great idea to feed your kid with (or eat it all by yourself as it's so tasty!). To cook it, your first step would be preparing several toppings according to your preferences, then mixing them with chips and layer them on top. The following recipe also requires some pulled pork and pineapple salsa to give it a truly Hawaiian taste. As a result, you'll get a yummy self-contained nacho platter in a compact bag. Want to know how to make this super taco in more detail? — find out here.
33 — Campfire Cheesy Breadsticks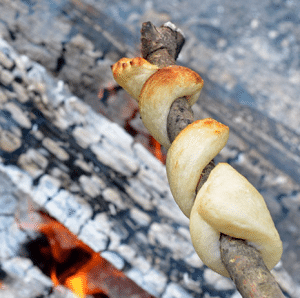 This is another entertaining way to teach your kid how to use a campfire and upgrade his elementary cooking skills. Campfire breadsticks have various versions, all wrapped around a stick and prepared over an open fire, so here kids can be inventive and create their own cheesy breadsticks. The easy way, in this case, would be to wrap store-bought dough around a medium stick and toast it as much as you like. Find out the recipe here.
34 — Campfire Pigs In A Blanket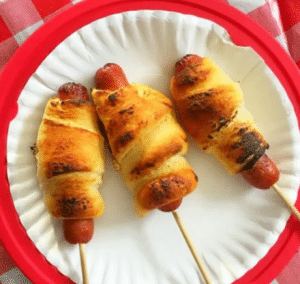 Has your kid heard about Pigs In A Blanket? Exciting as it sounds, this dish is as interesting for kids to cook over the open fire as the hotdogs and breadsticks are. A small tip here is to lose the foil wrap a bit to provide slower heating so as the hot dogs cook gradually and steadily without burning the breadsticks. The variety of sauces to combine with may sound interesting, as well: from ketchup or mustard to BBQ sauce, and more. Find out the camping hot dog creative recipes here.
4 Super Lightweight Meals For Your Backpack
We haven't yet mentioned the minimalist camping attitude — the one for most backpackers. Although the above-mentioned dishes may fit this category, we still decided to single them out in a separate category. Mostly because after the long and tiresome day full of hiking, when the animal hunger meets the heavy backpacks, extremely lightweight and easy backpacking foods could sound like a life-saver. Especially if we consider such recent food inventions as powdered peanut butter and freeze-dried roasted veggies.
 35 — Spicy Curry Noodles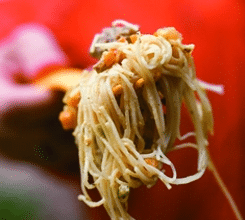 Curries are among these compact and light meals for home cooking saving your budget, and keeping your backpack light. It basically consists of Southeast Asian spices plus coconut cream powder for a thick broth that hits the spot. To vary the taste more, one may add dehydrated cooked pork or chicken.
Here are the cooking instructions.
36 — Backpackers Thai Noodles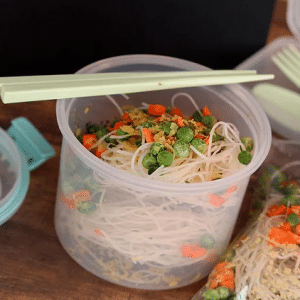 Though the market today offers a great number of pre-packaged freeze-dried meals, this choice is great for it provides more culinary variations — choose from a range of spicey flavors and combine it with some peanut butter, for example.
As we have already mentioned, powdered peanut butter and freeze-dried vegetables are not that easy to find, so seeking them online is probably the optimal solution. Follow the link to find out some good Thai noodles recipes.
37 — Peanut Sauce Ramen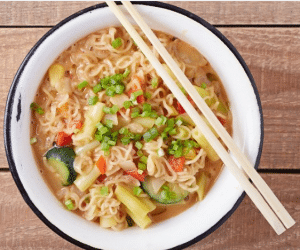 This recipe implies easy-to-find food components. Besides, you may reduce the cooking time by swapping it with powdered peanut butter. Why is this recipe advisable? — because this ramen spice packet adds more sodium to the dish, and the price is more attractive.
Take advantage of this great addition to a backpacker's food plan and learn the recipe.
38 — Loaded Mashed Potatoes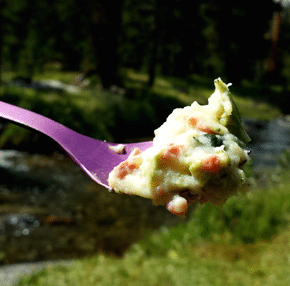 Many of us know the taste of loaded mashed potatoes since Boy Scout times or just since childhood country trips. Again, here several cooking combinations are welcome: using pre-flavored packs of instant potatoes or adding your own toppings and spices. The bottom line is that mashed potatoes are a multi-purpose meal representing backpack tourists' cuisine. Wondering how to cook them, right? Here's the link!
Cooking Strategies And Hacks For A Better Camping Experience
Cooking outdoors, cooking in the wilderness requires creativity, experiment, and adaptive capacities since cooking at a campsite have always been a challenging task, more or less. Preventing stored meals from spoiling and the dish cleaning-up is not it yet.
Baking Tips And Hacks
Baking in-camp with no conventional oven is already a heroic deed. Fortunately, you can always get yourself a Dutch oven or a backpacker's oven if you are just begged by your family to make half a kilo of crispy fresh cookies right here right now.
Yet still, we advise you to care about those whimsical ones while still at home and have no extra fuss when camping or trekking.
Stovetop Camping Strategies
A portable stove is known to be a must when cooking almost anything. Depending on the fuel source, they may make your skillets and pots dirty and blackish, so choose the kitchenware attentively before you set off. Having a compact camp pan and a weary pot alongside the other essential camping gear is wiser than taking sparkling brand new utensils with you.
Grilling is an additional option since most of the grilling tasks are performed equally well using the mere campfire (in case the fire ring owns a flip grill)—besides, mind acquiring some skewers, baskets, or sticks, especially for camping.
Keep The Meals Cold
Most vacationers do not have a cooler, so storing the food outside safely does not last long, and protecting it from spoilage may turn into a problem. Many of us already use a portable ice fridge to keep the products cold on a hot day, and this works well. But you can also put canned food and sealed meals in freezing running river water or on a snowdrift, for example. Use these helpful hints to avoid taking a cooler to your already stuffed backpack.
Keep The Meals Warm
Fewer people know that a cooler may serve as a helping tool to stay warm if the temperature is too low at night. An empty cooler insulates the contents from mild freezing temperatures. And adding a heating pad before going to bed can protect against extreme cold surrounding conditions. This strategy works well during the late fall, winter, or early spring when the temperature tends to get below zero at night.
How To Clean And Wash Up
Apparently, it takes more time to do the washing-up in camp than at home simply because heating water requires far more effort and time. The reason why many campers still wash the dishes in cold water, whatever scrubbing and rubbing it takes. In that case, it is wise to apply a tough metal brush and strong detergent to clean your pans, cast iron skillets, and ovens.
However, you must be careful, as any odors of food leftovers are bound to attract visitors like wild animals from cheeky squirrels to dangerous bears.
As A Conclusion
Campsite cooking is at the same time a challenge, creative activity, and a factor that brings the community together. Delegating the preparation and cleanup chores helps to share the feeling of responsibility and to pull the campers' collective together. Still, no one wants it to be too hard or too challenging.
Moreover, we all want the camping cooking process to be exciting and enjoyable, allowing us to keep ourselves and our friendly circle satiated, focused, and ready to further wilderness adventures.
Hopefully, these recipes served as fine starting points to find your own great way of arranging the future camping food menu!
If our article was useful to you, we advise you to also browse through our 20 camping hacks article or visit the other related camping culinary sites like Fresh off the grid. To find out how to cook a greater variety of dishes unmentioned here — like, for instance, Camping Chilaquiles Recipe, refer to more related sites and always stay curious to check out the food bloggers and authors like Holli Butterfield Holli's recipes and others. Browsing through the affiliate links in this article, you will find out more about the oven recipes and other hacks you're interested in (note that these links imply a certain disclosure policy).
What food do you prefer to take with you when you go camping? And do you have any camping meal essentials, tips, or hacks? Leave a reply in the comments below.
FAQs
What are some good meals for camping?
To sort out the best easy camping recipes and meals, pay attention to the easiness of the cooking process (or no cooking at all if needed), the basic contents, nutritional plus energetic value, and personal preferences. We would always suggest considering various types of sandwiches, wraps, campfire black bean nachos, eggs, camping breakfast burritos, meals in tin foil packages like shrimp foil packets or grilled meat. In plus, do not disregard the side dishes. Combined with chicken breasts or pad Thai with curry or tortilla chips or any Dutch oven mac & cheese, these options would always fit any camping plan.
What should you eat for a week camping?
Follow the several basic tips when you plan to go camping for a week: write down a meal plan and make up a shopping checklist in advance. Avoid buying complex or perishable foods and think over the packing and wrapping your products in a right and tight manner (in a foil pack or a plastic tumbler, for example). Ideally, the camping food checklist should be diverse, nutritional, and include bread (or hot dog bun) to make sandwiches, eggs (to scramble, fry, or hard boil them), black beans, potato wedges (or other vegetables), hash browns or pancake mix, hearty meat (like beef, pork, or Dutch oven chicken), fish, cheese, fruit, and surely something sweet for your kids and yourself (like the popular cinnamon rolls or a sweet hot beverage like Red Wine Hot Chocolate). Better avoid the products with a great amount of refined sugar. In plus, make sure to procure enough water and other beverages to keep the thirst away.
What to eat camping without cooking?
Although it is hard (and not too healthy) staying the whole long outing feeding only on no-cook food, there are some worthy choices to consider for your next camping trip: for instance, various sandwiches (including jelly ones) and wraps, peanut butter plus honey, stacked graham crackers, ready-to-eat vegetable tumblers and salads, instant hummus, nuts plus berries cocktail mix, or granola trail mix. As for the dessert, granola plus yogurt, ready-to-eat pies, or a combination of fruit and several nutrition energy bars would make it tasty and hearty enough.