Learn the best vacuum sealer technics and make your private kitchen manufacture great food. We will tip you off the best amazon price and top stainless steel budget cooking machine. Pump, perform suction, heat, and seal without leaving your home! Learn the key options of high-quality sous vide gear.
Intro
If you spend some time of your life in the kitchen, you probably know what the vacuum sealer is. Even if you don't, you are lucky to get on this page.
I've been using a vacuum sealer for some time, and I have to admit—it's more valuable than one might think.
Of course, there is a huge variety of sorts and types of vacuum sealers produced by multiple brands. If you are a newcomer in sous vide cooking, all of these bells and whistles of vacuum sealing might sound scary and impassable. Don't be afraid—I am here to help you deal with all these vacuum sealing monsters.
Today, we will discuss the best vacuum sealers you can obtain, how they should be applied with the food, and how to choose a suitable vacuum sealer.
TOP 7 Best Vacuum Sealers Available Now
This sealing device has a great vacuum sealing system, which allows food to stay fresh 5 times longer than ordinary packaging.
One of the most convenient features such FoodSaver vacuum sealer includes is having a removable drip tray—this makes dealing with the liquids an easy task.
This food vacuum sealer contains easy to use manual operations, thanks to which you can work even with delicate foods.
An additional characteristic of this device is that it includes an accessory hose, which means you can combine it with the FoodSaver boxes.
Watch this video to learn more about the features of this model:
Another model by FoodSaver, V4800, can automatically detect vacuum bags, which makes the sealing process much easier. All you have to do is to put a bag into the mouth of this FoodSaver vacuum sealer, and the machine will do the rest work for you.
This model of a sealer also provides a bag cutter and bag roll storage. These food vacuum sealers can pack your delicate foods so that extra plastic will not be used.
Thanks to the drip tray, which this sealer model includes, you don't have to worry about the cleanliness of your kitchen.
Watch this video to learn more about the features of this model:
This model, V8101, has 2 working modes for different foods. It can also work with delicate foods as well.
The additional function allows this machine to save foods via vacuum canisters.
Another feature is that this model includes a bag cutter, thanks to which you can decide on the sizes of your bags.
Watch this video to see how it works:
This Geryon Vacuum sealer requires special bags—from them, and it removes the air. In order to prevent freezer burn, there are multilayer heat seals. This technology prevents extra food waste.
This Geryon machine has a control panel with convenient buttons plus LED lights. The model includes an easy to use and easy to clean upper lid. It's designed with full auto seal operation.
Check the 2 available modes for convenient sealing of any products, even delicate foods.
The NutriChef vacuum sealing system provides an easy to use control panel. You won't have to spend hours figuring out how all the buttons work.
This sealer model has a one-touch operation, thanks to which you won't confuse about sealing different kinds of foods. It comes with reusable bags, which you can use several times more after the first procedure.
This food sealer is as compact as can be, so you will easily find a place for one in your house.
In this video, you will see the other features of this model:
The Mueller Vacuum Sealer Machine eliminates the air, thus not allowing any possible bacteria to destroy the food. Some of the bacteria can be really harmful to human bodies. That is why vacuum sealers are a great way to protect yourself from getting sick.
A savvy customer will notice that this Mueller model is a powerful representative of suction sealers. It has a strong vacuum sealing system, thanks to which you can freely practice sous vide cooking.
You will never regret if you choose this sealing machine.
With the help of this sealing device, you will be able to preserve not only foods like meat or vegetables but also liquids and even jewelry!
The Koios Vacuum Sealing System is, I would say, an advanced one. It uses a mica sheet, which allows the machine not to overheat and to survive even 300 degrees Fahrenheit.
Also, it is a "long-lasting" machine because it works more than 30 times in a row without problems.
This one, like many suction sealers, has an understandable control panel and an included cutter to create custom-sized bags. I also already mentioned the accessory ports. This model has one as well. Use this sealer to get various foods and drinks vacuum sealed.
This sealer has different modes for different foods like the dry ones or the moist ones. Use them to conduct sous-vide experiments!
Watch this video to learn more about the features of these vacuum sealers:
What Is A Vacuum Sealer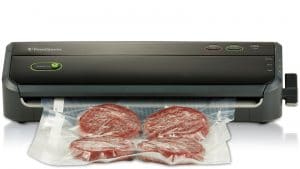 A vacuum sealer is a particular machine that protects your food from being prematurely spoiled. When the foods are placed into the vacuum bags, the vacuum sealer pumps the air out of these bags. After that, it presses the bag and seals it, thus creating a hermetic package.
Vacuum Sealed Food Storage
If you vacuum seals your foods correctly, you can extend the shelf life up to decades. However, it always depends on the foods you deal with.
What kind of foods can actually exist? The most important distinction for the vacuum sealing process is whether the food is dry or moist. If you think carefully of both types of foods, you will probably develop such examples of dry products as, I don't know, pantry items: nuts or chips. Very well. These foods, if your vacuum sealer machine works fine, will be able to survive two or more decades of storage.
But if you think of moist foods, like most fruits and vegetables, you will need to dehydrate them first. Thus, when you remove extra water from it, you will be able to place even wet foods into the vacuum sealer bags, keeping your food fresh for a long time. This will work because the bacteria will not be able to destroy the food after such processing.
Vacuum Sealing Different Products
This part of the article is probably going to be the most useful for those who are really interested in vacuum sealing foods. It is not such an easy task to find a source that will teach you how to practice sealing on different foods because many of them are not correct. But those I prepared for you are definitely of high quality.
I advise you to save the link on this article if you don't have a food vacuum sealer yet, but you are planning to get one.
Cooking Meat
The first video will teach you how to vacuum seal meat because it is a tricky product to deal with. If you have a vacuum sealer machine, you can use it to keep your heart fresher in the freezer for a long time period. Meat vacuum sealing allows avoiding freezer burn, which will affect the taste of a meal eventually.
Cooking Wild Game
If you are a fisher or a hunter, you probably enjoy game meat. But sometimes you cannot prepare and eat all at once. Don't worry – with vacuum sealers, and you can keep your wild game fresh for weeks and months.
Sealer for Avocados
Avocados are quite complicated foods for storage, as they get rotten speedy. You often have to buy one or two units to eat them, but the larger quantities become a problem. But with a food vacuum sealer, you will not face this trouble!
Moist Food
Let us now pay some attention to the most complicated foods for vacuum sealing – the most nutrition. Dealing with them is problematic, especially if your vacuum sealer does not have a removable drip tray. But the majority of the modern vacuum sealers do, so you don't have to worry about it.
Bread and Hamburger Buns
To vacuum seal bread or hamburger buns might become a problem if you don't know what to do. Buns are especially problematic because you want to keep them fresh and not destroy their shape. If you fail, they will be flat and unattractive.
The following video will show you how to succeed in this mission:
Flour
Also, you might be interested in keeping the flour for extended storage (yes, people practice vacuum sealing for the flour as well).
Does Vacuum Sealing Speed Up Marinating?
Must-Seal List
If you are more a viewer rather than a reader, you can spend some time watching this amazing helpful video devoted to the issues you should already be sealing:
1. Water
Everybody knows that a man can survive weeks without food and only a couple of days without water.
Actually, there are several ways to keep the water relatively fresh for a long time. Many people choose containers, so do I. Others buy canned water, but this way is a little bit expensive.
If you care about the "fullness" of your wallet, you might want to look for a cheaper alternative. And it contains water in a Mylar vacuum bag. If you have a chamber sealer, you definitely have to try sealing liquids. It will stay tasty until you need it.
2. Food
But hardly will you be feeling well-fed with the water only. That is why you should use your vacuum sealers to deal with various foods.
3. Spices
Another sort of "food," which has to keep its taste unchanged, is spices. Tasteless spices are usually worth nothing. To keep their flavor, you can use chamber vacuum sealers. Place the herbs in the vacuums bag first. Second, remove the air. Then, heat seal bags. As simple as it sounds!
4. Seeds
When we discussed everything that can be eaten immediately, let's talk about an "investment" into the potential food. Seeds are highly valuable, especially in case of emergency. They are like an alternate airfield, protecting people from complete extinction if the world collapses.
So, we have to keep them for years and decades. Vacuum sealers help us to do so.
5. Medication
Yes, you can use a vacuum sealer to extend the life of your medications as well. Get them out of their original packs, put them in a vacuum bag, and viola.
6. First Aid Kits
As you probably know, the majority of small first aid kits are not waterproof. If they accidentally fall in the water, be it a salty sea or a freshwater lake, their content will most likely be damaged. We don't want that to happen.
Use a vacuum sealer machine to prevent this little (or not) catastrophe. Vacuum seal your kits!
7. Fire Starting Kit
Another catastrophe that can accidentally occur is if you go camping and your matches get wet. How will you start the fire? How will you get warm? How will you cook food?
To prevent this incident, I recommend making your vacuum sealers work. Let them help you seal the fire starting kit and thus make it waterproof.
8. Toilet Paper, Towel, Wipes
Now let's discuss the things highly valuable in every household. Yes, I'm talking about such personal care products as toilet paper or towels, or wipes. These guys are usually made of paper, which, obviously, is not a waterproof material. If some disaster like a flood happens, or even if you get your plumbing broken, most likely all these paper-made friends will be destroyed.
To prevent this sad story, try vacuum sealing the toilet paper and towels with wipes. Remove the air, seal bags, and stay confident in your "paper stock."
9. Batteries
Maybe you've never thought of that, but sealing the batteries is a great idea, especially if you plan to put them into your survival bag.
Just like foods, batteries do not last forever. But you can make them useful for a little bit longer if you place them in the vacuum bags.
10. Sharpie Markers / Pens
You probably know what it feels like when you take a pen (especially if you have to write down something really important), and it's not working because of the dry ink.
A vacuum sealer will help you forget this incident: seal a couple of pens or markers, and the ink will never spoil the usage.
11. Documents / Photos
If you live in the territories, easily affected by the floods, you should think carefully about your documents especially, if your job is connected with paperwork.
To prevent necessary documents or photos from being destroyed, get them vacuum-sealed.
12. Clothes
Here is my personal recommendation for you—consider having at least one spare complect of some basic clothes, like your underwear. Put it in the survival bag just in case. But in their normal condition, these clothes take some space (not that much, of course, but still). If you want to make them even more compact, use a vacuum sealer.
This procedure will not only reduce their size but will also make them waterproof.
Attention: when most of the air is removed, all clothes will get much smaller than before. Be careful!
13. Hand Crank Radio
You can always put a hand-crank radio (or any other electronic device) into a vacuum bag. They will stay safe and waterproof inside.
14. Ammunition
If you consider yourself to be a true survivalist, you definitely know how important it is to keep your ammo correctly. I always recommend choosing special ammo cans with oxygen absorbers. This is a reliable way.
But if you plan to keep the ammo in a survival cache under the ground? The sect option here will be vacuum sealing it. It will eliminate the probability of corrosion.
15. Firearm
Firearm, just as the ammo, requires special treatment. It can be affected by moisture-based corrosion. We don't want this to happen.
But if you use a vacuum sealer, this issue will not become a big problem. Remove the air and pack it well—and voila!
Features To Consider When Choosing The Best Vacuum Sealer
Removable Drip Tray
Drip trays are important, especially when you have to work with liquids. They are always complicated to seal. Moreover, they "leave a messy trace behind." Usually, you cannot avoid drips or spills. These drip trays are used to collect resultant moisture.
Before buying a vacuum sealer, check whether the drip tray it has is removable or not. This is one of those features which simplify life noticeably. If it is removable, you will be able to clean it without cleaning the entire machine.
Accessory Port and Accessory Hose
I recommend checking the presence of the accessory port with a hose. This feature will make your vacuum sealer machine more universal.
If the device you picked has an accessory port and a hose, then you can deal with not only vacuum seal bags but mason jars as well.
Watch this video to see how it works:
Automatic Bag Detection
This feature allows starting to vacuum seal just in one touch. If your vacuum sealer model can automatically detect the bags, it means that all you have to do is just put this bag into the mouth of the machine.
When the device makes sure it detected the bag correctly, it will start removing the air.
Built-In Bag Storage
The next feature is the one I, personally, like the most. I think this is one of those features every vacuum sealer should include. It is about a built-in bag storage location for a bag roll.
Vacuums sealers, which have this feature, usually include a bag cutter as well. Thus, you can create custom-sized bags for the food you seal. You are not the one who chooses the bag sizes, and nobody else.
If your food sealer does not have this feature, that's fine, but if it had, you would be able to control the plastic waste.
"Seal Only" Button
This feature is connected with the previous one. When you use the bag cutter, thus deciding on the bag sizes you are interested in, you might cut it from the two sides. This means that you want to heat seal the bag from one side without removing the air at this particular moment.
If you have a "seal only" button, it means that your machine can heal seal the bag without starting to eliminate the air from it. I would even say that if you are actively using your bag roll to regulate the bag sizes, this feature is a "must-have."
It makes vacuum sealing more convenient and reduces the waste of plastic (and money, actually)!
Vacuum Sealer Bag Alternatives
If you have ever seen how to vacuum sealers work, you probably noticed that they use special bags (where you place the food). No matter how long you will try sous-vide cooking with ordinary plastic bags, it's not going to work. That is because chamber sealers require special types of bags.
What makes these bags so special? The main feature is the presence of a small bump on the bag. These bumps serve as the pathways of the air to leave the bag. When you turn on any of the chamber sealers, they all start to drain the air from the bag through this small hole.
Usually, chamber vacuum sealers have their own vacuum bags included in the package. When you run out of them, you have to make the right choice and pick the correct bags.
Today I will tell you about three main types of bags that might fit your sealer. These are:
Ziplock Bags
Mylar Bags
Vacuum Sealer Bags
I believe everybody heard of these ziplock bags. Many of you, for sure, had a chance to use them as well. Everybody likes this kind of bags because they are easy to use. You just put whatever you want in the bag and lock it—as easy as it sounds! Besides, they are easy to get—check the closest grocery store. Chances are you are going to find them there.
But when it comes to using these vacuum zipper bags with a chamber sealer, problems arise. The truth is that not every zip-bag will fit your machine. You have to buy special ziplock bags, and they are pretty expensive.
If you try to use an ordinary zipper bag, you will most likely face some obstacles. But if you are not scared of trouble, watch this video. You will get some knowledge that will be useful if you try to apply ordinary ziplock bags with chamber vacuum sealers.
Mylar bags are a popular way of preserving food for decades. If the package is usable, it will remain stable and keep your products from spoilage.
However, it is not that easy to usage when it comes to applying it to the chamber vacuum sealers.
It requires a channel for the air to leave the bag. That is why you have to add a special plastic strip to make these bags work for you.
Now let's talk about bags created specifically to get vacuum sealed. Each bag has a small bump on it. This bump is used to remove the air from the bag itself. When the sealers start sucking the air, the bags shrink, heating element then melts the plastic to "clog" the food, leaving it vacuum-sealed, thus extending its shelf life.
I prepared a special list for those who trust my opinion—here you can get the information about great bags for routine use.
However, if you are interested in longer storage, you should better reread the "Mylar bags" section and obtain these bags. They are much better for this purpose.
Why You Have To Get A Vacuum Sealer Now
Space Management
One of the important but probably, not obvious advantages of vacuum sealing is the compactness of the results. No matter what you are planning to use it for, be it the food or the clothes, after packaging and sealing, your items will become smaller.
This allows for a better organization of the space around you. Think of stocking your belongings this way – you will always be able to find exactly what you need if the stuff is organized correctly.
Preparedness
Another, maybe the most significant advantage of obtaining this device is connected with the food storage. This is an available way of keeping your meals eatable for decades.
As a man who is in this topic, I have already shared ideas about packaging and saving your foods. Here they are:
I have read a lot of literature devoted to the possible ways of food preservation. I also had a chance to try many of them by myself. And the best of all, from my point of view, is a freeze-drying technique.
The food after a freeze-dryer remains fresh for years (usually up to 30 years), which is the perfect option for true survivalists. The device works the following way:
You place the food in the machine.
The temperature lowers
The vacuum chamber removes the moisture from the product.
And these simple steps let your food live a long life without changing the taste or the texture.
The only and the most disappointing thing about freeze-dryers is that they are too expensive. The small units cost something about 2000$, and what if we think of more advanced machines? Hardly can everybody afford one that easily.
The next wonderful alternative is our old friend—a vacuum sealer. It costs something about 200$, which is 10 times smaller than a simple freeze-dryer.
As you already know, the sealers remove oxygen, thus not allowing the bacteria to multiply. These bad guys live only if the conditions (meaning oxygen and water) are present. We eliminate something—they die. Simple as it can be!
Without these bacteria, the food can survive a long-lasting shelf-life. This is what it means to be prepared.
Learn more about correct food storage here.
Waterproofing
Thanks to the sealers, to can make water-resistant everything you want to protect from moisture, be it matches for the bug out bag or the firearm for the survival cache.
You can use the sealer to protect clothes or important documents. No matter what you put in the vacuum bag and vacuum seal—it becomes waterproof.
Waste Question
As a survivalist, I prefer getting those prepper items that recoup.
Have you ever thought of the problem of food waste? If you have, you probably know that more than 20% of all food bought in the stores gets thrown away because of spoilage. Very often, people fail to estimate how much food their families need, so they buy a lot, and then it gets spoiled.
The most "popular" foods of this "gone-bad-ahead-of-time" category are fruits, vegetables, milk, and meat.
On the other continents, people lack food, and we are throwing it away… What is wrong with this world?
So, the solution seems clear—go get a vacuum sealer, which will help you protect food from premature spoilage. This is what responsible citizens of the planet do—they think of the waste and try to reduce it. A vacuum sealer is a great helper in this mission.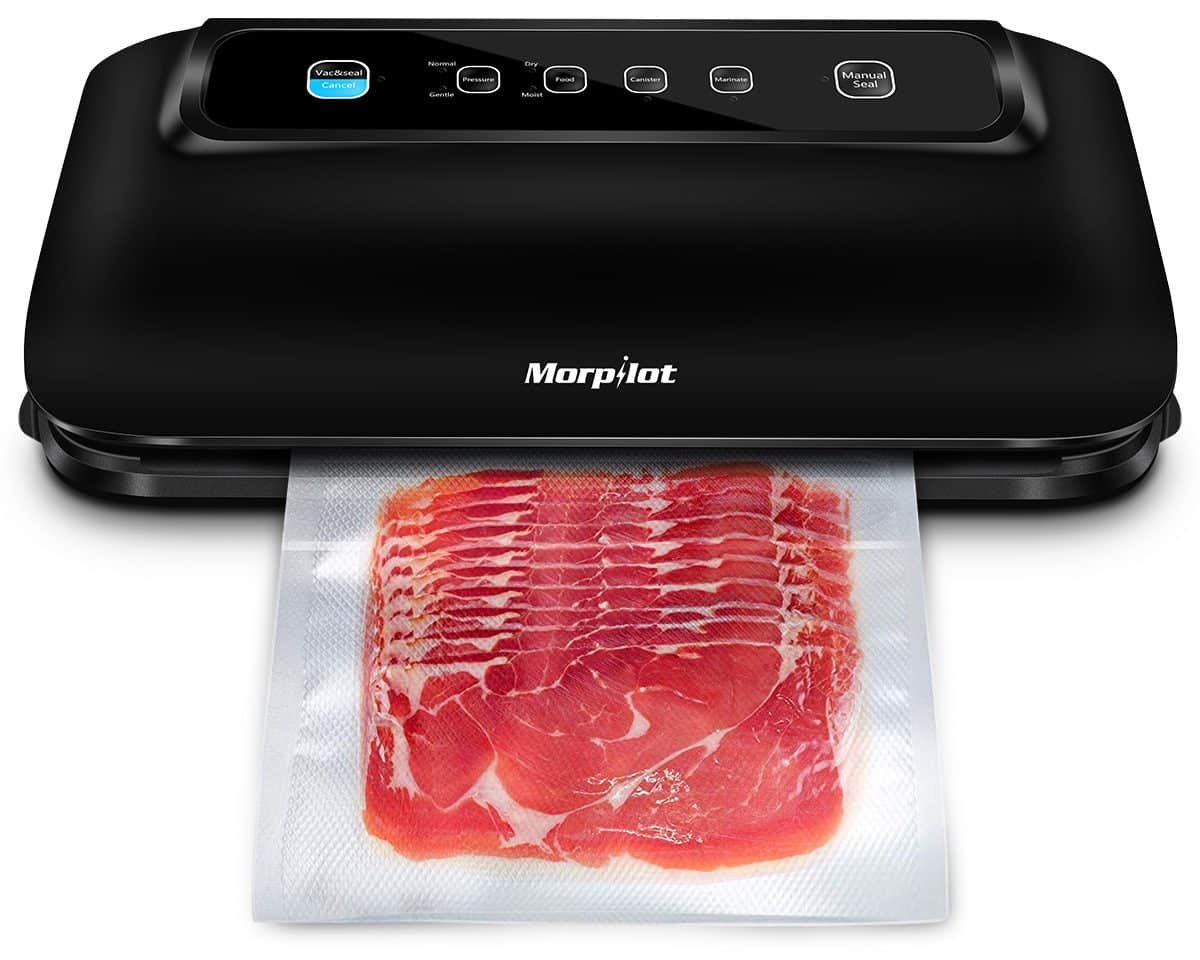 Best Vacuum Sealer Summary
If you do consider yourself to be a true survivalist, go get a vacuum sealer. These wonderful machines combine useful features helping you to protect your foods from quick spoilage. A pulse feature makes using it even easier.
Many of the devices have clear instructions. Besides, the tutorials on them are numerous—this means you won't have to think over their bells and whistles too long.
Want to live a resilient life? Vacuum sealers can become a great complement to such a lifestyle.
Frequently Asked Questions – FAQ
Which vacuum sealer should I choose?
There are several models that definitely deserve your attention. Try checking FoodSaver or Geryon products, and they are reliable manufacturers on the market of vacuum sealers. Anyway, pay attention to several features your sealer better have. These are the presence of the accessory port and automatic bag detection.
Are vacuum sealers worth it?
Yes, vacuum sealers are definitely worth it. For the cost of about $200, you will get a great opportunity to extend the shelf life of your food. This is a reliable way to remove harmful bacteria and thus protect your body from illnesses. These machines are not difficult to use. Some of them are pretty compact, so you won't have to free up much space in the kitchen.
How do I choose a vacuum sealer?
When choosing a vacuum sealer, check what features it has and what it can do. You should pay more attention to the models, which provide an automatic bag detection function and those which have the accessory port. If your future sealer has a "seal only" button, this feature might also become useful, especially if it allows regulating the sizes of a vacuum bag.
How to make a bag from a bag roll?
Many of the modern food vacuum sealers include the function of bag size regulation. It becomes possible thanks to the so-called bag cutter, which a user implies to change the size of the plastic bag. You take the plastic from a bag roll, then cut it with this device. This technology helps to reduce plastic waste and thus reduce money waste as well.