A thermal imaging monocular can be a life-saving device, especially if you often go hunting at night or during some extreme weather conditions, like heavy rain or fog. There are many thermal imaging devices on the market nowadays; however, a handheld thermal monocular might be the most convenient one.
Unlike the thermal cameras that are mounted to the rifles, thermal imaging monoculars are less heavy and easier to carry around. Thus, when you don't want to shoot yet, but still need to observe your surroundings properly, such a thermal imager can be the most optimal choice.
Thermal monoculars are used to detect heat signatures in places where the human eye cannot see anything. Whether it is dark outside, the weather is bad, or you simply do not have a perfect vision and need something to help you, a thermal imaging monocular will certainly be of great use.
Before buying a thermal imaging device, you need to make sure it is of proper quality. Buying the best thermal monocular from the available options will not only provide you with a good quality product but also reassure you that no money was wasted.
Want to have a quick look at the best thermal monocular devices? Check out our list of the top five thermal monoculars that are currently available on the market:
Best Thermal Monoculars top 5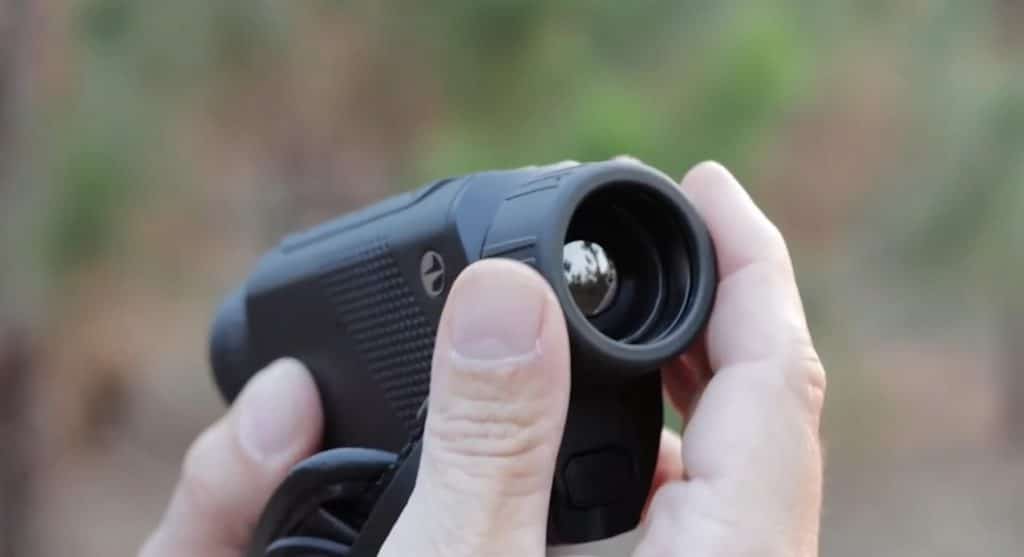 To help you with the choice, we have analyzed the products and chosen the best thermal imaging monoculars. Each of them has its own benefits, which will be discussed further. Read through and decide what thermal imaging monocular suits the best for your purposes.
If you need a compact thermal monocular that has high magnification qualities, then Pulsar Axion Key Thermal Monocular is the right choice for you. This is a great thermal monocular for hunting, as it provides a clear picture even when you are 1,300 yards away from the target.
The high resolution of 320 by 240 pixels allows you to have a great vision of the environment around you. Also, the pitching core has a 12 um pixel resolution. You can recognize a heat signature easily, due to several color palette options. Choose the one you like or the one that you are the most comfortable looking at and see the body heat of birds and animals on your display.
For instance, if you are going to observe the prey from a far distance, you can choose the monochrome red palette. However, if you want something to look at on the go, you might want to choose the white-hot one. Overall, there are eight different color combinations that are made for different purposes and preferences.
Thermal technology on Pulsar Axion Key Thermal Monocular is not its only advantage. You can also record the thermal image you see on the screen. The thermal camera provides great image quality and stable recording. You can film up to 16 GB of footage without worrying about running out of memory. Once you are done with hunting, you can download everything to your mobile phone or computer using a USB cable.
What is more, Pulsar Axion Key Thermal Monocular has a native app, which allows you to connect any device to the thermal imager. Thus, you can transport files without using a USB cable as well.
This thermal device is made properly, so you should not worry about its durability. It will last you for a long time for sure. Although the battery life on this particular model is not the most enhanced, the overall functionality of the product makes it one of the best thermal monocular tools on the market.
The best thermal monocular for hunting during the night is definitely FLIR Scout Thermal Imaging Monocular. This device will indicate heat signatures even when it is pitch black outside. High resolution is guaranteed to you even when the weather conditions do not allow you to see anything clearly with a naked eye. And easy navigation with functional buttons on the screen makes your experience of using the thermal cameras even easier.
Being one of the most convenient handheld thermal monoculars, this model is easy to hold and carry around. The size and the weight are minimal compared to other products of this type. However, such small dimensions do not make the high-quality thermal monocular picture any worse. With such a compact thermal monocular, you will be gifted with an excellent night vision.
High magnification allows you to get a stable thermal image even from 100 yards away. The target will be shown on the screen with a good image quality even if you are far away, due to the big detection range. This is good for anyone who likes to approach the prey slowly from far distances.
The degree of view on FLIR Scout Thermal Imaging Monocular is 20 by 16. It allows you to observe a big part of the environment before you. Also, such a thermal sensor resolution makes it easier to use the device outside. Depending on your needs and purposes, one or another color combination might be useful. Nevertheless, the thermal sensor shows a good quality picture in any of these palettes.
From the thermal imager, you can get a picture demonstrated in one of the three color palettes:
Hot black and white;

Graded fire video palette;

InstAlert.
When you buy FLIR Scout Thermal Imaging Monocular, you get several items in the package. The product comes with the thermal imaging device itself, a lens cap, a lanyard, and a USB cable.
This handheld thermal monocular is very durable. It is resistant to any water or pressure damage, and you cannot break it easily by dropping or hitting it with something during hunting. Moreover, if you find some flaws in the product, you can return it with a two-year warranty on the parts and a ten-year warranty on the thermal scope itself.
Some customers have not one small disadvantage of this product. As you know, the thermal imager might not update the picture shown on the screen instantly, and it always takes some time. For some people, the update rate on this model seems too slow, which can affect the quick identification of the target.
For those of you who are looking for a thermal vision monocular that works great at night, there is the Solomark Night Vision Thermal Monocular. It has exceptional quality and a good thermal camera installed. Moreover, it can detect infrared radiation because of the infrared detector that is built inside the device.
The infrared detector can notice any target from the 328 feet distance. Even if you are in complete darkness, the image quality will come in high resolution. However, if you do not want to waste the battery life, you can turn off the detection of infrared radiation. It will not affect the quality of an image, because the device is sensitive even to the low light.
The display resolution of the screen is 320 by 240. The heat signatures can be identified with a 14-degree view. The digital zoom which is present on this thermal monocular allows you to get the best thermal picture, due to the high-quality optics.
If you use thermal night vision monoculars for picture and video recording, then this option is quite suitable for you. The Solomark Night Vision Thermal Monocular does not come with inbuilt memory storage, but the manufacturer provides an SD card with 1 GB of memory. Once you get all the footage, you can send it to your mobile phone or computer using the USB or the AV port.
The Solomark Night Vision Thermal Monocular has a long battery life of five hours. It is also small in weight and size, so you can transport it without even feeling its presence in your hunting bag. Also, the thermal monocular comes in a package with the necessary cables, a carrying bag, and a neck strap, so you can always have the device at hand.
This option is one of the best thermal monoculars for its price as well. This affordable thermal scope has all the functions that the more expensive versions have, yet it does not hurt your wallet. What is more, the thermal sensor comes with a two-year warranty, so you can return it if some problems appear.
One of the disadvantages noted by the users of Solomark Night Vision Thermal Monocular is its bad long-distance detection range. So if you are planning to observe the terrain from a far away, this might not be the best option.
Another great handheld thermal monocular that is on the affordable side is AGM Asp-Micro TM160 Thermal Imaging Monocular. Despite having a lower price, this model boasts unique features, such as long battery life, digital zoom, distance measurement, and many more.
A 160 by 120 sensor that can detect infrared light allows you to get good image quality even if it is completely dark outside. To achieve high resolution, a 720 by 540 LCOS screen is used. This display will show you everything around in the best quality.
One of the most distinguishing features of this cheap thermal monocular is its distance measurement. The AGM Asp-Micro TM160 Thermal Imaging Monocular can calculate the distance between you and your target automatically. This function can help you to regulate the trajectory of shooting and achieve an accurate shot. What is more, the dimensions of your prey will also be measured. The thermal device will calculate the height automatically, by measuring the upper and the lower parts of its body.
AGM Asp-Micro TM160 Thermal Imaging Monocular does not only detect heat signatures, it also shows you where the hottest spot is and displays current temperature patterns. The handheld thermal camera can translate the picture in one of the four-color palettes, which makes it easier to use the device both night and day.
The detection range of AGM Asp-Micro TM160 Thermal Imaging Monocular is from 30 to 150 yards. The digital zoom works best at shorter distances, however, if your target is big enough, it can be useful for longer ones as well.
The battery life of this thermal imaging tool is up to seven hours. If you need to save it for as long as possible, you can turn off the Wi-Fi feature, which is mainly used for taking pictures, recording videos, and sending them to another device. Another tip for achieving a long battery life is to turn off the device completely, whenever you do not need to use it, instead of just putting it in a sleeping mode.
One possible drawback that a hunter might meet when using this product is the limitation of the optical zoom. This low-budget thermal monocular does not have an excellent detection range for long distances. Nevertheless, for the price you pay, you get a good quality product that should satisfy all your basic needs.
The best thermal monocular in terms of durability is definitely the Leupold LTO Tracker 2 Thermal Viewer. This is one of the thermal scopes that are going to last through any conditions, no matter what you put it through. The durability combined with the compactness makes this product loved by many experienced hunters who like to go out in the woods at night.
Like all the thermal devices from our list of top models, Leupold LTO Tracker 2 Thermal Viewer has minimal weight and does not take up much space in your hunting bag. Moreover, it has a comfortable grip that allows you to hold the thermal monocular firmly and with almost no effort.
It is not called the most durable thermal sensor for nothing. The body of the thermal monocular is made of aluminum, and the lense is pure Gorilla glass, which is used for electronic devices. Such a proper form makes this product resistant to any damage, scratches, and corrosion as well. Moreover, the rain outside is no problem for the Leupold LTO Tracker 2 Thermal Viewer due to the water-resistant body.
Speaking of technical qualities, there are many that can impress even a professional. The operating temperature range on this device is 600 yards, meaning you can detect any heat signature even if you are this far away from the target. The thermal sensor translates its picture to the display, which has a resolution of 240 by 204 pixels.
To make sure that the detection range allows you to view the prey properly, the manufacturers of the Leupold LTO Tracker 2 Thermal Viewer have included seven different settings for the digital zoom. So, even if you stand far away from an animal, you will still be able to receive a great image quality with high resolution on the display.
More details about the monocular
The thermal scope has six different settings for the color combinations shown on the screen. Depending on the weather conditions and the time of the day, one or another color palette might be suitable. Also, if you have some personal preferences or health conditions that do not allow you to see certain tones of colors, there is always a chance to switch the display mode to a different one.
Another notable advantage of this model of a thermal monocular is its image stabilization software. Although it works only during the day when there is enough light, it can still be very useful for your observations. What is more, this handheld monocular has a calibrator that enhances the color highlights of the heat signature coming from the target. This improved contrast allows you to understand the dimensions of the prey better.
Those who love supporting domestic production should seriously consider buying this thermal monocular if you are looking for one. This thermal imaging device is produced in the United States, which is one of the many guarantees of its quality.
Although there are no significant drawbacks, some customers note that it would be convenient to include a lens cap in the package. Despite the glass being durable enough, you never know what might happen to such a fragile detail of the device. You would not want to spend all that money on a thermal monocular just to get the main part damaged quickly.
Thermal Monoculars and Night Vision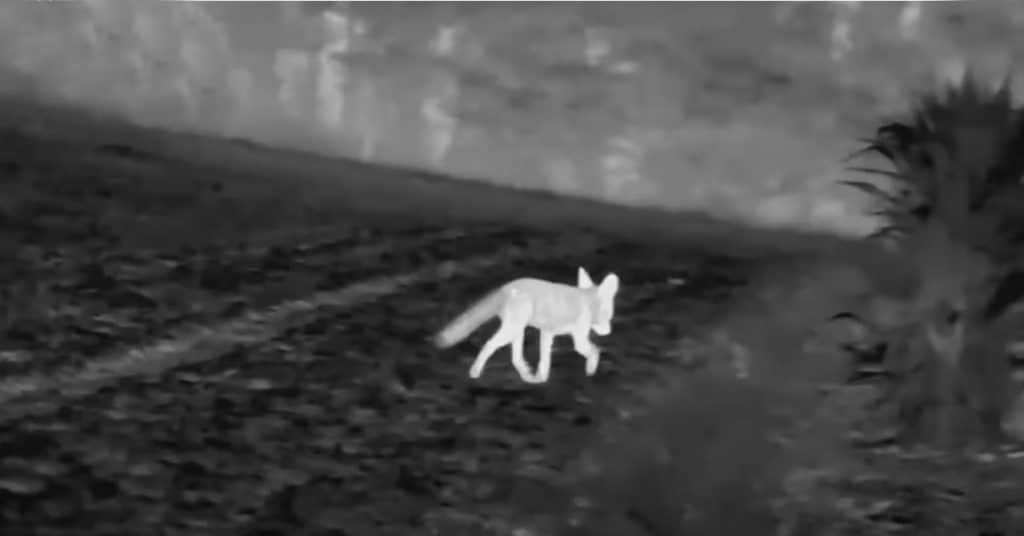 A lot of people have a similar association for both a thermal monocular and a night vision device. It is quite obvious that the two mechanisms help people to see the target in difficult conditions better. Night vision monocular, as well as thermal monocular, is widely used by hunters to look for prey at night. However, the latter can also be used during the day, if there are some obstacles like heavy rain, dense fog, or even smog.
Using a thermal monocular during the day can be very beneficial even if it is clear outside. The animals will not stand still and wait for you to catch them. If you happen to lose the track of your target, handheld thermal monoculars can come in handy. They allow you to see the animal even if it has escaped from your line of sight. You will not be able to do such a trick with a night vision monocular.
Thermal Monocular Usage Areas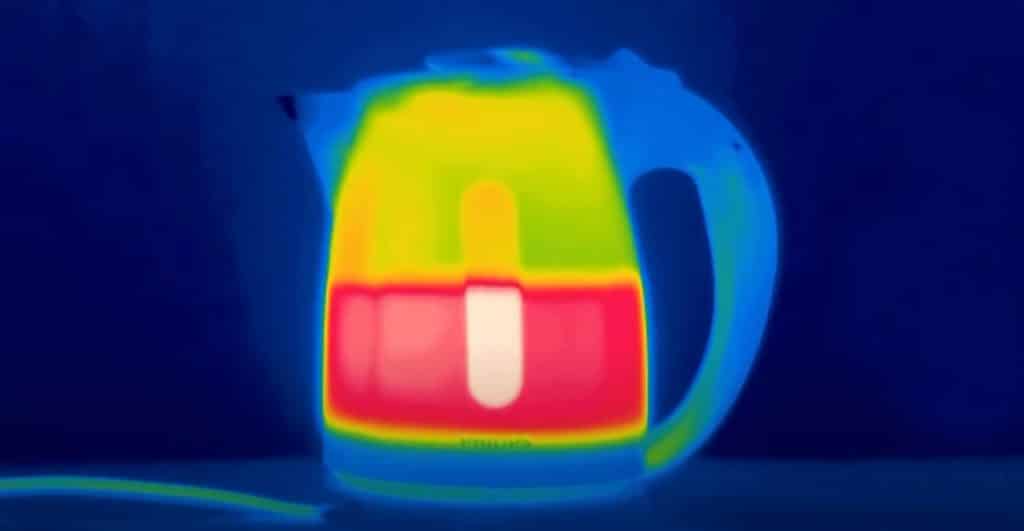 Although we have discussed thermal monoculars only in terms of their hunting device function, there are plenty of other ways that one can implement a thermal imaging device in their life. While not all of them might be applicable to an ordinary person, it might be interesting for you to know what spheres of life frequently use thermal monoculars.
Any thermal monocular has plenty of functions. Here are some of them:
Providing security

. If you feel like security cameras are not enough, you can always install thermal devices around your property. They are sensitive to any signs of intrusion, and even if the cameras will not see a person in the dark, the thermal sensor will.

House inspection.

If you are building or renovating a house, thermal sensor checking can save you a lot of money in the future. The device can indicate any gas leaks, bad insulation, or water leaks that might not be visible to a naked eye.

Medical observations

. Hospitals sometimes use thermal sensors to find problematic spots on your body. If there are damaged tissues, inflammation, or fever symptoms, the scanner can indicate where exactly the problem is. This allows doctors to treat any health troubles quickly.

Marine military.

It is no secret that the military uses thermal scopes and sensors on their ships. They do not only help to identify enemies quickly but also detect any potentially dangerous icebergs or people in the water who might need help.

Production engineering

. To make sure each step of a production line works properly, engineers use thermal imaging devices to indicate any overheating. If there is some part of the mechanism that has a higher temperature than usual, the problem is urgently fixed, so that the production would not have to stop.

Electricity inspection.

Similar to the production engineers, electricians often use a thermal sensor to detect any signs of overheating in the electrical systems. This helps to prevent many serious problems caused by malfunctions of electrical devices.

Law operations

. Many of us have seen how police or the FBI tracks hidden criminals by using a thermal sensor. It is widely applicable in real life as well, and it allows you to catch any lawbreaker even without seeing them.
As you can see, there are a lot of ways by which a thermal device can be used. Although not all of us look for icebergs or catch offenders daily, it is still important to know how you can implement even a small handheld thermal monocular in case of an emergency.
Good Thermal Monocular Buyer's Guide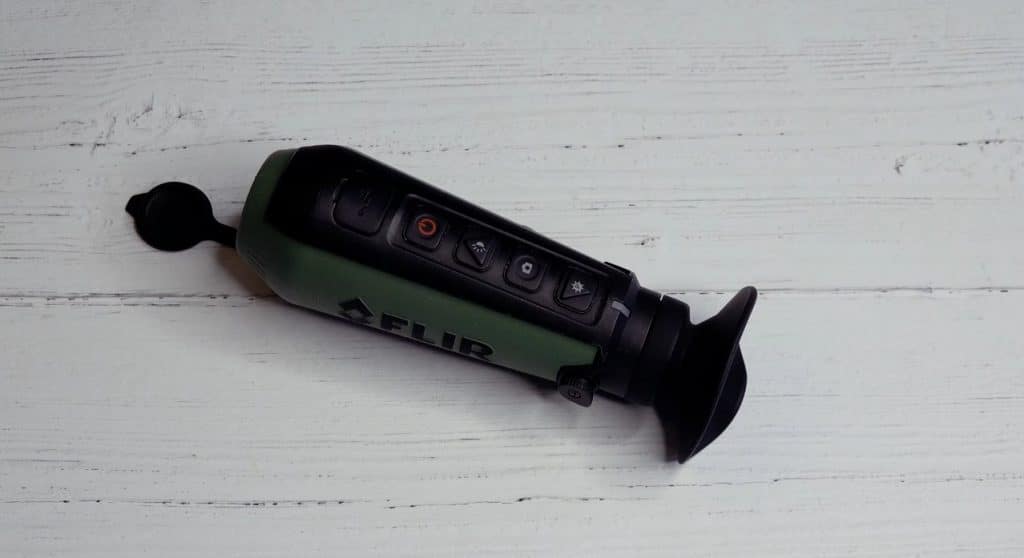 Analyzing all the products on the market might be a complicated and overwhelming task, especially if you have never owned a thermal monocular before. Those who are looking for their first thermal imaging tool might not be sure what to pay attention to. There are many products that claim to be the best ones, but in fact, only a few of them deserve to be called this way.
So, how to find the best thermal monocular if you do not know what you are looking for? First of all, you need to decide for what purposes you need the thermal device. Whether it is long-range or short-range shooting, video recording, orientation in the area, or any other reason, there is always a good thermal monocular that will suit you perfectly.
However, any thermal monocular should meet several crucial criteria. Without them, the quality and functionality of the product significantly decrease. And as the price for such devices is not always small, you should aim for a good product, so you do not spend any money on a poorly working monocular.
We have created a detailed guide on how to choose the best thermal monocular. When looking for a good model, see if it meets the conditions described below and only then make your final decision on the purchase.
1. Battery Life
In the age of technologies, it is no secret that battery life is important. No electronic device is useful if it dies quickly, especially if you are planning to take it to the wild. The same thing is applied to thermal monoculars.
In general, the longer the battery life, the better. You do not want to be in the middle of nowhere without any device showing you some signs of life. Moreover, it would feel horrible to lose the track of an animal after a long chase.
Although the best thermal monoculars always have quite big battery life, they usually also include many different functions. We are not saying that a multi-functional thermal monocular is bad, however, those extra features might drain your battery much faster.
In these cases, choose the models that allow you to turn off these features. Otherwise, opt for the products where the functionality is just as minimal as you need.
2. Thermal Resolution
Thermal resolution is all about the quality of the picture you see on your screen. Good thermal monoculars translate a clear image with properly distinguished features of your target to the display. Thus, a thermal sensor resolution is one of the most important parameters that should be checked before the purchase.
Quite a good thermal sensor resolution starts from the range of 480 by 460 pixels. You will be able to see the picture properly, however, there are even better options. But if you do not have the fortune to spend on this hunting device, then such thermal sensor resolution should be enough.
3. Magnification
If you want to be able to see the prey even from long distances, make sure that your thermal monocular has proper magnification. Basically, it shows you how much you can zoom in on your picture and how good the quality stays.
There are some models that come with digital zoom and other advanced zooming options. They might cost a bit more, but if you are planning to shoot long-range, then those features can be very convenient.
4. Detection Range
Detection range is a crucial feature of any thermal monocular. It shows how far the thermal scanner can work and at what maximum distance it can detect any heat patterns. Of course, the bigger the detection range, the better.
Any handheld monocular that has a high detection range costs more than the devices with a shorter one. Depending on your amount of experience and the target you are aiming for, a big detection range can be either very useful or not necessary at all.
In general, it is always better to have a thermal monocular with a bigger detection range, especially if the budget allows it. You never know when you might suddenly need to follow an animal or watch it from far away.
5. Display Color Options
Any basic thermal monocular should have several display color options for you to choose from. Otherwise, you might not be able to see the target properly, even if you have an extra good thermal scanner.
Different color palettes allow you to see a different amount of heat and energy radiated from an animal. When one color combination might show a blurry picture with hardly distinguishable silhouettes, another one might give a perfectly clear and easy to grasp image.
Although, nowadays the majority of thermal monoculars come with at least three or four color palettes, there are still some companies who make the devices with one color combination only. It is done to make a cheaper product. However, the quality suffers from such an economy as well.
6. Size and Weight
Carrying a chunky and heavy device everywhere with you is really inconvenient. You do not want to add some extra weight to your firearm and hunting bag. A thermal monocular should have a small weight so that you can transport it easily.
Moreover, thermal monoculars that are made to be held in hand should not be too big. Otherwise, it will be uncomfortable to put it away quickly when needed or to use it during shooting.
7. Durability
Hunting is not an activity during which you can walk around carefully and gracefully. You are always on the go, with branches getting in your face and hard stones under your feet. If something falls, it should not break down easily.
The durability of a thermal monocular should be good enough to resist water and any external pressure. The weather can change quickly, and if your device is not waterproof, the hunting might end right there.
Also, pay attention to the quality of the thermal optics. The lense ideally should be made from scratch-resistant glass. If a lens cover comes in a package to protect the fragile part of your device, it is a benefit.
8. Price
We have already mentioned that the price for thermal monoculars is not low at all. While you might find some good affordable options, still, they are not as cheap as other shooting devices, for example.
Overall, the price should be rational. If there are only the basic features included, but the price is the same as for the multi-functional thermal optical device, then the purchase is probably not worth it. Look for the tools that have as many features as you need at a price that is not insanely high.
9. Some Extra Functions
Your thermal monocular does not have to be fancy and full of different features. Its main goal is to detect heat signatures and help you to shoot when visibility is poor. However, having some extra functions that can improve your hunting experience is always nice.
If you like video recording and you want to document your experience, then choose the monoculars that have internal memory or wireless connection to other devices. These features will allow you to save the filmed footage and then send it anywhere you like.
Some other great functions that one can sometimes see in these products are compass and range-finder. They are not always necessary, but it is good to have them just in case.
Choosing the Best Thermal Monocular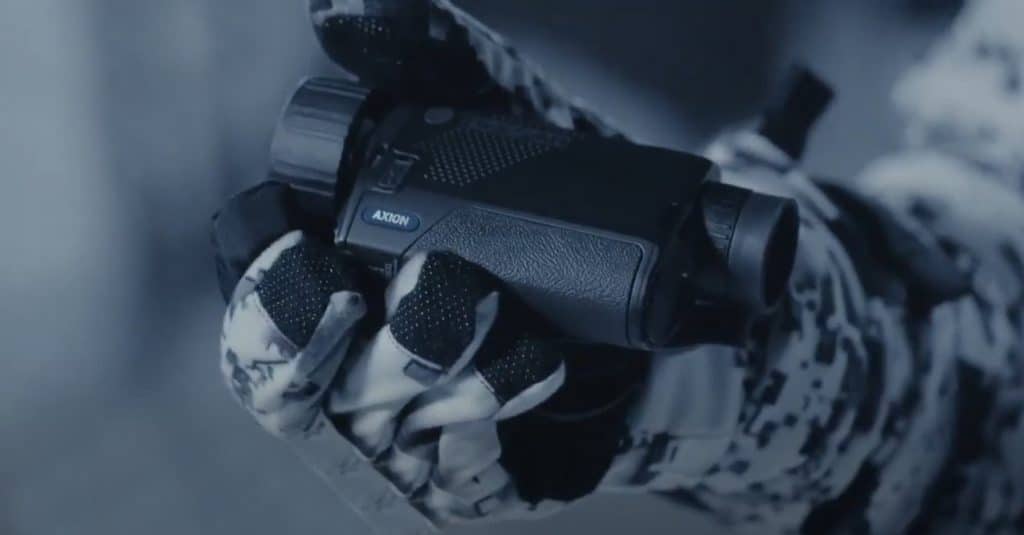 In our list of top-five thermal monoculars, we have included products that have excellent quality and top-tier functionality. If you do not want to spend time researching the market for a good option, you can safely pick one from the list.
For those of you who want to make sure that the model you are buying is the best, we recommend checking the product by the criteria we have mentioned above. They will help you to filter some bad choices and distinguish the good ones.
All of the thermal monoculars included in our top-five follow all the criteria. They are good for different hunting techniques and all of them have a great variety of functions that can be useful to you.
Frequently Asked Questions — FAQ
How long do thermal monoculars last?
The battery life of different thermal monoculars varies. Those products that last longer usually have a higher price. Some models might last up to 16 hours, while others keep the battery only for 5-6 hours. Keep in mind that some additional functions might take a lot of energy and your battery can die faster because of them.
How far can you see with a thermal monocular?
Depending on your thermal monocular, the detection range can vary from a very small one to the bigger one. Some of the best thermal monoculars allow you to see more than 1,000 yards away. The bigger the range the better, however, it is not always necessary, especially if you shoot at short distances.
Can thermal scopes see through the bush?
Thermal scopes are strong enough to indicate heat signatures even if a person or an animal is standing behind a tree or a bush. This is impossible if you have a night vision monocular, and that is why many hunters prefer a thermal monocular. Note that seeing something through walls is impossible even when you are using a thermal scope.
Why are thermal imaging monoculars so expensive?
Thermal monoculars work using thermal technology. It is a complicated device that includes many different features at once. If the display resolution, detection range, magnification, and other important features are on the highest level, the device will cost even more. Despite its price which might be unappealing to some, the functionality of thermal monoculars cannot leave you unimpressed.