Are you seeking a solid pair of tactical boots at the moment? You're on the right track as these boots are called "tactical" for a reason — they're a big step to building the right survival tactics.
As you may guess, initially, tactical boots were meant for military staff though recently have become much more than military boots being both a universal worker's companion and even a fashion trend. Being solid, comfortable, and reliable at the same time, these boots may last a decade and allow their owner to endure the wildest habitats and the most severe surroundings. Who wouldn't like a couple of best tactical boots like these?
And that is just another reason to discuss why and when one should wear tactical boots, which factors contribute to the boots' top-quality reputation, and observe the 10 best tactical boots models on today's versatile market.
TOP 10 Best Tactical Boot Models On Today's Market
On our list today, we only included the boots that showed the best results in our tactical research: this means we will enumerate the models which are at the same time comfortable, top-rated, proven, cost-effective (though the price rates surely do differ depending on the model) and do protect your feet.
Each of the following models deserves to become one of the best tactical, outdoor, or survival boots for you.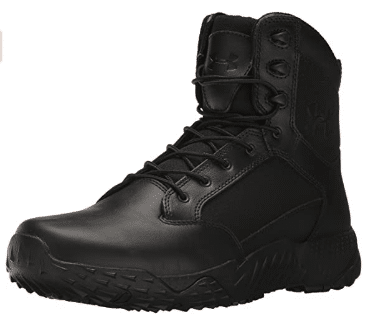 Here is how Under Armour Men's Stellar Tac Side Zip Sneaker model looks like:
Under Armour has a long brand story that started in the athletic wear market. Hence the following sportswear features their boots do have:
A special lightweight design meant for moving speedy and remaining maneuverable.
Leather plus 9D nylon textile combination providing a mild and very light upper
Molded EVA midsole with reinforced TPU shank for support and protection.
UA Storm gear applies a DWR finish to repel water and keep some breathability.
The Stellar tactical "sneaker" is a great example.
These are minimalist-styled black boots made of fabric or textile with leather soles, not fully water-resistant though supplied by DWR treated leather and a quick-dry design. Therefore you may not worry about walking miles straight during the drizzle or randomly stepping into a puddle.
The wicking liner owns an antimicrobial treatment impeding bad odors.
The leather looks shiny and nice but seems scratchable, though.
There were some doubts about their durability in several reviews, which would not be a surprise for such extremely lightweight boots, but we will leave them to potential production deficiencies.
PROS
Light, agile, maneuverable
Dry quickly
Have an antimicrobial liner
CONS
Not 100% waterproof
The side zip goes not-so-smoothly
Leather seems easy to scuff
Watch the 1-Year Review of Under Armour Men's Stellar Tactical Boots and decide for yourself.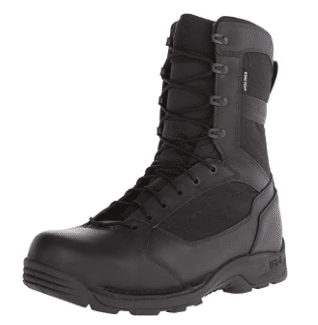 Danner Striker Torrent Side-Zip Duty Boot
Danner is a long-liver brand on our today's list famous for manufacturing reliable boots for over 90 years. They're true Americans manufactured in the USA and fully Berry Compliant boots. Besides, they are supplied by a 1-year warranty.
Their Striker Torrents boots have a proven reputation for being among the top five highest-rated tactical boots.
And their lightweight would be something worth sacrificing at 54oz. But these black tactical boots feature full-grain leather — a material that does last for years whatever the abuse and 1000 denier nylon uppers.
Besides, the leather is easy to polish in case a uniform military lineup or a dress-up occasion takes place. These boots own a reliable Gore-Tex waterproof membrane liner and are easy to put on due to the side zipper and speed lacing system.
Some reviewers state, however, that the boots seem too rigid or under-sized on the first try, and the full-grain leather design may feel uncomfortable after a break-in. But most owners of those several pairs of Danner work boots report that this feeling comes and goes, the leather molds to the feet and adapts gradually, and the boots do last long compared to several other popular models.
PROS
Quality built and resilient design
Easy to put on and off
Comfortable after break-in
CONS
Adaptation period required
Narrow toe box size may not fit each customer
Find the actual price for Danner Men's Striker Torrent Side-Zip Duty Boot.
Watch the Danner Striker Torrent GTX: Duty Boot Reviewed by a customer.
Merrell hiking boots and outdoor shoes are quite popular, and many of us have worn them for years. Their major asset has always been their comfort, among others. Tactical boots designed by this brand are luckily not an exception.
The Moab 2 Waterproof Black Tactical Boot is an extension of the well-known line of Moab hiking shoes and boots with several extra characteristics added to upgrade the light build.
First, the Moab 2 Tactical Boot is flexible, a factor that allows keeping the agility of a much less hefty boot. Next, it has a nylon shank delivering extra comfort, keeping the weight down, and warming up your tired feet more than a steel shank would do.
A small tip regarding the size: the manufacturer claims this model is an 8″ boot, though some reviewers noticed their Merrell boots are cut lower than average. It's practically a bit over ankle height but surely lower than 8″ outdoor work boots, as stated.
Nevertheless, The Moab 2 Tactical boasts an advanced waterproof membrane called M-Select DRY, preventing your feet (while being new) from soaking regardless of how tense the rain or moisture around you is.
As it happens to most waterproof membranes, sooner or later, it will leak. Areas that bend strongly, such as the sides of the toe, always let in some water if immersed in water for a long time. But it will repel water securely, at least for some time.
A brand like Moab 2 Tactical Boot is famous for manufacturing a breathable kind of shoes. Yet do not think of them as fully breathable summer boots as they're going to feel warm because of the dense padding and waterproof membrane. And changing your socks regularly wouldn't hurt either.
PROS
Feel very comfortable right out of the box
Waterproof membrane providing extra security
Breathable in dry weathers
Slip-resistant due to aggressive Vibram sole
CONS
Water-resistant membrane liner won't last forever
The promised 8″ height is, in fact, a bit lower
Still, before tackling the great outdoors in your Merrell Moab II tactical boot, we recommend watching the Merrell Moab 2 Tactical Boot unboxing.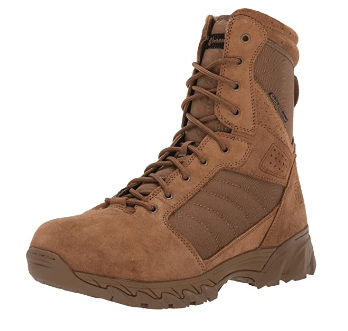 Smith & Wesson Breach 2.0 Waterproof Zip Tactical Boot
Who hasn't heard of Smith & Wesson? But it's not about the firearms now, and it's about tactical boots such as the Breach 2.0 Tactical Boot. The popular brand now manufactures clothes and accessories as well, and their boots are worth checking out. This model is presented in two classic boot colors – Black and "Coyote" brown, which is the pleasant tan tint.
The Breach 2.0 has long-wearing uppers made of leather in high abrasion spots. And due to the padded nylon panels, the overall weight of this model is lighter, and some extra breathability is provided.
Some reviews outline that even though the leather is made with a deserving quality, its finish is rather thin and prone to scruffs. However, the Breach 2.0 Waterproof Boot has a waterproof membrane.
The EVA midsole feels fine and smooth after the first try and is surely very light, but it will do what we already mentioned after a while — it will pack out a bit after intense wear.
This model includes a non-marking sole of slip-resistant rubber with a sharp lug pattern which is great for the harsher wilderness.
The side-zip entry is always helpful and time-saving, the zippers look fine, and the crucial arch support is offered thanks to the stiff steel shank inside their sole.
PROS
Resilient YKK side zippers
Budget-friendly price
Relatively lightweight
CONS
The leather finish seems to be prone to scratches
Do not fit hot outside conditions as they feel warm inside because of padding in the uppers
Some stitching failures were reported after tense usage.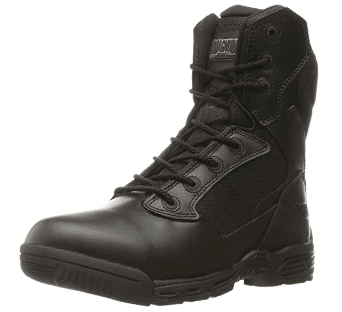 Magnum Stealth Force Side Zip Tactical Boot
The tactical boot market today is still not very balanced in terms of gender equality, caring more for survival, and wilderness gear meant for men. However, it would be unjust in all senses, not to mention the ladies' boots here. This is all the more necessary as this model truly deserves inclusion on our list.
The Magnum Stealth Force is a well-built black-colored tactical boot designed especially for women.
They are built to last and feel comfortable: their full-grain leather and 1800 denier nylon uppers resilient and protective. Besides, the rubber sole is said to prevent electrical hazards and is ASTM rated.
Though the construction seems sturdy, these Stealth Force Boots are, in fact,t lightweight and pleasant to wear.
While a durable YKK side zip makes these boots super easy to put on, saving your time and efforts, your feet will always stay dry due to the moisture-wicking lining and breathable nylon side panels.
PROS
Durable design, yet lightweight construction
Ion-mask™ surface enhancement technology
A moisture-wicking liner maintains the dryness of your feet
CONS
Zippers go a bit stiffly
Arch support may seem not sufficient (though individually).
Here's a detailed review of Magnum Womens' Stealth Force 8.0 Waterproof Duty Boots at Galls-FW279.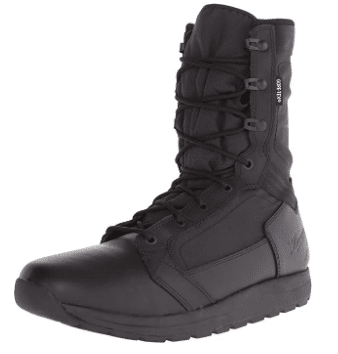 Danner Tachyon GTX Tactical Boot
If you plan to wear your boots mostly in warmer weather conditions, the Danner Tachyon is a wise choice.
They're lightweight, they're athletic, and they own nylon upper with large fabric panels for additional breathability and. Besides, they are supplied by leather backups at high-stress points for added durability.
These boots are close-fitting boots all around without any cumbersome thermal insulation, and their next asset is the 100% waterproof and breathable GoreTex liner preventing the moisture from your feet along with sheer minimalist design. The lacing system called "speed lacing" allows for a good replacement of side zips and offers faster wear than the classic lace boot.
Besides, this model is presented in several design color options, though the "coyote" tint is a bit greener than it appears in photos, as stated by some responders.
PROS
Cost-effective price
Light and resilient
Polishable leather and toe
Quick dry
CONS
No side zippers
Not fully insulated
Here is the Danner Tachyon boot reviewed by a content customer.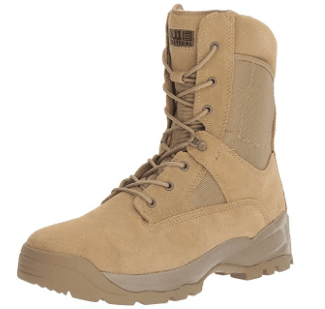 5.11 ATAC Jungle Tactical Boots
Welcome another sturdy and sound tactical boot model from 5.11.  The ATAC Jungle Boot owns a sheer design. The full-grain leather and durable nylon uppers are well cut with minimal stitching. This approach towards simplicity helps minimize the number of potential deficient points.
The oil and slip-resistant outsoles are still grippy from the outside, and the cushioned Ortholite EVA insole makes your feet feel comfortable inside the ATAC Jungle boot.
The ATAC Jungle has a tall over 8″ cut which fosters splendid ankle support.
The side zips are important to mention, too: they are smooth and well-designed, allowing for more adjustment of your boots. And what's more, they even have a discreet hidden pocket for a key, tiny EDC boot knife, or another small piece.
As for the cons, the ATAC Jungle boot doesn't own a waterproof liner — consider this fact when choosing a model meant mostly for a particular terrain. Without this individually substantial flaw, this model would be perfect!
PROS
Sturdy, solid, long-lasting
Hidden knife/key pocket
A sheer, minimalist, no-frills construction
CONS (only one)
Here is the 5.11 Tactical Series A.T.A.C. 8″ Coyote Boot briefly reviewed.
This is so far the most practical item on our list — Ryno Gear Tactical Boot is a fine choice for a restricted budget, yet with no compromises in quality.
The main upper material is the combination of genuine leather and ballistic nylon, offering a modern blend of resilience and flexibility and keeping the feet cool and dry. The outsoles of these tactical boots are rubber and slip-resistant, which means effective traction is provided in wet weather. Their padded collar and ankle provide convenience and stability for a wide variety of wildlife activities. Their side zippers are full-length, which is a surprising advantage for a model at this price point.
Unfortunately, these are NOT waterproof boots, though they feature a water-resistant conditioner. In certain circumstances, do not regard it as a major problem. However: due to the conditioner, your feet will never get wet from dew or light spray or dew on the plants.
Some respondents claim that they fit a bit large — consider this particularity and try them on before making a purchase.
PROS
Breathable mesh lining
Budget-friendly price
Slip-resistant grippy soles
Full-length zippers
CONS
Not waterproof
Sizes may fit a bit too large
The inner liner, especially in the heel area, does not seem 100% resilient.
Check out the current price and order them online.
Here is a video review of beige-colored Ryno Gear Tactical Combat Boots with Coolmax Lining.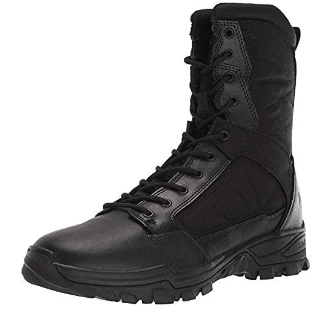 5.11 Tactical Men's Fast-tac Boot
Another worthy item from the 5.11 tactical boot series on our list is the Fast-Tac boots. These are a genuinely lightweight model, probably the lightest on our list, feeling on your feet almost like a sneaker. Besides, it has a beneficial price.
The Ortholite EVA insole and oil and slip-resistant outsole offer a fine and convenient combination responsible for proper traction on dirty or wet soils.
This model features several nice design options such as leather reinforcements increasing durability, and its uppers own large nylon panels allowing for extra breathability.
If you consider warm weather conditions, the breathable upper this model owns is an essential and advantageous feature, yet making these boots not fully suitable for cold temperatures.
If you have a close look at its features, you'll see they're claimed to be "waterproof": however, they're only water-resistant up to the level of the open boot tongue. Exposing this model to huge amounts of water or a higher level of moisture will cause it to get around the tongue and seep inside your boots.
PROS
One of the best prices for tactical boots
Optimal for warm and hot weather
Insoles provide reliable feet support
CONS
Not fully waterproof to the top of the boot
No side zippers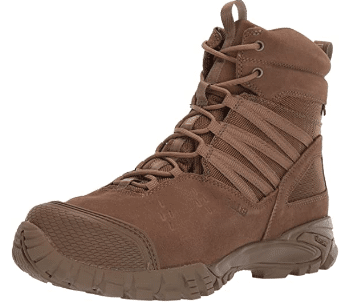 5.11 Tactical Boots by Union Waterproof
5.11 brand is a prominent label in the survival and outdoor gear market. The famous 5.11 Men's Evo 8″ model features a water-resistant and bloodborne pathogen-resistant membrane. Bloodborne pathogen-resistant boots are a requirement for some employees with exposure to blood or other potentially infectious materials and work most efficiently when combined with the special bloodborne pathogen-resistant clothing. Union Tactical Boot is a reliable model combining in its build such features as resilience, optimal weight, balance, and comfort. These boots include an efficient wicking liner eliminating the moisture out and away from your skin. And moisture absorption keeps away the unpleasant chafing and blistering. Other assets include the increased breathability compared to many other models, the balanced weight, a Vibram sole non-slip synthetic rubber, and a nice design reminding more of hiking boots than the casual combat boot items.
The uppers are made of a combo of natural suede leather and durable nylon providing durability and softness.
A crucial feature to consider before buying is their height: these are only a 6″ boot, 2 inches lower than the common 8″ boot models.
PROS
Feel convenient
Durability and breathability
Suede is soft and comfortable
CONS
6″ height is not a universal choice suitable for all conditions
No side zips.
Make sure they're available on Amazon.com.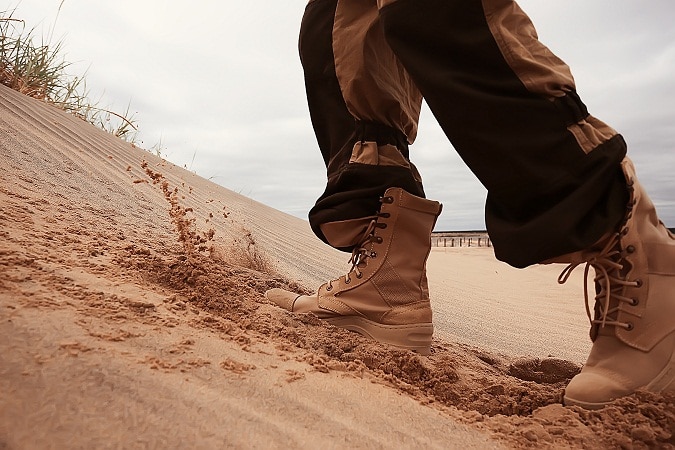 Why Is Such Footwear Called "Tactical"?
Today adding "tactical" to many survivalists' equipment is quite a popular trend on the market, but what does it bring practically? Among the numerous Tactical Backpacks and Tactical Pants, Tactical Watches and Tactical Pens,  Tactical Plate Carriers and Tactical Flashlights, Tactical Knives, and much more tactical boots gain a solid place being the advanced ones in their design, materials, construction, and resilience.
Retro military helmet and tactical boots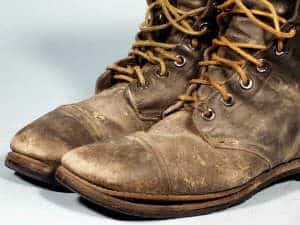 Tactical boots are close to the military ones, and "combat boots" reminding of those tough army boots from the 1960s served as the footwear of thousands of soldiers during the military campaigns. However, they're now even more improved compared to those time-tested Vietnam-era boots and uncompromisingly combine comfort with support and endurance.
Due to the recently introduced light-weight materials, more individual insoles, and other engineering advances, these modern boots are twice lighter and three times more comfortable than before, thus letting you keep pace with no fatigue no matter how long your route is.
Many factors, including: provide these capabilities
waterproof liners
anti-slip soles
lightweight and durable outsole
quick-dry top materials.
Apparently, what we have in the outcome are the optimal tactical boots for the most severe conditions and unexpected situations. Which of the following items and categories are "the best tactical" boots for you? It will only work out after you've tried them yourself, so it's you who makes the ultimate decision.
Why Tactical Boots Are Worth Investing Your Money In
While the army tactical boots are still in wide use in the armed forces and law enforcement organizations throughout the globe, our focus is on the boots meant specifically for survival. However, both cases demand a long foot race and endurance. Therefore, a solid pair of shoes to withstand these challenges is just what you need even if you are not a soldier anymore or have never been one. Apart from them, such boots are commonly in use by:
Mail carriers
UPS drivers
Tourists, backpackers, and hikers
Some construction workers
Motorcyclists
Preppers
Various rapid response services
and that is not it.
A thing that unites all these jobs is the bumpy site terrain and sometimes irregular working conditions. For instance, the mere stepping on a nail could cause damage without the thick protective layer of a steel shank adding extra protection to your tactical boots.
So, the use of tactical boots extends from emergency scenarios to daily life situations and is recommended by many hikers, hunters, survival bloggers, adventure outfitters, and so on.
After all, regardless of what outdoor job you plan to take up or what survival strategy you eventually choose, strenuous efforts and rough terrains will likely be there, so considering those boots on your feet should be your top survival priority.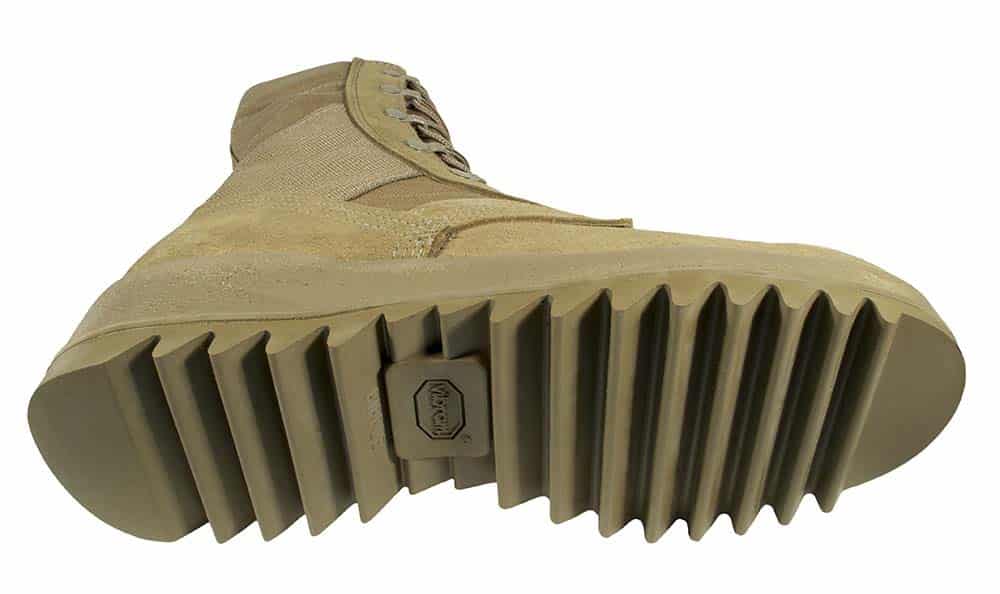 Core Features To Seek In A Worthy Pair Of Tactical Boots
Now, let's proceed to some guidelines on how to pick up the right pair of such boots for you personally since the wide range of options can cause somewhat confusion. To limit your choices and to start with, there are certain key characteristics of the best tactical boots to consider, such as:
The Proven Quality
Speaking of a decent quality mostly implies getting what you pay for and surely requires certain expenses, and tactical boots are no exception. Apparently, consider spending more on them since it will come out as a massive dividend, not just an expense if you acquire a pair of higher-quality tactical boots of a prominent brand with a tried and true history. In plus, buying such a pair prevents more expenses in the long haul.
Let's give an example: a man chooses between a $100 boot and a $400 pair — guess which of them will last two seasons and which will serve him years? While some of us may dispute that buying a cheaper pair of outdoor boots boosts adaptation to changes whereas those thinking so will later spend far more on new boots than that guy they will likely serve a decade.
How to tell the good tactical boot model from a fairly worse pair, apart from the price? To set them apart from the rest, always pay most attention to the smallest details, such as clean and proper stitching, learn more about the details about the material, estimate the provided warranty term. Each of these factors contributes to the overall manufacturer's reputation and the respective quality of their goods and increases the chances of those items becoming the best tactical boots for you.
Designed Use
Designed use is far more than about brand, style, and color nicely combined together. Before heading to buy a new pair of fine tactical boots, pose yourself a question for who they were designed and meant for. There are ultralight boots not suitable for scenarios patrol tactical boots would match.
For instance, obviously, light and breathable boots meant for hot weather, the so-called desert boots, would be almost of no use in a snowy swamp, neither keeping your feet warm nor dry. However, warm and insulated boots with water-resistance features are not a perfect match in a desert either.
Before doing the job, choose the right tool, as we always say. That means setting the right preferences: whether you're a man or a woman, whether you need sturdy, unkillable boots for rough wastelands, or lightweight and low flexible items for extra agility when on the move.
Water Resistance
It is important to know that, among the hundreds of so-called "waterproof" labels pinned to outdoor and survival items, being waterproof is more about functionality, submersion, and time-testing. Surely, no boots can be waterproof enough to swim in a lake in them and stay dry, nor are they during walking 10 hours straight in the pouring rain but keeping the moisture away and staying drier in the longer term than in your regular work boots is the thing they are capable of. It is always crucial to keep in mind that when your feet sweat intensely, your socks and boots soak up the moisture and keep it inside, too. Wearing special breathable and wicking socks and changing them regularly will help feeling dry and comfortable in your tactical boots even after a long day full of trekking, climbing, crawling, and so on.
Anyway, water-resistant and waterproof characteristics are useful in most situations. So, if choosing between two pairs — waterproof boots and non-waterproof items we recommend taking the boots owing this feature.
For instance, it is sometimes worth investing more money into renowned protecting technologies that do work in the outdoors, such as a Gore-tex. The Gore-tex waterproof boots represent well-known outdoor quality footwear designed for whimsical weather conditions. Gore-tex product technology is based on a special membrane laminated to synthetic material embedded in your boots design providing a water-resistant barrier that fully blocks the liquid from seeping through your tactical boots. The Gore-Tex boots are distinguished by breathability and, at the same time, moderate insulation, which is an asset for extra climate comfort whatever the season and temperature. That is why a lot of Gore-tex models are said to make part of the very many best tactical boots lists.
Boot Upper Materials
The upper part of the boots implies all the outside material of your boot's top above the sole.
Today's versatile market provides a lot of material for tactical boot uppers varying from full-grain leather to synthetic materials and different mixed materials such as breathable synthetic fabrics or durable leather.
Apart from choosing the proven natural materials, do not disregard these combinations, as they are innovative and customized to give excellent ventilation as well as great abrasion resilience.
Apparently, tactical boots made of leather are less cost-effective, though time-tested. It is the material cost plus the high artistry required to craft and treat leather that contributes to the overall cost. But finally, these expenses make up for themselves as such solid, abrasion-resistant, and water-resistant boots will serve you years ahead.
In terms of being breathable, synthetic materials overtake natural leather: a couple of boots with leather uppers may seem more substantial though less breathable.
So, finally, choosing between synthetic tactical boots and leather items is a compromised and balanced decision: the first outpace when it comes to swift drying, breathability, and weight while the second type provides longer durability, which is a significant asset.
Boot Liner Material
By "liner," we mean all the boot's interior material inside the shell.
This area includes not only interior surface but also insulation and waterproof membrane if there are these features. Such characteristics as insulation, waterproof membranes, and moisture-wicking materials will add to the resulting price (and weight a bit), but so will they do to your overall comfort. Though seeming additional and not compulsory, they may play a significant role in certain wilderness and survival scenarios.
Sole Materials Of Shoes
The "sole" material is simply the one that the boots' surface you walk on is made of. Another key component of boots, the sole, comprises both the midsole and the outsole.
The midsole is the space inside the boot, defying the comfort in wear and usually supported by a cushioned footbed. A lot of special boots apply either EVA foam or polyurethane foam in the midsole.
At first, EVA cushioning seems more elastic, bouncy, and lighter. However, items with EVA cushioning may stop rebounding eventually, which means your feet may have a flat, rigid feeling sometime after. In meanwhile, polyurethane foam is denser and may feel a bit too stiff while, in fact, it basically lasts longer than EVA cushioning does, retaining its shape and extending the life span of your boots.
The boots' outsoles are basically made of rubber (synthetic or natural) or composite materials, including rubber. Before choosing the material of the outsole, consider the terrain you're going to apply your boots on mostly. Apparently, among the rubber outsoles, the oil-resistant, stain-resistant, and anti-slip materials and patterns prevail. The lug pattern of the outsole allows for more traction and resistance to scuffing wear. In plus, there are non-marking traits, or even "grippy" patterns meant for rock climbing and other harsh terrains. Always choose the proven resistant outsoles and never disregard the shock absorption option.
Composite Toe Or Steel Toe
A protective toe cap is not a very frequent option on tactical boots, being a more common feature for some workers for whom it is a safety requirement.
If you want, however, to get yourself a protective toe cap, have a look at a composite toe cap instead of a steel cap as such items give equal protection but do not feel cold in harsh winter conditions. Besides, in case you drop a heavy object right on your feet, a safety toe steel cap may bend, leaving your toes feeling uncomfortable or even stranded, contrary to a composite toe cap. Though safety toe seems a small nuance, it may play a big role when working in risky conditions and protect your feet in case of an unexpected incident at work.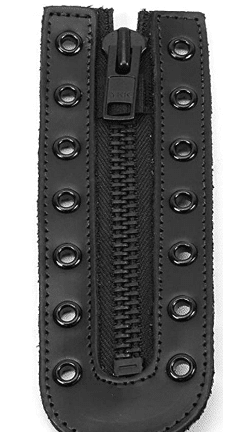 Zipper closures are now far from being only a practical necessity, and they are sure trends and common style elements. Have you heard of lace-in zippers to retrofit non-zipper boots yet?
Zipper boots allow swifter putting on and off by pulling the side zipper and slip them in two shakes, without the hassle with the laces, so you do not have to undo and redo them each time you put on your boots. Apart from boosting the whole process and therefore saving your time, zippers reduce wear on the laces. The only crucial thing to keep in mind here is the quality of the zippers – avoid choosing the cheap and light plastic zipper, even though it is unlikely to be the feature of solid tactical boot models.
Choosing the zipper tactical boots, the lace boots, or a combo of them both is thus your personal choice and a matter of your own style and comfort preferences.
Weight Options
The overall weight of boots is undoubtedly a common problem and subject for ceaseless discussions among survivalists, tourists, military service officers, and law enforcement staff, and so on.
For instance, backpackers and light travelers would argue that with each ounce off your feet, you are like getting rid of a pound off your back. And here, they couldn't be more right.
Let's name the pros of such lightweight boots first:
less fatigue after a long day
more energy saved for the evening
less pain and strain in your feet
Nevertheless, their durability concedes a bit to more rigid and heavier boots.
The solution here is paying more attention to advanced and innovative materials yet with proven "field history" and high durability and be ready to spend a bit more on such a couple. Otherwise, stay with the sturdy, traditional boots and do not complain.
Boot Size, Height, And Boot Width
It is hard to doubt that size is among the most crucial factors when it comes to choosing shoes regardless of the shoe categories you're buying. So instead of relying on the indicated size without looking, always pay close attention to how your feet feel in a particular pair. Besides, it is always wise to take time and estimate how your feet feel in narrow or standard shoes and measure their parameters to be sure. Narrow feet may slide in a wide shoe, resulting in feeling friction and blisters, while wider feet may feel uncomfortably tight in the standard models.
While the width is apparently more defined by the shape of our feet and their natural parameters, the height of boots may cause questions. How high should my tactical boots be? Today's abundant market has to offer various boot widths and heights.
Ask yourself how and for what you are going to use the boots. Does your activity include running or crawling? While taller boots offer better stability and bruise- or ankle rolling- defense, the lower ones allow for increased maneuverability and are easier to run in.
Arch Support Shoes
The last but not least of all core features of deserving boots is the arch support. For a long day on your feet, you need support. It is, therefore, all the more important for people spending their days in the great outdoors, backpackers, trekkers, and so on.
Even if you are lucky and do not have flat feet, arch support is indispensable for anyone who runs, stands, walks, or climbs for a long time.
Keep this as a rule: seek the boots providing splendid arch uphold and do not hesitate to acquire a couple of fine aftermarket insoles to upgrade the way your boots fit and increase your comfort.
Watch the video guiding you through the basics of such boots selection process and wear.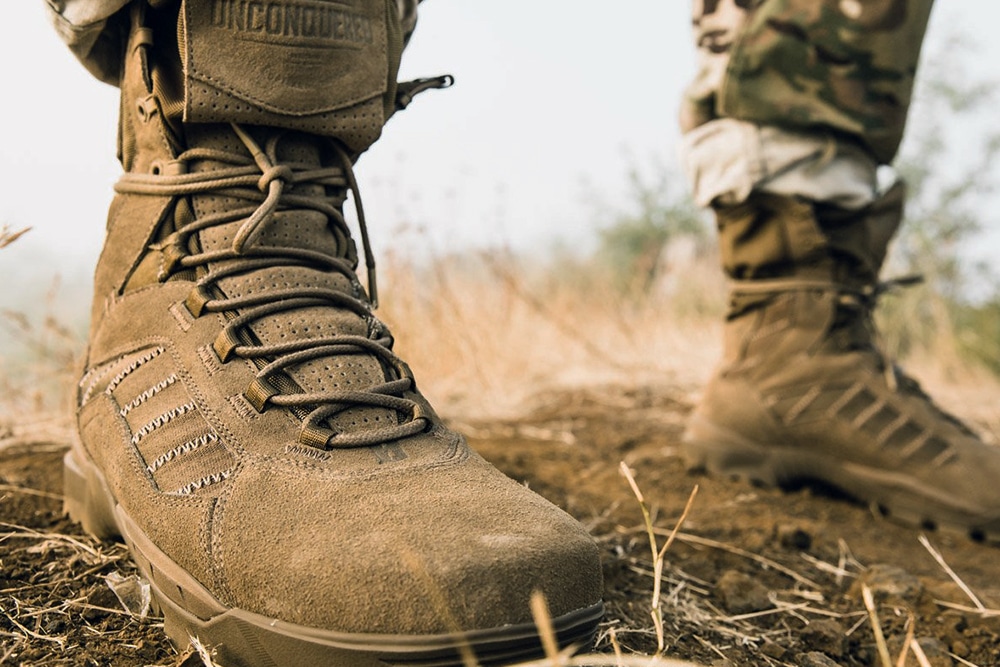 Best Tactical Boots Summary
If, after reading our review and probably watching the videos, you still have some doubts about buying such boots, take a closer look around you and do your tactical research: watch the people around you, and you'll surely see how many of them, apart from the US army soldiers or police officers, do wear them in the outdoors, during work, wildlife recreation, or simply in the daily life.
As we've outlined here, they can be suitable for all the above-mentioned scenarios if you manage to combine such features as being sturdy, comfortable, lightweight, and resilient to tolerate tense use. Good old sturdy country boots are good, but they will simply not handle the rougher outdoor conditions while solid waterproof boots would do so. They would not be secure enough to minimize the injuries or prevent fatigue when performing hard work hours straight, and they wouldn't be able to carry you safely through an emergency or a disaster either.
Still, choosing appropriate footwear remains a matter of careful individual choice since no recommendation can be considered universal. What is good for your fellow survivalist still needs to be checked by yourself.
In conclusion, whenever it comes to survival, wilderness trip, or daily life, the rule is simple: count on your own two feet — and buying a deserving pair of boots will help you manage this job as smoothly and efficiently as possible.
What are the best tactical boots for you? What job are they helping you in? Did our article help you to make a choice or set the personal preferences? Share with us in the comments section.
Frequently Asked Questions – FAQ
What are the best tactical boots?
What is best for you surely depends on your type of duty, the terrain, the weather conditions, humidity, and so on. While police officers often choose Danner Men's Tachyon 8″ or Under Armour Men's Stellar model, wilderness fans and hikers tend to choose proven waterproof and abrasion-resistant items featuring side zips like Smith & Wesson Breach 2.0 Waterproof or the berry compliant Danner Striker Torrent Duty Boot. Among other renowned brands, Original S.W.A.T. Men's Metro Air provides lightweight support and fatigue control, and Under Armour Men's Stellar Black is good in terms of speed and maneuverability. Always pay attention to oil-resistant, stain-resistant, waterproof models, sole materials, arch backup capacity, if needed — shock absorption, or even a composite toe cap to fully protect your feet if you're exposed to dangerous working conditions. For traveling, think of light airport-friendly boots featuring non-metallic components. Browse through our article and choose any of the above-mentioned models fitting your particular preferences. Check out the reviews and the number of orders.
What boots do Navy Seals wear?
They prefer wearing abrasion-resistant tactical military boots with midsole cushioning and rubber outsole with the traded pattern. Also, navy sealers' boots are lightweight and comfortable to wear, although they survive all-terrain endurance.  Navy SEALs are said to wear Chuck Taylors in maritime operations combined with special waterproof socks. Besides, during the training period, Bates Men's 8 Inches Tropical Seals Durashocks Work Boot is often applied and recommended by Ex-Navy Seals men. These models are waterproof, slip-resistant, and made from top-quality leather material. Other than that, tactical boots from Salomon and Danner may suit as well. As far as Bates 922 boots, they are standard issued when you join for Navy Seal's BUDs training program.
What are tactical boots good for?
Initially used by US army and law enforcement professionals, including military operators, police officers, patrol group members, and other public services operators, tactical boots are now popular among many people, both men and women, professionals, and police boots/work boots fans. There are several sub-categories of such boots — from police boots and US army boots to more lightweight yet durable sneakers preferred by wildlife lovers and survivalists. All items are good for a great range of things, from tough work to special operations like those done by law enforcement professionals and movie heroes, and perform great in the long-term use and intense and harsh conditions.
How to lace ABU boots?
We recommend the ladder lacing technique as it gives a cool uniform look and offers maximal reliability and support. To do so, grab a couple of shoelaces long enough to cover the boots and tie double knots afterward. Begin at the boot's bottommost eyelets running a lace straight across the inside part of the eyelets' bottom row, pulling the ends upward on each side. Pull the end of each lace to the vertical eyelet directly above it (right over left or vice versa), and push in each end. Cross each end over the boot's tongue to the other side and go on repeating until you thread your laces through the rest of the eyelets. After you're done, tie the knot on the inside of the shoe, or thread the laces under the opposite side's last vertical section for extra tightening.
Where to buy men's combat boots?
Military boots for men feature a boot holster, often have Gore-tex waterproof breathable linings, and have to be compliant with AR 670-1. You can try making qualifying purchases both in popular retail stores and online. You may always start making orders on Amazon.com. Also, there are enough military, airport friendly, and men's combat boot brands on walmart.com, ebay.com, or sites like www.overstock.com. Alternatively, you may try buying military boots featuring a boot holster or other professional add-ons in several well-known official men's military gear online stores like www.military1st.EU, or footwear online stores like batesfootwear.com, as well as other men specialty stores.