One reason to wear a survival watch: some survival situations require always being aware of the time. Sometimes, you may need a stopwatch to time some process that takes accuracy. A proper survival watch can also be equipped with multiple tools, such as a compass, an altimeter, barometer, a gps system, a thermometer, and more. It makes a perfect tool in your survival gear kit. Read on and find out about the best models available.
Sometimes the least expected survival tools are the ones you might need the most in survival situations. Survival watches are these kinds of survival tools. The crucial pluses of these watches are their functionality and portability, as you can take them with you wherever you go. No other survival gear can manage that.
For example, you can't take a survival knife with you on the plane as it's prohibited. A survival lighter is also something you can't carry on board.
You can't say the same about survival watches. They're lightweight, easily portable, comfortable in use. Those are the reasons you must purchase one for helping yourself in possible future emergencies.
TOP 5 Best Survival Watch Options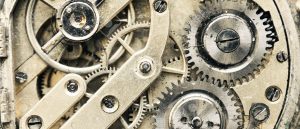 The survival watch market is so extensive sometimes it seems impossible to find a watch with all possible features and save your money at the same time. Only on amazon com, there are so many watches you can spend the whole day browsing through all of them.
Almost every modern watch is solar-powered and made of water-resistant material, making it impossible to break it down. Every watch can tell the time (world time and sunrise sunset time). It has an LED battery level indicator, analog display, digital display, compass, mineral crystal dial window, and other features only the best survival watches can have.
People starting to dive into the survivalist theme might be hard to choose the right watch with features needed for their exact situation. We understand that, and that's why we decided to make a list of watches that, in our humble opinion, are the best on the market for modern technology.
Military Watch
Military people often have their own opinion on what features a real military watch must obtain. Those interested in military watches should check the website with the best military watches presented on the market.
We genuinely believe there's no severe difference between a tactical watch, a military watch, an outdoor watch, and a sports watch. Military watches are the same watches as others. Maybe, water-resistant material they are made of is a bit rougher. They can stand more extreme conditions, but they also have a compass, long battery lifespan, barometer, sapphire crystal glass, and triple sensor technology.

We presume the Casio Master of G-Series Watches is the best watch series presented on today's market. Every watch of the series is a perfect outdoor watch that you can use in all possible conditions, including the land, the sea, and the sky.
Purchasing the G-Shock Casio Men Watch, you invest in your future as a survivalist. When you have this Casio G-Shock Outdoor Watch, you can be sure you will get all features you expect the best survival sports watch to have. These features are a barometer, compass, long battery life, mineral crystal dial window, quartz movement, GPS SUUNTO Core, water resistance. Every Casio G-Shock Sports Watch of the G-Shock Watch series is solar-powered and is made of water-resistant material and stainless steel. Though, you can find a high-quality watch made of the resin band.
Casio G-Shock Watch is the type of watch that can adapt to every weather condition, so even the most severe frost can't disable its features.
In the Casio G-Shock Watch series, there are three watch types:
The MUDMASTER Watch is the G-Shock GPS watch of the Casio men collection made for experienced survivalists who can't imagine their trips without crawling in trenches and participating in the cross-track.
This survival watch is solar-powered, made of water-resistant material and stainless steel. This Casio G-Shock Watch has such features as a digital display of sapphire crystal glass, altimeter, barometer, compass, mineral crystal dial window, long battery lifespan, water resistance, an atomic timekeeping function. Also, these Casio G-Shock Watches can tell the world time, sunrise sunset time. They have GPS SUUNTO Core, quartz movement, and a date window.
Purchase the G-Shock GPS Watch on amazon com. You can find more survival items on amazon com, as well. Watches made of resin band can also be found there.
Enter Here To Check The Latest Price On This Watch On Amazon Com
If you were looking for the watch with the best water resistance function, then you can finally stop scrolling through google and amazon pages and stop your choice at the G-Shock GULFMASTER Watch. These solar-powered, made of stainless steel and water-resistant material, Casio GPS G-Shock Watches is the dream of every survivalist enjoying spending trips in extreme water conditions.
The water resistance is the distinctive feature of this tactical watch. These Casio G-Shock Watches have many survival features, including a mineral crystal dial window, compass, quartz movement, long battery lifespan, barometer, and GPS SUUNTO Core. The water-resistant watch is solar-powered, its corpus is made of stainless steel, and the bracelet is made of resin band.
Enter Here To Check The Latest Price Of The Watch On Amazon Com
The Casio Gulfmaster Watch has a triple sensor technology, and with its help, you can measure the barometric pressure, temperature, and altitude. This case diameter of this military watch is usually about 54 millimeters.
Enter Here To Check The Latest Price Of The Watch On Amazon Com
There is a Casio Watch made especially for pilots and astronauts to carry them on board and be sure the features of their military watch won't be disabled due to gravity issues. The name of this watch is the GRAVITYMASTER Watch. This watch features are GPS SUUNTO Core, quartz movement, long battery lifespan, compass, mineral crystal dial window, and water resistance.
The corpus of this watch is made of stainless steel, and the case diameter of this watch is about 60 millimeters.
Enter Here To Check The Latest Price Of The Watch On Amazon Com

If there is a perfect outdoor watch, it must be of the Casio PRO Track Watches Series, so if you need such a watch, you need to check these.
Every watch from the series obtains such features as GPS, long battery lifespan, moment setter, water resistance, quartz movement, mineral crystal dial window, compass, and location memory.
Made of water-resistant and resin material, these survival watches are the perfect present for every survivalist. Casio PRO Track Watches come in various sizes, colors, and prices, so anyone interested in purchasing a watch of the series can afford it.
Enter Here To Check The Latest Price Of The Watch On Amazon Com
A Survival Watch: In a Nutshell
First of all, we need to highlight there are two types of survival watches.
I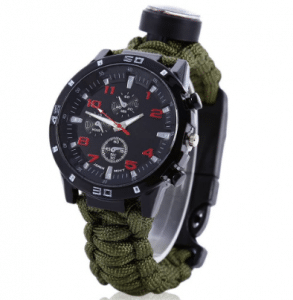 f you need your watch to have such basic features as a digital compass, pennywhistle, or firestarter, these paracord survival watches are the best option. Their bracelet is made of the paracord, and that's why you call them paracord survival watches.
You can hardly call them the best survival watches as their functionality is limited. If you want to use a survival watch to start a fire or help yourself find your way back if you got lost, consider purchasing these watches. Moreover, the paracord bracelet will look perfect on your wrist.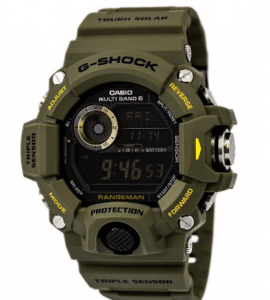 Being a kid, you might have dreams of carrying a mini-computer with you all the time. Partially those dreams embodied in mobile phones, but still, they are big enough to call them a dream came true tool. Luckily, it's the 21st century outside, and we possess survival tools that both can replace the computer and sit perfectly on your wrist. Technical survival watches are these kinds of survival tools.
They are of great functionality and fit under its watch face with a digital display, an altimeter barometer, thermometer, GPS and GLONASS, digital compass, and sunrise sunset times (in other words, these watches hold a triple sensor technology).
In the present article, we will focus on this type of watch because we need to cover only watches with various survival features that are the must-have when a disaster strikes. Unfortunately, paracord watches don't meet these requirements. They are not that good as technical survival watches. Their worth is lame.
You would hardly choose this survival watch with a paracord bracelet as your travel companion, as, for example, its firestarters are of that poor quality you can easily break them down. A digital compass under its watch face of bad quality, too, so it's fragile, as well.
There's no need to risk your life relying on the survival watches making no use in emergencies, especially when this watch doesn't have such basic survival features as GPS and GLONASS, triple sensor technology, world time, altimeter barometer, thermometer, and countdown timer.
The most effective way of using this survival watch is to wear a paracord bracelet on one of your hands' wrists and the technical survival watch, on the other hand, 's wrist.
Rely on Yourself in the Wilderness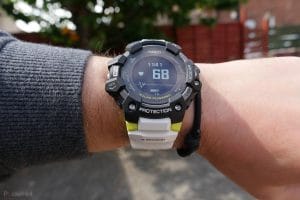 Before we start, we'd like to highlight the issues of technology's importance in people's lives (and especially in the survivalist's lives). We call them issues as sometimes people count on them way too much, and it becomes a real problem.
We know that technology is meant to make our lives easier, and it does. But sometimes, it's not enough when it comes to some extreme survival situation. In such emergencies, survival skills will help you more. Skills obtaining of which depends only on you.
Of course, if you find yourself in a survival situation when you need to cut a tree to burn it, warm yourself, cook some meal, and stay alive, using the chain saw would be the best option. Though it would be way better if you had a sharp ax with you, in case the chain saw breaks down (even if it's made of a water-resistant material and stainless steel). But even then, you must count first on yourself, and only after that on technologies.
When it comes to using an emergency survival watch (some call it a tactical watch), you also need to carry such survival tools as a compass and a map because even the best survival watches can break down someday.
Never bet on technology only, as it can let you down occasionally. Make sure your survival skills are good enough to help you deal even with the worst survival situation. When you choose survival tools of multiple functionalities, stop your choice at survival watches. They can replace a digital compass, altimeter barometer, thermometer, GPS and GLONASS, and countdown timer and sit perfectly on your wrist in a way no other watches can do.
Now, let's discuss what survival watches are.
Main Features of the High-Quality Survival Watch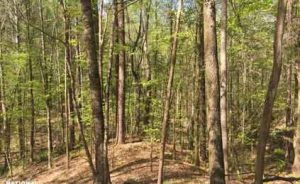 We expect our watches to perform their functions that are, foremost, showing date and time. For this, the best survival watch has to obtain a decent battery life (or be solar-powered). Additional pluses would be a water-resistant, shock resistant, and scratch-resistant material the tactical watch face would be made of. Make sure your watches have all these watch features but note they are basic ones.
If you need a survival watch with more severe watch functions, make sure they include all (or some) features listed below.
Compass Navigation
Fans of natural orientation believe no technology is needed when it comes to the survival situation when you got lost and need to find your way back.
Well, maybe for someone, it would make sense. Maybe someone doesn't need a navigation watch with the integrated compass as they feel they can navigate without them.
Sometimes individuals have survival skills that help them in navigation. Some of them know that if you need to find a southern direction, you must search for thick branches on trees as they signalize you're moving in the right direction.
Unfortunately, sometimes it's not enough. Sometimes life isn't that easy. In some emergencies, it's unreal to navigate without technology. There are some situations when you need to take a compass with you. Even professionals use compasses on their travels. And that talks about something, right?
To save some space in your backpack, instead of taking a basic compass, consider taking a digital compass with you that is integrated into your survival watch.
Of course, it's better to know how to navigate counting only on your knowledge, but nothing stops you from carrying with you a map and a digital compass that you can wear on your wrist wherever you go.
Watch Barometer
When in the wildest conditions, you know how it's essential to know changes in the atmospheric pressure as it helps you predict the weather changes. That is the case when you need technology, as, without it, it won't be possible to sense atmospheric pressure. Unfortunately, no skills replace high-quality barometer. And that's what can be found in the best survival watches you can purchase on amazon com.
Experienced survivalists know two essential threats you must care about: the absence of clean water and extreme exposure. Allowing both these extreme situations to happen, you risk facing such life-threatening conditions as hypothermia. This condition occurs when you spend too much time in the cold wearing wet clothes only. And you could avoid this if you knew raining clouds are approaching you. The altimeter barometer integrated into GPS survival watches with shock-resistant and scratch-resistant analog displays could help you find out if you purchased one.
That is how you can deal with one life-threatening situation, using a survival watch only.
The second emergency, which is the danger of the clean water absence, can be solved with the usage of a survival watch, as well. Just take your best survival watch, check when the rain is approaching you, and prepare some containers to collect rainwater there. It might sound like something unreal, but it's more real than you think.
When you decide to become a survivalist, you need to browse as many survival guides as you can. You never know what survival tips will help you one day.
Thermometer
Many people underestimate the value of temperature both of their own and of the surrounding environment. And that isn't the best decision for anyone.
How come it's so important?
You can say you can feel the temperature without using a specific technology. You might think you know the temperature, like many people suffering from hypothermia thought.
The point that you can't know exactly what is the temperature of your body. When you work hard and do some survival business like building a shelter, cooking meals outdoors, preparing woodpile, or tracking prey, you are so passionate you don't realize it's getting cold. When you're sweating, and it's cold outside —  that's the straight path to hypothermia. The main thing you need to take care of is not allowing yourself to sweat. No matter what you're doing —  keep in mind that you can't sweat. In survival conditions, it can be fatal.
When it's hot outside, you sweat, and it's normal. But if you don't control your body temperature, you risk getting a heat stroke. We doubt that's what you're expecting from your trip.
We, humans, tend to ignore our bodies' signals, and that's not something we can be proud of, but it's also something we can't blame ourselves. Even when you do your best, it can happen to you, too. You can forget to drink water or wear a baseball cap while spending time under the sun.
Luckily, we have a survival watch made to make our lives easier. Purchase a solar-powered watch with water resistance and a digital display to delegate the temperature measurement.
Altimeter
People suffering from mountain sickness know the importance of checking the mountains' height timely. It can save you, and we mean it.
The only way you can find out this information is by using an altimeter: a specific device made for surviving in mountainous regions.
To make its usage convenient, buy a survival watch with an altimeter integrated into it. With the number of survival watch on the market, it is possible to find one with such a function. Most of the best survival watch with water resistance option, analog display (or digital display), scratch-resistant and shock-resistant sapphire crystal glass, and atomic timekeeping function obtain this function.
An altimeter also helps you to travel through regions of height changes successfully. Use it together with the topographical map, and you can be sure you'll always discover your way back wherever you are.
Sunrise Sunset Times
We don't need to explain to you the importance of knowing the right time of day or night. When it's sunny — you know that's daylight. When it's dark — you know it's nighttime. What can be easier?
Problems start when you far from the camp, in the middle of nowhere, and you don't know how much time is left before darkness. That's the situation when you wish you had a survival watch with the function of showing the sunrise sunset time.
Usage of this survival watch is convenient if you purchase one best survival watch on amazon com. Spend your money once, and be in comfort always.
How Survival Watch Can Save You
It's easy to get lost in the forest, especially when something (or someone) distracts you.
It's easy to lose your guard down and lose track when you see a bear with its bear cubs. Anyone would be scared to death and prefer to run aimlessly than navigate through the woods consciously.
People can scare you, too. You can hear their steps, start to panic (as you don't know who's coming and what aim they are following), and go in the wrong direction.
We mean everything can distract you from following your return way to the camp. It happens all the time. Many people get lost annually, and, unfortunately, not all of them can find their way back.
If you want to be in the number of lucky ones who got the chance of surviving in emergencies like these, make sure to purchase the best survival watch with as many features as possible.
Ensure your best survival watch is solar-powered and has such survival features as water resistance, altimeter, barometer, and compass (triple sensor technology), GPS, stainless steel analog display, sapphire crystal glass, countdown timer, rechargeable battery, mineral dial window, excellent battery life, and quartz movement. Watches obtaining all of these features you can find on amazon com.
Why do you have so many watch features? Because you never know what kind of emergencies is waiting for you. You never know what features can help you in various situations. Why not be ready for all of them? Why not protect yourself and your loved ones?
Best Survival Watch  Summary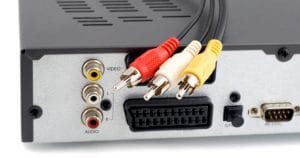 Technology can't replace basic survival skills, and it would be better for you if you didn't forget about that before getting ready for some trips (especially for severe ones). The battery of the best survival watch can die, the barometer can break down, the GPS can show you the wrong direction. Anything can happen that can ruin your camping or, even worse, lead to some serious injuries (for example, if you lost your path). You better know what to do to avoid such extreme situations.
Meanwhile, if you can purchase a survival watch to make your camping more comfortable, we see no reason why you would need to stop yourself. If it makes you happier and more content, then buy it.
You can find more information on the best survival watch from the Best Survival Weapons article.
Frequently Asked Questions – FAQ
What are the best survival watches?
We made the list of survival watches, which are, in our opinion, can be considered as best ones among many others. However, you can decide you have other categories for calling a watch the best. It depends on your demands and expectations. Ensure it has basic features inherent to the most modern survival watches.
What makes a great survival watch?
A long battery lifespan is a critical feature for a survival watch. When your watch's battery lifespan is low, you risk staying with nothing in the situation when you need your watch the most. Ensure the battery lifespan of your watch is good enough to provide you a safe trip.
Features to look for in survival watches?
There are some basic features all survival watches must-have. These features are triple sensor technology, compass, barometer, altimeter, digital display, GLONASS, GPS, rechargeable battery, and water-resistant material. Ensure your watch has ones.
Advantages of survival watches?
People with survival watches are sure that even if they lose the path leading to the camp, they will find it. Of course, they can rely only on their skills, but they also know that having a survival watch on their wrist is advantageous. Because all modern survival watches have inherited GLONASS and GPS, with the usage of which even the most inexperienced traveler can get out of any extreme situation.