A survival machete with a sharp stainless steel blade, comfy handle, and at a fair price is a great survival tool. Far more effective than survival knives, it will increase your security manifold. FInd out all about the features of the best survival machates by reading our article.
You may need a lot of things during your survival, as no one knows exactly what will happen. It is only clear that a set of basic things that meet several needs will come in handy in any case. And the more versatile the item, the more chances it will remain in the list of the necessary survival gear for your bug out bag.
During the journey in a survival situation, it is very important how much survival gear you have with you. These things' weight and size in your bag will slow you down.
We can say for sure that the machete has every chance of staying on your list, as it is a true survival multi-tool that can come in handy in many different situations.
You have seen machetes many times in old movies, and for good reason. For survival, this is one of the most useful items.
Let's take a closer look at what it is, how it can help you, which machete is better to choose, and, most importantly, how to choose it. We will answer all questions in our article.
TOP 7 Best Survival Machete Options
Best machetes must have the following parameters:
Durable blade material (3CR13 stainless steel or high carbon steel);
Full tang construction;
Well balanced shape;
Multi-purpose application;
High-quality sheath.
The machete market is very diverse. Top brands represent perfect different models. You can find machetes at almost any cost and size. This can confuse an unprepared buyer. Too many options are not always good. Of course, we will come to your aid and show you which models will be better. We invite you to take a look at our list of the 7 best survival machetes suitable for the survivalist.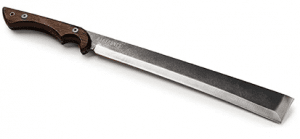 This machete refers to the traditional Japanese machete for gardening or household chores.
The BareBones Woodsman Japanese NATA Tool has a sharpened blade with many options. The blade is 12 inches long, so this machete can be mistaken for a large survival knife. Suitable for you if you do not want something big and more dangerous. The BareBones Woodsman Japanese NATA Tool is suitable for chopping and cutting, but will not be able to chop through thicker bushes or branches.

The curved ax blade makes this machete an excellent choice for chopping, clearing, and splitting wood. It is easy to chop offshoots from trees or cut a passage with Machete Axe.
The overall length of this machete is 28 inches.
An 18-inch blade is easy enough to use but still has decent power. If you have a garden, then you definitely need this Fiskars Machete. A lifetime warranty backs Fiskars 29 Inch Machete Axey.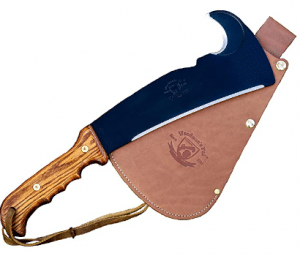 The US Army recognized woodman's Pal Machetey during the Second World War. An improved version of Woodman's Pal 2.0 Machete is now on sale. This is a truly multi-tool that includes the functions of a knife, ax, shovel, and machete. An irreplaceable assistant for the survivalist.
Woodman's Pal Machete is manufactured in the USA, and copies of the original manuals received in the army are still included with each order. The guidelines cover the use, operation, sharpening, and even recommendations for fighting with this machete.
The machete set includes a leather sheath that makes it easy to store, carry, and just looks very stylish.
The machete blade has a black finish and the hardwood handle is made of solid ash. For full tang construction, Woodman's Pal Machete uses only the highest quality materials.
All this affected the price of the machete. It is unlikely that you can get this tool on the cheap.
4. The Essential Tact Survival Machete

We told you above that the best blade material would be 3CR13 Stainless Steel. The Tact Machete blade is made of just such a stainless material that will give your machete super strength, resistance to rust, and an edge holding ability.
The Essential Tact Survival Machete sells for a fairly low price, especially for such a multi-tool.
This machete is easy to use and incredibly user-friendly.
Its handle is covered with a non-slip rubber coating, which will allow you to hold the survival machete in all situations, even when your hands are sweating with nerves. The shape of the handle is made for the most comfortable grip. This machete has a thumb and finger guard so you do not hurt your hands when working with the machete.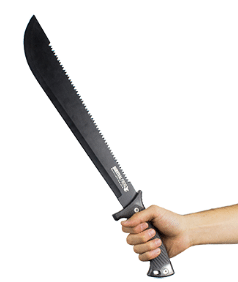 Speaking of comfort for your hands, the Essential Tact Machete has an extra polypropylene inner handle material in the rubber coating. This is to provide additional shock absorption and less handshake. Everything in a Tact Survival Machete is designed for your comfort, so that you spend less energy and experience less stress when using the machete and gives you the best user experience. It even has a small hole on the handle, so you can put a lanyard or a Ferro rod there.
A few cool options that make this machete not just a tool, but a real survival machete:
The best survival tools have multiple functions. And although a Tact Machete will already cope with many tasks, the manufacturers decided to expand this list and added one more function. The back of the Survival Machete blade has a saw-like serrated edge that allows you to not only cut or chop, but also saw through objects.
Multifunctionality is one of the most important features of all survival items.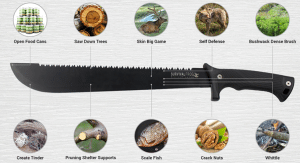 Both the blade and handle are non-reflective, all covered in black matte material. This is ideal for a survival situation, as at the wrong moment your weapon will not shine on the enemy and you will not be noticed. You can use Essential Tact Machete with peace of mind, without the risk of being noticed.
You might think that such an upscale full tang machete would be worth a fortune, but no. Essential Tact Machete has a nice affordable price, which further elevates it in our eyes and makes it one of the best machetes on the market.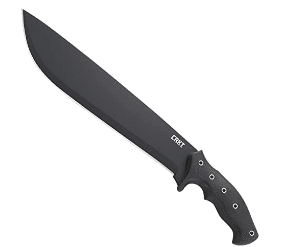 Columbia River Knife & Tool is a renowned knife company and manufacturer of knives, accessories, and functional tools.
This Carbon Steel Machete has a small handle with a comfortable finger grip.
The 18-inch blade has a center of gravity further from the handle. This allows you to more efficiently cut the path but requires more energy. However, Chanceinhell Machete does a great job with dense vegetation.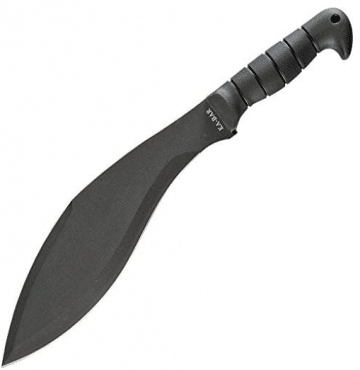 We have agreed not to distinguish between different types of machetes, but we cannot fail to mention that this knife is a type of Nepalese kukri knives.
The Ka-Bar Kukri Machete has a traditional boomerang-like blade with a forward hook curved blade. The Ka-Bar Machete's size is quite petite, with an 11.5-inch blade making it pretty easy to handle.
Most of all, Kukri Machete is suitable for chopping branches and as a fighting tool.
When chopping with this machete, objects settle on the bend of the blade, which allows you to transfer force to one point.
The Condor Duku Machete has a high-carbon steel blade that is narrower and more sweeping than other machetes.
The distinctive blade shape of the Condor Duku Machete allows for chopping cuts and thinner light vegetation.
Although the Condor Duku Machete is quite heavy and requires some preparation, it is perfectly balanced, making it easy to handle and turn.
Condor Duku Machete is easy to sharpen and has a solid construction.
How You Can Use a Survival Machete?
In what area can a machete be used, can this object be more than a knife? Yes, it definitely can.
These are the most common functions that a survival machete can perform:
Self-defense (you should watch a couple of old movies for inspiration);
Choping small trees and bushes;
Opening cans and packages;
Harvest gathering;
Scaling and cutting fish;
Splitting wood;
Hunting;
Choping nuts and thick-skinned fruits;
and many other features.
The machete's versatility lies in the fact that all these tasks are easy to perform with it! It takes the same amount of effort to cut down a tree or open a can.
What is Machete?

Throughout this article, we will refer to as "machetes," all large flat-blade knives with grips at the end for turning the blade. There is a wide variety of machetes and each has its own name, but not to waste time on linguistics, let's agree that in this article we will not call the Malaysian "parang" or the Nepalese "kukri" by different names, let's take it all for a machete.
If we open Wikipedia, we can read that the machete blade length is 12.8 to 17.7 inches long and less than 0.12 inches thick, and is more of an ax and sword than a knife.
If you want to delve deeper into the topic of the variety of machetes, then watch this video:
In many rural areas on the outskirts of the world, machetes are still taught from childhood. Children are taught not only to use it but also to care for their machete. Let's also understand the intricacies of this weapon.
What To Look For When Choosing A Machete?

You can identify the machete from all other knives, axes, or sabers by their distinctive features.
Common features of all machetes:
Short heavy blade;
On the one side, the blade is sharpened, and on the other, either blunt or serrated;
Blade length from 14 to 24 inches (with exceptions);
You can operate it with one hand.
Let's move on to the details to look out for when choosing the best survival machetes.
Multi-Functional Machete Design
Functionality is the cornerstone of all survival tools. The more features, the more you need this survival gear.
Modern machetes often have one sharp side, like the original machete, and the other side is made with a saw. These saws will not be as good as standalone saws, but you do not have to borrow an extra tool. You will be able to saw through material that cannot be chopped.
Solid steel pommel is often added to survival machete. This cap can be used as a hammer. It is durable and steel.
Full Tang Machete Construction
For greater reliability, the machete uses a one-piece metal blade design. The entire blade goes through the handle, and it is riveted to the machete.
This allows the full tang blade to stay in place even during heavy use.
Sheath
The machete blade is very sharp and can injure you while carrying, so store and carry the machete in a sheath. The sheath should be strong and thick and hold the machete well inside so that it does not pop out and accidentally injure someone.
Type of Blade Steel
The type of steel determines the durability and sharpness of your blade.
A good material for making machete blades. A carbon steel blade is flexible and durable, has good chip resistance, and does not break. It does an excellent job with blows. But, there is a "but". Carbon steel is susceptible to rust, so you need to monitor the condition of the blade, clean it, and wipe it with oil. It is easy to sharpen with a sharpening stone.
Stainless steel machete blades
Not the best choice for a machete, as these blades are less durable and will likely break when chopping wood or other forceful action. We believe that toughness should not be sacrificed in exchange for stainless properties. This material is also more difficult to sharpen.
We will put 3CR13 stainless steel into a separate item. This new material will probably be the best choice for a machete. 3CR13 stainless steel is durable, sharpenable, and rust-resistant.
Choose the most durable, strongest blade material that can be sharpened to the highest possible sharpness. Then you can trust and rely on your blade.
Best Survival Machete Summary
Machete is a good survival tool, but it requires preparation to use it. If you know the basic rules, know how to hold and swing the machete correctly, you can do a lot with it.
Survival machetes can replace a number of tools:
This item can be useful for a camping trip or gardening at home.
Choose a well-balanced machete that fits well in your hand and is comfortable to hold. Pay close attention to your blade selection. A high-carbon steel blade is easy to sharpen, this blade is durable and flexible. Also, buy accessories (they are often included) sheath, and sharpening stone to keep your machete in top condition.
This tool will be a great addition to your survival gear list.
Frequently Asked Questions – FAQ
Are machetes dangerous?
Machete is a serious survival tool with a sharp blade edge, so of course, it can be dangerous if used incorrectly. To avoid unpleasant accidents, read the safety rules when working with a machete, do not leave it unattended, and store it in proper conditions. For example, durable leather sheath, polyester sheath, or nylon sheath work well. The stronger the better.
Are machetes good for survival?
Multi-purpose things are, by definition, good for survival. Machete is definitely one of those. Survival machetes can be used for self-defense, hunting, chopping, butchering, cutting, and more. High-quality survival machetes are made with a high carbon steel blade (or 3CR13 stainless steel), have full tang construction, leather, or nylon sheath. Also, the design is milt functional, there is a knife on one side of the blade and a saw back or ax on the other, so it has several survival uses.
What is the best machete for survival?
It all depends on your goals, but the more functions and uses your machete has, the more useful the tool will be. We suggest that you take a look at our list of the 7 best survival machetes in the article above. We consider the Essential Tact Survival Machete one of the best options. Its blade is made of 3CR13 Stainless Steel. One of the blade edges has a saw back. The whole construction has a black powder-coated matte finish. Another good option is Woodman's Pal Multi-Use Machete. It is not only a cutting tool and a self-defense weapon but also an ax and a shovel.
What Are The Tips for Proper Use?
To use the machete safely, you must follow certain rules:
Check the area of ​​use to avoid accidentally hitting people or animals that you do not want to harm.
Learn to hold your machete properly.
Swing the machete correctly. Work with your body, not your hand.
Hit at an angle of approximately 45 degrees.
Use protective gloves and lanyards from Ferro rod.
What is the best machete?
It is difficult to single out just one best survival machete, they all differ from each other, so in our article, you will find 7 top survival machetes. For example, CRKT Chanceinhell 18 " Carbon Steel Machete, Condor Duku Machete, Fiskars 29 Inch Machete Ax are good options.
Choose a machete that has a multi-functional design, full tang construction.
Pay particular attention to the blade steel material. High carbon steel blade or 3CR13 stainless steel is the right choice. But simply stainless steel is too fragile for a machete.
A nice bonus will be if the set with the machete includes a strong and thick sheath (for example nylon sheath).