Introduction
There are survival skills and hacks that can maximize your survival chances in an emergency. It is not necessary to tell you how important survival gear can be while surviving an out-of-the-way situation, homestead, or camping in essence. However, food kits can be of paramount importance in everyday life with their unpredictability level, let alone surviving in the wilderness or sustaining an economic collapse of TEOTWAWKI. To sustain for as long as possible, preparing hot food can significantly increase your survival chances. To cook it, you should get an appropriate solar oven.
A solar oven, also called a solar stove or solar cooker, is a device created to utilize solar power or the sun's rays to make food. It usually comes in the form of a box lined with something akin to aluminum foil to be shiny and conductive to the sun. The box is then covered with a glass or plexiglass type material to hold in the heat that accumulates.
Let us find out more about the features of the device. Read on!
TOP Best Solar Oven
The All American Sun Oven is an ultimate solar appliance that features anodized aluminum reflectors that are rust-proof and highly polished. It is lightweight, set up in minutes, and can reach temperatures of up to 400 degrees Fahrenheit. It is an American-made solar power over, and when folded up and not being used, it features a nice carrying handle for easy transport.
Some features that make the Sunlight Oven stand out apart from the rest: it is 20% larger than previous models, makes it easier to make more meals and accommodate larger capacity cook pans, has increased wind resistance, and has 15% higher heating temperatures than older models.
You can cook just about anything on this solar stove, including bread, pizza, vegetables, pasta, desserts, and more. Depending on how the unit is set up, you can choose fast or slow cooking times, from 20 minutes as conventional oven models or all-day cooking like a slow cooker.
Size:

24 x 15.5 x 20.5 inches

Weight:

22 pounds

Maximum Cooking Temp.:

400 degrees F.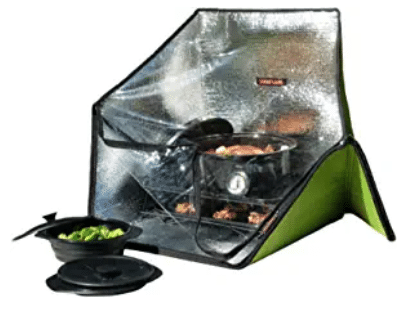 The Sunflair Portable Solar Energy Oven Deluxe Kit is a combo set that comes with everything you need to set up a solar cooking space. This kit includes one solar oven, one solar oven thermometer, two heat conductive baking trays, two baking racks that can double as dehydrating trays, one enamelware pot, and a handy carrying pot, all in a convenient carrying case.
The whole unit is incredibly portable, which makes it easy to carry with you whether you are using it for a recreational purpose or in an emergency preparedness situation.
One of the best aspects of this unit is that there is no assembly required, it sets up or stores in just minutes, and it cooks for a total of four to eight people. Featuring a state-of-the-art closed-cell insulating plastic shell, this oven can reach an internal temperature of 285 degrees Fahrenheit which can vary based on your location and the time of year. A UV index of 3 or more is advised for the best cooking conditions.
Size:

19 x 15.5 x 2 inches

Weight:

4.2 pounds

Maximum Cooking Temp:

285 degrees F.
Next is the All Season Solar Cooker and Trivet, which is said to make more food on a sunny day than any other solar cooker of a similar size and design.
It is designed to capture the sun's rays from sunup until sundown, and works anytime during daylight hours, any day of the year, as long as the sun is shining. It will prepare three to four different meals with ease and has a two to three-quart large capacity.
This solar cooking oven is also equipped with "sunlight," which allows you to set the unit slightly ahead of the sun for unattended cooking. It will make a pot of dried beans to completion with no soaking or parboiling from scratch, beginning with just beans and cold tap water.
Light-weight and portable, this unit folds neatly for easy transport between camps or anywhere you'd like to take it. The design allows for cooking eight to twelve hours a day as opposed to about four hours with competitors' oven models.
Size:

24 x 24 x 24 inches

Weight:

2.3 pounds

Maximum Cooking Temp:

200-300 degrees F.
The Go-Sun Sport Solar Oven is a little different from any of the other solar oven models on the market. In fact, if you do not know what you're looking at, you might not even be aware, at first sight, that it is a solar oven at all.
This unit is a vacuum tube oven, and with its tube shape, flanked by two parabolic reflectors, the stainless steel cooking tray, which slides into the main tube, can create a meal for two in just twenty minutes and remain safe to touch. It is equipped with a wooden handle for getting the food out and also comes with a cleaning scrubber and an integrated handle that becomes a stand while in use.
Incredibly portable, the Go-Sun Sport sets up in mere seconds, cooks fast, and can make anything: bake, broil, steam, or fry. Something else that sets this oven apart is its two-year, no-questions-asked warranty. All other solar oven models come with a one-year warranty, with stipulations.
Size:

24 x 5 x 8 inches

Weight:

8 pounds

Maximum Cooking Temp:

400-500 degrees F.
The Happycamping Outdoor Solar Oven Set is very much like the Go-Sun Sport in the tube-type design, and it just doesn't get as hot during cooking. It utilizes the same cooking tube with the wooden handle for insertion and removal of the vacuum cooking tube. And like the Go-Sun, it sets up and breaks down in seconds, making it ultra-portable and easy to carry where ever you go.
Size:

24 x 5 x 8 inches

Weight:

3.5 pounds

Maximum Cooking Temp:

90-300 degrees F.
Why should I search for one?
These units are an absolute must-have in a situation where there is little or no electricity. No matter what happens, even in the direst emergencies, people still have to eat. Since there are times when it isn't feasible to sit with a campfire while a meal cooks, these stoves – which can be set up and left unattended – can really come in handy.
While it does take longer to make food than a lot of other methods, it's somewhat like using a crock-pot. You can set it to cook, leave it, and when you return, the food is ready.
Solar-powered ovens and stoves are easy to acquire and don't cost a great deal of money, so it's definitely worth it to have at least one in your supplies. Even if you think you won't need it, better to be safe, just in case.
In this article, I will be covering what I think are the best solar ovens on the market. I will compare five different types of solar oven/stove units, which will hopefully aid you in making an informed decision when you decide to purchase one for yourself.
Don't get stuck eating boring, bland food while camping in the outdoors again. These are the best solar ovens for sale today.
How Do Solar Oven Devices Work?
The science behind solar cookers is pretty easy. Solar oven devices are fueled by direct sunlight. They use the Sun's rays to generate heat. Basically, the simplest solar cookers convert the Sun's energy to heat when light rays get trapped in a dark box, causing it to heat up. Other models may be larger and more complicated — for example, they contain reflective surfaces to reflect the sun rays onto the black surface, allowing the solar oven to heat up to even higher temperatures. Some solar ovens can heat up to 400 degrees!
How Do I Choose One?
Choosing a solar oven for your survival gear bag is no easy task, and you have to account for various factors. Solar cookers vary in size, max temperature, weight, portability, cost, and a range of other factors. When choosing one that would suit you the best, ask yourself the following questions:
1. What am I going to cook?
The cooking area you will be around is important to consider. Bigger cooking areas may allow for. If you want to use a solar oven exclusively, you might need a larger one with a bigger temperature range and a cooking area large enough to fit all of the foods that you're planning on making. If you only need a solar oven for simple tasks like warming up already-made food, keeping it warm, or cooking easy meals that don't require extra high temperatures, such as certain vegetables, beans, etc. — a smaller and less complicated oven will be the best fit.
Beginners might need extra help, which is why some ovens come with additional items, including:
pots

recipes

trivets

a sun angle identifier

a thermometer
So if you're not a very good cook yet, perhaps you should go for an oven with a kit of additional supplies to get you started.
2. Where am I going to cook?
Cooking in your backyard is one thing, but taking a large and heavy solar oven to the woods on your camping trip to heat canned food might be a problem. If you're planning to use your solar oven near your house, you might opt for a bigger, more complicated model. If you enjoy camping and want to make your trips greener, you might need a lighter, more compact one. If you don't have a car, don't worry — some ovens can easily fit in your backpack.
How To Make A DIY Solar Oven (+S'Mores Recipe!)
Here are some useful tips! Did you know that you can cook using sunlight without buying a professional solar cooker? In fact, you can make your very own DIY solar oven at home without spending a penny. Of course, it won't be nearly as efficient as the ones mentioned earlier, but you can still cook some snacks with it — S'Mores, for example!
For a more detailed guide, please read the article on DIY solar ovens on our website.
Here's what you're going to need:
a cardboard box with an attached lid

aluminum foil

glue stick

a stick

plastic wrap

duct tape (or any type of tape)

a ruler
Making your DIY Solar Oven:
Сut a three-sided flap on the top of the box using a ruler. Leave at least a 1-inch border.

Using a glue stick, cover the inside of the box, including the inside part of the flap, with aluminum foil. It should be as smooth as possible. Try to make it smooth enough to see your reflection in it.

Tape clear plastic wrap across the hole you cut in the lid — one layer on the top of the lid and one layer on the bottom. This will let the sunlight get into the box without the heat getting out.

You need to keep the flap open so that the light can reflect into the box. Try using a stick, or figure out a different way to keep the flap in place.

Wait for a hot, sunny day. Place your solar oven under direct sun. The outside temperature shouldn't be lower than 85 degrees. Leave the oven for at least half an hour, and the sun's energy will bring more heat soon.
The perfect recipe for S'Mores, solar edition:
Get the ingredients ready. You will need crackers and marshmallows, thin chocolate bars, an aluminum pie pan, and napkins.

Put the crackers in the pan—place marshmallows on top of them.

Put the pan on your device. The oven should be already hot.

Close the part with the plastic wrap on it.

The flap should reflect light into the box.

Let your S'Mores sit in the oven until they're squishy when you poke them. This can take up to an hour, depending on the conditions.

Then, open the lid with the plastic wrap and put a chocolate bar on every marshmallow.

Put crackers on top of the chocolate pieces.

Leave your S'Mores in the oven for a few minutes so that the chocolate can melt a bit.

Enjoy.
As with most of my reviews, these sun oven reviews aren't any different. You can't really go wrong with any of these portable solar oven models. If they made this list, they would be the best solar cookers on the market. That said, I do have a favorite of the five solar power ovens.
My favorite pick of these five is the All American Sun Oven. Overall, I think it offers the best combination of uses, including the ability to make more hot meals to boost energy and use larger cooking pans. In an emergency situation, there's no telling how many people you may have to cook food for at once, and having the ability to do so with a completely solar device takes a lot of guesswork out of the situation.
The fact that its maximum cooking temperature range is up to 400 degrees lets me know that it would be great for cooking bread and other quick-cooked items. In addition, the ability to choose a fast or slow-cooked speed gives it versatility the others don't have. There might be situations when a quick meal is needed and other times when it is important to be able to leave it unattended for longer periods of time.
While its weight might mean it isn't as portable as others, a heavier unit will be a hardier unit and will probably stand up to a little more wear and tear than some of the others. Light is good in some situations, but in an emergency, the ability to take a little wear and tear goes a long way.
Best Solar Oven Summary
Solar ovens are a great alternative to regular ovens. They are good for the environment, and most of them can be transported easily to any cooking area all year round. Also, they require the same recipes as the regular ones. Sometimes, they need a very small amount of time to heat up meals. Some even claim that sun-made meal tastes better. So, whether you want to make your meals greener or just have fun and experiment on a camping trip or in your backyard, you should definitely think about purchasing one.
Frequently Asked Questions – FAQ
Is the temperature of my solar oven adjustable?
Users can't really control the temperature of the oven. You can, however, buy a thermometer and try different angles and times of the day to see how it affects the temperature.
What can I use a solar oven for?
Many solar ovens have certain temperature and size limitations. Keep the temperature in check to be sure that the meat you're cooking is safe! Remember that meat should be heated up to at least 160 degrees on the inside. To boil, water needs to reach a temperature of 212 degrees. In ideal conditions, solar cookers can reach much higher temperatures, but you still need to be alert, as the conditions cannot always be perfect. You should also keep in mind that some pots cannot fit into some solar ovens.
That being said, you can still make lots of things in your solar oven! Try looking for slow cooking recipes. In addition, lots of solar chefs come with a cookbook so that you can get ideas from there. Try googling it — there are plenty of recipes online made specifically for solar ovens.
Can I use solar ovens when it's cold outdoors?
Yes, you can. The outside temperature matters are way less than the amount of direct light. You can adjust your oven to trap as much light as possible. Most solar ovens and cookers are designed in a way that lets them keep the heat in, even when it's cold outside. However, making meals during the winter may take a bit longer than on sunny summer days.
What kitchenware should I use in the wilderness?
Many solar cookers come with a suitable pot. You can also buy kitchenware made specifically for solar ovens — lots of solar ovens manufacturers provide such items. Here are the general rules: the pot has to be made out of thin, dark metal, and it should have a lid. It shouldn't be polished, as polished surfaced reflect light. Kitchenware that is made of thick material takes much longer to heat, so you should avoid using it.