Are you a gun enthusiast or prepping or an avid hunter? Or are you entering the world of firearms and other survival gear and are looking for a detailed guide for choosing the best prism scope for your rifle? Either way, check out the guide below to learn about the best prism scopes on the market and how to choose the right one for yourself.
In this guide, we will cover the following topics :
What are prism scopes?
What's the difference between a prism scope and a red dot sight?
What are the key features of a high-quality prism scope?
How to choose the right magnification?
What are the main factors in choosing a prism scope?
What are the best prism sights today?
TOP Best Prism Scopes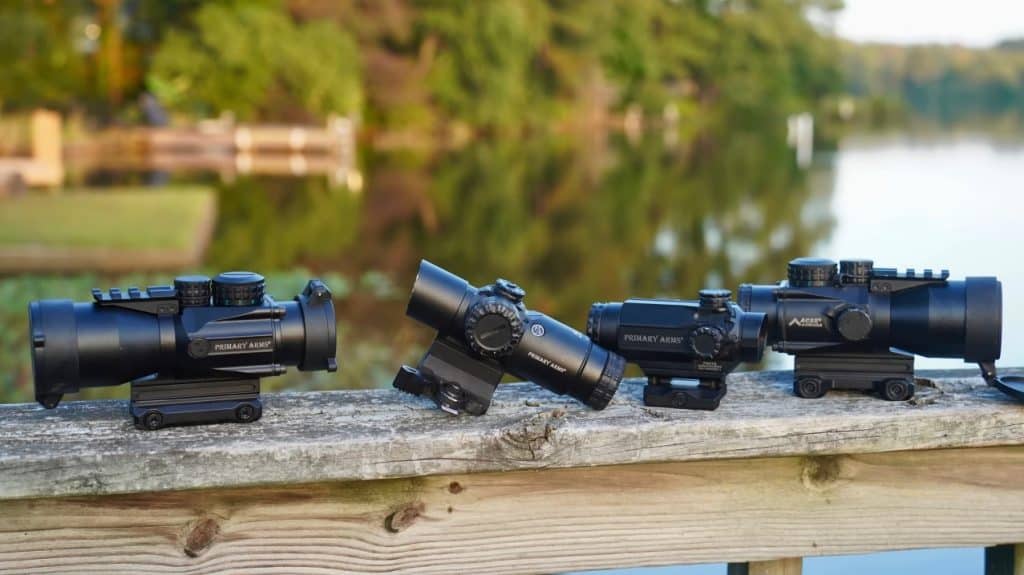 In this section, we will take a look at the five most popular compact prismatic sight models in different price ranges. All of the items on the list are from епру world's top brands that produce high-quality prismatic scopes and related products. Among the brands mentioned below are Primary Arms, Vortex Optics, Burris Optics, Monstrum, and Steiner.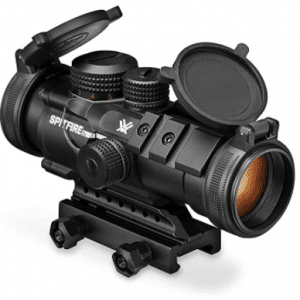 We'll start with the best product for its price – the Vortex's Spitfire. This is a versatile model made of anodized aluminum. It's shock-resistant and extremely durable. Nitrogen filling complemented with O-ring seals make this model tightly sealed and protected from dust and dirt. With the magnification value of 3x, Spitfire makes for a great hunting sight.
This model is highly durable (water-, shock, dirt-, and fog-proof); it has a multi-coated objective lens and provides variable mounting options. On the other hand, some might find it a bit heavy, and the crosshair has only one color option – red.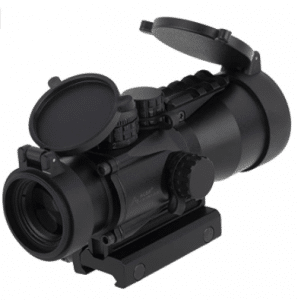 Gen II is a 5x prismatic sight by Primary Arms, one of the most renowned firearms retailers. Gen II boasts a 5x magnification value, a waterproof body, and versatile mount compatibility. Compact Prism Scope (Gen II) is great for various shooting tasks, including plinking, hunting, and competition.
Primary Arms' 5x Compact Prism Scope boasts heavy-duty build quality removable top rail (the feature that will make the model even lighter). It will fit a vast number of various survival rifles and is great for a variety of shooting tasks. However, this prismatic sight has a short eye relief.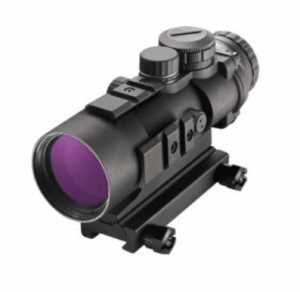 This is arguably one of the top choices among modern prism scopes. Burris's AR 536 is a 5x prismatic sight with a multi-layer objective lens and a fog-proof body. The model is perfect for both short-range and longer-distance shooting. With AR 536, you can hit targets at a maximum distance of 600 yards.
Among this model's best features are a multi-layer objective lens, attachable sun shield, long eye relief, and red dot. It's fog-proof and shock-resistant and goes with a 100% warranty with no expiration period.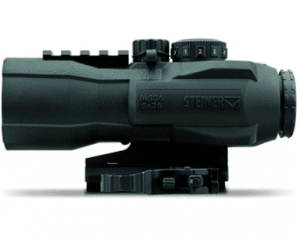 This model has a wide lens that accepts more light which results in clear vision. With this compact prism scope, you can hit targets at a distance of 700 meters. It boasts solid build quality and is a great compact optic aiming device for close to mid-range firing.
Steiner's model has a great build quality and high-quality optics. It is a versatile prismatic sight that will perform equally well in various light conditions. As for the downsides, so might find the model's finish to be not of the best quality.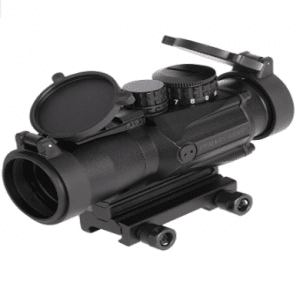 This is another model by Primary Arms. Most experts deem this 3x prism scope model the best prism scope if you need to hit fast-moving targets. With a 33 mm lens and a bullet drop compensation marker, this is a great product for the price. Just mind that it has short eye relief.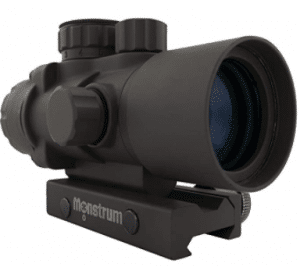 This 3x prism scope provides visual clarity and perfectly fits shooting at a distance of 300 yards. It's compact and lightweight. The mount construction will fit the majority of modern rifles. However, this product comes with a minor downside (that has nothing to do with its production features, though) – Monstrum S330P has a short-term warranty for one year only.
Prism Scope in Detail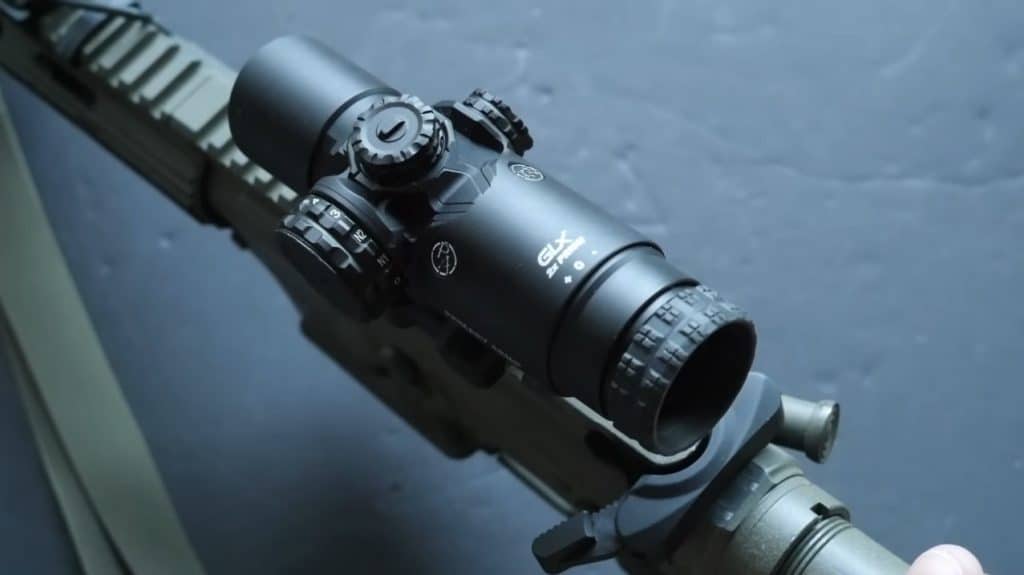 Since the day firearms were invented, people have been trying to improve shooting accuracy. These attempts resulted in an array of aiming equipment. Today, this type of equipment includes modern devices such as traditional scopes, prism sights, red dot sights, collimator sights, holographic diffraction sights, and laser sights. The most popular are mil-dot scopes and red dot sights. Below, we will make a head-to-head comparison of the two, covering their pros and cons. But for now, we will focus on a prism sight or a prism scope.
So what is a prism sight?
Prism sight is an aiming device that makes use of prism-based design. It will be great if you have it in your bug-out bag to be able to defend yourself better and pursue hunting goals. Prism sights (or prism scopes) are pretty much like regular scopes you would often see on firearms. Those scopes use magnifying glasses to focus the light for better target acquisition. However, there is one significant difference that sets prism sights and regular scopes apart. This difference is the principle of how a prismatic sight works. Since prism sights use prisms (hence, the name of the devices), the light does not go through a set of magnifying glasses but is focused on by a prism.
A prism scope is normally more compact than a traditional scope because it does not have a refracting lens system that would include a set of lenses that would make it bigger and heavier. A prism scope consists of an etched reticle and an illuminated reticle. The construction of prism scopes is pretty much like the construction of binoculars. Thanks to their construction, which includes an etched reticle and an illuminated reticle, prism scopes are popular choices for modern tactical rifles.
What's the difference between a prism scope and red dot sight?
A red dot sight is a type of non-magnifying reflex sight. These reflex sights got their name from the red dot-illuminated reticle that is located in the center of the optics that makes for fast and accurate target acquisition. Red dots are popular among firearm enthusiasts for their ease of use. Red dot sights are often used by military and police forces and hunters. They are also a popular choice for regular civilians who buy firearms for home defense.
Red dots are indeed trendy. The reason for that is that it's straightforward to aim with a red dot sight. You need to turn your firearms towards your target and place the dot over it. You don't even need to close one eye to aim. This makes a red dot sight a number one choice for a tactical rifle. Firearms experts say that this type of sight is perfect for close-quarter combat.
Why prism scopes are better
However, prism scopes have begun to dominate over red dots lately. While prism sights may seem less convenient, they still have one main advantage – they magnify. Thus, with a prismatic sight, you can get a view magnification – a feature that red dots will not offer you.
Among other advantages that let prism scopes successfully compete with red dots are:
Etched reticle – with an etched reticle, you don't have to worry about the battery life that powers an illuminated reticle. If batteries run out, you will still be able to aim using an etched reticle of your prism scope. However, during low light situations aiming with an etched black reticle will become problematic.
A bright and wide field of view – a glass prism optical system will give you a better view which will result in more accurate target acquisition.
Better for users with eye conditions – unlike red dot sights, prism scopes have adjustable ocular rings. Such things as astigmatism are a problem if you're using a high-quality scope.
Important to note
A prism scope may not offer a comfortable eye relief if you're using eyeglasses – eye relief is a distance between your eye and a lens necessary for the proper focus. So if you're wearing eyeglasses, you will have to mind that minimal eye relief will not let you use a scope with your glasses on.
Another thing to note is that short eye relief is not good if you're using a larger caliber rifle, i.e., a rifle with a strong kickback. This means that the rifle will kick back when you shoot, and the scope may hurt your eye.
Prism scopes or red dots?
As for what type of sight to choose for yourself, you will need to ask yourself whether you will do close-range and medium-range shooting or if you're planning to go for longer ranges. Red dots are great for the formerly mentioned close-range and medium-range shooting – that's why people choose them for close quarters. With a prism scope, you will be able to aim at more distant targets.
Plus, prism sights have extra advantages such as various color options and intensity levels for illuminated reticles (green or red illumination). This function provides better reticle visibility. Reticle brightness settings will let you control the brightness level of illumination depending on what time of day you're using it. Some models include additional options such as bullet drop compensation, etc.
What are the key features of a high-quality prism scope?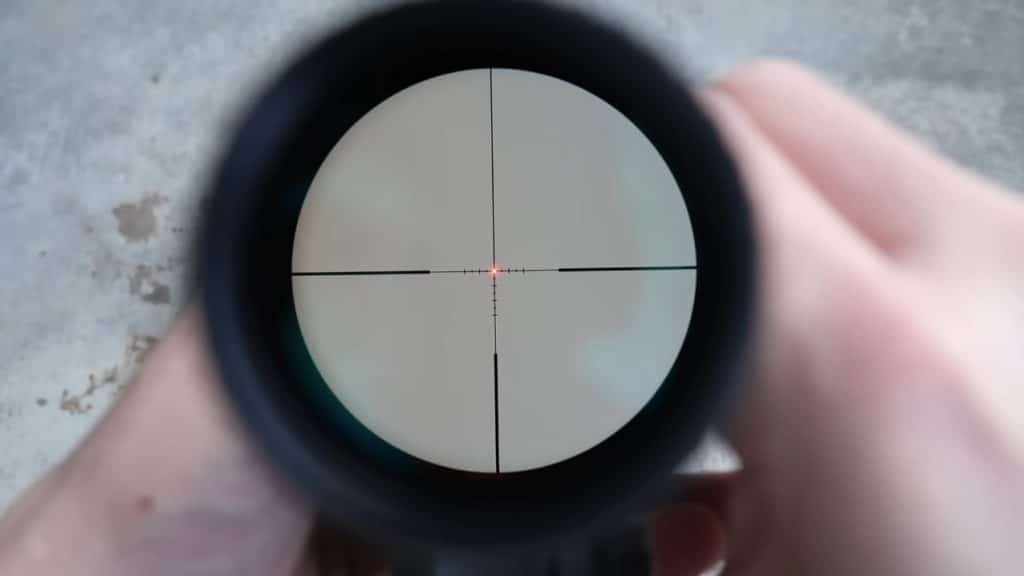 Three main features make the best prism scope:
Magnification
Etched reticle
Illuminated reticle
Magnification is the ability to make distant objects closer visually. There are various magnification-type scopes on the market. The bigger magnification is 5x. Magnification is good for hunting and close-range/mid-range shooting. However, there are scopes with no magnification at all. These scopes will be a great choice for close-quarters since you don't need any magnification in a close-quarter battle. In fact, the way you're going to use your scope is the key factor in choosing a model with a certain magnification value.
Say you are planning to put a new scope on your tactical rifle to use for close-quarter-battle purposes. With that approach in mind, you should look for a scope with a 1x magnification. This magnification value is also great for competitions where you need to react quickly and shoot without aiming too long. With a 1x magnification scope, you don't need to make any adjustments to aim. All you need to do is look at your target through the scope and shoot.
What about field shooting?
For hunting and other types of field shooting, choose 3x to 5x magnification. It will allow you to hunt game animals from a distance successfully.
An etched reticle is an auxiliary aiming device that will help you out if batteries in your prism scope run out, leaving you without an illuminated reticle – this way, you won't have to use your rifle's iron sights for aiming. That latter option is not as convenient as using a built-in crosshair.
With a fully illuminated reticle, you will be able to aim in low-light environments so you can trace and hit your target, even if it's in the shadow or hiding in the dark. Some models will allow you to control the reticle's brightness level. There can be five brightness settings and more. Also, some manufacturers choose to add extra markers to their scope's reticles, such as bullet drop compensation markers and more.
For more tips on how to choose the right prism scope for yourself, read the chapter below.
What are the main factors in choosing a prism scope?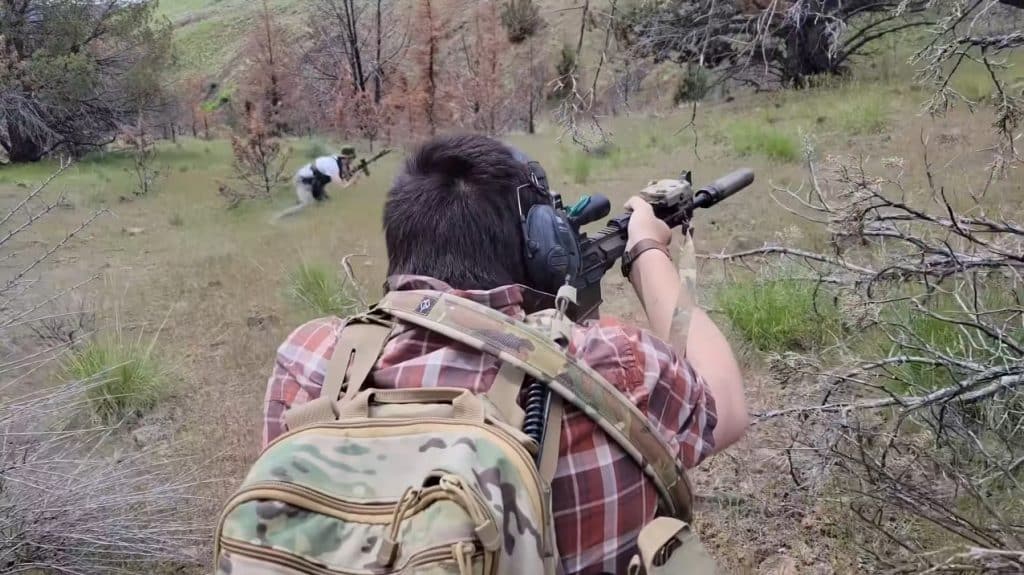 Below are the main factors you can look at when choosing prismatic optics scope. Read them through to know what to look for in a high-quality prism scope you can fully rely on and boost your survival skills.
1. The purpose
First of all, you will have to decide what you need a scope for. This decision will have a crucial effect on your eventual choice. What you need to remember at all times is that a prism scope is not the same as a traditional scope that you would mount onto a sniper rifle. Prism sights are not for long-distance shooting.
Still, this type of scope is not for fast shooting that requires minimum aiming. If you're planning to participate in shooting combat competitions showing your best at reflex shooting, then your best choice is a non-magnifying reflex sight.
The purpose of prismatic scopes lies somewhere in between, actually. It's not a long-distance aiming device, nor is it quite good for reflex shooting and fast target acquisition. The best things to use such scope for are shooting at close to mid-ranges and plinking.
2. The magnification value
Here's a problem – you can't set the desired magnification value on a prismatic scope. They just don't work like this. Once you've purchased, let's say, a 3x scope, you will only get a 3x magnification. So to stay happy with your purchase, you will need to know exactly what distance you need a scope for.
Is it a CQB tactical shooting? If the answer is yes, then you should go for a 1x to 2x scope. Or you're planning to shoot from a distance of 200 to 300 yards? For this purpose, your best option is a 5x prismatic scope.
3. Optical quality and objective lens coating
However, regardless of magnification value, what you need from your scope in the first place is sharp optics. Pay attention to lens coating. This is a crucial feature that not only protects a scope's lens from damage but delivers greater quality. Go for a multi-coated lens. Multi-coated lenses don't have as many chromatic aberrations as cheaper products have. Plus, you may also look for scope models with anti-reflective coatings on their lenses. With high-quality crystal clear optics, you will get amazing clarity and light transmission resulting in outstanding accuracy and shooting experience.
Another thing to look at when choosing a prismatic sight is a lens cap – it will cover the scope's lens to prevent it from damaging.
4. Reticles' specs
Next come the reticles specifications. The choice is extensive since there are many designs for a prismatic scope's reticle. It may have dots or lines, it may have a traditional crosshair, or it may be a horseshoe reticle, etc. Some reticles have a BDC marking. This marker comes in handy when you know the exact distance from a target. Knowing the distance will help you aim more accurately and expect a bullet to cover the space and hit the target flawlessly.
What you should remember is that some models only have one type of reticle. It may be whether a reticle with illumination or without it. An illuminated crosshair will let you aim even in low-light conditions. Usually, such a reticle would have brightness settings. However, a lighted crosshair needs the power to function. This means that your scope will use batteries. And should batteries die, you will be left without a reticle. That is why manufacturers choose to back up lighter reticles with etched ones. If you have a reticle etched in your prismatic scope, you may not bother about batteries since you always have a backup aiming device that does not depend on battery power. Another piece of advice is to pay attention to dual ring tactical reticles that make for the best target acquisition.
5. Eye relief
Eye relief is the distance between a shooter's eye and a scope's lens necessary for the proper focus. And eye relief is one of the few downsides of prismatic sights. The reason is that these sights have a very short eye relief – this means that you need to keep your eye very close to the scope. So if you have a large caliber rifle with a strong kickback, you should better reject the idea of buying a prismatic scope – it may hit and hurt your eye the moment you fire the rifle.
6. Durability
Finally, there becomes durability since your rifle and a scope installed on top of it will most likely get exposed to various weather conditions. This means that your scope will need to be heavy-duty. The most durable scopes are the nitrogen-filled ones. So pay attention to those models. Another important thing is water resistance. There are also fog-resistant scopes. We would also recommend paying more attention to the models that come in aluminum bodies rather than plastic ones.
How to choose the right prismatic scope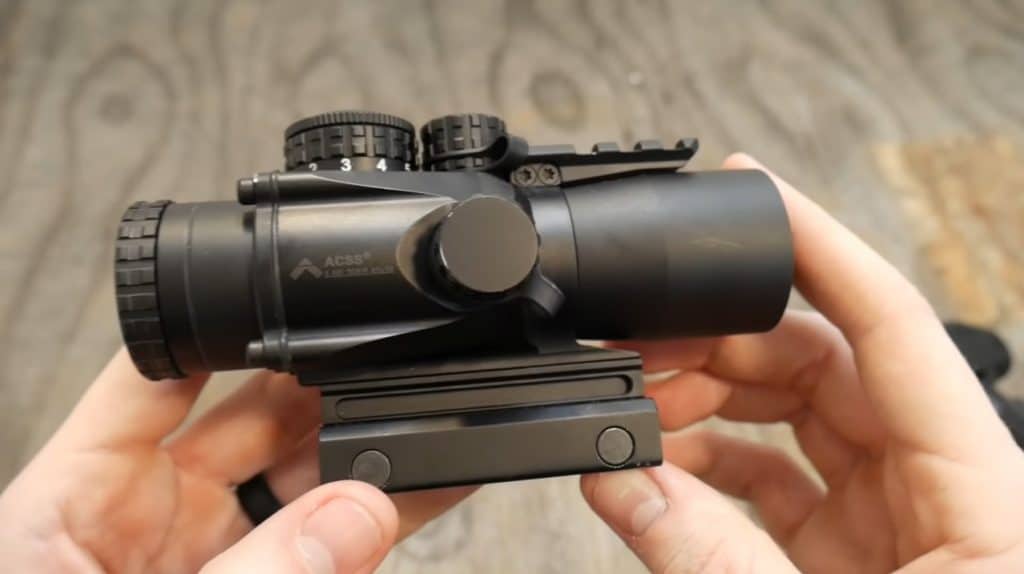 Decide what you will use it for – this will narrow the range of models and make your choice much easier.
Go for a non-magnifying sight (or for 2x sight) for tactical shooting. Choose 3x-5x prismatic sight for shooting at longer distances.
Choose a multi-coated objective lens model.
Go for a model with two reticles (illuminated and etched one). Make sure an illuminated grid has multiple brightness settings.
Don't purchase a prismatic scope for a large caliber rifle – the eye relief is too short, so you will need to keep your eye very close to the scope. Because of strong kickback, the scope may hurt your eye.
Go for a waterproof, shock-resistant, and fog-resistant model.
Best Prism Scopes Summary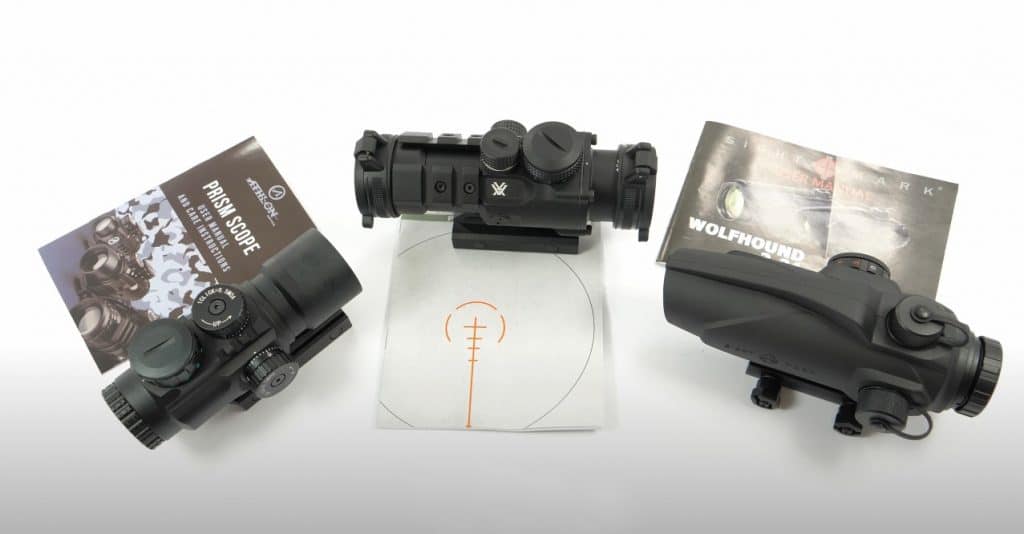 Having compact designs and coming at a lower price range, prism scopes are great aiming devices for survival rifles. They are equally good for reflex shooting and shooting at longer distances thanks to magnification features – something that regular non-magnifying sights don't have. However, if you're new to prismatic sights, you have to keep in mind that they are not the best choice for large-caliber sniper rifles and don't have high magnification values for shooting at real long distances.
Frequently Asked Questions – FAQ
What is prism scope?
A prism scope is an aiming device that uses a prism to focus the light. Prismatic sights are more compact and lightweight than traditional magnifying lens sights because they don't accommodate a set of magnifying lenses. Prism sights are a traditional choice of military and police forces, hunters, and regular gun enthusiasts.
Are prism scopes any good?
Providing a certain amount of mild magnification (2x-5x), prismatic sights are best used with tactical rifles. Most of the models have a solid build quality and are waterproof. Another common feature for most prism sights is reticles with illumination that make it easier to aim in low light conditions. Prism scopes come in a relatively budget-friendly price range.
What is a 3x prism scope?
A 3x prism scope is a prismatic sight that provides a 3x magnification. Such magnification value is great for shooting at a distance of 100-300 yards.
Are prism scopes durable?
Yes. Most models are quite durable. Sights that come at a higher price would have an anodized aluminum body, multi-layer lenses, lens caps, and nitrogen filling that makes them tightly sealed. Such models are fog/water/dustproof and shock-resistant.