A camping toilet is a must-have, no doubt. A portable toilet that uses chemical fluid to work, having a considerable tank and a fair price can come in perfectly in the wilderness. Place it near your caravan or a tent, change the cassette, and be careful with the chemicals. Other recommendations you can find out in this article. Read on!
This piece will help you find the perfect portable toilet for your next camping or bug out trip.
No matter how far from civilization, people need to use the bathroom. Nature takes over at all times, But what do you do if there is no bathroom around? The answer to that question is simple — you come up with a survival expert solution.
Usually, our everyday routine doesn't seem to cause too much trouble, but even simple things may seem a lot more complicated to accomplish in an emergency survival situation. That is why we decided to share our hiking and camping experiences, and useful wilderness survival hacks with you.
This article will tell you about various kinds of toilets, makeshift toilet seats, and proper waste disposal. You will learn how to build a water tank (for storing fresh water), a holding tank, makeshift bucket toilets, composting holes, and many more. So stick around and buckle up!
TOP 5 Best Camping Toilets on the US Market
As we said, there are many products on the market today. Nowadays, the manufacturers can offer you small and compact, big and comfortable, fancy and heavy, simple and lightweight, pretty and rather ugly camping toilet models. Regardless of the shape and form, they all have the same only function — to serve you in an emergency in the wild.
We have researched the US market and have come up with a Top-5 best portable toilet list. Here are the best options in the country available today.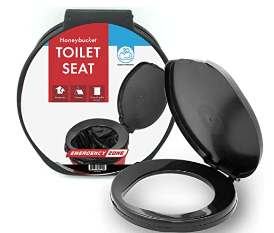 The Emergency Brand produces perfect options for organizing a clean waste toilet in the wild. Its Snap-on Toilet Seat is the simplest and most versatile configuration of a portable toilet on the market. The principle of using this snap-on toilet seat is straightforward. You need to find or purchase a 5-gallon bucket and attach your snap-on toilet seat to it. There you go, your personal bug-out toilet is ready to use. Do not forget to use a garbage bag each time you use your regular 5-gallon bucket to make the garbage disposal and cleaning easy. A 5-gallon tank capacity is pretty much enough, but you can search for bigger volumes if you want to.
In our opinion, this one is the best portable toilet option as it meets all our criteria: it is durable, very lightweight, portable, minimalistic, and super easy to use and clean. If nature calls, put your Emergency Brand toilet seat onto a bucket, relieve yourself, and then put it back into storage once you're done. This is all the effort it takes.
Click here to check the relevant price. For more reviews, check the customer review section.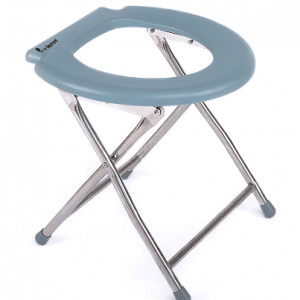 The Folding Commode Portable Toilet comes in firm second. It is yet another perfect and simple portable toilet option for many campers. This toilet seats a bit more involved and complicated than a regular snap-on one. To use it, place a bucket under your folding toilet seat, and get down to business. Once you are finished, replace the garbage bag, fold the toilet seat, and put it all in storage until the next time. The disposals are super easy to dump, which is another asset of this model.
The Folding Commode obtains a convertible four-legged steel frame that can handle the body-weight of up to 450 lbs. While weighing only 3.5 lbs, the device is super lightweight and easy to pack into small compartments. It is definitely one luggable loo to possess.
Click here to check the relevant price. For more reviews, check the customer review section.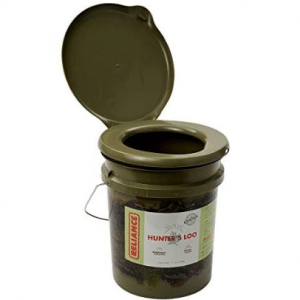 Our third option for you is the Reliance Hunter's Portable Camouflage Loo. These products already come with a bucket, which is very convenient. This camping toilet was created specifically for hunters, but it doesn't mean other campers and hikers will not find this luggable loo worth attention. The Reliance Hunter's assets come with a bucket (waste tank) and a toilet seat. They are very lightweight, convertible, cheap, and adjustable to the natural environment. Since hunters need to stay hidden at all times, these portable toilets come in camouflage.
The device is very affordable too, especially if you are not fond of spending enormous amounts of money on a travel toilet. You can go anywhere with it, and its 5-gallon bucket will let you never worry if you have enough compartment space for your disposals.
Click here to check the relevant price.
4. Black Pine Sports Turbo Toilet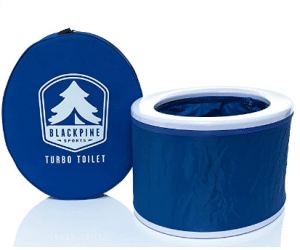 The Black Pine Sports Turbo Toilet is also one of the best portable toilets in the country. They probably have the most uses amongst similar products in the market. These portable toilets' popup design makes them absolutely perfect for all possible outdoor activities, including RV or car camping, hiking on foot, long-distance boating, RV road trips, and many others. This model will even do for a temporary home toilet.
Black Pine Sports portable toilet is very simple to use. The toilet system comes in a zip storage bag. You need to unzip the bag and unpack the system first to start using it. It looks like a very light and not very sturdy construction. But you would be surprised to know that its maximum body-weight capacity is 330 lbs. This toilet has odor control and a disposal compartment that can fit two liters of human waste.
Check out this video for more information on the piece.
Click here to check the relevant price. Click on the settings to pick out the language you need.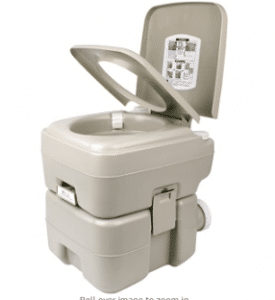 Last but not least comes the Leopard Outdoor Portable Camping Toilet. Some might say that this is the portable toilet of the future. And you know what, they are probably right. This luggable loo is where the maximum comfort meets maximum utility in terms of toilets. If not make you an ultimate fan, it would definitely not leave you indifferent. Comfortable toilet seat, 3-gallon waste storage capacity, and a three-directional flush — these are only a few perks that you will get for buying the Leopard Outdoor futuristic products.
However, like any other modern technology, this one comes at a certain price too. First up, as it is a cassette toilet, after all, it weighs 11.3 lbs, which isn't as light as other models. Second, the cost seems to be a bit elevated for a minimalistic toilet option. Third, it takes up more space in your storage compartment.
Considering all this, we have put this model fifth on our Top-5 list. But it has some obvious advantages. For example, this cassette toilet is very convenient for an RV. But you need to be aware of the bottom part of the toilet when using it: if not closed properly, the insides can spill from time to time (according to a customer review).
Thus, while some of you may say that this too much for a portable toilet, others may find it the only reasonable choice on our list.
Click here to check out the relevant price. Click on the settings to pick out the language you need.
Introduction to the Camping Toilet
Most travelers tend to use a dug-out hole in the ground to do their day to day business. It is rather simple, convenient, and doesn't require much strength or creativity to build. In other words, it's perfect for survival, even though some other hikers may notice you out in the woods in an exciting position. However, there are plenty of other amazing options that you might not know about.
Nowadays, we are so used to the blessings of civilization that it is hard to imagine a toilet without a proper, clean toilet seat, a waste tank, water tank, paper, and other amenities. Luckily, you do not necessarily have to forsake your comfort when bugging out. In this piece, we are going to cover the following topics to do so:
Why Should One Own a Portable Toilet (link to paragraph);
Portable Camping Toilets Working Principles (link to paragraph);
Key Features of a Quality Camping Toilet (link to paragraph);
The Perks of Using Portable Toilets (link to paragraph);
Top-5 Camping Toilets on the US Market (link to paragraph);
Additional Option: the DIY Camping Toilet (link to paragraph);
Camping Toilet Survival Essentials (link to paragraph);
The Most Unusual Portable Toilets (link to paragraph).
If you are only interested in our ultimate portable toilet recommendations, click here (link to the Top-5 paragraph) to skip forward.
Why Should One Own a Portable Toilet
The future is here: portable camping toilets have already become the camping essential among most hikers, campers, and survival experts. There are toilets for any taste and price on the market these days. Thanks to a portable toilet, you can turn the process of relieving yourself in the wild into a comfortable, carefree, and mess-free experience.
Portable toilets have come a long way, but only in the last couple of years, they have truly become a useful sanitation item. The technology is advancing rapidly. It allows the campers to get a light, compact, and super practical camping toilet with them without making their bug-out bag too heavy.
However, not all portable camping toilets are produced equally great. You need to remember that this is a piece of camping gear that you will get intimately familiar with. Therefore, you have to pick the best one. Trust us. This will not be money down the toilet, literally.
It is not an easy choice to make with so many possibilities, especially if you are shopping in an online store. Sadly, in the latest pandemic times, this is often the only shopping option we have. You cannot touch it or see how it works for yourself. You can only see a pretty picture and rely on blind faith in the manufacturer. Which is probably fair enough since it really is a very intimate camping item, right? Thus, we did our professional research on choosing a proper portable toilet for camping that would meet all your needs and requirements.
Portable Camping Toilet Working Principles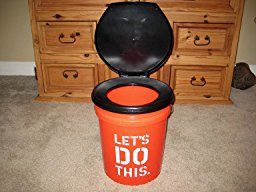 The idea of a portable toilet for camping is, by far, not earth-shattering. On the contrary, it is ancient and simple. Even the best portable toilets consist of three basic parts:
a toilet seat;
a construction that helps to hold the toilet seat up;
catching and cleaning the toilet system.
Almost all existing portable toilets require that you use a waste tank along with it. It allows you to remove the sediments with ease and not leave any mess around after. Cleaning up after using a camping toilet can be very nasty. That is why people have invented waste tanks and litter bags (at your choice) to put inside the portable toilet.
A holding tank, or a so-called "black water tank," is another asset for long-term campers (especially those traveling in an RV). The holding tank is designed to keep the human waste hidden from public sight. The tank is usually buried in the ground, so there should be a minimum unpleasant smell around. It seals the waste to dispose of it once you move on to the next spot.
Cassette toilets have pretty much the same working principles, although their holding tanks are much smaller. But they still are better than regular RV toilets because they are portable. And any camper knows that this is a great advantage in the wild. A cassette toilet would be perfect for places without a dump station.
All these improvements help to make your luggable loo environment-friendly and ergonomic.
Key Features of a Quality Camping Toilet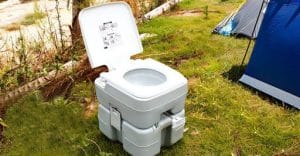 Just like any other survival tool, an ultimate survival toilet has some key characteristics. You should keep them in mind when choosing your perfect portable toilet.
Toilet Portability
The first key feature is already there, in the name of the device. Your bug-out toilet should be portable, first of all. Unfortunately, you cannot just bring your own toilet from home, now, can you? Because it is anything but portable: it is heavy, cumbersome, big, and, well, you know, cumbersome.
Campers traveling in RV can afford a proper permanent porta-potty, but most of us can not. Therefore, there are several basic questions that you should ask yourself when choosing a portable toilet:
Does it fold down/Is it convertible?
Is it compact enough to pack with?
How much space does it take in a bug-out bag or a vehicle?
Once you answer these questions, the choice will be obvious.
Toilet Weight
You do remember that as a hiker, you will be carrying all your survival gear on your back, right? Anything too heavy or making your back too uncomfortable on the move goes to waste immediately. Always stick to the ultimate bug out rule — the lighter, the better. Make sure you pick out not only a compact device but a lightweight one too.
Sturdiness
Your portable toilet for camping must be very sturdy. Toilet support is truly the last thing you want to worry about while doing your business in the woods. Therefore, opt for a piece that is robust, resistant to damage, as well as bad weather conditions, warm, and that will not break under your own weight.
Minimalism
If you are shopping online for your ultimate portable camping toilet, look specifically for minimalist options. The fancier the device is, the less practical and harder to pack it will be. Remember that you are not buying a throne. Sturdiness, lightweight, utility, and ergonomics are the main criteria for you.
Toilet Maintenance
We have already mentioned above that the cleaning job may turn into one nasty and messy task. You do want your bug-out experience to be as comfortable and pleasing as possible. Therefore, you have to envisage your cleaning options. Watch out for nooks and crannies in your portable toilet. Those will be the breeding ground for various kinds of bacteria.
The Perks of Using Portable Toilets
There are so many emergencies when this little porta-potty can really save your butt. Literally, hereunder, we have gathered the most common benefits and reasons to use a portable camping toilet.
No Need to Use Dirty Public Outhouses
Those of you, who have ever used a public outhouse or a so-called Porta-Potty, know for sure what kind of places they might be. Most of them are very dirty, messy, generally repulsive, and almost impossible to breathe in. Maybe, one out of a hundred turns out okay, but let us not hope for that to happen.
We must rely on ourselves and make sure to provide for a decent portable toilet that will be comfortable, sturdy, and safe to use. Besides, using a porta-potty swarming with flies that come for human waste and spiders that crawl all over the place can be really harmful to your health. God knows what kind of malicious bacteria can be hiding in the shadows of those public outhouses.
No More Cat Litter Holes
Do you know the feeling when you wake up in the middle of the night, out in the woods, and with an urgent bowel situation? If you are a skilled camper, you most definitely have been there (maybe even a couple of times). That truly is an emergency. Good luck finding a survival shovel, hiding in the bushes, and digging a hole, all while still desperately to relieve yourself. With a portable camping toilet, there will be no more digging cat litter holes, no more hiding in the bushes, and fearing that someone (a person or an animal) walks on you by accident. All you have to do is grab your personal portable toilet seat and peacefully take care of all your natural needs.
Familiar, Safe, and Comfortable Loo
Pardon our wording, but everyone wants to be comfortable while pooping. A proper portable toilet seat can make a huge difference in this regard. Packing a good old toilet seat that you have used for quite some time already can contribute greatly to building a unique relationship with your ultimate camping toilet. Trust us. It will make you feel very safe and comfortable as if you were traveling with an old friend. This asset will make you feel at home. We suggest you also use disposable paper toilet seats to keep your seat clean at all times. You can change them as often as you like and waste them once used.
Additional Option: the DIY Camping Toilet
If you are a fan of making stuff with your own hands, you can always make a "doodie bucket" yourself. We have worked out some recommendations for those of you who'd like to try it out in the wild.
1. Bucket Toilet
There are various methods to build a toilet in the wild. The simplest one is the bucket toilet. It will take a 5-gallon bucket, a couple of heavy-duty trash bags, a pool noodle, and some toilet paper to make. Again, technology is elementary. Pop the bucket handle with a little tug in the side, then bend the edged tips with hands or pliers (we will need the handle to make a toilet seat further). Drill a hole at a distance of about three fingers from the handle slot on each side of the bucket. Put a roll of toilet paper right through the metallic handle and stick the handle back in the bucket using the new hole you just drilled. Thus, you get a super convenient toilet paper holder for easy access when we need it.
Moving on to the toilet seat, cut your pool noodle right down the middle of it and along the entire length. This polyethylene construction will serve us as a toilet seat. Such toilet seats are straightforward to make. They are cheap, pretty comfortable, and multi-functional. The system is self-contained, as long as you use waste bags to keep your bucket toilet clean from the waste.
2. Two-Bucket Toilet Sink
If you happen to have two buckets with you (a bigger and a smaller one), you can easily create a makeshift toilet sink. There are a couple of methods to do that, but the simplest way is the following. Make the larger bucket into a stand (holding tank) and put the second bucket on top of it. The smaller bucket will serve as a water tank. Thus, you will always have access to freshwater for cleaning your face and hands. This option would also be perfect for an RV that does not have a built-in sink.
Check out this video for more cool ideas to make a portable toilet and other accessories yourself.
3. Composting Toilets
Again, if you are a fan of extreme survival and making things with your own hands, you can always build a composting toilet in the wild. It is so easy that even a first-time camper could do it. Basically, all you need for such a construction is a shovel and a toilet seat. Pick out a place where you would get the most privacy and feel the safest. Dig out a hole with the necessary waste capacity. The hole should be deep enough for the composting toilets to work.
Now it's about time to take care of the toilet seat for your composting toilet. You can make it slightly elevated above the composting hole for more convenience and comfort sitting down. They usually make wooden toilet seats, especially for composting toilets. But truth be told, toilet seats are optional in case of a composting toilet. But let's not revert to the barbarian times and stay classy.
The composting toilets tend to be a more permanent version. They are easy to build, but the process is more time-consuming. Each time you move to another place, you will have to bury the old composting toilet and a new one. Nonetheless, a composting toilet is a great option for RV travelers who build long-term camps or people who have countryside homes and use them only during warm seasons.
Things to Go on Your Portable Supply Kit
You can turn the bucket (or a waste tank) that you are planning to make a toilet of into an emergency portable supply kit to save you in a natural disaster. This is a life hack that would be useful for any camper — beginner or professional. If you pack everything right, you will be wondered by the actual tank capacity that your buckets have.
There you have your additional storage compartment. We, as experienced survivalists, strongly advise you to pack a heavy-duty tarp, a paracord, a portable shovel, some toilet paper, bungee straps (to be able to make a survival shelter), freshwater, medical gloves, bio gel, a lighter (to start a fire), and a bottle of rubbing alcohol for sanitation purposes with you. One may also through a multi-tool with a built-in fork and a knife, and flashlight in, just in case. The trick is, you can easily fit all that in your bucket, and those are definitely the items any camper will 100 percent use on a bug out.
Camping Toilet Survival Essentials
Now that we have reviewed the best portable toilets in the country let us talk about other important items to pack. Any portable toilet should come with, let's say, supporting equipment. There are many items on the list, besides the toilet seat. We suggest you get acquainted with it to be prepared for various situations and pack all the essentials in your bug-out bag.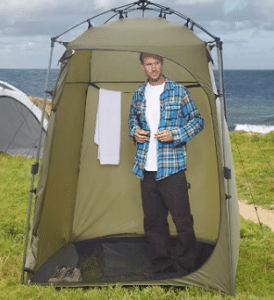 Camping toilets are super comfortable but not private. Of course, you can drag your toilet outside, use it in the RV, or put it in a place where nobody will interrupt you. But none of these options seems too appealing, does it? To get some real privacy in the wild, you will have to come up with something better.
For an upgrade, we suggest you purchase a toilet tent for camping. For example, the Lightspeed Outdoors Xtra Wide Quick Set Up Privacy Tent would be a perfect option for all your needs and more. It is lightweight, portable, and specifically designed for camping toilets. Plus, the tent will give some privacy to change clothes or take a camping shower.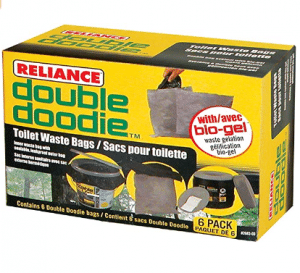 Sure, you can use a regular litter bag for solid waste and be perfectly fine with it. But why stop there? Nowadays, they make plastic bags precisely for camping toilets. They might not all be environment-friendly, but there are a few decent options. We would advise you to get the Double Doodie Toilet Bags for your bug-out waste management.
The Cleanwaste toilet also produces quite good options for solid waste disposal. However, you have to make sure to pick out the right size and shape on a toilet bag. They are not universal and do not fit all toilets equally well. Therefore, you always need to check the sizing of the package. Toilet leaks are the last thing you want to deal with on your camping trip.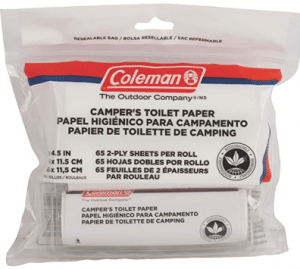 No one would argue that using good old home toilet paper is very pleasant and convenient. Well, we have some bad news: you may not always have access to that luxury in the wild. In this case, we suggest you learn how to be a minimalist camper and not set your expectations up too high.
Coleman Camper's Toilet Paper might be an interesting choice. The rolls are very compact, and yet they have at least sixty-five squares of soft toilet paper each. Besides, you can use the package it comes in as a toilet paper dispenser. The paper tissues are all biodegradable. Check out these camping life hacks to make a coffee can toilet paper kit with your own hands.
The Most Unusual Portable Toilets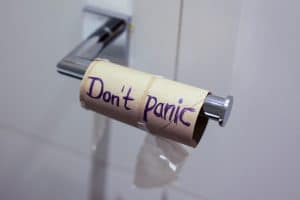 As we have established, a camper does not necessarily need a toilet seat, a waste bag, or even home toilet paper. A camper can make anything from scratch with enough survival skills. It is always nice to have an upgrade that makes your life a bit easier, but when doodie calls, it is no joke. There simply might not be enough time to think about a proper toilet. And that is when your imagination and creativity come into action. Here are some more options you can use as toilets.
Waste Tank
If there is nothing else nearby, you can always use a waste tank as a toilet. Depending on your waste tank capacity, you may even be able to use it several times for solid waste storage. However, you probably wouldn't want to use it for its intended purpose ever again.
Helmet
During WWI, soldiers had some hard times with toilets. It is no hoax that they used to relieve themselves into the dead German soldiers' helmets. Once they were finished, they would just leave those helmets on the banks of the trenches. Naturally, they used the "poop helmets" as grenades later on during the hand-to-hand combats.
PVC Poop Tubes
Climber and hiker especially love the so-called PVC poop tubes. It does not mean a camper cannot use them too. The tubes are light, compact, easily convertible, suitable for any backpack, and easy to apply. All you need to do is open the tube, place it carefully in a comfortable position, and do your thing. Once you have finished your business, you may seal the package and dispose of it effortlessly.
See, there are no cumbersome buckets, waste bags, or extra natural pollution. Super easy.
Toilets Online Shopping Guidelines
You can shop online for all the products and accessories we have mentioned in this piece. First of all, you need to register in the online store and get an account. Enter your personal data, contact information (including email), and delivery address. You will be able to pick all the products you like most and add them to your cart. If you have any doubts, you can always check out the customer review section and see your products' ratings.
The price of the products can sometimes change, so we suggest you monitor the price and see if there are any sales available. Besides, regular customers can join the associate's program and get special offers on many additional and supporting products and accessories.
If you need to change the language, just head to the settings and pick the language you need. Use other settings to set out the filters and choose the products according to your own parameters. Do not forget to insert your delivery address to get the products by mail or courier service.
Best Portable Toilet Summary
A proper portable camping toilet can forever change your bug out experience. We are not barbarians anymore. We can bring comfort with us, even far away from civilization. With a quality toilet and some disposable toilet seats, a camper will no longer need to dig "kitty litter" holes in the woods and be afraid that a stranger walks in on him while doing his business.
Modern technology lets us stay civilized and keep our environment clean and safe. And we should definitely seize this opportunity. In this piece, we have shared our wisdom and have shown you different methods for making a proper yet classy camping toilet. Do not let this knowledge go to waste.
To sum it all up, we strongly advise you to include a portable travel toilet in your ultimate camping gear checklist. This is the one purchase you will never regret.
Frequently Asked Questions – FAQ
Can you poop in a camping toilet?
Of course, you can. Most of the camping toilets allow solid waste disposal and are comfortable enough to do that. If the toilet has enough tank capacity, the solid waste can be stored for a couple of days before recycling. You may also build a composting toilet (which is a more permanent solution) and dispose of human waste without any harm to the environment.
What is the best camping toilet?
The best portable toilet for camping, in our opinion, is the Emergency Brand Snap-on Toilet Seat. It is effortless, lightweight, portable, cheap, and easy to use. It has every quality a camper looks for in a portable toilet. When choosing your own ultimate camper toilet, stick to the rule — the simpler, the better.
How do you dispose of camping toilet waste?
There are several methods to dispose of the camping toilet waste. Once your toilet tank is full, you can pack the litter bag and drop it at the dump station. As to composting toilets, they are self-contained, so they do all the work themselves, in a way. There is a head composting toilet as well that comes with a special solid waste container, which you can clean up at a dump station. The same rule applies to cassette toilets. If you are traveling with animals, make sure to take care of the dog and cat litter too. Let us keep our environment waste-free and safe.
How can you make a toilet seat in the wild?
There is a great variety of toilet seats that you can take with you on a bug-out trip. If you do not have any kind of toilet seats with you, they are quite easy to make. You can make toilet seats out of pool noodles, wood, plastic, any firm corps with fabric. Toilet seats are necessary for your comfort. They are luxury items rather than emergency items.
How do you clean a camping toilet?
Cleaning your portable camping toilet is the hardest and nastiest part of a bug-out experience. There are several methods to keep your portable bathroom clean. The simplest one would be using heavy-duty bags to make the cleaning process easy. You can also use a wag bag for bucket toilets to keep them clean and use bio gel or other cleaning supplies to clean other toilets once in a while. Use a cassette toilet for places without a dump station.