Introduction
Have you ever thought of what can save your life in a survival situation, let alone the worst-case scenarios? Surely, you have thought of the worthy gear one should have. But will it be of any use without potent survival skills? Doubtful. Even if you have all the weapons in the world with you in your survival shelter, if you cannot perform essential tasks like shooting, and if you are unable to carry out some basic camping tricks, you are in danger. While your survival backpack can be crammed with quality stuff, it will mean nothing without your situational awareness and the level of your preparedness. Today, we'll talk about the best survival shelters and ways to set them up efficiently! Read on!
TOP Best Poncho Shelter
How to Choose a Military Poncho for a Decent Shelter?
We understand that it might be hard for a newbie to find decent rain ponchos that would protect from different foul weather conditions and are capable of serving as a shelter. No one would want to purchase disposable ponchos when long use is needed!
For this reason, please look further for our 5 best out of the best favorite rain ponchos for this purpose. Most of the other ponchos on the market are not as good!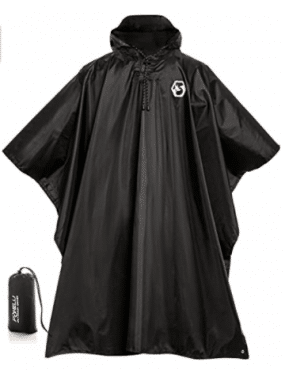 This Foxelli rain poncho is definitely one of the best ones on the market: being of the highest quality with taped seams and tear resistance, it is a quite durable product that will for sure protect you from rains and winds.
And as they have such good quality and life length, you can safely use them as survival ponchos for creating shelters and sleeping bag cover or tent cover.
Most survival ponchos on the market cannot give you the same functions!
Anyoo Reusable Poncho is another great finding of ours that is a great waterproof poncho with a hood and hook-and-loop fasteners for better protection, which are also perfect for attachment to the ground, in a case when you will decide to use it as a shelter.
Moreover, the hem of the rain jacket has eyelets, which would also help your shelter creating. And the taped seams will prolong the life of your poncho as long as it is only possible.
Arcturus Reusable Rain Poncho is also a multitasker, as it can be used not only as a rainproof poncho but also as a shelter, tarp tent, or even a groundsheet.
Why? Because Arcturus reusable rain poncho has a rainproof feature and decent thick material that ensures that our rain gear will definitely not tear apart when used as a shelter.
Moreover, Arcturus reusable rain poncho is lightweight, which is why it would not be a trouble to take it with you in survival gear for an off-grid situation.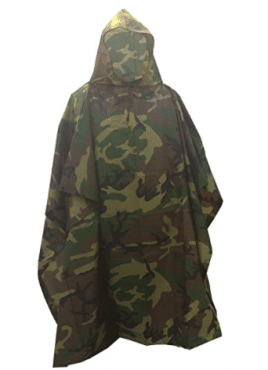 Another great example of rain jackets is Fire Force 8740 poncho. These rain jackets have rip-resistant nylon polyester durable materials, ensuring their rip-proofing and long-life use.
Moreover, this piece of clothing has a urethane coating, which is known for its waterproof features, and storm flaps.
Having such great quality Fire Force is one of the best survival ponchos, as it has six eyelets/grommets for you to create the safest shelter with the help of this engineered poncho.
M-Tac Military Poncho can be used as a reusable rain poncho, as well as:
Poncho sleeping bags
Blankets
Poncho tarp handy tents
Shelter tents
Poncho backpacks
Ground cover
Picnic blankets
Why? Because it has metal grommets with a cord and thick material, which are made exactly for survival use.
To the point
When in some off-grid or even survival situation, any person would want to have as many multitask items as they can, as a lot of other important stuff will take up the remaining space.
If you are looking for such decisions, then consider buying a rain poncho: clothing that would not only protect you from inclement weather conditions, such as rain but can also be used as a shelter from radiation or even a tent!
For those who are interested, please read further, as we will acknowledge you on SEVEN different ways of using your waterproof rain poncho as a military survival poncho tarp shelter!
Moreover, we will also mention some other uses along the way and the list of the best ponchos on the market, as most ponchos are not as durable as one might want.
Durable Poncho Shelters, Really?
You might be surprised, but they are actually great for creating the best survival poncho capable of protecting you not only from the wet weather in some towns but also in the wilderness.
For example, it is always a good idea to keep a few Military rain ponchos in different places, such as a Get Home Bag and your car. This way, you can always be protected from rain or other more serious conditions, as you can use it as a tent.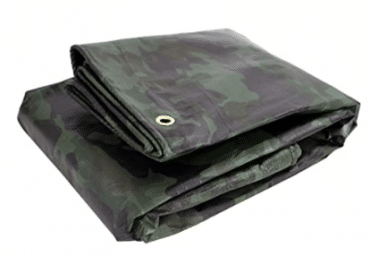 However, keep in mind that Military ponchos are not a must. You can use your Heavy Duty Waterproof Como Tarp. It might look a bit strange for an in-town rain poncho, but it still works.
We understand that many of you have families and a tent for them in case of need, so you might think that a camouflage tarp is not necessary at all. But we would have to disagree with you here, and here are some rain poncho pros:
When going off-grid in a survival situation, you will definitely take your tent with you to use as an emergency shelter.
With the tent market that we have now, almost any of them would have a bright color, red, orange, or yellow.
As this is not a usual off-grid trip, you will need to camouflage your tent so no intruders will notice you.
And exactly for this reason, you will need a camo tarp in a poncho manner that would fit in size with your tent and make you and your family less visible.
Moreover, you would probably want to create a night watch, but weather conditions will not always be perfect, and rain will eventually visit you.
So, sitting in the cold outside the tent, you will definitely regret not buying a rain jacket for you to wrap up for some additional warmth and waterproofing or to create an additional shelter near your tent for night guarding.
Now you see how important and even life-saving military ponchos can be? Get a waxed canvas jacket for better protection as well.
If yes, let us tell you more about different methods of using a classic military poncho as an emergency shelter.
Rain poncho shelters
1 – Pup tent method
We used a house's backyard in these pictures, which only proves that practicing your survival skills can almost always be done before an emergency happens.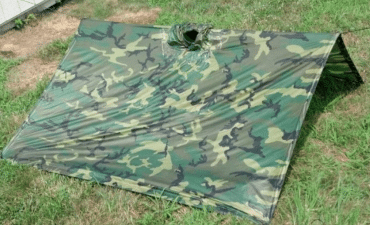 So, closer to the details: what you would want to do in this method is to find an anchor spot like a tree, to which you will be able to tie up your tough grid paracord.
Your next step would be to put the cord loop through the grommet, place a twig there and repeat the same on the other side of your rain poncho.
Why do we do exactly like that? Because this lets you not cut the paracord or think of some crazy and tricky ways of knotting. When a bit unsure, check the photos below to see what needs to be done by you.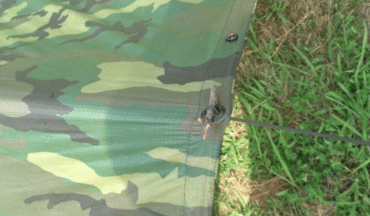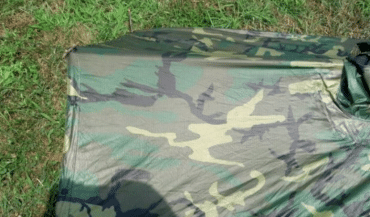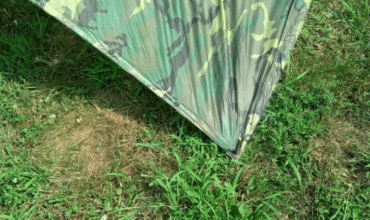 You can always close the upper hood area by tying it up so that no rainfall or any other stuff would fall in. But as we had quite hot weather when making this shelter, we left it open for more of the air to come in.
2 – Another pup tent method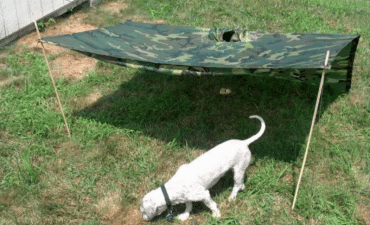 The difference with the previous style is that we use sticks for this one, as you can see in the picture below.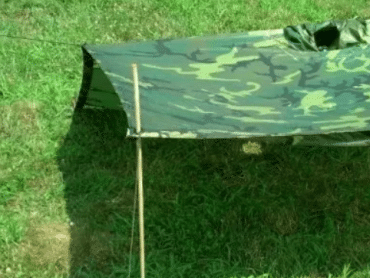 These sticks allow you to have some visibility on the front, so no intruder will ever take you by surprise.
It does not look as good as the previous method, but this is only because the usual twigs and a Victorinox swiss army knife were used.
But if you had some tent stakes and a mallet/shovel for putting the sticks into the ground, the difference would be of great scale.
Here are some examples of rain poncho shelter and poncho tarp tent from the US military manual, placed respectively.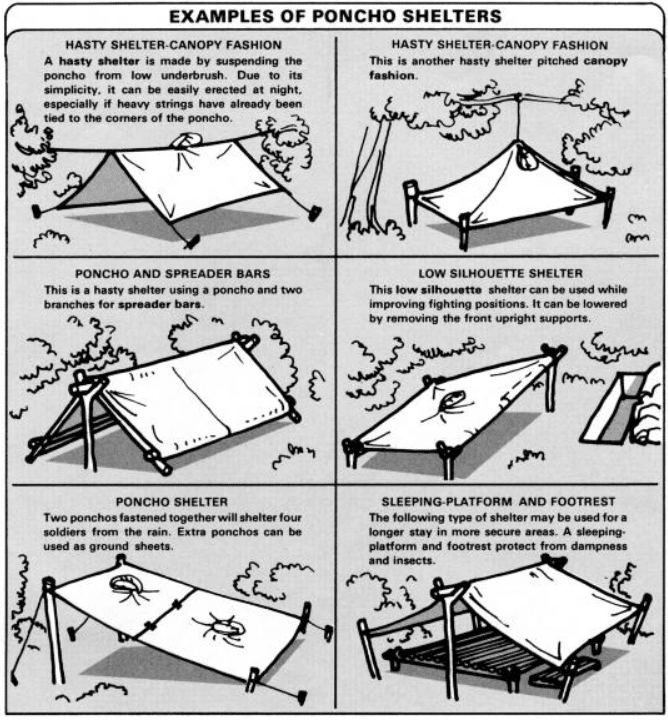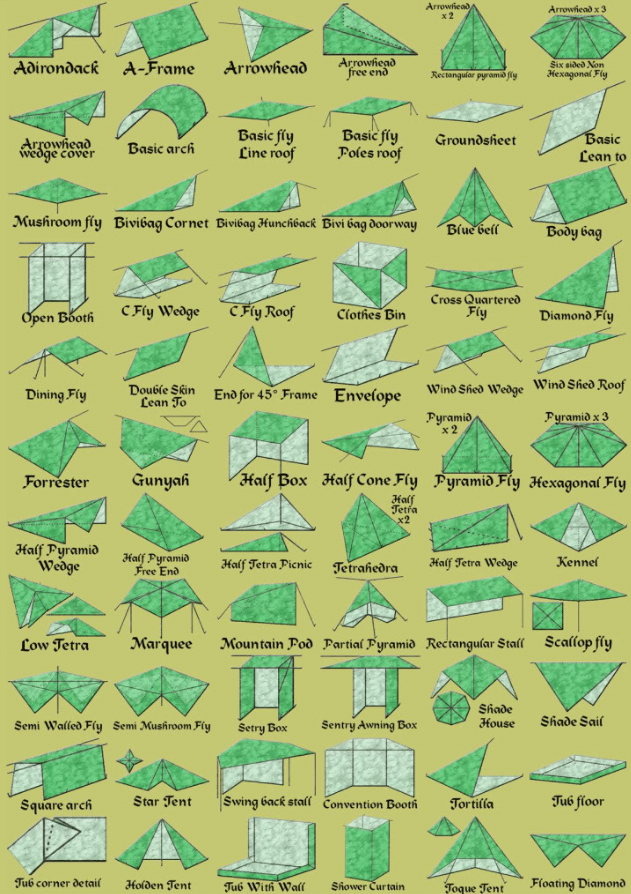 3 – A lean-to method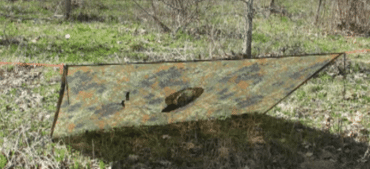 When stuck in some low wind conditions, this style is probably the greatest one. And of course, as always, rain ponchos or tarps would be your choice of material, as they are waterproof and capable of camouflaging you.
Moreover, grommets on your rain poncho are an absolute must, as they will help you to place shelter on earth, as well as protect you from wind-torn.
If snap closures are present on your rain ponchos, then you are in big luck! These thingies make the attachment process as easy as it can only get and leave a bigger space for you inside the shelter. In this case, simply find a stake (any fallen tree branches would also work), and tie your rain poncho to it.
A hint: the bigger is the amount of Y-shaped stakes you will be able to find. The better and tougher your rain poncho construction would be.
You can look up this video on different military survival ponchos' shelters for more details on different methods.
4 – An A-frame shelter method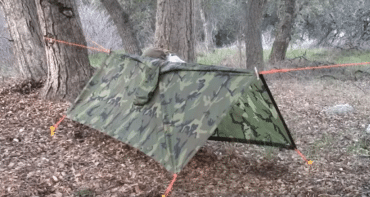 As this A-shaped style is quite a big construction, more than one rain ponchos might be required: because of that, use only those rain ponchos that have snap closures.
But of course, if you have a huge rain poncho, you can use only one: split it in half down its middle, tie the cordage to two trees, and place your rain poncho there. Grommets are also okay since they are also capable of creating a reliance for your poncho.
More information and specific how-to steps can be found in this video on Military Style Poncho A-frame shelter.
5 – The hooch method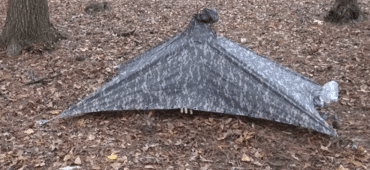 Note that a strong tree branch is required for this method, as it will be tied up by cordage that would need to be connected to your rain ponchos' hood area.
After that, simply cover the corners of your rain poncho makeshift shelter using stakes or tree branches.
We might say that this method is best for camouflaging yourself, as it will almost completely cover anyone inside it.
If you need more specifics on building hooch shelter from survival ponchos, follow the link.
6 – The cauldron method
For this method to work, three tree branches are needed: two that are Y-shaped and one that is very long, straight-shaped, and completely clean from any twigs.
You need to place your Y-shaped branches into the ground and put your one long and string branch on top of these two.
Then, place your rain ponchos on top and secure its structure by tying all of the corners of a poncho through its grommets.
7 – The ghost man method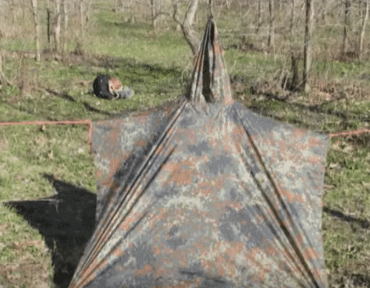 The ghost man style is also an easy-to-build survival poncho shelter: all you need is two trees for tying up to the poncho and a clean and strong tree branch for putting it in the center of the construction. This branch will be holding your poncho's hood and standing firm on the ground for the best survival poncho shelter.
However, be very accurate when choosing a stick: it should not be too short for the shelter to stand, and at the same time, should not be too long to prevent any rippings. Moreover, it would be a great idea to somehow round the end of a branch that will touch your survival poncho's hood.
Other rain ponchos for you
We think that what we have provided for you above is way above anyone's needs so that you can choose the best poncho for you.
However, if you are still unsatisfied, please look at the following list of ponchos and read about them online:
Mil-Tec Waterproof Poncho
Terra Hiker Rain Poncho
Summit Tarp Poncho
Arcturus Reusable Rain Poncho (other items)
Red Ledge Vinyl Poncho
Frog Toggs Poncho
Military Surplus Ponchos
Canada Goose Field Poncho
Zpacks Groundsheet Poncho
Sierra Designs Poncho
Moon Designs Gatewood Cape
Hope that now you will be able to find what you need!
Additional Methods of Rain Poncho Implementation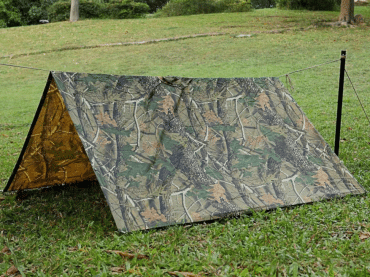 If you are still unconvinced that waterproof survival poncho can be used for your protection, here is a list of a few other functions that it can provide you with:
When some concealing is needed. For example, to hide the caches and keep them dry when the rain decides to pour.
As a door/curtain. It might be crucial not only to have some privacy when in a survival situation but also to keep yourself and your shelter from any bugs, make better heat saving conditions, or create an additional shading: a reusable rain poncho is really great for this use, as it has grommets for attachment to the ground.
For the collection of rainwater. It is not a secret that off-grid conditions very often restrict you from access to water: your own savings will end very rapidly, so what can you do after that? Use your ripstop poncho! You can simply make a hole in the ground and place your ripstop poncho there so that you will be able to collect its water when the rain comes. Also, you can pour your reserve into some containers for easier storage.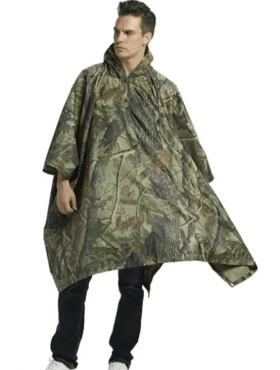 And now, are you convinced? We think that you are: it is not possible not to be! Your rain poncho is definitely a universal item, and every survivalist would be glad to have it in stock!
Frequently Asked Questions – FAQ
What is the best hiking ripstop poncho?
We are not sure that recommending just one brand or item can be done by us, as there are many great rain jackets for hiking or any other use! However, we can tell you what to look for when searching.
Here is a survival poncho checklist for you:
Rain protection
Thick and reliable material, such as nylon rip-stop one
Multiple grommets/eyelets for creating a shelter, if you are going with little storage spacing
The presence of rain poncho zippers and pockets (if you need them, of course)
Camouflage coloring might also be nice
As far as that, no other features are required. You can only check some reviews to see how durable your possible clothing actually is and make a better decision on what rain poncho size to purchase.
Many poncho models will fit you well, but checking what other people think is always better.
How much does a rain poncho weigh?
The approximate weight of a rain poncho is somewhere around 2 pounds, which is not as big.
However, if less amount is needed, you can always find a decent rain poncho of 1 pound or even less, but be aware that its price might be higher.
And in any case, note that your rain poncho can be used as multifunctional clothing, not only for rain protection but also as a shelter, camouflage, curtain, or even for rainwater collecting!
How to wear military army ponchos?
There are two main ways to wear a multifunctional poncho: with your hands inside or outside. This choice depends on your choice of actions and surrounding conditions. When your hands must be warm to do some movements, it is better not to put your hands inside the poncho, but if more warmth is needed, put them in.
It is more interesting how you can use your military poncho as a shelter, sleeping bag, or blanket, as there are so many ways for that. If interested, please read our article on this topic.