You should definitely read this article unless you want to miss out on the most relevant information concerning the best plate carrier and tactical vest options on the market. Learn all about their weight and usage, find out the features of the nylon or any other fabric going in the production of survival gear, and learn where to shop for the safest armor with no harm to your budget.
Plate carrier vest is a comfortable item that can be utile in lots of cases. If you think of buying one, welcome our detailed guide about all plate carriers available on the market today.
We will review all the existing types and name some brands that produce decent models of plate carrier vests. Our experts have chosen the best plate carriers that will satisfy everyone's needs, whether you are an advanced survivor or a person that is a fan of convenient clothes with dozens of smart details and pockets for radios, magazines, and other gear.
We will cover several questions regarding the plate carriers, starting from explaining the term "plate carrier" and what you should keep in mind while choosing one. We will also name five reasons to purchase such a vest. Finally, we will suggest the top eight plate carriers available today and additional elements that you can use to improve your vest.
Before you start exploring the information about plate carriers, check out our essential preppers checklist.
TOP Best Plate Carriers with the Highest Ratings
AR500 Armor AR Invictus
AR500 Armor AR Invictus vest low profile tactical vest has an undeniable advantage: the weight. It is one of the extremely light vests on the market. Running, jumping, carrying plenty of stuff will be easy and full of comfort with this vest's body armor technology.
Plus, AR500 Armor AR Invictus is packed with MOLLE, quick-release buckles for your comfort, and protecting armor ballistic plates with a size of 10 x 12 inches. A drag handle gives options to act in emergency cases. The video review will reveal more info.
OneTigris Griffin AFPC Modular Vest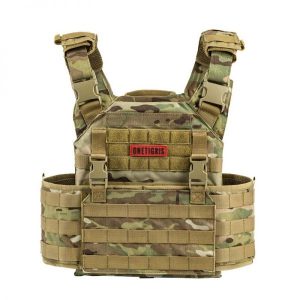 Though customers often buy this modular plate carrier to protect themselves with soft armor pads, the OneTigris Griffin vest kills two birds with one stone. It may be filled with either soft body armor pads or metal or ceramic plates that are real armor plates.
This Griffin modular vest is made from a top-quality material, 500D Cordura Nylon, that we recommend. Also, it has UTX buckles and MOLLE webbing attachment points that match with a chest rig. You will easily breathe in this vest.
The Mayflower by Velocity Systems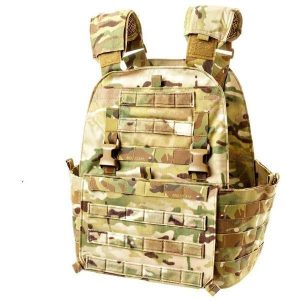 This tactical vest with the Pouch Attachment Ladder System (PALS) webbing adjusting option may carry advanced armor plates like Swimmer-cut, ESAPI, or SAPI plates. Every armor plate will protect you from your back and front and your left and right. Customers can add pouches with hook and loop to the cummerbund. It also has plates of a size 6 x 6 inches. ESAPI and SAPI plates are extremely protective.
On the front side of your vest, you will have a kangaroo admin pouch. It fits three magazines of M4 type. You can regulate it with the comfort with the help of a PALS webbing.
AR500 Veritas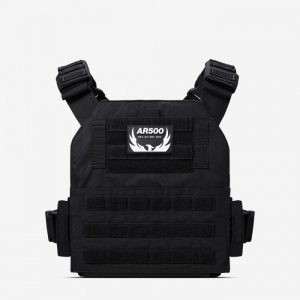 Our experts' top choice that is proven with plenty of positive reviews is the AR500 Veritas vest. This tactical vest offers plate pockets of a size 10 x 12 inches and many vital details that we have already mentioned: pontoon system to stick velcro, 3D mesh lines, shoulder pads (also from mesh), pouches, and more. Ballistic plates of the 10 x 12 inches size are usually considered to be standard.
With the reliable buckles, shoulder pads, an emergency drag handle system, and straps that you can easily control, bartack stitching of some spots, quick-release buckles, and great fabric, Veritas is an ultimate plate carrier choice.
You can purchase AR500 with a full armor package. Check out the video review to see the details about this system.
Agilite Tactical K5
A winning plate carrier, the Agilite Tactical K5 vest, offers a convenient and tight cummerbund and soft shoulder pads in terms of comfort. You will be able to spend a long time wearing this body armor carrier.
The construction of this lightweight plate carrier is well-designed, the comfort level is high, and the price is one of the best.
Condor Sentry Plate Carrier
This life-saving vest will fit your budget and offer many convenient features like a hook and loop regulation system. You will feel comfortable with hook and loop for your shoulders, MOLLE, which helps carry all the best tactical gear and convenient shoulder straps. Condor Sentry hook and loop vest is a jumpable plate carrier with an emergency drag handle that won't let you down in unpredictable circumstances.
Condor Gunner Plate Carrier
A minimalistic vest that still covers most of the needs, the Condor Gunner vest fits armor front and back plates of a regular size and offers MOLLE features to carry your best tactical gear. It is lightweight and small, so preppers can easily use it in any survival situation.
5. 11 TacTec Plate Carrier from TacTec
The 5 11 TacTec Plate carrier is one of the best and most notable vests that manufacturers offer today. TacTec plate carrier is a brand responsible for many tactical gear products, and the TacTec plate carrier is famous all over the world.
Probably the lightest vest that you can find today, the 5 11 TacTec plate carrier gives you an opportunity for speed and mobility. The plate pockets can fit body armor plates and side plates of different sizes. Special shoulder pads of the TacTec plate carrier will equal the weights on both sides. Find out more about this chest rig; it is among the best tactical TacTec products.
Additional Accessories
Tactical Hook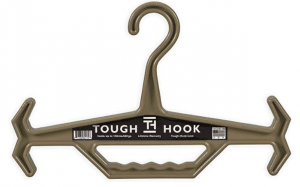 It looks like a simple hanger, but it is an irreplaceable gear for your best tactical vest. A tough tactical hook's capacity is incredible, and the hanger's construction lets you carry your tactical vest anywhere.
Heavy Duty Items
Check out the video that will give you the hints of tactical vests improving.
Body Armor Plates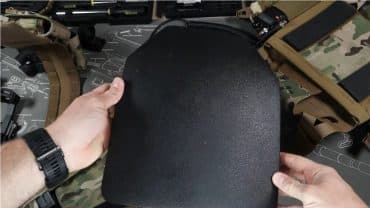 Usually, customers should purchase armor front, back, and side plates additionally to their tactical vests. The assortment of armor plates is wide: from soft pads that you buy for hobbies to steel and ceramic plates for real protection. We have prepared a list of places and hints that will help you with choosing. Also, AR500 has made a special chart with the ballistic levels.
Plate Carrier: What's This?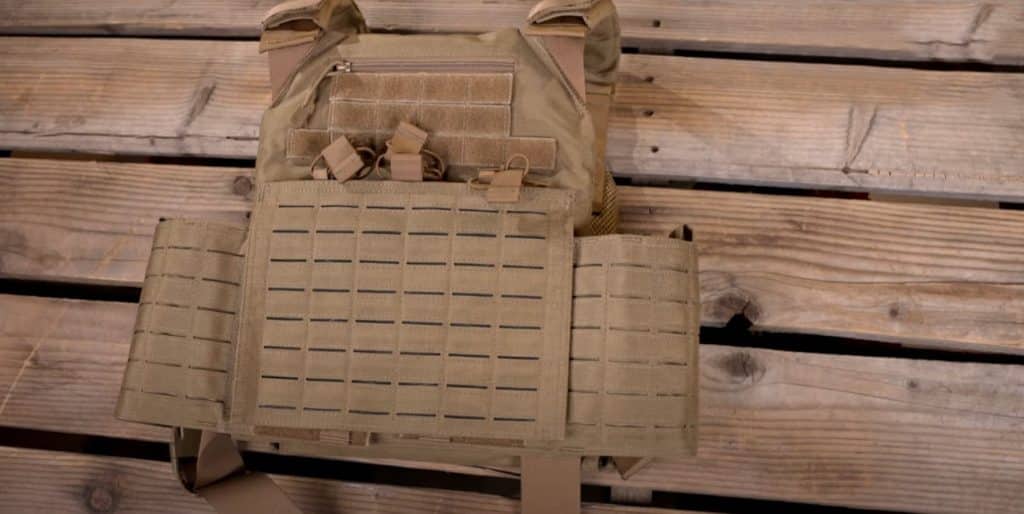 To make it simple, plate carriers are vests that people wear in specific circumstances. They are like tactical vests and chest rigs but with a special hint. Plate carriers will protect you from enemies' bullets.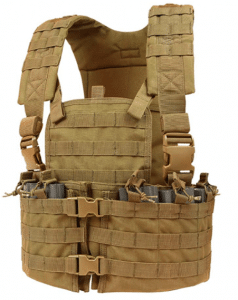 Both kinds of vests are perfect for carrying many small things and survival gear, including ammo. The main difference between ordinary chest rigs and sophisticated multi-functional plate carriers is the ability to stop bullets. A plate carrier will have built-in plates that protect a person that is wearing one.
Of course, plate carriers are a must for the soldiers, especially during wars and armed conflicts. But also, this type of vest is popular among "survivors": people that want to be prepared for any disaster and protect themselves, their significant others, and kids.
Plate carriers have three best and main functions: "stop, plug, and make" holes. Those vests will prevent you from bullets and give a spare pocket for your medical kit. Also, you will be able to take a gun with you and put it in your vest.
All plate carriers consist of vital parts: a tactical vest itself, a body armor plate for protection, and a cummerbund, similar to a belt. We will take a closer look now.
Tactical Vest
This point doesn't need a long description. Imagine a regular vest and add details and dozens of pockets to put your survival gear, magazines, and more. The vest sides can also have special Modular Lightweight Load-carrying Equipment (MOLLE) webbing, belts, and items, traditional for the United States Army.
Body Armor Plates for Protection
Plates are essential for the plate carriers, as you may see from the name. A regular vest becomes a plate carrier when you put in several body armor plates for advanced protection. Capacious pockets are sewn into a vest specifically to add plates and save all the main body parts if someone tries to shoot you. The best tactical vests will fit not only front and back plates but also side plates.
Cummerbund
If you have never heard the word "cummerbund," don't worry: it's just a tactical belt. Not a simple one, but a necessary thing for a plate carrier. A cummerbund has attachment points to add low parts of your vest to your body. It is made of a material that stretches and provides your plate carrier with a tight fit to your body. You will feel comfortable all the time: whether you have to run quickly, lie down on the ground, or crawl somewhere fast.
You also may find a cummerbund of a high quality that allows you to carry stuff: with special details and MOLLE webbing that we have mentioned before.
Do not forget to check out our special prepper checklist if you have not read it still.
Why Should I Purchase a Plate Carrier?
We will give you five reasons to make you run to the shop and purchase a plate carrier. The plate carriers' main purposes would be to easily get all the gear you need because you will always carry it on your body and protect your organs and body parts that the vest will ensure. Let's look at some situations where a plate carrier is needed.
War or Armed Conflict
Some people deliberately choose to be in military services or law enforcement and dedicate their lives to the army. However, you never know what can happen. Unfortunately, sometimes war can come to you without notifying you, and you will have to defend or join the soldiers' groups.
We hope that this never happens, but if it does, there is no way to survive in such conditions without a plate carrier of high quality.
Besides saving you from numerous bullets, it will provide you with lots of pockets to put ammo, radios, and other gear. In this case, a vest is an absolute winner comparing to the most advanced backpack. A vest gives you precious time on the battlefield: you won't have to spend seconds getting stuff out of your back.
If you feel like this is not your case and still think that you might need a plate carrier, we will explain why.
Getting Ready for "The End of The World"
The world knows many catastrophes and natural disasters where nature or chemicals had taken power over humans.
Usually, no one is ready for it. But you can be. While everything around you will be drawn into a panic and turmoil, people will start running around and smashing things up at their place. You will be smart enough to protect yourself, take a tactical vest, a gun, numerous magazines, and other gear, and survive.
If you can't think of any catastrophe that might happen anytime, we have chosen some possible options. Imagine a sudden nuclear war outbreak or a huge economic collapse. Or maybe a strong electromagnetic pulse attack. Never forget about floods, fires, famine, earthquakes… And cyber-attacks can happen, including robots and Artificial Intelligence (AI) technology getting out of hand.
Some of those sound like fantasies. But if this becomes real, you have to be prepared to defend yourself from crazy people craving food and other things and trying to kill others or build a DIY shelter.
With a plate carrier, you will be all set, having all your gear, weapons, and bulletproof plates. It doesn't matter if you barricade at home or bug out and explore the world after a disaster.
Search-and-Rescue Missions
Usually, those missions prefer using a simple chest rig instead of a plate carrier: no one expects that anything can happen during searching or rescuing someone.
Every rescuer needs a plate carrier because he or she has to take a lot of stuff: from a torch to a multi-tool. Sometimes a rescue operation can turn into a battle with a dangerous enemy. And the rescuers immediately become unarmed and vulnerable.
A plate carrier will not oblige you to insert the bulletproof protecting plates. However, if needed, you can take some! Flexibility and freedom of action are always better than a lack of opportunities. So, if you often participate in such missions, consider obtaining a plate carrier and getting yourself to the highest protection level.
Gym Accessory
It might sound weird, but training lovers may try a tactical plate carrier for their exercise. Your workouts will become more effective and intense with a vest full of weights: the front, back, and side plates.
You will quickly improve the skills and grow muscles if your vest accompanies you in your exercise routine. You won't have to hold the weights in your hands and feel uncomfortable: a plate carrier will serve you at some training pieces.
We will give you a hint: don't forget to empty your vest from the unnecessary gear. Leave just the plates. All the extra stuff will only dangle inside the system of pockets and annoy you.
Sports Hobbies
It's hard to believe, but a plate carrier might help even if you are having fun during the sports activities with your family, friends, or colleagues.
Imagine playing paintball at a fast pace. Active participants, a desire to win, and plastic paintball bullets… This sport is popular nowadays as a hobby. However, many gamers don't understand the system of protecting their bodies correctly.
A paintball bullet hits you at high speed, and believe me. It's not a pleasant feeling. Sometimes it can hurt so much that you will have to go to the doctor and use medication. It's not lethal, of course, but it still hurts.
If you are reading this and realizing that the problem is very familiar, consider buying a plate carrier and fill it with special airsoft foam pads instead of real plates. Those pads will soften the paintballs and make you feel better during the game, decreasing the possibility of traumatizing.
Photo (airsoft foam pad)
We have given you at least five options to use a plate carrier in real life. If you have already decided to buy a plate carrier, we will help you as well.
The market is full of models with different characteristics. We have defined the vital things you should keep in mind while choosing your best tactical vest.
Before buying a plate carrier, check out other items in our essential survivalist checklist.
What Should I Keep in Mind to Buy a High-Quality Plate Carrier?
Tired of reading already? Try watching this video review with a detailed comparison of several models of the best plate carrier.
If reading is still fine, let's see what you should consider while purchasing your best plate carrier.
Weight of a Plate Carrier
You will probably wear your plate carrier in unordinary circumstances where you will need to feel comfortable. So, the plate carrier's weight is one of the most vital parameters of your go-bag list.
Obviously, if you get a heavy plate carrier, putting some gear inside and having it with you for a while would be torture. So, it's better to take a closer look at a lighter model.
However, it's not only the plate carrier that adds heaviness. You should pay attention to the plates, your main bullet protection that makes your plate carrier a body armor. If you are looking for real protection and trying to make a plate carrier a part of your survival gear, consider adding metal armor steel plates to the front and back of your vest. Ceramics is among other plate options that will improve your self-defense.
Check out the article about the ballistic armor levels.
Size
Normally, a plate carrier would fit almost everyone because they try to make them in one size. To make it a bit tighter or looser, you can utilize a special belt and webbing that every plate carrier has.
However, there are many size exceptions. So, the market has prepared special plate carrier vests for seeking a model for his or her kid. There are also many plate carrier vest models for someone who has irregular parameters.
Webbing
The best option would be a special MOLLE webbing.
Also, be careful: sometimes, you can see a false webbing of awful quality. Recognizing a false webbing is easy. It won't work if the fabric of a plate carrier and webbing is the same.
Fabric
In terms of fabric for a plate carrier, there is a market leader. Experts agree that 500D Cordura Nylon is a winning material for a plate carrier.
The number of 500D Cordura Nylon material states its abrasive resistance possibilities. You can find a plate carrier with a higher resistance rate. However, 500D Cordura Nylon fabric should be enough for the majority of your survival tasks.
Be careful with the materials that use polymeric blend: they will resist the fire badly and melt quickly.
Pricing
Of course, some of us have limited budgets; others can afford anything they wish. The good news is that you can find cheap tactical gear, including tactical vests, a chest rig, or a great plate carrier.
Just don't forget to make sure that you are satisfied with all the features of your product, you have enough plate pockets and side pockets, the build quality is high, and the body armor function works.
Buckles
Yes, buckles are also an important feature to consider. We would recommend ITW buckles for your plate carrier, but you may face a bunch of fake ITW buckles that are not an option.
To get real buckles, check the special pillars that will strengthen the buckle. They will be inside. If they are of good quality, your buckles will serve almost forever and will not let you down.
Stitching
Along with the material, the stitching quality is vital for the plate carrier owner. It also depends on stitching if you will be wearing your plate carrier vest for a couple of decades or fall apart after two or three missions.
We have defined three key features that will help you understand the quality of stitching. You should pay attention to the reinforcement spots, what technique is applied to the stitching and threading, and which type of thread keeps your plate carrier vest together. Let's see them all in detail.
Thread type
The brands seldom use the information about the threads in the promotion activities. To make sure that the thread has a great quality, you have to seek the truth in the factory.
The easiest way is to call or send an email to the brand representatives. Bonded 92 or firmer is the best.
Technique of Threading
It's okay if a plate carrier has single stitching. But at some spots, you have to make sure that everything is tightly attached.
For reinforcement spots, manufacturers normally use either a building up of a single stitch or a bar tack stitching with a machine that has special characteristics. That would be the best option not to get your plate carrier torn apart.
Meanwhile, a build-up of a single stitch is less expensive and brings you less quality. For this threading technique, the factory doesn't have to obtain any special machines. Regular equipment is enough.
Spots of Reinforcement
Some locations of your plate carrier should be stronger than others—for instance, the spots where your shoulders are going to be.
Elastics and Velcro
Don't forget to check the velcro and elastics of your plate carrier. We recommend special military Gerald Schwartz items.
However, the brand is not that important here, so just check your plate carrier details to ensure safety and stretchiness.
Mesh for Plates
If your plate carrier is of high quality, it will offer a mesh for your front and backplates. You should have something among the steel or ceramic plates and yourself, and the mesh with padding suits well.
To make your breathing easier and feel comfortable, try 3D spacer mesh. Another option is to choose mesh with a "pontoon" system: the pad on your back will be a bit denser.
The bad thing is choosing a material that is similar to mesh. It will not give you any comfort.
Plate Carrier Characteristics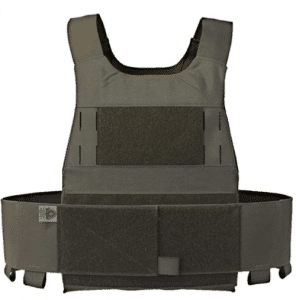 Normally, you will see a similar construction of the vests. But the market today also has some advanced versions that offer discreet protection. You will find a special concealed vest model among the variety of armor vests and plate carrier systems.
Some of them have pockets for plates that other people will not even see. Other models suggest a slim material that you can hide under your clothes. It all depends on your tasks and aims. You will also meet a minimalist plate carrier system and a low profile one.
Check out the video review on Ferro Concepts Slickster Plate Carrier. It fits for those who would like to find a lightweight armor vest that is thin and low-profile.
Plate Carrier Colors
Because a person normally wears a plate carrier either as a military personnel member or to get away from threats in the woods or a survival process, you will not see many color options. It's either black, olive drab, coyote tan, ranger green, camouflage, or brown plate carrier. Rarely will you see dark blue (navy) vests. One of the goals is to make you unseen, so you cannot choose other colors.
Olive drab, ranger green, and other colors above make it easy for you to hide. However, situational awareness is a thing to read about.
Check out a Multicam pattern that Crye Precision has created. It is a new way of camouflage colors.
Cummerbund and Shoulder Straps
The vital parameter is the ability to adjust shoulder straps and a cummerbund of your vest.
Various Pouches
Pouches are an amazing feature of plate carrier vests. You can even find models with special water bladder pouches. They usually can deliver water straight to your mouth (which is extremely convenient). You will also be satisfied with special magazine pouches and radio pouches.
MOLLE
Facing extreme conditions makes you care less about being discreet. Here, more important is to carry with you as much useful stuff as possible. That's why a MOLLE plate carrier will not be a secret vest.
Although it will be obvious that you are wearing one, a mil-spec MOLLE plate carrier lets you take tons of gear that might save your life once or twice. You can fill the pockets with plenty of utile gear, from a spare radio battery to a water bottle. All the magazine pouches, radios, and other essential details of tactical gear will find their place.
Plate Carrier Tactical Backpacks
Some customers don't feel a need to buy a tactical plate carrier that protects all of their body sides. In those cases, tactical backpacks are enough.
However, if your bag has a huge pocket sewn inside, you can skip the marketing lures and put a plate there. But if you want to purchase a special protecting backpack, shops and manufacturers like Crye Precision or TacTec have you covered with the best tactical backpacks.
We recommend reading our super prepper checklist to get ready for any survival situation.
Best Plate Carrier Summary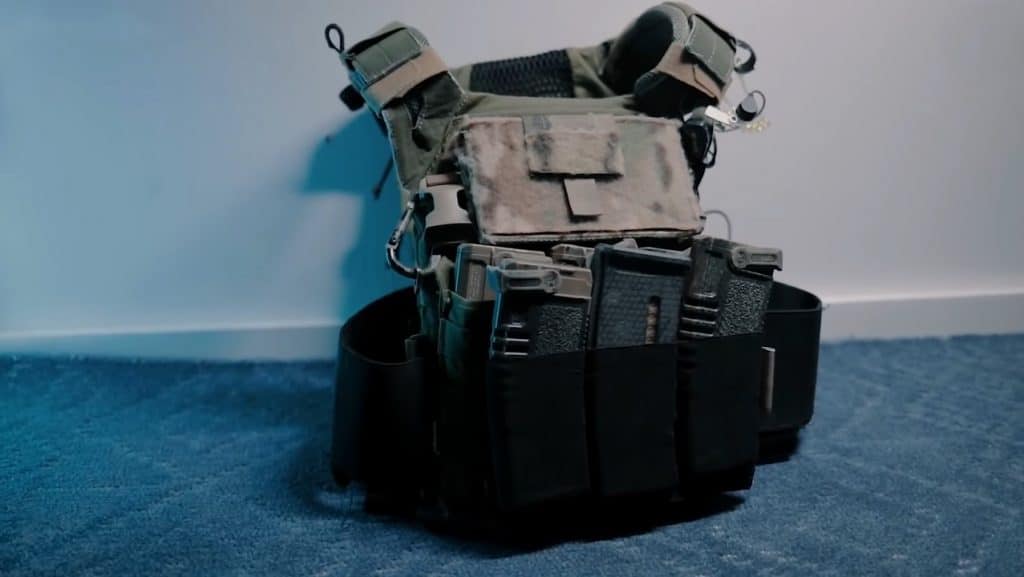 All in all, a plate carrier is a special survival item that can serve you in lots of cases. As you can see, plate carriers are useful not only for moments of emergency but also for your everyday activities. We hope that our review helps you to make the right vest choice that meets your needs.
Frequently Asked Questions – FAQ
Who makes the best plate carrier?
Many manufacturers please customers with their tactical vests and other products—for example, TacTec or AR500, which we have mentioned before. However, you have to choose the best tactical plate carrier considering the brand and other features: from size and color options to the number of pouches and level of protection. The best way to choose the brand is to read numerous comments and clients' feedback.
What plate carriers do the military use?
Almost every military and law enforcement member uses the tactical vest that we may call an "advanced chest rig." An army member must be protected from the bullets, so their vest should have various front, back, and side pockets for armor plates. It should also be a lightweight plate carrier, so the person who carries it has high mobility. Also, having MOLLE features and pockets to carry magazines and other gear is important. Shoulder pads will also help carry the vest during long periods of time, and a drag handle will save a life in case of an emergency.
What is the best armor plate carrier?
Every potential buyer of a plate carrier should define parameters and characteristics that are important for them. We might call a certain plate carrier "the best," but it will not fit everyone. People have different needs and expectations, and the question of tactical vest purchasing is not an exception. So, we advise understanding what you need the most and spending some time choosing the best tactical vest.
You can see tons of "10 best plate carriers" ratings on the internet, but they can only give you recommendations and describe basic features. The task of choosing between Crye Precision vest, Condor, and other brands is only yours.
Are Condor plate carriers any good?
Yes, they are. This manufacturer produces one of the best plates' carriers and tactical gear. Condor plate carriers are lightweight and convenient, and clients normally feel satisfied after purchasing them. If you feel like Condor is not your best option, the best way is to consider TacTec, Crye Precision, or AR500.
What plate carrier do special forces use?
The characteristics of an "advanced chest rig" for special forces are pretty much the same as for military and law enforcement use. The vests should have a place for armor plates on the front and back panel and a place for side pockets for full protection. Those carriers should also have numerous pouches so the member of the special forces can carry all the tactical gear and magazines needed. Finally, size and weight matter and drag handle for emergency cases so that a person can feel at least a bit of comfort, move easily, and run quickly. In Massive EMP attacks, Financial Crises, and Nuclear War, a plate carrier is a great solution.