One of the most exciting parts of camping is preparing food in the open air. Cooking outside cannot be compared to cooking inside, because not only the atmosphere differs, but also the process itself and the tools you use are somewhat special.
Those who have the experience of making camp meals probably know that this is a process that requires much preparation. To make great outdoors food, you have to take everything from tableware to ingredients with you. Moreover, you have to make sure that the dishes you are taking can be used on the fire or gas-burner. This is where camping mess kits come in handy.
A camping mess kit is a set of dishes that are specifically made for using while camping. A good mess kit is different for each person, as the utility and practicability of it depends on the conditions and environment you are planning to stay in.
Let's take a look at some of the best camping mess kits on the market. We are going to talk about mess kits that are good for different types of situations, so you will definitely find something useful for your next camping trip.
Best Camping Mess Kits
Finally, let's take a look at some of the best mess kits that one can purchase for a camping trip. All of them are good in their own way, so pay attention to details. Find your best mess kit and have the greatest experience of cooking and dining outdoors.
Starting the list is the perfect camping mess kit, MSR Quick 2 System. It is good both for its exceptional cooking qualities and usability in the wild. This elegant-looking kit will help you to create some delicious meals in nature and enjoy them from the included dinnerware.
This camp mess kit is made out of anodized aluminum and weighs only 1,75 lb. This 2-person mess kit is perfect compact transportation, as there are not too many tools and the material of them is quite lightweight.
The pots included in MSR Quick 2 System allow you to get boiling water quickly. What is more, you can make food without being afraid of getting it burned, as each cooking pot has a non-stick coating.
A pot gripper is, of course, included in the set as well. It holds each pot properly and does not slip or stagger. Even an inexperienced camper can figure out how to use it, as the mechanism is pretty simple. Although, it has some small problem when you take it off: to detach the gripper, you need to pull it down, which might be difficult when the pot is on the camp stove.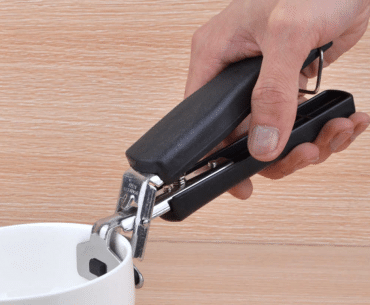 More camping gear that comes with the kit includes mugs and plates. The former can store your hot drinks for more than one and a half hours without changing the temperature. Make some leaf tea and enjoy its rich taste for as long as you like! What about the plates, they are pretty functional as well. A perfect depth allows you to use them both as plates and as bowls.
Unfortunately, this cooking set does not come with any frying pan. However, this problem can easily be solved by using the pot, as its internal surface allows you to fry anything without damaging the pot itself.
This great camping mess kit can be a perfect solution for those who need something that does not take too much space and is good for backpacking trips. Perfectly sized kit elements make it easier to carry the set around without much effort.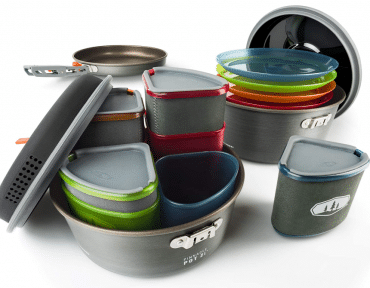 If you are looking for a camping cookware mess kit that is good for several-people use, then you might want to consider buying the GSI Outdoors Pinnacle Camper set. A company who often goes on camping trips will certainly get much use of such a kit.
With the weight of only 3.625 lb, this anodized aluminum mess kit can serve up to four people. Unlike most mess kits of bigger serving size, this mess kit includes both cookware and dinnerware.
This comprehensive camping mess kit comes with two pots, and the capacity of the largest one is up to three liters. What is more, the mess kit includes a frying pan. Combining each type of cookware, you can create some exceptional meals soaked in the smell of fire smoke. What can be better than having outdoor food surrounded by nature?
Some good additions to the pots are their lids and a gripper. Each pot lid has small holes to strain water. Strainer lid can be useful, especially when you are cooking pasta or other meals that require a lot of water. GSI Outdoors Pinnacle Camper also has a pot gripper, which fixes sturdily and allows you to hold pots without any problems.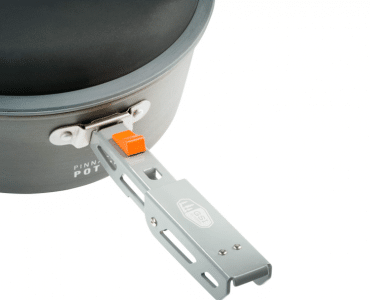 As for the other utensils, they might not be super convenient, but still, they are good to use. A four-person mug set which can be stored inside a large pot might seem a bit unusual for its drinking mechanism. The holes are on the corner of each triangle-like bug, and it takes time to get used to them.
The bowls and plates in this GSI Outdoors Pinnacle Camper mess kit are also not as impressive as in some other mess kit models. Although this compact mess kit allows you to store the dishes on top of each other, they are not very comfortable to use. The plates do not seem too durable, and the bowls are quite awkward too.
If the insulation of cups is of a great performance, you cannot say the same about plates and bowls. Made out of plastic, they will not allow you to hold hot food with bare hands. Maybe, one of the advantages of this dining set is its fun color. It will surely cheer you up after a long day of camping activities.
Thus, the GSI Outdoors Pinnacle Camper can be a great option for those who want to cook in nature. Pots and a frying pan made out of anodized aluminum will be perfect helpers in meal preparation for a big group of people.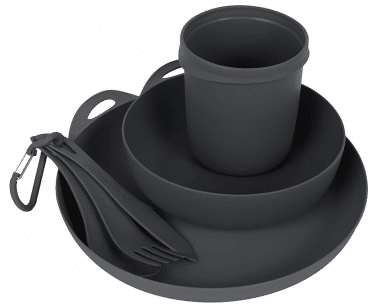 There is a great option for a light one-person mess kit, and it is The Sea to Summit Delta Camp Set. We can proudly call it a lightweight backpacking mess kit, as with this set in your bag, the weight of it will only increase by 9 oz. This plastic mess kit is a perfect solution for those who need some dining utensils.
Sea to Summit Delta Camp Set is made out of BPA-free food-grade glass-reinforced polypropylene, which makes the full mess kit safe to use during camping. While there is no cookware, this set provides a great variety of dinnerware and has everything you need for comfortable ingestion in nature.
The whole kit is done in simple gray color, and it looks quite nice. Sea to Summit Delta Camp Set includes a plate, a bowl, a cup, and even some utensils, like a fork, a spoon, and a knife. Having these little elements that we are so used to in our daily life in the wild really makes your camping experience more convenient and easy-going.
One big advantage of the plate and the bowl is that they are good for holding any hot liquids or other food. You would not expect that with plastic, but this set really makes wonders. However, you cannot say the same about the cup, as it does not have any insulation, thus making it hard for you to hold it with the hot tea or coffee inside.
There are some other difficulties that come with using the mug. Solo campers who have used this set noted that the lack of lid makes it easy to spill everything around, especially in the camping conditions. Moreover, the cup does not attach to the rest of the mess kit, while all the other elements can be put together in one piece without wallowing in your backpack.
Overall, Summit Delta Camp Set is a great mess kit alternative for those who already have some cookware and just need a full set of utensils to eat from. This plastic mess kit is a great solution for when you are going backpacking, as it has a very small weight and the size of it is not too big either.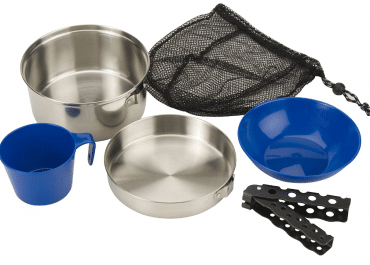 If you are looking for an affordable kit that is extremely durable, we recommend choosing Coleman Stainless Steel Mess Kit. With nothing extra, this mess kit is one of the most popular stainless steel mess kits on the market. For such a low price, you will be surprised how good the quality of the kit is.
Coleman Stainless Steel Mess Kit provides you with a full set of dishes and pots that one needs for a successful outdoors cooking. This is a one-person mess kit, which is a great option for any solo camper out there. As with the most kits that are made for camping, this one is pretty lightweight and it is only 1.26 lb.
So, what are the contents of Coleman Stainless Steel Mess Kit? It comes with a large pot, a frying pan, a bowl, and a mug. The former two are made of stainless steel, while the other two are simply plastic, yet still good to put the hot contents inside. This minimalistic mess kit is enough for one person to prepare proper food and then consume it.
Strangely, the disadvantages of one kit element are the advantages of the other. When you put the skillet on a camp stove, there are big chances that hotspots will appear, because the material is not as thick. However, when you put a pot on the same backpacking stove, you get boiling water very quickly. So think about what you are going to cook and what is more important to you.
As for the bowl from this Coleman Stainless Steel Mess Kit, you can safely eat anything from it. Because there is no plate, the bowl can replace it, and any kind of food can be put there. The mug is good to drink from, and because it has a handle, you can pour hot liquids in there and be safe with your hands. Some campers even use this mug to measure food and liquids before cooking, and the shape of it actually reminds you of a measuring cup.
Coleman Stainless Steel Mess Kit is great for its price. A complete kit for one person can be very useful no matter where you are planning to camp. You might not get high quality materials, but all the cookware and dinnerware function pretty well.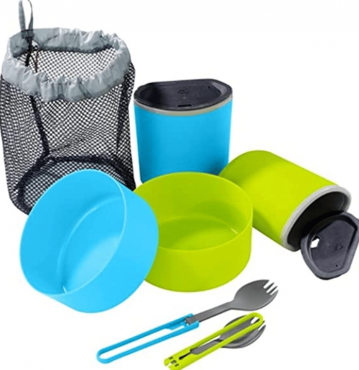 Those who are looking for a compact mess kit should consider purchasing The MSR 2 Person Mess Kit. While it is not a super advanced kit, it still has everything you need for having a meal outdoors.
It is one of the best backpacking mess kits, as all the elements of it can nest inside each other, therefore taking as little space as possible. This is a 2-person mess kit as well, so it is very convenient. It also weighs a little bit more than 13 oz, making it very easy to carry around without much effort.
MSR 2 Person Mess Kit consists of two cups, two bowls, and two spoons combined with forks (or sporks, as many people call them). This mess kit is enough to have an outdoor lunch or dinner. The material the dinnerware is made of is polypropylene, so it is quite durable too.
Both bowls and cups are good to use even with hot liquids and food inside. If you are not very picky, the bowls will be good to use as the plates as well. Moreover, cups with lids will provide you with spill-free drinking of tea or water.
If you are looking for a camping mess kit that is lightweight and has every necessary item for food consumption, then The MSR 2 Person Mess Kit is the one to choose. It is very compact and can easily fit in your backpack, while still being able to feed up to two people.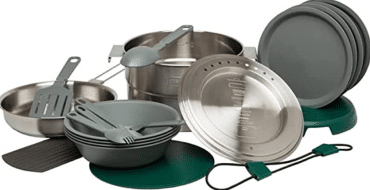 Another good stainless steel mess kit option is Stanley Adventure Base Camp Cooking Set. Unfortunately, its production has been discontinued, but you can still find it at some stores. Nevertheless, it is a good and reliable mess kit that has everything you need for outdoor cooking and dining.
This camping cookware mess kit cannot leave you unimpressed with its usability and variety of different tools. The stainless steel mess kit has dishes both for making meals and eating them. If you need something that is both going to last long and made with great quality, then this is the set you should consider.
This is a mess kit for four people. As its primary material is steel and there are comparably more elements, this kit is heavier than the others we have talked about, and it weighs 5.6 lb.
Inside of the camping cookware mess kit you will find:
Plates;

Bowls;

A serving spoon;

A spatula;

Sporks;

A skillet;

A pot with a strainer lid.
As you can see, there are some elements of this mess kit that other sets did not have at all. You can show all your cooking skills with full potential with this mess kit.
Unfortunately, there are some problems with this cookware as well. The smallest of them is that the sporks might bend a little too much if you put pressure on them. This increases the chances of breaking them. The bigger problem is that the folding handle of the skillet can snap easily and either detach from the skillet or, what is worse, turn the frying pan upside down.
If you use the mess kit carefully, you should not get too much trouble with it. Despite all the bad sides, this stainless steel mess kit is a great option if you want to have everything you might need in your set.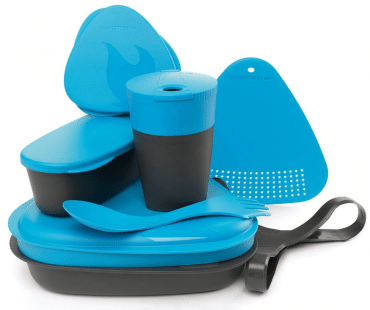 Mess kits can be used not only to eat food prepared in nature, but also to consume the pre-made one. If you are not planning a long trip with cooking, you can take some food with you and eat it when you get hungry. For such cases The Light My Fire MealKit 2.0 is a perfect mess kit to buy.
This set has several BPA-free biobased bioplastic containers, two-sided spoon-fork, a cup, and even a cutting board. The mess kit is designed for one person, and it has a pretty small weight of nearly 13 oz. It is a perfect backpacking mess kit both for storing pre-made food and eating freshly made one.
Containers are of different shapes and sizes, which makes them useful for storing different types of products. Some campers note that this amount of storage dishes can sometimes be excessive. Still, you can store leftovers in those containers that are not used.
Container lids prevent any spilling, although sometimes the water leaks from them after too much shaking. One flaw that is really noticeable comes from the cup. You cannot hold it while there is any hot liquid in it. So, it is advised to drink only cool drinks like water from it.
This backpacking mess kit is good for quick meals, and it even has a cutting board that can be very useful. It is a lightweight set that wouldn't take much space in your bag.
Another popular camping cookware mess kit is Stansport Stainless Steel Mess Kit. It is commonly used and loved for its durability and standard set of cooking utensils. It is the best mess kit for those who want to experience real camping cooking.
We can surely call this set one of the best mess kits because of its compact storage and possibility to keep other dishes inside the pot. The kit comes with a small pot with a lid, a skillet, and a bowl, all made of stainless steel. The overall weight of the set is slightly more than 1 lb.
While this kit is perfectly fine for one-person cooking, to make more food, you will have to prepare it once again. The size of the pot and the pan allows you to make only one serving. Having a large pot in the kit would really help here.
Moreover, to get boiling water, you might have to wait because steel takes time to heat. Because of uneven heating, the skillet might get some hotspots, but it is not crucial for food preparation, if you are careful enough.
This standard set is good for anyone who needs a standard set of cookware without paying any extra cost. It is simple, yet effective for outdoor cooking, and it can store your other devices and dinnerware inside.
Camping Mess Kits Types
Before we start with the list of best mess kits, you need to decide what type of a kit you will need. There are several of them, and it is important to pay attention to what you are buying. Some campers prefer to grow their kits over time, others buy everything at once. Choose what you need depending on your camping preferences.
So, there are the following styles of camping mess kits that you can meet on the market:
Single-person mess kits;

Kits used for cooking;

Kits used for eating;

Full camping kits.
If you are going to camp alone, or if your camping buddies decide that everyone buys tools for themselves, then a single-person mess kit is a perfect option. It might not include much, but it has everything you need for survival in nature. Having only a cup, pan, and pot, this small mess kit is easy to carry around, and it is much more affordable than others.
If you already have something to eat from, then you need to buy a cooking camping mess kit. Usually, such a kit includes a frying pan, some pots, and other tools needed for food preparation. A cooking set like this might be really useful if you are planning on taking a trip for several days and cooking all by yourself.
For those who want their own set of dishes to eat from, an eating mess kit is a great product to buy. People purchase this type in case when they already have the cooking set, or when there is pre-made food and cooking is not required.
Well, the most common ones are full camping kits. They include everything you need in terms of cookware and eating utensils. Once you buy this kind of kit, you can surely go and have some nice meals outdoors cooked and eaten.
Camping Mess Kit Material
Another criterion for choosing camping mess kits is the material it is made of. For obvious reasons, like heat and moisture resistance, it is important to choose the cooking attire that is going to last you for long enough. A camp mess kit made out of a durable material will not put you in a situation when you are left in the wild with no functional cooking tools.
If the weight and durability of cookware are in priority for you, choose pots and pans that are made of titanium. Keep in mind that it is on the pricier side. Moreover, one might come across some problems like patches from overheating and uneven temperature distribution.
Another good option is a stainless steel mess kit. It might be heavy, but if you are not going backpacking, then it should not be that big of a problem. The durability and affordability make this kind of set one of the most preferable ones. Although you should expect some hotspots on this cookware as well.
For lighter options of camping eating dishes, go for plastic and silicone. They are good for backpacking, as they do not weigh much. Also, it is easy to store a lot of dinnerware of such types. However, you might not often find cookware of this material, as they are not resistant to higher temperatures.
Anodized aluminum mess kits are the golden means of camping cookware. They have average prices, weigh comparably less, and last for many years. Even distribution of heat allows you to cook faster and without any troubles. Be careful with the temperature of utensils though, as they might get quite hot.
Frequently Asked Question — FAQ
What to look for in camping mess kits?
When looking at different mess kits in the store, think about the purposes of their use. If you need a good backpacking mess kit, choose something light with only essential cookware and dinnerware. If you are planning to cook a lot, make sure that all the dishes are of good quality, proper size, and durable material.
What does a mess kit weigh?
Depending on their content, mess kits can weigh as little as 9 oz. Usually, these mess kits have only dinnerware like plates, bowls, and cups that are made of plastic. However, there are some heavier options as well. An anodized aluminum or stainless steel mess kit will be heavier, but you can cook some food with it.
Can you boil water in a mess kit?
Usually, mess kits that come with cookware contain at least a small pot, which should be good enough to boil water. Pay attention to the material of the pots, as with some mess kits you have to wait for a long time to boil water, because of the long heating.
Can you cook in a mess kit?
Mess kits with only dinnerware would not be useful for cooking, but the ones that come with cookware definitely will. You can cook either in a pot, or in a skillet with detachable grippers. To heat the dishes, you can use a camp stove or a bonfire.