The best gun safe is waterproof, fireproof, has a robust door and lock, its bolts are rigid, and its price is fair. And, of course, all your firearms, ammo, long guns, short guns, and more can be kept safe inside of the gun safe. To discover more details, continue reading the article.
These days most people have firearms at home for self-defense purposes. But where do they usually store it? It seems that the purchase of a gun safe is meaningless since the weapon should always be at hand. If it is far away from you, it will not be beneficial.
However, such safes are necessary for gun owners because they guarantee the protection of their firearms. You never know when a disaster will happen, and your house will be on fire or under the water. The safe will reliably protect the gun from any damage. Besides, it will prevent children or robbers from finding this weapon (in both cases, the consequences can be very tragic).
Today, there is a wide variety of gun safes that you can find on the market. All of them are very different in their size, design, and mobility. So, there are models that provide quick access to your weapons, which can be moved from one place to another or in which you can store only one small gun. Also, more massive, built into the wall or accommodating the entire arsenal of weapons fire rating options. There are also hidden safes that you can keep away from prying eyes. Thus, when choosing an optimal gan safe, you need to rely on your own needs and preferences.
Based on the above, this article includes ten categories of gun safes with a brief overview of each of them. Also, in each section, you will find products that we recommend you for purchase and the quality of which we can guarantee.
TOP Best Gun Safe Categories
Safes With Water and Fire Protection
If you need a gun safe, it will be wise to pay attention to the material of the product. You must make sure that your weapons will be reliably protected not only from "uninvited guests" but also from disasters, including from high temperatures and fire.
Usually, gun safes' manufacturers use solid steel for making their products because it is a very fireproof material. Such a safe will only start melting if the temperature around it reaches 2750 degrees Fahrenheit. However, this does not mean that your firearm will remain undamaged if your house is on fire. Under the influence of high temperatures, the safe steel box will be intact, but the material from which your guns and their mechanisms are made will unlikely be so fire-resistant. You do not want to spend a lot of money on a safe in which your weapons will be grilled and become useless, do you?
That is why buying a gun safe. You better pay attention to its fire-resistant qualities. Our recommendation is  Stack-On TD-24-GP-C-S Total Defense. This is one of the best gun safes on the market because it reliably protects everything you put inside from both water and fire damages. Its high-quality construction has a 75-minute/1400 degree fire rating RSC and a nice combination lock.
This video will introduce you to other features of this safe.
In-The-Wall Safes Options
The next version of the safe can not boast of its portability, but it is definitely highly protected from robbers. It is installed directly in your home wall and can have any size – it can be small to store only your handgun or large enough for your whole gun collection. Such safes can have any of the possible locking systems: biometric fingerprint lock, electronic lock, pin code, or combination lock options.
The only significant drawback of such a safe is that you will not be able to easily carry it with you or move it from place to place. It is quite heavy and is tightly built into your wall.
However, it is really great for storing something bigger than one handgun. For example, Stack-On PWS-1555 can easily accommodate several rifles or long guns. In addition to the fact that it is firmly fixed in the wall, such a long gun safe has a reliable electronic lock, which makes your valuable weapons even more difficult to access.
Secret Gun Safes
Do you want the most inconspicuous safe that would be unnoticeable in your interior? A hidden vault is something that is unlikely to attract the attention of outsiders if they find themselves in your apartment. Such an option can be hidden in a bookshelf, mirror, or any other piece of furniture in your home. With this gun safe, you will provide yourself with quick access to weapons because the safe will always be in your sight.
Of course, such a safe is less durable, and it is likely that it will be able to crack with the help of special drilling tools. But that would only happen if they could find him at all, wouldn't it?
For example, look at one of the best models in this category – Tactical Walls. It will help you safely hide your guns in plain sight so that no one will notice them.
Biometric Fingerprint Gun Safes
Most gun safes are protected only by a security code or a combination lock system that strangers can easily recognize. If you are looking for a super modern and reliable safety for your weapon that would be devoid of such shortcomings, your choice is an option with a biometric lock.
This lock recognizes only your fingerprints and opens when you put your finger to the scanner. This significantly reduces the risk of invasion into your gun vault by intruders. This is because human fingerprints are unique, and only one person out of 64 million people may have identical fingerprints with yours. It is doubtful that he will decide to rob your safe. Since robbers will now need your hand to break into your safe (hopefully, they will not go so far), biometric protection is extremely effective.
If you are interested in reliable handgun safes, I recommend you pay close attention to the following option. SpeedVault Biometric Handgun Safe is a nice choice if you are tired of old school pin code locking system.
For those of you who need more storage space, there is an alternative.  Barska Biometric Rifle Safe will protect your gun collection from the others.
Watch the video below to get more details about biometric pistol safes.
Vehicle Firearm Safes
In terms of reliability, the light pistol safe for the car is much less reliable than the above-mentioned categories of gun safes. However, if you are a travel enthusiast who prefers to carry a firearm just in case, then consider purchasing this option. In the end, the glove compartment is not the best place to store your gun, and such a car safe will perfectly protect your weapon on the road.
Today one of the best car handgun safes on the market is Gunbunker GS1. For more details, watch the following video with a review of this model.
Truck Gun Safes
By analogy with car safes, there are also various options for storing weapons in a truck. Such models differ in a variety of sizes. If you are a gun owner and want to buy a nice handgun safe for your truck, you will manage to find an appropriate option. The same is if you are a long gun collector and searching for a bigger quick access biometric rifle safe. You can choose any of them according to your preferences.
I recommend looking at Locker Down Truck Console Safes for handgun lovers, which a designed specifically for certain models of trucks. This product can make your console a gun safe with solid steel construction and provide your firearm with strong protection.
Besides the options for handguns, this company offers longer weapons as well. Please take a look at their long gun safes collection for the trucks.
Under Bed Safes
Here is an option for those of you looking for quick access to the gun safe. This safe will always be stored under your bed, and if intruders get to you at night, you will need to reach out, enter the security code on a combination lock, and voila – you are ready for a fight. Have all of you heard about the high-profile cases of people sleeping with a gun under their pillow and accidentally shooting themselves? With such a safe, your weapons will be at hand while you sleep and, at the same time, will certainly not be so close to harm you.
One of the best gun safes that you can keep under your bed is American Security Defense Vault. In the video below, you can see why this model is so cool and convenient.
Heavy Gun Safes Cabinets
Heavy safes, weighing several hundred pounds, are not easy to move from place to place, let alone steal it from your home without being noticed…
If you like this idea, I recommend you one of the most affordable options – Liberty Gun Safe – Fat Boy Jr. It has a weight of more than 700 lbs and 12 solid steel bolts that protect this gun safe from the breaking-in.
However, if you want something heavier and ready to spend more money for it (about $ 2,500), then Steelwater Extreme Duty vault is your choice. It weighs 1200 pounds and has a gear-driven locking system and 18 steel gauge bolts for additional protection. This safe is so heavy that it will be difficult to even deliver it to your house after purchase, and even a group of trained bandits will not be able to steal it from your house.
Сorner Firearms Safes
But what if you are limited in space or can not install a gun safe in the wall because you rent an apartment and it does not belong to you? In this case, you can try the corner gun safe, which is relatively compact and will easily fit into your interior. In fact, it is an ordinary gun safe, so you can choose options with any locking system you want to make sure that your property will be secured. Such a safe is designed to be located in the corner of the room, and the Sentry Safe HDC11E  vault will surely fit perfectly into your home or apartment. Watch the video that includes the review on this model to get more information.
Nightstand Handgun Safes
Another option is a small hidden safe that will be close to you while sleeping. The Night Stand Safe provides you with super quick access to your handgun – you can reach it without leaving your bed – and reliable security at the same time.
Why Should Gun Owner Buy a Gun Safe?
First of all, there are some advantages that firearm safes give gun owners. Read them to understand whether you need to purchase such a thing or not.
Gun Law Observance
In a number of US states, legislation criminalizes liability for negligent possession of guns. That is, if minors suddenly get access to your weapons, then you will be punished in accordance with the law and go to prison.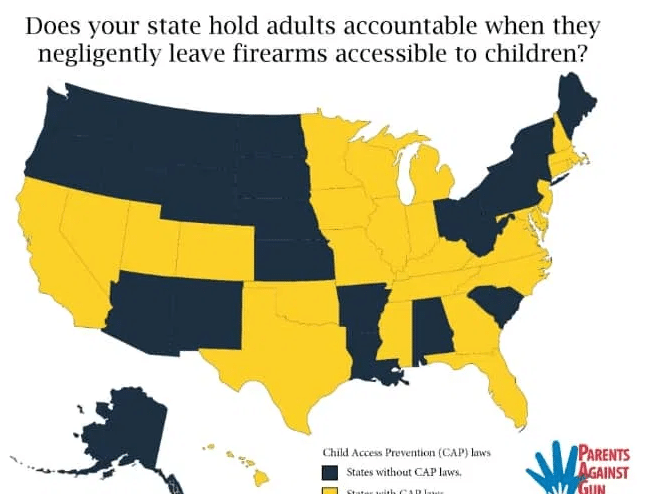 Regardless of how you feel about this law, gun ownership imposes certain responsibilities and obligations on you. Even if your state does not have any law concerning gun possession, you have to make sure that underage children do not have access to your weapons. A gun safe is one of the best measures to comply with the law and to protect children from "dangerous toys."
Firearms Help You to Stay Armed
Storing a firearm in an unprotected place is fraught with the fact that some attacker will take it from you. If your gun ends up in the wrong hands, you can get yourself into serious trouble. For example, a weapon with your fingerprints on it can be used to commit a crime. In this case, you will be involved in a criminal investigation if someone is shot or killed with your gun. Besides, a firearm lying in a prominent place can be used against you. Therefore, you should think about your gun collection's safe storage space to prevent such tragic scenarios in advance.
Damage Protection Function
Most safes are designed to protect your weapons from damage and rust, making them indispensable when it comes to storing weapons function.
To decrease the moisture level from your safe, you can install a humidity rod or a desiccant inside. This is an easy way to prevent your firearms from rusting. You can also use felt lining and other means such as holster pockets to protect your guns from accidental damages.
Quick Gun Access
Owning a gun safe is a guarantee that you will always know the exact location of your defense weapon. The days when you might have accidentally left your gun in the glove compartment of your car will be a thing of the past. If intruders suddenly invade your home, you should know where to run for a weapon. If you try to remember where you last saw it frantically – you are dead.
Quick access to your gun is one of the best investments in your self-defense.
Best Gun Safe Summary
Thus, given the variety of models of gun safes and their prices, everyone can choose the perfect options for their needs. Every American has the right to own firearms, but without a proper place to store them, that right of free citizens can turn to disaster.
Buying a gun safe with a high-quality locking mechanism will help you to avoid unnecessary problems and provide additional security for you and your family. Remember that security measures are important in every situation, and storing guns is not an exception too.
Read the survival prepping guide we provide for our fans preppers. In our broad expert-written blog, we provide extensive info about the first-rate survival gear options,  survival skills to learn about, and  facts for real-life preppers, mature homesteaders, and all kinds of survivalists!
Frequently Asked Questions – FAQ
What is the best affordable gun safe?
There are many options for any budget on the market these days so that customers can find the best gun safely according to their preferences. As the term "affordable" is different for each person, it is quite difficult to choose only one product for the recommendation.
However, I will try to help you with choosing according to the price-to-quality ratio. For example, look at the Fort Knox safes models. This company produces gun safes of any type, size, and with any kind of locking mechanism. Check their website to choose the best model for your purposes and wallet.
Is a gun safe worth it?
You may think that buying a gun safe is an unnecessary waste of money and effort. And you will be wrong. Of course, you can keep your weapons in plain sight so that they are always at your disposal. But such carelessness is dangerous and can lead to awful accidents. Such a thing as a gun safe can help you protect your property while freeing you from unnecessary worries and the need to remember where you left your gun – you will always know exactly where it is stored.
What is the best fireproof gun safe for home use?
There are many options that are fire-resistant, but we would like to advise you to check out the Stack-On TD-24-GP-C-S. This is a high-quality construction that has one of the highest fire protection qualities. It weighs 462 pounds and has a nice combination locking mechanism that prevents unwanted invasions from the bad guys. Such a safe will be a perfect option to sit it in your home and protect your firearms from damage.
Why do I need a gun safe if I own firearms?
Because gun ownership implies a responsibility to the people around you. If your weapons end up in the wrong hands, it can lead to terrible consequences for you, your family, and possibly for society as a whole. In addition, if you know that your gun is always in one place, it is reliably protected from external damage and inaccessible to other people's hands, you will feel more calm and confident. That is, a gun safe will not only save you from unnecessary hassle, increase security and provide you with quick access to weapons, but also allow you to be more accountable to society and a law-abiding citizen.
How to pick a digital safe lock?
Choosing your best gun safe with a digital locking mechanism requires knowing some important features that can help you buy the ideal one. This system is the latest technology, so it should have the best high-tech functions. First of all, pick options with the newest biometric fingerprint locks that provide the highest level of security. What about combination locks they need to have numerous codes required to access. Also, think about the type of gauge steel construction. Whether you decide to have additional features such as built-in LED lighting inside your gun safe is up to you.