Choose an EDC survival knife from our list of best survival knives. You can get a fixed blade, a lock knife, a folding knife, or a pocket knife, with a beautiful sheath and a handle providing a nice grip. Choose one for everyday carry with a lighter weight and shorter overall length of just a couple of inches. Get yourself the best fitting knife to use for hunting, fishing, or survival after reading our review.
TOP Best EDC Knife Items On The Market
Now we're going to review the best and widely recognized EDC knives that you may find in special shops. All of them have qualities mentioned in the previous section so that you can trust us with confidence.
Folding EDC Knives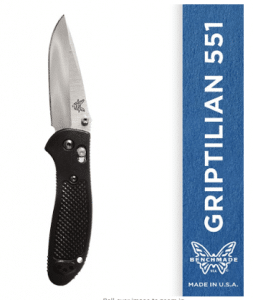 The US's armed forces use these steel blade models almost every time if applicable, and that already speaks for itself. Benchmade EDC knives are no doubts one of the best in the world. By the way, I also carry this blade for years, so I definitely know what I'm talking about.
They have a stainless steel blade and a lightweight "griptilian" handle, which looks attractive and folds quickly altogether. What is more, it is very nice to hold it in your hand due to the perfect weight and balance.
If you decide to purchase this blade, you will never regret buying the knife model. But if it fails and stops working, Benchmade has a lifetime warranty that allows you to fix or replace the item with the help of administration.
Gerber Gator is another highly reliable knife for survival as it is produced by one of the oldest and respected companies in our country called Gerber.
It has a lot of useful features like simplicity, durability, versatility, and authenticity. Thanks to the comfortable handle covered in a ballistic nylon grip, which makes it look similar to alligator leather and the great cutting edge of a thick stainless steel blade, this blade is close to perfection.
Here you can find some more good affordable models.
The next item in the list is smaller in size and has a blade length of about 3″. Plus, the blade is made out of D2 stainless steel and has a SpeedSafe open-assist button, allowing you to extend it safely and quickly. The handle includes the locking mechanism at the bottom.
With all of these features, the Kershaw blade is designed to look neat and operate easily. You can either put it in the pocket or fasten it on your belt.
Knives supplied by the CRKT company are affordable and high quality, thus, showing an example of a successful combination of simplicity and excellence.
The blade material is suitable enough for a pocket knife to be used and handle material. The former is made out of glass-filled nylon scales, and the latter is from stainless steel, which has a special seat belt cutter on the flipper and a window-smasher on the buttstock. You can press the button of the flipper for a one-handed automatic opening of tanto-shaped cold steel.
The knife model was definitely created for us to use and not to show off. However, you can choose another color of the handle if you don't like the default one.
This model of the blade from Colorado usually has a higher price, but it is absolutely reasonable. The thing is that it was originally made for law-enforcement agents. It even looks a little intimidating.
This EDC knife has a curved and serrated blade designed for professional protection and self-defense. It is not a utility blade. The locking mechanism is located in the middle and always works properly. If not, you can take advantage of the lifetime guarantee provided by the company.
Neck EDC Knives
Full tang fixed blade knives can handle more abuse than folders, and that is why I would take and use exactly them when forced to a survival mode. But if I wanted to have a knife always available and be ready to pull it out quickly, I would consider a neck knife as the most compact and comfortable.
As you remember, it is a small blade in a thin sheath rested around your neck. If it's interesting for you, read our article about neck knives.
Boot Knives
Boot knives are somewhat outdated now. Despite that earlier, they were at the peak of popularity. Today they are inferior to folders in their appeal.
The term itself is also not relevant. Some companies continue to call them "boot knives," but they do not attach a sheath to them and do not provide an ankle wrap. Without these components of equipment, it's hard to call them boot knives, but anyway, there is a good model in the market you can purchase if wanted to carry this type specifically.
The Gerber Ghoststrike is provided along with an ankle wrap and can rightfully be called an EDC boot knife. It has an overall length of 6.9″ and a blade length of 3.3″. In general, this knife looks neat, compact, and features a skeleton design.
Its stainless 420 HC steel is covered with a black ceramic layer that protects from reflection and corrosion. The handle is great as well.
The neoprene wrap for an ankle enables one to carry a knife safely and comfortably. However, you can leave the knife wrap and use the tool as a neck knife with the sheath.
Knives are probably one of the best things ever invented by humanity. The simple idea of a blade, which was first implemented as a stone and then have been replaced by a piece of metal, came up many centuries ago. Since these tools are created, their design hasn't changed drastically and has lost any distinctive features. They are still applicable for various purposes and handy both in everyday life and in any emergency.
So, what exactly can knives be helpful for? Of course, you know they can cut, chop, slice, stab, whittle, carve some stuff, and so on. But did you ever think of great opportunities to apply these basic functions?
You can use knives in the kitchen while preparing food ingredients and housework if needed, and self-defense. Besides, they are good for hunting and skinning and those kinds of entertainment like throwing knives.
Since a multi-tool is essential for a human, it is better to keep a blade with you wherever you go. But what type of blade are the most preferable, and what everyday carry knife is the best? After reading this article, you will definitely have no more questions about choosing the best knife and taking care of them.
We have five sections overall with information you might need to know about blade knives. However, you are free to go directly to the recommendations if already familiar with the theory.
Why EDC Knife Is Better
Types Of EDC Knives
Main Good Knife Features
Best EDC Knife Items On The Market
Taking Care of Knife Blade
Collect Your Own Survival Kit According To Our Checklist! Click Here And Get A Free Copy.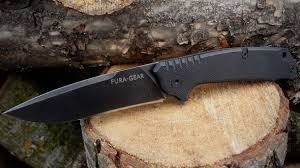 Why EDC Survival Knife Is Better
People's common tools before everyday carry knives came into play were something like a neck knife, or tactical, pocket, boot, and belt one. They were less compact, sometimes heavy, and not as easy to sharpen as best EDC knives on the market. Just fixed blade knives one could hardly ever to every day carry.
Even though a modern multi-tool knife is more convenient to use than a pocket knife or tactical knife, it might be hard to find the best one. Now, many knife companies provide a wide range of items in our country, but their products differ from each other so much that you may be confused at first.
The thing is, while some brands produce high-quality equipment designed for various survival conditions, others focus only on what is needed for daily activities. Plus, there may be useless models with the poor cutting edge that can't even help open envelopes.
So, not to make a mistake in choosing a multi-tool suitable for your purposes, you should understand the theory a little bit.
Collect Your Own Survival Kit According To Our Checklist! Click Here And Get A Free Copy.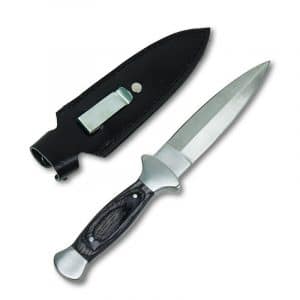 Types Of EDC Knives
Regardless of the tool design you prefer, any EDC survival knife is a useful and essential addition to a survival kit. You can put it in your bug-out-bag, pocket, survival belt, or get home bag. However, it is better to choose the model you find most comfortable to control. If it doesn't work well enough for you, something can go wrong in emergencies.
Folding EDC Knives
Many people prefer folding knives because of their high practicality and convenience. Such tools fold in half and hide their blade, making an overall length less than initially. Cool, huh?
One feature of an EDC folding knife which can be called a disadvantage is an unstable folding joint. As compared to a full tang fixed blade knife, it is weaker and more likely to break down after some hard usage. So, try not to chop or baton something.
Anyway, a folding knife is still the best for everyday carry uses. Its overall length allows you to put it wherever you want, even in the pocket, and use it safely and effortlessly.
Fixed Blade EDC Knives 
These tools have a fixed survival blade and can be used for self-defense and other serious purposes. Thanks to the fixation, it can handle much more abuse than a folding knife.
You can carry such blade models in different ways.
Belt Knife Carry
Let's begin with the most popular and comfortable one — carrying a fixed blade knife on a belt. It implies a shorter blade than usual and hidden in a sheath but fastened around your waist. Most of the people prefer this way as it is convenient and familiar to them.
But this feature has a negative side as well. If it's a common way to carry a weapon, you will never surprise or confuse your opponent if needed. They will expect you to keep a knife on your belt. But if you plan to make everybody know you have a weapon, it's okay.
We should mention that today's market offers us something with a more advanced feature — a release clip on a belt buckle so that you could grab it and use a blade knife.
Boot Knife Carry
A boot knife is also worn in a sheath, but you usually wrap it around your ankle or calf. Boots are not necessary.
If you want to conceal the blade, you can wear long pants. But if you wear shorts or something like this, a blade knife will look odd. Probably that is why it is a less popular method among people.
Neck Knife Carry
A fixed blade knife that you wear around your neck is a neck knife. It is also contained in a sheath but to hang it around the neck. You need a cord.
A fixed blade knife should be thin in its sheath and have a smaller weight. Thus, everyday carry wouldn't be a big problem and give you uncomfortableness.
To use a folding knife, you usually get it from the pocket and flit it open, but in the case of fixed blade knives, you should remove them from their sheath and grab the rubber handle to pull the blade down.
Collect Your Own Survival Kit According To Our Checklist! Click Here And Get A Free Copy.


Main Survival Knife Features
There are some fundamental components common for any everyday carry survival knife. Considering that people may have different needs and preferences, you should pay more attention to details. This is what will help you to find the right survival knife.
For example, you should think of such aspects as:
blade length, size, design
blade material
handle shape
handle material
overall weight
carry location
price
And more!
Remember that a survival blade knife that works the best for you may be terrible for another person. That is a natural situation, but knowledge of what is essential for a good knife or blade is also worth acquiring.
Compact
This is what primarily folding knives are valuable for, while fixed blade knives always need to be hidden in a sheath and strapped to a belt or backpack. Since the beginning of the twentieth century, when some man invented a folding knife, they became one of the best EDC knives in the world as the opportunity to tuck a blade away and put it in the pocket was extremely convenient.
Nowadays, not only a pocket knife is worthy of consideration as the best on the market. A fixed blade knife is quite a good competitor in this regard, and it can be compact as well.
Lightweight and Durable
There are lots of amazing tools made out of costly materials in the shops. Some of them have a Toledo steel blade. Others combine hardwood and precious stones or made out of mammoth bone. They look absolutely cool and nice, but actually, they are not that good in practice.
Such tools are cumbersome and hard to use. A good EDC knife is better have lightweight and durable materials as it won't bother you with all the flashy stuff. Besides, a knife made out of the right materials performs its functions much more efficiently.
Suitable Handle
The most crucial component of a knife is its handle. This is the part you will interact with all the time, so it is vitally important to choose the model that will fit you better.
When trying the shop products, pay attention to how easy and comfortable it lies in one hand and the other. If the size is too small or big, do not hesitate to ask for another one. And do not compromise. Remember that a good handle of a knife is eighty percent of successful use.
You found the right tool when it felt like it was designed only for you. You can even think that the knife is like a natural continuation of your hand.
Lock mechanism (folders only)
An operable locking mechanism for a blade on the handle is no less important than a handle itself. Usually, it looks like a button or a sliding clip and appears only on folding knives.
If the mechanism works badly, it is unsafe to use or even just keep in the pocket. Many people ignore this fact and get hurt by a stray blade. To avoid this, you should make sure you can lock a blade in place either in a folded form or extended.
Pocket Clip (folders only)
The ability to fasten a knife to the pocket of your jeans, shirt, or backpack is beneficial when you want the tools to be with you anytime you need them. If you relate to it, you'll be happy to hear that you can easily do this with a pocket clip!
It is a good thing to have along with EDC knives, but not all the clips can be safely used. Some of them are so big that it is hard to apply them to everyday carry uses. You should rather look for a low-riding pocket clip for your convenience.
Suitable Sheath (mainly fixed blade knives)
As you learned, fixed blade knives have to be in a sheath. Considering how many possibilities there are to carry your knife, it gets harder and harder to choose a good sheath. Depending on your carry location – would it be a neck, belt, or boot one – suitable sheath would be different.
A good find will definitely be a compact, thin, and durable sheath. It should also have the right proportions of size and material to fit your EDC knife well.
Legal Blade Length
Every state has different laws and rules for the optimal overall length of a blade. Some regions resolved carry and usage only of knives with a particular blade length. But in other places, it might be totally prohibited to use them.
I hope you understand that learning your state laws is the first thing to do before choosing an EDC knife. Moreover, it is your responsibility as a citizen to know them and obey them. Otherwise, the authorities will confiscate your equipment or even fine you.
If you happened to buy an illegal weapon, just find a different one for your self-defense.
Collect Your Own Survival Kit According To Our Checklist! Click Here And Get A Free Copy.
Belt Knife
As we said, a belt knife is a knife hidden in a sheath but fastened on your belt. This is pretty much obvious. But what if I tell you that sometimes it's not?
There is an unusual model of a belt knife that you might like. It's a new take presented in the form of a belt buckle! To retrieve it, you can draw the knife from it and use it quickly and comfortably. But be careful as its stainless steel blade is ultra-sharp with a serrated edge.
This cold steel is the most convenient and subtlest, but everything depends on the belt you carry. If it makes you feel uncomfortable and just bothers you, it is no matter what knife you have. But still, you have a standard webbing tough enough for carrying with a locking mechanism that prevents careless use. Besides, in order to remove the knife, you are not to worry about the belt.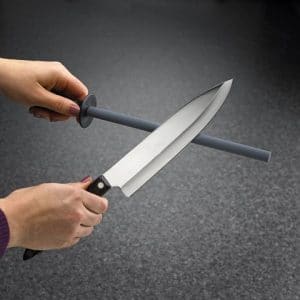 Taking Care Of Knife Blade
If you want your EDC knife to serve you at its best for a long period of time, you definitely need to take care of its blades and maintain their functionality. Fortunately, it's not difficult at all — all you need is just to sharpen and clean your blade. To learn how to do it right, read the information below.
Sharpening
It is better to give your EDC knife to a manufacturer, or a knifemaker, for professional processing under specialized tools. They usually have experienced masters who can make their craft correctly and quickly, so it won't take long to get your knife back.
However, if you want to make it faster, you may try to sharpen the blade by yourself. Check out our guide for successful sharpening.
If you are interested in sharpening at home, remember to do it from time to time. Work harder to get better results as it can be more dangerous to use a blunt EDC knife blade than a sharpened one.
Cleaning
Thanks to the stainless steel, it is much easier to clean a knife blade.
First, remove any dirt from the blade. To deal with grime, you can use a surface cleaner such as Windex. Second, wipe down a blade and handle using a damp cloth, and go through all the cracks and nooks with a q-tip. Third, you can lubricate a knife blade with gun oil or WD-40 applied to a q-tip to make the knife open and close effortlessly. Just rub on the hinge-point and don't overdo.
Best EDC Knife For Survival Summary
If you call yourself a survivalist, then an EDC knife in your bag is a must.
EDC knife is totally applicable for a variety of purposes, starting from cooking and ending with self-defense. In addition, regardless of blade length or price, it can be easily carried in the pocket, around the neck, on the belt, or in a boot.
The most difficult thing about an EDC knife is finding the best one. That is why it is important to prepare and research different EDC blade knives and their characteristics. Apart from this, remember about laws concerning knife carriage and usage specific to your place of living.
All in all, take the choice of an EDC knife seriously. I hope we helped you with some issues so that you could find the best knife suitable for your needs and purposes.
Frequently Asked Questions – FAQ
Are EDC knives legit?
There are specific laws in the US that are similar to each other by the subject but active in different states. Some of them allow people to carry their EDC knives but are limited in their overall length, while others prohibit any usage of these tools. Before buying an EDC knife, you should make sure you don't violate the rules of the state you're living in.
What makes the best EDC knife?
Best EDC knife should be compact, made out of lightweight and durable materials, and have a comfortable handle. If we talk about folding knives, it needs to incorporate a good lock mechanism and pocket clip. Fixed blade knives should have a sheath suitable for carrying the location and design of a knife. Besides, there are a lot of other factors you should account for when choosing the right one. The best EDC knife is that knife you consider more comfortable for you to carry and use.
How much is a solid EDC knife?
You should read our article and visit the webpages we added links to. There you can find particular models of knives with their detailed review and cost in dollars. Generally speaking, the cost range is within 100 dollars and depends on blade knives' brand and functionality.
Where to buy the best EDC knives?
You can always purchase a chosen blade in specialized shops or in the Internet. While reading our article, you will be able to visit Amazon and find there some products you are looking for.