Perhaps, there is no survivalist left not owing at least one EDC bag, and it's quite understandable. These EDC bags are perfect for everyday carry, and survivalists can store there various items needed for their surviving trips.
Unlike in the '90s, when there few just a few options of EDC bags on the market, these days, we have a great variety of EDC bags of various sizes, shapes, and capacities. And for people new in the world of surviving, it may be hard to choose that one high-quality EDC bag for everyday carry, as there are too many options.
Choose the best product of this category can be a real challenge for newbies, and that's why we decided to collect all our experience in choosing EDC bags, and share it with you, so you can purchase one of the best EDC bags for everyday carry of all the necessary items.
TOP Best EDC Bags
When we hear someone talking about the style of something, the first thought we have is about fashion. In terms of EDC backpacks, when we say "style," we mean its functionality and shape. Its appearance matters as well, but still not that much as its durability and multifunctionality.
To choose the style for the EDC bag, you need to define the purpose why you need it. Defining the purpose, you won't have issues with choosing the best EDC bag for you or your loved ones.
EDC Backpack
This style of best EDC backpacks will be perfect for those who used to carry a lot of heavy objects. If you need to carry not only your laptop but also some survival gear or camera, consider choosing the EDC backpack for this.
These backpacks are of great durability as, among other EDC bags, they can carry the heaviest weights. Make sure the organization of these heavy components is thoughtful enough so all the necessary components for your survival can fit in your bag.
EVATAC Combat Backpack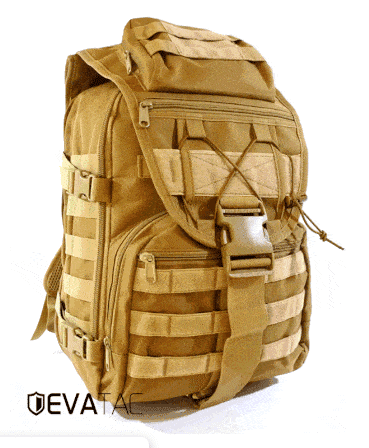 These tactical EDC backpacks aren't suitable for carrying them in the office, as they look quite brutal and will attract too much unwanted attention. Note that while considering whether to purchase this EDC backpack or not.
For those not minding having the backpack with a tactical design, this option will be the perfect one. Having an affordable price, these backpacks have comfortable shoulder straps, heavy-duty zippers, a chest strap, and various compartments to make the organization of the bag's components comfortable enough.
This EDC backpack is made of 600D Polyester of great durability, has a 40L storage capacity, heavy-duty clips (a visiting card of every high-quality bag). It's necessary to repeat that it has a padded back panel and padded shoulder straps that are essential for every survivalist as you need to carry this bag throughout the day. When you in uncomfortable wild conditions, there's no point in adding more discomfort by carrying a tough bag on your back.
A chest strap is another essential element all preppers pay attention to. When you run or walk quite fast, it matters whether the pouch is tight to your body or hanging from side to side. When it's hanging, it's distracting you and slowing you down. By purchasing the waterproof EVATAC backpack, you won't face such inconveniences.

All of the ten individual compartments of the EDC bag are water-resistant, meaning no humid can threaten the wholeness of the components inside the bag. The number of the compartments allow you the maximum organization of all the object you want to take with you. Your laptop will be in the laptop compartment, your camera will be in the camera compartment, and your survival gear will be in other compartments. Such an organization will protect such fragile objects as laptops and cameras from breaking down.
Considering all the features of this Combat Bag From EVATAC, it's surprising to see its price, as usually other backpacks with similar features cost more than $159. And this bag has the most affordable price on the market in terms of price-quality ratio. Click to find out whether this perfect bag is still available (as preppers don't miss the chance to purchase it as soon as they see it's in stock).
If you're interested in purchasing the Combat Bag from EVATAC but still have some doubts, check the video with a close review of this pouch.
SOG TOC Backpack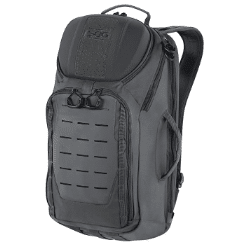 Unlike the previous backpack model, this model is perfect for the concrete jungle. Its urban design with stylish grey color makes it worth paying money for. The grey color of the pouch makes it unisex so both men and women can purchase it and feel comfortable carrying it around.
The SOG 20 Liter EDC Backpack has the unique feature distinguishing it from other backpacks: it has a 2mm PE sheet suspension that allows distributing the weight of the pouch's components equally. You can carry your laptop in it and be sure it will be safe as there's laptop storage in the bag. This storage is pass-through-the-side, meaning it provides double protection for this fragile item of yours.
This model also has a sternum strap with an included lightweight whistle that provides both the extra stability and quick access to the survival tool responsible for self-defense. You don't need to open your bag and go through your stuff in an attempt to find the whistle necessary in the moment of an emergency.
If it's essential for you, there are extra webbing lash points on this bag, which will provide you with additional space for carrying more tools if needed. But keep in mind what we covered before: try to take only the most essential things with you, as the extra weight will bring you only problems. Don't forget to take a first aid kit with you.
Click To Find Out The Latest Price Of The Item
5.11 RUSH12 Tactical Backpack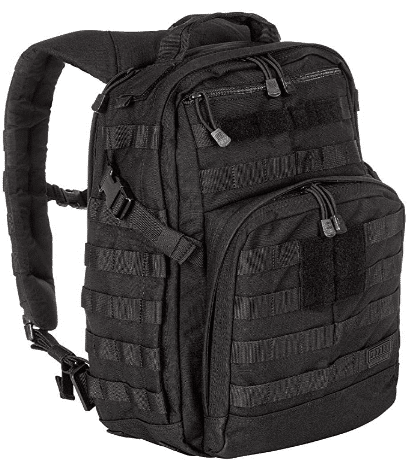 The 5.11 RUSH12, as one of the best everyday backpacks, has not only comfortable shoulder straps and a sternum strap but also 16 separate compartments, meaning you can organize components most comfortably. This model can also be considered as a laptop backpack as a laptop can fit in it with ease. It can also be a camera backpack due to the same reason.
Additionally to 16 separate side-access compartments, this bag has quite a big main compartment and an individual water-resistant hydration pocket. Talking on the sternum strap, you can adjust it as you like to make it comfortable for carrying. In addition to it, you get two external compression straps and a contoured yoke shoulder strap system. You don't have to understand what all this means, but know all these features are added to give you the maximum comfort from carrying the bag. The external part of the backpack has a wrap-around Molle, meaning you can extend the backpack as you like, resizing it for yourself. This is the feature of the best backpacks on the market.
This best everyday bag is made of 1050D nylon with a water resistance option and great durability. You can be sure taking carrying this bag in the wild conditions won't ruin its wholeness and will remain the components of the bag safe. Store a first aid kit in the bag, and be sure all the components of it will remain safe.
Click To Know The Latest Price Of The Product
EDC Lumbar Backpack
In comparison with backpacks, these lumbar packs look small and with no space required for all the necessary components. But that's not true. Yes, these lumbar packs are much smaller than backpacks, but with the right organization of the objects, you can fit them with ease, even in such small bags.
A lumbar pack has a similar appearance as the "fanny pack," being famous back in the 80s. Still, unlike that old model, a new model has many useful features and is made of more durable materials. They have various compartments (and even separate compartments for water bottles), so your survival tools won't mix inside.
One of the biggest pluses of the lumbar packs is you don't have to carry them on your shoulders as you need to carry them on your lower back. It means your hands and back will be free, and you can do something with your hands, not distracting on carrying the weight of the backpack.
Move a lumber pack on the front when you need quick access to something you're storing inside, or move it back when you don't need it and need to run or walk with caution. If you want to carry some heavyweights with the usage of a lumber pack, you can purchase backpack straps for this purpose. Find these straps in every shop for preppers.
G4Free Outdoor Tactical Pack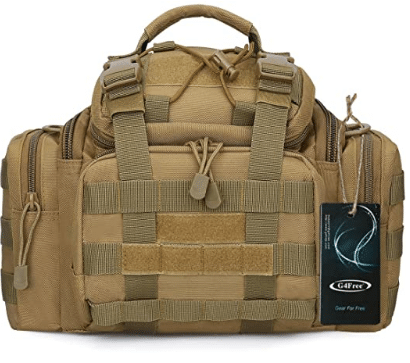 The G4Free Outdoor Tactical Pack is multifunctional as you can utilize it in three different ways: as a waist pouch, shoulder bag, and handbag. This pack is made of a high-density polyester fabric of great durability and lightweight.
Another feature of this tactical pack is its Molle system allowing you to add more survival gear to the external part of the survival bag. If you want to add more survival gear, try to do it wisely.
Click To Know The Latest Price Of The Product
Mountainsmith Vibe Lumbar Pack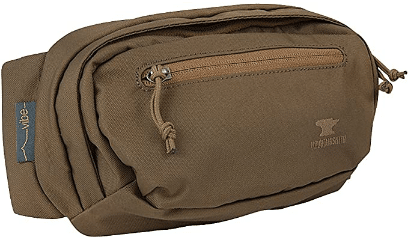 The Mountainsmith Vibe Lumbar Pack has a wide main compartment where you can pack all the necessary survival tools. It's essential to have the opportunity to pack a maximum of elements in the small bag and make the organization of these elements comfortable.
This pack is made of 610D HP Cordura and has a 1.5″ waistbelt you can adjust the way you want to. Also, this model has the air mesh back panel: a unique feature allowing to carry the pack with comfort without overheating and sweating.
Click To Know The Latest Price Of The Product
Mountainsmith Day Lumbar Pack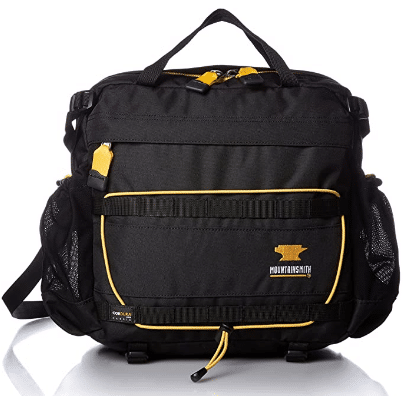 The Mountainsmith Day Lumbar Pack, as another model of lumbar packs, is famous for its front panel bungee attachment system and a tuck-away waist-belt made of 610D HP Cordura of great durability.
Also, unlike the previously mentioned models of backpacks, this model has a padded sleeve for carrying smartphones and pads (such as Galaxy S6 and iPhone 6+). Additionally, this model has two side-access webbing compartments on the external part of the bag, allowing you to have quick access to the essential survival components.
Click To Know The Latest Price Of The Product
EDC Organizer Pouch
Organizer pouches are the option for those preppers not having too much stuff to take with themselves. These pouches don't even look like bags, and they have a unique appearance (like the pouches have).
Most of them are of small size and are meant for carrying a small number of survival tools. Their modest capacity of only 1L in volume will stop you from taking extra stuff (like laser or something).
Orca Tactical MOLLE EDC Utility Pocket Pouch Bag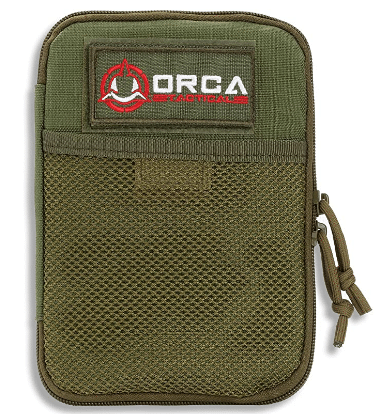 Even though organizer pouches are quite modest in their size, the Orca Tactical model is considered the largest MOLLE EDC Utility Pouch, among others. Its technical characteristics are 8.5″ H x .25″ W. If a student obtains this bag, they'll pack inside not only their laptop but also a great number of other not-that-necessary stuff.
The Orca Tactical pouch is made of 600D polyester material of great durability due to the resistant double stitching on the entire perimeter of the bag.
It also has back MOLLE straps and various separate interior pockets where you can store pencils, pens, nail clippers, a pocket knife, a compact flashlight, and other small tools. All this makes this EDC pocket pouch not worse (and even better) than any other MOLLE tactical gear.
Click To Know The Latest Price Of The Product
AVANQUEST FTIM-5×7 (Gen-2) Maximizer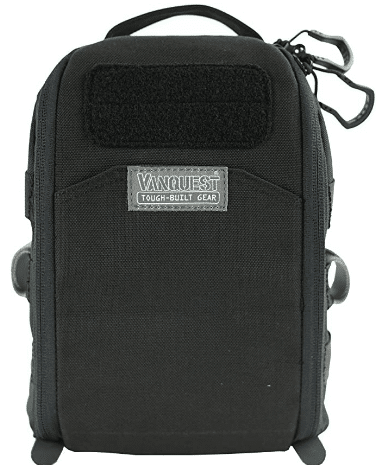 Another popular model of the organizer pouch, the Vanquest Maximizer pouch, has the following characteristics: it's around 1.5″ deep, 5.5″ wide, and 7″ tall.
This organizer pouch is made of military-grade 500-D Cordura Nylon, famous for its durability. Its pockets (two internal pockets and one external pocket) are also made from this material and have 24 elastic webbing slots. The fast pull-down access of this organizer pouch model contributes to the good organization of all survival tools you're storing in the bag. This model can be considered the best everyday pouch for all categories of preppers.
Click To Know The Latest Price Of The Product
Barbarians Tactical MOLLE Utility Pouch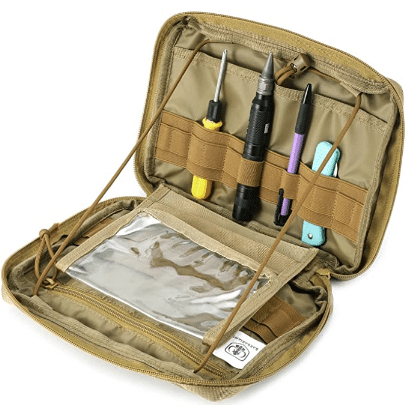 The Barbarians Tactical Pouch has a large compartment and a zipper compartment. The components of the bag won't hang all over the bag due to the instrument holders and elastic loops that hold them tight and don't allow them to fall out of the bag.
When it goes to the technical characteristics of the Barbarians EDC Pouch, it's 11 x 7 x 1. The material it's made from is a high-density 1000D nylon of great durability and with a water resistance option. Also, this model has a 7″ x 10.5″ vinyl sleeve that you can remove whenever is needed. You can store documents and maps in there, and be sure they're in a safe place.
You can hang this organizer bag on the belt loop or other MOLLE models if you want to.
Click To Know The Latest Price Of The Product
EDC Sling Bag
The last (but not the least) model of the EDC backpacks is the EDC sling bag. Talking about its size, it's something between a backpack and a lumbar pack.
If someone searches for the most comfortable model of the EDC bag, this model might be it. It is designed in the way to hug the upper body closely and swing around it, giving the person owning it fast access to the necessary components of the bag.
Some of the features these sling bags obtain:
A laptop sleeve
A hydration system
Hidden pockets
5.11 MOAB 6 Shoulder Sling Pack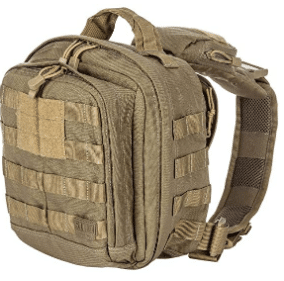 The 5.11 Tactical Sling Backpack has all the possible features you could ever imagine, and, what's essential, you can adjust them for yourself.
The storage capacity of this model is 11L and can fit numerous objects in there. This sling bag has numerous MOLLE and stashes pockets where its owner (a student, for example) can store whatever is needed. Also, this model has a hydration pocket with a pass-through port, a covert pocket at the rear, a tech pocket at the shoulder, and a second double zip pocket.
Additionally, with purchasing this sling backpack, you receive a shoulder strap you can adjust for yourself (usually, you can adjust all shoulder straps, but not always such an option is available). It is, as the whole bag, made from lightweight and resistant 1050D nylon.
Click To Know The Latest Price Of The Product
REEBOW GEAR Tactical Sling Bag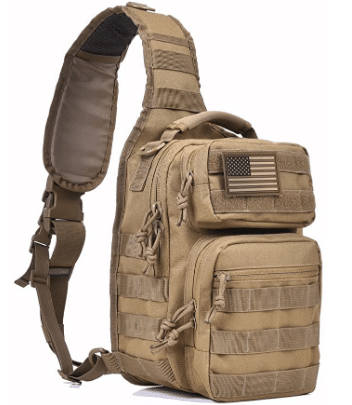 Despite the fact this tactical rover sling is only 6″ deep, 9.5″ wide, and 12″ tall, it's able to store a 9.7 Ipad along with other survival things as a flashlight, water bottle, wallet, keys, notepad, cell phone, charger, and others. You can also store a few handguns and ammo in there (if it matters to you).
This sling backpack is made from 600D polyester and has a resistant shoulder strap. You can adjust this shoulder strap by yourself and use two other smaller straps if the bag is too heavy, and you'll need to reduce the pressure.
Click To Know The Latest Price Of The Product
Allen Tactical Lite Force Sling Pack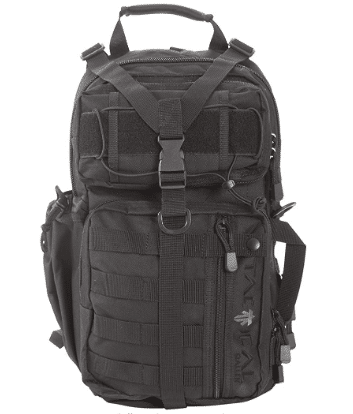 The Allen Tactical Sling Pack is convenient for carrying due to the technology it is made with. You can keep it on the back and then move it to the front without taking it off. It's essential when you're on your way and have no time to stop and perform manipulation like these.
Its storage capacity goes to 19 liters, and, more than that, it has the extended MOLLE web system. This model can be considered as the laptop backpack as there is a built-in laptop sleeve.
Click To Know The Latest Price Of The Product
The Theory of the "Gray Man" Gear
Seeing this heading, you might be surprised: what does the "Gray Man" theory have to do with EDC bags? Does it make any sense, or is it just another move of marketing experts trying to persuade you to purchase an EDC bag?
We don't know if marketing experts are somehow involved in the story with selling more EDC bags (though we believe it can be true), but the truth is EDC bags, in terms of the "Gray Man" theory, can save your life someday. Don't believe it? Well, for starters, let's find out what this theory is about.
The "Gray Man" theory is based on quite a simple idea: if you want to get lost in plain sight and don't attract attention to yourself, you need to know several specific techniques. These techniques will allow you to become that gray person in the crowd and make you unnoticeable for a person that can theoretically hurt you.
Some of these techniques are:
Dress in normal clothes (at least don't wear tactical clothing).
Carry an EDC bag with you all the time as you never know when you might need it.
Keep tactical gear in the pockets of all your clothes, but make sure no one can see you have it with you.
Repeat the behavior of people surrounding you: if they scream and panic, do the same.
Watch your eyes and make sure you have no eye contact with anyone. Even if you panic with others, your eyes will betray you.
Move with the crowd, and try to hold on to the smaller group of people. That will increase your chances of escaping the danger.
There are many other techniques you can get acknowledged with if you're interested in it. But no matter what technique you'll be reading about, they have the same background.
The RAS, most known as the brain's Reticular Activating System (RAS), is the thing making these techniques operating. This is somehow the brain's data filter that's responsible for removing the unnecessary or unimportant data from itself. Thanks to the RAS system, you don't receive information every millisecond, or you'll be overwhelmed by the amount of sensory information and won't be able to function normally.
But how this theory and work of the brain's RAS system are related to the EDC bags? Especially when most of these EDC bags have a tactical appearance?
The key phrase is "most of them." We live in a time when brands of the best EDC bags understand it's essential to make these bags look "normal," making it possible to use them for everyday carry.
If you want your everyday backpack to have a tactical design, it's okay, as there are many such items on the market. But if you need your EDC backpack to fit in the office interior and don't scare your clients away, you also have such an opportunity as now every person (even every student or photographer) can find the EDC bag suiting their demands the best.
Such modern-looking bags can be used not only in terms of surviving but in terms of traveling or backpacking in comfort. Cyclists and bikers know how it's essential to have a comfortable EDC bag to carry items necessary for a comfortable ride.
All this means a modern EDC bag is perfect not only for traveling and feeling comfortable in the concrete jungles, but also such EDC backpacks are perfect for surviving (both in the concrete jungle and wild nature). You can purchase several of these EDC backpacks, choose the necessary size and organization type, and make sure you can utilize them every day in all the possible conditions.
For starters, we need to highlight the criteria you need to check while choosing the EDC bag if you want it to be suitable both for everyday carry and for using it in emergency situations.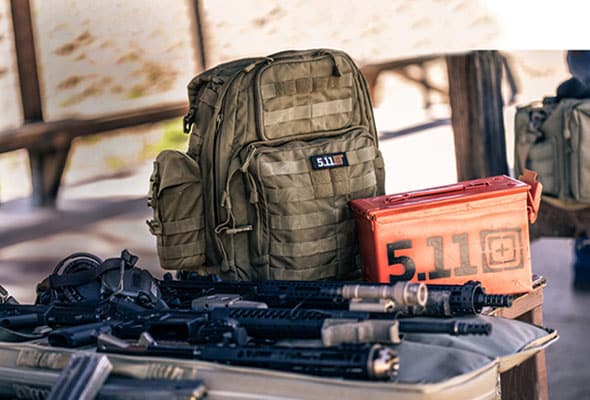 Pick the Comfortable EDC Bag Size
Talking about the EDC bag size, note it's essential to choose the size of EDC backpacks most comfortable for you (as you'll carry them every day).
For the beginning, you need to define how many items you need for everyday carry. We advise you to make a list of those items and only afterward choose between the best EDC backpacks on the market. Note that you can store some of the items in your pockets, meaning no place for them is required in the everyday backpack. For example, these items can be your mobile phone and a folding knife.
One of the items you can't carry in your pockets is your laptop or various survival items (such as rain gear or safety equipment). When you have a 13″ laptop, there's a point to purchase a laptop backpack in which your laptop can fit. The same goes for your survival items. If you know you want to carry these items with you on an everyday basis, think about purchasing one of the survival backpacks as there is enough space for all necessary survival items.
But even if you decide to choose one of the survival backpacks, consider purchasing the smallest in size. There are few reasons why it might be useful for you:
You won't take extra not-that-necessary items with you just because you have space for them in your EDC backpack. The same goes for your traveling backpack: the smaller your EDC backpack is, the fewer items you take with yourself, and it's easier for you to carry it with you on an everyday basis.
You will organize your EDC items better if you have a backpack of the smaller size. The less space you have, the more skills are required to fit all those items in that small EDC backpack of yours.
After you choose the EDC backpack's comfortable size, you need to organize the EDC items you're storing inside the best comfortable way. For this, you need to define what EDC items require quick access and which EDC items you can store on the bottom of the EDC backpack. Also, make sure there are many pockets in the EDC backpack you can use for the comfortable organization of all necessary EDC items. Check the quality of these pockets, and make sure their durability is certain.
It's clear if you need quick access to car keys or a cell phone, you need to put these products in a secure external pocket of the main compartment of your EDC backpack. If you have such a survival product as a cell phone battery, and you don't need to utilize it that often as you need your cell phone, store this product on the bottom of your EDC backpack.
Try to use the maximum of your storage space and pack most of the essential stuff in your best EDC backpack.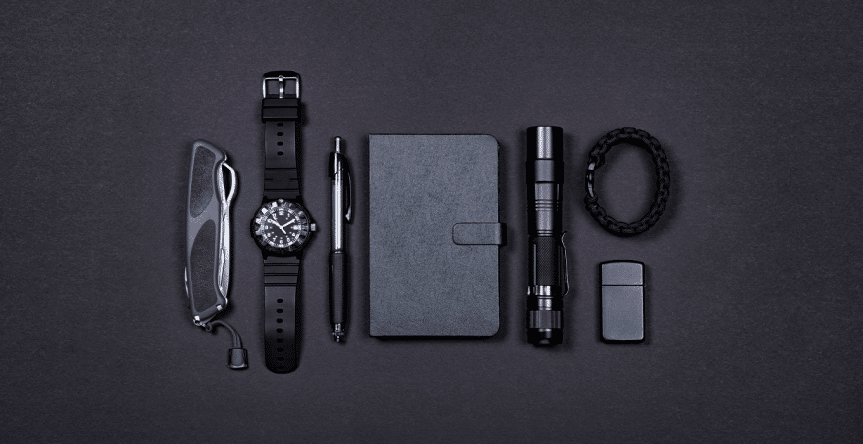 Choose the Essential EDC Bag Items
As it was already mentioned, it's essential first to determine the necessary EDC items, and only after that to purchase the everyday carry EDC backpack. If you change the sequence of actions, you risk choosing the EDC bag of the wrong size.
Choosing the EDC bag of the wrong size means exposing yourself to severe inconveniences. If your EDC bag is too small, not every product necessary for your traveling will find the spot in the main compartment (or any other compartment) of your EDC bag. If, on the other hand, your EDC bag will be too big, then, due to its storage space, you will store in it too much unnecessary EDC stuff that will cause you many problems as your bag will be too heavy and will be uncomfortable for everyday carry. What to say about utilizing this bag as the mean of defense in an emergency. No gray person would like to have such an everyday carry bag.
To protect yourself and your loved ones from choosing the inappropriate EDC bag, you need to know what items you need to store. To make this process of choosing the essential products easier, we created the list of these items and divided them into three main categories:
The Convenience Matters Items
The Mission Critical Devices and Tools
The Standard Don't-Leave-Home-Without Items
Let's take a closer look at each of these categories.
The Convenience Matters Items
These EDC items are less essential for carrying on your backpack, but still, no real survivalist can go traveling without them. Having them in your bag will make your life easier and make it more productive.
Sunglasses
Sunglasses are that kind of a product you can leave at your house, walk around town, and still be able to function through the day, but when it's sunny and hot outside, we bet you will be glad to have some sunglasses on the bottom of the backpack.
USB Battery Block
This is the type of survival product you better pack in your EDC bag every time you leave your house. Knowing the battery life of modern cell phones, it's clear it's impossible to travel or survive in an emergency without a USB battery block. Pack it in all your backpacks, and be sure you won't stay with an uncharged phone in the middle of nowhere, being unable to contact anyone or ask for help.
Headphones
This EDC product is the one you can easily leave outside your EDC bag if the organization of your backpack doesn't allow you to pack it. But if there're no issues with your EDC backpack organization, and there are free pockets in the bag, you can pack headphones in it. Headphones won't save you from wild animals and won't help you make a fire, but they will help you focus on tasks and protect your ears from unnecessary sounds.
Pen and Notebook
Some preppers keep a journal where they leave their notes on their traveling. If you're one of these preppers or want to become one of them, you need to know you need to have at least one tactical pen and notebook with enough pages.
Of course, you can make these notes on your phone, but it means putting yourself at risk of staying with a discharged phone soon. If you aren't a fan of this idea, pack in your EDC bag a few pens and one good notebook, so you always have them under your hand. Review in this notebook everything you see on your way or leave notes for other preppers if you face any difficulties on the road.
Water Bottle
No need to explain why you would need to pack at least one water bottle in your best EDC backpack. It is one of the best EDC items to take with you while going traveling or even going to walk around the city (especially if it's summertime). You never know when you need to drink, and there might be the chance there won't be grocery shops on your way.
That's why we highly recommend you to take a water bottle with you, and it'd be better if it'd be a collapsible one, so you won't have problems with its organization in your backpack. Some of the best EDC backpacks have water bottle pockets made of water-resistant materials, so you don't need to worry about the safety of other stuff in your backpack. But even if you don't have such pockets, you can still pack your water bottle in the main compartment (or any other compartment you like) if you make sure it is made of materials with a water resistance option.
The Mission Critical Devices and Tools
Another category of essential items you better pack in your EDC backpack includes items necessary for making your everyday tasks easier to handle. Utilizing these items, you can be sure you will be safe while facing threats or challenges in your work.
Flashlight
There's no need to describe why a compact flashlight might be useful for you both when you're at home or on a trip. It can help you to light your way, to scare wild animals, to assist in making a fire, and in many other activities.
It's possible to purchase a compact tactical flashlight if you're afraid your backpack doesn't require enough organization space for storing large items. Just pack the water-resistant flashlight in your EDC backpack, and be sure someday you won't regret you have it on the bottom of your bag. Don't forget to check if the flashlight is charged, and take extra batteries for it just in case. Pack them in any compartment of your backpack that you like.
Radio in a bag
Radio is still considered the best way to communicate with the world. The battery on your cell phone will get low at one moment, and you might get lost in the forest. You can stay alone and don't know how to return home. When you have a compact radio receiver in the main compartment of your backpack, you still can get lost and be alone in the middle of nowhere, but, at the same time, you will have a radio receiver under your hand.
With a radio receiver's assistance, you can know all the news in the surrounding neighborhood and contact people around you if you get lost. Having a HAM license will give you access to all possible communication channels, so there's no doubt you'll handle the most severe emergency with a radio receiver in the main compartment of your backpack. Don't forget to pack it before leaving your house.
Safety Whistle
Safety whistles are compact survival items that are perfect for calling for help when lost or when someone is threatening you. You can also scare wild animals with the usage of these lightweight survival tools. Pack them in the main compartment of your EDC backpack, carry them with you all the time, and be sure you can refer to them whenever you need help.
Compact Multi-Purpose Items
It can be any survival items you feel you might need during traveling or in case of an emergency. Think about purchasing paracord, duct tape, or some other useful multitool. Pack these best EDC items in any compartment of your bag, and think about the proper organization of them, so there is enough space for other essential surviving details.
Compact Specialty Items
It's also essential to carry with you one or a few specialty items which you can use for some specific purpose. For example, you can carry with you a compact screwdriver to adjust delicate gear. No other tool is suitable for this purpose, so if you know there might be a situation when you need to perform manipulations with a gear, consider taking a special tool for this. Pack it in some small compartment of your bag or backpack, carry it with you, and utilize it where appropriate.
Self-Defense Weapons
You never know what (or even whom) you might face on the street in the concrete jungle or the wild conditions. It's better to be ready for something than not to be ready for anything at all. That's why it's essential to carry in your backpack (no matter what compartment of your backpack you choose for this aim) some essential self-defense weapons. It can be a compact tactical knife, firearm, or pepper spray.
With the right organization of items in your bag, there will be a space left even for self-defense weapons. All in all, it's all about your safety, and you can't ignore things like that.
Laptop in a backpack
It makes sense to carry the laptop in the laptop compartment of your bag if you need it for everyday use. No matter how we treat technologies and their influence on our life, it's still a big part of our life.
Most of the people working as freelancers have to carry their laptops with them all the time, so they need to have a backpack of incredible durability and with a laptop sleeve in it. Some of them can purchase an individual laptop backpack with the included laptop compartment, but others prefer purchasing ordinary backpacks with the same laptop compartment or laptop sleeve.
The choice of the backpack depends on your demands and preferences, and it's your right to choose the bag or backpack that you like externally and internally. But while choosing the perfect bag to carry your laptop with you, pay attention to its durability and availability of the laptop compartment.
The Standard Don't-Leave-Home-Without Bag Items
The list of items of this category will be the shortest among others as you need to include in it only those items you can't leave your home without (literally).
Try to keep this list as short as possible as only the most essential items can be considered vital. Some of them you can carry in your pockets to save space in your backpack or bag for other important items.
So, what are the things you need to carry with you every day?
Cell Phone
No choice. You leave your home without your cell phone, especially in the 21st century. Just 50 years ago, people didn't have mobile phones, and they still could run their errands and keep their business without them, but not now.
We're all connected through our mobile phones. All of us have to carry our phones with us every day to stay in touch with our loved ones, to call an ambulance if we (or someone else) need it, to take a picture of something we like. There are many ways we can utilize our cell phones, but the one thing binds all these ways: for all of them, a mobile phone is required. Carry it in your pocket, check the battery from time to time, and utilize this one of the best inventions made by humans.
Purse
Even though we have a wallet in our phones and access to it, we can get it any time we want, and there are still situations when this can be complicated. If there's a bad internet connection, you won't be able to utilize the wallet in your phone and pay for something you might need. That's why we highly recommend you to carry a material purse with you and store some cash in it as you never know when you might need it.
Keys
You need keys to open your car, your office door, safe door, home door, or any other door, so it's essential to carry these keys with you all the time. You can store them in your pockets, but we aren't fans of this idea as it doesn't sound safe enough for us.
Pack all the keys you need in your backpack or bag, store them in the main compartment or any other compartment, and make sure the organization of your bag is in the way you have quick access to the keys wherever you need to. Don't put them in the bottom of your bag as it will be complicated to take them in a hurry or in the dark. Pay attention to things like that all the time.
Make sure you review the content of your bag or backpack from time to time, adding or removing components. Don't treat your EDC bag as the Bug Out Bag, as those bags differ from EDC backpacks not only in the appearance but in the content. Your Bug Out Bag will be heavier and of greater durability than your EDC bag, as you'll carry more severe surviving tools in there. You don't usually take the Bug Out Bag to walk around the city or to go to the office.
In the case of the EDC bag, you don't need to put a lot in it, as it should be lightweight and useful at the same time. Make sure you carry only the most necessary tools in your EDC backpack. Make the list of these tools, and review them from time to time. If you feel some of the tools are no longer useful for you, remove them. At the same time, if you know, you might need to adjust some delicate gear or do some other specific activity, store in your bag some specific tool for this aim just in case. And always try to reduce the number of components in your backpack as the heavier your bag is, the harder it for you to carry it and escape the danger if needed.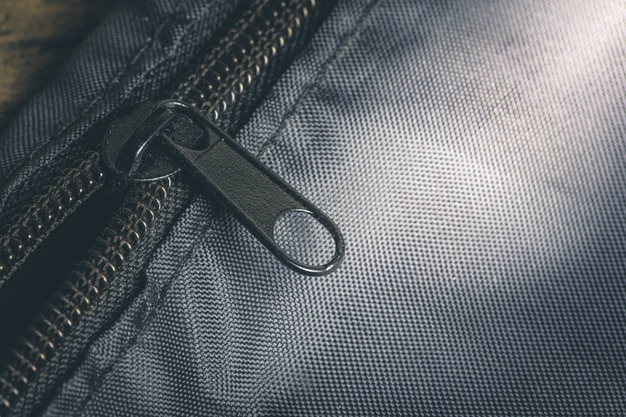 Best EDC Bags Summary
Now you know all the criteria for choosing the perfect EDC bag, and you know for before purchasing it, you need to answer the following questions:
What are the essential things I need to take with me?
What bag style do I find the most convenient for myself?
How much space will be required for storing all those things?
After answering these questions, you'll have a vision of how your future EDC bag should look like.
We advise you to purchase it offline as this way you can check its storage capacity, the material of the bag, and its durability. But even if you order it online, make sure you can return it in case it doesn't fit you. Never save money on things like that, as a high-quality EDC bag can serve you for many years and be handy in most emergencies.
Choose the bag you feel comfortable wearing as it's also essential. Even if it's made of resistant materials but you feel uncomfortable wearing on your back or lower back, it won't make any sense as it will be impossible for you to use it on an everyday basis. Check twice (or even more) before purchasing the EDC bag, as it's the thing that one day can save your life.
Frequently Asked Questions – FAQ
What is an EDC bag?
It's a bag which you can take with you every day. All the essential things needed for a comfortable everyday life can be stored in it. It can be helpful both in wild conditions and in comfortable conditions. You can store various things starting with a laptop and ending with a pocket folding knife.
What should I carry in my EDC bag?
It depends on your preferences, demands, and interest. If you want to take it to the office, you can store a phone, pencils, pens, notebook, laptop, glasses, keys, and chargers in it. If you're about to go traveling, then consider adding to this list a folding knife, compass, survival whistle, self-defense weapon, flashlight, handgun, and other survival gear tools.
What is the best EDC bag?
It's all very subjective, as it depends on your demands. But there are some common elements best EDC backpacks have. For example, such bags usually have shoulder straps you can adjust for yourself, and they also have wide laptop storage (in case you're not going traveling with this bag). These bags have various internal and external pockets, padded panels made of resistant materials.
What should I put in my everyday carry bag?
If you need your EDC bag for everyday usage, then try to put in it as little number things as possible. You don't need to have it heavyweight as it will be impossible to take it with you on an everyday basis. Consider taking such things as keys, antiseptic, battery charger, wet wipes, phone, wallet, water bottle, few masks for your face, gloves, notebook, pen or pencil, and some snacks in case you feel hungry.