Our website offers valuable and honest advice on crossbow products and top-rated brands in the industry.
This comprehensive survey will be of great assistance if you need guidelines to decide what crossbow to choose, as there are plenty of offers on the market, and one can easily wander out in the scope of information.
Whether you are looking for hunting crossbows, easy to use devices for leisure activities, or bolt
crossbows for sport, we inspire you to read this guide till the end. We intend to unveil everything about these arrow weapons – the shape, the size, the trigger mechanism peculiarities, cams, stock designs, and string features.
This information becomes crucial when you make such decisions. Follow this guide to determine what types are your target models.
Top 13 Best Bolt Crossbows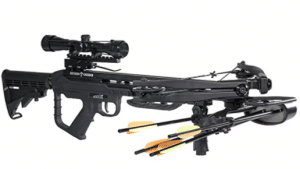 To choose the best survival gear, have a look at this company. This modest brand delivers high quality and great ammo for bolt bow hunting. If you are new to sports and hunting, this recommendation is an excellent pick. Lots of users give positive feedback on this quality product. The price point of the crossbow package is another pleasant bonus, as Southern Crossbow company produces A-class affordable items with pretty powerful arrow velocity and quiet string adjustments.
A telescopic stock is adjustable and easy to customize from a shouldering to a hand-held position. The crossbow package includes a bolt bow, a foot stirrup, a crossbow scope, a telescopic stock, four 20-inch arrows (bolts) with aluminum field tips, a six-arrow detached quiver, safety glasses, rail lube, and a rope cocker.
Some users comment that the bolts are too heavy and of low quality, but still, it is a great crossbow for newbies.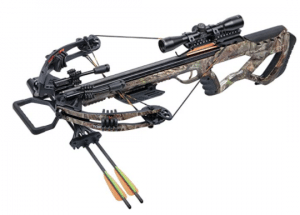 This hunting crossbow features a whisper silencing system that results in less noise than a Barnet Jackal crossbow. This bolt model impresses a compact design, more significant speed parameters and arrow velocity, higher penetration powers, and decent string regulators. The crossbow boasts cocking usability and powerful ambidextrous safety features, which means you can adapt the gear both for right-hand and left-hand options.
Among weak points, we declare pure endurance relying on users' reviews.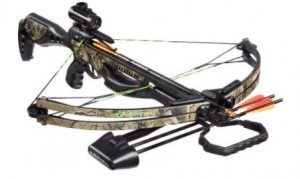 The Barnet Jackal crossbow is a fabulous model for newbies. This bolt bow set includes an arrow quiver, three 20-inch arrows (bolts), and a premium sight at a reasonable price. The design is compact and reliable; however, some users comment that this entry crossbow requires much effort while cocking. The crossbow package contains three bolts, a sight, and a quiver.
The crossbow fits both for sports and hunting. And if you decide to use it for hunting, we recommend buying bolts with broadheads.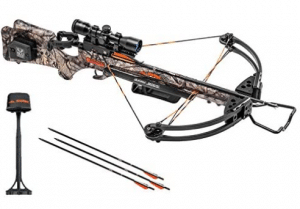 Wicked Ridge, by TenPoint, introduces the TenPoint Invader G3 Crossbow model, claiming its ease of usage, lightness, and safety feature. The brand offers a complete package, including a G3 bolt bow, a multi-line scope by TenPoint, an integrated rope cocking mechanism that 50 percent reduces
poundage, and keeps the string tight and durable, a three-arrow quiver, and three carbon bolts (arrows). The content is impressive.
This TenPoint hunting gear arrives pre-assembled, so you won't spend much time preparing the ten-point stuff for the activity. You get all the essential accessories in the item box and enter the archery world and hunt at a stroke.
The Invader G3 crossbow by TenPoint is a little noisy; however, the model is wieldy and performs a dependable safety feature.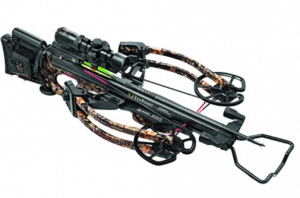 TenPoint NitroX crossbow claims an outstanding 385 feet per second arrow velocity while some users managed to deliver even higher kinetic power and arrows speed feature. It is an excellent design for
big game hunting. These are not casual hunting rifles, but TenPoint NitroX items are the most efficient and highly-performing crossbow devices that TenPoint crossbow can boast. The reverse technologies, vibration reduction, and string adjustment technologies make TenPoint NitroX crossbow outstandingly balanced and precise.
Relying on feedback, high pricing is the only drawback of this TenPoint crossbow compared to other crossbows.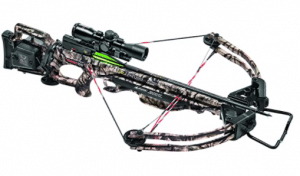 TenPoint is a big name in the world of archery. The product and technologies this renowned company executes are notable for high standards and dependability. We are going to review several
TenPoint crossbows projects as the brand proves its advantages.
TenPoint is continually improving on the market of the arrow equipment and gain TenPoint users' respect and trust. The company produces dependable crossbow devices and offers a broad spectrum of costs.
TenPoint Titan SS bolt bow is light and perfect for activities, stalking, and moderate-game hunting. Compact design and a confident 340 fps crossbow's feature make TenPoint Titan SS bolt crossbows maneuverable and good for chasing both a deer or a fowl.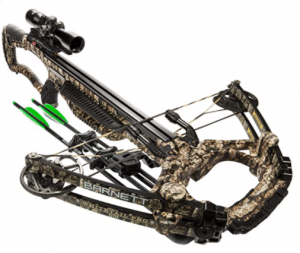 This hunting bolt bow is the next level model compared to previous ones. Whitetail Pro package includes the bow, premium scope, rope cocking mechanism, side mount quiver, lube wax, and two 22-inch arrows. In most cases, you will need additional bolts to maintain non-stop practice.
The crossbow arrives pre-assembled, which means you can head to the woods immediately. This bolt bow has an integrated high-technology trigger system that provides higher safety and avoids dry fires.
Due to its shape and a premium-quality illuminated scope, the Whitetail Pro STR crossbow is fantastic during the late shooting hours. While the string dampers removing noises and the phenomenal 400 fps guarantee big game hunting like black bears and deer.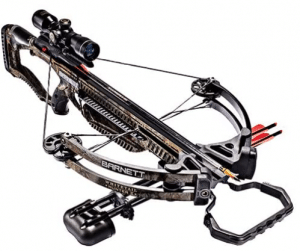 This hunting bolt bow is another stellar model in the average price category. It comes in a ready to use kit. The content includes a Whitetail Hunter II crossbow, a 4×32 scope, rope cocking device, a light quiver, two 20-inch arrows (bolts), and lube wax.
The Whitetail Hunter II crossbow's design is reliable and dependable. The stainless steel construction turns the bolt crossbow into a reliable and trustworthy selection. The crossbow's Compact sizes and powerful 350 fps allow hunting in a blind, so you can track a big game like deer without being discovered. Besides, the string dampers help to maintain less noise.
Among the cons, people sometimes point out an insufficient scope, which in many cases requires replacement.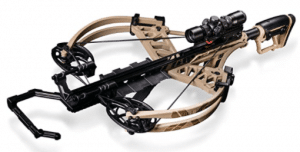 Bear Archery is a dependable company (rights reserved) that produces trustworthy crossbows and accessories. Fix FFL reverse mechanism crossbows are examples of well-balanced, compact, and powerful arrow equipment. A solid design helps avoid awkward moments and provides efficiency and precision while string dampers reduce noises.
This bolt crossbow is not the best selection for stalking in the woods, but it will deliver stellar execution for blind hunting. The box includes the crossbow device, arrow quivers, arrows or bolts, a scope, a foot stir, and cocking sled.
The package makes a perfect crossbow selection for the larger game like a bear, while the principal elements ensure safety and a great experience. Read Bear's stories in his Fields Notes.
Ravin R9 Package Crossbow (390 fps)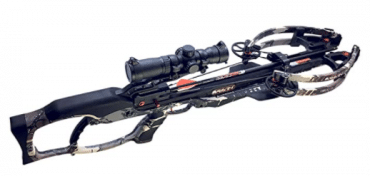 Ravin R9 Crossbow Package crossbow stands out on the market of arrow bows and meets the highest demand regarding class, speed feature, and safety.
The R9 crossbow unites two essential characteristics that make the design so prominent. We speak about compact shapes and great kinetic powers combo. The cams move with low noise and support the quite string regulations. The arrow velocity is so high that it is almost impossible for the prey to detect a hunter.
This crossbow model possesses a stable yet lightweight frame and is 7-inch wide. Therefore it executes excellent work at narrow locations, treestands, and blind spots. The costs consequently are incredibly high. The package includes high-class accessories and arrows (bolts).
Excalibur Matrix Bulldog recurve crossbows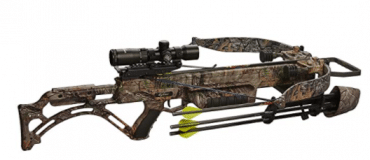 with 400 feet per second arrow speed nail the big game hunting. However, excessive kinetic power doesn't affect the weight, so the users will find this device maneuverable while stalking and activities. String dampers diminish noises and make these recurve crossbows perfect for prey like deer, bears, wild boars, and other types of massive animals.
The recurve Excalibur Matrix Bulldog crossbow kit includes illuminated sight, bolts, and an integrated cocking rope, so you won't need to surf the stocks for additional accessories and quality bolts. The size of the crossbow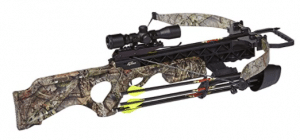 This recurve model bolt bow enters the top list for its usability and stable, reliable design. Don't expect silent execution from this model as the string mechanisms don't include noise dampers. The Excalibur Matrix Grizzly SMF recurve bow is of medium power capacities. Only the crossbow's 300 fps won't give you a high arrow speed and hence a chance to take down bigger prey like deer or bears. But exceptional durability of this recurve crossbow model and ease of use allows managing the crossbow in the field.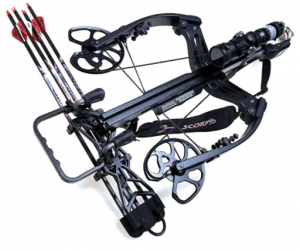 Scorpyd Aculeus crossbow enters the fastest, most expensive, and spectacular designs in the niche. It possesses a 460 feet per second speed option. The brand claims to design the fastest crossbows on earth that feature unbeatable results and efficiency.
On the one hand, the Scorpyd Aculeus crossbow is 100 percent head and shoulders above the rest. Scorpyd Aculeus crossbow kit comprises premium survival equipment, including string stops and twelve Scorpyd arrows, enough not to buy extra bolts.
On the other hand, we cannot but mention objective flaws. Similar to luxury brand cars, this top-class crossbow requires special equipment. For example, few arrows can bear the forces, so the feature restricts users from obtaining only high-class reliable accessories. Though the stock construction, the designs, the cams, and string elements shift expectations, there's still a moderate drawback to consider. When removing the safety, you will hear a pretty loud click that can scare away the animal.
Key Factors to Acquire a Crossbow
Bolt crossbows are perfectly suitable both for hunting options, a self-defense weapon, and sports activities. Being a website that features survival advice, we naturally admit that humanity will soon be in desperate need of things to protect itself with. Also, the item will be of great use in a worst-case scenario.
We suggest watching these crossbow reviews by Canadian Pepper, who did a great job highlighting the key reasons why one should use a bolt bow weapon.
Essential Features of a Top Quality Crossbow
Choosing a reliable and quality bolt bow and great arrows may become a twist as there are plenty of offers on the market. The crossbow manufacturers deliver their best to meet the demands. We dedicate this section to the critical parameters of performance, assembly, and other essential mechanisms. A varied assortment of bolt crossbows provokes competition; therefore, we feature the crucial details to consider below.
Crossbow Assembly
Execution is a fundamental point here and now. The archers need to pay attention to the assembly issues, the quality of the materials used, the accuracy, and the precision of every mechanism, as these factors predetermine safety and your experience. Should any of these characteristics fail, your adventure may be ruined.
Arrow Speed
Arrow velocity and speed determine the power, and the faster is the arrow, the greater the penetrating power it delivers. The rule applies to survival bows as well. Complex bolt items like compound crossbows may be of second-best compared to a recurve crossbow. The first ones are less convenient in manipulation when we aim to target in motion because of their substantial weight. However, nothing can beat a compound crossbow's speed, as this type of equipment remains more robust and stable.
Noise Balance of Different Crossbow Types
Bolt crossbows a priori deliver less noise compared to any firearm. However, if you are determined to reduce the sounds to zero, recurve crossbows with parallel limbs are the best pick. They perform less motion while retargeting and have more equilibrium.
We empower you to try string silencers and stabilizers, which will undoubtedly help you gain minimum noise and remain veiled.
Crossbow Weight Parameter
If you choose to use a crossbow in the woods, weight becomes crucial during stalking. Some brands produce crossbows with skeletal stocks. Thus we encourage you to think thoroughly and define your goal, whether it is stalking around or hiding out. Light models are more convenient to carry but can deliver more noises, while stable crossbow packages possess more power and shooting ability but are tiring to carry.
Draw Weight
Draw weight refers to the force you need while positioning back the string. High-level weights imply that bolt crossbows are challenging to recharge, as the user needs to make an effort to place the string and prepare the hunting weapon for the next round. On the other hand, high draw weight levels result in high speeds of arrows and great penetration powers. This severity can be reduced by an appropriate crossbow cocking mechanism.
Brand and Recommendations
We encourage you to check the background of any brand you may consider. A time-tested, reliable crossbow manufacturer is an assurance of top quality assortment, trustworthy customer service, and a great experience as a result. You get what you pay for. Sometimes it's better to wait for a sale offer than buy some cheap devices, accessories, crossbow bolts, and arrows.
You are welcome to follow our advice and find a store in your area to examine and try a crossbow weapon in real-life circumstances. You can even enter an archery club and get acquainted with professionals and amateurs who can give valuable recommendations on models, mecha
nisms, arrows, bonuses, and sale discounts. Look at our Ultimate Preppers Checklist to ensure your safety in any survival situation.
Remember, practice makes perfect: you can discover new information about crossbow equipment, arrow preferences, and lifehacks in live discussions and practices.
Types of Bolt Crossbows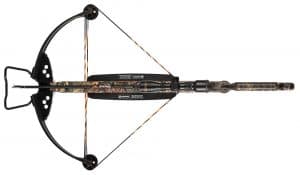 The first models of a crossbow appeared far back in the past when Leonardo Da Vinci designed a shooting weapon in his Codex Atlanticus journal. Nowadays, we can group crossbow types by categories relying on the principal mechanism of how the riser, the string, cables, and cams are positioned towards each other and the trigger assembly.
Recurve Crossbows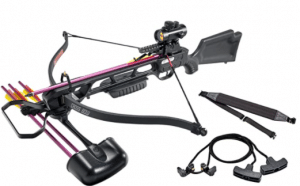 A recurve crossbow is the most facile and the least lightweight, which brings its merits and flaws to light. The manufacturers use wood or contemporary materials that make the recurve models lighter. The design doesn't convey a lot of moving sections, which makes recurve devices pretty  noiseless.
A recurve crossbow is affordable and appeals to anyone who cares for a decent combination of quality and price. Should it happen, you need to fix broken strings or damaged alignment guides, you will find no difficulties to service the recurve gear yourself right on the spot.
On the other hand, the weak point is that the draw weight is huge, and recurve crossbows don't usually deliver fast speeds.
Pistol-Grip Crossbows
A one-handed, pistol-grip crossbow is a weapon designed for pleasure and sport, so it won't be of use for tracking big game like deer and bears. Unlike recurve devices, it is a one-hand lightweight technology that perfectly suits for target practice and sight shooting.
Compound Crossbows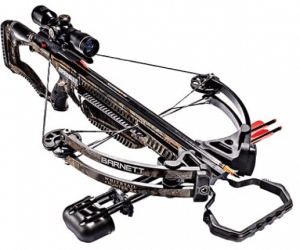 Anyone will notice the difference between a compound crossbow and a recurve one. We consider the visible issues like assembly several times richer and contain many detached elements and parts. The limbs appear to be more compact than recurve
and pistol-grip crossbow types, making the compound crossbow next level wieldy.
The major difference lies in the cocking mechanism. This feature reduces the intensity of draw weights and allows facile management combined with a higher speed of arrows and bolts. As a result, we gain more powerful shots that can nock-down big prey like deer.
On the other hand, you should be aware of one essential thing while buying a compound crossbow. Alongside the fact, a break of a string can damage your health, and it is not possible to fix the weapon in the field. One needs decent practice or customer service assistance to repair mechanics and maintain crossbow hunting.
Reverse Draw Crossbows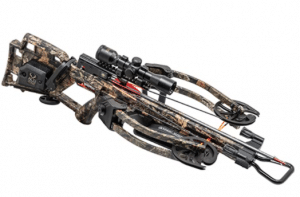 A reverse draw crossbow is version 2.0 of a compound one. The design delivers maximum accuracy at minimum efforts. Like recurve devices, reverse draw crossbows are more balanced and facilitate higher arrow speeds and overall management. These designs are suitable for stalking big animals like deer and bears. Besides, they remain almost noiseless as opposed to a firearm or other types of bolt crossbows.
We encourage you to watch the video below to understand the necessary information on how crossbow mechanics is organized in the compound, recurve, and reverse types of equipment. This video review will be of great assistance, especially to newbies or admirers who consider buying a new model but just lack experience.
Have a look at our 78 item Complete Prepper List to learn more about survival equipment that can save your life in an emergency.
What is Bow Draw Weight and How Much Does Your Crossbow Need
Draw weight identifies how much force one needs to draw a crossbow and place the string. Once you enter the world of archery, you'll notice that crossbows have different poundage, which also defines arrow speeds and the result you get. Modern bolt crossbows fall into two categories that rely on different draw weight measurements: target practice and hunting.
Hunting Goals
A hunting crossbow has different aims, which are technically harder to achieve. To hunt large prey, you will need both precision and great penetration power as an arrow should pierce the fur, the skin, and bone structure of an animal to get it down. The greater the target, the more kinetic energy you will need to make a killer shot.
Going back to physics, we notice that the kinetic energy (KE) is the combination of an arrow's mass and speed; therefore, you can get the same KE using massive arrows with lower speed or lighter bolts with greater speed. You can even use a specific arrow ballistics calculator to find out the details about your arrows' performance.
The statistics show that hunters prefer lightweight, fast arrows and bolts due to their ability to cover greater distances and perform extra silent and successful hunting. We use another essential measure to determine crossbow speed — feet-per-second or FPS. For example, to take down a whitetail deer, you require at least a 300 fps crossbow. It means that firing an arrow will cover 300 feet, maintaining the trajectory and its inertial motion in a split of a second.
Watch this comprehensive video review about poundage and kinetic energy to discover exciting facts and setting options.
Target Shooting — crossbows for Sports and Leisure
If you don't hide and your potential prey is not a black bear or a deer, you can easily choose bolt crossbows with lower poundage. In fact, lower kinetic energies deliver better precision and increased arrow accuracy. This kind of weapon is ideal for sports contests or leisure hours to relieve stress and shoot some targets during your practice round using lighter arrows and bolts.
Crossbow Legal Issues
Before buying a crossbow for hunting or leisure, whether it is a recurve, a reverse, or a compound model, it is essential to consider local laws and regulations. Some US states and regions may have restrictions. That's why our team recommends consulting the authorities before making a decision.
We encourage you to visit the North American Crossbow Federation site (rights reserved) to read the necessary information for crossbow regulation on the United States territory. Click the link to enter each state section or use the phone number to find out extra details.
Best Crossbows Summary
Being almost a hybrid of traditional bows and a firearm, a crossbow delivers both weapon types' best qualities. Bolt crossbows are fast, precise, quiet, and you won't run out of arrows or bolts. Most of the devices shooting with arrows we cover in this review are easy to use and provide superb safety options.
The spectrum of products meets the most experienced hunters and sports professionals' demands, while a flexible price range can fit any budget. Consider one of the listed above items, and you are sure to obtain an exceptional experience.
Frequently Asked Questions – FAQ
Is crossbow illegal in the US?
Regulations on crossbows and requirements on storage depend on location and age parameters. It is advisable to consult the authorities if you decide to buy or sell crossbow devices, as some regions equal this equipment to a firearm. Consider the following link to get detailed consultations. You are welcome to enter the North American Crossbow Federation site and scroll down the menu to find your state and general crossbow laws.
How powerful is a hunting crossbow?
Crossbows have different kinetic energy and poundage and fall into two main categories: hunting and shooting targets. Some mechanisms allow covering 300 feet per second. Others succeed in hitting up to 460 FPS. Hunting crossbows are pretty severe and can take down large animals like deer or grizzly bears.
Can a crossbow kill?
Yes, it can. Crossbows possess extreme power and can damage health and even death when managed with ignorance and carelessness. Hunting crossbows use arrows and bolts that can penetrate a bear's skin and bones. However, even a sports model can kill. Therefore every country has its restrictions, and if an individual is going to buy or sell a crossbow, one must consider the regulations or consult the authorities.
How far will a crossbow shoot?
It depends on the type of crossbow assembly, mechanics, arrows and bolts, speed, and mass. Our review covers top-rated bolt crossbows that perform feet-per-second parameters starting at a value of 300. In most cases, the effective range equals 40-50 yards. Some manufacturers claim that arrows cover up to 80 yards performing an accurate shot.