If you want to have a credit card knife in your gear collection, read on. Such knoves can have super-sharp blades despite being made from plastic. Your credit card can make a great self-defense tool, and preppers across the globe have already appreciated the simplicity and usability of this survival tool. Find out more exciting details in our article.
Being a true survivalist, you should constantly master new ways to shift limits and find new dependable solutions to overcome eventual emergencies. Today, we will discuss new forms a survivalist's knife can take, review the most dependable credit card knife brands and self-made tools, and discuss this survival tool's legitimacy.
What makes a credit card knife an excellent survival tool? To tell the truth, a bunch of reasons. These portable, easy to use, ultra-thin, and affordable items can come in handy unexpectedly. Regarding its size, this cutting tool is indispensable during hikes, stalking, and pressure situations. Prepare your bug out bags or get home kits because a credit card knife is an ultimate must-have. Preppers worldwide benefit from having a credit card-sized knife in their survival first aid kits to solve a bulk of problems. So let us dive deeper into the matter and learn the advantages and pitfalls of this survival gear.
Top Best Seven Credit Card Knife
We dedicate this section to the most high-demand and dependable brand knives that are the size of a credit. Survivalists, we encourage you to follow our recommendations and select the item that suits your demands best. Our chart relies on several factors and covers customer reviews and customer ratings, features of the tool, the content of the boxes sold, sellers' authority, price, and other essential metrics. Hopefully, you find that special tool and serve yourself or the loved ones with this great survival present. Let us review some gear descriptions before you add to cart something raw.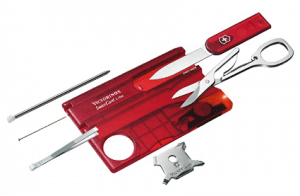 Swisscard Lite by Victorinox is a size of a credit multitool of outstanding quality. Stainless steel material complemented by a colorful, compact kit provides unlimited possibilities and makes the item a dependable and durable credit card tool. The content is as follows and includes 13 items in total:
Steel blade for emergencies
Scissors
Several screwdrivers
LED
Magnifying glass
Tweezers
Rulers
SURVCO Tactical CC Ax for Self-Defense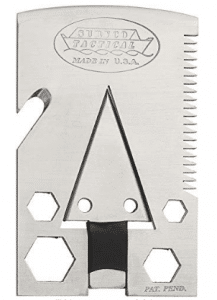 If you are looking for an item to cut anything rain or shine, consider this multi-featured survivalist's credit card-sized gear manufactured in the USA. Survco Tactical offers a true performance masterpiece executed out of high-quality, durable synthetic materials. The item coves up to 21 features, all with a perfectly sharp blade, including a knife, a shovel, an ax, a scraper, and many other options constructed as one device.
Check out this short video to understand the powers of this compact gear in all its glory.
InstaBlade Credit Card Folding Knife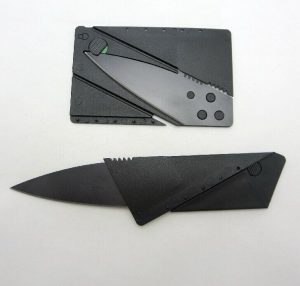 InstaBlade CC Knife is straightforward, sleek, and efficient. This chic survival gear fits the credit card case compactly, transforms instantly, and has a dependable locking mechanism that prevents the blade from opening at random. You can place this stainless steel device in your wallet among credit cards, pocket, bug out bag, or pack.
Below is a shortlist of the InstaBlade advantages that hardly any other prepper's cutting thing can beat:
Perfectly sharp, durable, and rust-resistant blade
Instant folding and usability
Compact and slim
Price and special offers
Make sure to check out this link for a 100 percent discount. We cannot guaranty that the InstaBlade CC Folding Knife free offer is still available, but why not give it a shot!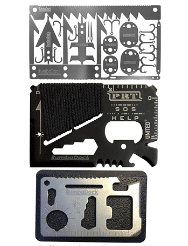 This survivalist's hunting and emergency kit assemble three features in one. This multitool item offers detached cards and the following options:
Fishing hooks, arrows, saws attached to the first card
Paracord, a ruler, a bottle opener make the second card
A stainless steel blade
And though the cutting edge is not as extensive as some other knives possess, this survival gear kit is one of the most suggestive card options on the market. This brand new survivalist's multitool card by Rumba Dock is an excellent asset for hiking and hunting activities, stalking, and traveling. Check out the availability, shipping terms, and best price offers for your area here.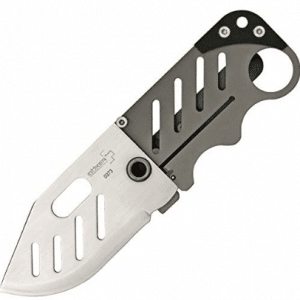 This perfectly folding titanium credit card knife by Boker is an excellent equilibrium of quality and usability. Its stainless steel blade is perfectly sharp, and the titanium body is comfortable in hand. The kit comprises a chain to wear the knife on the neck. Also, this Boker slim CC knife has a perfect size and weight to keep it in the pocket or wallet.
Watch this Boker knife review to learn more about the device's advantages.
Zootility Tools offer another great solution, which is a WildCard knife. 100 percent stainless steel, durable, usable, and travel-friendly, this survival wallet-sized knife is a compliment in any unexpected situation. Should you forget to take away the knife from your wallet or pocket, you can easily detach the blade and keep the handle. The blade is easily removable.
The tool contains a perfectly sharp blade, screwdrivers, rulers, a bottle opener, and a wolf-design logo.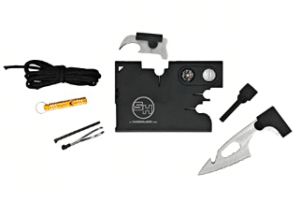 This tactical wallet-sized tool by Survival Hax is a treasure chest. Perfectly designed, this handy solution conceals 12 devices in one card:
Durable serrated blade
Blade sharpener
Magnifier
Emergency whistle
Compass
Ruler
Bottle opener
Tweezers
Toothpick
Firestarter flint
Paracord
Gift case
This survival gear is one of the highly recommended kits on the market today.
Perks and Pitfalls of Credit Card Knives: How, Where, and When to Use Them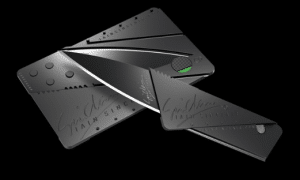 The obvious way to use a credit card survival tool is to protect yourself if anyone or anything jeopardizes your safety, health, wealth, and life. There are two possible dangers: people and circumstances. If it's quite definite what to do with a credit card folding knife if a vandal attacks you, it is kind of under lock and key when it comes to natural disasters and wild conditions.
In his interview with The New York Times, the adventurous host of the TV show "Parts Unknown," Anthony Bourdain shares his point of a must-have backpack. Bourdain talks about survival tools he always travels with, and a folding knife Cardsharp Classic by Iain Sinclair is one of them.
A card-sized knife is not the kitsch you want to dangle. However, in a stalemate situation, this handy gear may save your life. Apart from being a defending weapon, true preppers can utilize the wallet knife to polish these vital skills to survive:
Use the knife blade to cut the packing of wrapped products and medicine.
Form hand-made arrows and spears sharpening wood
Clean and split fish, carve fowl.
Expand the appliance constantly and always have your wallet-sized knife in a ready-to-go backpack. You never know when this multi-faceted device might come in handy.
The Legitimacy of a Credit Card Folding Knife
Now you know the perks of this compact, efficient gear. But just because a wallet knife represents a folding knife category, namely bladed weapons, let us clear some controversial points before you stuff your pockets with these items.
Many countries, like Canada, for example, relate wallet knives to prohibited or concealed weapons. Therefore, it is vital to understand if the item is legal in your residence area, be it a country, a state, or a county. Fortunately, U.S. laws permit to carry, acquire, and own credit card knives and be privileged not to report and register the purchase. Also, U.S. territories do not require special permits to carry the weapon.
However, you should still be pretty accurate while traveling with a wallet knife in a pocket. The airport security will most likely confiscate the knife, regardless of how excellent you try to conceal it. Transport Safety Administration strongly encourages the passengers to leave the weapon at home to avoid potential annoyance and penalties. Regardless of the TSA has no legal right to fine the trespassers, individuals may get a "concealed weapon" record for carrying a wallet knife.
DIY Survival Gear: Producing a Credit Card Knife
To be able to buy a brand new trustworthy item is a privilege. However, some prepper skills demand authentic creativity and experience. Why not try challenging yourself and have a hand-made CC knife. Perhaps it will be less durable, but the experience is worth your time and effort. Below is the step-by-step description of how to make a preppers knife out of a credit card.
Prepare the Credit Card's Edges
To start with, you need to sharpen the edges of your potential DIY CC knife.
Upgrade the Card
Make your DIY card-sized device multifunctional. Use tape to attach accessories like hooks, a magnifying glass, screwdrivers, needles, and anything you find necessary.
Below are the features you can add to your self-made CC folder knife:
Whatever you choose, make it as portable and usable as possible to reduce the effort during further usage.
Drawbacks of a Do-It-Yourself CC Knife
Most DIY survival gear is not very durable, which can be a nasty surprise in an emergency. The imperfection of a self-made cheap product may also result in damaging the clothes or your pocketbook. Still, it's a nice practice and a great advantage to be able to create things yourself. Make as many as you can afford and use them as simple survival gifts.
Best Credit Card Knife Summary
Nowadays, manufacturers and sellers make everything possible to meet the purchasers' demands and offer great items at great prices. Still, not all products are dependable. Emergencies and extreme conditions are no funny business, preppers. Thinking ahead is vital to protect your lives and the lives of your families and friends. Don't just buy something. Acquire THE thing you will authentically be satisfied with. Stay with us to learn more, and make sure to read our survival recommendations in other reviews.
Frequently Asked Questions – FAQ
Are credit card knives illegal?
It depends on the area of your residence and attendant circumstances. Credit card knives are legal in the United States territories but can be prohibited and considered concealed weapons in other countries. Anyway, do not try to travel by air with a credit card knife in a pocket. Most likely, the airport guards will confiscate the item. And in case of severe revolt, the passenger might even be qualified for a "concealed weapon" holder record. No funny business here, preppers!
What is a credit card knife used for?
You can apply the device in many ways: defense, sharpening tool, cutter, standard knife usage, and so on. Please use our review to have more recommendations on how to use this multi-faceted survival gear. Surely, you'll find something useful!
What is the best credit card knife on the market?
Check out our Seven Outstanding Ready-to-Use CC Knives chapter to find our chart recommendations, and don't forget about products by Iain Sinclair. Most people search for dependable multi-functional devices that they can utilize in the wilderness while hiking, fishing, or hunting. Whatever the place is, remember to select compact, surgically sharp, affordable items with dependable locking mechanisms to keep you safe.
Can I buy them if I am under 18 years old?
Basically, there are no age restrictions in the U.S. that prohibit a person under 18 years old to carry and own a knife. However, there are certain regulations valid for all states. It is only legal to carry a pocket knife under four inches. Still, there are areas where licensed weapons are prohibited, too. These include schools and some other kinds of property. Find more info at your local authorities office.