Camping Coolers Introduction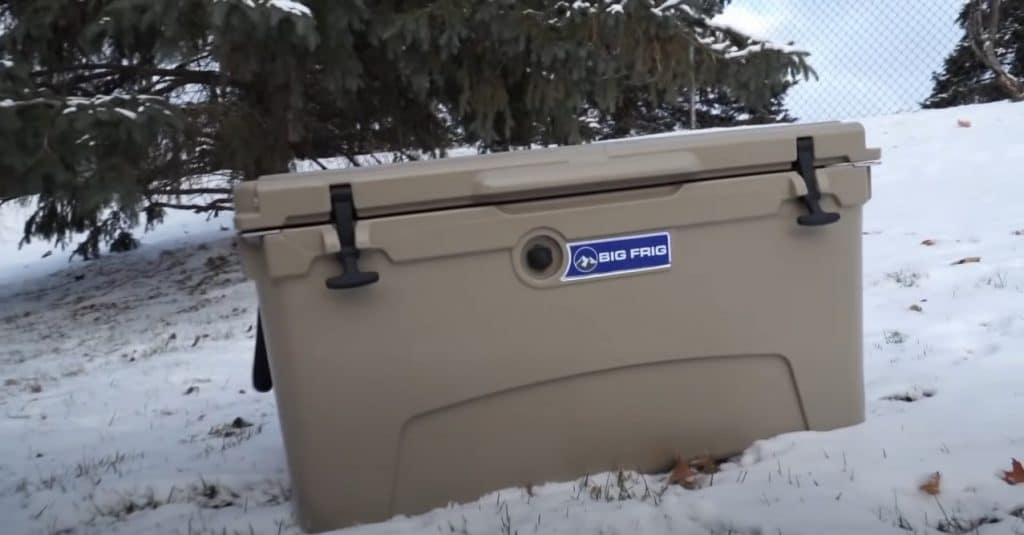 Those of us that had more than one camping experience know what a great adventure it might be to spend some quality time with your family or friends and how even one problem could ruin the whole trip.

Thus, it is very important for you to make sure that everything will go smoothly on your trip, especially if you are planning to bring your kids with you, as we all know how frustrating an unsatisfied kid might be to its parents.
One of the main things that can ruin your camping adventure is the equipment that you are taking with you: when one of its crucial parts breaks down, the whole system that you came up with and thus, the comfort of your close ones breaks down. For instance, having some troubles with a camping cooler that you have taken with you will definitely have an impact on your camping trip, especially for a big company of travelers and for a long period of the trip.
The only way for you to prevent this problem from happening would be to buy a decent camping cooler that you could rely on. And to save your money and time on searching for the best cooler for camping, we have created this article where a lot of great options were already reviewed by us!
Best Camping Coolers of Today's Market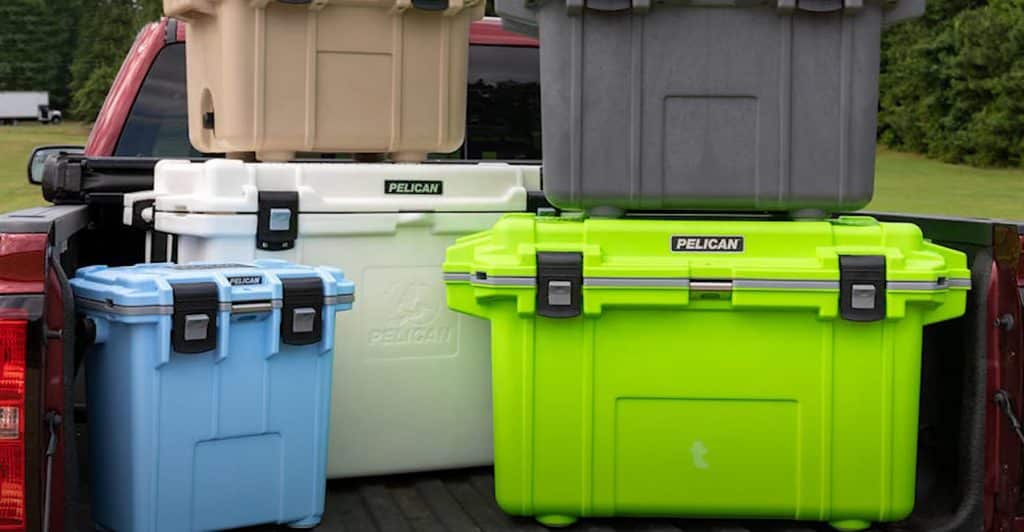 Finding the best cooler for camping might be not as easy as you first have thought about it: the amount of choices is enormous, the durability might be not as good as was stated by the company, and your lack of experience with such a piece of equipment cannot provide you with some helpful tips and advice on the things to look out for.
Luckily, you have us to back you up and tell you about the best camping coolers on the current market, both from the side of the reviews of other buyers and from our own experience and knowledge on the topic, which is exactly what we are going to do now!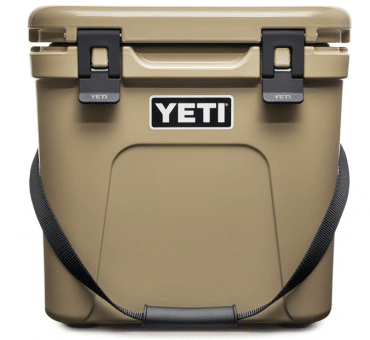 This version of camping coolers comes from a company called YETI, which provides you with nine different colors of their Roadie 24 camping cooler and a possibility not to choose between portability and great capacity of such an outdoor gear.
The construction of this camping cooler definitely will not break down while you are using it: the manufacturer even states that you could use this cooler as a seating place. They are also selling a pillow for this camping cooler for you to place on it!
As for the main characteristic of any camping cooler that we are interested in, YETI coolers have rotomolded walls and PermaFrost insulation that keep your food cold for a prolonged amount of time. Moreover, these features also make sure that the cold would be evenly distributed throughout the whole soft cooler.
The size of this YETI cooler model is quite big, even making sure that you could put there a bottle of wine so that it would stand inside of the camping cooler. Such a characteristic should definitely bring the attention of the adults to this exact model of camping coolers: who would not like to have such an opportunity while being on a long camping trip somewhere with your friends or family?
All in all, this is one of the best camping coolers that you could find these days: the only disadvantage that we were capable of finding is its 13 lbs weight that would only work for car camping and not for the adventures on foot.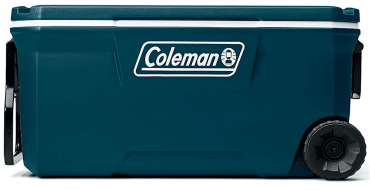 With the invention of the Coleman Wheeled cooler, it definitely will not be a problem to find less-budgeted camping coolers! This one will provide you with great capacity, durability, and portability at the same time.
Here are its main characteristics:
The capacity is equal to 94 liters, which is definitely an enormous amount that could not be found in most camping coolers. Thus, with this cooler, you will have enough room to place food and drinks that will last you for 5 camping days. Such a capacity will give you an opportunity to place more than 150 cans of food!

The cooler has a fully insulated construction that will make sure to keep your food cold for at least 5 days. And this is without any additional power use, only with the help of high-quality ice retention!

When the ice will melt completely, you will not have to drug the leftovers out of your cooler and pour out the water. Coleman made sure to provide you with a no-tilt drain valve that will remove the water itself when used;

You will even be provided with two 6-inch wheels and a handle that would make it easy for you to move the soft cooler around even when the container is full of food and drinks.
Such a large cooler could also be used as a seat due to its hard-material surface, which makes it a perfect multitasker for big companies that will need a big storage space inside of their soft coolers as well as lots of seating places to spend some quality time together!
It is not always the case that you would want to buy ice-based soft coolers, and there are a number of different reasons why one of them is that they simply cannot be compared with electricity-based best coolers in terms of their cooling capabilities. Thus, if you want to buy something that could be quite similar to a refrigerator, Dometic CFX3 would be the best camping cooler for you!
As for the capacity of a Dometic cooler, you will have an opportunity to place up to 25 liters of your food and drinks inside of this container, which could also be considered to be quite a large cooler! What is more, the temperature of this option can reach -22 Celsius degrees, allowing you not only to use this cooler for keeping your drinks cold but also for storing frozen goods and other things that might require bigger cooler temperatures.
In addition, the structure of these best camping coolers will also look a lot similar to that of a traditional refrigerator: you will have a separate container that would allow you to divide your goods into those that need to be frozen from those that do not. Thus, the latter products will be kept inside this container to avoid freezing.
Dometic CFX3 durable cooler also has a heavy-duty material, which means that it would be really hard to break this structure and leave you with no place to keep your frozen goods. And to make sure that transportation of such a construction would not be impossible, the manufacturer also added aluminum handles for you to use while moving the cooler.
And if you want to decrease or increase the temperature inside of your Dometic best coolers, you will have an opportunity to either use a CFX3 app or a touch screen placed on the coolers themselves.
All in all, by buying a Dometic CFX3 cooler for camping, you will have a decent container that works with the help of electricity. For some people, this characteristic would be a disadvantage, while for others it will be a necessity.
It is not always the case that you would want to buy a big heavy-duty rolling cooler to take with you on different trips, and it is definitely not true that the best coolers for camping should be of such a configuration. Thus, if you are in survival conditions or prefer to travel on your feet, IceMule Backpack Cooler would be the best solution!
As you could have guessed from the name of this soft cooler, it can be transferred as a simple backpack of yours, which definitely makes your life easier on trips without cars. Thus, such soft coolers could be chosen by you if you are not sure how you would prefer to travel in the future as it will provide you with a great versatility that is not present in other types, even the best coolers for camping.
And although this great feature might make you question the reliability of such IceMule soft coolers, you have nothing to worry about: the overall capacity of this cooler is equal to 15 liters and it is capable of maintaining ice retention for 24 hours, even when the conditions outside of the container are too hot to handle.
What allows such soft coolers to remain in their ice-cold conditions in various weather temperatures is a dual-layered design that has PolarLayer foam insulation integrated into the container. And in the case of extremely hot weather conditions, there is a built-in air valve that will create an additional amount of insulation.
IceMule provides its clients with three different sizes of their soft coolers, which means that you could either get a 10, 15, or a more traditional 20-liter size of your cooler, with all of them being comfortable enough to be placed behind your back! And as for the 15-liter option that we have described in this part of our article, it allows you to place 12 cans of food and some other snacks together with the ice.
One of the most peculiar features of the IceMule cooler is its ability to float, even when it is completely full, which means that you will not have to worry about your food while riding on a boat or even in survival conditions when you will have to swim through some river.
IceMule is one of the best coolers for camping as they can hold their ice retention for quite some time and are highly convenient for hiking and other outdoor on-the-go activities. Although, this might not be the best solution for family camping trips, as they will need a bigger capacity for keeping all of the food and drinks cold.
In case when IceMule cooler will not be in stock, you could also opt for an RTIC Softpack 20 cooler.
RTIC Softpak is known for its rotomolded structure, but in comparison with hard coolers of the same feature, this one will be lightweight, which is a perfect solution for one-person camping or hiking trips when a big capacity is not a necessity.
However, together with an IceMule option of a soft cooler, RTIC Softpack also will not play cool on the trips that last longer than one day: although you could try to keep your food cool for 48 hours, you will need to make sure that the conditions outside of the cooler are quite mild, as well as try not to open the cooler that much to contain the cold inside.
You will not have any troubles with this cooler if your trip is not that long and the number of people that the cooler will need to feed will be below. The only problem that you might find with RTIC Softpak 20 cooler is its zipper: due to its water-resistant feature, it might be hard to open and close the cooler on your first try.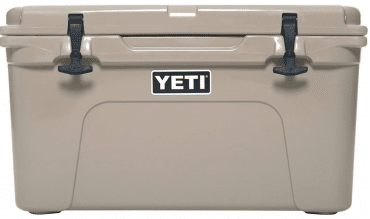 milies or friends who really enjoy camping not only during the summer, but in other seasons as well, or prefer to plan their outdoor adventures as frequently as possible, YETI 45 would be a great, but a bit expensive choice to make. However, we believe that the price of this YETI cooler is quite reasonable, as the rotomolded structure of this gear will ensure that the cooler will last for a very long time.
What is more, the 3-inch thick polyurethane insulation will allow you to keep your products cool for up to a week, and the whole construction of this YETI cooler was certified as bear-resistant by the Interagency grizzly bear committee itself.
As for the capacity of the bear-resistant YETI Tundra cooler, it can fit up to 28 cans of soda or food, with the weight being equal to 23 pounds in an empty condition. This means that the bear-resistant YETI Tundra cooler will not be the best option for one-person camping adventures, but for bigger gatherings of people, it will do quite well.
Here is the list of other interesting features that these bear-resistant YETI coolers have:
Non-slip rubber feet;

Convenient rubber latches;

Built-in tie-down points;

And even a dry-storage basket to keep the products away from the bottom of the cooler when the ice melts.
If you do not care for the pricing policy of this YETI cooler or really are in search of a great mini-freezer that will serve for several years, then buying this option would not be a mistake, more like a win with its bear-resistant week-long durability and great capacity!
Yes, you heard us right, Pelican Elite 70 is the kind of gear that has a structure of a tank and will serve you as long as you will need it to do, which is perfect for those people that like to go camping quite frequently around the year.
However, such a quality will also mean higher pricing, which would not be a problem for those planning to use this cooler a lot, while for those people who need a cooler for one or two trips, Pelican Elite 70 will not be the option worth considering.
The capacity of this cooler that was stated by the manufacturer is equal to 70 quarts, but the actual one will be somewhere around 54 quarts. This happens because the design of the Pelican cooler is quite sturdy, which means that it will take some of the space initially stated but provide the highest-quality insulation as well.
Thus, we were able to get a whole week of ice retention out of this cooler but in quite mild conditions, which means that 5 days or so will be an easy target for Pelican Elite 70.
Here is the list of additional perks that you could get from this cooler:
A

lifetime guarantee

that will ensure you of the quality of Pelican Elite 70 cooler and thus make you certain that the money spent on it will be fully returned in case of some mixup;

A built-in bottle opener and cup holders, which is definitely something that is hard to find in almost any type of cooler. It is always nice to have such features when traveling, is it not?

Comfortable holders and a rubber seal are also something that is quite important to have in a weighty cooler, as they will make sure that your experience will be comfortable enough in almost any weather conditions, as well as ease the process of moving the cooler around.
All in all, Pelican Elite 70 is a cooler that is worth its money but only for the people that are sure that they will use it frequently and will need a great capacity for their big crowd of people. Otherwise, the pricing of this cooler is simply something that is not worth the risk.
Another great choice for big companies that like to go camping once in a while is Orca 58 Quart cooler, with a design that is a bit different from the more traditional ones: this Orca cooler still has a big capacity, however, it is provided not with the help of its width, but with the help of its height.
This design might be even a bit more convenient for people with a restricted amount of free space in their car, but as you could have guessed, there also will be a downside for this option: to be able to find something inside of your Orca cooler, especially the products that do not lie on the surface, you will need to dig around a little to reach them.
As any other cooler described by us in this article, Orca 58 also has great insulation capabilities, with the maximum number of service days being equal to 10. However, we noticed that on average, this cooler will work for about 5 days in a row until melting the ice completely.
You also will be provided decent rubber latches, rope handles, and built-in tie-downs of this cooler. A netted pocket on the backside of the cooler will play as an additional great feature that you might appreciate. Unfortunately, no bottle opener or cup holders are present in this option, but we would not say that this would be a great problem.
Despite an unusual choice of a design for this cooler, it still will weigh quite a lot (30.6 pounds), meaning that it is still not a good idea to buy this cooler for lighter trips. However, if this is not your case, the only other problem you might have with this choice is its price which is a bit higher than you would usually expect.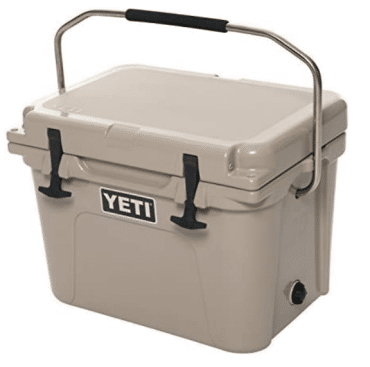 We already discussed great choices for solo campers that plan to have some kind of an active adventure out in the wild, but there also might be a case when you would need a hard cooler for a one-person trip that would only last a few days.
Thus, if this is your situation, YETI Roadie 20 cooler would be exactly what you are looking for!
Here is what you will receive by buying this cooler:
It is not too big nor too small, meaning that you will have an opportunity to use it for more than one day;

Has a decent rotomolded construction with polyurethane foam insulation and a metal handle that is quite comfortable in its use;

An integrated drain plug of this cooler will also allow you to get rid of melted ice without the need to retrieve all of your products from the container and pour out the water yourself;

Interagency grizzly bear committee approval is also something worth mentioning, as such certification will ensure you of the quality of this cooler, as well as let you know that YETI Roadie 20 is a bear-resistant product, a fact that might be important for some of you.
YETI Roadie 20 is quite an expensive cooler, which is quite logical for a cooler that has thick polyurethane insulation and a rotomolded construction. Thus, if you are looking for a one-person hard cooler that will serve you for a very long time, Roadie 20 is one of the choices which you should consider buying.
When your budget is a bit below the price of a YETI Roadie 20 option, but a hard cooler for a one-person adventure is still in need, you might consider buying an Igloo BMX 25 cooler.
The quality of this cooler will not be too far away from our previous choice; it will even have a lighter weight of 11 pounds while keeping the capacity size similar to that of a YETI Roadie 20.
And as for insulation, it will be able to provide you with up to three days of cold drinks and cans of food, which is a perfect duration for short trips. However, if you would like to prolong the life of your cooler, you might want to buy a rubber gasket and thus, create yourself an opportunity to travel with the Igloo cooler for up to five days!
Thus, without a rubber gasket, you might have some problems with sealing your cooler, but if this is not an issue for you and you are indeed in search of a lower-priced option, the Igloo cooler will play nicely during your trips out in the wild!
When it comes to wheeled coolers, RovR RollR 60 is definitely the best choice on the current market. In comparison with other wheeled coolers, this one works great not only on even terrains but on most other surfaces that are more common for the wild conditions of your trips.
This quality of RovR RollR is present thanks to its large bouncy wheels, comfortable handles, and a high ground clearance that helps the cooler not to get stuck due to uneven surfaces. And as with all of the best camping coolers discussed by us in this article, this one also has a rotomolded structure and foam insulation that allows RovR RollR to keep your food and drinks nice and cold for about five days.
Additional features of this cooler would include those from the following list:
A big basket to help keep your products away from the melted ice;

A rubber seal to prevent any water or sand from getting inside of your cooler;

Tie-down points to ensure that the cooler will stay where it is supposed to stay.
If you do not mind paying an extra penny for your high-quality cooler, and a big weight is not a problem for your trip, then buying this cooler definitely will not be a mistake, as all of the most important features will be present and a wheeled structure will only ease your camping experience!
Another great finding of ours is Coleman Xtreme 5 cooler, which is the best cooler for camping that we were able to discover yet.
Coleman cooler is the best choice for camping trips with a lot of family members or friends being present, as it has a 67-liter capacity and is capable of keeping your food and drinks cold for up to 5 days!
While using the Coleman cooler, you will be provided with an opportunity to hold such an amount of food that would be enough for your full camping trip crew.
In addition, you could use this cooler together with its ice or cold packs for keeping 100 cans of drinks in cool temperatures. Or you could always mix and match these types of products, choosing what to take with you on a trip is totally up to you and depends on the number of people and the number of days that you plan to spend outdoors.
The weight of this great outdoor gear is only 12.3 pounds, which means that you will not have any problems with moving your cooler around even when it is completely full. And to ensure that your experience with the Coleman cooler line will be top-notch, the manufacturer also added quite comfortable grip handles.
And as for the ice retention capabilities of this cooler, we already mentions that it will allow you to keep your food and drinks cold for up to 5 days, the Xtreme insulation technology provided by the company makes sure of that: not only did they include a traditional insulated lid inside of the container, they also added the same insulation feature to the walls of the cooler, making your experience with this outdoor gear much more pleasant.
The only disadvantage that was stated in the reviews of these hard coolers is they are not acting very well in rainy conditions so the water will get inside the container in such weather.
Aside from this shortage, you still will receive the best out of the best that the current market could offer: great capacity, long ice retention possibilities, and even an opportunity to use your hard cooler as a seat, which is definitely a feature useful for big companies!
Portable Mini Fridge: How to Choose one by Yourself?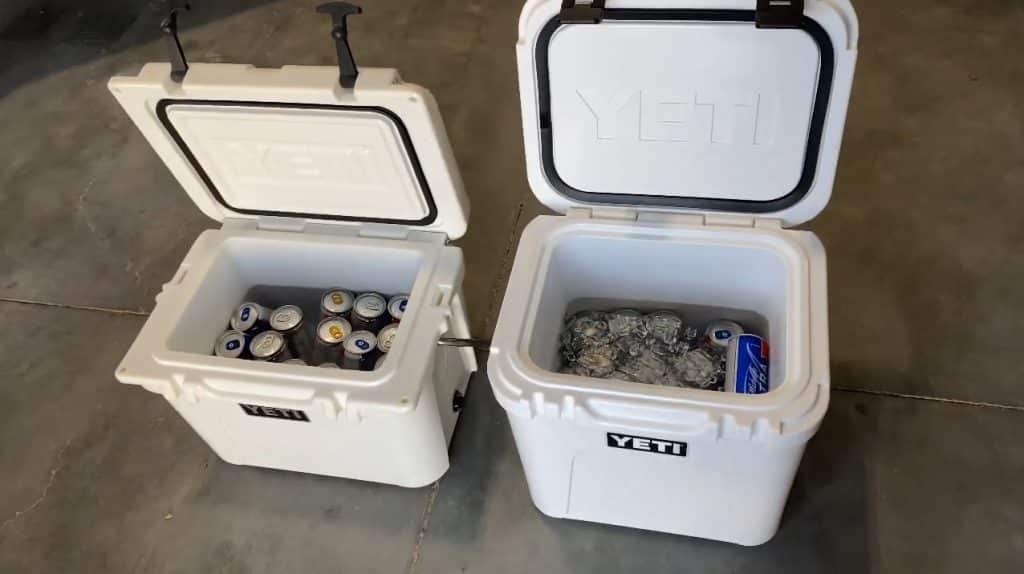 While we hope that the review made by us will give you a glance at the best coolers in today's market, it is not always the case that those options will be available in your region or in stock at the moment of your potential purchase, which is why it is still important for you to know how to choose the best cooler for camping on your own.
Thus, we are now going to discuss all of the most important features that you should think about while searching for your own cooler for a camping excursion or any other adventure that you have in mind.
Cooler Type
The first thing that you should consider and we guess, the only one on which you could actually make a choice and be sure that you will receive what you wished for, is the type of the cooler. This feature basically should be considered from the point of how you will use your cooler and in what conditions.
Here is the list of all of the kinds of coolers that you might find:
Passive cooler. This type of a cooler does not run on electricity, which means that you will have to fill it with ice packs when using, and the only characteristic that will determine the amount of time during which your products will remain cool in such kind of a container will be ice retention;

Compressor coolers are good when the outside temperatures are too hot or get changed quite often, which means that a low-budget passive cooler will decrease its ice retention capabilities and will serve you for a smaller period of time, whilst a compressor model of a cooler will keep your food cool no matter what type of weather is outside;

The absorption cooling device will not depend on the ice retention. Instead, this one is a powered cooler that, as you could have guessed, requires electricity or any other source of power to create cold air inside of its construction.
And aside from the power classification of your cooler, there is also an additional one that describes your device from the point of its material.
Thus, you could either buy hard coolers or soft coolers, both of which will have their own advantages and disadvantages, such as:
The former type of a cooler will have a heavy-duty material that would be highly resistant to almost any of the outer conditions and it would be much harder to damage such a structure. What is more, hard coolers could be also used as an additional seat, which is a perfect feature that is especially convenient when you are traveling with big companies. The main disadvantages of a hard cooler are that it is usually quite heavy and thus, difficult to transfer without a car; it is also a more expensive cooler than its competitor.

As for the latter type of a cooler, it will be most probably made out of some textile and thus will have a much lower weight and be very easy to transfer or move around with, some of the best soft coolers will even have a "backpack" style that would allow you to through it on your back and continue with your trip. But as you could have also guessed, the water resistance will not be present in all of the models and the capacity and ice retention will be much lower.
You have many options to pick from, but for longer car camping trips with a big amount of people, we would recommend buying a hard absorption cooling cooler, whilst for a shorter adventure with a little number of people it would be wiser to choose a soft-sided cooler with ice retention feature.
Yet another important feature that is crucial to consider before buying a particular cooler is its size, and thus, the capacity and the period of the service.
It is only logical that big family adventures would need quite a big and heavy cooler for camping, while one-person hiking trips would require the opposite features. What is more, the size is also important in terms of the longitude of your trip: the bigger the number of days spent outdoors, the bigger the cooler would be in demand.
Thus, choices for a trip that would require a cooler capable of providing you with up to five days of cold air inside of its container for more than two people would be quite different from the options needed for a one-person hike that will last up to three days.
And, of course, we could not have forgotten about the insulation capabilities of your cooler. You might be surprised, but this is quite a tricky feature that is hard to distinguish and thus, even more, pricier coolers might not meet the criteria.
However, it is not as hard to tell the difference between the bad and good insulation coolers as you might think: all that you need to do is learn a bit more about the material of the products that you are considering buying.
For instance, we have already described to you plenty of coolers with great insulation capabilities, such as YETI Roadie or IceMule ones: the former has PermaFrost insulation, while the latter obtains a PolarFoam one, which is exactly what you should search for in your coolers. What is more, hard coolers will usually have much better insulation capabilities in comparison with soft-material ones.
In addition, do not forget to check the presence of a drain plug inside of your cooler so that you would not have to unpack it to take away the melted ice.
Another important feature that depends on the capacity, insulations, and ice retention characteristics of your cooler is its durability.
For instance, getting thick polyurethane insulation and an electricity-based cooler that has a large capacity will give you the biggest durability that could only exist, which is a perfect choice for those family camping trips that last longer than one or two days. Roto-molded coolers are also great for such trips and will last you for a very long time.
However, a one-person trip that is quite short in its duration will not need all of these characteristics, as they would simply make the cooler not as easy to transport as it would be required by a traveler. Thus, an IceMule cooler with polyurethane foam insulation and a convenient "backpack" design will make it a perfect choice for such trips that will still keep your drink cold.
Like all of the other characteristics described by us above, the portability of your cooler also depends on your preferences and the kinds of activities that you plan to do during your trip.
Thus, you have two options to pick from and buy a cooler that will meet one of them:
When you plan to keep your hard-shell cooler only on the campsite of the company with which you are traveling, you could opt for bigger coolers that are not as portable but will provide you with better capacity and ice retention. However, you still need to remember that even such coolers should be light enough for you to transport them from the car: wheeled coolers are the best option that you could find under this category that would allow you to move the cooler quite easily;

In the case of outdoor adventures that are on the go, such as hiking, you would want to buy something lighter and thus, smaller in size. What is more, you could even find options that are water-resistant and can stay afloat while you are swimming. The best soft-sided coolers for such trips will have a form of a backpack so that you could easily grab it and continue with your route.
Additional Features to Consider
Aside from the main criteria described by us above, you could also make sure that your cooler would be as versatile as possible, especially if you are not afraid of paying a bit extra money for some additional perks.
Here you could look at our list of extra features that could be considered by you:
Weather resistance. There are many locations in our world where no one can be 100% sure about the weather conditions that will take place during your trip, which is why you might want to consider this feature as well, especially if you are a person that likes to spend some quality time out in the wild not only during hot summer days. Thus, make sure that your cooler will be water-resistant (have rubber latches) with thick polyurethane insulation that is perfect for extreme weather conditions;

Wildlife compatibility. This feature is especially important for people that are living among various wildlife creatures: simply having a wheeled cooler will not save you from bears. Thus, a certified bear-resistant cooler would not only be an interesting perk but an actual necessity in some countries like Canada;

Maximum ice retention/energy production. Depending on the number of people and the longitude of your trip, you might need a cooler that will have a much bigger cooling power, as you most probably will not survive on just a few cans of food on a five-day trip for more than two people. Thus, you will want to take meat, eggs, and vegetables, as well as some beverages, and for such products, lower temperatures will be needed.
Even more of an extra would be to look for cup holders and a bottle opener integrated into your cooler, as these features will definitely not constitute the drain plugs that could take away the melted ice or for a rubber seal that would protect your cooler from getting warmer air and water inside of it; however, it is always nice to have such options.
Best Camping Coolers Takeaway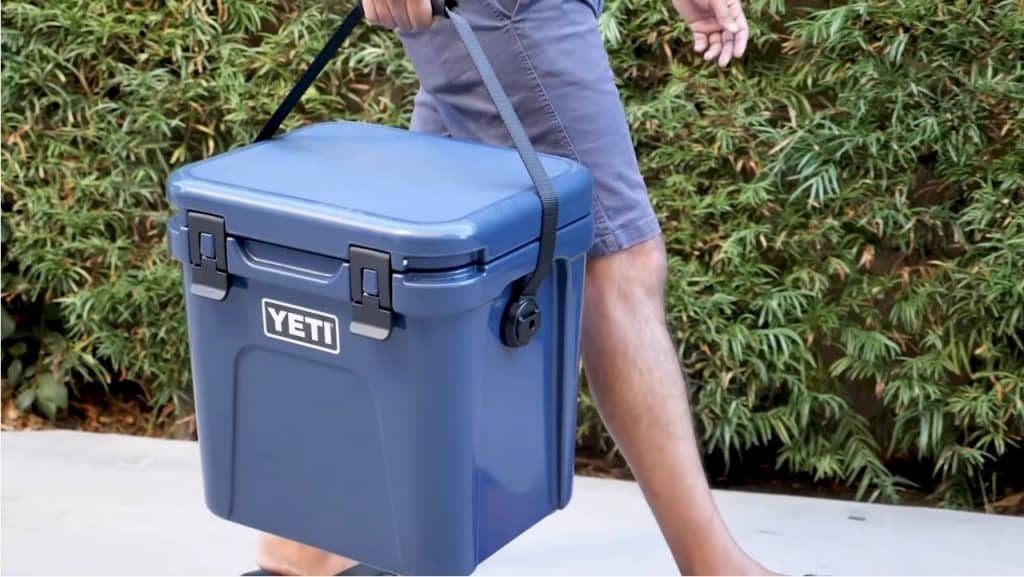 As you can see, the modern market provides you with a huge variety of different coolers for you to choose from, which, from one point of view, might make the searching process harder, but from another one, it gives you an opportunity to find what you actually need.
By reading this article, you are now not only aware of the list of the best camping coolers but also have enough knowledge about all of the important criteria to find this outdoor gear on your own.
Fortunately, the choice is only yours to make, with no one else limiting the options for you. All that you would need to do now is either find one of the coolers described by us in your region or, if they are unavailable, use the information given by us to buy the best option that is present in your market.
And if you are still unsure about your preferences or do not like the options that we have described, you could also watch this video about another list of the best camping coolers.
Frequently Asked Questions — FAQ
How Long Will a Cooler Last During Camping?
It depends on the quality of your cooler itself and the number of days that you are planning to spend out in the wild. Thus, all of the options described here by us will show you the best durability with an average one being around 3-5 days for big companies and 1-2 days for solo trips.
Is a Cooler Necessary for Camping?
Well, if you do not plan to rent a house somewhere near the beach and prefer to spend your camping time under a tent, a cooler will be a necessity, as you will not have any other place to keep all of your food and drinks.
Buying a cooler will be of special importance for big companies and for longer trips, as you most probably will not wish to spend 5-7 days on cans only, which means that you will buy meat and vegetables, as well as a lot of beverages.
How to Choose the Best Cooler for Camping?
When you have a big company and a long trip, opt for the biggest hard coolers described by us in this article. However, if you are more of a solo traveler that is always on the go, a soft cooler will do better for you.
What is more, always keep in mind the type of a cooler that you would need: it will either be working with the help of ice retention capabilities or by using external sources of power. This feature also depends on your possibilities during your trips.
What are Bear Proof Coolers?
Bear-proof coolers are those that are made especially for people that live in regions where camping might get interrupted by bears or other big-sized animals.
Thus, such coolers will have a construction that will save your food from these intruders: they will go away eventually, which means that you will have an opportunity to retrieve the things that are still intact later, and being able to eat after such a stressful event would be a nice opportunity.
What to Look for in a Great Camping Cooler?
A great cooler that will serve you for a long time should have a great capacity (if you prefer to travel not on your own but with other people as well), decent duration, and water resistance.
Other features, such as the material of your cooler (hard or soft) and its type (electricity or ice-driven), simply depend on your preferences and the trip itself: whether you are going to be moving around a lot on your own or will you travel by car and stay in one place the whole trip.
Are Expensive Coolers Worth It?
It depends on your needs. For those people who are frequently camping out in the wild, especially during not-so-warm seasons, such coolers will be worth it as they will serve them for a longer period of time and have a better duration and capacity.
However, for those people that are camping once or twice a year, it might not be the best choice to buy extremely expensive coolers with a lot of unnecessary features.