Survival skills are vitally important; however, good survival gadgets and clothes are what will help you in any emergency. When you are prepared, nothing will catch you by surprise.
If you are one of the hundreds of millions of proud hunting, self-defense, or survival gun owners in the United States, you should have already heard something about concealed carry jackets, and maybe you even thought about buying one. A concealed carry jacket is a must-have if you really want to conceal the fact that you are carrying a weapon. Which is almost impossible with a regular jacket. Moreover, a concealed carry jacket gives you easy access to your gun, and this feature can significantly enhance your chances of survival in an emergency situation.
However, despite concealed carry jackets having many useful features as survival gear, buying one can be a daunting task. And the main problem is not the proposition on the market; on the contrary, there are many concealed carry jackets from different manufacturers made for men and women as well, and manufacturers print advertising all the time. The main problem is that it is tough to choose a concealed carry jacket that will have all the key features and be long-lasting and comfortable for you.
Top Best Concealed Carry Jacket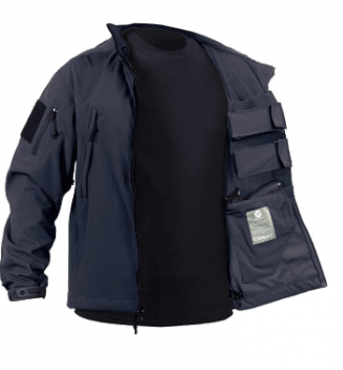 Now, after we know the main information about CCW jackets, we can proceed with our list. And the first concealed carry jacket I want to tell you about is Rothco men's concealed carry jacket. This jacket is definitely can be assessed as one of the best on the market. Of course, it is not perfect, but in my opinion, it has far more advantages than disadvantages.
It has an outer softshell constructed from three-layer multifunctional polyester, which is also water-resistant. The storage is more than good. It also has a softshell exterior and gives additional protection to your weapon.
Talking about other pros, we can say that the jacket has extra concealment pockets and a vast holster where you can carry some other items such as extra magazines. Moreover, it hides a weapon very well and does not look too bulky, so nobody will know where your gun is. Also, the jacket is very comfortable to wear, and it works well in dare climate.
As to the few downsides
Considering the cons of this concealed carry jacket, we must stress the fact that exterior pockets are not very suitable for regular items, such as an iPhone, which makes the jacket a bit less useful in everyday life. Also, the location of the zipper is rather questionable because it allows the small drops of water to pour inside the jacket in a few small spots, which is not a problem during small rain but can make your jacket totally wet when mother nature sends some rainfall.
Furthermore, some problems can irrupt during the delivery. Namely, people often receive jackets with wrong length ratios, and as a result, the jacket fits not so well.
In general, despite some problems with the moisture resistance and fit, the Rothco men's carry jacket receives rather excellent feedback from the customers because it is comfortable in everyday carry. In addition, it effectively conceals a gun and gives instant access to it when the owner wants it.
Moreover, the price is also very reasonable.
2. Women's full metal jacket
Considering the fact that women in the US are taking arms at an unprecedented rate, we should have included at least one CCW jacket designed specifically for women. And in our women's full metal jacket is the best one in this category.
First of all this jacket has a clean shape and undeniably good design. Very sharp and good-looking with a nice collar. Moreover, this design allows the carrying of a gun from both sides, which makes it suitable either for left-handed and right-handed women. And what is the most important in this design is that it makes sure that your firearm is undetectable.
Also, the jacket has two inner concealment pockets, a magazine slot, two warm pockets, a detachable hood, and is quite good at resisting elements. In addition, it has a shoulder harness which helps to reduce the weight of a firearm which is very important during an emergency.
As to the faults
Talking about the cons of the women's full metal jacket, first of all, we need to mention that it is not suitable for extreme weather and long exposure to moisture. So, to survive in some weather emergency, you will need to buy additional clothes, like Hazmat Suit, for one,. Also, the spot for the firearm is limited in its size, which puts limits on the types of guns that you can carry. Another minus is that the fit is not suitable for all body types, so that some women will feel uncomfortable.
Nevertheless, in general, most of the customers do not have any problem with this jacket except for the limited size of the gun holster, which limits the types of guns it can accommodate. So, if you do not carry something massive, this jacket can be a perfect choice for you as long as it does the main job of a concealed jacket. It conceals and secures your firearms and gives fast access to them.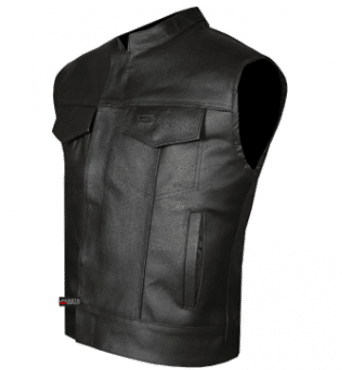 Previously on our list, we have mentioned only CCW jackets that look like regular jackets. But the market has far more to offer. And one of the products that you should consider is SOA Men's leather jacket. This jacket looks like a regular biker's jacket or a vest that fits your torso very tight and would look very stylish, especially with leather gloves.
However, unlike a usual vest, this zippered jacket is equipped with many large pockets and holsters that can accommodate a firearm of very considerable size. The exterior soft shell of the jacket is made from cowhide leather, and the interior is from polyester, which makes the vest water-resistant. Moreover, the leather is very solid, so it can even work as some kind of light armor in case of an emergency.
Another con of this vest is the fact that elbows, back, and shoulders have additional protection because of sections of EVA armor. Also, the look of the vest is very sharp and makes you look in style.
The few cons
However, this style has some downsides. First of all, a really big gun would be a bit visible. The leather is hard, and to make it softer, you will have to condition it. And the main disadvantage of this concealed carry vest, in my opinion, is the fact that it does not have a hood. This means that your head would be exposed to moisture and other elements. Therefore a generally well-protected exterior would be very vulnerable during harsh weather.
Nevertheless, despite the mentioned above issue, SOA men's concealed carry leather jacket has more than good feedback from the customers. Who finds it a top-notch for the people who want to conceal carry a firearm but at the same type look casual.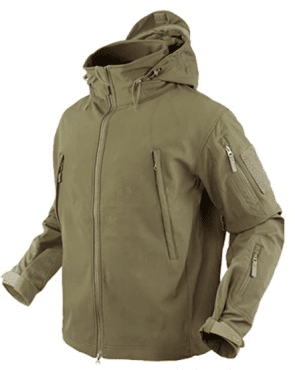 As previously discussed, concealed carry vests and jackets can be too heavy for some people or for some situations, so now let's look at some lightweight jackets. The main advantage of this type of jacket can be found in its name because lighter weight can enhance the chances of survival in an emergency. Moreover, the fabric of such jackets is breathable with improved moisture resistance and air conditioning.
Other advantages of Condor Men's concealed carry jackets include plenty of storage space in the secure interior and exterior pockets. Also, the fabric of the jacket allows going undamaged even though very harsh terrain. The zipper is also quite good.
Disadvantages of this jacket are the next. First of all, I have to mention that this jacket is not ideal in a very cold climate. So if you live in a harsh climate where the ability of a jacket to keep you warm is the main consideration, you would look at other options to wear. Secondly, it is important to mention that the hood can not be removed, which restricts your ability to customize the jacket for proper weather. And the last con is the reports from the customers who say that they often receive jackets with small flaws that mainly affect pockets.
Nevertheless, this concealed carry jacket usually gets 5 stars reviews with minor considerations about pockets, zippers, and quality control. So, if you need a water-resistant, lightweight, with big pockets and fit concealed carry jacket, Condor product should be your choice.
This is the second Rothco product on our list, and like the first one, it has astonishing quality and a lot of useful features for concealed carry. Rothco 3 season jacket is equipped with several large holsters, gun pockets, interior magazine pockets, and we should not forget about appearance, which is also quite good. Due to the inner jacket lining, firearms and additional gear can be easily accessed when you need them. Moreover, the jacket keeps you warm and protects you from moisture keeping a casual appearance so you can wear a usual shirt under it and no one will suspect that you are carrying a firearm. Also, the zipper was fit very comfortably, so you do not need to worry about that.
Speaking of downsides, buyers should pay attention to the fact that the jacket does not have a hood, so if you want to protect your head from water or other elements, you would need to acquire some additional gear or clothing. The next disadvantage is the weight of the jackets which, unlike previously discussed, concealed carry vests, are not inconsiderable, so it can be a problem during an emergency, especially if to the weight of the jacket we would add the weight of firearm and ammunition. Also, despite the fact that pockets are deep, they are not secured well, so the ammo and firearm taken care for and stored in them can be exposed, and you would think about additional ways to secure the gear.
What is a concealed carry jacket?
For those readers who do not become familiar with the concept of concealed carry jackets or waxed canvas jacket I will describe it in a few sentences. So, basically, a concealed carry jacket has two main functions.
The first one is to keep you hot during cold weather as regular jackets do.
And the second one is to conceal the fact that you are carrying a weapon and to give you quick access to it when there is a necessity.
To achieve these aims, a good jacket should have several characteristics. Firstly, the jacket should fit, because in case if a jacket is not fit you well, it can cause troubles with access to the weapon, which can decrease your survival chances.
Secondly, the jacket should be durable and serve you for a prolonged period of time. Also, the fabric should be long-lasting so the jacket will not be looking worn very fast.
Thirdly, the jacket must be functional for the conditions in which you will use it. For example, if you live in a state where rain can be expected almost every day, a water-resistant jacket is a must-have. Use the jacket in a bundle with warm wool pants to keep yourself protected.
Last but not least, a well-concealed carry jacket ought to be flexible, meaning that it should give you the freedom of movement to a much further degree than the usual jacket because it can be crucial in an emergency.
In addition to concealed carry jacket you have to get a ghillie suit for decent visual protection.
Also, the weight of the jacket should be reasonable becausIn addition, we can say that a good jacket should also have some features as:
safe holster with additional protection
reliable zipper
big zippered and loop closures pockets
good collar
a hood
be sharp so that you can wear it with usual shirts, and no one could suspect that you carry a firearm
Takeaway
In general, this concealed carry jacket has good reviews, and customers are especially content with its usefulness in different weather and climate because it keeps you warm during winter. Still, at the same time, you can use it at the start of autumn, so whatever mother nature decides to unleash with this jacket, you would have a cover. Also, it conceals a firearm very well, so you carry it without worries.
Frequently Asked Questions – FAQ
Where canI buy a CCW jacket?
Nowadays, it is not a problem to buy a concealed carry jacket. First of all, you can look on the internet where you can find plenty of offers and place your request. Also, if you do not want to bet with the size, you can go to the conventional firearms shop, where you can find sections with concealed carry jackets.
Why do I need a CCW jacket?
If you do not have a firearm, it is obvious that you do not need a jacket. However, if the situation is the opposite and you live in a state that permits carrying and what more important is if you carry a firearm every day, there are a plethora of reasons to buy concealed carry vest or jacket. First of all, because it is convenient and second of all because it much safer for you and those around you.
Do I need additional accessories?
In general, if your jacket is well equipped big holster and can accommodate a firearm and a lot of gear, you do not need to buy anything additional. However, if the jacket does not have a hood or big enough pockets, you may look for additional accessories like zipped bags, gloves, different tactical gadgets. But here I have to mention that in an actual emergency, you would have better chances when you carry less stuff, so think twice before buying any additional accessories.