Concealed carry holsters are a must if you have a gun and wish to keep it discreet. While many people are used to seeing gun holsters and belts from various movies, experienced gun carriers might know that there are many ways to carry your firearm hidden from prying eyes.
There are different holster types to keep your firearm hidden: OWB holsters, IWB holsters, pocket, appendix, shoulder, and even ankle holsters. OWB and IWB stand for "outside the waistband holster" and "inside the waistband holster", respectively.
All of the above-mentioned concealed carry holsters suit different aims and have their positive and negative features. What is convenient for one carrier is inappropriate for another, so it is essential that you choose the right product type for yourself.
In this review, we will provide you with information about the best concealed carry holsters you can purchase right now, determine what kinds of holsters exist, and help you with the selection of your best concealed carry holster.
Best Concealed Carry Holsters
So, here is our rating of the 10 best concealed carry holsters you can purchase today. They all have different features: the way to carry, materials used, shapes, colors, and so on.
Before you buy this or that holster, we suggest you read carefully about its parameters and understand whether it will be convenient for you or not. It is also essential to ensure that your gun's size coincides with a holster's size; otherwise, you will have to reorder a holster to fit your firearm.
We have tried to satisfy all carriers and include all types of holsters you can imagine: OWB holsters and IWB holsters, pocket holsters, shoulder holsters, ankle holster items, and so on.
1. Bravo Concealment OWB Holster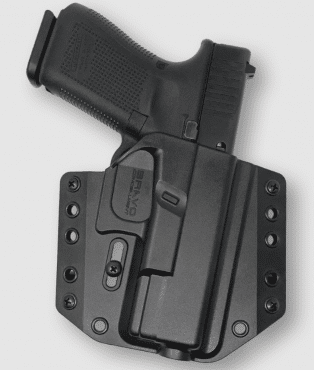 Bravo Concealment is one of the most famous brands that produce different holsters for concealed carry. This OWB holster is perfect for carrying your Glock gun (still, the holster fits other guns; but Glock users especially note this product). Both optic firearms and threaded barrels can be hidden in this holster.
This Kydex holster has a comfortable design that allows you to keep the gun tight to your body. The holster's edges are round so the owner never feels any sharp elements and corners. With belt loops attached to the holster, anyone can adjust this Bravo Concealment product and put it in the most convenient position on their body.
The secret of this product is simple: concealed carry is successful when your concealed carry holster has not only a good-quality holster but a good-quality belt, too. Inside the holster, your gun will not dangle and will be kept strictly in position. This Bravo Concealment holster has managed to gather all great features together and take a position in our best concealed carry holster rating. You can find this product on various profile resources like OpticsPlanet (for 32 dollars with a discount) or Amazon.
2. Bravo Concealment Torsion IWB Holster
Yet another Bravo Concealment holster that has the full right to be in our rating. Generally, Bravo Concealment is a popular brand that gun carriers all over the world often prefer.
This is a multifunctional IWB holster because it suits different carriers: those who prefer appendix or strong side carrying. Also, there are two types: a standard and a lightweight IWB holster, and you can select your model depending upon the firearm you use.
Generally, the model can fit different firearms and flashlights that many carriers use for additional protection. You can adjust this IWB holster the way you need and feel absolutely safe. Its construction allows you to hold the gun tightly and conveniently (but not too tight) and take it out quickly any moment you need it.
Many carriers who have experienced using this holster have commented that it is the best option if you need both constant convenience and an ability to take your firearm out rapidly. If you are interested in this kind of holster, check the prices for one of the great Bravo Concealment express holsters at the Amazon marketplace or on the Optics Planet site.
3. DeSantis Gunhide Pocket Holster
Let us take your mind off various IWB holsters that we are used to seeing in the movies about criminals and superheroes. If your comfortable concealed carry is the one in your pocket, The Nemesis pocket holster will work perfectly for you.
Some gun holders have no idea how others practice pocket carry as a hidden carry; however, believe us, it is a convenient and smart way, especially for compact handguns that have recently become popular on the market because of their size.
The reason for convenience is the holster material (neoprene) and its texture that allow it to attach strongly to the insides of the owner's pocket. You can take your gun out, and the holster will be kept safely in position. Sewn pads all over the holster prevent your clothes from ruining and getting holes.
With this DeSantis product, your gun takes a certain angle that lets you both keep the gun safe and grab it easily when you need it. The Nemesis line can boast various holsters for pocket carry that can fit guns of different sizes and should be put in different pockets, so do not hesitate to check them all out before you buy one. Purchasers especially note this line's durability — you can carry this holster for a long time and nothing will happen to it.
You can use this item as a belly band holster: simply buy one of the convenient belly bands and put the holster inside. Many men and women prefer belly band holsters because there is a great chance that no one will see your gun. Almost every holster for pocket carry may become the best belly band holster for you if you need so.
4. Stealth Operator OWB Holster
Moving forward to some OWB examples, let us introduce you to the Stealth Operator brand that specializes in holsters specifically designed for concealed carrying of your firearm.
One holster especially requires our attention because we can simply call it versatile: Phalanx Defense. More than a hundred different guns can fit in this Kydex holster. Most CZ, Glock, and Walthers models can be used with it. So, if you prefer switching guns and do not want to care about a holster that works, consider purchasing this model.
This is a truly concealed carry holster because you can hide it inside your clothes easily (even a shirt) and no one will notice. For those who are used to inside waistband holsters, Stealth Operator has developed the same model but as an IWB holster. So, you have options and can select in accordance with your carrying habits.
Besides the best concealed carry holsters, Stealth Operator produces enhanced body armor and the ultimate self-defense carriers like backpacks. If you are looking for something that will ensure your safety from head to toe, we surely recommend this store.
5. Clinger Holsters Comfort Cling Model for IWB Carry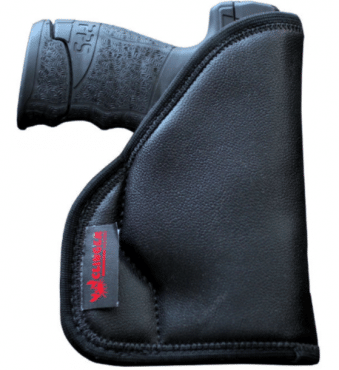 Typically, we prefer holster materials that are durable and have proven themselves for many years like leather or Kydex. However, there are some decent exceptions that we cannot skip. For instance, this stylish Comfort Cling holster from Clinger Holsters.
This soft holster has one unusual feature: there is no belt clip that attaches it to your waist. You simply put it inside your waistband and forget that you are carrying a firearm. You will sweat just a little bit in the gun's position; however, this is nothing compared to the convenience of this holster. Despite this, your firearm will be safe and dry — the holster's material will not infuse your natural liquids.
You will not believe how convenient this holster is and how easy it is to carry a gun in a holster without a clip. However, if you ever feel uncomfortable with this holster, consider purchasing a gun belt for it which will be an excellent solution.
You can check the cost and read more than a hundred reviews from carriers in the brand's official store. Most reviews are positive, proving the quality and convenience of this IWB carry holster.
Compared to OWB, IWB, and other concealed-carry types, ankle carry is less popular and less convenient, as experts say. If you are not a pro, using an ankle method may lead you to the inability to grab your firearm in time and a huge failure.
However, if you have been using a gun for many years and have discovered the advantages and convenience of an ankle carry, you should consider buying this Galco holster that keeps your firearm secure and attached to your ankle tightly.
Galco has been on the great holster manufacturers list for a very long time, and this holster for your gun that can be securely kept at your ankle is a masterpiece. Made of black smooth leather, it is not only functional but extremely good-looking. A wrap that attaches your gun to your ankle is made of neoprene which makes the construction durable and secure. 
So, if you are trained enough for such a carry, maybe this is your best concealed carry holster.
This versatile IWB holster can be used with 50 different guns, and this is why carriers love it. The company itself was founded by a person who has vast experience in the army and shooting. He has seen plenty of holsters that are not convenient at all, so his company's main aim is to produce goods that give you the ultimate comfort.
In this case, CYA offers Kydex holsters in black, gray, and brown shades. They all have one tiny clip that securely attaches your holster to a gun belt. You can carry this holster at several angles and the whole construction is easily adjustable in accordance with any wearer's preferences. Regardless of your own position — whether you walk, sit, stand, or lie — your firearm will be tightly kept in this good concealed carry holster by CYA.
Adding up all factors — the CYA holster`s price, durable Kydex material, a great variety of sizes and colors, and the company owner's experience — we get, if not the best hidden carry holster, one of the best currently available.
8. Alien Gear OWB Cloak Mod Holster
Alien Gear holsters are famous for their unusual look, literally having an image of an alien on their side. Like the brand itself, Alien Gear is famous for producing all types of holsters you can imagine that purchasers love to use for both concealed and open carry.
The Cloak Mod item is more expensive than many other items on our list. However, this model is worth every cent you pay. Firstly, because of its outstanding design that you will never see in other brands' products. Secondly, here, like in other items we have described, the quality meets convenience, bringing us another fantastic example of a durable holster that can be used with almost 160 different guns. All you have to do is find out the exact model of your firearm so as not to be mistaken when you order.
This Alien Gear model has appeared after dozens of the manufacturer's attempts to create a convenient holster to carry outside your waistband. As a result, the item can serve you both as a paddle holster and a belt holster. Paddle holsters are considered amazing for hidden carry, by the way, so do not hesitate to try one of them.
Convenient yet tight loops will allow you to settle the holster wherever you need it and insert it securely in position. The holster itself is extremely durable, made of plastic and partly of stainless steel. 
You will not feel it with your body because the holster will be avoiding your belly and will not face any sweat problems that could have ruined your gun.
9. NSR Tactical C4 IWB Holster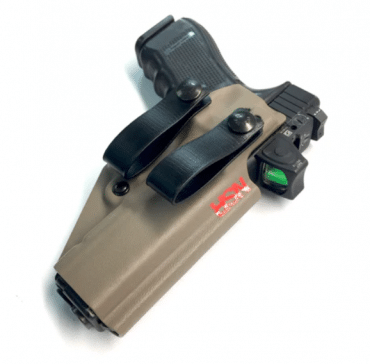 Another good holster for IWB or appendix carry, this NSR Tactical item can boast important features for every carrier like extra lightweight, convenient small size, and simplicity.
Even those who cannot stand appendix carry and would never buy themselves an appendix carry holster find themselves in a place where they are not only used to this appendix holster now but enjoy it very much. It has nothing excess and the weight is so little that you will not notice carrying a gun when you wear this NSR item. Round shape and low position on your waist will not let your gun or holster poke you. If you prefer red dot and pistol optics firearms, this appendix carry holster will suit, too.
We consider this the best concealed carry holster for appendix carry because additionally, it has secure loops that you attach to your belt. These loops help you adjust your holster the way you like, change the angle, and find the perfect position. Also, you can regulate your gun's retention. All this does not happen often with appendix holsters, so, if you are looking for such convenience and prefer this carry method, we definitely advise you to check this product and try it on.
By the way, this method has one huge advantage: it ensures the quickest access to your gun and the ability to take it out in a blink of an eye. If you often face risks (for instance, due to your occupation), maybe it is time to learn how to perform appendix carrying and purchase an appropriate holster like this from NSR.
This holster is a bit more expensive than the previous one by Alien Gear which makes it one of the most pricy holsters in our rating. However, with such a great number of advantages, the price is explainable. 
You can purchase the product directly on the brand's official site; numerous reviews from carriers are available on the webpage, too, so you can get more useful information about the product's features and peculiarities.
10. Gould & Goodrich Shoulder Holster
Usually, carriers hate most shoulder holsters and consider them something far from the convenience and quick access. Some people compare it to a lady purse and say they would never buy a shoulder holster for themselves. Despite all such opinions, shoulder holsters have their niche on the market, and we cannot avoid the fact that some of our readers are looking for a decent shoulder holster and have come to our rating to get relevant recommendations.
Here is a shoulder holster that we consider the best among all available on the market: the Gould & Goodrich Gold Line product. We know that many of you have never heard of this brand but believe us, the quality of its products is more than amazing. Those who are aware of this brand's existence prefer purchasing only its holsters because they produce a great variety of them for different concealed carry methods.
There are two distinct features of this brand's products: they are actively used by public authorities who need to carry firearms on duty; they look beautiful and have their laconic yet stylish looks that please the eye.
So, we could not ignore this manufacturer and have decided to include a holster for shoulders here. Made of black smooth leather, it is available for both left and right hands and has wide straps that you can adjust in accordance with your shoulder size, and a magazine pouch that can eventually save your life.
The snap used to protect your gun from unexpected shooting can easily be unlocked with your thumb. The item is available in black and chestnut brown colors. Overall, this is one of the best items you can purchase if you are looking for a good holster that can be placed on your right or left shoulder.
So, this was our rating of the best holsters you can purchase today for your gun's concealed carry. The list will be helpful for those who know for sure what they need and what brands make products they like.
However, what should you do if you have just bought your first gun and have no idea yet regarding the right holster for it? We will now define the most essential parameters you must consider before you make your final holster choice.
Holster Selection: What You Need to Know
If you are a newbie in all this gun thing, the first thing we have to warn you about is that it is essential to complete the appropriate training where you will understand how to use your weapon correctly, adequately, and safely — not only for individuals around you but also for yourself. Only after you have finished learning and feel sure about keeping a firearm with you, is it time to select a holster, purchase it, and start practicing hidden carry.
Let us suppose that you have already finished a course and are finally ready to get yourself an extra quality item that will help you carry a gun with comfort. But how to choose your best holster properly?
Here is a list of factors that will help you make this difficult choice (because there are so many holsters available nowadays!).
Carry Type
Without defining the way to carry your firearm that is the most convenient for you, you should not even start choosing a holster. So, this is the main criterion when selecting a holster from a vast variety presented on the market.
As you already know, there are six main types of carrying your firearm: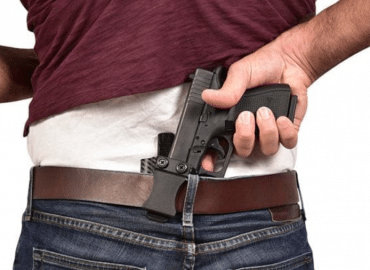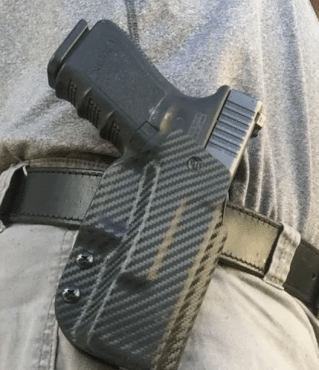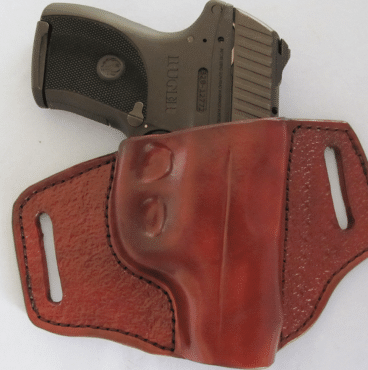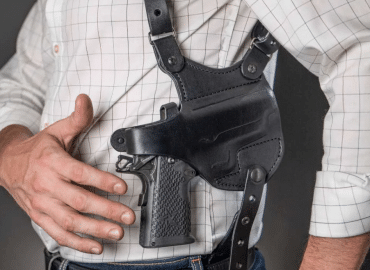 All these methods have their pros and cons; however, your comfort here is in the first place, so you can forget about all the cons but you will not be able to tolerate any inconvenience while carrying.
For instance, carrying a holster on your ankle is very conceal; however, when you try to grab your gun while standing from an ankle holster, it might not work that well. Here is another example: appendix carrying ensures that you will be able to take your gun out of a holster as quickly as possible but if you do not find a holster that you can adjust properly, it will constantly ram into your belly.
Only practice will help you to define which method works best for you: do not neglect to try all methods before choosing your best product.
Gun Type
The second essential point: without knowing what firearm you own exactly, you will not be able to select a proper holster.
Before you pay the money to this or that store and get a holster, ensure that it suits your gun; otherwise, your purchase will not make any sense.
Holster Material
Usually, holsters are made of leather, Kydex, or nylon. There are also some plastic and synthetic options that we consider decent. Besides, you can often see hidden hybrid holsters that are great for hidden carry.
All these materials are famous for their durability and quality. Some are sweat-resistant, so pay attention to this feature if it matters to you. Some (like leather) are soft and great to hold in your hand. We suggest you define in which circumstances you will carry your gun hidden and select your holster material based on your lifestyle.
For some cases, a good-quality hybrid holster will work much better than a single-material item. For one, IWB carrying presumes your belly will touch your holster all the time, so leather backing is a great idea; to make the holster's front more durable, we suggest having Kydex on the outer side.
Leather holsters usually have a fancy look and soft texture.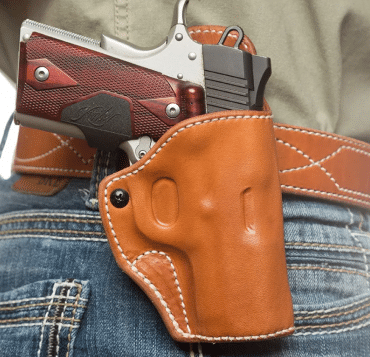 Kydex holsters have extra durability and cannot be broken with ease.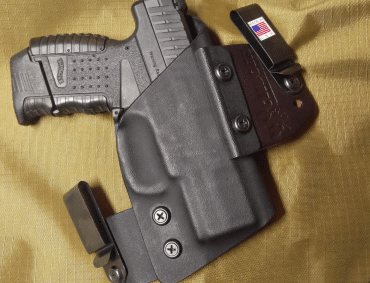 Regardless of the material used to produce your leather, Kydex, or hybrid holster, the holster's details should be enough to prevent an accidental discharge of your firearm.
Concealed Carry Holster Price
This is the case when a great-quality product cannot have a low cost. When you determine what holster you should buy, always remember that a good one will not cost you less than 30 US dollars; typically, the price varies from 30 to 70 dollars.
Holster Color
Last but not least, choosing the color of your holster is important, too. Because if you wear brown pants, having a black holster hanging on your belt will attract excess attention from people around. And you do not need it, right?
Holster purchase: the Last Reminder
So, we are finally at the end of our rating, and now you should be fully equipped with the knowledge needed to select a great holster for your firearm. The only thing we wanted to repeat before you purchase a holster and start carrying your gun around, even hidden, is the importance of safety.
Never forget that a gun is a weapon that can bring harm and even kill; what is more important is that it can be dangerous not only for an attacker you want to protect yourself from but for you, too.
Whether you have just bought your first gun or are an experienced firearm user, purchasing a great hidden carry holster that will fit your gun perfectly is mandatory. Otherwise, you will not feel comfortable while carrying a firearm, always think that somebody is seeing it, or have complications the moment you need to take it out and use it (which, we hope, will never happen). Having a good-quality holster is especially crucial for those who have a permanent risk of using a gun: for instance, policemen or people of similar occupation.
Remember to complete the appropriate training before using a gun and ensure that you have determined the carry method and other essential features correctly when you buy your first holster.
Frequently Asked Questions — FAQ
What is the most popular concealed carry position?
Probably the most popular position would be inside the waistband. This is simple to explain: with a decent holster, you will forget about carrying a gun quickly; still, you have quick access to your weapon any moment you need it.
What kind of holsters does the FBI use?
Typically, FBI employers, military, and law enforcement use waistband holsters: inside and outside ones. Putting a gun in those positions ensures fast access in the riskiest situations. Some might carry a backup gun which they place elsewhere: for example, on their ankles or in a belly band holster. Having a backup allows them to survive in the hardest shootings.
How to carry an appendix comfortably?
If you wish to use the appendix carrying method for your gun, you should select a holster that has the ability to perfectly adjust for your belly. The key is to set your holster the way it does not ram your belly and inner organs. If you manage to find such a holster and set it properly, it will be one of the best ways to carry your weapon.
Where to buy an urban carry holster?
Urban carry holsters for guns are available in numerous online and offline stores. We would definitely recommend visiting the well-known Amazon where you will get a thorough description of all items. If you know a certain holster brand you prefer, consider going directly to the brand's website.
Who makes the best leather holsters?
There are numerous brands that suggest to their clients top-quality leather holsters that are extremely durable and convenient to carry. Among the brands to select from, we would recommend Bravo Concealment, Alien Gear, Gould & Goodrich, Galco, NSR, and Crossbreed Holsters. Above, you can check out the rating we have prepared; there, you will find several products made of leather that we have tested and consider the greatest on the market.
Where can I buy a gun holster near me?
If you want to buy a holster in offline locations, we recommend you open any map on the internet and search for armor shops near you. Purchasing holsters offline ensures that you will not make a mistake and purchase a product that will not suit your gun.
What is better for concealed carry: IWB or OWB?
Because when you carry your gun and holster inside the waistband, consequently, IWB is more concealed. For the ultimate level of "concealment", we suggest you check a good-quality belly band holster that will be attached to your belly and hidden under your clothing.
What type of holster do I need for concealed carry?
There are many types of hidden carry, including carrying inside or outside your waistband, attached to your ankle, or hanging on your shoulder. You can choose any type for hidden carry; however, you should always check whether this or that holster is comfy enough for you to carry a firearm securely. Having a trigger guard in your holster is a smart move, too.