Introduction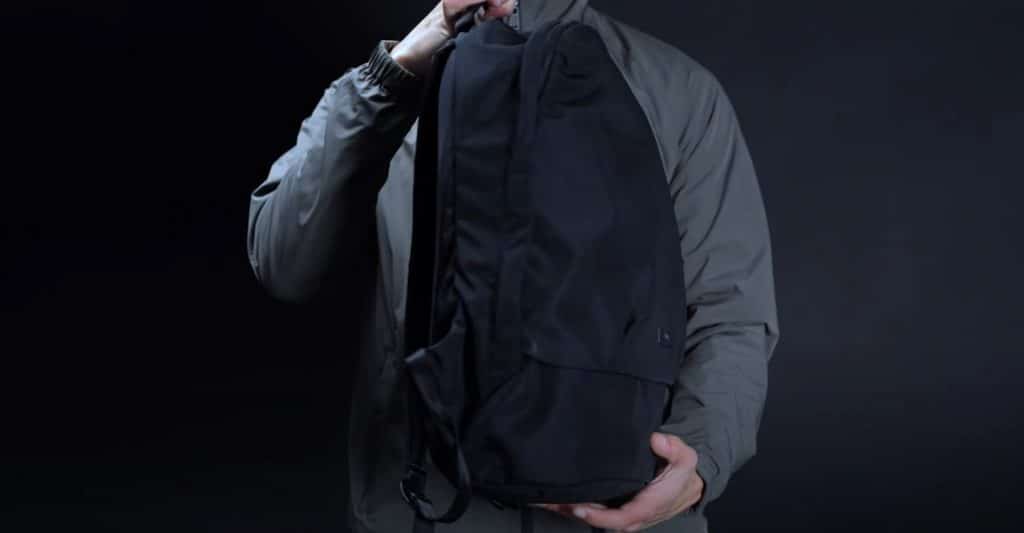 You never know what can happen to you tomorrow or in a month; sometimes circumstances force us to have a weapon at hand and always be ready to use it. Unfortunately, we can imagine a great number of situations where you would use one: from living in an extremely unpleasant area to getting lost in the woods full of dangerous animals ready to attack. Your safety is a priority, so maybe it is time to think about a good-quality concealed carry backpack and other survival gadgets to put in it.
Whether you are a smart prepper for unexpected situations or a person who simply cares about your safety, a CCW backpack (this acronym also refers to as "concealed carry a weapon") is a decent purchase of gear that will help you for a long time.
Top Best Concealed Carry Backpacks: Top 7 Products Today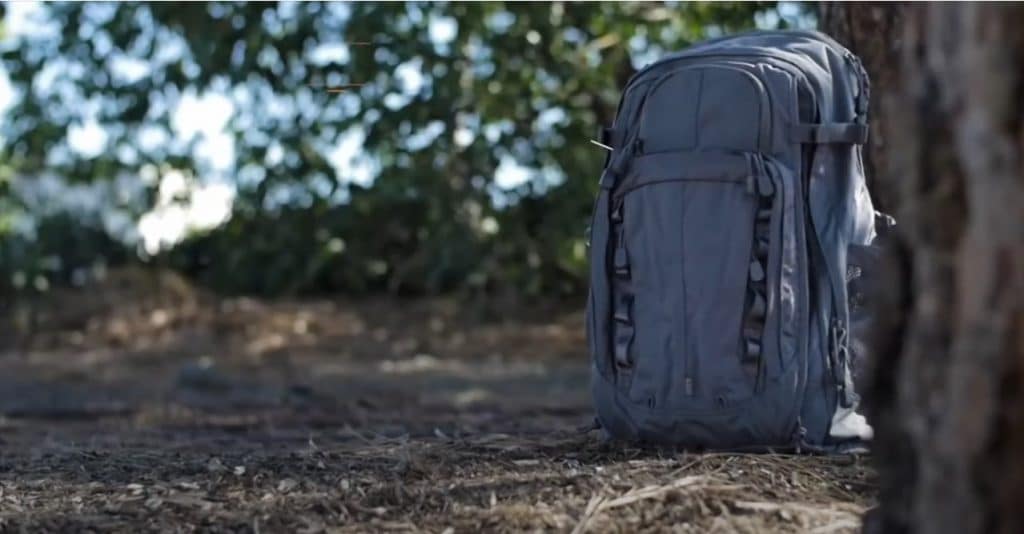 As we have told above, there is no ranking from the "best" to the "not-so-best"; we have just placed all the decent models in our rating with some description and pricing. We hope that you will enjoy our informative guide and find a product that fits you perfectly.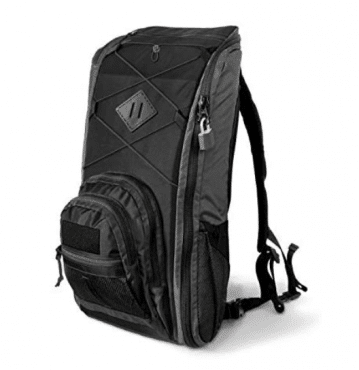 This backpack has a stylish design that has a vital function: distract other people from a thought that you may use this bag for concealed carry. It is available in either black or black and grey colors. You can easily carry your collapsible rifle or moderate firearm in this bag, and what's more: the backpack also has plenty of room for other items.
Besides the main compartment available in the Copper Basin bag, you will also get tons of pockets of different sizes inside and outside of the bag. This is an ideal option for both regular activities in the city and camping or survival situations in the woods because you will be able to carry everything you need in one bag and spread all the items conveniently. Padded shoulder straps and a back panel make this bag even more comfortable for the one who carries it.
What about materials?
The manufacturer has chosen this specific fabric (polyester) and color (black or black and grey) for a reason. When you practice concealed carry, the last thing you want is to be noticed by a stranger or seen with a rifle. A bag like this will ensure that nobody will suspect anything, and you will be left alone. The Copper Basin backpack looks like an ordinary backpack, and people will not think that you are carrying anything dangerous inside.
If you suddenly find yourself in a catastrophic situation where you are attacked by someone who is armed, the backpack offers you rapid access to its content, including your own gun: just pull the top flap, and you will get to your gun parts easily. As you know, quick access to your weapon in hazardous moments is the key to success, and this backpack ensures that you will be able to get this quick access.
Speaking about the price, today you can find this bag for 90 US dollars, on average.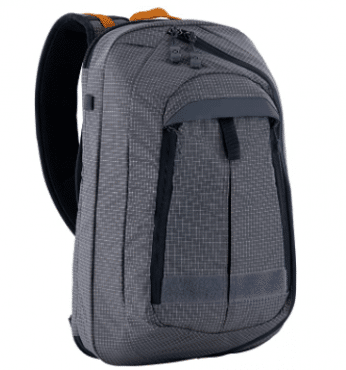 This is not the only Vertx backpack in our rating because this manufacturer specializes in producing bags for off-body carry and discreet actions. If you prefer sling bags, consider getting yourself this Vertx EDC Commuter sling pack with one shoulder strap.
According to the user reviews, this sling bag is especially loved by those who like visiting shooting ranges and shoot as an amateur or professional (for sports aims, for example). The reason is the following: the Vertx EDC Commuter sling pack is so roomy that it can fit not only your sizable firearm but also your "everyday carry" items. You can easily take your laptop with a screen of 15 inches alongside your gun, and the sling pack will still have some place and many convenient compartments and pockets for other important things.
One strap that this bag has allows you to move it from your back to your front easily and ensures comfortable off-body carry. This, in turn, gives you an opportunity for rapid and easy access to all the insides of your bag, including the gun. To get all the needed elements quickly, you can use a zip placed specifically in the bag's front. You can also use the MOLLE attachments hidden in the front.
The Vertx EDC sling bag is available in dark grey, almost black color. Currently, it will cost you around a hundred US dollars. You can also try checking Vertx Ready Pack that is not in our rating but looks alike.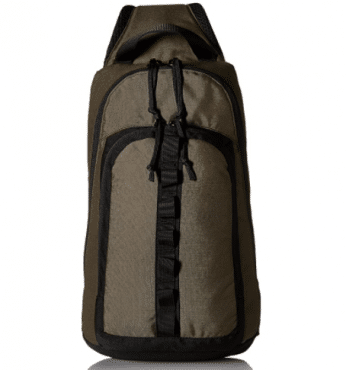 Like the previous pack of our rating, the Tactical Tailor backpack for concealed carry has just one shoulder strap and can be easily transferred from your back to the front. The American manufacturer, Tactical Tailor, has made the product from the ultra-solid Cordura fabric, which makes the bag even more durable and absolutely waterproof. Initially, Cordura inventors have created and produced it for the law enforcement and army's needs; through time, people have started to use the material for other purposes and super durable products, like this Tactical Tailor CC pack.
Although this bag is a bit smaller than the previous pack we have reviewed, still, it is a great product with enough room for various items, not only a gun itself. You can place your firearm in the main compartment or in a special velcro holster inside of the bag. There is even a concealed carry compartment, or a holster, to hold your gun tightly and safely inside the pack. If you are afraid that it's hard to get the gun, don't worry: quick access is guaranteed by a zip on the side, which is accurately tucked away.
Getting this backpack means that you receive an extra durable product that will serve you for at least a couple of years and get through the toughest conditions. However, the price for this bag is higher than for previous ones: you may purchase it for around 150 US dollars.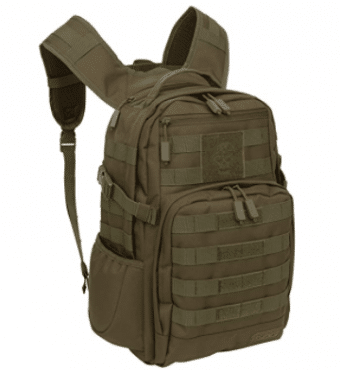 If you don't feel like spending a lot on your concealed carry backpack, consider buying this Ninja Daypack from the SOG brand. It has another great advantage along with the price: being a multipurpose bag that you can use not only for concealed carry but also for survival situations and emergency cases. You can easily go camping with this backpack and put plenty of useful items inside. Basically, we can add such a backpack to the "high-quality gear" category.
For the outside storage, you can use solid MOLLE webbing that helps to attach various items to your bag. Inside, you will find a huge main compartment with ample space alongside many pockets for the storage of different things and accessories, even fragile ones. Lastly, on the bag's front, you get one of the smartest pocket organizers ever to keep all your things in place; the water bottle pockets are attached to the bag's sides.
This concealed carry backpack has been made to make you feel comfortable: you can adjust shoulder straps the way you want; the back panel and shoulder straps' design and construction let your shoulders relax. Besides the adjustable sternum strap, the bag's back includes special materials that help your own back to feel nice as well during the whole trip you have planned or emergency case you are surviving in.
This bag is available in five different colors: beige (coyote), black, olive green, camo, and canyon camo. The price will attract you for sure: it depends on the color you choose and varies from 30 to 40 US dollars.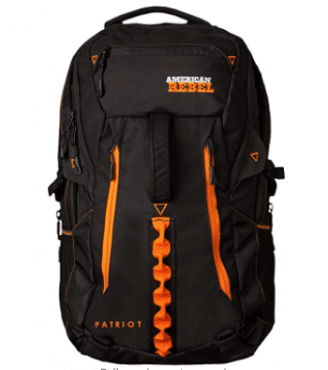 As you can see from the name, this tactical backpack from the American Rebel brand is a great option for daily life if you want to become a gray man. It has an impressive size and can fit all of the things you may need every day. The main compartment includes a padded laptop sleeve (or a tablet sleeve) where you can place a laptop with a screen of up to 17 inches. And still, if you put a huge laptop inside, you will have plenty of room to put other massive items you want to carry, even a backup gun.
Of course, you will find a discreet gun compartment inside the bag. Good-quality YKK zippers and rapid access pull tab will ensure quick access to all the insides of the pack. The product is made from a water-resistant material, so all of your stuff is well-protected from the nasty weather. If needed, you can easily use it as a multipurpose bugout bag that will help you survive because the carrying capacity is on the highest level. The rapid access pull tab makes it even smarter.
There are seven colors that you can choose from when buying the American Rebel pack. This is also a pricy bag because it costs around 180 US dollars. However, many users consider it extremely practical and say that this EDC backpack is worth its price.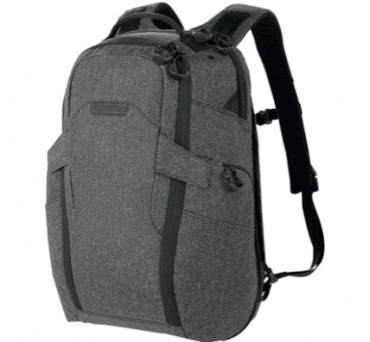 This is another example of a magnificent EDC bag from Maxpedition for a gray man, and still, it can be used in the army or law enforcement. As a previous pack, the Maxpedition Entity bag includes not only a concealed carry compartment but also a padded laptop sleeve that can fit a huge 17-inch laptop in the main compartment.
Those who have purchased this Maxpedition Entity bag especially note its convenience during emergency cases: you have easy access to all your stuff thanks to the dual access (from both right and left shoulder) and folding wings that include magnets so you can quickly close the bag. Shoulder straps are also padded, making the Maxpedition Entity pack even comfier to carry. Besides a concealed carry pocket and a roomy admin pocket inside the bag, you also get various pockets outside where you can place all accessories you need on the way.
The pack is made of 500D Kodra nylon fabric, which ensures that you will buy a waterproof backpack if you choose the Maxpedition Entity bag. The price might seem a bit high and now varies from 170 to 240 US dollars.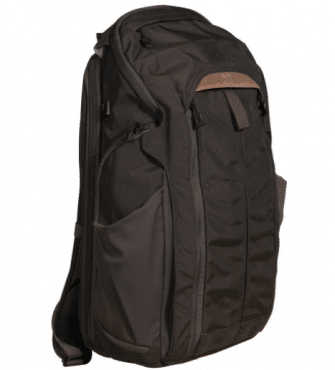 You already know that Vertx is a popular brand among those who need a concealed carry backpack or at least a concealed carry compartment in their bag. The EDC Gamut pack by Vertx looks like a compact concealed carry backpack; however, the insides of the bag hide a spacious main compartment with a laptop sleeve for no less than 15-inch screens, a CCW compartment for a gun of a full size, and other useful compartments and pockets, well-organized.
The bag's construction allows you to have quick access to your weapon without others noticing it. You can also open the bag through the front to easily get anything you need besides the firearm.
On the outside, you will find tons of useful pockets and small compartments where you can place some accessories that you can't leave at home. There is a sling attachment point used for adding even more gear.
Updated version
There is an updated (2.0) version of the Gamut bag with a price of 200 US dollars. We have already mentioned Vertx in the rating, and again, and remember that you may also check out the similar Vertx Ready Pack as another decent option of this brand.
That's it! We have shown you the top options that are currently available. Hopefully, now you can pick the best concealed carry backpack with ease. Remember to pay attention to all of the characteristics: from the color (whether you need camo or simple black) to the size, from the CCW compartment location and convenience to the number of additional pockets and features.
Contrary to the common delusion, most concealed carry backpacks are made not only for carrying your weapon around but also for leaving your house with all the necessary things you need day by day. So, don't hesitate to buy yourself a high-quality pack that will serve you for many years.
The current importance
Today, you can easily see that the market is full of various goods useful for different cases, and concealed carry backpacks are not an exception. There are CCW backpacks of various sizes and colors; they have different features and characteristics; they all fit different aims. We hope that our thorough guide will help you choose an awesome concealed carry backpack for a reasonable price.
We have prepared this "best concealed carry backpacks" guide because there are plenty of products available nowadays, and a user who is a newbie in the topic may get confused at a glance.
All CCW backpacks are designed for different activities and tasks, so ensure that you have determined what you are buying such a backpack for.
An Important Reminder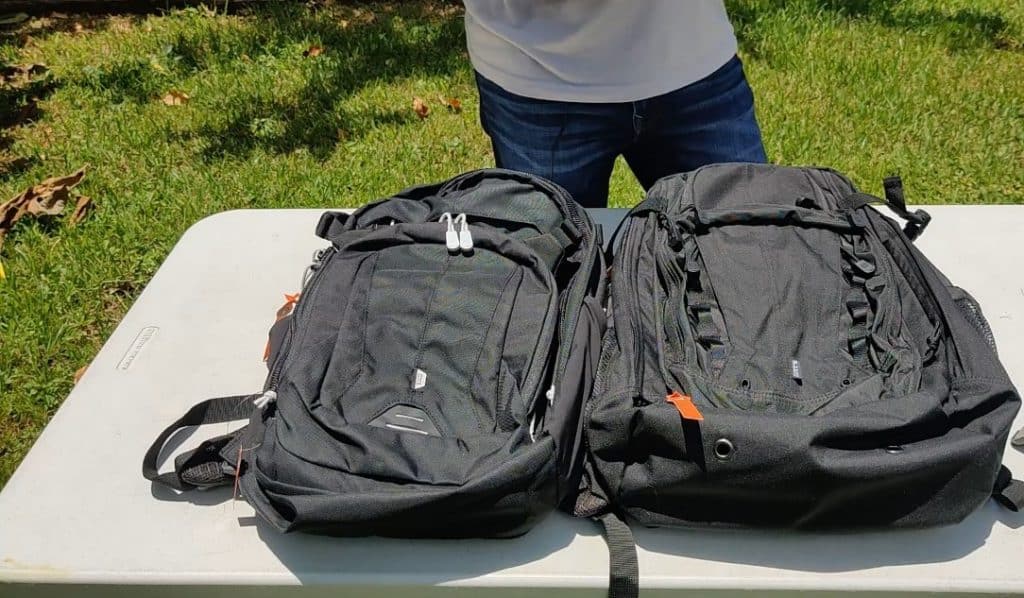 We will now review the most popular and notable models of concealed carry backpacks that are currently available. However, before we start, you have to know that every American state offers various laws and norms that regulate the CCW topic.
Before buying a backpack and a gun in your state of residence, and using both purchases, please make sure that you have read all the vital information you shall know. If some points are still unclear or you have any doubts regarding the topic, do not hesitate to ask for legal help and consultancy from professionals.
This will boost your skills and knowledge and save your nerves if something goes wrong (for instance, you meet a police officer on the way). Be careful and do not violate the laws of your state and country because justice and punishment will follow.
How to Pick a Good Concealed Carry Backpack?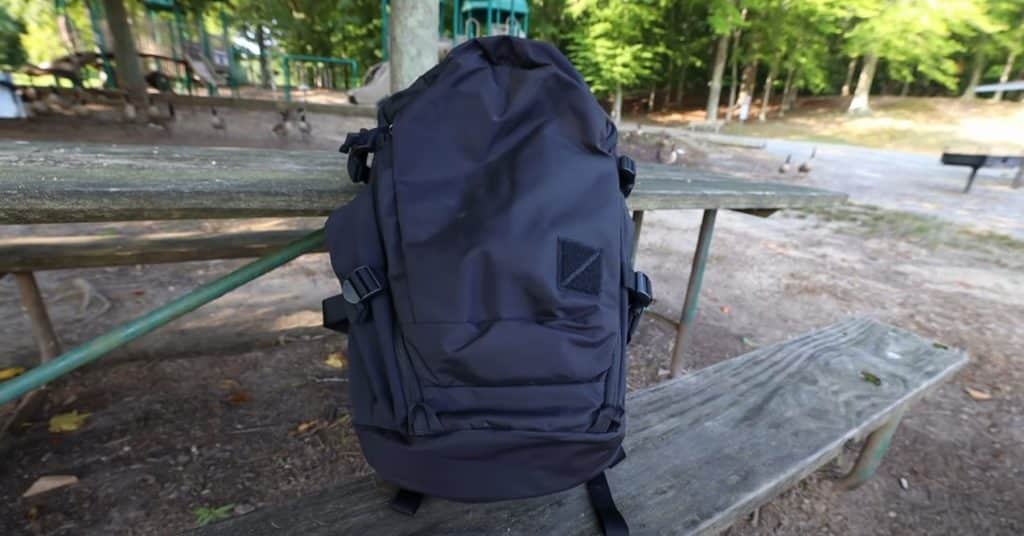 This is a usual question when you begin choosing a certain product, whether it is a CCW backpack or any other thing in the world. We all are different people, and all of us have different preferences, tastes, and tasks.
One person may opt for a large multifunctional backpack with a concealed carry compartment to move around in different places, while another buyer will select a CCW backpack to survive in the woods. This is why we want you to know three main criteria you can use when thinking and choosing.
So, when purchasing a concealed carry bag, remember to answer three simple questions that will help you define whether you have made the right choice or not:
If you are buying a concealed carry backpack, highly likely, you already have a gun that needs a room. So, you can take this gun and measure it. This measurement should be the basic knowledge about your future backpack because if the gun does not fit, the whole purchase will become a failure.
You may choose a moderate size of your bag or even a regular bag with a small CCW compartment if you have a compact gun. But for a full-sized firearm with many additional items, you will have to opt for something bigger. Moreover, it would be a smart move to pick a bag that does not attract other people's attention.
Also, remember that having a small concealed carry backpack sometimes may spoil your experience because you may need to put other stuff (for instance, in cases when you need to survive in the woods). Of course, you can additionally buy a bag designed specifically for surviving; however, sometimes, you may have no time or chance to do so.
Now, when you have figured out what size your backpack should have, it is time to proceed to the next question.
Of course, we are looking for a CWW backpack, so most likely, you need to carry a gun. But what about other things? You might need an "everyday carry" backpack for different items except your firearm. For one, if you use your bag in daily life, you might need a roomy main compartment for all the things you use every day: from a water bottle to a laptop or tablet.
You may need a backpack to travel or go camping; for such cases, pay attention to the backpacks that offer MOLLE webbing. This will help you attach vital items to the outside of your bag. The feature is handy when you travel for a long time and stay in the wild nature.
If you plan to walk outside a lot, remember that all your items should be well-protected from nasty weather conditions. Many bags can boast of being water-resistant, which is highly important if you carry a gun and any technical device and suddenly get into a massive thunderstorm.
All the features that we have listed above are beneficial, but you may not need all of them. Think thoroughly about the main things you need in your CCW backpack to avoid spending a lot of money. After you have thought through all the parameters and functions, you may need in your future concealed carry backpack, move to the following question.
How accessible should a gun be?
You may prefer a backpack that will give you rapid access to your firearm at any minute. This is typically ensured by a concealed carry pocket on the right or left side of your bag. The advantage of a sided CCW compartment is obvious: you do not have to take your bag off to find a gun inside and lose valuable time to defend yourself.
However, there are other options: for instance, plenty of concealed carry backpacks offer the main compartment inside your bag. It may seem unsafe, but on the other hand, a gun compartment inside such backpacks can be accessed rather easily and quickly.
Remember that the more gear you take with you, the more you need to think about your gun's accessibility, so it doesn't get lost inside your bag. Easy access can save your life, and you will be thankful for your backpack's convenient setting if you make a wise choice.
We have explained what main things you shall note when choosing your perfect CCW backpack. But it is not over yet! We have also prepared a list of the top options you can get today. Our rating is based on carriers' reviews and our own experience.
We offer you the rating, but we insist that you answer all the questions above and understand what needs you actually have before purchasing a bag. Hopefully, one of our 7 best concealed carry backpacks will fit you! There will be no "best" option because all of them suit different aims and needs.
So, just keep reading to understand what concealed carry bag may be perfect for you.
Frequently Asked Questions – FAQ
You still may have some questions. Try checking our answers below!
How can I get the best concealed carry backpack today?
This is a question that we have seen online many times. The answer is simple: we cannot call any pack "the best" because every person has their own needs and preferences. While one purchaser can afford a huge multipurpose bag that costs a fortune, another buyer might look for a moderate pack that is as cheap as possible. Your choice and your best pack depend only on what you are seeking when buying the bag.
What to consider when buying a CCW backpack?
Don't forget to answer the three questions we have added to the beginning of the text. You shall define what aims you have that a backpack can fulfill. Besides, reading our rating and users' reviews is a smart move because you may get a helpful piece of advice.
At least, remember to think of the perfect size, color, and price; determine the gun compartment and main compartment sizes and locations you prefer. Imagine how many additional pockets you may need and what additional features would be great. Pay attention to all the details and the pack's quality (like YKK zippers, back panel, quick-release buckles, carry handle, and other things).
How can I use my concealed carry backpack?
Many people think that a CCW pack can only be used in the army or by those who have weapons to carry or need a range bag. However, nowadays, more and more customers tend to buy a good-quality CCW pack because it turns out to be a convenient EDC backpack!
You don't get just a backpack for gun carry; you can put lots of things there and be sure that they will be safe because most such packs are water-resistant. The majority of such bags have a tablet sleeve or a laptop sleeve to carry your devices safely. Also, people use these packs when they travel or go camping; some users also say that you can take such a pack in an emergency case when you literally have to survive living in a tarp shelter in the wilderness.
Are there other options for concealed carry?
Yes. If you don't feel comfortable while carrying a backpack, consider purchasing a messenger bag. There are various messenger bag models on the market, but this is a whole different story.