Most people love summer, but there's one part of it that nobody likes — mosquitoes. These annoying creatures can ruin even the calmest, most pleasant walk in a forest or evening at a bonfire. Not only are their bites unpleasant and itchy, but even the sound they make is irritating. And if you live in a warmer region, this problem is even worse, since there they can carry malaria and other various dangerous illnesses. There are also many other nasty bugs such as ticks, that also carry life-threatening infections (for instance, encephalitis and Lyme disease) and biting flies, that are simply annoying. So, a spray against them is vital to take when you're going hiking, camping, or just visiting your friends' or family members' house somewhere in the countryside.

But how to choose a non-toxic and efficient bug spray without an unpleasant strong smell that wouldn't let you enjoy fresh air and flower scents? In today's article, we'll tell you all the necessary information about the highest quality insect repellents so that you could decide for yourself which one to choose. We've written only about the repellents with main active ingredients approved by organizations like EPA or CDC. One of them is DEET, a component that is estimated very highly by specialists for its great protective qualities. Other ones are IR-3535, essential oils, and picaridin.
Top 3 Bug Sprays for Campers and Survivalists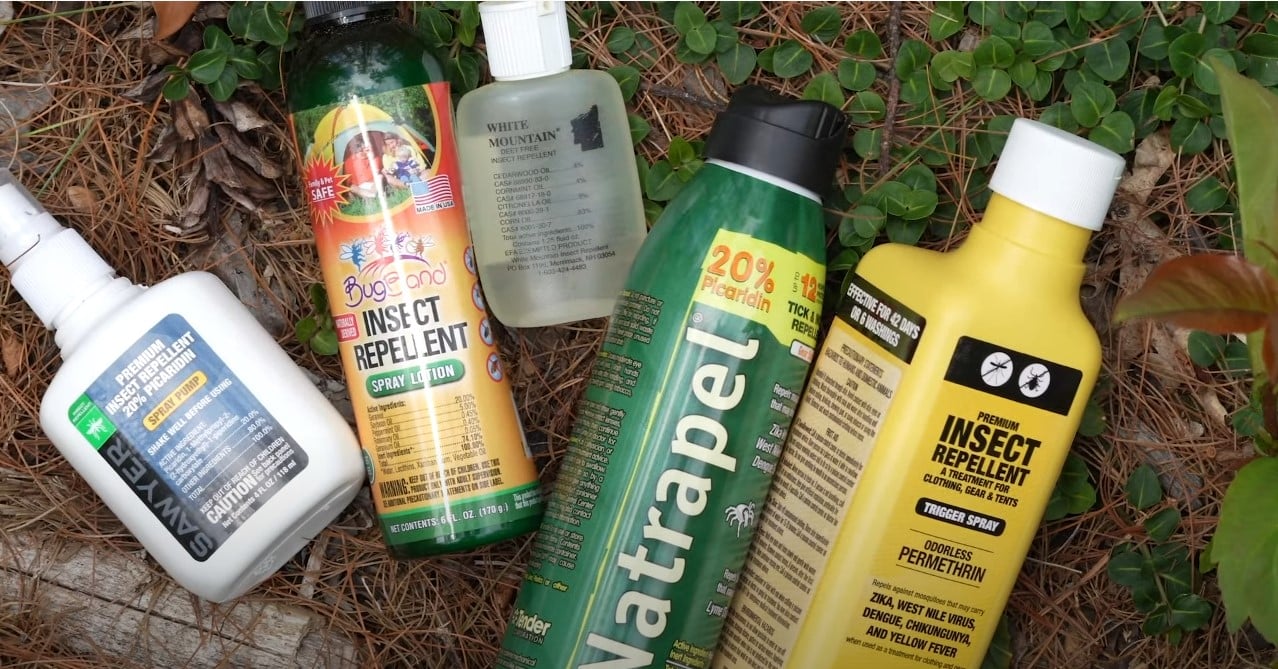 So, which repellents would we recommend to you? Which ones would we call the best bug sprays ever? Read further to learn!
Proven Insect Repellent Spray contains a high-percentage picaridin formula. We can surely say that it's the best bug spray among the whole bunch that we've reviewed.
Firstly, this bug spray is extremely simple to use. Its spraying button functions very quickly and effortlessly, and its bottle is compact, lightweight, and easy to carry. Additionally, the Proven Repellent neither has an awful smell nor causes any discomfort. But for insects, it's very uncomfortable. Picaridin, its active ingredient, is excellent at driving away mosquitoes and other annoying insects. And the percentage of picaridin in this spray is really high — 20%.
This bug repellent spray is ideal for people who often go hiking. Because of its compact size, it's also great for permanent carrying in your bag — it won't take up much place. You can even store it in your pocket. But The aerosol nozzle is small, but sprays very consistently, making a thick and even layer. So, you can cover your entire body with it in mere seconds. But since this is a pump spray, it should be held straight up when applied — we don't recommend you to hold it upside down, because the spraying can be more difficult in that case.
As we've already said, this pump spray almost doesn't have a scent, unlike some other bug sprays that stink so awfully it can make you cry. Also, it doesn't make any greasy spots and isn't felt on the skin at all — you can easily forget that you've applied it. But despite this, it's extremely effective and can provide adequate protection, so not a single mosquito will dare bite you.
The next bug spray is Coleman SkinSmart. It is marked as DEET-free, which means that it doesn't contain DEET at all. Instead, it has 30 percent of IR-3535, which is its active ingredient. Its aerosol sprays widely and strongly, which lets you apply it very fast. In addition to that, it gets fully dry incredibly quickly and doesn't leave any oily spots.
The bottle of Coleman DEET-free insect repellent is not the most compact, so it can't be called super portable. But it's extremely easy to spray — it lays down really evenly and without any gaps. It's an aerosol spray, not a pump spray, so it can be applied upside down — it doesn't have a tube dipped into the liquid. The bug repellent is pushed out by the aerosol, which speeds up the applying process incredibly. Although, we still do not advise spraying this way very frequently, since if you do it, there'll be a risk of the aerosol going out and the spray getting stuck in the bottle.
Another great advantage of this spray is that it, just like the previous one, is neither oily nor sticky. Its ingredients allow it to dry up nearly immediately after the application. But Coleman DEET free repellent has a huge downside — its strong odor. Of course, it's advertised as a spray without any smell, but we have to say that, unfortunately, it's wrong. It does have quite an unpleasant scent that can even provoke coughs in some people. Moreover, it doesn't disappear at once — its moisture stays on skin and clothes for some time after applying. Although not everybody feels it so strongly — some people say that for them, it's tolerable or even almost non-existent. So, it depends on you and your sensitivity to smells.
The bottle of this DEET-free bug repellent is rather unusual. It has a special locking switch that makes it much safer. As for the bottle size, it's medium, not very large but also not tiny. So, if you're looking for a super-compact bug spray, Coleman is not for you.
The third spray in our list is Cutter Backwoods, which contains 25% of DEET. Despite its effectiveness against mosquitoes, this active ingredient isn't a perfect "gold standard". Like all DEET-based products with higher concentrations of this component, this repellent has an unpleasant odor and leaves an oily residue. But we included this spray in our list because it lasts very long on the skin and clothes, and repels bugs quite effectively. And as for the smell and greasiness — it isn't much of a problem either, since it's way weaker than in other DEET sprays.
Bug sprays with a DEET formula are reasonably considered to be the best bug sprays — but only for those people for whom odor and greasiness aren't so important. Honestly, Cutter Backwoods is our favorite one among DEET repellents. Its spray is very thick, although sometimes it can feel cold and wet on the skin. Thanks to its big nozzle, the area of spraying is extremely wide. Along with the possibility to be applied from any position, including upside down, this lets you apply the spray incredibly quickly. Yes, it's not a pump spray either. You'll need only 10-15 seconds to cover yourself entirely with it.
As we've already said, this DEET-based bug spray isn't odorless; it has a typical chemical scent of insect repellent. But it's not very strong anyways. As with Coleman SkinSmart, some people may find it quite tolerable. As for greasiness, the situation is very much the same — it feels a bit greasy for some time, but it's not as terribly uncomfortable as many other sprays.
But the largest disadvantage of this insect repellent isn't the smell or the oily residue on the skin. It is its size. The Cutter Backwoods bug spray has a really big bottle, and it doesn't have multiple sizes. So, it's not convenient to put it into a bag for hiking, camping, or bugging out. But on the other hand, such a large size makes it sturdier and easier to use.
Other bug sprays worth mentioning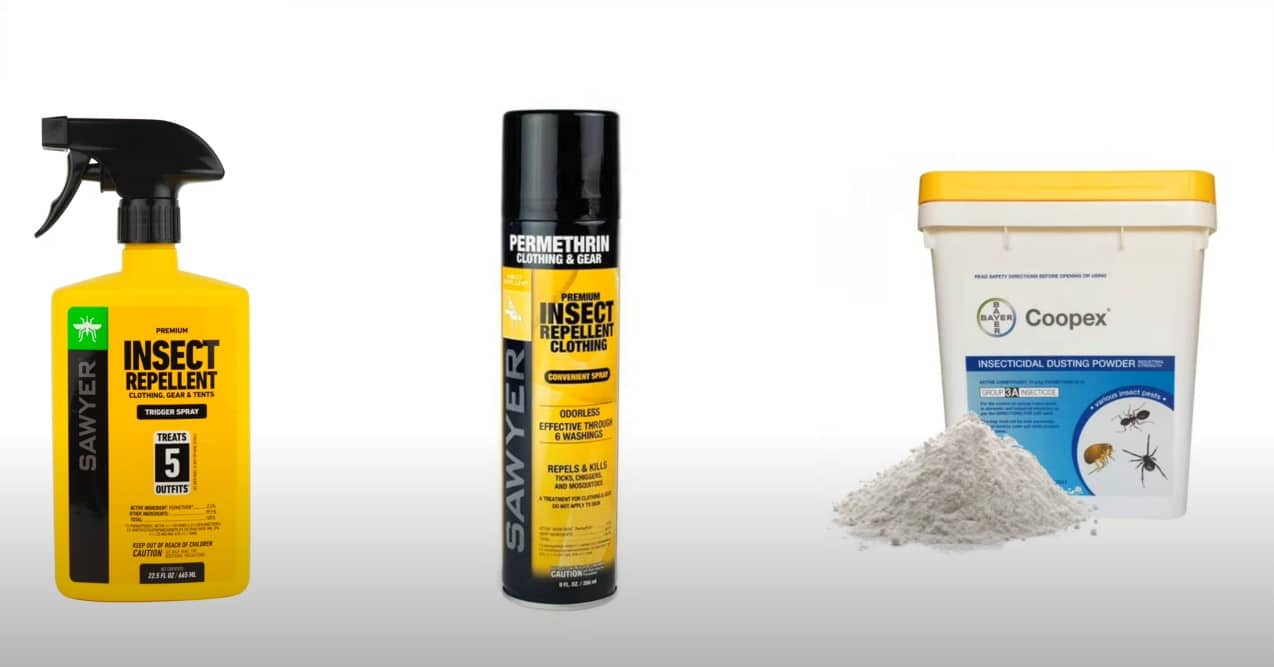 Of course, we didn't limit ourselves to those three bug sprays. We've reviewed many more repellents, about which we're going to tell you in the next part of the article.
This Sawyer repellent is a non-toxic, DEET-free spray with picaridin. It is efficient against lots of different bugs, has a long protection time, and doesn't contain any oil. But for the maximum effect, it needs to be combined with other Sawyer products, such as Permethrin repellent.
Thus bug spray doesn't have a very wide and even coverage area, and its bottle is a bit uncomfortable to hold because of its tiny size. On the other hand, it doesn't have a very awful scent, dries fast when sprayed, and has a special double lock that prevents leaking.
The name of this repellent speaks for itself — it has 98-100% of DEET. This means that it has all the advantages and disadvantages of this component in the concentrated form. It's incredibly effective against many kinds of bugs, but also has a very strong odor and leaves thick greasy residue.
This insect repellent spray is good but, unfortunately, its bottle is not very durable. Its cap can easily fall off, and if you use it too heavily, the spray can simply get stuck in the bottle without any possibility to get out. But if you treat the can with care and spray it in a very delicate manner (and always straight up, never spray upside down), the OFF Deep Woods repellent can be a great choice because of its high effectiveness.
A good, but not perfect aerosol spray. It has a large spraying range, dries up on the skin very quickly, and doesn't have an unpleasant scent. But it isn't equipped with any lock or cap at all and lacks compactness. The bottle is really big, and it doesn't have other sizes. But those drawbacks are relatively small, so this picaridin aerosol is still a good choice.
Since this bug spray has a very small bottle and a pump, it can be very difficult to use. In addition to that, its layer is often quite uneven. Sometimes, it even doesn't spray at all — instead, it simply lets out a small jet. But its size is also an advantage — it's very compact and can be easily put into a bag or even a pocket, and won't take up much space.
This bug spray is really, really smelly. Its scent is very nasty and can remind of some chemicals. Also, it feels very uncomfortable on the skin — its layer is wet, dense, and gives you a compulsive desire to run to the nearest shower.
This insect repellent spray has a very strong smell, to which different people react very differently. Some of them like it since it has pleasant herbal undertones, and others can't stand it because it's too thick and can cause coughing. Even if you're in the first category, we advise you not to spray it indoors. Also, it leaves an oily residue on the skin and dries up quite slowly.
This DEET-free bug repellent also has quite a strong scent. Many people consider it really pleasant, but if you prefer odorless repellents, it won't be suitable for you. The pump is not very comfortable: sometimes it refuses to work at all, especially if it's turned upside down, and the nozzle is too tiny — a finger can easily slip off from it. Also, the nozzle is quite drippy and leaky, and in addition to that, this repellent is extremely greasy.
How to select a bug spray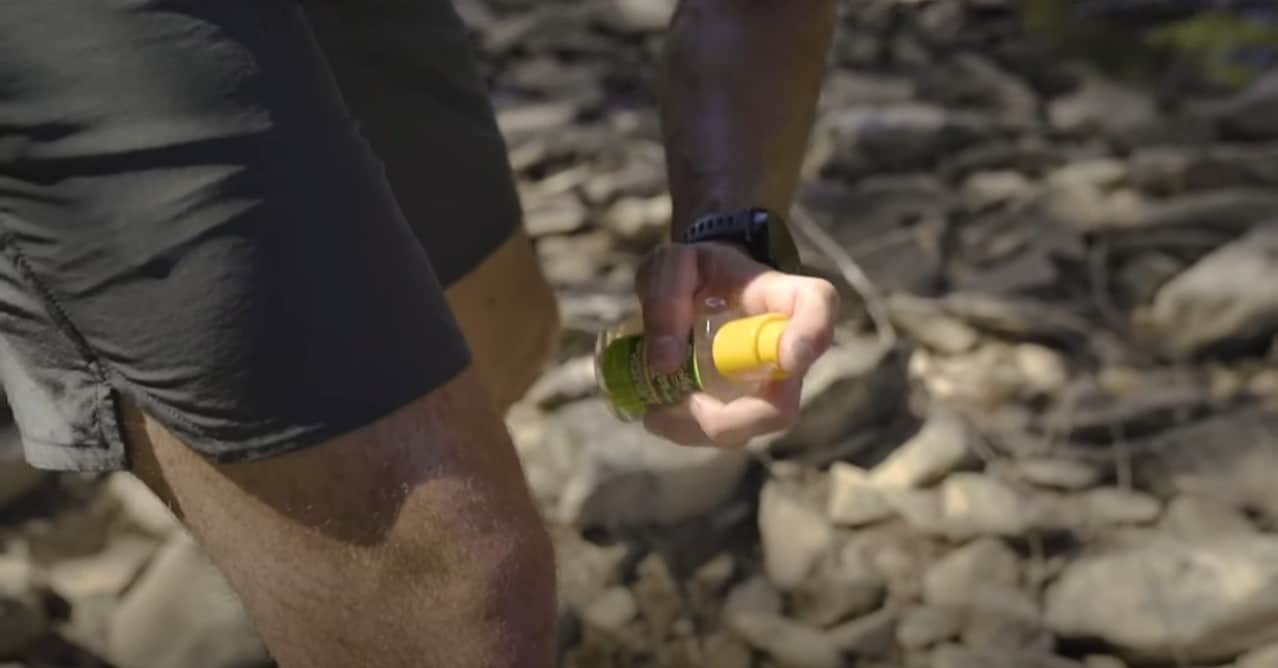 Bug sprays can be used against any insects that feed on human blood, such as ticks and mosquitoes. Also, they can keep away deerflies and horseflies, but they're less effective against them. And as for insects that sting — for example, wasps, hornets, or bees — unfortunately, such sprays are completely useless against them. To kill or at least repel them, a much stronger insecticide is needed — but it can be more toxic to humans, too.
Insect repellents aren't only sprayed. They come in lots of different shapes and sizes — wipes, foams, lotions, sticks, and so on. To find a good insect repellent, you'll need to pay attention to the following factors:
First of all, according to disease control specialists, you should pick a repellent with proven active ingredients in their formula. You can see those ingredients at the beginning of this article. For example, they are DEET and herbal chemicals, such as lemon eucalyptus oil or other essential oils. Read labels very attentively, especially if you have small children. Don't use lemon eucalyptus oil on kids younger than three years or DEET, if your child's age is less than two months. These active ingredients can harm them.
Secondly, the insect repellent's period of protection should be at least one hour. Sprays that contain DEET usually function for approximately an hour and a half. Also, remember that this period is greatly influenced by what you're doing during this time. The more active you are, the shorter it will be. If you're doing some kind of sport and sweat a lot, the protection time is going to be reduced greatly, and if you're relaxing, it'll last the full supposed amount of time.
To avoid skin irritation, choose a bug spray with a lower concentration of chemicals such as DEET. This advice is especially important for those who have sensitive skin. In addition to that, never spray a repellent directly on your face — apply it on your hands first, and then put it on the face using them.
Don't let your kids spray themselves with any insect repellent. Also, avoid spraying it on their hands, since they can scratch their nose, or eyes, or put their hands into their mouth. Avoid at all costs any contact with your children's eyes, nose, or mouth with the repellent.
According to scientific studies, bug sprays based on plant components such as the oil of lemon eucalyptus last much shorter than others. They function only for twenty minutes after the application, so they need to be resprayed much more frequently.
Bug sprays need to be applied differently when you use them against flying insects and ticks. In case you want to protect yourself from tick bites, wear clothes with long sleeves, put your socks and shoes over your pants and spray the repellent over your socks and shoes.
Always pay attention to the labels and look if the spray repels the kind of insects that you'd like to be repelled. For example, if you want to protect yourself against mosquitoes — look for an anti-mosquito spray.
Don't buy any insect repellents that contain sunscreen. These products should never be mixed since their chemical reaction minimizes the efficiency of them both.
Frequently Asked Questions — FAQ
Is OFF bug spray waterproof?
It depends on the spray. There are many bug repellents in this company's assortment. Some of them have protection from water, and some are not. Among the waterproof ones, we can name, for example, OFF Active Sweat Resistant.
What does OFF spray do?
It's very simple — an OFF spray, just like other bug sprays, repels mosquitoes, gnats, flies, ticks, and other insects. It contains chemicals that are poisonous or simply unpleasant for those insects. Which exactly insects will it repel — it depends on each spray and its ingredients.
What is non-aerosol insect repellent?
A non-aerosol insect repellent is a so-called pump spray. It's a bug spray in a liquid form, with a tube inside it. Such a variation has a disadvantage — it's usually quite hard or even impossible to apply a pump spray upside down because the end of the tube needs to be submerged. Nevertheless, these sprays are also very widespread.
Where to buy mosquito spray?
First of all, mosquito sprays are sold in all large supermarkets — both online and offline. For example, you can buy them at an Amazon or Walmart store. Secondly, they can be bought on the official sites of their producing companies. Thirdly, you can buy them at specialized shops for hikers, campers and so on.
Does Muskol repel ticks?
Yes, there is a Muskol ticks repellent with 30% of DEET, which can protect you from ticks very effectively. Thanks to the high content of DEET, it's also efficient against mosquitoes. In addition to this product, there are also many others which are great at repelling ticks.
WHO insect repellent recommendations
First of all, who recommends you to use a repellent spray with one or more of the following components: DEET, picaridin, IR-3535, oil of lemon eucalyptus, para-menthane-diol, and 2-undecanone. These bug repellents are non-toxic and safe for everyone. They won't even harm pregnant women. Then, look for the general safety information. Strictly follow all the instructions and precautions that you'll see on the spray bottle. Never apply any repellent on the skin areas that you're going to cover with clothing. Also, avoid spraying it on wounds, scratches and cuts. And of course, don't spray it directly on the face and hands of your kids.
How much insect repellent for 1 week?
The average recommended amount of repellent per person needed for one week is 60 ml. But, of course, everything depends on many factors — for example, the person's height, size and the intensity of spraying.
Is mosquito repellent effective?
It depends on the repellent itself. Some sprays provide incredibly efficient protection against mosquitoes, ticks, and other insects, while others don't. You just need to know which ones to buy. To learn about the effectiveness of a spray and find the best bug repellent, we recommend you to read customers' reviews and, of course, articles like the one you've just read. The most effective components are DEET, picaridin, oil of lemon eucalyptus, and IR-3535.