Top 10 Best Bowie knifes on the market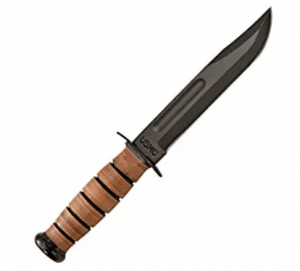 The Ka-Bar is one of the most well-known knives of the 20th century and enters the list of the best Bowie knives.
Designed specifically during WW2, the high-carbon vanadium steeled Ka-Bar has a wide range of applications. It has a classic Bowie-shape 7 inches long blade, which is good for close combat.
The leather sheath and a disk handle provide extreme durability to this legendary Bowie-knife.
Though, as with many things, it has its advantages, such as an amazing steel alloy that provides extreme durability and American production. This knife, unfortunately, does not feature a full tang, and a protective leather sheath is produced in Mexico.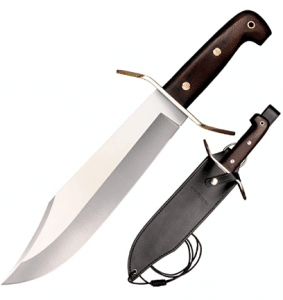 If you are looking for a 16 inches long tactical Bowie knife with a carbon steel blade, then the Cold Steel Wild West Bowie is going to fir your requirements for a full capacity. Some reviews mentioned that you have to sharpen the knife first at the time it comes from the manufacturer. This Bowie knife pack also includes a leather sheath.
This knife is an absolute classic with a heavy blade and amazing design. Though, you should be ready to sharpen this quite costly knife. One more drawback is that due to its weight it is not really suitable for knife fights.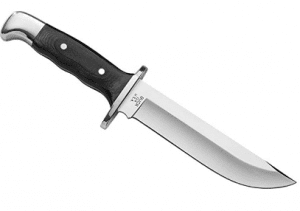 Many people are familiar with the Buck knives since their childhood. It is most probably the first knife everybody learns how to sharpen.
This Bowie knife features some traits of a Buck knife. Moreover, it is a full tang meaning it is good for all types of purposes. It is not too long, so the balance of this knife is good. A solid grip is provided by the Micarta scales on the handle, which adds value to this knife for such purposes as killing animals and skinning them afterward.
The main benefits of such a knife are its warranty that never expires as well as its well-done design. Though it is rather small for chopping firewood and it will cost you an arm and a leg.


SOG is a well-established company with a long history of producing amazing tactical knives for the mass market and this, for sure, comes at a fair price. The SOG super Bowie is an absolute classic with a lifetime warranty. The materials used for the knife's blade are of premium quality: the titanium nitride coating has an incredible duration and also serves as an anti-corrosion protection. To ensure better gripping, there is also a leather disc handle. Jim Bowie would be glad to have one of these for himself.
Even though the brands' knife will for sure last forever for its extremely high price, it has a mediocre sheath.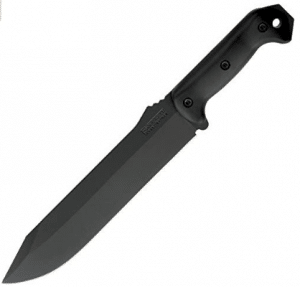 One of the best hunting knives is the Ka-Bar Becker camp knife.
Here is a great choice of materials for the blade steel – the 1095 carbon steel resistive to corrosion. It means that the blade will last longer, and you will not need to apply a lot of power to sharpen it. The composite material (Grivory) used for the handle provides an excellent grip. For some, it might not be that well-textured that it reflects on gripping. Here, the only user experience might help.
Chopping firewood with this knife is simple and easy due to its 9 inches length.
The biggest drawback of this model is its popularity, which leads to an enormous amount of forgery. So buyer beware. Though, knife collectors should definitely test in use or get one as a gift.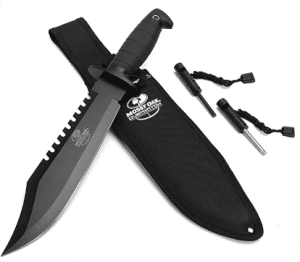 Usually, when people talk about knives, they expect them to be pricy to be good. But Mossy Oak Bowie proves this concept wrong: the knife's cheapness does not impact its performance. Some people name this knife a camp knife since it comes with a sawtooth back that is helpful for some chores.
A 10 inches long stainless steel blade is both good and bad. It will not rust, but it is hard to sharpen. Some buyers mentioned that it has a rat tail tang when in the description it says "full tang."
But if you want to work under wet conditions, this knife has the perfect handle for it. It is not a leather handle but a rubberized one, so it does not absorb any water.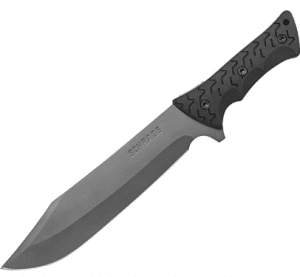 In the world of blacksmith companies, Schrade knife is one of the knife brands that provide some Bowie-shaped knives for a reasonable price. If you need a large blade with a good balance, then the Schrade Leroy Bowie is a perfect option for it.
Even though the factory grind is uneven, the alloy used for the blade is of high quality. But better sharpen the knife before the first usage. Since it is stainless steel, it might be hard to do, but in the end, you still get a high-quality knife for an affordable price.
The handle is rubberized that makes a perfect grip, and comes in darkened color. Hunters would appreciate this knife in use.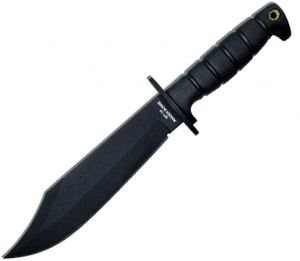 The Ontario knife ticks all the high-quality boxes for a big tactical knife: it has a full tang construction and uses 1095 carbon steel for the blade. Even with these two features, you are all set for survival and fighting.
The Ontario Spec is a 15 inches long knife with a Kraton handle and a leather sheath. Quite a choice of accessories! If you need something as a gift, this knife will serve its purpose for value.
Some reviews state that sometimes this Bowie knife comes with some uneven grinds from the factory, but this type of steel is easy to maintain. Overall, for this price, it is hard to find something better.
Cold Steel is a company that produces such knives as bushcraft knives, hunting knives, and many others. Their 1917 Frontier Bowie is extremely well-balanced and has a protective S-shaped finger guard. The slim hardwood handle allows you to use this knife with no fear that it is going to rotate in any possible direction. The agility of this knife surely places it among the best knives there is.
But unfortunately, the buyer has to be very attentive since there a lot of forged knives on the American market.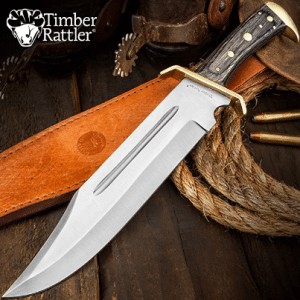 The Outlaw Bowie is as classic as Jim Bowie could have only imagined: hardwood handle and a full tang design are responsible for its durability. No cutting fingers with an 11 inches long blade due to a brass finger guard. The only disadvantage of this Bowie knife reveals itself in close combat — it is simply too heavy, nearly 3 lbs. Though, on the bright side, you can easily chop some wood with it. And it also comes at quite a reasonable price.
If you are looking for a new Bowie knife, an iconic knife with a fixed blade from Arkansas, you're in the right place. A Bowie knife is especially good as a hunting knife. Consider the price and pick a knife with a leather sheath or without. Read our article about these knives before heading to a bushcraft shop or an online auction to get one.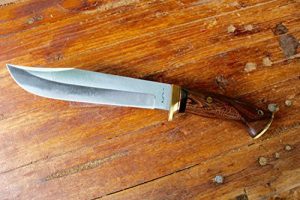 When it comes to survival, anything you find on your way or have in your pockets may come in handy. But if you already have it in your survival gear, it makes it easier to go through the harsh times!
In this article, I will give an overview of the ideal survival knife or a Bowie Knife that has great popularity on American soil. Well, I'm sure you will agree with me that having a good knife somewhere in the woods is definitely a good idea. You may know nothing about blade knives' brands. With this overview of reviews, you will know what American customers choose, starting with quality parameters and accessories, such as sheath and handle.
I will also share tips on how to choose the best Bowie knife and not fall into the trap of buying a forged or plastic knife that will break in a few cuts. And I will give some market options, as well, in the review section.
What is a Bowie Knife?
Chances are none of you started to scratch the head wondering what a bowie knife is since it is actually being used widely in film production. Such top-rated movies as Rambo and Crocodile Dundee featured the Bowie knife in the scenes of helping them get food, make other survival tools, or even defeat their enemies.
Bowie: the Basics
A Bowie knife is a fighting knife somewhere in between a survival machete and an EDC knife with an overall 18 inches length. The blade is about 5-12 inches long with a specific clip-point profile different from a karambit fighting knife, as you could have imagined. The blade is wide at the handle and gets narrower to the swept tip.
There are three types of blades: a full-tang, partial tang, and rat-tail tang. I highly recommend avoiding the last type of blade since they are highly likely to bend and fail while in use.
If you are aiming for a durable and worth the spent money knife, then I recommend opting for a full tang knife. They might cost a fortune, but there are going to be no regrets after the purchase. They will serve you ages for the price you pay.
In general, the Bowie knife comes in different sizes with a leather handle and sheath. Though some of them may lack such accessories, the quality stays the same.
Bowie Combat Features
A Bowie knife has the best blade shape for fighting knives, enabling you to slash and stab depending on how you hold it. Sometimes in fights, you might not be very cautious and miss the hit, then a blade guard feature comes into play and saves your knuckles from being crashed down. The same goes for deflecting an opponent's hit.
There is also a tiny but handy detail at the very base of the blade called a notch. This small feature prevents the blade from snapping and may catch an opponent's blade in a fight. Some survivalists even prefer a Bowie knife for cutting and repairing rope over the other knives available.
Bowie Knife: Origins
Well, no, the name for a Bowie Knife does not come from David Bowie, though it would have been cool. But in real life, the name comes from an American frontiersman, Jim Bowie, whom you might know due to Alamo.
You have probably heard of the "Sandbar Fight" knife duel way down in Mississippi. No one can be sure of what type of knife was used in this early 1800s fight since various versions exist. One thing is sure that later Bowie changed the design a bit with the help of blacksmith James Black in 1830 during his trip to Arkansas. The blade, though, served him hand and foot until his death at the Alamo.
Russell Johnson, a famous Arkansas historian, gave a review of ideal Bowie knife features as a Bowie knife is a fixed blade knife that can be used as a sword, a razor, a paddle, and a hatchet, all in one.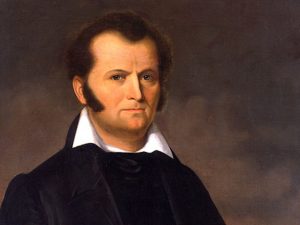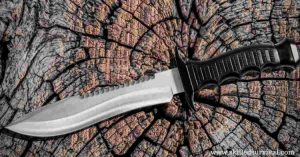 Why you should get a Bowie Knife
If you still might have some doubts about the Bowie knife, I must mention that even designers of the US military weapons were inspired by this knife's style.
Military Operations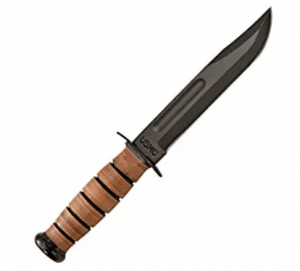 The US military gives the Ka-Bar USMC Fighting Knife not only to Army and Navy but also to flight crews. Such knives are equipped with an additional sawtooth design in the top edge of the blade that serves its mission if the aircraft goes down.
Sure, this fighting knife serves not only for combat but can provide you with food.
Hunting and Skinning Techniques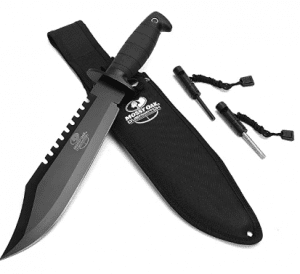 Bowie knife also works amazing for hunting purposes. With its long blade, it makes it perfect for skinning animals, while it's part closer to the edge of the blade works well if you want to slice, carve, and slash meat.
If you are into the deliciousness of the bone marrow, the Bowie Knife can easily cut the bones into pieces.
Survival Skills
If you think that combat and hunting techniques are the only features the Bowie Knife provides, I am here to introduce you to survival techniques like chopping wood or hammering.
If you need to cut some wood or get a pole for a survival shelter, then a Bowie knife with a saw blade back is a great option.
Bowie Knife Throwing
The vast majority of people, when talking about knives, imagine them being thrown into the tree trunk above someone else's head. Unfortunately, the Bowie knife does not really fit this purpose. No matter what you have seen in Crocodile Dundee.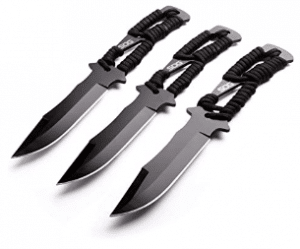 There is quite a reasonable explanation for that – the Bowie knife is an unbalanced knife. Its long blade outweighs the handle. This makes difficult enough already task of throwing knives even harder, so hard that it seems almost impossible to do with the Bowie knife. But as with many other survival skills, practice makes perfect.
For sure, you might have seen Bowie-like knives that are suitable for throwing. The thing is, they have a bit different design in comparison to the original Bowie knife. They are smaller and with a wider tip.
I do not recommend throwing knives in a fight since, in this case, you are left unarmed, and your opponent has a great advantage over you. Unless you can run very fast to get your knife back. Though, overall, the Bowie knife is one of the best survival knives you can find with its application in such fields as hunting, making shelters, and self-defense.
Tips on Using a Bowie Knife
First, let's cover some grips and moves for combat fighting. Practically any small detail such as the right handle grip can improve your combat performance in no time and get you victory on a silver plate. Luckily, there are plenty of videos that teach you the right techniques in slow-motion footage. The latter one is constructive since you can see how it really works and just copy the movements. What's more important than all the movements are introduced with a Bowie practice knife. Such knives are bigger in size what makes it easier to get every detail.
There are for sure some gripping techniques for survival purposes. If you aim to chop some firewood, swinging the blade in a downward motion is one of the best movements. Though, the Bowie knife suits less for this purpose as a hatchet or a survival ax.
Key Features of a Bowie Knife
As with many other things in life, to get a proper Bowie knife that is going to serve you forever, you have to pay attention to a few major features that will determine the knife's performance and durability.
High-Quality Blade Steel
The knife blade is usually made of high-quality metal alloys. The two most important things about used for steel metals are:
they have to be mild enough to be sharpened to a fine edge
you have to be able to hold that edge in use.
Unfortunately, with most of the steels, it is hard to tick these two requirements at the same time. Too strong steels are hard to sharpen, while with other types of steel, it is impossible to hold them up.
That is why a lot of manufacturers use high carbon steel for Bowie knives' steel since only this way it is possible to achieve a good sharpness to durability ratio.
Carbon steel also has several grades of quality. For example, here, you can read the review on what steel is tougher A2 or 1095.
Many of you might have already wondered: why is not he talking about stainless steel? At least it will not rust! And corrosion resistance is an essential feature of any knife.
Well, if you use a stainless steel blade and it gets spoiled, then there is almost no way you can get the blade shape back to normal. That is why I do not recommend choosing stainless steel knives.
Blade Styles

There is basically no difference from one Bowie knife to another. They all have long blades that are best for slicing and carving. Though, you may find some alternative designs with a conclave that suits best for chopping firewood.
For the blade styles, I recommend buying yourself a very durable full-tang design. Though, if the blade style is not full tang, but it falls under other quality categories, you still can have a go at it.
Nevertheless, there is one design I advise you to avoid. It is a very fragile rat tail design not suitable for such force-requiring tasks as chopping, hammering, or self-defense. You can look up what this design looks like here.
Handle Design
The handle for a bowie knife should not be massive, but it has to be big enough to ensure a solid grip. This way, you will not harm yourself, people around you, and you will be able to perform such tasks as swinging and chopping.
There also has to be a blade guard preventing unnecessary and unpredictable traumas.
Bowie Knife Size
The size range for a Bowie knife varies somewhere between 4-18″ long. The comfortable length range for most people is between 7-9 inches. It is good for both chopping and whacking the firewood, gives advances in combat. A knife of such size is also easy to fit into your survival backpack or bug out bag.
All the quality features are mentioned above, now is the time to look for the best Bowie knives on the market.
Sharpening techniques
Any survival skill requires practice. Sharpening a knife as well. You should get a smooth stroke and be able to control the edge thickness. Luckily, now you can get tips and slow-motion guidelines online. An old rusty knife that has been hidden in the barn is a nice starting point for mastering this true art of sharpening a knife.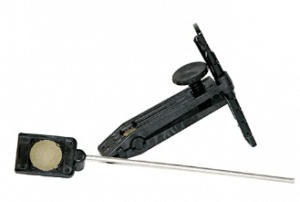 You can either get a sharpening stone or a honing guide. It may be hard for a newbie to get a necessary grind angle with a sharpening knife, though, so I recommend starting with this knife sharpening kit.
DIY Bowie knife
Some of you may be aspired to become the next blacksmith. But if you are not. Knowing what makes a knife a good knife is a skill that is going to help you choose the right knife for you.
Learning about knife styles, steel types, blades, and other details… Checking up the history of how the blades and knives' styles transformed through time can trigger your creativity.
You can start with a DIY kit or search through some videos online. This tutorial review is a treasure since it shows you the entire process of how to forge the blade.
Best Bowie knifes Summary
In this review, I have covered the basic features any Bowie knife should have, as well as covered some history on the topic. As you can see, the Bowie Knife has great advantages as many survival tools and has had popularity in American culture since the 19th century, not for nothing. In the world of blade knives, it has received wide appreciation and value for its style, versatility in use, and accessories.
Do you need a knife for survival? Or you have a fight coming up soon? Or you need to practice self-defense outdoor? Or is there nothing to chop the firewood with? The Bowie Knife is an excellent choice for all these matters, which makes it one of the best utility multi-tools.
Frequently Asked Questions – FAQ
Why are Bowie knives illegal?
Most of the time, knives are considered "deadly weapons" and often associated with gangs and mobs. But it is not against the law to carry the fixed blade unless you conceal this weapon.
What is a Bowie knife good for?
With its blade length, a Bowie Knife, as a fixed blade, is an excellent choice for any camp chores, close combat, and getting food in the wild. You can also give some of your American friends this product as a gift. Such a present will not lack any eccentricity.
Are Bowie knives legal in Australia?
If this Bowie knife is considered a fixed blade knife, then you do not break the law when carrying one on you.
Where are Bowie knives illegal?
Overall, you can carry a Bowie knife on you. The only requirement posed by many states, except Mississipi, that it should not be concealed, and that is not a real challenge for a sheath knife.