In this article, we will be taking a closer look at belly band holsters for concealed carry — tools that suggest you many benefits today.
Introduction
Keeping a firearm in the pocket has never been a great idea, that is why people started to think of possible solutions for the problem. Keeping a bag with a gun and the kit somewhere on the body appeared to be uncomfortable, that is why a smarter approach came into force. A newly developed belly band holster has become a widespread option that works perfectly in multiple carry positions regardless of body type.
This article, thus, will be devoted to the best belly band holsters that are now used not only for the purpose of concealed carry of firearms but to simply improve the convenience of everyday life.
Top Best Belly Band Holsters Available On The Market
Luckily, the belly band holster market suggests hundreds of options for men and women in various sizes, numerous colors, and with different maximum weight options to avoid uncomfortable wearing. There is always an ability to pick the one size that fits your body type so that the "mag pouch" could be worn without trouble.
Frequent the snap retention strap is also included. The purpose of such a retention strap is to increase security. The length of the "belt" sometimes can be regulated as well so that you could wear your belly band holster on a proper level.
Let us now consider the best holsters for waist-wearing. Among these are:
Kaylle belly band holster
Bravobelt belly band holster
CrossBreed Modular Belly Band Holster
Undertech Undercover Belly Band Holster
Kaylle Belly Band Holster
Holsters by Kaylle are known for high quality and comfort during concealed carry. It is equipped with a neoprene band that enhances convenience and protection. It is compatible with Sig Sauer, Ruger, Glock, and not only.
This is a secure and convenient tool since you can carry it in any position you like. Such a waistband will not destroy your wallet but will bring you a range of benefits. Regardless of the size of the guns you obtain, any pistol and handgun of those that fit this holster will be fastened securely.
This is a stretchy example of a belly band holster — you can adjust it to different body types, to the waist up to 45 inches. Carrying a weapon with such a device is possible both for right-hand draw and left-hand draw with no trouble.
Belly Band Holster by Bravobelt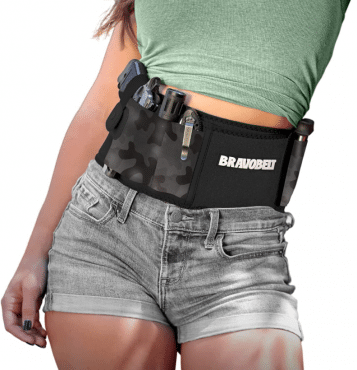 This belly band holster is one of the most perfect options for women — they have been choosing this option for years now. The truth is that it is designed in a nice and comfortable way to fit very different body types. This is an elastic and resilient band holster that does not stretch too much to stay fixed even when a person is in the process of physical activity. The pistol inside stays still, this is exactly what people look for in every waistband.
Accessories by Bravobelt are famous for their smart designs — this belly holster is not an exception. It includes very small holes in its body so that skin could brief underneath. Xl fits a body with a waist of a maximum of 55 inches. Again, this is a both-hand draw option for any taste.
Despite the fact that this is a popular choice for women, men choose it frequently as well. It can stretch (but not too much — it does not become flaccid), it is secure, it is compatible with different handgun options (Springfield, Ruger, Rock Island, Smith & Wesson, and many others), and it is easy to take a grip of a weapon with it — a nice alternative to any other belly band holster for concealed carry.
CrossBreed Modular Belly Band Holster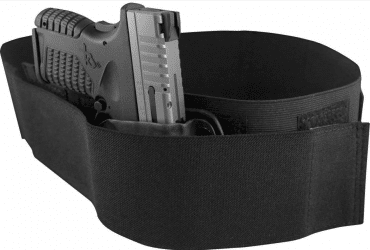 Since we are discussing the best belly band holster option for concealed carry available nowadays, we cannot skip a belly holster by CrossBreed. Some people claim that this is the best possible holster to carry your firearm — let us explain why.
Thanks to the new "technology" by CrossBreed, people received the ability to adjust their holster to any kind of firearm they have. They apply the Kydex holster, in other words, a firearm-specific "pocket" that repeats any peculiarities of different kinds of weapons that increases security. Obviously, it is removable — with such a tool, none of your firearms receive a chance to accidentally fall out.
This is a slightly more expensive version of a belly band holster but, in this case, you pay for high quality and years of service. On Amazon, you can choose either a Springfield Hellcat or Glock 43 style at the moment. With the belly band holster by CrossBreed, you will enjoy wearing a secure tool that will never let you down.
Undertech Undercover Belly Band Holster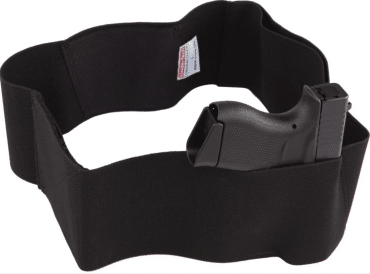 One of the indeed best holster options on the market nowadays is this Undertech Undercover one. The reason is that it suggests features that might not be available in other products of this type. Let us consider them closely.
First of all, some people prefer wearing clothes in a tucked way for clear reasons — it is a matter of comfort and convenience. But, not every holster can fit people with such preferences due to their design and structure. In these cases, experts recommend users pay their attention to Undertech Undercover products — they serve well for these purposes.
The second unique feature
Reasons To Buy A Belly Band Holster
First of all, it is necessary to point out that generally belly bank holster options can be divided into two types: those used for concealed carry and those used for outside carry. Obviously, their titles imply what exactly is meant by each type.
Concealed carry is preferred in public places. In the United States, depending on the state, you can carry concealed firearms in such a belly band holster either with special permission or freely, without obtaining the corresponding documents.
If you are in the woods, or on a hunt, you will probably choose an outside carry just for a reason of convenience and easier access to the firearm. May be best tourniquet is a choice for you.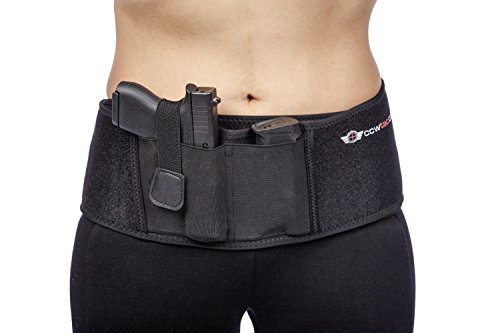 Regardless of what type of waistband you prefer, by getting one you receive the ability to "wear" a weapon on the waist with almost any outfit straight next to your right hand. Worn both by men and women, these secure accessories help people feel safe and not worry about their protection.
Many belly band holster options, also called "magazine pouches", are designed with extra pockets which are obviously used for "extra storage" of other helpful small things like credit card knife or keys, which is a huge plus. Get a ghillie suit in addition to belly band holster.
Such a holster can be worn on the waist over the T-shirt or shirt like a belt, which is a perfect solution for an active lifestyle. A simple gun holster with its extra pockets thus becomes an irreplaceable helper for everyday wearing. May be you are looking for waxed canvas jacket as well ?
How To Choose A Belly Band Holster By Yourself
Despite the fact that such a small device as a holster seems to be simple and friendly, there are still some peculiarities which appear when you go look for a tool for yourself. We suggest a clear guide of what to pay attention to when choosing a belly band holster.
This piece of advice will actually work with every device or machine or anything that you will be even picking among the variety. If you have a clear vision of how exactly you are going to apply the tool, it will always be easier to make the right choice. The best solution will be to right down all your expectations from a holster and then search for the one the meets the majority of those.
Pay attention to the material of a belly band holster
This point is rather intuitive: picking a product created from high-quality materials is associated with investing money in a long-lasting thing. Your belly band holster is supposed to be rather stretchy, but not too stretchy — it must feel like a tight-fitting waistband. The material should not be too thin though. Elasticity and proper density are keys to success.
How many guns do you want to "wear" on your belly?
This is a simple question to answer, and it will bring you closer to fulfilling the first point from this list. Remember that holsters can include either one or maximum two guns at once — how many do you have? How many do you need to carry?
Pay attention to the sizes
Before buying a device, you should pay specific attention to which size fits you best. Check the table of sizes suggested by the manufacturer and compare your "numbers" (usually, in inches) with the ones suggested for every specific model. Usually, the pages of products provide the maximum waistline the holster can fit.
Left- or right-hand draw?
Luckily, many of the holsters suggest both draw options — this point is usually not of much importance, but should still keep it in mind.
What type of weapons do you have?
For better or for worse, in the modern world, there are a lot of functioning guns that can be applied by people for different purposes. Different manufacturers suggest different products with different characteristics for different needs. Some firearms are used primarily for self-defense, others for practicing target shooting at the backyards of one's properties, other ones are applied during the hunt, and so on.
You have to have a clear vision and precise knowledge of the model of your gun since not all holsters will fit all the weapons. Usually, the list of fitting shooting machines is attached to the description of the holster.
Best Belly Band Holster Summary
According to statistics, the majority of Americans (approximately 60%) obtain weapons for self-defense and the feeling of security. This is a well-justified and clear reason to buy a gun. However, getting a gun and keeping it at home does not seem to be rational (but having weapons at home is desirable too, just in case of an external attack). A robber will not let you go home and pick a gun to get a chance to protect your life.
That is why it is extremely important to wear something that will allow you to keep your "protection" at hand. Belly band holsters perform this function in the best possible way — many of them are truly comfortable, secure, and generally helpful for concealed carry. A huge percent of these devices allow both left- and right-hand draw, which enhances convenience and thus increases your chances of surviving in an emergency situation.
Feel free to pick the best holster for your needs that will meet your expectations and bring you confidence in the future!
Frequently Asked Questions – FAQ
Are belly band holsters any good?
Obtaining a belly band holster for carrying firearms at hand is definitely worth your attention. If you are used to wearing belt options in your pants, you might not even notice the presence of such a secure waistline bag on your body. If you frequently carry a gun but want to conceal it in public spaces, do not skip these light in weight belly holsters.
Are belly band holsters safe?
Many belly band holsters that people wear in everyday lives are designed in a way to protect their owners from accidental gun shots or any other related damages. Regardless of in what position one keeps the gun, it is always easy to pull the gun out of the "pocket" safely — no place to worry about it. Manufacturers realize that producing belly band devices dangerous for human lives is irrational.
What is a belly band for concealed carry?
A belly band to conceal a gun or another firearm is a relatively light in weight tool like a belt on the pants but people usually wear it over the shirts. It is used to conceal weapons from public views by putting those into a left- or right-hand draw position. This is a secure way to carry a gun on the belly, at hand, to increase the feeling of self-protection. There are different options of those that suit any type of body.
What's the most comfortable IWB holster?
It is hard to state which belly band holster will be the most comfortable to conceal a gun since all bodies are different and all people have different preferences. Some of us are worried about the length of a holster, others — about its ability to stretch. For some people, the weight of such a belly band holster is the first thing to consider, for others — which kinds of weapons it is compatible with. To pick the one comfortable to wear for you, you should get acquainted with its characteristics by yourself.