Items of weapons and accessories by such brands as Smith & Wesson, Beretta, and more, occupy a huge segment of survival gear: survivalists, preppers, and homesteaders try to defend themselves and their homes as well as they could. Some shop for knives and rifles; others choose pistols or even crossbows. Some favor airsoft guns as replicas of survival guns. While being a great deal less dangerous than fire weapons, airsoft pistols and guns require attention and safety precautions in their use just as well.
Having one airsoft gun or pistol may not be a necessity, but you may still have to have one for the sheer sport of it. Along with the revolvers, you can also purchase targets, which also come in many different types and forms, and some of the CO2 gas blowback pistol models can shoot either BB's or pellets, depending on the make of the gun. They cannot, however, shoot both kinds of bullets at the same time.
These are also great if you enjoy practicing shooting, but you do not want to waste bullets doing so. It is a nice way to hone your skill, sharpen your aim and be a better expert shooter without actually having to handle a real firearm. The great thing about these kinds of guns and pistols is that they most often have the same weight and feel like the "real thing," so practicing with them is actually much like practicing with the real gun, whether it be a snub nose .38, a .357 caliber or something else altogether.
In this article, we will introduce you to the airsoft pistol options features, defining the term and highlighting its distinctions from a revolver, and walk you through the best market options.
Top Best Airsoft Pistol
First, we will review the TSD Sports UA941B 8 Inch Spring Powered Airsoft Revolver. This double-action revolver comes with eight single round shell magazines, the hammer can cock back manually, and the shells easily load right into the cylinder. With 0.12g BB's, they travel at 260 FPS from the eight-inch barrel with no batteries are needed.
You simply load one round each into the provided shells and put those into the six cylinders. When the hammer cocks back, the cylinder rotates and aligns a bb into the perfect firing position. Or there is a "double-action" availability with each pull of the trigger, just like you have with a real revolver. Made from high-quality plastic, this airsoft spring revolver carries the excellent quality and performance known to come from TSD Sports. This fun also comes with the TSD warranty, but only if the TSD sticker is attached. So make sure you have the sticker, as there are fakes out there.
Dimensions: 15.2 x 7 x 2 inches

Weight: 7.2 ounces

FPS: 260

Bullet Type: BB's
Next, we have another TSD – The TSD 6 Inch Barrel Spring Powered Airsoft Revolver. This double-action revolver has a six-inch barrel that also comes with eight single round shell magazines that shoot out 0.12g BBs at about 260 FPS. The hammer can be cocked back manually with single road loading shells or single shot hammer action. It has a fixed hop-up, and no batteries are needed. It should be noted that this spring revolver cannot be shipped to the state of New York.
The specs on this revolver are a 1:1 real scale design, a rotating cylinder system, a six-inch barrel, six cartridges per cylinder, six shells included, adjustable rear sight, will shoot 6mm BB's or paintball, a spring-powered hop-up system, metal parts, and antishock ABS.
Dimensions: About 11 inches long

Weight: 2 pounds

FPS: 200-260

Bullet Type: 6mm BB's or paintballs
The 937 UHC 4 Inch Revolver Airsoft Gun looks a lot like some of the real snub-nose models of a .38. It shoots 6mm BBs from replica shells at a velocity of 240 FPS. This full-sized replica handgun holds a full six rounds of ammunition at a 1:1 replica size with a cylinder swivel; it loads like a real gun. You can cock it with the hammer, the rear sight is adjustable for windage and elevation, and it has a colored front sight for easy sighting.
During gameplay with this particular model, the bullets will travel about thirty feet before beginning to drop off. For a single-shot spring airsoft gun, the price is fair, and it is the same size as a .38 Magnum Snub but much lighter. Though it is made of plastic, it is a good sturdy plastic and durable for its size. It is recommended that .12 BB's not be used, as they have no accuracy at that size through this airsoft gun. The gun body and grip both have a satin finish with an orange muzzle.
Dimensions: 4 inches long

Weight: 1.6 pounds

FPS: 240-295

Bullet Type: 6g BB's
The GameFace ACG357 Crosman CO2 Gas Powered Semi-Auto Revolver is the replica of a .357. With an ergonomic, finger-molded textured grip and a realistic swing-out cylinder that holds an eight-round clip, this gun fires 6mm BB's at up to 400 FPS. This metal gas airsoft revolver has an elevated FPS rating due to its CO2 gas-powered semi-automatic state. It is made of heavy-weight metal and polymer with a fixed blade front sight. It is restricted from shipment to the state of New York.
The grip panel on this airsoft gun is detachable, allowing for fast and easy CO2 gas cartridge changes. The CO2  gas lasts a good while, even when fired often, but there is the possibility that it will leak out if left unused for a long time. Over 100 shots can be fired before the FPS starts to drop off.
Dimensions: 4 inches long

Weight: 1.6 pounds

FPS: 400

Bullet Type: 6mm BB's
Finally, we have the Black Ops/WG CO2 Gas Airsoft Revolver. This silver Airsoft CO2 Gas pistol is a repeater that shoots 6mm BBs at a rate of 440 FPS. With full metal construction, this airsoft gun fires single or double action is a six-shot with a fixed front sight and an adjustable rear sight. The shells are removable, and speed loaders can be purchased for faster loading.
This pistol is heavy and has a realistic feel that packs a punch when fired. It is based on the design of a compact snub nose revolver and has a recoil can that is quite impressive. The tactical rail added to the frame of the pistol can increase accuracy in shooting, and it comes with a manual safety.
Dimensions: 6.75 inches long

Weight: 1.95 pounds

FPS: 440

Bullet Type: 6mm BB's
What is an Airsoft Pistol?
Airsoft pistols are a training gear weapon; however, survivalists often put them in their survival bags.  Airguns and pistols use the power of air pressure to shoot BBs (metallic projectiles in the shape of balls) or pellets. Lower-power models of airsoft handguns use plastic BBs. Airsoft guns vary in type, stopping power, shooting range, and design. A wide array of airguns are specifically designed to give the realistic impression of real-life handguns and pistols. These airsoft pistols have an authentic look and feel and copy famous firearm brands such as Beretta, Glock, Colt, Smith & Wesson, Makarov, Tokarev, etc. For more realism, some airsoft pistols imitate firearm blowback – such blowback pistols are very popular for giving the impression of using a real-life handgun.
Airsoft pistols don't require any kind of license to own, carry, or use since they are not qualified as firearms. However, one must only discharge an airsoft handgun item in specified locations such as shooting galleries. While not being a deadly weapon, still an airsoft gun and pistol can harm, especially if an airsoft gun has high stopping power. A metallic projectile shot from a short distance can cause serious trauma or even death if it hits an eye.
An authentically looking airsoft gun or pistol item can also be mistaken for a real weapon, such as Smith & Wesson or Beretta items by a police officer. There were countless records about police shootings when police officers mistook airsoft guns for real-life handguns, which resulted in tragedies. So for your own safety and the safety of those around you, it is advised not to carry an airgun or pistol openly in public.     
A pistol or a revolver?
Many people who are new to the world of firearms tend to misuse the terms "pistol" and "revolver," thinking that they describe the same thing. In reality, a pistol gun is not the same as a revolver, although they are both categories of one type of firearm – handguns.
To see how a pistol differs from a revolver is quite easy – you just need to look at them. The key difference is the chambers where different types of handguns hold rounds. Revolvers have cylinders with five to seven chambers in them. The most popular type is a six-round revolver, commonly known as a six-shooter. When you discharge a revolver, bullets are shot from a barrel while used cartridges stay inside a cylinder. To make each shot, a revolver's trigger mechanism will rotate the cylinder to send a new bullet through the barrel. To recharge a revolver, you will need to take the used cartridges out.   
Pistols, in their turn, use magazines – they are separate cases that hold up to seventeen rounds. A magazine is not a part of a pistol's construction. To shoot, you will need to load rounds into a magazine and then slip in into a pistol's grip. With every shot, a pistol will automatically discharge a used cartridge through an ejection port.   
Some gun (pistol and revolver) enthusiasts believe that despite having fewer rounds, revolvers are still better than pistols since they have a less complex construction. Therefore, they are easier to use, showing more reliability. As a result, airsoft gun and pistol products include a wide selection of both types of items. 
Types of Airsoft Guns
Your survival skills are of topmost importance, but having some tools and knowing some hacks will do you only good. Airguns are divided into three types depending on what mechanisms they use to trigger a shot. There are CO2 gas-powered guns, battery-powered guns, and spring-powered guns. Replicas of Beretta or Smith & Wesson's real pistol options may pose danger, too.   
1. CO2 gas-powered airsoft guns
Also referred to as gas blowback airsoft guns or green gas guns, these handguns use green gas to power a shot –  a green gas or a CO2 gas. Many green gas airsoft handguns have a GBB (or a green gas blowback) function. This means that a certain amount of the green gas blowback is used to make a shot is also used to imitate blowback that occurs when you shoot a real-life handgun. The green gas blowback pistols and revolvers are extremely popular around the world.  
2. Battery-powered airsoft guns
Unlike CO2-powered guns, this type of air handgun uses electrical power to create air pressure. These guns are less powerful than CO2 gas-powered pistol models.      
3. Spring-powered airsoft guns
This type is represented by the most affordable guns on the market. Typically, such models are a perfect choice for an entry-level customer. Discharging is made via a spring that a user will need to cock manually, which is never the case with CO2-powered guns.
Best Airsoft Pistol Summary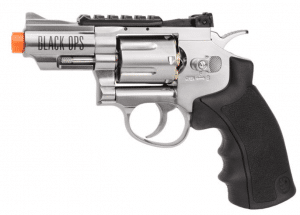 My favorite pick of these five is going to be the Black Ops Snubnose Revolver. The size of the gun makes it incredibly easy to carry, and the CO2 gas power packs a great punch at about 440 FPS.
The realistic feel and recoil action make it great when target practicing for the real thing while at the same time saving precious real live rounds. Being able to practice with something that feels just like the real thing is helpful in that it does not give you a false feel once you have the real thing in your hand.
The addition of the tactical rail is a great choice to shop for, as it gives the gun an even more realistic touch as well as added aiming ability. The safety can be manually turned on or off, which is also good so that you will not come up surprised one way or the other.
This CO2-powered airsoft gun revolver shoots 6mm BB's, which are common among these types of guns and fairly easy to come by. BB's are not expensive, even in bulk, which might actually make them cheaper, so target practice is even easier, knowing that you are not breaking the bank.
Frequently Asked Questions – FAQ
Are CO2-powered airsoft pistols illegal?
Despite the gas blowback that can be quite dangerous, airsoft handguns categories are not illegal around the world since they are not classified as firearms and shoot with pellets. However, in the US, one must be 18 or older to be legally entitled to shop for an airgun. Plus, in some states, it is illegal to show a gun replica in public since most of them look just like the exact copies of real-life deadly weapons like Beretta, Smith & Wesson, Colt, Glock, etc.
How much do airsoft revolvers cost?
The price of such a pistol depends on the type of airgun and its build quality. The cheapest is spring-powered models with the lowest price of around $20. The most expensive CO2-powered airsoft handgun models reaching $200.
What are the pros of an airsoft revolver?
An airsoft gun or a pistol is a great starting point for those who want to learn to shoot and handle handguns. These guns deliver the unique experience of using a real-life handgun, like Smith & Wesson or Beretta, while being virtually harmless. But at the same time, airsoft revolvers require proper use and safety measures since they are not toys.