If you are reading this article about best 22 LR pistols, chances are you are interested in target shooting or self-defense. No matter what exactly the new shooters come into the field for, they all still want to distinguish a great gun from a not such a great option. Making survival weapons by yourself is not often an option, as well. Modern pistols allow for enjoyment and amusement in the backyard, and many of our fathers do have a "fun gun" hidden away.
In this article, we will take a closer look at the series of 22lr pistols, make comparisons and, finally, come up with a couple of pieces of advice concerning choosing the best 22 LR options for your survival gear list and the contents of your survival backpack.
Top Best 22 LR Pistols Available On The Market Today
1. Ruger Mark IV 22 LR Pistol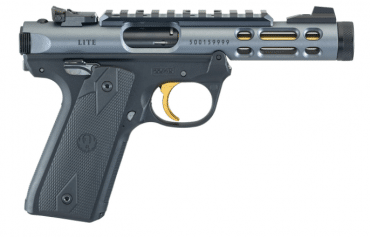 This is a representative of the semi-auto pistols created by the Ruger Company. Ruger is well-known for the high-quality ammo they make, and this full-sized handgun is not an exception. The "IV" in its name stands for the fourth generation it belongs to, still being one of the most durable models on the market.
Ruger Mark IV has a comfortable construction, making cleaning of it even easier than before. Now the maintenance of your pistol turns from torment to pleasure.
You can stick to the target model or pay attention to the other options of the Ruger Mark IV on the Ruger original site. The price of such a target pistol might vary from 400 dollars to 800 dollars, depending on different factors.
2. Smith & Wesson Model 41 22 LR Pistol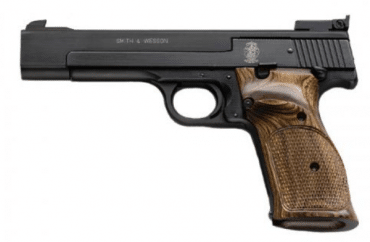 First constructed in 1957, a Smith & Wesson Model 41 pistol for target shooting is still being created now, remaining to be one of the best examples of 22 LR pistols.
This model introduces a 5.5-inch barrel length. However, the longer barrel options are also present. For example, there are pistols with 7″ or 10.5″ barrel lengths. The weight of the Smith & Wesson .22 LR model 41 guns varies, having an approximate estimate of 44 ounces.
The users, however, sometimes complain about its safety. Under "safety," we usually imply the mechanism that prevents the undesirable and unexpected discharge, the mechanism that allows you to feel more comfortable and secure with the gun in your hand. And the so-called "problem" of this gun is not its "too insecure" safety mechanism — it is vice versa. The safety of this Smith & Wesson Model 41 gun is rather tight and stiff, making it sometimes a little bit difficult for the shooters t start practicing. But, we think that you cannot be too careful when it comes to gun use.
As for the price, this model is relatively expensive, especially in comparison to other 22 LR pistols. The price of such a gun varies from 1200 dollars to 1700 dollars. It depends. On the Smith&Wesson site, you can find all the necessary information about the purchase of this model and the details you might be interested in if you think that the Smith & Wesson Model 41 is the best option for you.
3. Beretta U22 Neos 22 LR Pistol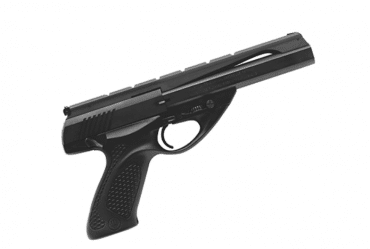 This U22 Neos gun is an interesting solution, fitting to almost any kind of purpose you can think of. It provides adjustable target sights and ambidextrous safety (a single action trigger). The latter point stands for the fact that you can continue using this gun with your non-dominant hand. A useful ambidextrous thumb safety feature increases the general usability of the gun, especially if you damage your dominant hand.
This is why it definitely deserves your attention:
It has 4.5 and 6-inch barrel options. The manufacturers use stainless steel to create durable and reliable ammo. The magazine capacity of such a gun is ten rounds of 22 LR.
An interesting thing about this pistol is that the instructions recommend using CCI Mini Mags for precision shooting and other purposes. However, the experienced users often claim for the failures-to-feed they face after following this recommendation. (If you are a newcomer in the area, a "failure-to-feed" is a malfunction concerning the reload (especially a speed reload) when the magazine is not seated into the gun appropriately). But it still does not claim for the bad quality of the gun itself — for many shooters, and this pistol is the best version they have ever had in their hands.
The gun has a U-shaped rear sight, and it lies in hand comfortably. In other words, the pistol is indeed relatively ergonomic.
One of the most attractive features of the Beretta Neos is that it is relatively cheap. You can easily have one by spending just something about 400 dollars. For the pistol of such quality, the price is indeed not high. On the Beretta original site, you can get acquainted with the necessary details concerning Beretta U22 Neos.
4. Smith & Wesson SW22 Victory 22 LR Pistol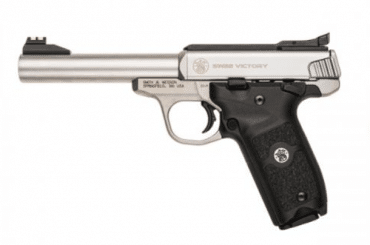 This gun, quite fitting for various purposes, is a unique example of the reliable and comfortable gun. It works nicely with CCI and choosing this 22 LR training pistol, and you can count on the fiber optic sights with adjustment and carbon fiber barrels. It features a Picatinny accessory rail, a universal rail for many of the pistols nowadays.
If you have spent a couple of months in the "shooting area," you probably heard of two main types of rail: a Picatinny rail versus the Weaver rail. Let us briefly broaden your horizons in this field.
These are the most frequently met mounting platforms for the pistols we are considering. The Weaver rail was the first easy-to-use mounting platform. Created in the 1970s by William Weaver, it was a predecessor of the Picatinny platform. This one was developed in the 1990s by the military in Picatinny Arsenal in New Jersey; that is why the platform got this name. The purpose of its development originally was to invent something standardized, something universal, so that all the producers had a chance to create the weapons in accordance with this strict similarity to meet the military needs.
The main difference between these two platforms is in the slots (the distances between them). For Picatinny, the slot length is equal to .206″, and the distance between the center of the slot to the next center of the notch is .394″, with the slot location equal for the entire length of the platform. For Weaver, the slot width is equal to 0.18″, and the distances between do not have to be strictly equal. This means that if your ammo is supposed to mount on Picatinny, it does not mean it can mount on Weaver; however, if you have something that is supposed to mount on Weaver, it actually often can mount on Picatinny as well.
More features to consider
But let us get back to our Smith & Wesson SW 22 Victory unit. Having a polymer frame with a reliable trigger guard, it comes with an adjustable trigger pull, which means you can regulate the volume of force to put in to make a shot. This is a nice and not too expensive solution with the magazine capacity of two 10-rounds. Threaded barrels in the range are available as well. A threaded barrel might be used for the external attachment of the silencer to your ammo or, for instance, to add a recoil compensator or any muzzle devices.
Again, on the SW site, you can easily find the details that interest you concerning this pistol. The prices on these units vary from approximately 400 dollars to 900 dollars. This SW22 Victory friend will become a nice helper at the small game hunting or backyard plinking, and, what is more, it will not damage your wallet as might do other semi-automatic pistols. That is why we do recommend you get acquainted with all the features this model can demonstrate.
5. Browning Buck Mark 22 LR Pistol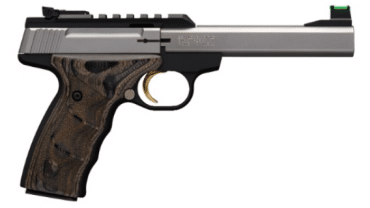 This Browning Buck Mark Camper is a great thing to start with if you are just a beginner. It can easily satisfy any of your needs, be it small game hunting or competition participation. A Buck Mark introduces 22 different styles to choose from, with the threaded barrels included (what a threaded barrel is, we figured out in the previous section).
A polymer frame of such a Buck Mark pistol guarantees the reliability and durability of the 22 LR device. The users usually report a high quality of the trigger pull of the model, with a convenient trigger guard for comfortable shooting. Besides, it is easy to clean, so you will not have to spend much time on the boring "purge."
In general, the Browning Company is famous for the guns they supply on the market, be it a riggle or a shotgun. Their revolvers might be used for self-defense and concealed carry or for any other goal you pursue. On the official Browning site, you can find numerous products, starting from 22 LR pistols and finishing with the conversion kit units.
Additional characteristics
As for some other characteristics a shooter might be interested in, the gun has a 5.5-inch barrel made of steel, a single action trigger made of alloy, a long-lasting recoil spring, and 10 rounds for the magazine, which is actually really consistent.
The users usually claim that the BuckMark has an extremely trustable and reliable trigger, and it is easy to disassemble. The product is accurate, with a perfect grip angle to fit the hand comfortably, and the shooting process with it becomes much more enjoyable.
If at this moment, you feel like you are interested in having your own Browning BuckMark, it will cost you from 300 dollars to 600 dollars to get one of the available models. This is another reason why this gun is loved by the users — it is budget-friendly, which is especially relevant if you are a newcomer in the field.
6. Walther P22 22 LR Pistol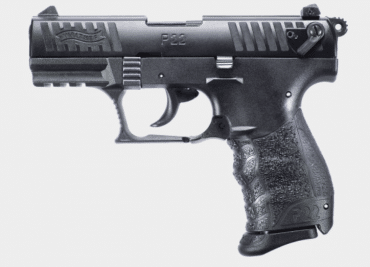 This P22 model was released in 2002 by the Walter Company, famous for its stable and ergonomic products. The very first P22 model had some magazine troubles connected with the feeding, but the upgraded version, now available on the market, proved to be a step forward in the 22 LR area.
This Walther P22 has a convenient finger groove, which makes holding the gun and shooting with it much easier. With a 3.42 inch barrel (this model has a fixed barrel), adjustable sights, double action or single action triggers, this Walther P22 occupies one of the leading positions among the series of the 22 LR. How many rounds does this model have? — you might be wondering. This Walther P22 pistol has a capacity of 10 rounds, being not much an ammo-sensitive example. In simple words, you will not have to worry too much about the ammunition to use with this gun, and cheap bulk box ammo might fit quite well.
The Walther P22 also comes with ambidextrous safeties, and the newest models also provide a "signal" — a decocker — a red dot, which helps the user understand whether the gun is "on fire" or "safe." The model comes in different versions, meaning that they actually have the same frame but of different sizes. A smaller one is better if you are teaching the new shooters (your kids, for instance), and the bigger option is more appreciated by the experienced users. But, anyway, the choice is yours — each of the Walther P22 versions represents a nice, ergonomic, convenient, and easy to use suppressor-ready model.
You get such a gun for yourself, and you can check the site of the Walther manufacturers. The prices vary from about 400 to 500 dollars per unit.
7. Ruger 22 Charger 22 LR Pistol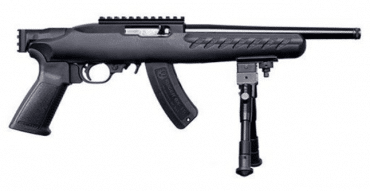 In this article, we have already discussed a gun developed by the Ruger and found out that it was of high quality and appreciated by the users quite a lot. This Ruger Charger is another 22 LR solution the manufacturer can be proud of. Frankly speaking, in the Ruger Charger or in the Ruger Mark series, any 22LR pistol deserves special attention. That is why we decided to spend some time discussing the Charger that Ruger introduced in 2007.
This pistol is widely used for sports competitions. Hardly will it be comfortable for you to use for self-defense. With it, concealed carry is impossible. But this is a nice race gun to use if you are fond of professional shooting.
This Ruger Charger includes a 15-round magazine (quite a lot for a 22LR pistol) and a bipod to enhance stabilization and accuracy while shooting.
We have to admit that this pistol definitely differs from the others that we were considering before. At first sight, the question arises: why should I buy one? It seems to be not just an unusual representative of the range, and it is a so-called "strange animal." Answering this question, we can say that a true shooter has to try as much as possible, and the more unusual exemplars get in your hands — the better.
Besides, getting this guy will not damage your wallet (it is even cheaper than the Ruger MK series units) — you will have to spend slightly more than 300 dollars to get one. Click here, and learn more about this unusual but trustworthy 22LR pistol by Ruger Company.
8. Ruger New Bearcat 22 LR Pistol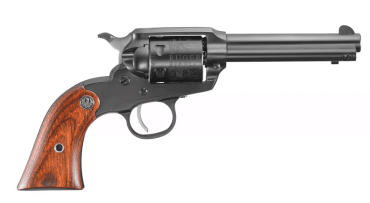 Continuing with the Ruger products, we would like to introduce a Ruger New Bearcat pistol for hunting and plinking. This is a relatively small, cowboy-looking gun that fits for the concealed carry. However, just as the majority of .22 pistols, hardly should you use it for defending your body.
This gun is representative of the safe units, which feature a transfer bar and a loading gate interlock, that is used to regulate the cylinder spin. The guns of this series do not have adjustable sights (the Ruger New Bearcat has a fixed sight). If at this moment you still feel like you do not feel the difference between the fixed sights guns and the adjustable sights guns, let us briefly explain what it means. Basically, the difference is really intuitive: the fixed sights cannot be adjusted — the guns featuring this characteristic are mainly created to shoot from a concrete distance, and you cannot adjust for the difference you need. The users report that the fixed sights are quite well for self-defense, whereas the adjustable sight revolvers are better for sports competitions. They say that "there are no excuses for missing if you are using an adjustable sight gun" because it slightly simplifies the shooting process. However, this point is rather discussable.
A word about the sites
And, since we started to discuss the sights, we believe it is quite necessary to pay attention to so-called two-dot-sights and three-dot-sights. What is the difference?
Let us first explain what two-dot-sights mean. All shooters know that there are two parts of the sights system: the rear ("back") sight, placed closer to the shooter, and the front sight, placed closer to the target on the main body of the gun. The idea of this sights system is that there is a rear sight that is U-shaped (a cut in the middle of it resembles the letter U). The manufacturers sometimes go over this shape with the white color for easier use. The front sight part has a white dot that has to be "superimposed" to the cut in the rear sight, thus allowing simpler identifying the required position for the gun to take a shot and achieve the target.
As for the three-dot-sight, the situation is the following: there are two white dots on the opposite sides of the rear sight' "U" (imagine the dots on both tips of the letter "U"), and one dot on the front sight. Sometimes the front sight dot is bigger for easier regulation. This three-dot system is used for better "navigation in the darkness." If you have to use your gun at night, the three-dot approach might serve you better since you will be able to aim more accurately. But, some users state that this system is overestimated, especially because the guns with the three-dot-sight system are usually more expensive.
The site's choice is upon you.
Anyway, this is always up to you to decide whether to choose a two-dot-sight or a three-dot-sight. To figure out which sight system works better in your arms, you should try a different version of the ammo. The more you practice your skills, the higher the chances are, and you will be able to shoot right on target regardless of the type of sight system you have.
But let us get back to our Ruger New Bearcat. Continuing with its characteristics, it is not a double-action gun. We have already mentioned the single action and double action options, but, at this point, it might be not much intuitive: what exactly these features mean and refer to. Let us take a closer look at this point as well.
A single-action revolver (like the Ruger New Bearcat we are reviewing at the moment) is a revolver that requires a shooter to cock the hammer at first. After that, when you pull the trigger, the mechanism has to perform one action only: it gets in the initial position, and the bullet comes out of the barrel — the shot is made. In some sense, this enhances safety because in this system, no matter how you try to pull the trigger, the shot will not be made if you do not cock the hammer at first. However, this construction is not very convenient because it requires you to perform additional actions, or it can just "catch" on the clothes when you try to take them out of the pocket. And yet, this is a nice mechanism that gathered a lot of fans around it.
As for the double-action guns, you do not have to cock the hammer by yourself — in a sense, and the gun makes it for you. When you pull the trigger, before the shot is made, two actions are performed (that is why it has such a name) — the hammer is cocked, and then it gets in the initial position automatically, to "push the bullet out." It is slightly easier to use this system, and the hammer will not cling to the clothes or the things in the bag when you take it out.
Final thoughts on scopes
But, just like with the two-dot versus three-dot sight system, to choose what is best for you, you have to try first. We recommend you to obtain various versions for more extended practice: the chances are that you will like both! Each of the systems has its pros and cons, and you will be able to appreciate them and make conclusions as you gain some experience.
Moving forward with the Ruger New Bearcat, there is again a transfer bar mechanism that serves as a blockage between the firing pin and the hammer for better safety. This is an ergonomic solution for both experienced shooters and newcomers in the field. Made of steel, this Ruger gun is a durable complement to your ammo collection.
If you are interested in the model, you can check the original Ruger site for more details. Despite the fact that it is smaller (only nine inches in length in total with a weight of 24 ounces, having a 6-round capacity), this is not a very cheap thing. If you want to obtain one, you will have to spend something more than 600 dollars on this guy. But, this "device" is definitely worth the money, especially if you are a beginner in shooting and want to start practicing a professional sport. It is compact, and it is lightweight, it is ergonomic — probably the best thing to start with when you come to the field.
9. Colt Woodsman .22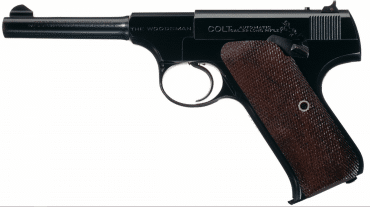 A Colt Woodsman that we will be considering in the next couple of paragraphs is a completely unique gun that deserves exceptional attention. Firstly created by John Browning in 1915, this Colt Woodsman gun became one of the most successful examples of .22 pistols, deeply loved and widely accepted by thousands of shooters all over the world. At first, it was used for training purposes and still remains to be a great thing to start with. However, not every shooter can brag about the fact of holding this guy in one's hands. Why is that? Because it can no longer be bought on an ordinary basis as it was discontinued years ago.
You might be asking a logical question: if the Colt was such a success, why was it discontinued? The reason is that in the 1970s, it was no longer efficient for the manufacturers to produce this gun: it was too expensive and quite outdated at those times, especially taking into account the appearance of the new players on the market, such as, for instance, Ruger, Smith & Wesson, and some others.
Nowadays, experienced shooters can only get one if they are ready to spend thousands of dollars for a gun. The Colt has become a nice "sample" in the collection of ammo for the enjoyers. Maybe, this is the reason why the majority of shooters, especially with relatively little experience, dream of holding this Colt in their hands.
More about tech
As for its technical characteristics, the barrels of such Colts come in lengths of 4.5 inches (mainly for sports purposes) or 6 inches (the target versions). These Colts have adjustable rear sights, and they are comfortable for shooting on different distances. They come with 10-round magazines, walnut grips, and the users that had a chance to use them claimed that they fitted their hands perfectly.
This Colt hides some peculiarities that you have to know about before you use it. The shooting process, to be "successful," requires some special knowledge from the shooter. For example, the magazine of the Colt has to be locked manually. Otherwise, it just falls out, and shooting becomes impossible.
So, as we already mentioned, these Woodsman Colts are not being produced anymore; that is why they are so expensive. On the original Colt site, you can find more detailed information concerning the Colts that you might fall in love with. We strongly recommend you check it as soon as possible if you feel like you are ready to replenish your ammo collection.
What Are Best 22LR Pistols?
The "LR" in "22 LR" stands for the "long rifle." The "22", respectively, refers to the .22 caliber rimfire ammunition. To be more precise, the size of the caliber goes as 5,6×15,6 mm. Rimfire pistols, in comparison to centerfire pistols, are not reloadable. They use a rim containing primer and are usually limited to low-pressure loads.
22LR pistols have been considered the most popular choice of survival gun among users for more than a century. The appearance of this kind of ammo is ascribed to Louis Flobert, who was the first to try a bigger primer with the lead bullet. In 1845, he developed a working version of the model, which we now call.22 CB Cap or .22 BB Cap.
Main purposes of use of such 22 LR pistols
hunting small game (birds, martens, moles)
target shooting
backyard plinking
self-defense (with lower success than the previous purposes)
If you are a newcomer, you can easily use a 22 LR unit as a training pistol since this particular pistol is relatively cheap and has minimal recoil. If you have a rifle – consider getting mil-dot scope.
Since even the best 22lr pistols are hardly considered to be immortal, they are widely acceptable and legal in various countries, even in those where the gun laws are relatively strict.
Let us now go deeper into the precise examples of the 22 LR pistols.
22 LR Pistol Guide Summary
This article covered numerous trustworthy pistols that might help you solve the small game hunting problems, enhance your family preparedness, or just amuse you in the backyard. If you are an experienced shooter, the chances are that you have already faced many of the guns mentioned above. Moreover, you probably have a couple of them in your ammo collection. But if you are just at the beginning of your shooting path, choosing an appropriate gun means quite a lot. "Why is that?" — you might be wondering. Let us explain it in simple terms:
The first impression means a lot. If you buy a gun that does not bring you joy while using, the chances are that you will give up shooting at all. This, actually, works in every field: high-quality equipment increases the probability of the newcomer staying and not quitting.
A comfortable device improves your shooting. Of course, the pistol cannot solve the problem if you do not make an effort at all, but consider this: a player in well-fitting boots performs better than the one that has to play in the boots a couple of sizes smaller. In shooting, the pattern is the same.
An appropriate gun saves your money. If you manage to buy a gun that fits your arm perfectly, you will hardly want to change it in a week or in a month. But, if the gun is bad for you, you will have to get back to the shop and buy something better, and every pistol costs money. Some of them are rather expensive, by the way, but you already know that.
Once you bought the gun, you have to prepare for plinking at first. Find something (like old cans) that you do not carry about much, locate them at a certain distance — in other words, prepare the field for practice. Do not forget about your safety — when using a gun, be careful. You do not want a nice initiative to turn into a blood sea. If your children display interest in the activity, too, make sure they are old enough not to get hurt and to follow the "rules of the game."
Ensure you have a reliable gun on your prepper's list, stay safe and enjoy the shooting!
Frequently Asked Questions (FAQ)
What are the best 22lr pistols on the market?
No matter if you are a professional shooter or just a beginner in the field, you are definitely interested in the best possible options of .22 pistols. But, choosing one might be a tough task. If you want to get a durable and reliable gun, you should pay attention to trustworthy manufacturers. Nowadays, the most reliable players on the ammo market are Ruger, Smith & Wesson, Browning, and some others.
Is it worth buying a 22 pistol?
If you are thinking of self-defense, getting a .22 pistol for concealed carry is probably not the best solution. .22 pistols serve other purposes better: sports competitions, plinking, or hunting (on small game, of course). So, if you need a gun for something mentioned above, a .22 pistol might be the best option among the variety of weapons.
How to Choose a .22 Pistol?
Choosing a .22 pistol might be quite a complicated issue if you know absolutely nothing about them and you are just a beginner. The best case is if you have a rather experienced friend who can share professional advice or give you a couple of guns to try at first. But, if you do not, this is not much of a problem. If you are at the beginning of your way, do not spend too much money on an expensive gun. Try something budget-friendly. Choose the one that fits your hand perfectly, that you feel comfortable about holding. The more you try — the higher are your chances that you will find the best option for yourself.