A metal ammo can is a guarantee that your ammo stays intact no matter the conditions. This little box will keep your ammunition dry and safe. Its steel design is any moisture-proof, and it is suitable for a big caliber ammo. They are sold as military surplus, so their reputation is concrete. Read on and learn how to get one.
Any ammunition owner has wondered about organizing and storing it properly one way or another. No reason to explain why — choosing quality containers from compact ammo boxes, standard ammo cans, huge ammo crates, and so on increases its storing efficiency and safety, prolongs your ammo's shelf life and generally contributes to accurate household management.
To protect your investment efficiently, you should acquire proper ammo storage: among the core ammo can types, there are two: Metal and Plastic cans. To choose apparently depends on your plans and purposes. Let's set it out more fully now.
If you are new here and stuck with Q as the question, here are a few basic recommendations that say:
If you're buying your ammunition to store for the long term – it is advisable to acquire a metal can.
In case you need several cans to help with transportation to and from the range – plastic cans are more than enough.
Which of these two materials is the winner? It is you who decides, but as you know, metal has proved its reliability through time – however, its weight may be a problem. Plastic cans overtake metal containers in weight and easy-carrying though they may deform quicker, especially in extreme conditions. 
If you're still pondering which type to choose to carry your handguns' mags, these two videos will provide you with the necessary guidelines. Otherwise, you may skip over this content and turn over the page to read about the ten best Ammo Can models using our heading shortcut key. Just double-tap to read brief content).
We would give at least 4.5 out of 5 stars to every model in the following list, so do not hesitate to select any of those.
Check out the customer reviews comparing Military Surplus Metal Ammo Cans and MTM Plastic Ammo Cans on the videos page.
What's the best option for long-term ammo storage? Watch the video with a comparison between metal and plastic ammo cans tested underwater.
If you're interested in even more info on ammo storage and "how to store your ammo for the long term," we advise you to have a look at our extensive ammo storage handbook.
We're Giving Away Our #78 Item Complete Prepper Checklist. Click Here To Get Your FREE Copy Of It.
1 – MTM AC4C Ammo Crate System (4-Can)
This ammo crate is a perfect component of a durable setup. What makes it excellent is its enormous capacity of storing several calibers in a systematically arranged and laid-back way. This five-piece set comprises four cans AND an ammo crate fitting every crate, easily taken out.
All of them are 30-caliber — a volume enough to store almost all sorts of ammo.
Add another crate or a special rack and stack your ammunition from the ceiling to the floor with no worries — there are almost no chances to knock them over.
Both cans and ammo crate of rugged polypropylene provide a long-lasting quality; plastic may overpass metal at some point as it will not rust and has no keen edges. There are four places for lorry or ATV transportation, and the tanks include a waterproof O-ring and a reinforced latch system. However, this latch is made of plastic, and its durability maybe not that impressive.
Most people consider this crate one of the top models designed to transfer the necessary ammo to the practice range in a hassle-free mode. All MTM products are made in America in Dayton, Ohio, with all rights reserved.
Now let's read a customer review and find out how he tested the big number of storable ammo using various calibers:
"700 rounds of 45 auto was almost it. Maybe another 25rounds.
116 rounds of 12ga shells @ 2.75″ long. In plus, it could fit another 10-12.
1000 rounds of 9mm and plenty of room for at least another 150.
I did a test with 5.56 from a buddy. We got to 450 rounds with some space still left.
This is PER CONTAINER, by the way."
2 – PLANO Ammunition Field Box Ammo Storage
This model can be undoubtedly called the most practical and economical of most brands on the market today. Firstly, these plastic ammo can models are stackable, contain a water-resistant O-ring seal, extra durable handle, and a brass lock.
As stated by one reviewer, PLANO Ammo Box boasts the following features:
"9mm @ 1,000 rounds in the original crates (S&B 115 Gr FMJ… 20 Boxes of 50 rds)
or 9mm @ 500 rounds of LE in original boxes (Winch. Ranger 147 Gr SXT… 10 boxes of 50 rds)
or 223 Rem @ 520 rounds in original boxes (Wolf Prem. Gold 55 Gr FMJ… 26 boxes of 20 rds).
When your storage room is limited or wishes to fit it in a gun safe, this ammo can be a good companion.
So, trying to find a cheaper analogy equally good is almost of no sense.
3 – REDNECK Convent Metal Ammo Case Can
This metal ammo crate is distinguished by its super air and watertight seal, a hinged lid with a locking latch, and a flat-folding handle.
It's built to last since it's made of heavy gauge solid steel. The lid includes a rubber gasket that ensures a tight fit to keep water and air out.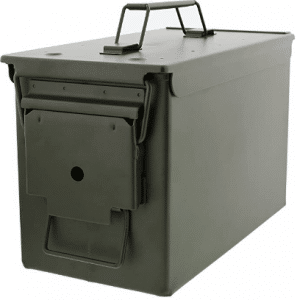 It offers three various color designs — classic camo green (.30 caliber or .50 caliber), tan tone (.50 caliber only), or black (.50 caliber only).
There are many product reviews on this model, and here's what one reviewer outlines:
"I put loose ammunition in this can, and also in plastic ammo crates by MTM and Plano. As the plastic containers had rubber seal around the inside of the lid I supposed they would keep out moisture but when I placed desiccant packs with color-changing beads (from blue when dry to pink when moistured) in all the containers…. The desiccants in the plastic ammo cans turned pink in almost two weeks while the desiccants in Redneck metal box were still blue in the same time.
This is a solid reason the reviewer proceeded with buying more Redneck metal cans instead of plastic ones.
However, such a model's potential drawback is a tiny hollow decentered space at the bottom of the can, which means the piles may slant.
4 – MAGNUM 53540 Metal Ammo Boxes (3 items)
A three-item assortment pack of ammo boxes is an asset as it is super easy to put one inside another and save more space if need be. Each size of them is measured as the following:
Small size – 10 7/8" by 3 3/4" by 7" (30 cal)
Medium size – 11 7/8" by 6 1/8" by 7 1/2" (50 cal)
Large size – 12 7/8" by 7 1/4" by 9" (fat 50 cal)
These three ammo cans are a nice trophy, both air- and water-proof, designed with a tight rubber seal and metal latches, hinges, and a compact handle.
Find out the price for such a three-in-one deal now.

5 – MTM Tactical Mag Crate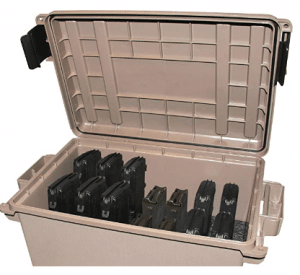 This Tactical Mag Crate from MTM makes it easier to store the loaded magazines instead of keeping piles of your ammunition in a huge number of crates and boxes. This crate provides a tight storage area conveniently foam mag inserts suitable for up to 14 magazines.
Its design is simple but rather efficient, having two easy-to-grasp handles, four tie-down points, all stackable.
Keep in mind that this mag crate model can hold .308 mags — follow the link to seek other mag boxes' size options.
See with your own eyes how MTM Tactical Mag Can works.

6 – MTM ACR8 Ammo Crate Utility Box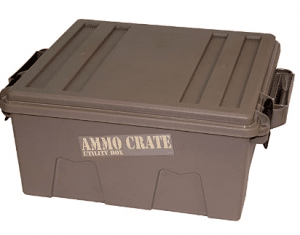 This gigantic ammo crate provides an even greater storage area for your ammo, shotgun shells, and other stuff.
The reviewers tend to point its quality, reliable design keeping the ammunition "dry and well-organized," and the fact that it is still manageable to move when filled to the top.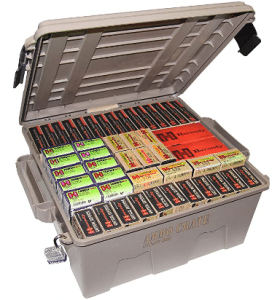 Its stacking capacity allows fitting (60) boxes of Remington green/white box .223 in it with no effort or damage.
This huge ammunition crate is stackable and comprises two solid handles, four tabs, a waterproof O-ring seal, and dual padlocks so you can transport your big ammo like a boss with this ammo crate.
Check out the actual price for this ammo crate or search for other brands on Amazon.com.
And here's a related VIDEO review we recommend to watch before you make a purchase.
7 – HIGH DESERT Plastic Ammo Cans (6 items)
If you want six-piece ammo can set at a bargain, you should definitely check out these six big 30 cal plastic ammunition cans.
First of all, they are waterproof and designed neatly with rubber sealed gasket and easy-carry plastic swivel handle plus, you may easily add an extra latch as there are in-built holes to attach a padlock.
These are water-resistant due to their tongue and groove lid design and rubber sealed gasket. Plus, they include pre-drilled holes for adding a padlock.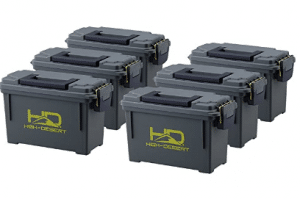 The one complaint is it's not extremely heavy-duty and not a guarantee to be "airtight" for the long run.
But at this price point, these still may be worthwhile if you're primarily looking to organize your stash.
8 – SOLID TACTICAL 50 Cal Ammo Can (comprises desiccant pack)
This 50 cal ammo can is a totally different air-proof level for your hassle-free stock for your future.
Why is it so? Obviously, due to a solid material: top-quality metal is the most durable companion to your ammo.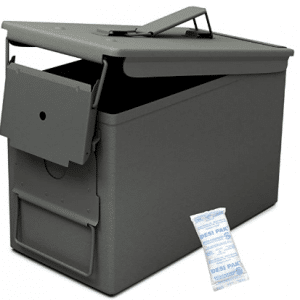 Besides, this is a no-risk deal since Solid Tactical's customer service provides a Money-back guarantee.  Isn't it a tempting shopping feature?
Mind that metal cans may be heavier than you expect, though. Here's an extract of a related review by a recent customer: "The crate arrived quickly, and I was surprised at how heavy duty it was," it requires a little muscle to open the lock." Heavy but very secure: it has a waterproof seal and several desiccant packs.
This video demonstrates the 50 caliber ammo's unboxing can by Solid Tactical and reviews its core features (mentioning 30 Cal Ammo Box along with the way).
Follow one of the Solid Tactical links in this chapter to find out more product info and check current offers.
9 – MTM ACC9 Ammo Box Combo (for 1000 rounds)
MTM ACC9 ammo can models boast an advantageous organizing capacity comprising ten 100-round boxes, each fitting into the ammo crate itself.
It has a nifty design and color-coded stickers with four various color options (80 labels overall) and ten helping cards for your ammo description.
Let's substantiate the description with a customer's report, though:
"It is an awesome box for 9mm. Worth every penny. It comes with 10 100 Rd cases and one large container that holds all 10. Plus, it provides enough space for one more".
One huge ammo can for many hassle-free range days and super-easy reloading — isn't it worth the money?
10 – Previously Issued U.S. G.I. M2A1 Metal 50 Cal Ammo Can (a used one)
If you're looking for a brand-new sparkling, shining, and flawless ammo can — skip it over as it is not for you!
However, if you want to proudly notice the traces of history on your ammo can as if it's been in several battles and now boasts some men's battle scars — you are right to choose this one.
Here is the list of previously used 50 cal ammo cans that the Military Issued. Yes, they may not have avoided rust, scratches, dings, and stuff, but they are more like old fellow soldiers with many backstories to tell.
Let's see what one of the many customers wrote about them: "I do love the fact that it has been already used by our military before."
And here's another message from a customer:
"First of all, this ammo crate is USED MILITARY SURPLUS. If you want a solid steel construction ammo can, this is your ultimate goal. These cans are fantastic and I would not doubt to purchase more. As a personal bonus, my can was marked with 5.56mm on the side, exactly what I want on storing in it.
Purchase this without doubt as it's the U.S. military surplus 50 caliber ammo can of extremely resilient gauge steel with a rubber gasket (its inside dimensions are 11 by 5.5 by 7).
We all know that moisture is the ammo crates' enemy, but in this case, it definitely will not pass!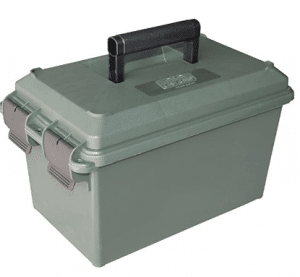 In plus, consider that most of the used models may cost less than $14 99, which is an investment in your budget. Use Amazon.com website and its customer service to shop, or call them directly to guide you through the current prices, shipping options depending on the delivery address, and further details.
Some Essential Accessories
Stickers / Decals
After you've bought your first ammo can, you should think of adding helping can decals and other essential products.
It will make your life easier by simply naming your ammo's content so that you do not have to open it and dig through your ammo. It is not only a nice little adding but may play a crucial role in sudden time pressure or an emergency. You know, perfect labeling may save you time and prevent future costly spendings.
Besides, if you want to ensure extra moisture protection, there are many silica gel desiccant packs on the market today. Whether you choose a plastic or a metal crate, those packs will eventually provide an almost 100% anti-moisture seal.
Locking Hardware
Adding ammo box locks is a matter of your safety, and it upgrades it to the next level. There are two basic categories to choose from — a lock hardware or a hanging padlock. Navigate through the links to find the product information you personally need.
What's the point, you may say, since a thief may take the whole crate and be gone? But the locks will surely not let your kids or neighbors or anyone unwelcome take your ammo stock.
Foam Inserts
If you want to see your magazines lying neatly and safely when checking the ammo boxes, we advise you to purchase foam inserts besides.
There are various cutout forms and sorts, and we recommend to start with Case Club M2A1 .50 Cal Foam Insert (or follow the link here to check out more foam insert types).
We're Ready To Send You the #78 Item Ultimate Survivalist Checklist For FREE. Simply Follow The Link  To Get Your Free Example NOW Or Request Further Info.
In Conclusion
Are you still hesitating to store your ammo gear in special ammo boxes?
Having an ammo stockpile is a life-long investment as you do not usually have to renew the box each year, and you do purchase it once for a long while. Measure the expenses and compare them with your personal defense cost today, tomorrow, and in some distant future. It's straightforward: you protect your investment, and it protects you in response.
It's a part of an overall resilient approach to keep your ammunition systematically organized and fully protected from inappropriate use.
And always keep in mind: To Prepare is already half a deal, to Adapt and Overcome is the other.
FAQ
Can the storage box be buried safely underground?
Usually, such boxes and crates can be buried underground; for example, by using the time-tested metal Military can or certain MTM can models, you may not worry about anything buried inside it — from ammunition to valuable personal belongings. Some crate models can even be buried underwater if they're 100% waterproof.
What are the inside dimensions of this box?
Inside dimensions surely vary depending on the model and brand. For instance, the used Military G.I. M2A1 BMG 50 cal ammo cans have inside dimensions of 11 by 5.5 by 7. Choose the volume corresponding to your caliber and stuff preferences.
The best ammo can is…?
The best is the reliable and durable one, a box which is relatively easy to carry even when filled to the lid (no matter if it is plastic or metal can), and the one suitable personally for you — test any of the above-mentioned models and leave us a message in the comments.